IT'S A WRAP: CANDID CONVERSATIONS FROM CANNES PART 2
2021 . 12 . 24 | written by Karen Marin
In this second of two installments, the Essencional Editorial Team meets face to face with a few of our contacts during a lull at the Tax Free World Show in Cannes. What have they been working on since we last met? What is coming in 2022 and are there any sneak previews we can share with our readers?
Christian Lengling, founder of Lengling Munich*, noticed that the attendance at Cannes was significantly less than in the past. "It's great to meet everyone again and in person but there are less people. This is good on the other hand because you have more time to meet the right people and have good discussions that are focused and deep."
Over the past two years during the pandemic the brand has focused on growth. "We developed very well in terms of international expansion despite this period. The export business increased significantly and by the end of this year we will have at least 20 countries. We are a luxury brand and the first perfume house in Munich. Lengling is getting more awareness, we have had more visualizations, so we have seen good development for our brand. Potential partners are actually contacting us which is a very good thing. But as a young brand we still need exposure – which is why we are here at Cannes and we will be at Esxence in March 2022. It's important to meet and intensify our partnerships while meeting new ones too."
When the conversation turned to development, Christian explained, "We take our time and concentrate on developing one or two innovations per year. It takes time and we don't want to overwhelm our clients with a super big assortment; we have nine now in what we call the Extrait de Sentiments. And we just launched Figolo as the first character perfume in our new line which draws inspiration from people and individuals who have caught our attention with their special aura. And since we always want to surprise, now we are doing something unique. We have decided to develop a perfume but not as a spray. This is a luxury body creme softly scented for your soul called Namui. It will indulge your skin as it contains precious moringa oil, innovative green tea extract and thermal water from Bavaria. It has a beautiful scent and can be worn alone or as a complement to any of our perfumes. The inspiration comes from a vacation we took in Thailand when we were in a rainforest spa. It's very cocooning and soothing, it leaves a glow on your skin and provides a new fragrance experience. Furthermore, a scientific study was made to prove Namui's effectiveness on the skin. The results are fantastic."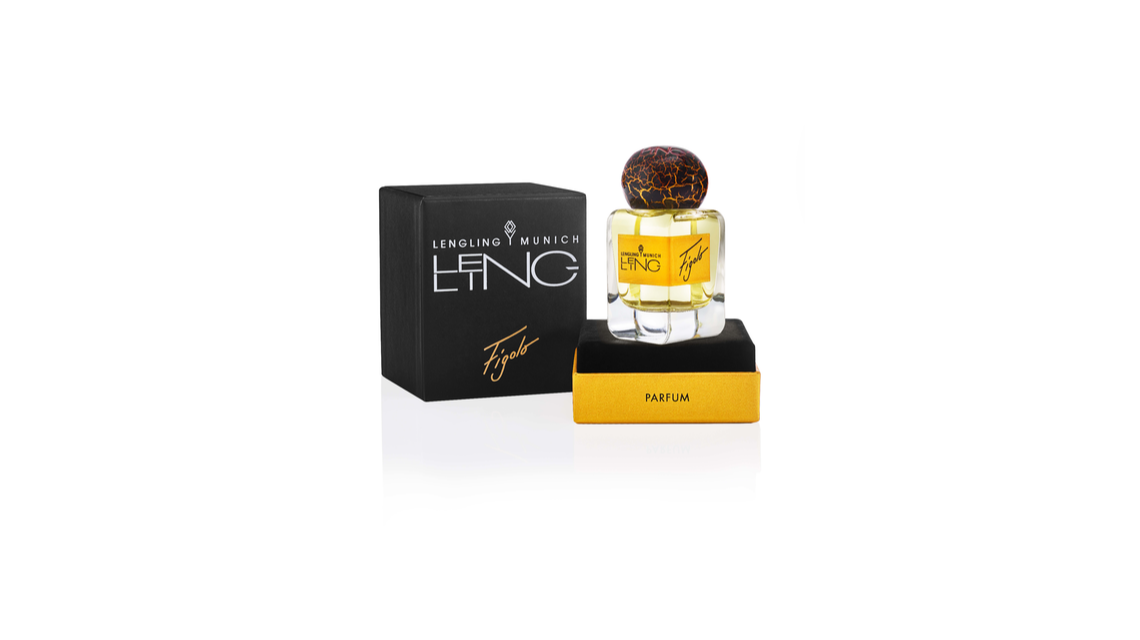 Lengling Figolo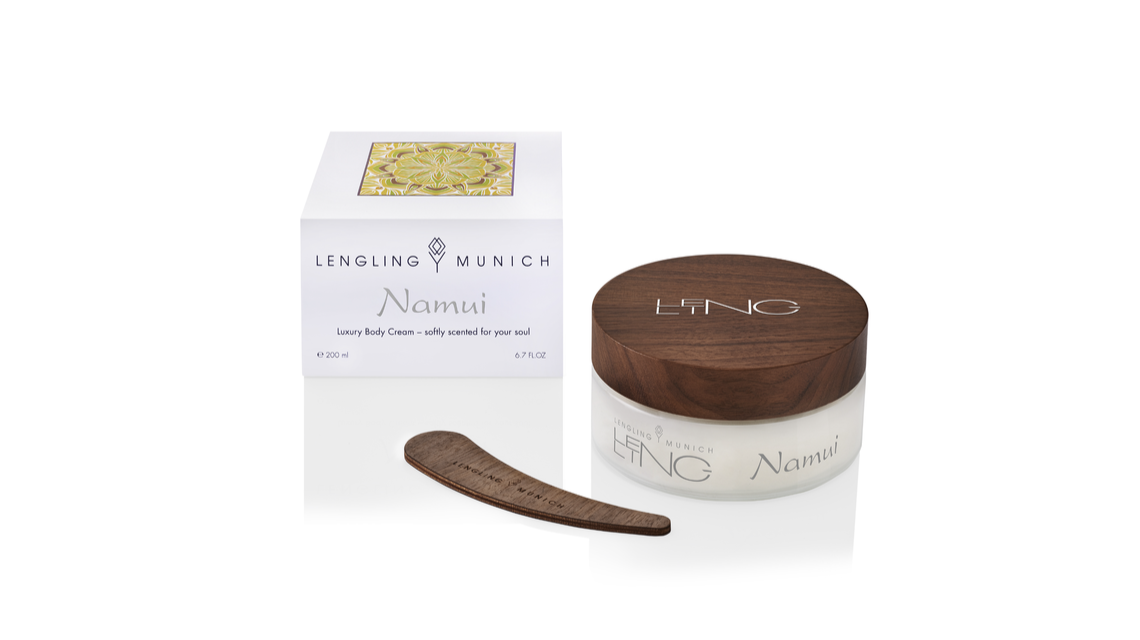 Lengling Namui
The brand has also focused on new retail channels. "We launched the online shop in April 2020. It is necessary to be there, but the brick & mortar is more important. We need both online and offline exposure." What better way of having direct communication with the consumer than by creating a branded boutique? "We never do what people expect, we like to surprise. We opened our first flagship store this year in the city center of Munich where people can experience the brand in our environment. It's very elegant and clean, we have pure perfume oils to discover. People can experience the brand through all their senses in a very luxurious environment."
Our next meeting was with Catherine Laskine Balandina, founder of State of Mind**, an eclectic brand that combines the world of fragrances with the tradition of tea in a global olfactory and aesthetic experience. As with Lengling, the pandemic did not deter State of Mind from moving forward, to expand collections, to find eco-conscious solutions and to create a completely new concept for the brand: an Olfactory Tea Room. Cannes gave Catherine the opportunity to present her newest fragrance to us and to update us on her on-going projects.
"The collection lacked an olfactory family, the aquatic one, which we entered into with the fragrance, Open Mind. Even before the pandemic we wanted to launch an aquatic fragrance, but this idea was reinforced by the lockdown when we suddenly found ourselves like a small fish locked in an aquarium. It was natural to want to escape and I thought about the sea, but not only. Open Mind also refers to absolute freedom, in the sense of having a totally open mind, which goes beyond knowledge to open up to others as well. In this sense, even the illustration referring to Open Mind represents an open door to the sea and the meeting of two people."
One of State of Mind's points of difference revolves around the pairing of each fragrance with a complimentary tea. Catherine explained how, in the case of the new aquatic scent, it was difficult to find the right tea to match with the fragrance. When she found the Gyokuro organic green tea which has a taste of algae and iodine, ingredients that recall the sea and fresh air, she knew she had found the right fit. Slightly sweet yet also invigorating, it has an addictive nature that encourages us to keep smelling the scent.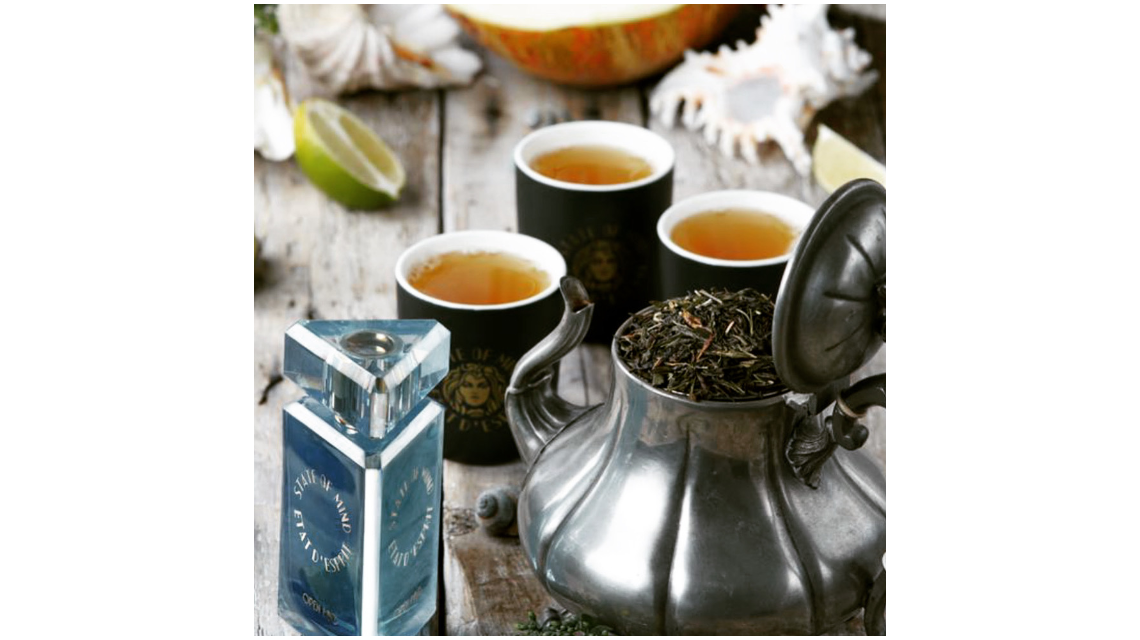 State of Mind - Open Mind
Recognizing the increasing importance of sustainability, a topic that is ever-present in the mind of consumers, State of Mind has created refillable travel sets for each fragrance. The sets contain two 20ml sleek black and gold atomizers which come inside an elegant velvet bag. The perfectly portable option ensures you can take your fragrance with you wherever you go, in a planet-friendly reusable flacon.
Catherine also mentioned that she had expanded her line of silk scarves. The assortment features lively graphics and designs created by Olena Mynenko, the illustrator and portrait painter linked to the brand.
Finally Catherine gave us an update on the new projects for her brand, including her ambition to take the experience of the Olfactory Tea Room, opened in 2020 in Versailles, to other locations. Her expertise in the history of tea, its concept and the ritual behind it allowed her to create a multi-sensory moment which combines tea tasting with fragrance discovery. The concept has been well received and is now ready to be exported internationally. It is sure to offer a unique, educational and immersive encounter with the brand.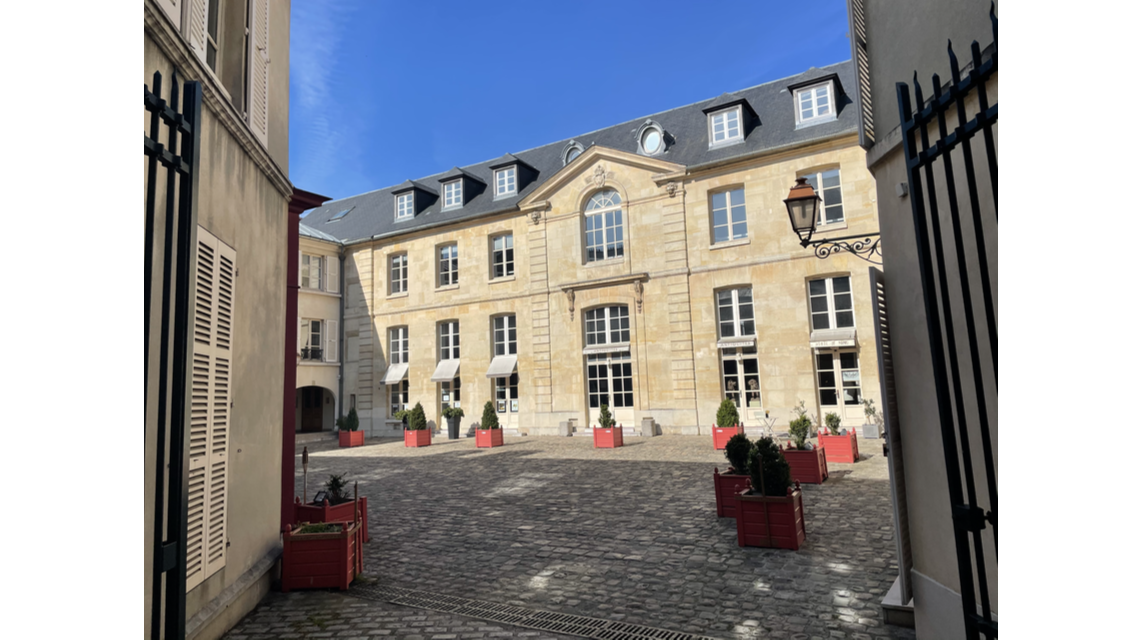 State of Mind Olfactory tea room exterior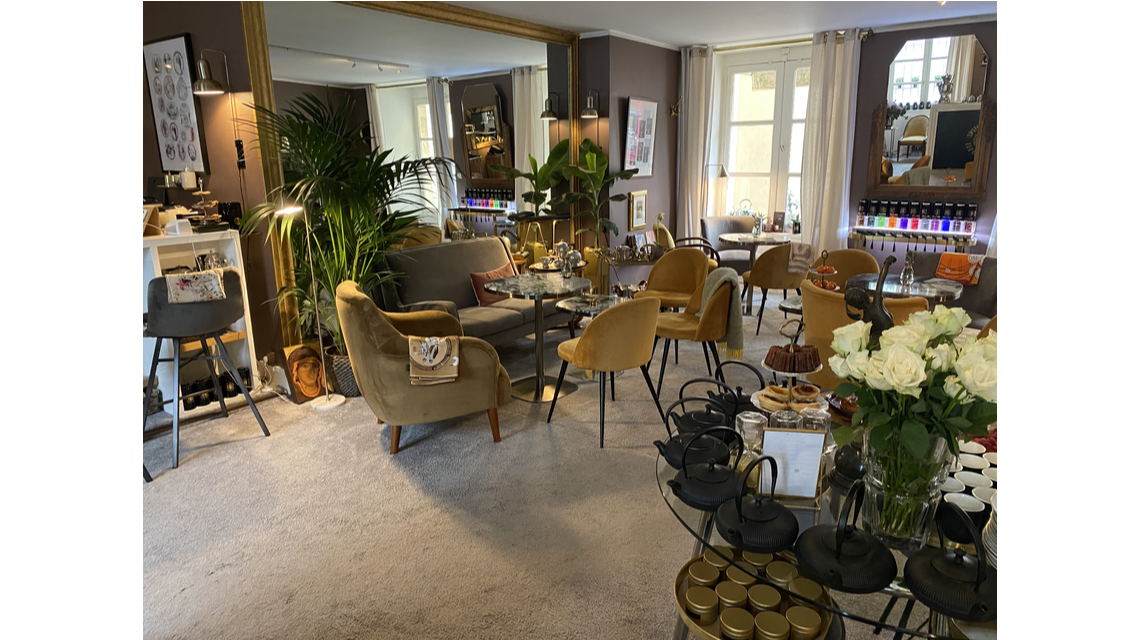 State of Mind olfactory tea room interior
Sophie Guillon of Valmont and Storie Veneziane*** also has a close relationship with her clientele. "For me, my brand is already known, it is used in many countries, and people have known me for many years. Valmont is first a cosmetics company – we're nearly 40 years old. Our brand is a cosmetic house in priority, but my first love is fragrance, and once we decided to have our own shops, it was clear we needed fragrances. If you like what I do in cosmetics, you may like what I do in perfume. I can design fragrance, I know what my customers want, but I am not a nose, I worked with perfumers. I leave my abilities to serve my customers, and with fragrance, I am providing a collection to complete the needs of my customer."
We touched on the topic of sustainability in our discussion to understand her brand's approach. Sophie explained, "You must make an analysis of your situation first. We have been sustainable, we are already using glass, but we have made a few adjustments. Our caps are in aluminum but we are going to change the insert into an algae that will then be fully recyclable. The main problem remains with plastic – which is a challenge for the entire industry. With our fragrance, the option is to take the art out of the bottle which then becomes functional. Is that the direction to go? This is an artisanal bottle. We are probably already 90% sustainable so we take our responsibilities there. We have done what we can do and we are working towards even more solutions."
Our conversation turned to Esxence which will be held from 17 – 20 March 2022 in Milan. "I plan to attend! It's a great fair and everyone knows about Esxence. It's a great moment for the business, for creators, designers, noses." Sophie did tell us that sometimes, "People in fragrance seem to be very intellectual – I'm a simple person but I am very instinctual." However, Esxence provides an environment that is supportive, it's a positive gathering of people who are passionate about fragrance. No one ever feels judged on what we know or don't know. "Mid-March is a very active period but hopefully I can be there!" We will look forward to seeing you!