State of Mind, in the Mood for Happiness with Tea as a Lovely Companion.
2021 . 05 . 04 | written by Laurence Arrigo Klove
Enjoying a perfume and sipping a delightful cup of tea trigger an intense experience of the senses. All of them are at play and in vibrant colours. Various geographies, West and East, and different times, past and present, mix to bring harmony. Will you care for some tea? Catherine Laskine-Balandina is your passionate guide. Beware, she will magnetically take you to an unknown destination, happiness.
I had prepared questions. I did not need to ask them. Catherine Laskine-Balandina ('Catherine') starts head on. Her speech answers sharply and eloquently all I wanted to know. She takes me in a structured manner where I wanted to go. Or rather where she wants to take me. Amused, I go with the flow. It feels divine, to let myself go, to step into her world and hear her passionate, enchanted story. Reality and Imagination may be blurred. Senses are exposed. No restraint. Raw passion. Action!
Catherine Laskine-Balandina has a beautiful Russian name, which is not only a name. Her roots are a major component of her personality. She has a magnetic, intense way of being, that made me think of Greta Garbo in Anna Karenina, the tragic Tolstoï heroine, or in Ninotchka as she has plenty of laughter to share. Her appetite for life is immense. Her ambition to accomplish things unlimited. She tells me how she acquired her professional expertise in the perfume industry and in launching unknown brands in a down to earth, no half-measures.
She first started at l'Oréal in Paris and quickly concluded, this is not for me. People's motivations were their own careers. She wanted to accomplish something real. She embarked on a new adventure and moved to Kazakhstan where she launched new brands in the market on a freelance basis. Well-known brands such as l'Occitane or Mariage Frères but also minor ones. A new market, new brands, new market segments, multiple simultaneous challenges to overcome. She says that built her confidence, by then she knew she could believe in 'it is possible'. In the Russian language there is an expression 'not God but man makes pot and pan', this is what she experienced. By working hard, she realised she could do anything she put her mind to. Well, that was it. She will launch her own brand. She went back to Paris with an idea in her head, an innovative concept of mixing all senses, a synesthetic experience with perfumes at the core of it.
In 2017, the State of Mind brand was born with the unique blending of the timeless tea ceremony with the art of perfumery. For Catherine, this idea came naturally as taste and smell are 2 senses inextricably linked not only in our brain, but also in the language. In English, one says 'taste of a fragrance' as well as 'taste of bread'. In her daily life, she is very fond of tea - she reckons she drinks liters - so she chose to create a synesthetic experience, a correspondence between fragrances and teas.
To achieve her ambitious goal, she went out and looked for experts in their own field. A tea sommelier, a perfume nose, an illustrator, those 3 artists orchestrated by Catherine built a coherent, powerful high-quality output.
The tea sommelier, Olivier Scala, is a well-known expert in teas 'Grand Cru'. He explores tea blends of the highest quality matching the brand fragrances and makes sure there is a balance in his teas mirroring the State of Mind concept of harmony. Catherine did not impose Chinese versus Japanese tea. Tea culture is totally Chinese as well as Japanese. It is also fundamental in Africa, Northern Africa, Russia, England…. What she wants is the 'best of the best', the highest quality. Her inspiration comes from anywhere where there is goodness. She has a tea 'Grand Cru' from Kenya in her collection and she tells me that the African continent has become the 3rd largest producer of tea in the world…
For the perfumes, she addressed herself to Karine Dubreuil, a talented perfumer from Grasse. She has crafted masterpieces such as Mûre & Musc of l'Artisan Parfumeur, Eclat of Lanvin, Aqua Allegoria from Guerlain. The assignment Catherine gave to Karine was 11 states of mind to be translated into perfumes. There is a precise logical order to evolve from one state of mind to the next one so there is nothing left at random. Aesthetic Turbulence comes before Creative Inspiration definitely. French Gallantry perfume's idea is to render the historic French spirit of chivalry. In those times, it was an important concept for both men and women, bravery, gallantry, or courteousness – castles and courts come to mind. The perfume surprises you with a woody amber composition. It is one of the most popular perfumes in the collection. The 'Ame Slave' perfume or Slavic Soul gives this feeling of nostalgia, of mystery and at the same time of no limitations, of excess. This Russian inspired perfume is a powerful woody green scent. She then picked the Accords & Fragrances laboratory, as it is dedicated to independent perfume brands and is led by the expert hand of Olivier Maure, who had worked in Edmond Roudnitska own lab, Art et Parfum.
For the perfume illustrations, Catherine selected an incredibly talented artist from Ukraine, Olena Mynenko. She is extremely gifted in fashion drawings and sketchbooks and has worked for major publications such as Vogue, Hermès, El País… Olena had the task to create all the brand illustrations, not only for each perfume but also for the silk scarfs. She depicted a couple in different chapters of their intimate life, like a real-life love story unfolding itself. The silk scarfs came after the rest of the collection. Initially, State of Mind kicked off with perfumes, teas, candles, and home diffusers. Clients liked so much the beautiful illustrations that they asked for a scarf accessory. Catherine did not compromise on quality - of course not – she went for a Hermès silk quality and took the same format of the famous Carré Hermès, 90 cm x 90 cm. It is therefore the most expensive item in the State of Mind collection.
As for choosing all the other elements of the artistic design, Catherine started with the Art Déco theme and plenty of Jazz music as well as Rachmaninoff. For the perfumes, she first chose the bottle shape with its 33 hand-cut polished facets. Its geometric shape and its crystal cap represent the Mind, the mind of State of Mind. The woman's face underneath the bottle signifies the soul. Each vivid color features a specific state of mind. Each perfume conveys a strong emotion, a passion, as if one is in love with a different lover in a different state of mind. She then explains her choice of an aluminium box as a sustainable one. She also wanted practicality and less, rather than more. The same box can be used for the purchased perfume, the home diffuser, the tea. Simple outcome. But quite not so simple to achieve.
The opening in June 2020 of the Olfactory Tea Room in Versailles was a bold move and yet made perfect sense. For one, Catherine has so much to tell that she needed a place to hold tea ceremonies in a special setting. The location is stunning, full of art deco pieces of furniture, fine china and of course teas and perfumes. Once a month, she chairs a 3-hour Saturday morning session in front of 10 or so clients. They come from overseas, from Paris, or from the Versailles vicinity. Above all, the Olfactory Tea Room allows the brand to offer a very wide experience to its clients: relaxation, learning - spiritual food, pastries – food delicacies, tea – spiritual drink and shopping. We all know that tea ceremony is serious and follows strict codes. For Catherine, offering tea is above all about spontaneous generosity. She does know very well the codes though. So, she tells me that the simple act of serving tea and gratefully accepting it forms the basis of a way of life, called Chadô, or the Way of Tea. One learns the rhythm of gestures, how to arrange objects and ultimately appreciate the elegance of it. 'The art of being happy' or 'being in harmony' is also awakened thanks to the tea ceremony. The spirit of tea or 'Zen Rikyu' is indeed comprised of 4 core components: harmony, respect, purity, serenity. Catherine has thoroughly studied the history of tea, its concept, and its practice as she could not possibly, not be authentic. She is passionate about it and it really is a major component of her personal life. She is particularly fond of 2 proverbs, one from China, 'tea is a scent to drink, life is contained in a bowl of tea' and one from Japan, 'tea symbolizes Chi, the flow of all living things'.
Catherine's vision of life is very much derived from her can do attitude. It is all about believing in oneself, in what one does. Confidence brings an immense pleasure in doing things and in doing them well. There is no still time with Catherine, she already has in store new projects, such as the launch of a new perfume and expanding her franchise network – she has one for now. To depict her brand – and Catherine - one needs quite a long list of words: curious, intellectual, spiritual, creative, authentic, passionate, confident, diverse, bold, ambitious, happy, enjoying life to the fullest.
I do not want it to End.
Like a great movie where we do not want the screen to show 'The End', I do not want to leave 'State of Mind'. I want to stay in that State as Catherine has magnetically taken me to her world of confidence, of harmony and of beauty. Hand on a second, I did not even drink tea! Yet I feel so buoyant and upbeat. I have had a great day. I am happy. Thank you, Catherine.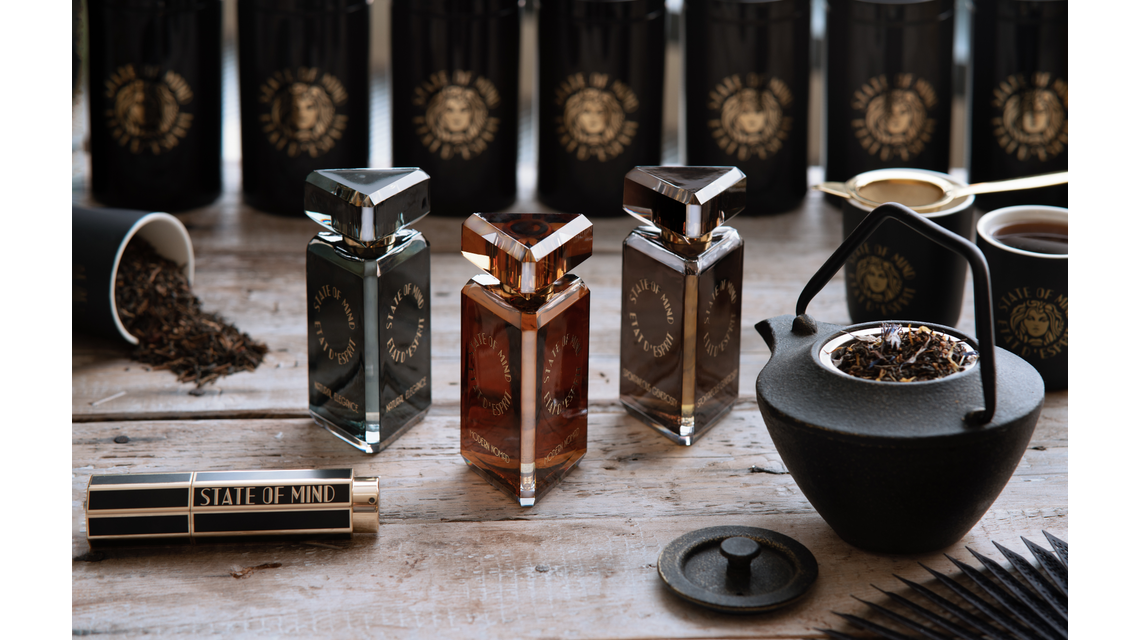 State of Mind Perfume and Tea Collection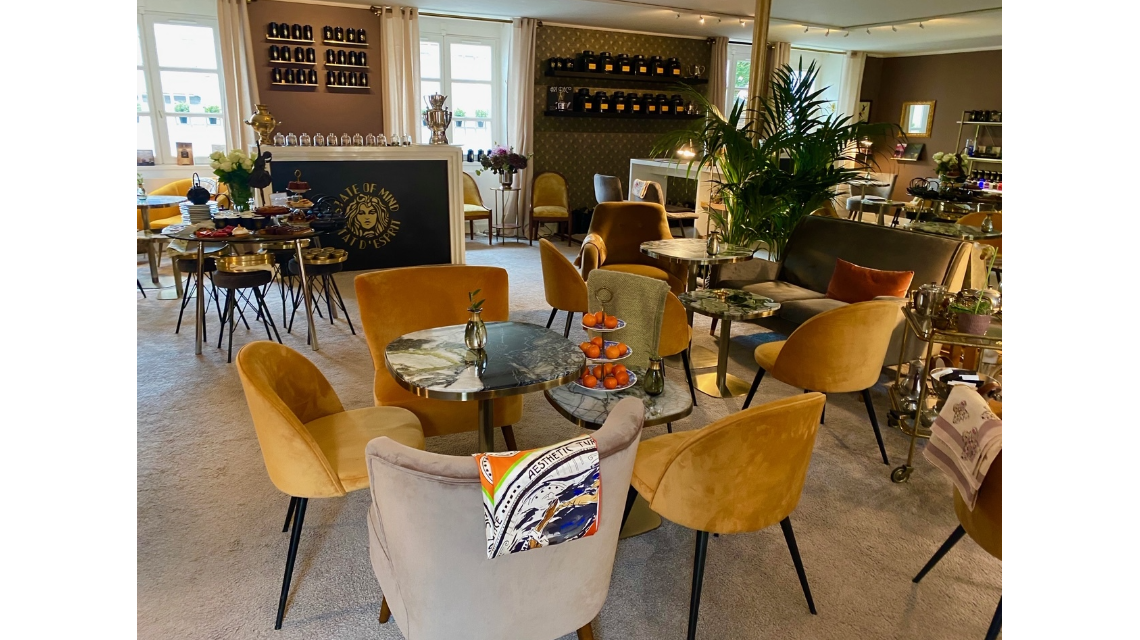 The Olfactory Room of State of Mind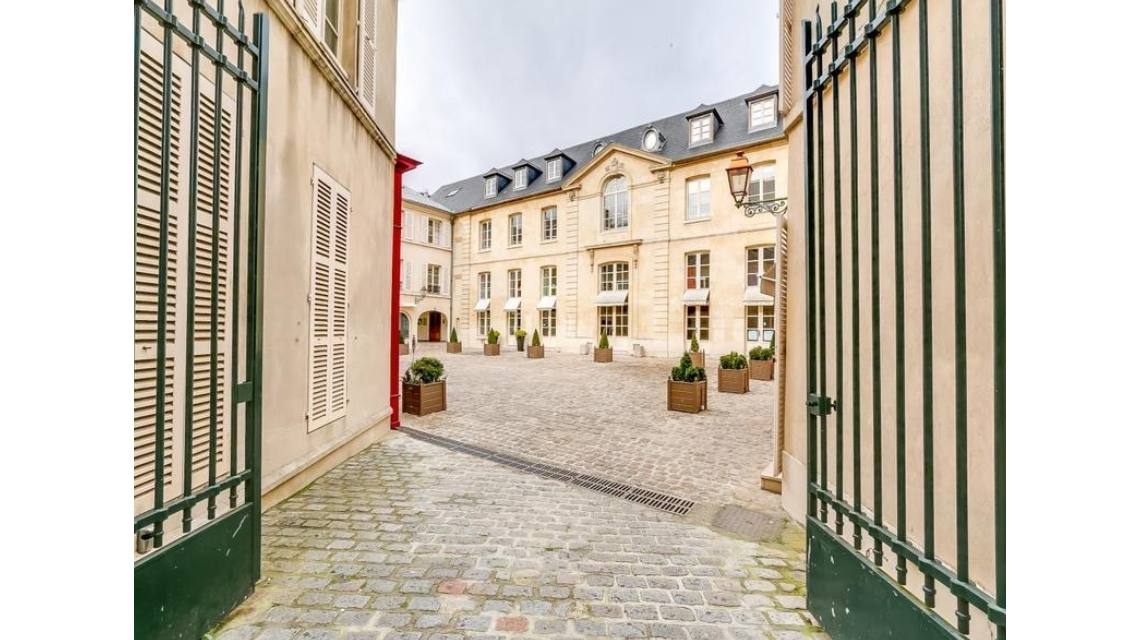 State of Mind, inside one beautiful courtyard in Versailles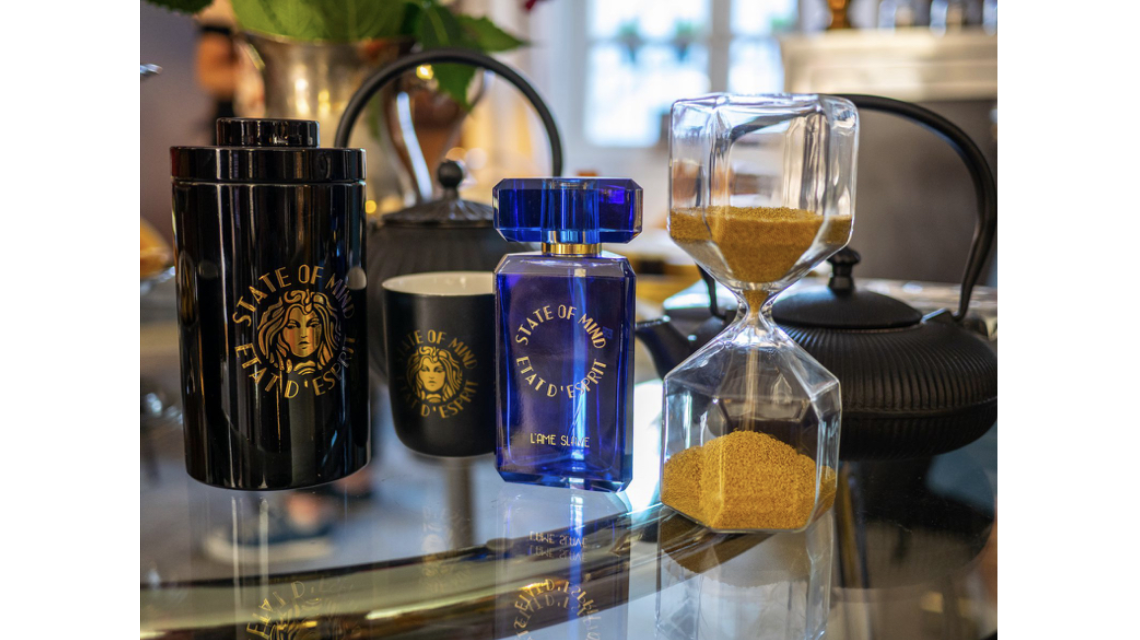 A moment in time, thanks to State of Mind