Lengling Perfumes bring us a balancing whirlwind of emotions
2020 . 11 . 20 | written by Laurence Arrigo Klove
Lengling's emotions are based on duality. The brand finds its inspiration both in Asia and Europe. 'Leng' notes complement 'Ling' notes in each perfume like the yin and yang balancing together opposite elements. Above all, Lengling is an authentic story: the family name of the creators, man and woman, an authentic love affair that led to the creation of this beautiful perfume house, based in Munich. A unique destination it is. Above all, a very special moment with Ursula and Christian together, who demonstrate in real life the balancing concept of their brand.
Question: I have to start with the first question one asks a couple. How did you to meet? How did you fall in love?
Ursula is the one to jump in. I immediately notice that they switch between each other naturally and constantly like a singing duo.
We met during our university years in Nuremberg when we were studying economics. It was love at first sight. We knew from the start that we were going to build our future together. Nuremberg beautiful scenery contributed to our love story. Christian had a romantic apartment overlooking the river, its old bridges and historical buildings in the heart of the city center. It was really like in the movie a 'Room with a View'. We also dreamt of starting our own business. I come from an entrepreneurial family and I could not help noticing how happy my parents were running their independent business. On Christian's side, his father was in the fragrances industry. Our business inspiration came from those two sides. By now, we have been business partners for the last 15 years. Above all, we have been together for 25 years, so we intend to mark our jubilee wedding anniversary with a celebration.
Question: Creating a perfume house in 2014, made in Germany is quite 'audacious'. What convinced you that you could compete with the French art of making perfumes? I am not starting a war here, by the way, just asking a pragmatic question.
Christian this time answers with a large smile.
I grant you that the French art of making perfumes is based on a long historical tradition. But there are not the only ones. Our idea was not to compete with or against any country or brand. To us, creating perfumes is all about sharing our passion. Our passion for perfumes. But also our personal life experiences. Our objective is to communicate our own story, our emotions thanks to perfumes. Our fairy tale transformed itself into reality. Our dream came true. We launched our perfume brand and our perfume collection. From a simple hobby we have been so happy to see it transform into our business. We live our passion every day. We work to develop it further.
Question: Tells us more about the idea of the duality aspect of your perfumes and in particular the Asian inspiration.
Back to a very convincing Ursula.
We have the fundamental belief that our lives are full of contrasts and that we are always looking to find the right balance between diverging elements. My personal experience is that my family world - I am a mother of three - is totally separate from my perfume business world. They differ and yet they nourish each other. Other inspiring contrasts for us are woman and man, and nature elements such as summer and winter. Christian and I had the idea to use this opposition – equilibrium duo, as the core concept of our brand. As a consequence, our perfumes had to be as complex as our own life but also as full of harmony. The second idea that came naturally to us was to use our family surname* as a token not only of authenticity but above all to illustrate the opposing sides. We simply split it into two as yin and yang, we created LENG and LING notes. LENG will be the strong note in our perfume composition while LING the soft one or vice versa. Those two contrasting notes form a balance in the end. Our perfume is complete. Japan is definitely the inspiration behind our brand as Christian was born there. We are definitely inspired by the Japanese commitment to quality, their minimalistic design, their traditions and yet their modernity. A world full of contrasts and yet harmony.
*Lengling is derived from Lenglingen, a village in Southern Germany.
Question: You have by now nine perfumes in your first perfume collection. Why nine? Does it relate to nine chapters of your life?
Christian takes this one. I am still impressed by how fast one of them answers without asking for approval from the other. No need for that. Approval and trust are their natural base.
We consider 9 to be the number of completion. Our first perfume collection consists therefore of 9 perfumes. This might have brought us luck, who knows, as our number 9, 'Wunderwind' – a magical wind, full of pine aromas - won the German Perfume Oscar "Duftstar" in the artistic perfumery category in 2018. This was a very special moment for us, we were really in 'wonderland'. Following this milestone, we decided to start a new perfume approach. This time around, we add to our contrasting emotions concept, a new element based on strong personalities with special charisma. Like a board, full of images and words describing a personality, we design a portrait in the end. We pay tribute to a person, he or she, imaginary or real but for sure someone who counts a lot to us. It is like a family portrait. The first person is named Figolo. The perfume was launched in 2020. More members are on their way…
Question: Can you tell us the story of Sekushi, one of the best-selling perfumes of your brand?
Ursula answers so fast that I need to rapidly grab my pencil. Possibly, they are simply taking one question each in turns.
In Japanese, Sekushi means seductive, tempting or sexy. You can guess that we were not surprised that it became one of the most popular perfume from our collection. The fragrance takes us to one specific point in time: the moment when one prepares and then looks for approval in the mirror before going out to an exciting night, the moment when one anticipates what is happening next. It is an opulent perfume combining dark leather – the LENG note with fruity sugar – the LING note, inviting you to "let the seduction game begin'…
Question: When the creation of a new perfume is taking place, are you both involved or is it mainly Ursula kicking off the creative process? How do you bounce ideas between the two of you?
Christian answers. I surrender. My guessing game is over.
Ursula is definitely the one starting the creative process. She isolates herself during that initial creative time phase. She starts with the desire to capture a particular emotion, to frame a special memory, a private moment and to translate it into a perfume. She then moves on to define the character of the new fragrance, the LENG and the LING notes and decides which perfume oils to be used. At this stage, I get to be involved and we share our thoughts and opinions in an iteration and sequential manner. The perfume can only be ready when we both agree that it is perfect. We can play on one creation for up to 3 years. Time is on our side.
I daresay that perfectionism leads to patience, or vice versa. Either way this seems to be a quality the couple owns.
Question: Tell us how Munich, one of the most beautiful cities in Continental Europe is inspiring you in your work?
Christian: We are from Munich, Ursula and I, and we are passionate about our city. It is full of contrasts, like our perfumes. Full of history yet modern, full of business headquarters yet full of green parks. Let me tell about one of them, the English Garden which inspired our perfume named 'Eisbach'. Eisbach is a stream flowing through the city, a part of the Isar river. It is a very popular meeting place and also where people can do surfing in the summer time. We wanted our perfume to give this 'green', fresh feeling while representing the city elegant and restrained style.
Question: I know the pebble – the cap - of your perfume bottle is very special, can you tell us why?
Ursula: Our pebble is inspired by a true story. By the Isar river in Munich, there is a pebble stone beach where we like to stroll. One day, during one of our walks, while we were talking about the idea of fulfilling our dream of creating fragrances, Christian picked up a pebble. A special pebble that felt like a palm stone that he decided to keep this time around. Oddly enough as he usually likes to make them bounce in the water. The pebble ended up on our kitchen table. It not only decorated our table nicely, but it transformed itself into our lucky charm.
Question: Your brand belongs to the luxury perfumes world, so what is the definition of luxury for you?
Ursula: For me, luxury is all around us, in small yet nice things that make us happy. It can be a beautiful walk in the forest with the autumn colors, or a glass of velvet red wine by a candlelight dinner, or my preferred perfume scent… It gives me great pleasure and inner peace at the same time. Luxury is very achievable in my vision of the world. It is to be shared. It is to be experienced.
Question: How would you depict your typical clients? what do they like? what do they say about you?
Christian: Our clients cannot be put into one category as they are too diverse in style and background. Yet they share some common traits. They are real perfumes lovers, very sensitive about quality, interested in culture, art and design. They also take authenticity very seriously. They particularly like our perfumes as they recognize themselves in them. They also can feel our authentic passion for perfumes while getting to know us and our story. We therefore share common stories with the people who love our perfumes.
Question: How do you see the artistic perfume market evolving into? What will define success?
Ursula: I see a great future for authentic and artistic brands. Away from marketing trends & customer data, new and wide paths exist. Clients are yearning for creativity, quality, credibility and individuality. This is what ultimately they are really looking for. In our view, this will define success. Or not.
Question: Your brand has received a lot of attention and has been featured in Vogue for example, no wonder, your couple is very glamorous, like the Kennedy's. But how is the real life of the Lenglings ? How do you keep your balance, work and couple?
Christian has moderately blushed and smiled at the question before answering.
Thank you for the lovely comparison to the Kennedy's, which never happened before! We take it as a friendly exaggerated compliment. As creating perfumes is our passion, the lines between work and private life are completely blurred. We are a family business, so current projects tend to be discussed on Sunday mornings around a cup of coffee. The easiest thing for us to take time away from work is to travel. We disconnect while fueling new ideas and inspiration when we go back home, to work.
Ursula: By family business, I can say that our children – the Lengling have 3 – are getting more and more involved in the business on par with our company's growth. I also have to recognize the incredible contribution of my sister. Her enthusiasm and motivational drive have been amazing. Thanks Sister!
I have to confess that all along the interview, I was trying to bet who was going to answer which question. I always got it wrong. I never guessed correctly. This was a superficial distraction of mine. But there was a real question behind it: I wanted to guess who in the couple is LENG and who is LING. There is no right answer to this question either. At times, Ursula came across as very powerful and then she was delicate, soft. Likewise for Christian. This is the real thing. A couple story. Things evolve and a new balance is found. The couple itself does in real life what their concept is all about. An ideal natural balance between two people, two different personalities. I am so impressed. What an impeccable demonstration. Real authenticity. No need to play games.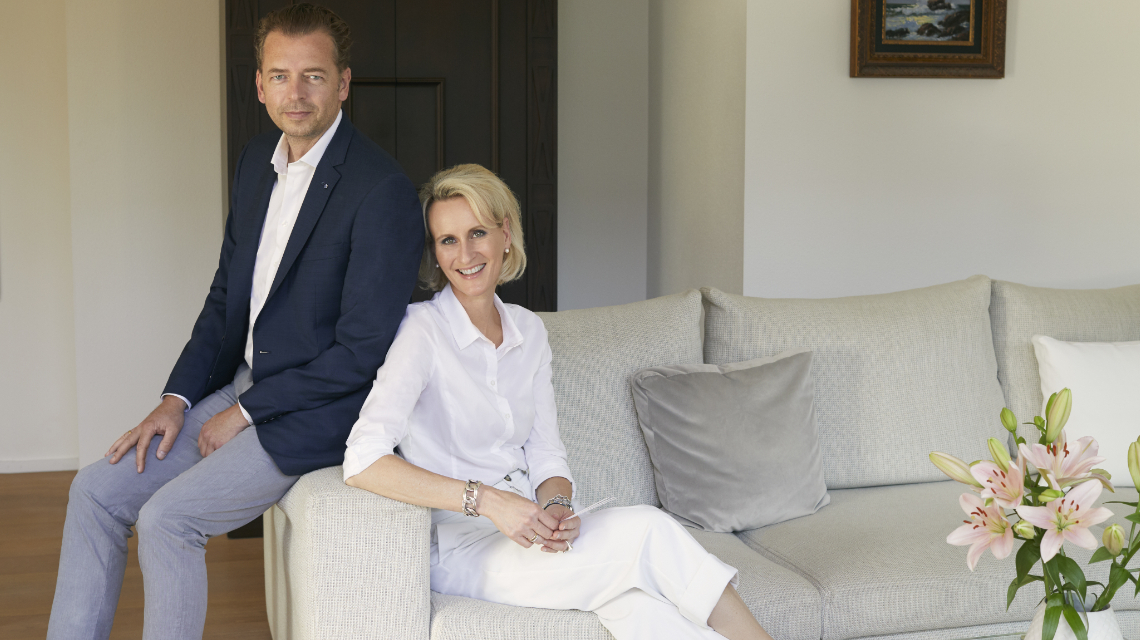 The couple in his home in Munich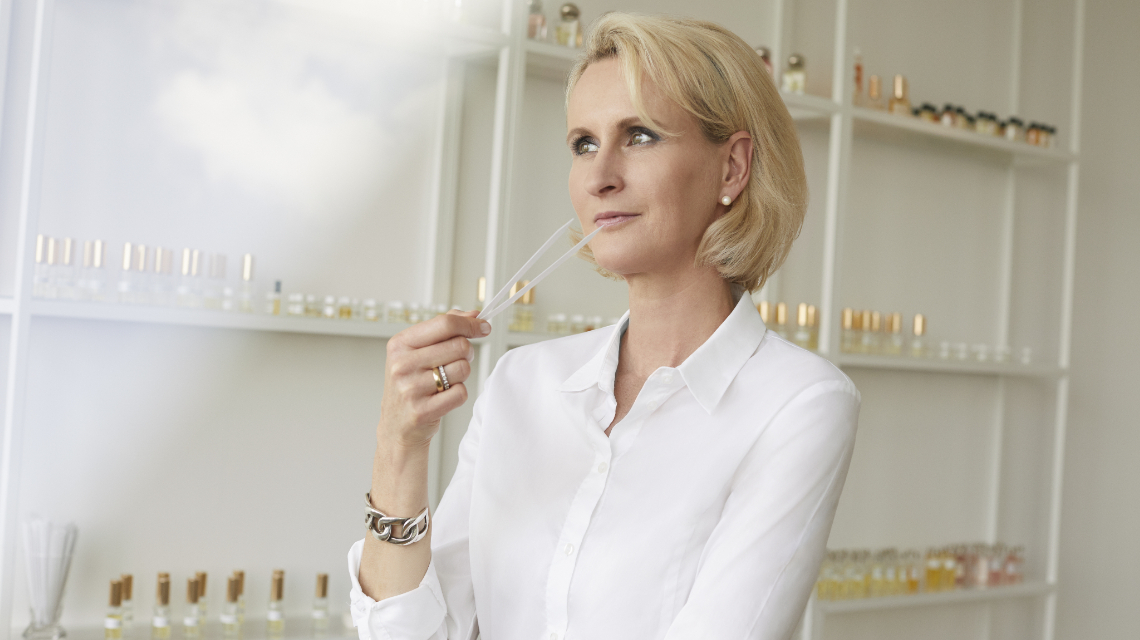 Ursula Lengling in her office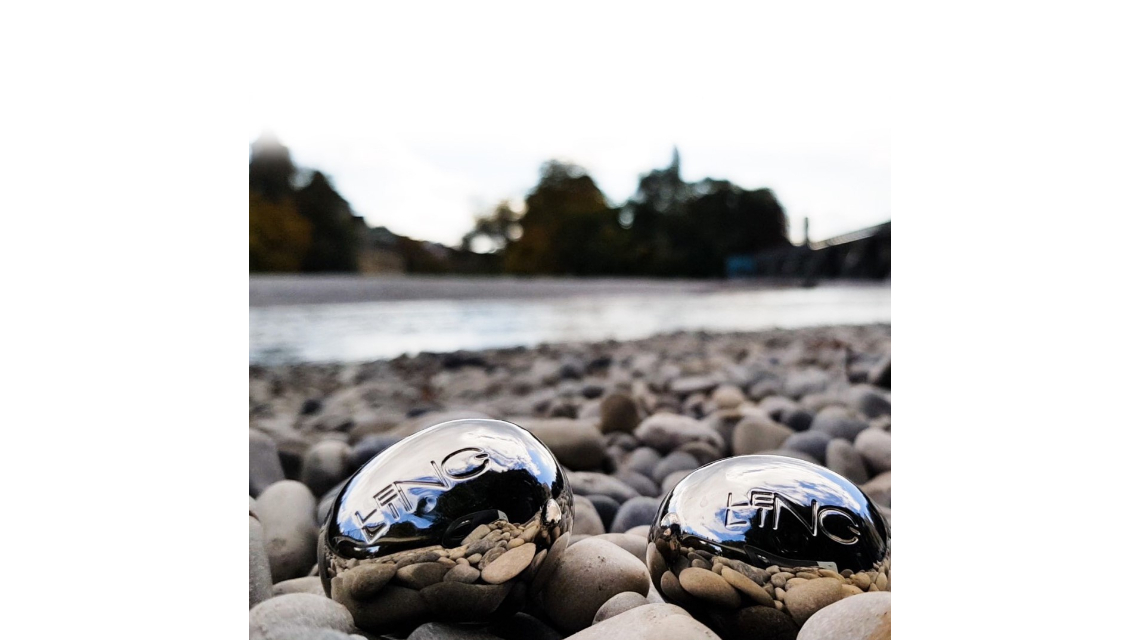 Pebble in nature