Esxence 2023 – Best of Show Part 2
2023 . 04 . 27 | written by Ermano Picco
In the Best of Show Part 1 from Esxence – The Art of Perfumery Event 2023 we covered the numbers of the 13th edition of the tradeshow, highlighting feedbacks from exhibitors and professionals as well as new industry trends. Currently there's a wave of optimism with a shared feeling Artistic Perfumery is in good shape, and this is there for all to see even just looking at the latest packaging proposals. Now though let's get through the major olfactory trends.


WELL BEING / FEEL GOOD
What everybody experienced in daily life during the transition out of the pandemic, as well as the pursuit of health, serenity and a renewed confidence in a better future brought so many inspirations to creative minds in perfumery. An olfactory and communicative hot topic is Well Being, intended as taking care of themselves and longing for everything's healthy and is good for us, for our body and mind.
Fruits are not only a modern facet in perfumery (it is only recently that natural extractions entered the perfumer's palette, along with various new fruity specialties). Their thirst-quenching, vitamin-loaded smell always puts a smile on our faces conveying colorful impressions and comfortable textures.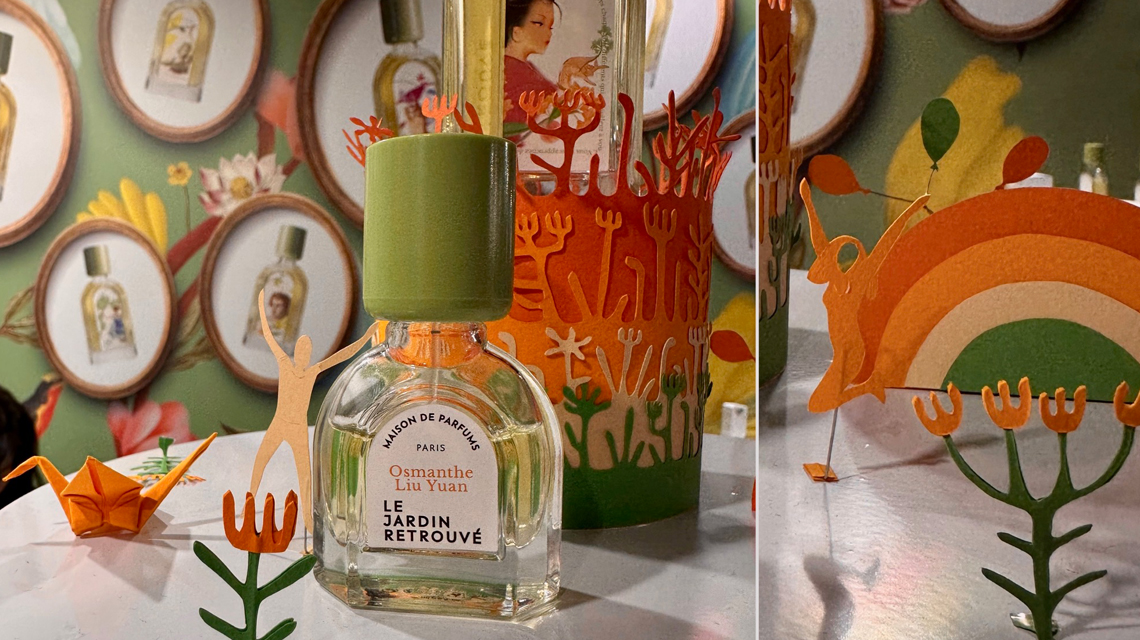 Le Jardi Retrouvé Osmanthus Liu Yuan
Specifically conceived by in-house perfumer Maxence Moutte leveraging on Givaudan studies on well-being inducing smells, the latest addiction from Le Jardin Retrouvé Osmanthus Liu Yuan lends the suave apricot note floating around while the renowned Lingering Garden (Liu Yuan) in Suzhou are in bloom. Vibrant citrus and a gentle bed of tea-like jasmine and iris bring lasting power and softness making it the best embodiment of this trend. This also reflected in a terrific installation created by paper artist and perfume enthusiast Cristian Marianciuc who sculpted delicate colorful landscapes embedding perfume bottles and human figures.
From China to New York, another blooming garden this time is bottled inside Ulrich Lang new launch Suncrest which takes the osmanthus-apricot of 17, Nandan Road to a sweeter peach for a mouthwatering drydown.
The bright side of this tasty slant is brought by the vivifying energy of freshly sliced ginger and crisp citrus fruits in C'est Rebelle, the stunning new introduction in the rebranded line from Lucien Ferrero now called Anthologie.
Alongside succulent fruits, crunchy vegetables are also good to improve your stamina, even if only inhaled. This fascinating direction was in the air last year with L'Artisan Parfumeur collection Le Potager and the Diptyque 60 Years Limited Edition Kyoto focusing on a beetroot heart note, but nowadays it is really taking hold fostered by new raw materials like the tremendous sweet fennel extraction from Mane Senior Perfumer Veronique Nyberg showed at Esxence during the panel "Leading by a nose: Perfumers speak out on education, diversity and creativity".
Straight from the kitchen garden, the wittiest jaunty take smelled at MiCo is for sure the new introduction from the British house Bel Rebel. Thanks to a giant pea matching the eye-catching pea green background of the booth, it was impossible not to stop and smell & the pea; just like peeling fresh peas, the unexpected opening is super green and vegetal, giving way to a carefree spring floral with rosy and powdery hues.
Long relegated to the array of outlawed vices and additions, nowadays marijuana has lost its dangerous charm thanks to the introduction of depotentiated varieties and the spreading of legal weed usage as an ingredient in food and beverages, not to mention its more and more frequent therapeutic usage in neurological disorders that redeemed it also as a healing. The new wave of cannabis-inspired fragrances fits exquisitely well in this feel-good mood, where it loses its smoky traits to favor a greener, and sweeter take on the theme.


RETURN TO NATURE
Though a trend that's been lasting for a few seasons by now, the desire to reconnect with nature is still going strong after various restrictions and lockdown periods. Drenched foliage, climbing vines and unusual fruits frame pools of water and babbling brooks inviting us to sit in the shade and enjoy wildlife outdoors.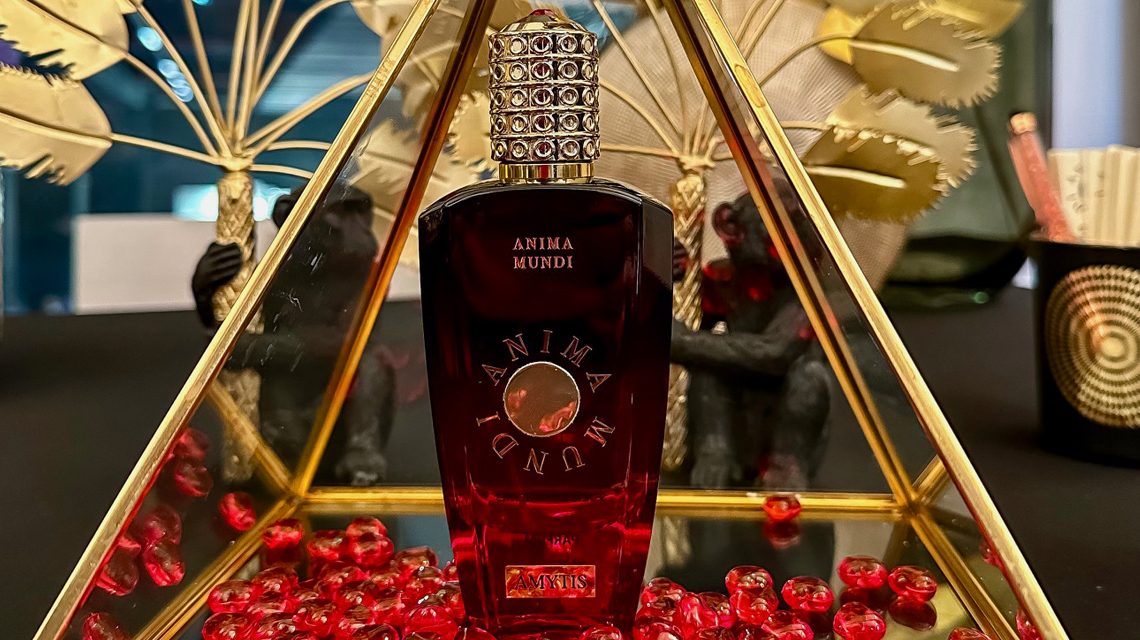 Inspired by King Nebuchadnezzar spouse and the mythical Babylonian hanging gardens to her dedicated, Anima Mundi Amytis (Michele Marin) marks a new path for the brand paved in lush green florals and water streams running through the pebbles as they sing their everlasting youth paean to sprouts, bluebells, and hyacinths lazily stretching on emerald velvets.
Likewise, Etat Libre d'Orange renders the summertime sadness of languid afternoon spent at Paris-Plage with Sous le pont Mirabeau (Mathieu Nardin) that's a nod to Guillaume Apollinaire poetry through watery hues, sparkling pink peppercorn and the melancholic shade of fig leaves and sandalwood.
Warmer yet still vegetal, the new Rubini Odenaturae (Cristiano Canali) inspired by the pastoral lyrics of the Roman poet Virgil is a walk through the firstly mowed golden meadows sun-kissed by the apricot floralcy of chamomile. Totally calm-inducing.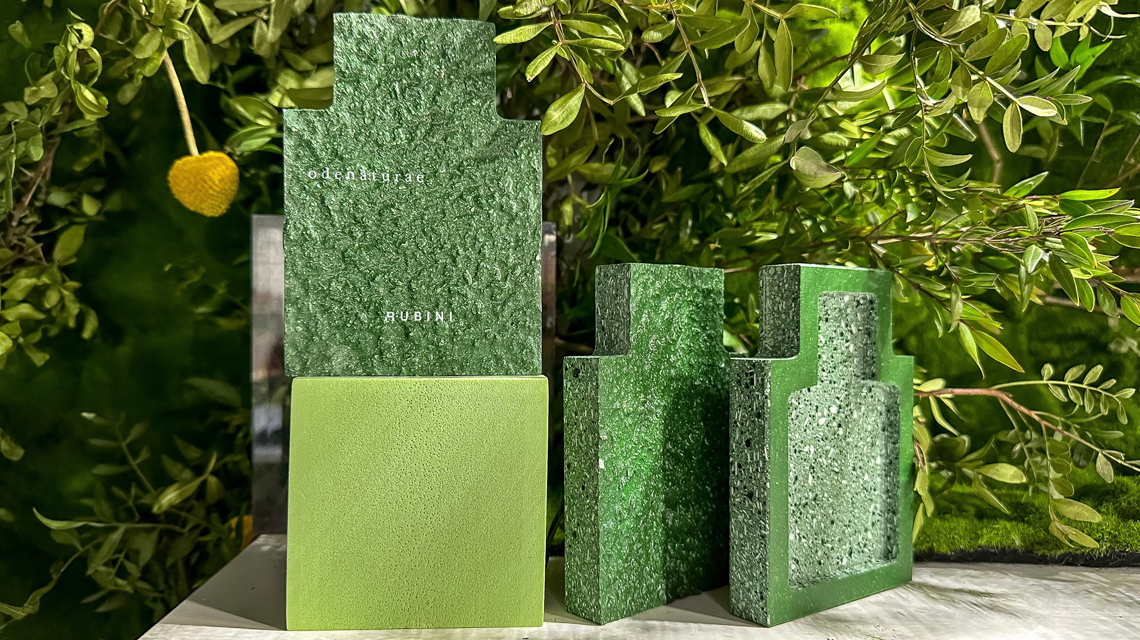 Summer to winter, even in perfumery nature is enjoyable all year round, and the most lyrical winter tale is bottled by Christele Jaccquemin in her Enlightment; orris root turns into a smellscape where larch and white sage render snowflakes silently falling, pearly grey skies and cold air tingling your nostrils.


FLOWERS | FLOWERS | FLOWERS
Somehow part of the vegetal trend, but making a glorious comeback on their own, flowers are the most glamorous expression of joy, freedom and hope for the future. In particular white flowers, from the timeless orange blossom, tuberose, and the slightly overlooked jasmine to the more contemporary jasmine sambac and champaca interwine to outline an elated sophistication.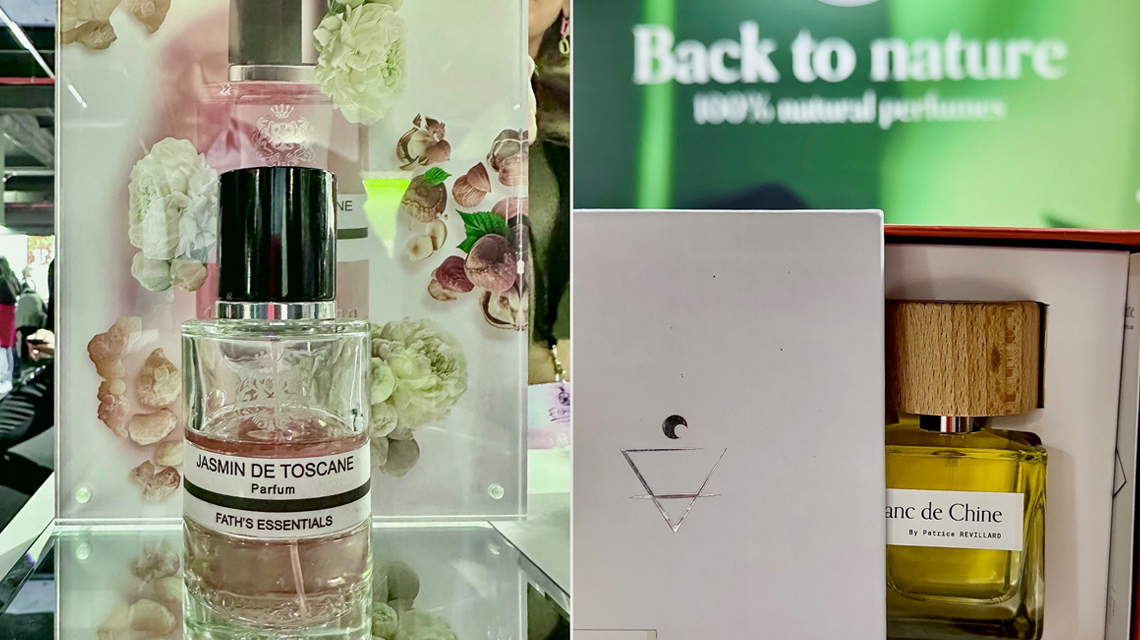 Fath's Essentials Jasmin de Toscane - Les Parfumeurs du Monde Blanc de Chine
Jacques Fath Fath's Essentials latest Jasmin de Toscane perfectly captures this joie de vivre. The inspiration comes from Creative Director Rania Naim who wanted to distill the smell of jasmine blooming around her birthplace in Beirut, as she never found such beauty in a perfume. So she had a branch sent via air mail to Paris by her sister. Thanks to headspace reconstruction, perfumer Jean-Christophe Hérault bottled a bubbling shower of Indian sambac jasmine blossoms, jasmine grandiflorum and tant pour tant, the nutty mix of powdery almond flour and icing sugar in equal parts used to make macarons, for a juice that makes a flawless pairing with its previous nutty creation Vetiver Gris.
From jasmine to gardenia, it's a short step and a white floral bouquet suggests the Tahitian gardenia impression of the newest Les Parfumeurs du Monde Blanc de Chine signed by Patrice Revillard who offers us a gauzy, sunkissed tropical flower.
Flower of serenity par excellence, linden blossom has a rightful place in this feel-good blooming theme for a more casual wear. Laboratiorio Olfattivo Til.. (Luca Maffei) provides all the pampering lift of the gentle late spring cream-tinged flowering.
The classic bouquet with lily of the valley, May rose and ylang-ylang undergoes a renaissance thanks to the hypnotic twist of honeyed champaca in Francesca Dell'Oro Else (Michele Marin) inspired by Arthur Schnitzler novel "Fräulein Else", which marks a step change for the brand. The dramatic climax calls for the decadent wickedness of carnation lending a touch of eroticism to the intoxicating trail.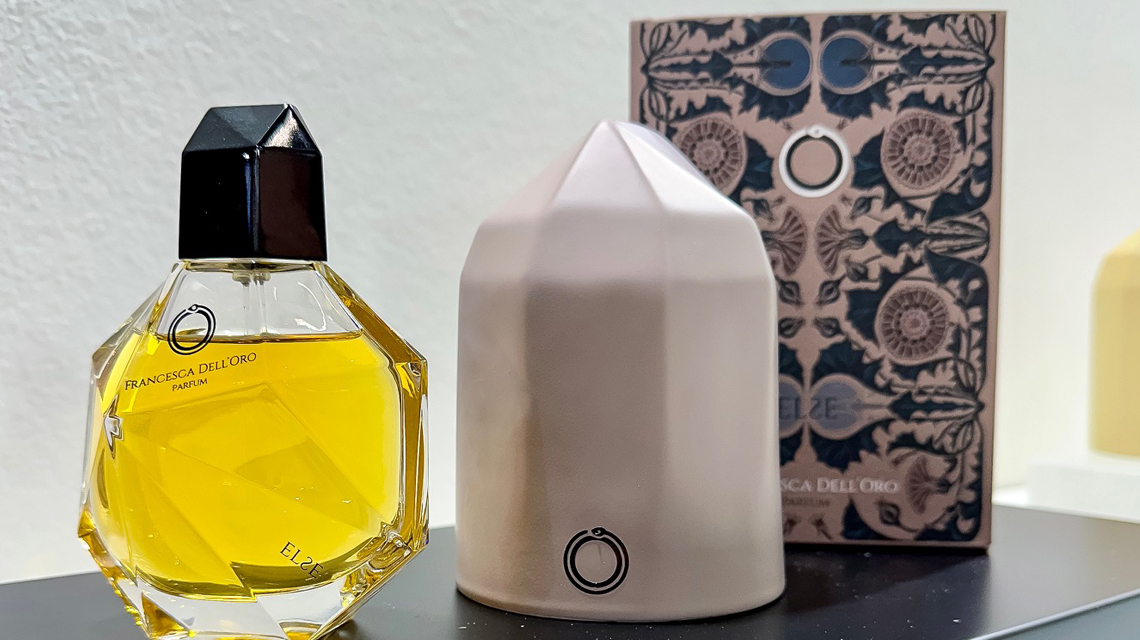 Floribunda which in latin means "full of flowers" fits like a glove with the rebound from gloomy days of captivity, a much-awaited flourishing of new opportunities, projects, arts and human relations so well captured by the lushness of flowers. Though not directly used in perfumery, Floribunda is also a variety of roses that provides great inspiration for its colorful ruffled bunches of petals. Rose actually never faded out of style, yet this trend is bringing fresh ideas to its timeless charm, shifting this divine archetypal to unconventional settings.
A rose and iris breeder from Padua, Davide Dalla Libera debuted his brand Rosae Virtus with four rose-focused fragrances which draw inspiration from the beautiful cultivars growing in his nursery. The crown jewel of the four proposals is Rosa Hiemalis, a cold rose drawn from Rosa chinensis "Old Blush" which suggests in the chrysanthemum aromatic hues a winter all about frozen wild herbs verging from sage green to mauve, sheltering a blueberry-tinged rose from inclemencies.


SCIENCE | MYTHS & TRADITIONAL BELIEFS
"We will get out of this situation better than before." How many times have we heard this motto in the last years? Have we succeeded going with our brain or with our guts? Probably both, as humans are made of both. Unquestionably science improved our living and today we can treat many diseases that were deadly decades ago. On the other hand, myths and traditions sometimes remind us of core values showing where we came from and what's the road to a brighter tomorrow, sometimes they're just for fun, not to be taken too seriously. Both inspirations are emerging trends.
Science is not only redefining the perfumer's palette thanks to pioneering research on conscious raw materials, but the resulting fragrances also feature unprecedented notes. For the first time, this enthralling vision gets out of the lab to bring to a more and more mindful customer a new Sacksian poetry.
If Geza Schoen's Molecules can be considered a forerunner of this concept, in the last years two players exhibiting at Esxence have made it obvious. The first is Headspace Paris, that leverages on the technology that since the 1970s changed perfumery allowing to analyze the smell of living plants to replicate it in vitro. Specific reconstructions like the smell of a storm or a flute of millesime champagne become the frame for imagination to sublimate them through top quality natural raw materials like clary sage or sandalwood.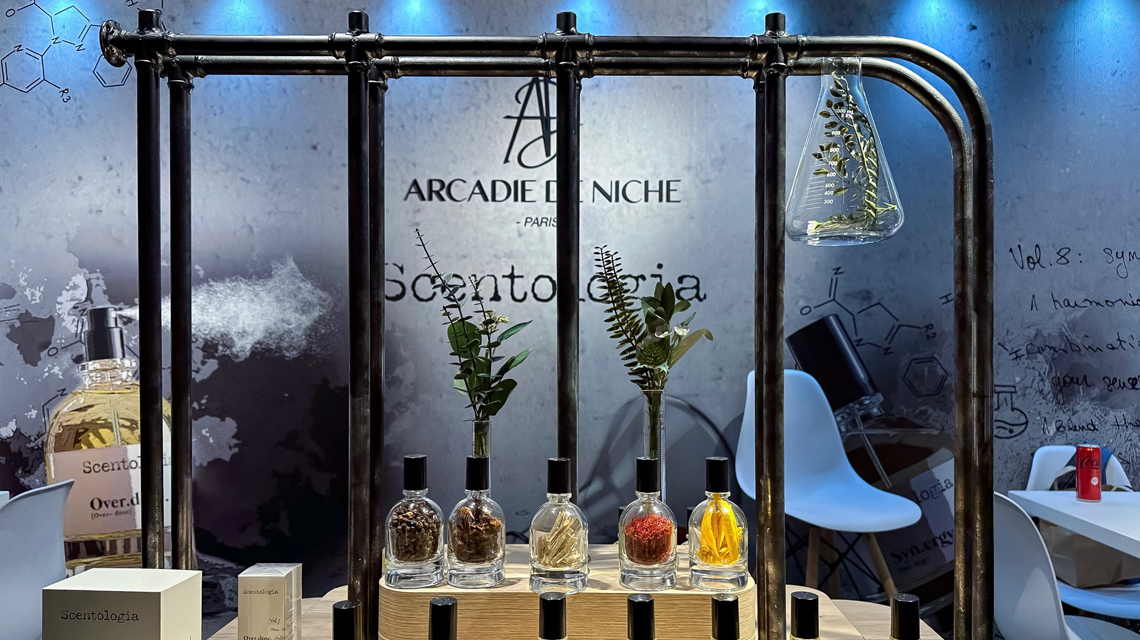 The latter is Scentologia which leverages on leading-edge extractions like the Symrise SymTrap technique able to capture volatile odorants from the processing of vegetable and fruits to make soups and compotes. The hyper-realistic mango SymTrap specialty empowering the new Syn.ergy (Pierre-Constantin Guéros) renders the most optimistic extra-juicy fruity floral I was able to smell at the salon.
Talking about popular beliefs, as for Italy nobody can beat Naples. If good luck is blind, misfortune has very good sight and the founders of Nobile 1942 Massimo and Stefania, true Neapolitans, like to joke about that. Their Antimalocchio (Mariaceleste Lombardo) is conceived to work as a shield against the evil eye, delivering the playful spiciness of chili pepper backed by aromatic herbs like basil, and a caramelized woods trail. Red horns and horseshoes all over the packaging make it the new lucky charm to bathe in in the best Parthenopean tradition.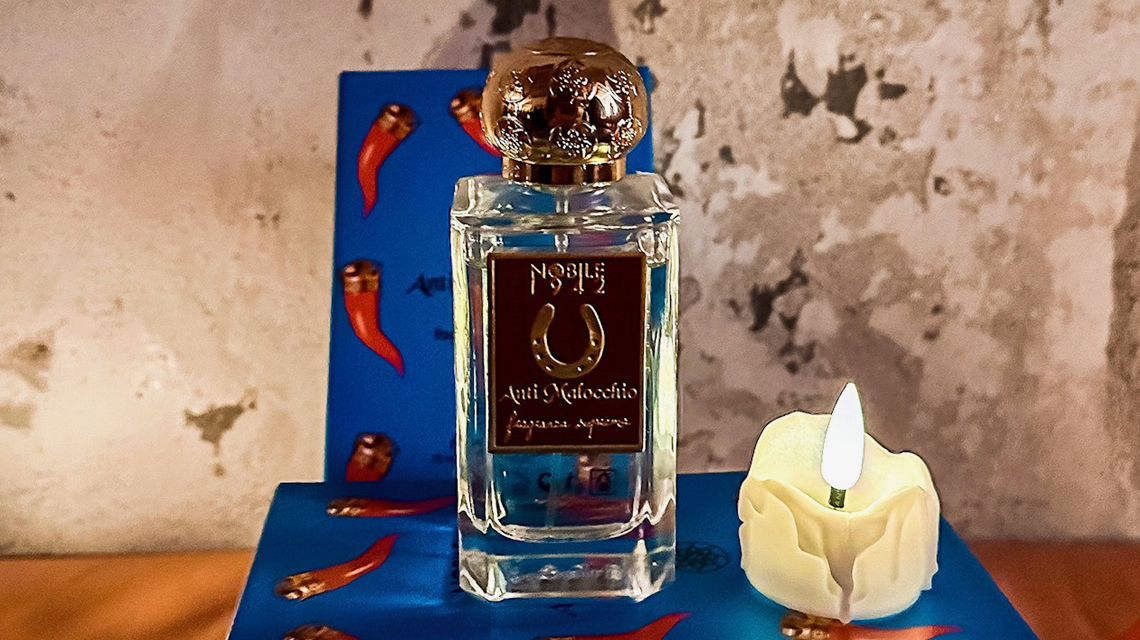 Nobile 1942 Antimalocchio
Inspired by the ancient treaties about numerology, the Numerus collection by Spiritum Paris aims to obtain protection through numbers as powerful cosmic talismans, bringing back as well perfume to its original spirit, a rite of awakening engaging body and soul in connection with the divine, in the words of the founder Jonathan Dufour. Built on the signature accord of sage, incense and sandalwood said to be sheltering and purifying, the 5 – Mystic Warrior (Philippe Paparella-Paris) channels endless energy and fulfillment into a sultry amber empowered by labdanum bearing honeyed and almost leathery licorice hues.
Common wisdom traditions can be found in several religions, and myths forming the original knowledge core of humanity. In some cultures it is the discovery of Atlantis. In others it is a journey to the center of the earth of Vernian fame. Taking this exciting descent to the next level, Agarthi – Scent Core debuts with four fragrances inspired by a legendary world and its dreamlike landscapes steeped in the unreal light of crystal reflections. As you land by sea to Hidden Shores (Cécile Matton), you get to peaceful cliffs won by the adventurous smell of coniferous woods and wild berries, embraced by the calming silence of the undergrowth greenery.


NEXT LEVEL GOURMAND
The evolution of edible notes in perfumery goes on, widening the palette from the chocolate-caramel-popcorn that's been for decades under the sun after Thierry Mugler Angel to a more grown-up and textured gamut.
Milky notes can be found underneath many creations that hit the shelves in the last two years, used to add depth and roundness to coffee accords with their creamy nuances, or to matcha and Lapsang souchong teas to suggest the nutty mellowness of chai. In particular, the new wave of amazing sandalwood productions from the Pacific area showcased also at SIMPPAR last year finds here its place of choice adding naturalness and texture with its bread-biscuit woodiness.
Like "coffee", also the word "fanfarone" comes from the Arabic farfār which means «talkative, shallow, fickle», so it's perfect to capture the everyday Italian habit of loafing around at the bar talking and drinking coffee. Funny and provocative, State of Mind Fanfarone Italiano (Karine Dubreuil-Sereni) pays a tribute to Italy with its liqueur-like coffee.
Chez Parfums de Nicolaï they like their coffee spiced up; this is clear since the first whiffs of Caravanserail Intense where Patricia de Nicolaï surrounds the roasted bitterness of coffee with swirls of cardamom, clove, and curry-like immortelle to later dip it into the pulpy mellowness of a contemporary fruit-chouli accord.
Olfactive Studio widens its Sépia Collection getting under way three fragrances dedicated to tea. The first born is Smoky Soul by Marc-Antoine Corticchiato. Focusing on Lapsang Suchong tea, the smoked bitterness of fermented leaves is smoothed here by osmanthus and jasmine sambac. The velvet touch of patchouli and savory seaweed absolute boost here a tremendously chic umami and chypre effect.
The addictive bite of carbs is among the latest shades in perfumery. Whether it's strawy yellow oat or pearly iridescence of rice, the tasty gamut of cereals blows new life into the gourmand facet, working wonders in both sweet and savory concoctions.
The best embodiment of this trend smelled at Esxence is a picture in black and sepia, yet full of shades shot by Meo Fusciuni. Giuseppe Imprezzabile latest creation Sogni is a love letter to the land of the rising sun written with the hieratic aromas from the temples and the homely smell of boiled rice cups, impermanent symbols of Japanese soulfulness and subtle eroticism.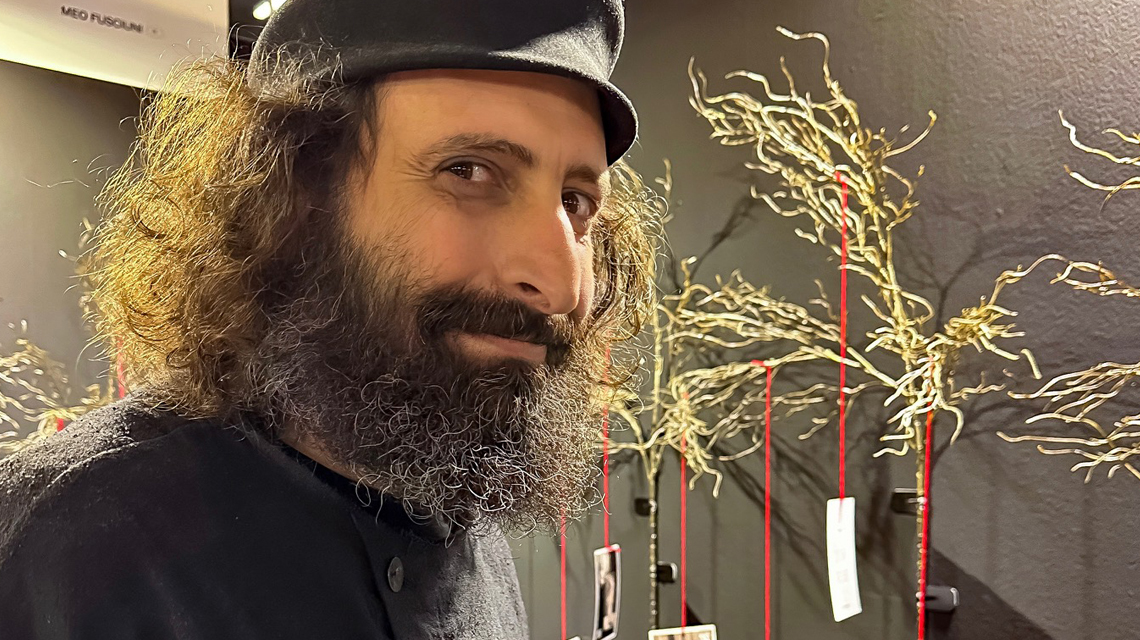 CLASSICS RELOADED
If fog-horn monolithic perfumes still appeal to a wider audience of newbies looking above all for monster sillage and lasting power, the inevitable leveling due to loads of usual suspects like ambrocenide, ambermax, and other powerhouse dry amber molecules has triggered the crave for refinement and chatoyant compositions faceted like precious gems. This is also a chance for youngsters to explore the pillars of classic perfumery and enjoy a more sfumato style.
Five years from the rebirth of Iris Gris under the name of L'Iris de Fath, the mythical fragrance worn by Rita Hayworth and other golden age of Cinema stars, Jacques Fath launches a more affordable yet equally heart-stirring L'Iris de Fath eau de parfum (Patrice Revillard). A more streamlined writing still brings out iris in 3D with powdery, floral, and vegetal hues supported by a classic rose and jasmine bouquet. The glorious peach velvet that made it famous is here subtly enhanced for a younger, cheerful touch that vintage hardliners will enjoy as well.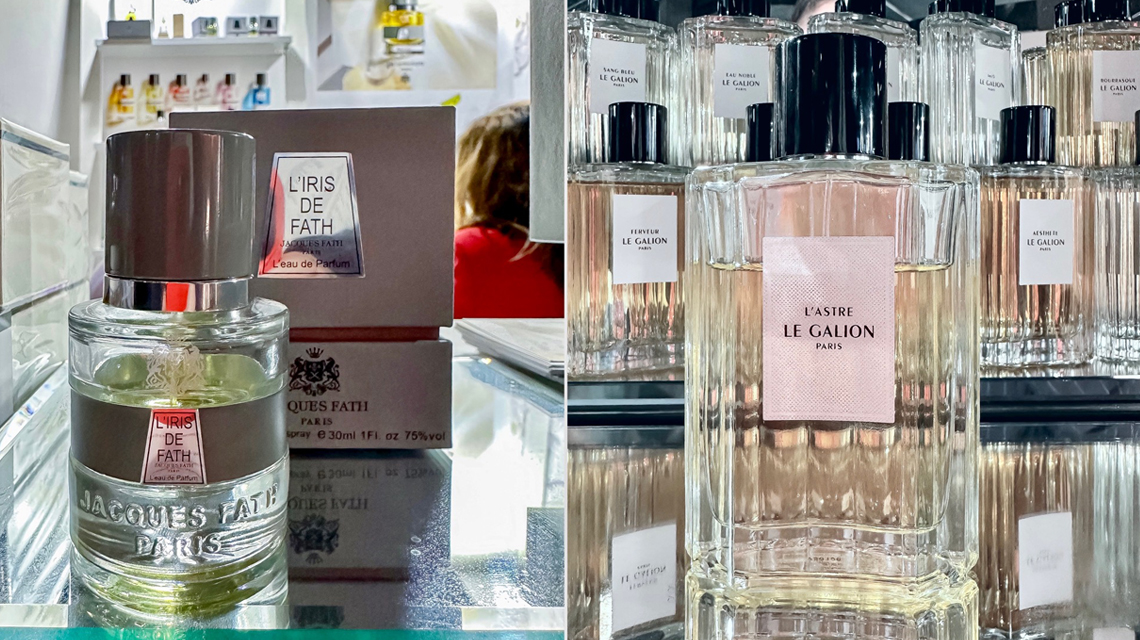 Jacques Fath L'iris de Fath edp – Le Galion L'Astre
From one Hollywood legend to another, the newest Le Galion L'Astre brings back to life the captivating beauty of Ava Gardner. Bathing herself in Sortilège, Ava asked once Paul Vacher to make her a custom perfume, that perfumer Rodrigo Flores-Roux beautifully remastered as a twinkling floral. Radiant ginger, cardamom, and the aromatic freshness of sweet fennel take white florals to the stars where orange blossom and old-school jasmine sing a love duet. True Divas never go out without gloves, and so does the glamorous drydown brushing the skin with suede for a sensual touch of mystery.
Channeling a more recent and laid-back nostalgia, since the colorful label UÈRMI 70's MOOD plays with art, music, design, and fashion from the hippie culture. This contemporary "woody fougère" (more of a woody amber to my nose) opens with the chill of pink pepper and cardamom juxtaposing the pleasurable warmth of chocolate-tinged patchouli, the star of the fragrance, laying on a cozy bed of balmy vanilla.