You Want to Know What is Behind the Solid Trend for Solid Perfumes
2023 . 09 . 14 | written by Laurence Arrigo Klove
This is not a fugitive trend. A simple google search demonstrates how strong the topic has been for many years. A string of articles typically comes out on this subject before every summer given the travel friendly format of solid perfumes. Journalists usually give their recommendation on the best selection of solid scents, thereby giving their opinion on a variety of brands choices. My intention is to go through potential explanations behind the acceleration in the release of solid options. Rather than writing a linear article text, I explain the reasons for our booming interest into an alphabetical description list. I invented a creative pocket size dictionary, made of definitions with condensed content encapsulation. All entries rhyme in unison like a universal hymn of love for solid perfumes. Small is beautiful!
The Solid Perfumes Pocket Dictionary Definitions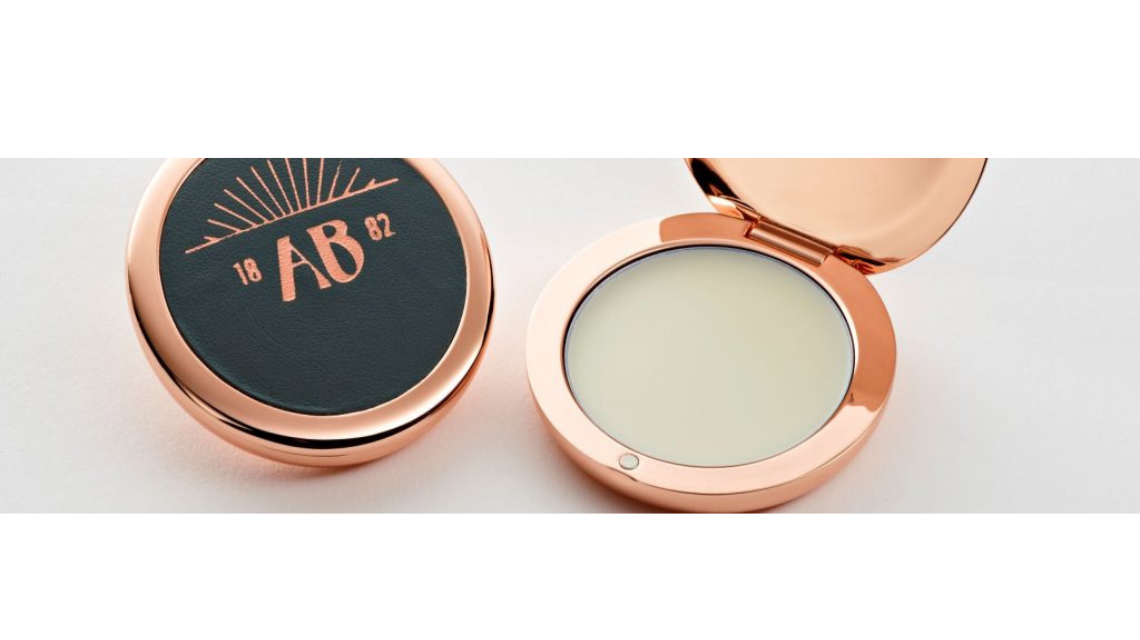 French Ab 1882 solid perfume come back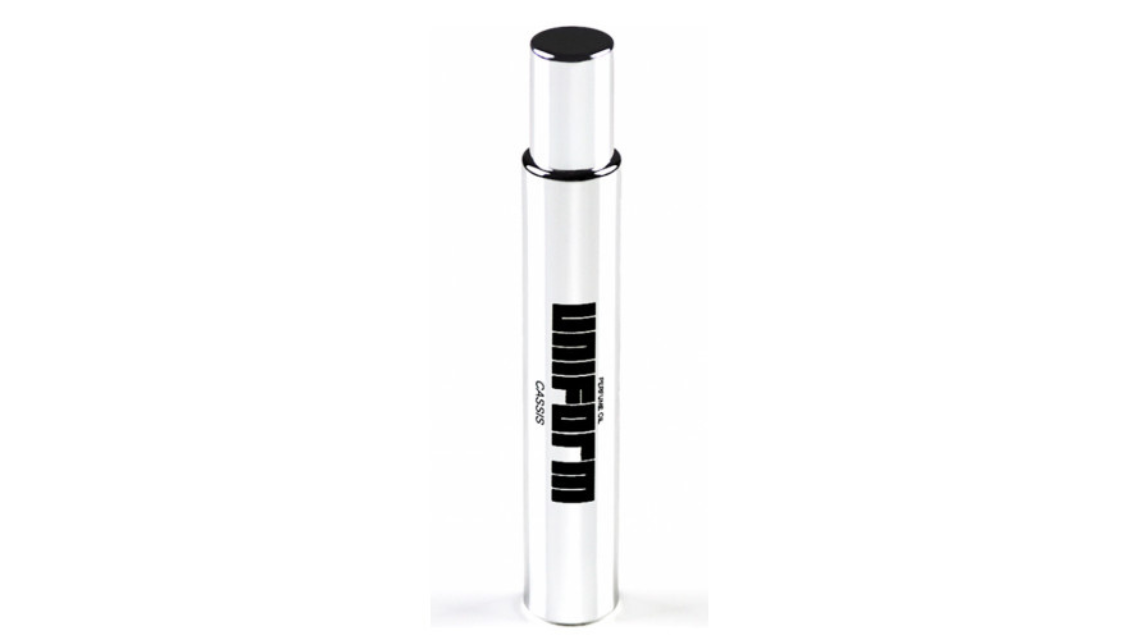 Swedish brand Uniform founded by Haisam Mohammed in 2019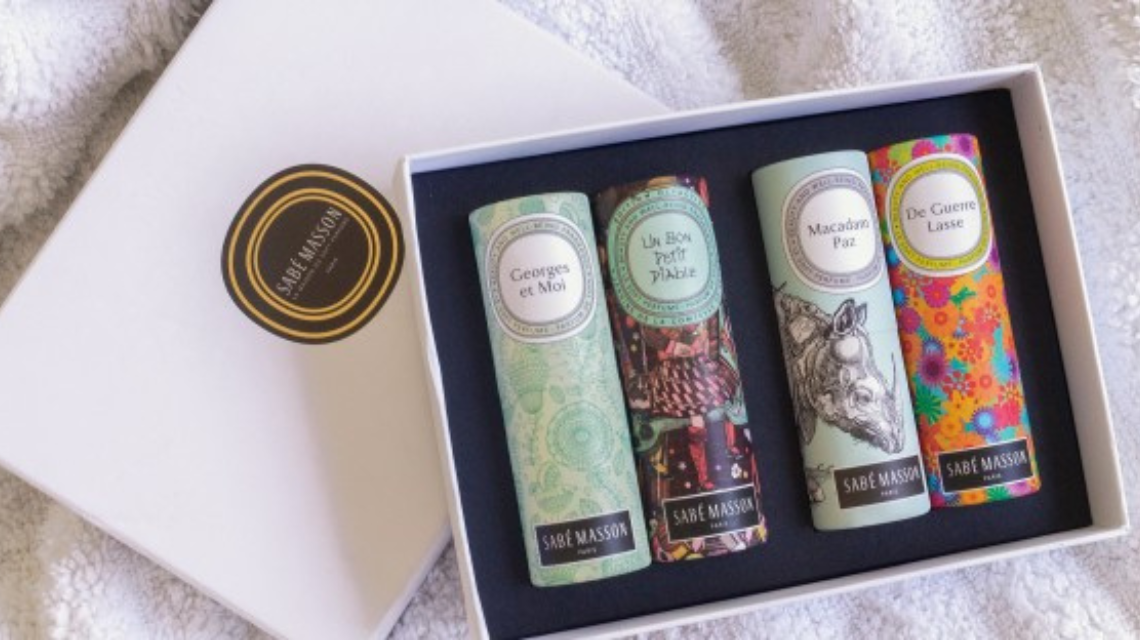 French brand Sabé Masson collection of soft perfumes
Beautifully Fashionable: To no surprise major top magazines around the world have covered the solid perfume topic: The New York Magazine, Glamour, Harper's Bazaar, Vogue, Condé Nast Traveler, Editorialist…
Born Original: Some historical brands had manufactured solid perfumes a long time ago (French Ab 1882), they disappeared and today have resuscitated. Others were launched recently (French Sabé Masson, Swedish Uniform), born with only this concept in mind. Major fragrance houses have also added solids to their perfume collection (Le Labo, Gucci, Jo Malone, Aerin, Dyptique, Glossier You, Givenchy, Byredo, Boots, Jo by Jo Loves Fragrance Paintbrush, Estée Lauder, Bond No. 9 New York)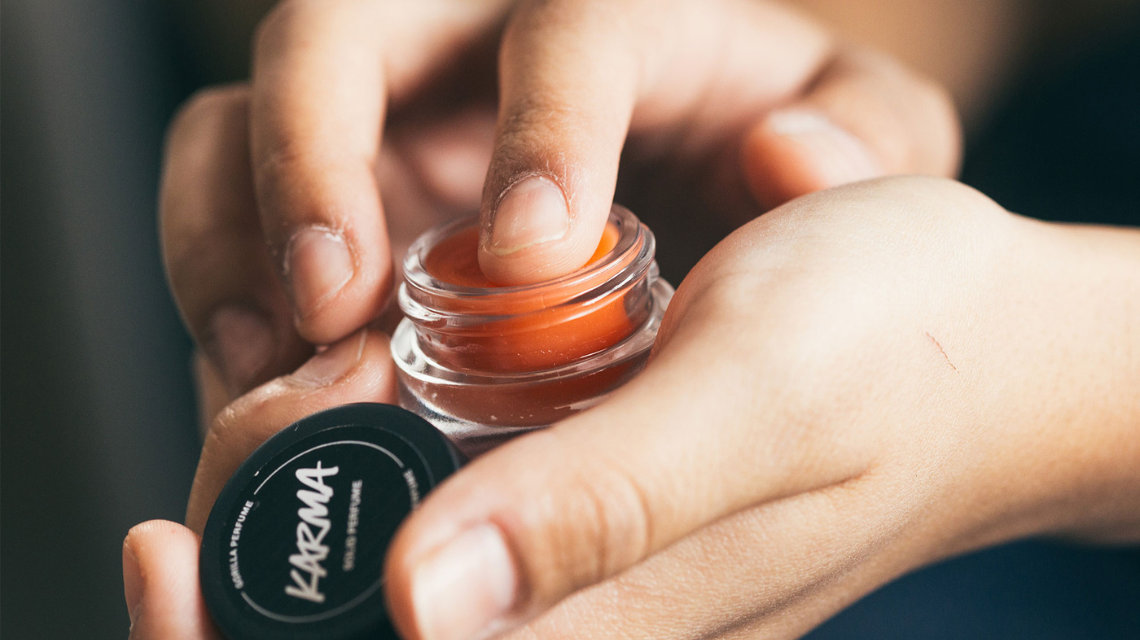 Lush expression for its solid perfume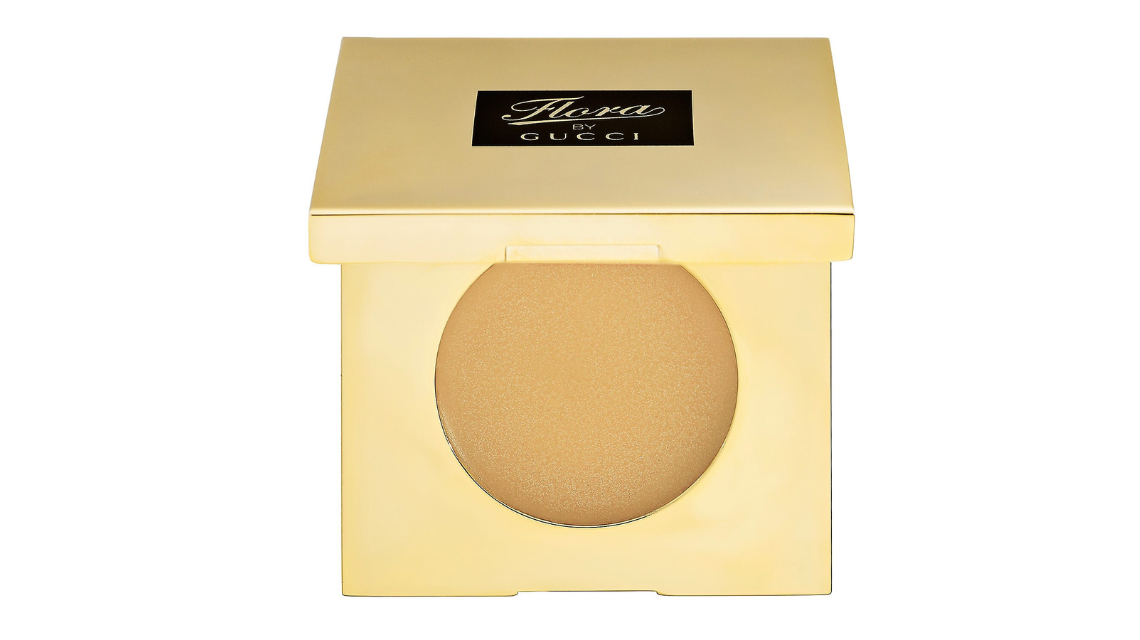 Flora Gucci solid perfume
Basic Staple: Light as a feather, when out and about, solids fit our nomadic and on the go life. Ideal for touch-ups any time during the day, very practical when we crave a subtle dab of moisture and perfume. Solids are now a permanent fixture in our bags.
Design Adorable: The solid perfumes packaging quite simply looks beautiful. Their design is carefully crafted as one gorgeous accessory. Like a lipstick or balm, solids compete in their creative and stunning looks.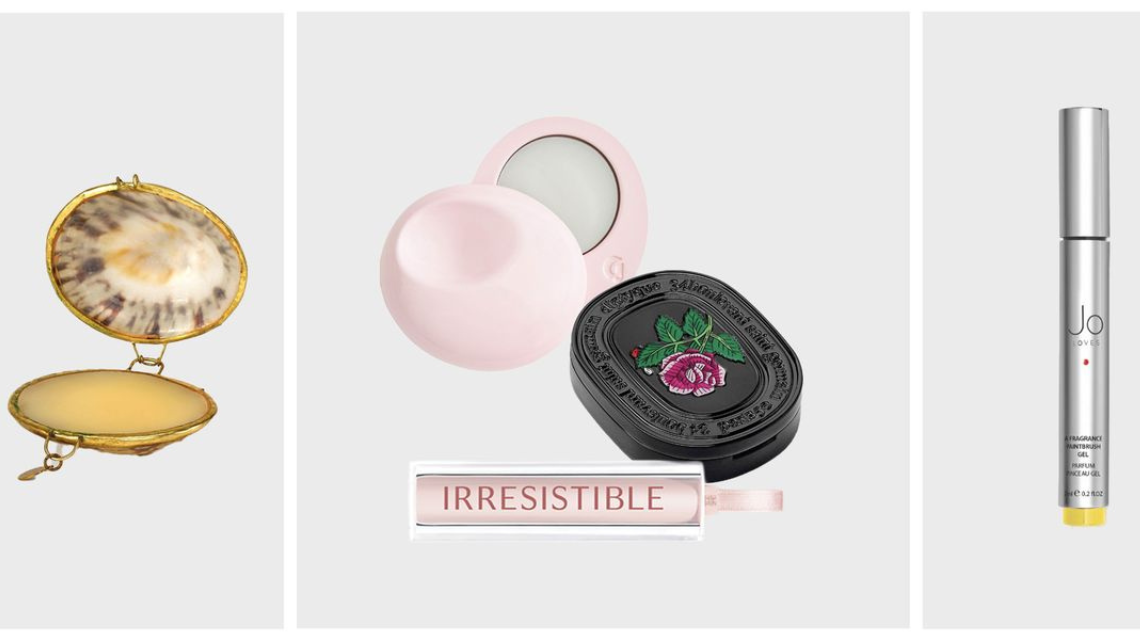 Illustrations of the beautiful design of solid perfumes
Eco Sustainable: A hot topic. Solids come mainly in refillable and recyclable cases. They are alcohol-free and water-free. The whole product production is eco-friendly in comparison to the heavy perfume glass bottle and its pump dispenser containing plastic. The positive impact on the environment is clicked.
Natural made: Solid perfumes usually contain between 96% up to 100% natural ingredients. Raw materials are ethically sourced by most of the brands.
Non-flammable: Solids don't have the hazard of liquids nor their heat issues. The solid perfumes' texture stays compact, dense, and soft.
Perfume Substantial: The lasting power of the scent in solid perfumes is a subject of debate. Depending on the fragrance composition itself, solids can be light weight or more potent. Some may even last longer on the skin than a typical liquid perfume. Robust notes such as amber, wood and spices will bring a good longevity to a perfume. It seems that experts agree that overall solid perfumes last just as long as spray perfumes.
Pocket practical: A lovely miniature item. The solid minis typically weigh only 3 grams, fitting nicely inside a zip pouch, handbag, or purse. They are our perfect travel friendly companions.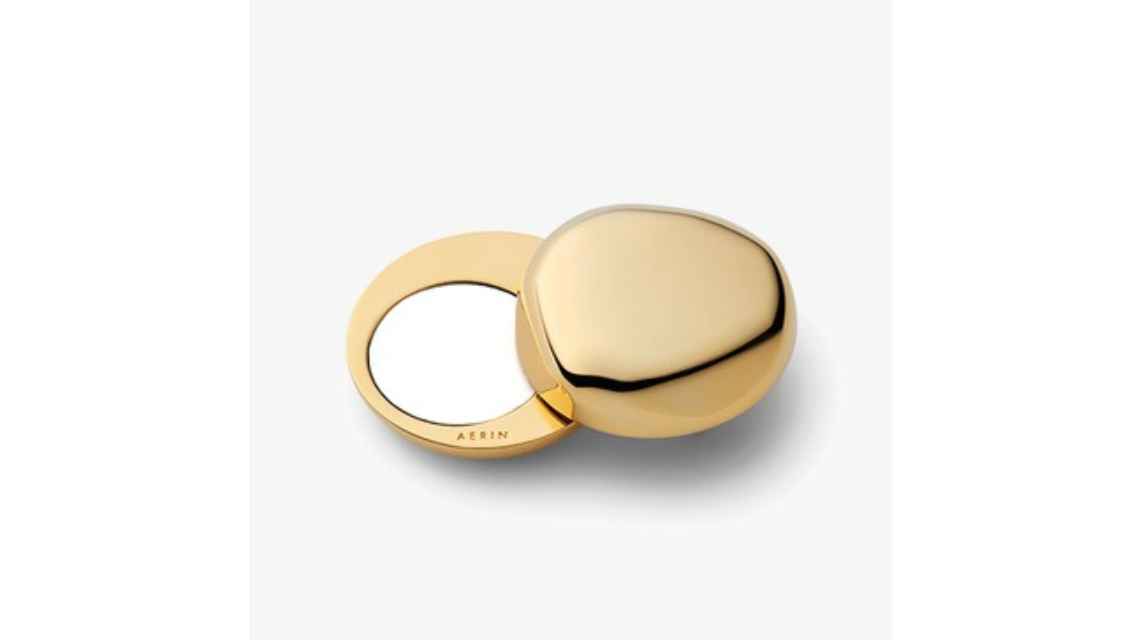 A mini beautiful size example by Aerin
Price Affordable: Solid perfumes are surely an economically smart option. Accessible at a only a fraction of a regular perfume price. Their price range is between 5 and 60 euros. They let us indulge in accessible small treats.
Scents Available: Having a vast array of choice between scents makes it a playful experience. Solid perfumes also allow for fragrance personalization. Their duo, or scent pairing alternatives create a fragrance layering experience, completely customizable and personal.
Skin Compatible: Ideal for sensitive skin given their formulation without alcohol. Instead, they nicely hydrate the skin with their diverse and rich blend of perfume oils. Their skin-nourishing ingredients include a wide range of vitamin E, beeswax, and vegetable oils: safflower, sunflower, jojoba, coconut, sweet almond, soybean…
Skin Spreadable: There is a great attention dedicated to the texture of the solid perfumes. Does it melt into the skin, does it absorb quickly, does it leave any waxy oily spot? Critical questions to be answered by experts for an experience of pure delight for our skin.
Solidly Universal: If it was a trend in the past, it has now transformed itself into a permanent and universal offering. Most countries across the globe have a craving for solid perfumes. A 'must-have' in the perfume collection.
Use Adaptable: Solids can be used as the base coat before a top layer of liquid perfume. As perfume is proven to cling to hydrated skin, applying solids leverages the perfume's lasting power even further. Solids can be applied on multiple touch points as their application is focused and precise: ankles, wrists, neck, arms, ears, forehead, back… Anywhere really, wherever we wish.
Very Giftable: Their design and format are so likeable that they are the perfect, ultimate gift. Solid perfumes are an accessible indulgence, a luxury treat for birthdays, special occasions, Xmas…
--------------------------------------------------------------------------------------------------------------------------------------
In one word irresistible. There are just too many reasons to fall for solid perfumes. Resist no further the temptation of a solid scented treat. Indulge in Small Eco-Friendly Luxuries.