Tune in to Smell Stories, an independent Belgian perfume station
2022 . 11 . 03 | written by Laurence Arrigo Klove
Kurt and Stéphane run the business entirely by themselves. They aptly shuffle independent brands in their experience room for their perfume's lovers' community.

Kurt, one immediate blunt question for you, what is the story behind 'Smell Stories'?
All right here it is. Stéphane and I had been working for large international companies, both of us decided to quit in 2019 and invest our savings into the creation of a different kind of perfume shop. We were passionate about perfumes, we both wanted to be independent, and above all we had in mind an original concept of niche perfumery entirely focused on the client. The principle of being independent was mirrored by selling independent brands only. As we know our brands in an intimate way, we can tell our clients an authentic, personal, and original story.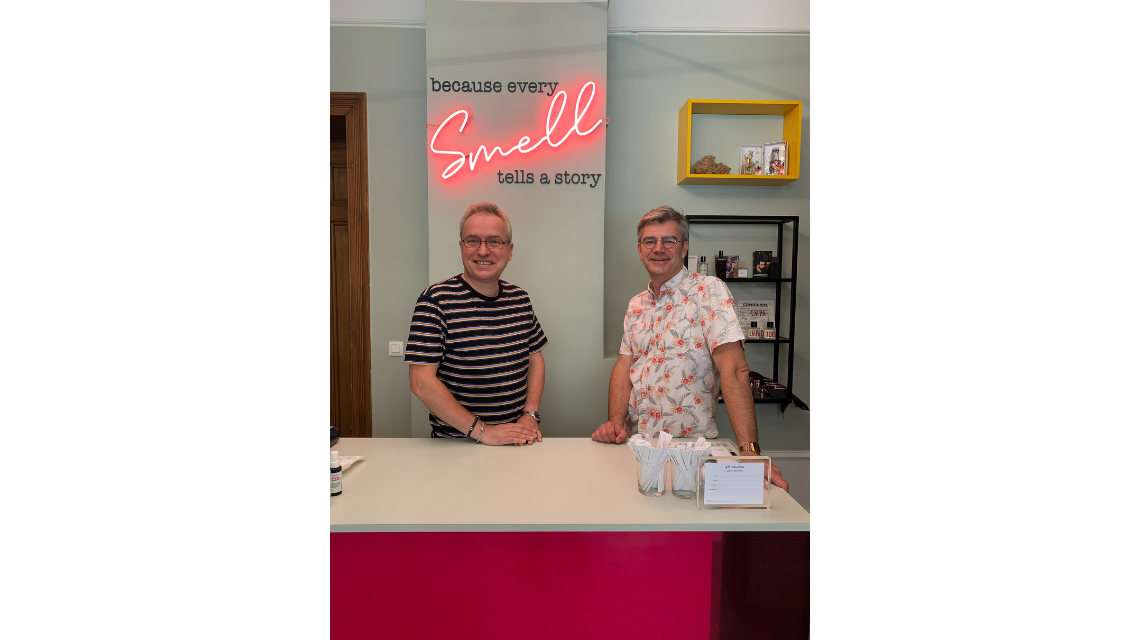 An Original Place for Independent Minds

What do you mean by original way?
We got completely rid of the usual perfumes' presentation brand by brand. Instead, we decided to split all perfumes by olfactive families so that all the brands are mixed inside our shop and all have the same level of visibility. Our clients can better understand which perfumes they are attracted to, and make their decision in a simple and easy way.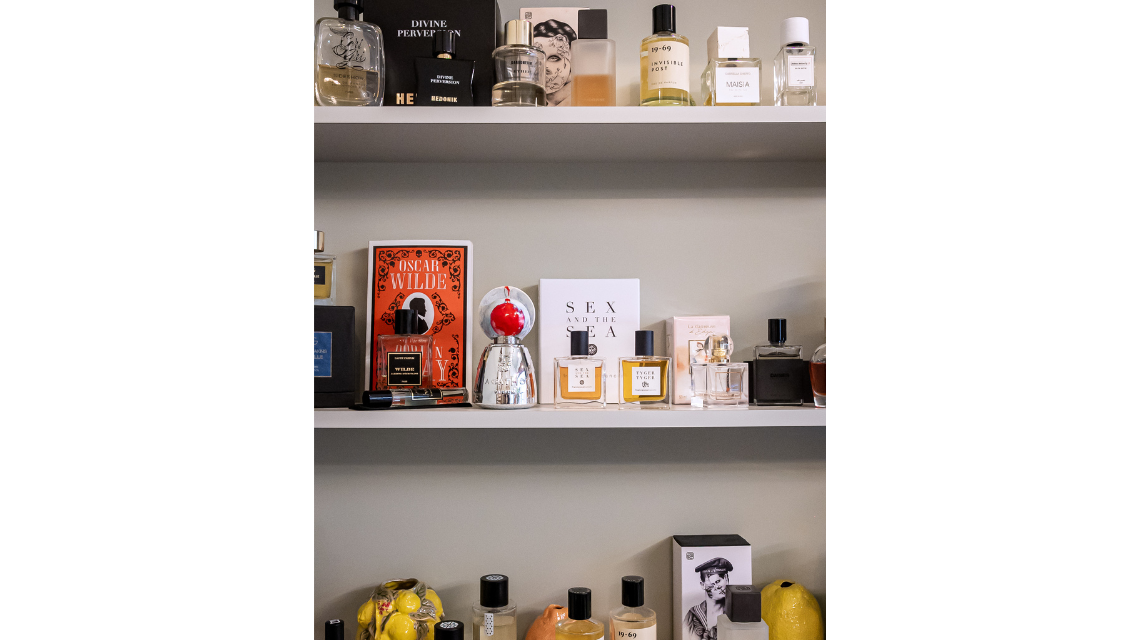 Perfumes are presented by olfactive family
Olfactive Families guide the Perfumes' Discovery

I guess your independent brands share the same vision of the perfume experience…
They do! In our initial discussions, we explore our values, approach, vision so that we understand each other very well. It is only when there is a good match that we decide to introduce a brand. Today, our curated selection features 45 brands, and is exclusive to us for its vast majority. Brands belong to our perfume experience so they are invited to join our client events that we organize several times a year.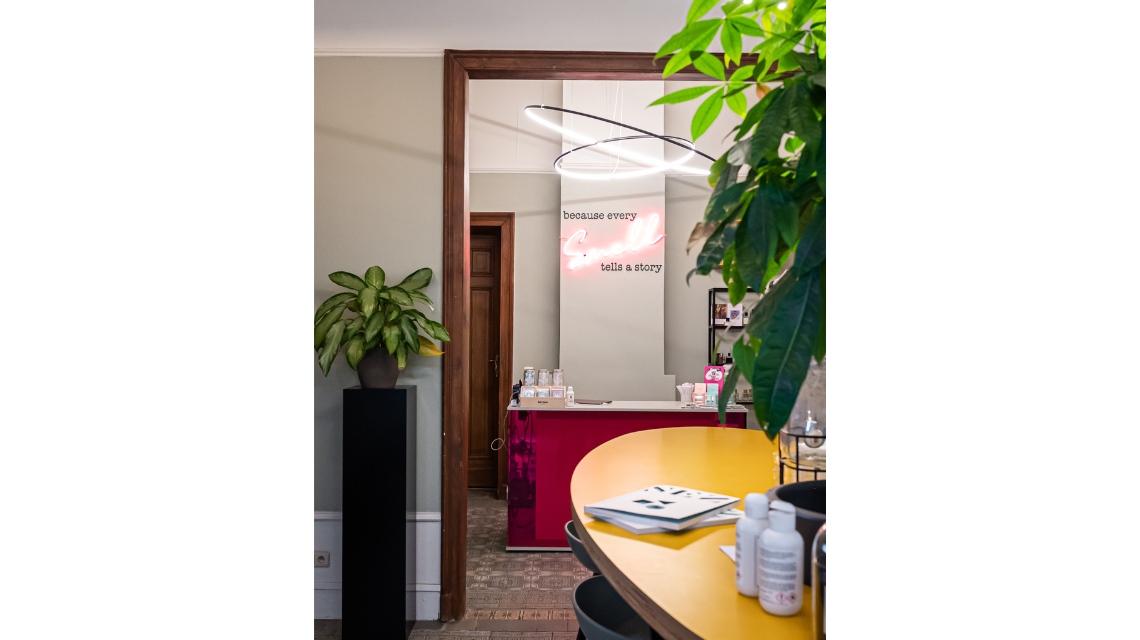 Smell Stories perfume experience room
Serious research mixes with personal relationships

It sounds like you go for an extensive research process…
This is the serious side of the story. We research what is new, what is not available in Belgium, go to trade fairs and then draw a brands' wish list. At this moment, we have more than 20 brands on our list but in the end, we can only introduce a few. Sometimes, research time is cut as we have an immediate, passionate encounter, such as with Barbara Herman, American blogger, writer, and perfumer. We met at Esxence this year and were totally seduced by the opulent perfumes of her Eris Parfums brand. By the way, after Esxence, we took the opportunity to visit the Bogue perfume headquarter in Brescia, definitely a daring, experimental perfume destination.

Why did you include body and home scents in addition to perfumes?
We wanted to incorporate all categories that 'smell good', with the same selection principle and also connecting North & South. Unlike Paris where one can find mainly French perfumes, Brussels is a melting pot of different cultures and nationalities and so is Smell Stories presenting brands from 15 different countries. While perfumes account for 70% of our sales, it is important for us to include home scents, soaps such as Savonneries Bruxelloises, laundry detergents, shampoo for pets, toothpaste… for this latter category, for example we picked a beautiful Swedish brand called Selahatin.


A deft selection of international and local brands
In retail location is key, so tell us about the rue des teinturiers where Smell Stories is located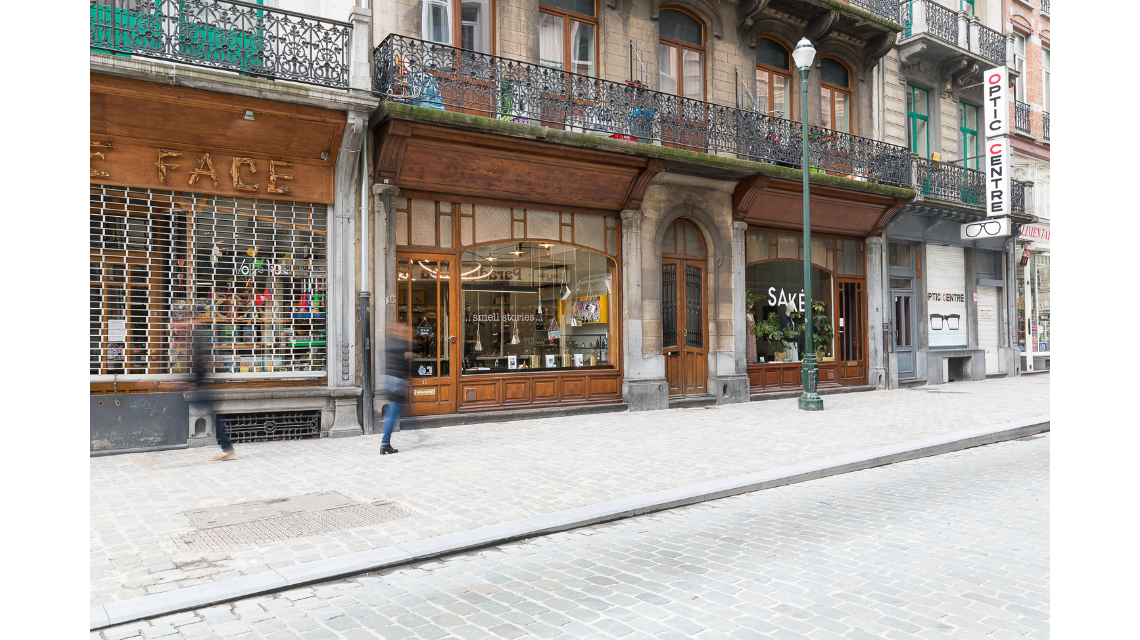 Rue des teinturiers, quartier St Jacques
Rue des teinturiers belongs to the quartier Saint Jacques, near the Grand Place, the major touristic destination of Brussels but it is like a separate village. It is full of independent boutiques, craftsmanship and vintage shops, restaurants, and lively bars. Smell Stories fits well in this small village. There are no international chains or luxurious brands around, only independent actors, like us. It is a place where our clients feel at home whether they are locals or tourists visiting from abroad. Our customers have a very diverse profile in terms of age, style and profession, but they share one common passion for perfumes.


Smell Stories is a Community of Perfumes Lovers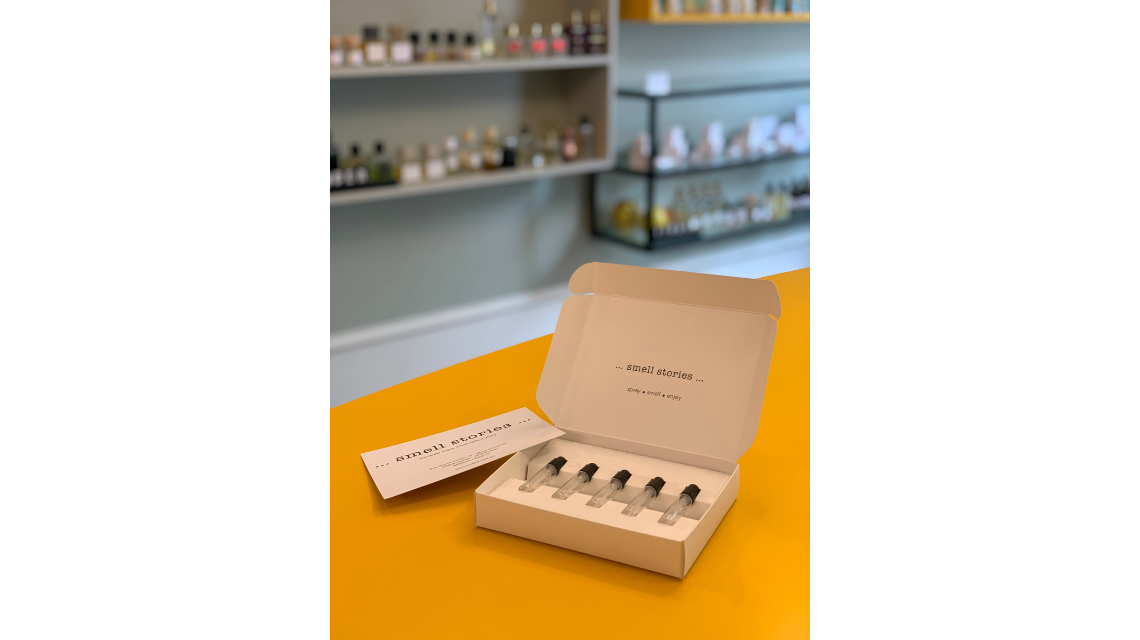 Smell Stories perfume discovery box
During our fragrance tasting sessions, people get to know each other in an informal way so our shop has truly become a social meeting place. The location to meet before going out for drinks for example. We have created a community of people united by their interest in perfumes, who even listens to our Spotify music playlists at home.


What is your approach for guiding clients in selecting their personal fragrances?
We follow a set of principles. We take time, the same amount of time whatever the price of the perfume, 70 euro or 300 euro. We listen carefully and read through the minds of our customers. We make guesses and recommend 2 or 3 perfumes but usually our first recommendation is the right one. We even offer exclusive fragrance consultations when the shop is reserved for two people only, for a special, dedicated experience. We have noticed that we have had more requests of this kind post covid.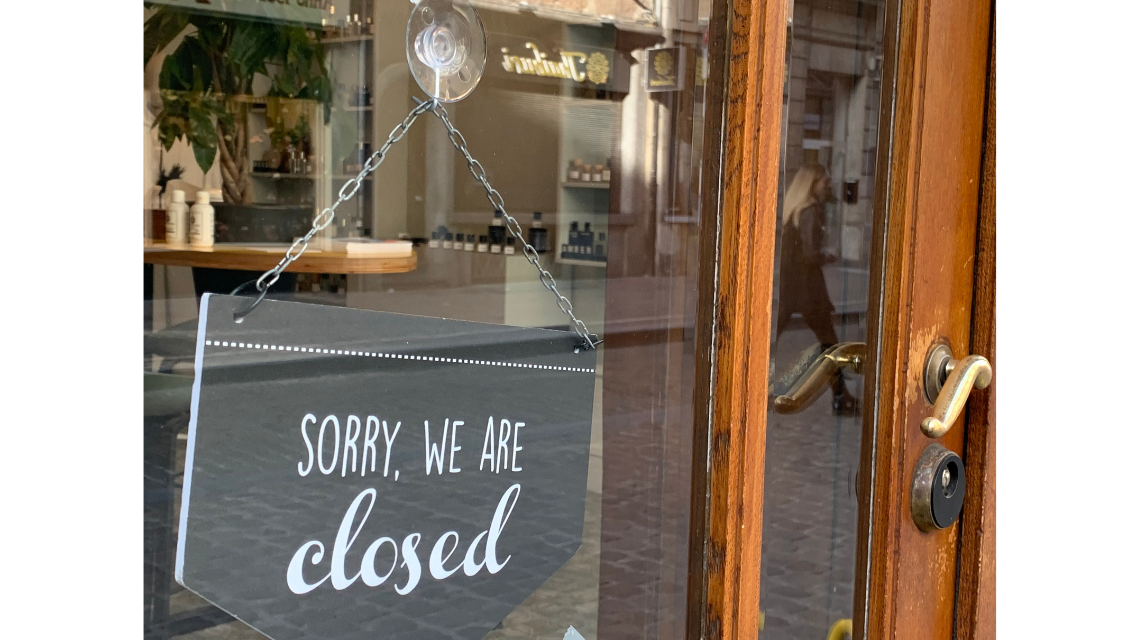 Smell Stories is closed while a private fragrance consultation is underway
Tell us how covid has changed your business
Naturally, our e-commerce has greatly expanded and is now weighing for 30% of our overall sales. Somehow our physical shop has become an experience room whereas our site is sales driven with discovery box subscriptions, samples trials, EU shipping and soon worldwide. Our monthly e-newsletter also funnels business back to the e-shop. We also do digital tasting sessions.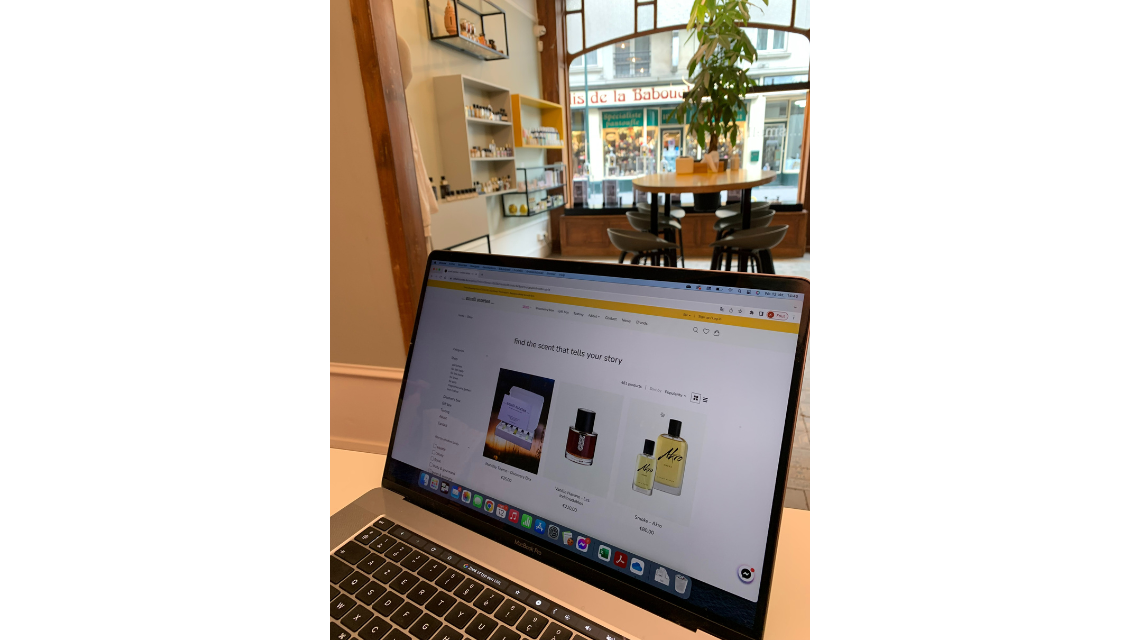 E-commerce is a major component of sales
If you were to take your vision of perfumes into a different world, where would you go?
I would pick the music universe. Like perfumes, music is intangible and generates strong emotions. I would also draw a comparison with a handmade tailoring piece, possibly with buttons and lining carefully sawn, hidden initials, discrete and fit to perfection. Totally in unison with one's personality and figure.


Given the current success of Smell Stories, what is the future looking like?
Smell Stories will remain a one shop boutique in Brussels. We neither want to open more shops nor expand abroad. We want to remain small and independent in order to keep our original concept, no change is needed. There is plenty of room to grow with the current business in place.
---


Tune in to Smell Stories, the alternative station.
Smell Stories is the alternative perfumes' station, going beyond the mainstream and broadcasting from Brussels in three languages, French, English and Flemish. Two talented perfume experts shuffle soft, hard, classic, new wave, and indie compilations. One of Kurt's favourites is alternative metal (Douleur! from Bogue). A small and independent station with a growing audience enjoying their personal perfume vibrations. Are you ready for the shuffle?
https://www.smellstories.be/en/
http://www.erisparfums.com/about
https://www.savonneriesbruxelloises.com/