THE MERCHANT OF VENICE: An Homage to the Tradition of Venetian Perfumery
2022 . 04 . 14 | written by Karen Marin
'If I were not King of France, I would choose to be a citizen of Venice.' – Henry III*
When one thinks about Venice, it is with a sense of wonder. This floating city, unlike any other in the world, veiled in mystery and secrets, was once the richest and most powerful empire in Europe and a bustling center for trade. Consequently, Venice played a pivotal role in the history of perfumery, a fact that is too little known. Enter the Vidal family. Not only are they native Venetians with ancestors among the founding families of the city, but they also have over a century of expertise in the fragrance and beauty sector. The Vidal family company, Mavive, has a diverse portfolio of masstige, premium and luxury brands. The jewel in the crown is The Merchant of Venice. Creative Director, Nicola Pozzani, graciously granted me a Zoom interview and also met me at the boutique in Campo San Fantin, near La Fenice, the famed opera house, on a recent trip to Venice. "I see the brand as an act of love from the Vidal family to the city of Venice." With La Serenissima as a muse, let's find out more about this love story!

The Merchant of Venice is referred to as a cultural luxury brand. Why is that?
The brand was born from a very special partnership that has existed for many years between Mavive and the Fondazione Musei Civici di Venezia – the public body that owns the museums in Venice. I've been very fascinated by this relationship, and by how much passion, and resources the Vidal family has invested in this project. The Merchant of Venice was created around 2014 and it's the sole appointed fragrance collection to the Palazzo Mocenigo Museum and Study Centre for the History of Textiles, Costume and Perfume. In fact, the Vidal family started their soap production four generations ago in the same building where the museum is today, so there is a strong historical bond. And of course all of the fragrances are inspired by the history and the culture of Venice.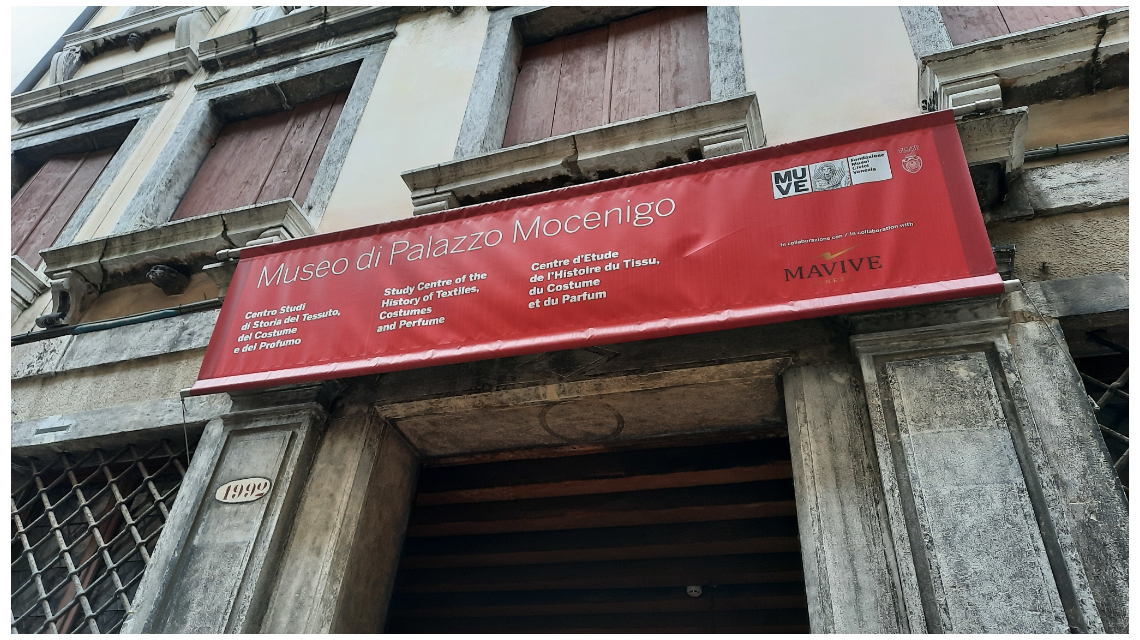 Palazzo Mocenigo exterior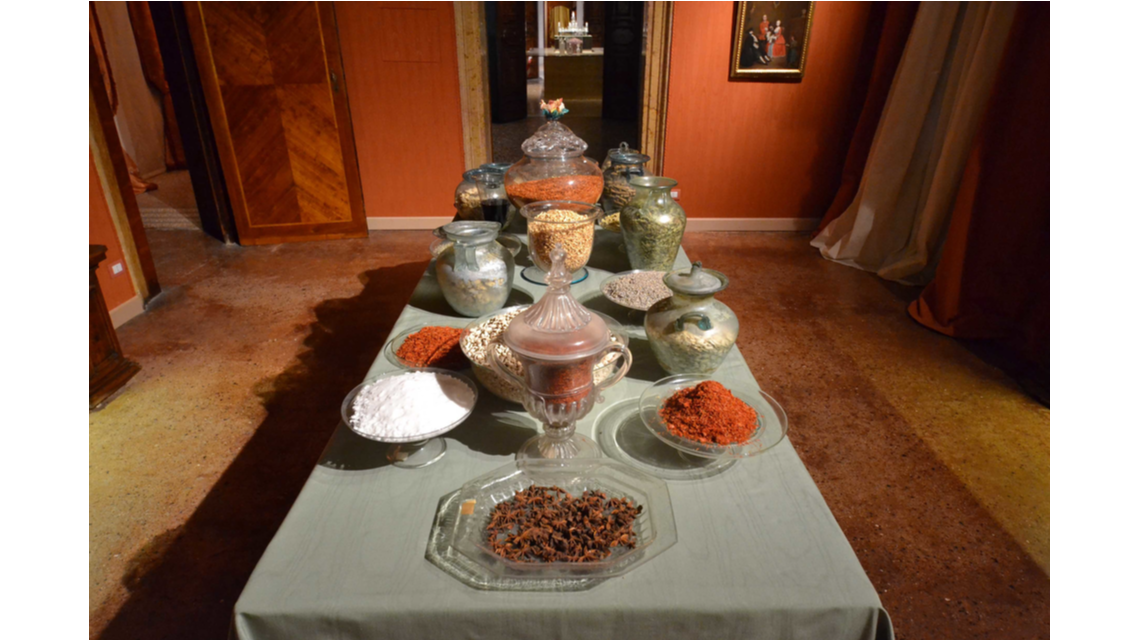 Museo del profumo - table of raw materials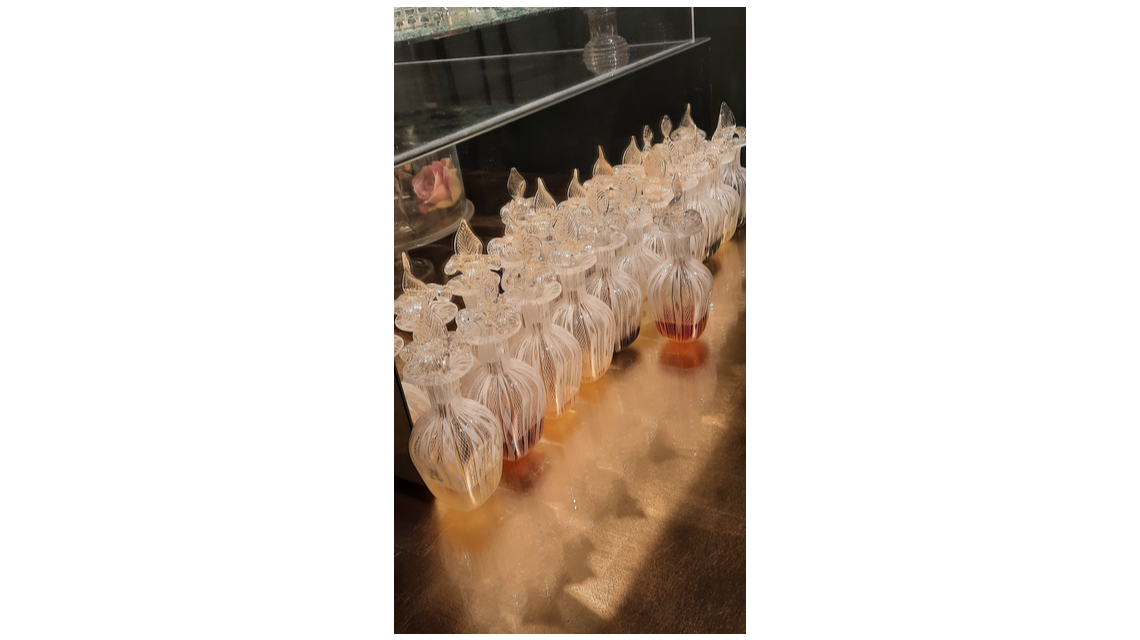 Palazzo Mocenigo - perfume flacons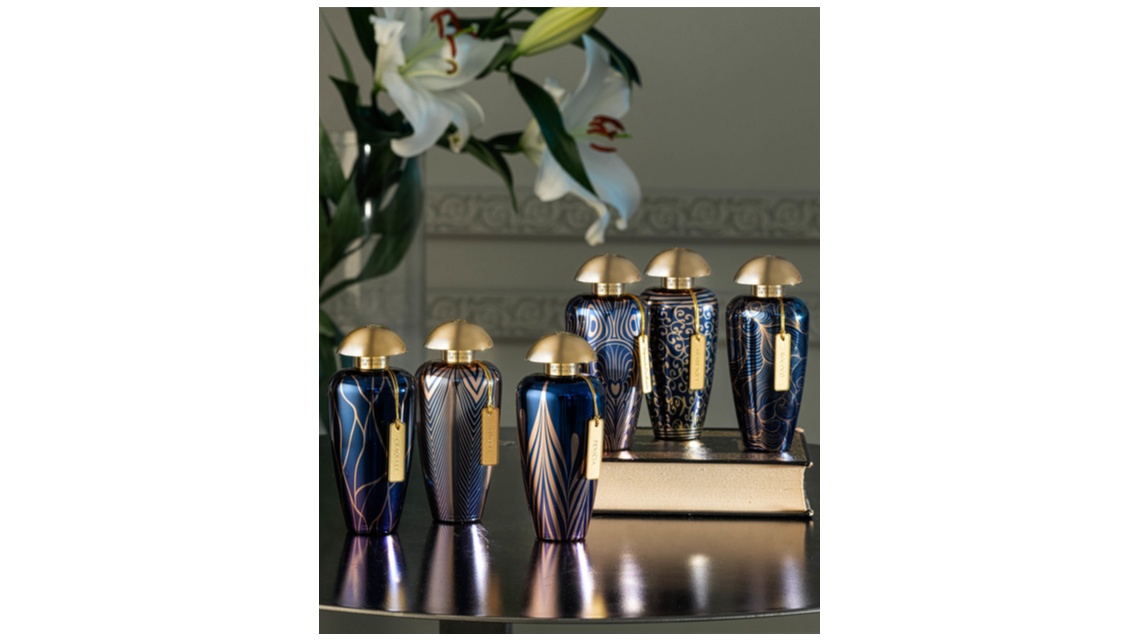 Murano exclusives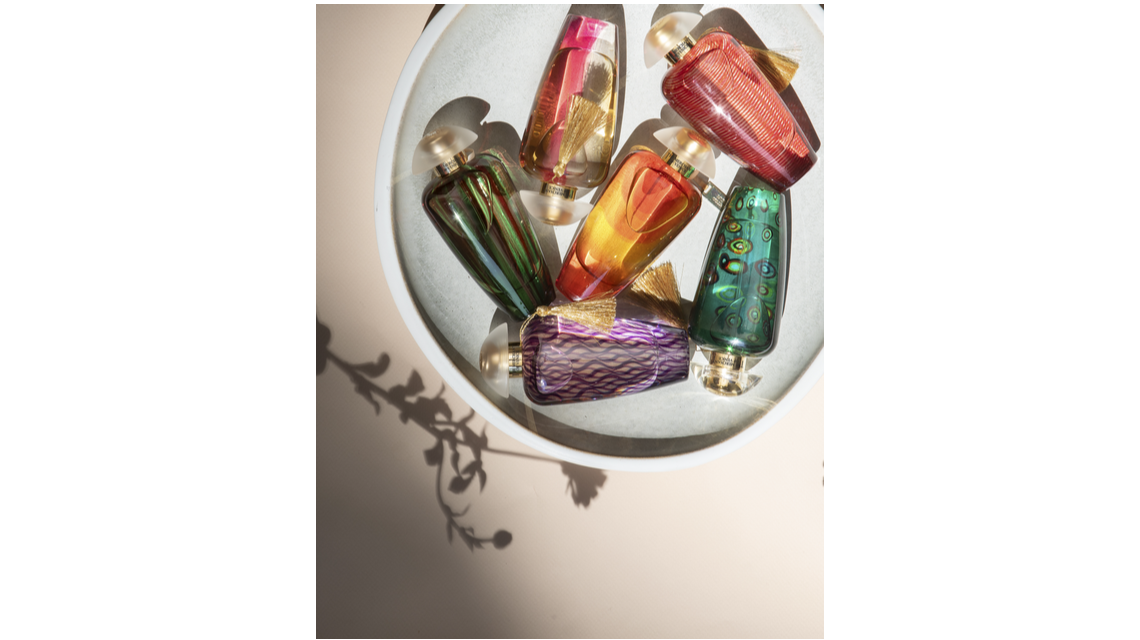 Murano Collection
The Merchant of Venice is not only a fragrance brand, but a company that preserves and treasures the Venetian fragrance tradition. How is Venice linked to perfume?
It is amazing to learn how much of the roots of fragrance go back to Venice. The Venetian Empire dates back to the 13th century, and at its height, it had tremendous power. Different trade routes all passed through Venice and different ingredients came from each route. Venice was the epicenter for spices, ingredients, refined goods, everything. Venetians are traders at heart, so although they weren't growing ingredients, they were trading them. The city was the entry point for all the precious materials, jewels, textiles and luxuries that were coming into Europe, enriching all the royal courts. Florence and then Milan were the places were Renaissance courts created their wealth, their fashion, their manners, their culture and of course among that was fragrance.
Our parent company Mavive is the main partner and patron of the Palazzo Mocenigo Museum. We have collaborated quite closely with academics and writers who have done research to determine what was Venetian perfumery tradition. We have discovered the first manuscript of perfumery, beauty and cosmetics, Notandissimi secreti dell'arte profumatoria by Giovanventura Rossetti, which was published in Venice in 1555. It's a highly entertaining collection of beauty recipes that instruct you on a range of subjects such as how to bleach your hair and how to make your own perfume. There are ingredients that existed then, like oud and agarwood, which still exist today. Mavive republished the book because it was basically lost; you could only find it in a few museums or libraries in Italy. This is really unprecedented and extraordinary as it's the first time that Venetian perfumery heritage is effectively recognized and preserved by both a public and a private body. In modern times France and the US took over as the leading nations for fragrance but now Italy will have the recognition it deserves.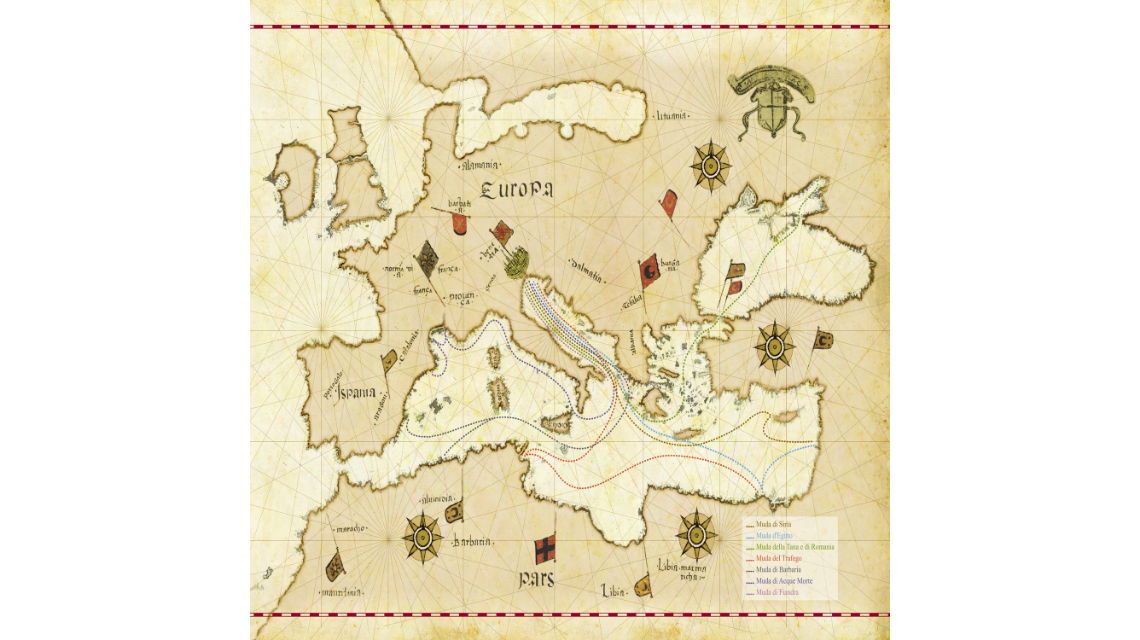 Trade route map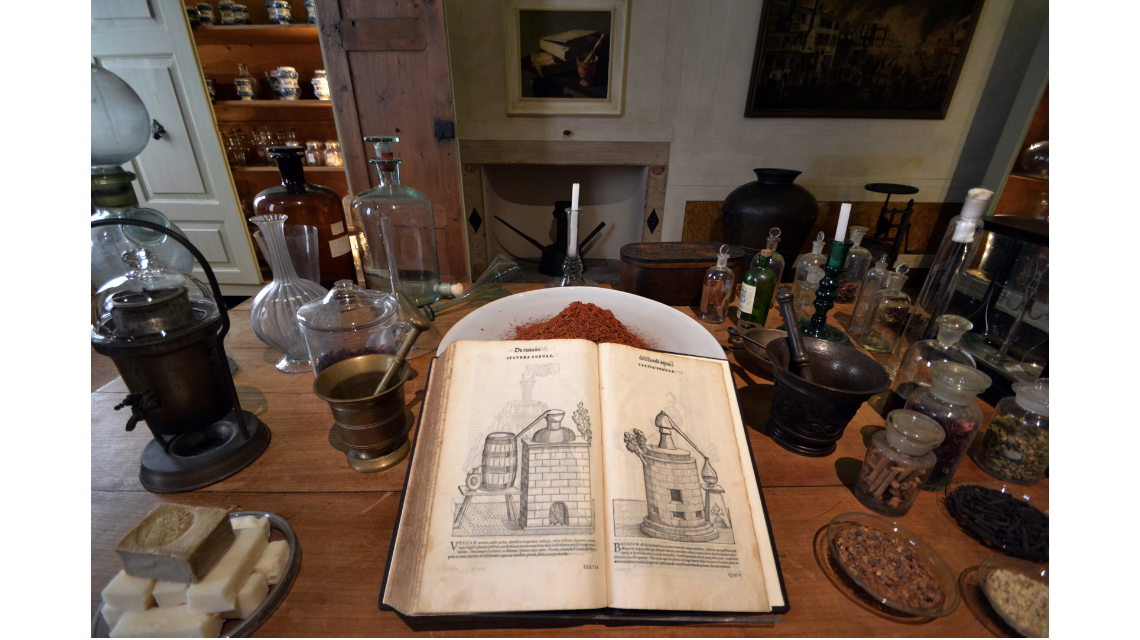 Palazzo Mocenigo - Erbario and manuscript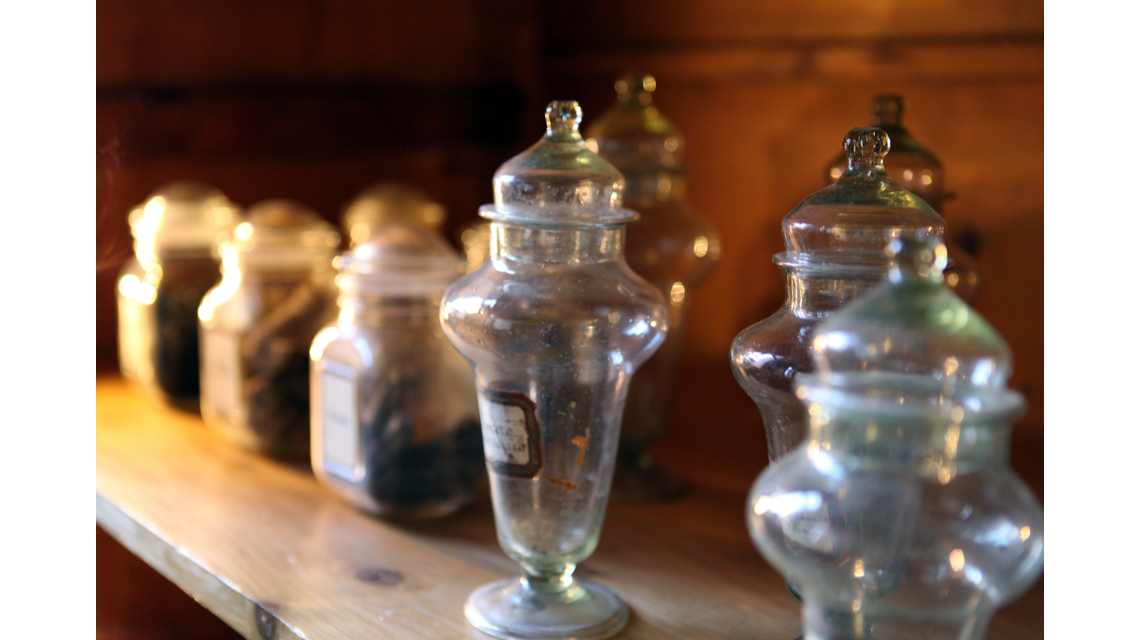 Palazzo Mocenigo - Urns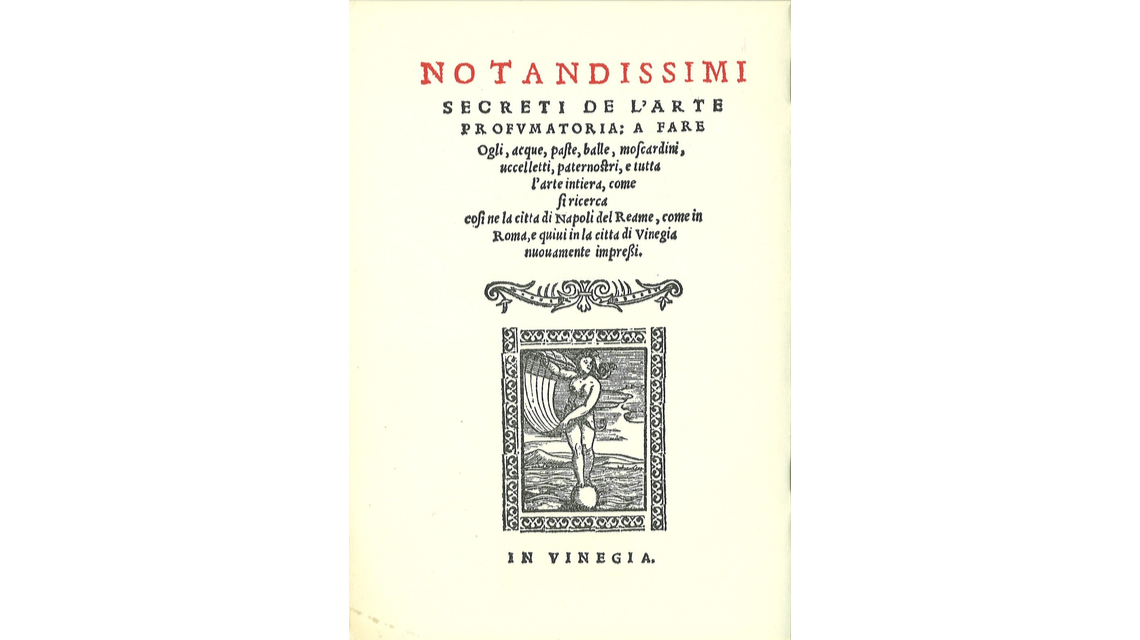 I Notandissimi Secreti
How is the Venetian perfumery tradition represented in the Merchant of Venice fragrances?
The whole brand celebrates Venetian perfume heritage and the art of glass-making. The Murano Collection is very much inspired by the Venetian art of glass making and by the ingredients that came from the Renaissance trade routes into Venice. The Murano Exclusives are more luxurious, more intense fragrances which are only available in Eau de Parfum Concentrée. The notes are centered around floral or oriental families. This collection has been very well received. Nobil Homo is a collection of scents for men, inspired by the Venetian noblemen. The flacon of each fragrance is dressed in a pattern and color that is inspired by traditional Venetian fabrics. Then we have a very interesting flacon, the Fiamme, or Flames, which have a long sillage because they are Extrait de Parfum. The fragrances in this collection are Influenced by what is now called Middle Eastern perfume culture. The first releases were all oud based. And then there is the Museum Collection which celebrates the most popular raw materials such as Bergamot, White Musk and Osmanthus. Since regulations changed and some materials can't be used anymore, we will rework the collection. There will be a new celebration of raw materials around the middle of 2022. This is something we are working on right now and will coincide with the reopening of the museum.*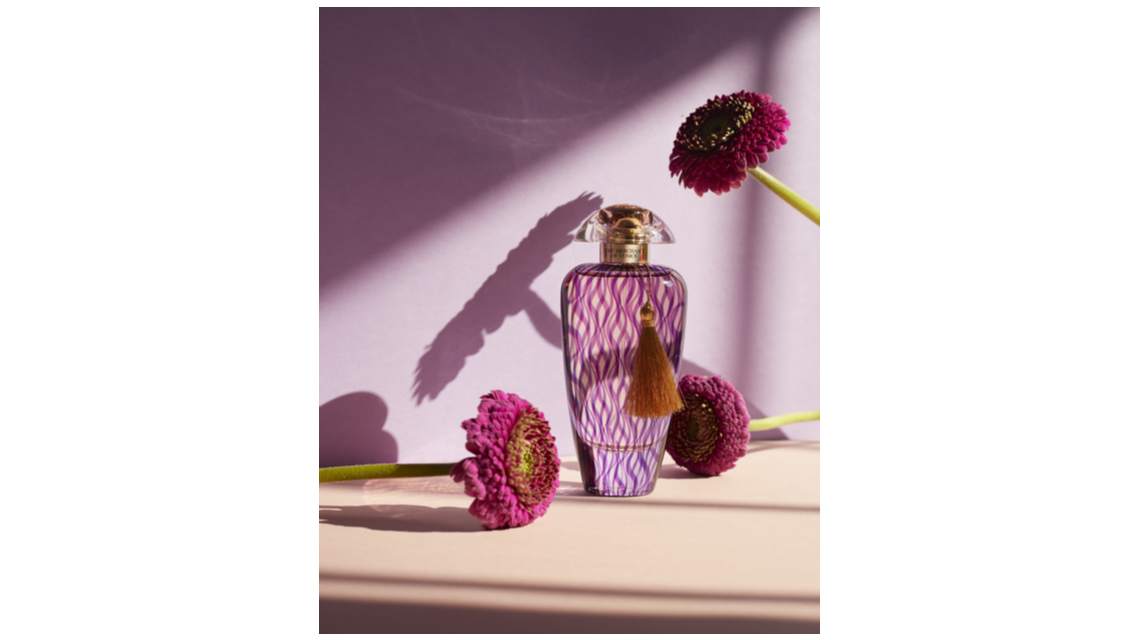 Flower Fusion - Murano Collection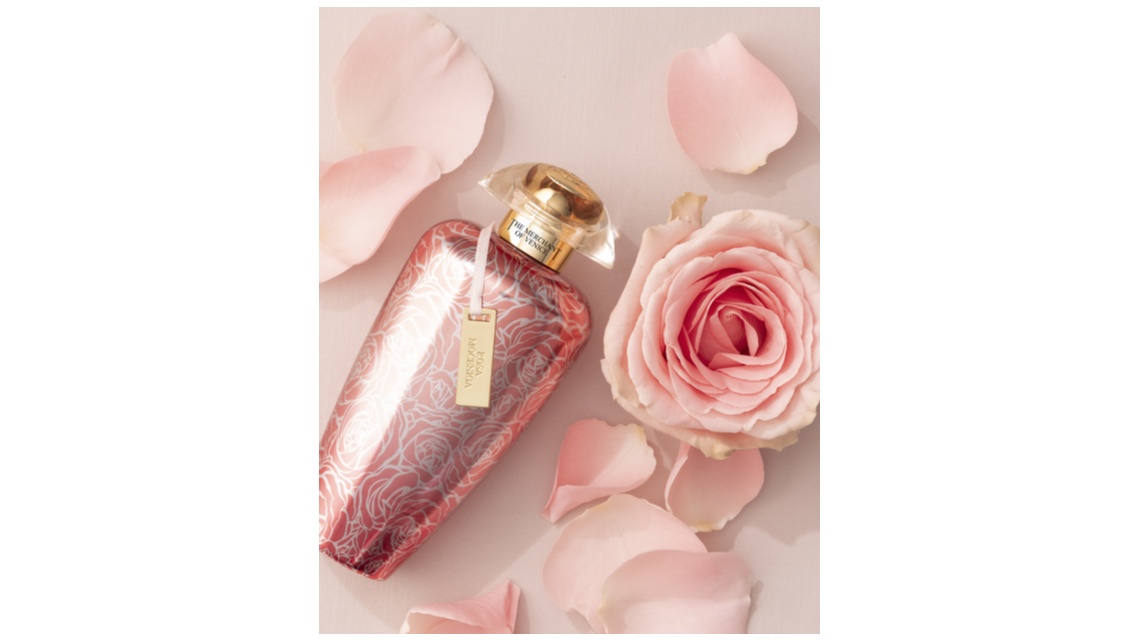 Rosa Mocenigo - Murano Collection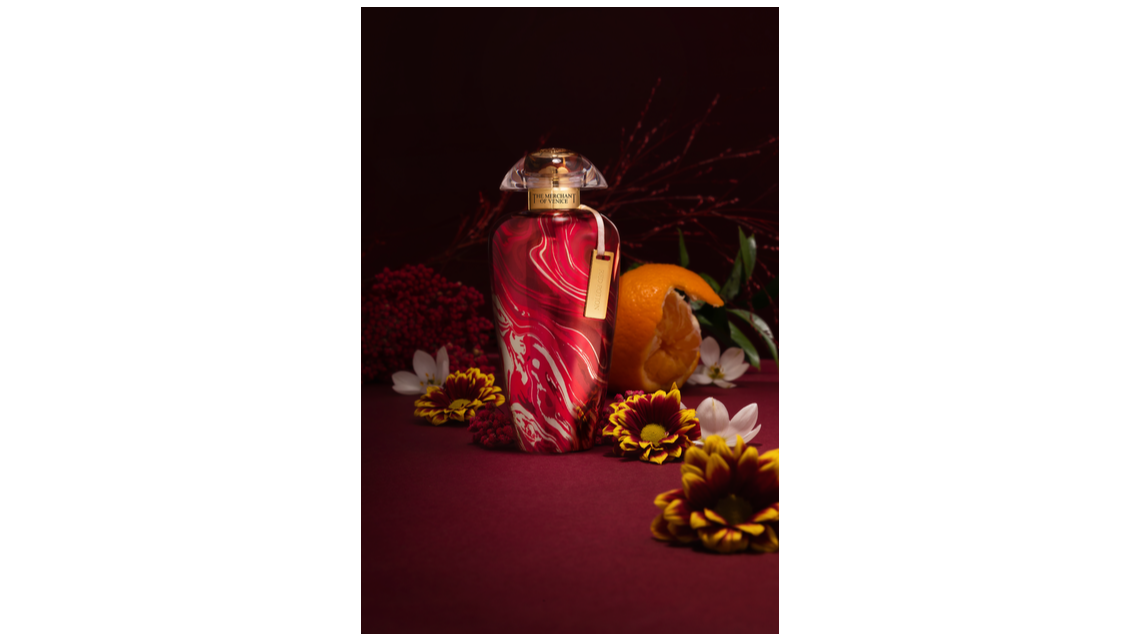 Red Potion - Murano Collection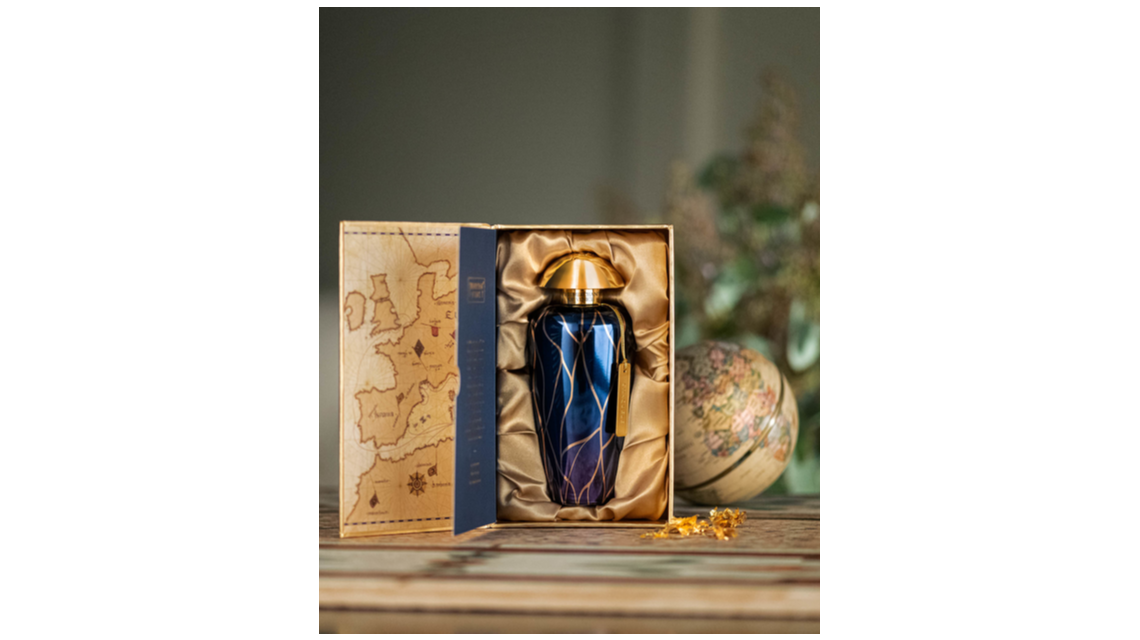 Craquele - Murano Exclusive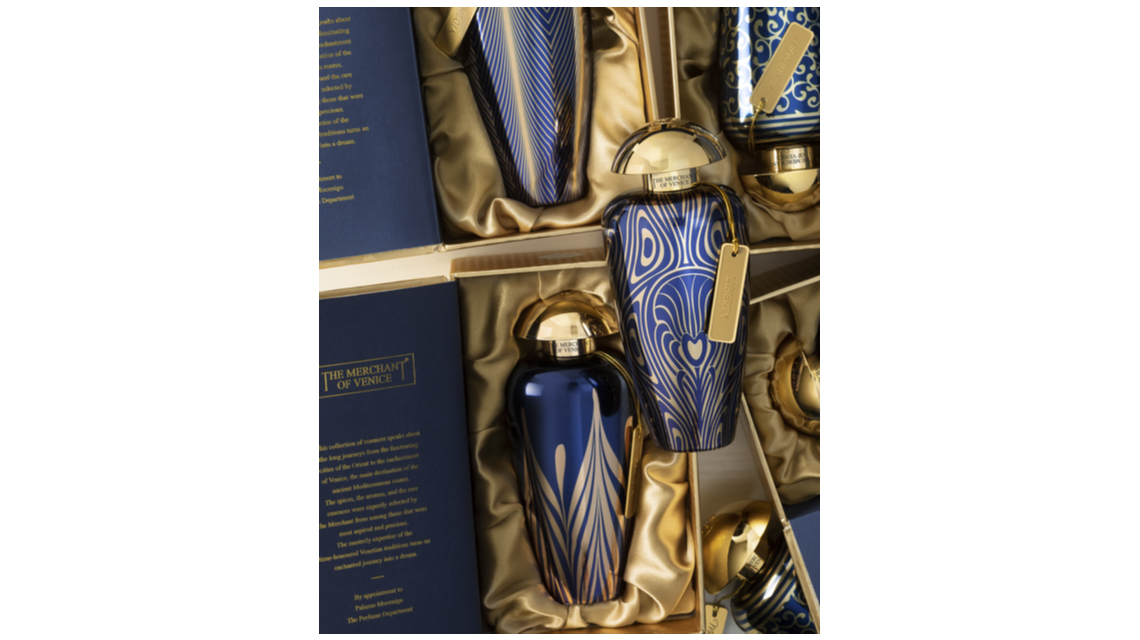 Murano Exclusives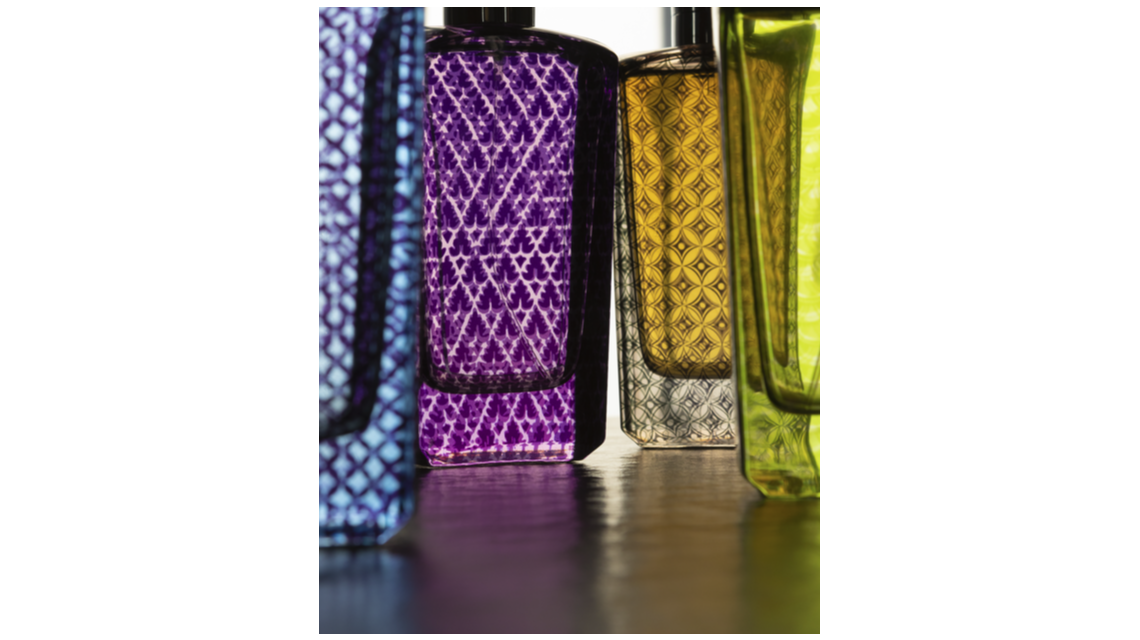 Nobil Homo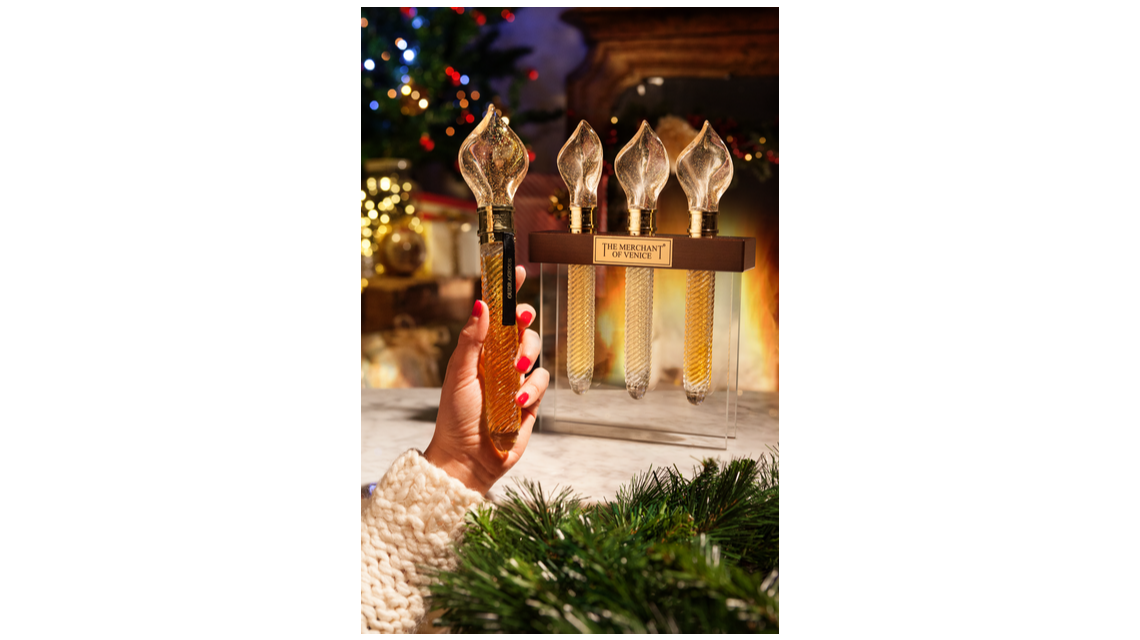 Murano art collection Le Fiamme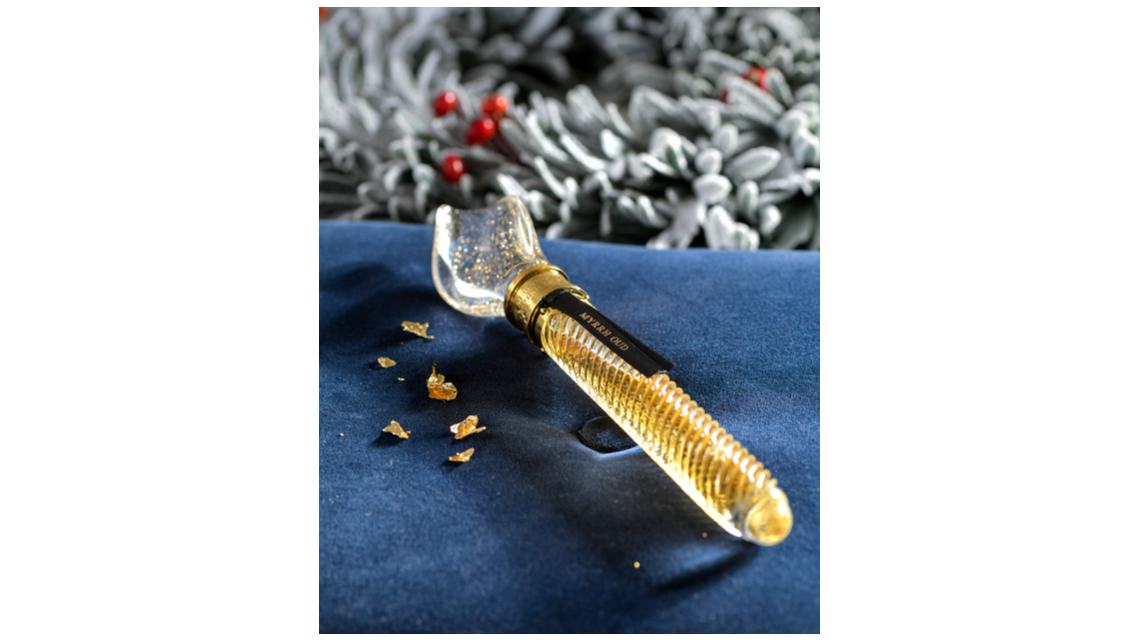 Myrrh Oud - Le Fiamme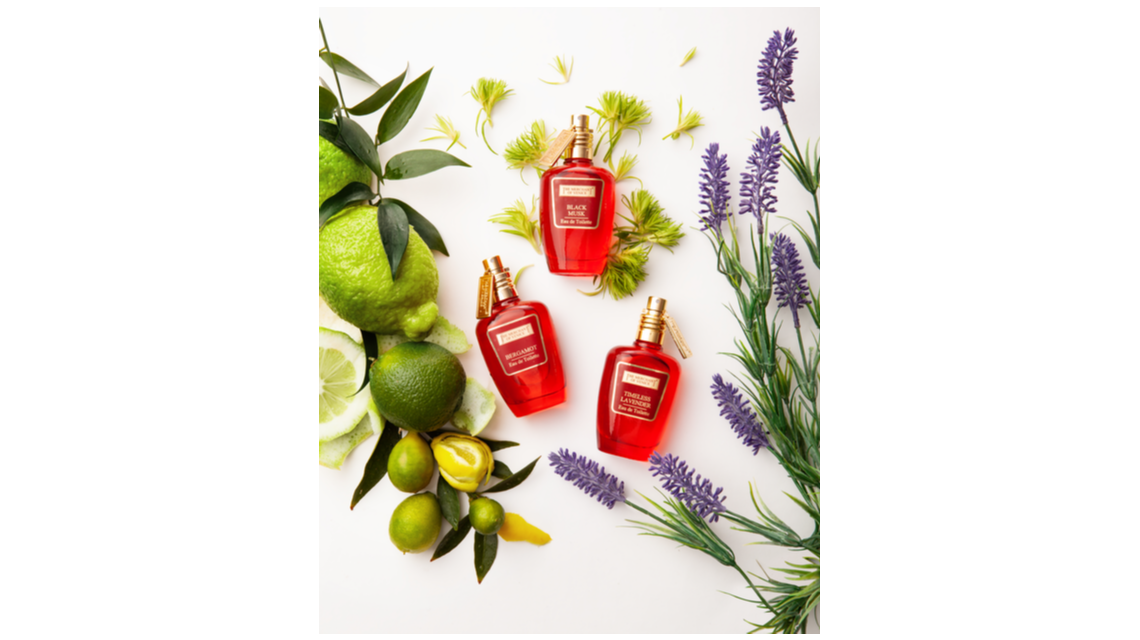 Museum Collection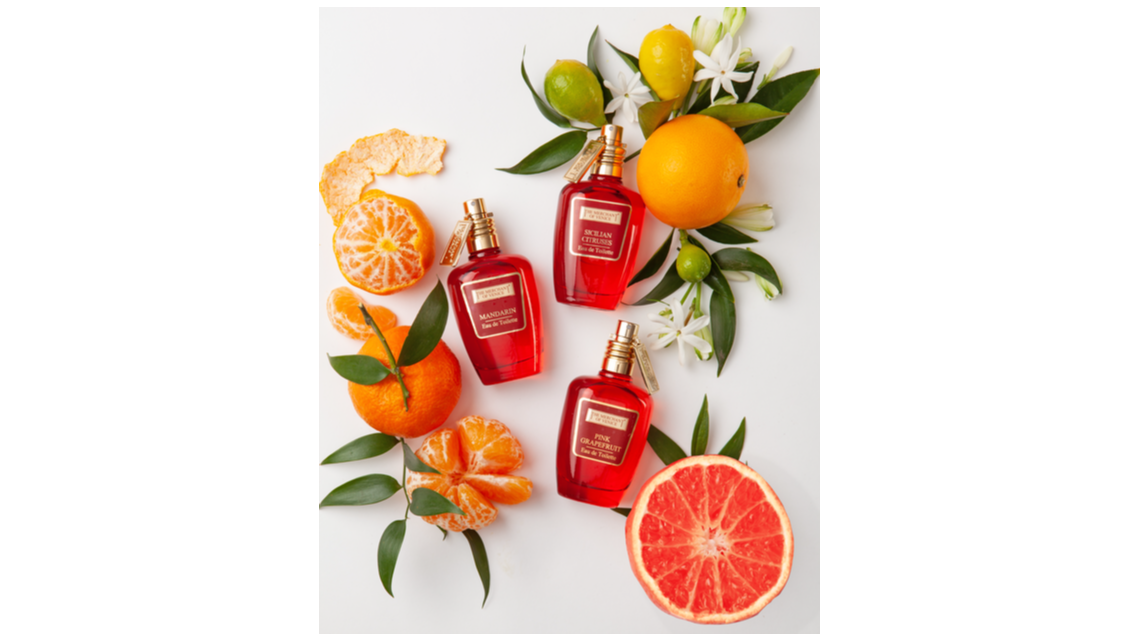 Museum Collection
The bottles are exquisite – what can you tell me about them?
The Venetian art of glassmaking is represented in the flacons themselves. They are an object of art before you've even smelled the fragrance. In the Murano Collection, the flacons are very colorful and each has a golden tassel tied around the neck of the bottle. Each fragrance in the Murano Exclusives comes in a rich blue and gold flacon, the design of which is unique to the fragrance. The Fiamme are in the form of a magical wand, topped by a flame shaped cap with golden shimmer inside. Every bottle is a piece of art; they are all so gorgeous!
For technical reasons we can't use the real Murano glass for perfume flacons, but we are inspired by the design and heritage. We do sell Murano glass objects in our shops though.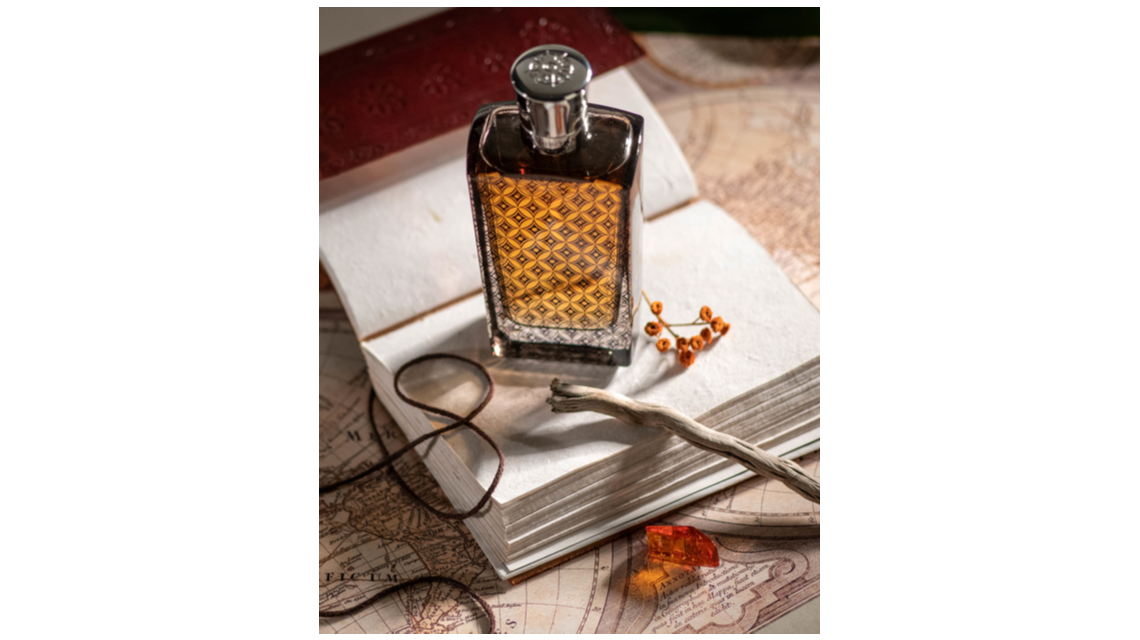 Ottoman amber - Nobil Homo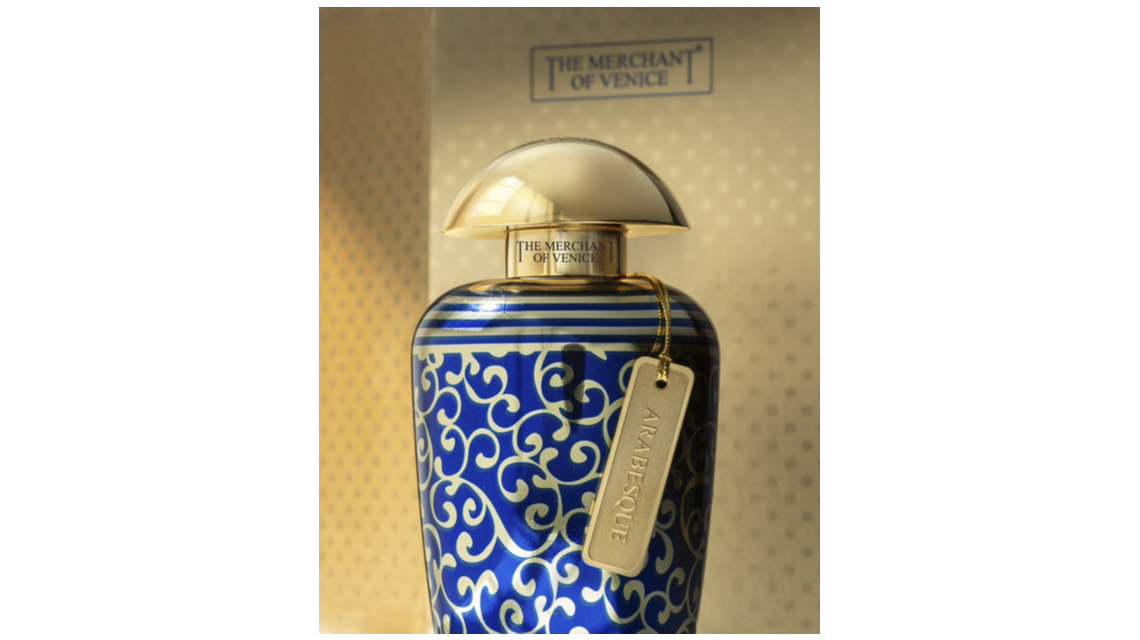 Arabesque - Murano Exclusives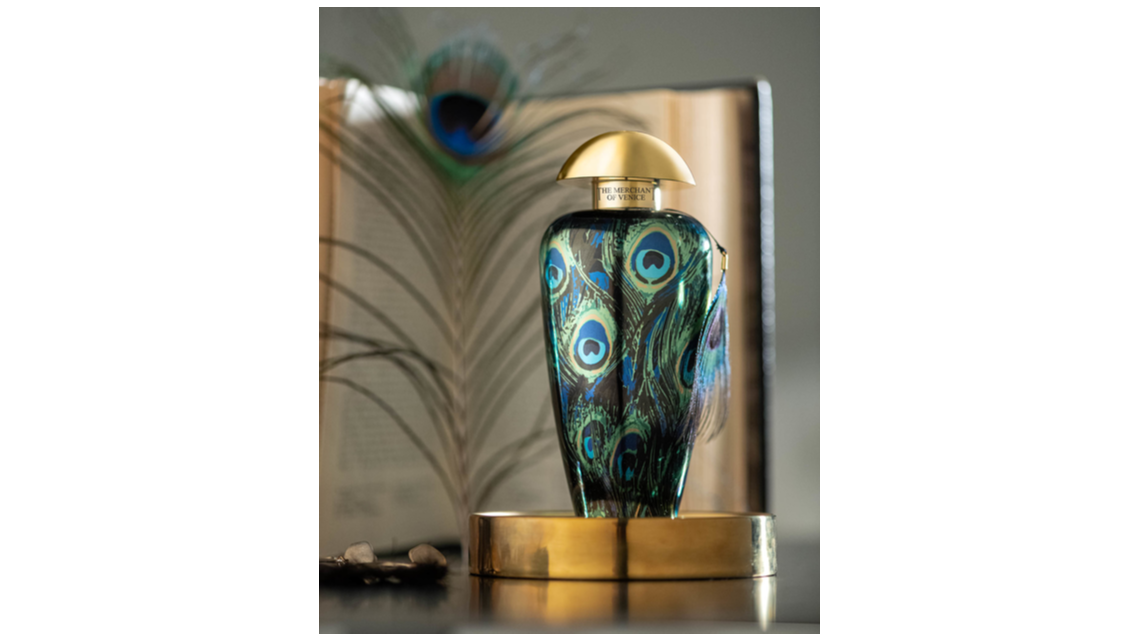 Imperial Emerald - Murano Exclusives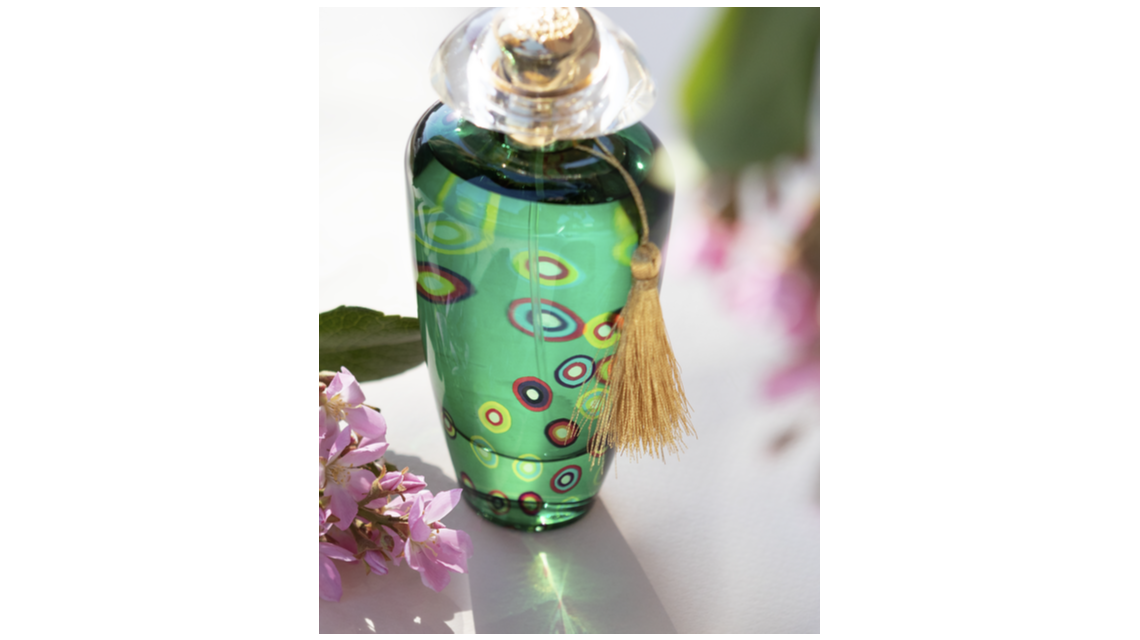 Mandarin Carnival - Murano Exclusives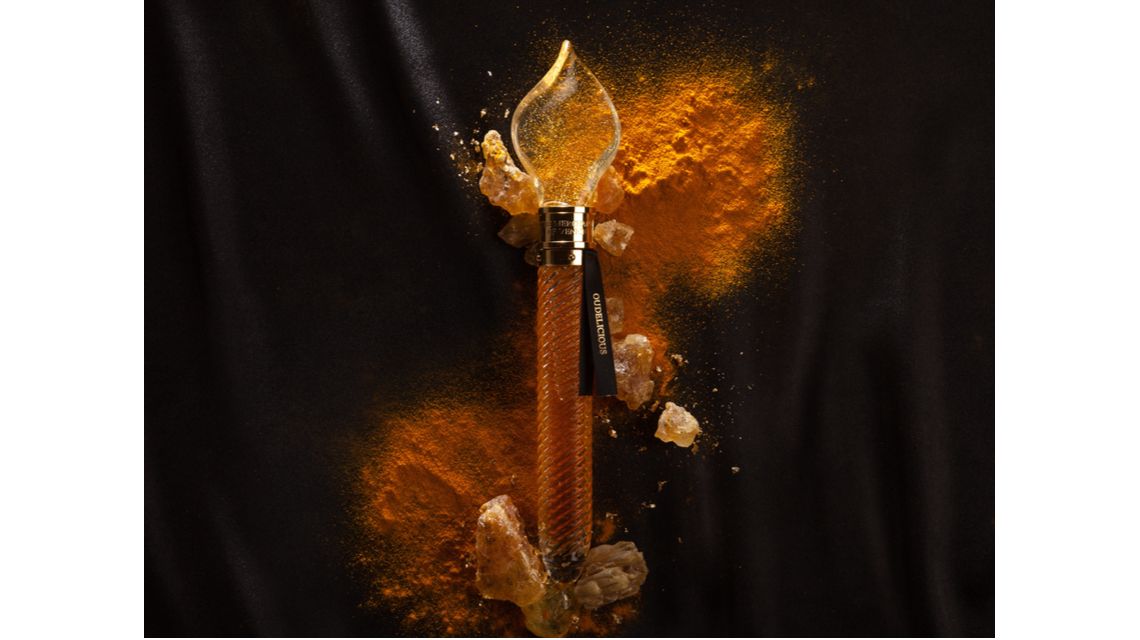 Oudelicious - Le Fiamme
Who is your customer? Where are you distributed?
This is a very unique brand compared to anything out there. It's connected to a physical place and the museum. And Venice is one of the most visited and loved tourist destinations. Our brand appeals to someone who wants something different, something that celebrates the Italian lifestyle, the Italian penchant for beautiful things, and lovers of Italian history and culture. Quite a few people have fallen in love with the brand because they have discovered it in Venice: they bump into this incredible brand and buy a few gifts, then they're enamored. Some people come to us almost as a pilgrimage. Our points of sale in Venice are incredibly unique. Calling them boutiques doesn't do them justice because they are actually original Venetian pharmacies dating back to the 18th century!
In an era where so much is ruled by social media -and we are present on several platforms - this is a brand that can afford to act quite differently. We receive a number of inquiries from people who want to work with us because they have discovered us in Venice. Buyers and retailers have spotted what we do and they know we can bring a unique sensory experience to a discerning client. The Merchant of Venice is now sold in 80 countries around the world including the UK, Russia and the Middle East, and of course online.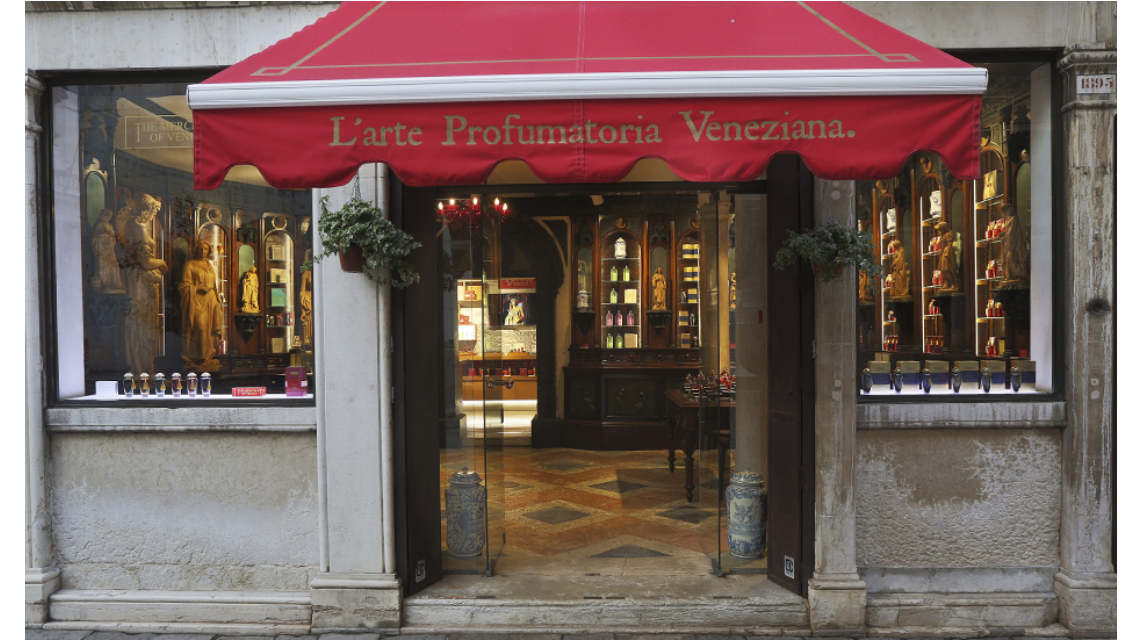 San Fantin Exterior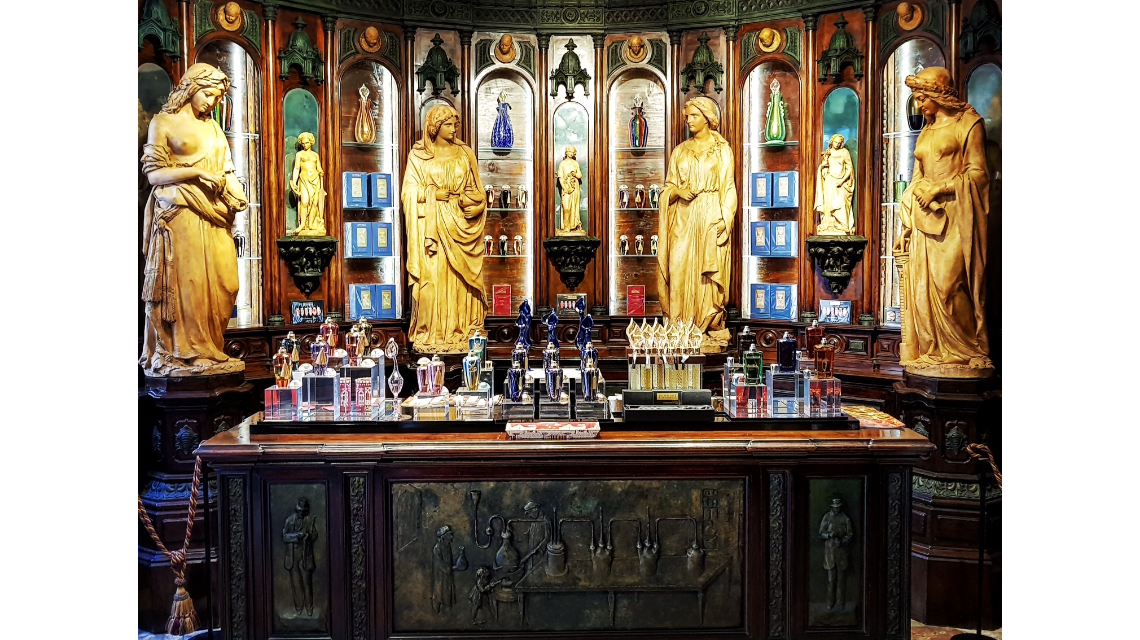 San Fantin boutique counter with statues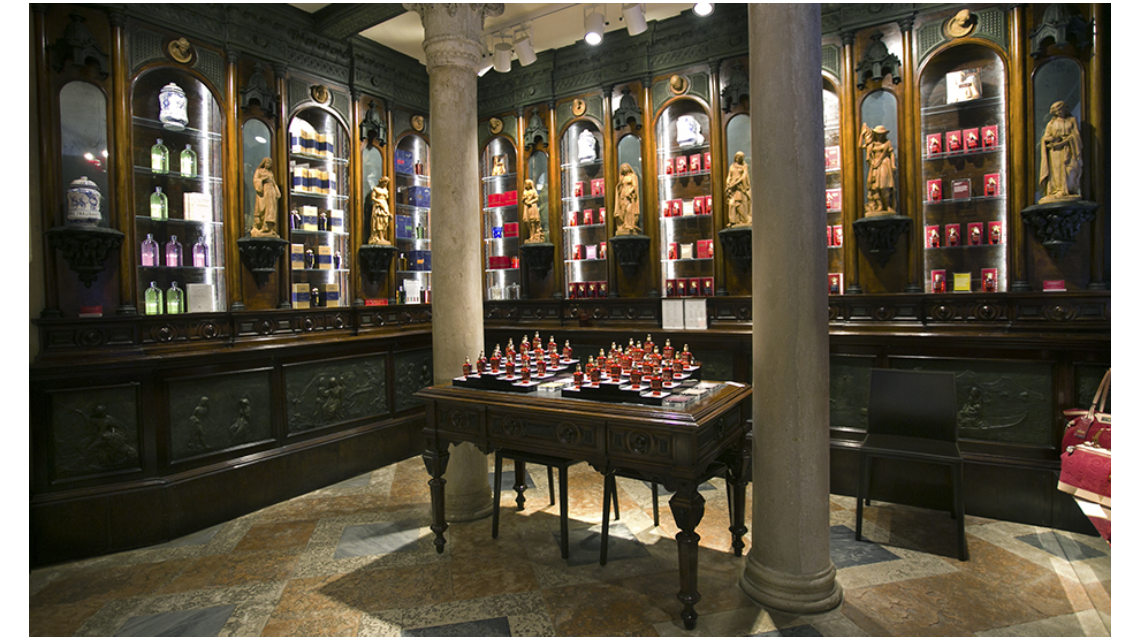 San Fantin boutique
What opportunity do you see in the near future?
There is such an interesting inspiration coming from new extraction techniques, from new raw materials that haven't been used before, from old raw materials that are being extracted in different ways – that is the beauty of modern perfumery. We work closely with the perfumers and we recognize the mastery that is in perfume making. This intelligence combined with the history and the culture we have, I think that's what really makes the difference. I see a great potential for what's coming in the future.
I also think consumers are changing, and they want something different now in terms of luxury. There is a shift from luxury for the sake of it to luxury that also takes into consideration other aspects that are more important such as sustainability and well-being. These are topics we are thinking on as we launch new ideas and projects. I think it's actually a beautiful time for perfumery because COVID has effected the sense of smell, and so in a way, our challenge is to make even more beautiful perfumes so people can smell them and enjoy them. People realize the value of their sense of smell and now they are using scent more in their environment to make their home life enjoyable, to affect their moods, as a compliment to their grooming, and they're wearing fragrance for their own enjoyment.

Tell me about yourself and your background in fragrances.
I'm originally from Verona but I moved to Milan in my 20's to attend a fragrance school which was run by Symrise. Jean Claude Ellena was my fragrance teacher and he was such an inspiration! Then I worked in their New York City studio with fragrance heroes like Maurice Roucel. After, I worked for heritage brands in the niche sector such as Acqua di Parma and Le Labo before moving to London where I worked at the House of Floris as in house perfumer with Penny Ellis, mostly working on bespoke fragrance. Marco Vidal, the CEO of the Merchant of Venice, recruited me in mid-2021 to become Creative Director. When I took this job I decided I needed to come and live here on the lagoon, which is not the easiest option. Housing is not easy, our headquarters are on the mainland (no companies are in Venice proper) and commuting is quite a thing. But when I come back at night, I am very much immersed in what is a different pace, a different lifestyle, a different light. As brand ambassador, I'm living and absorbing Venice, its charm and mystique.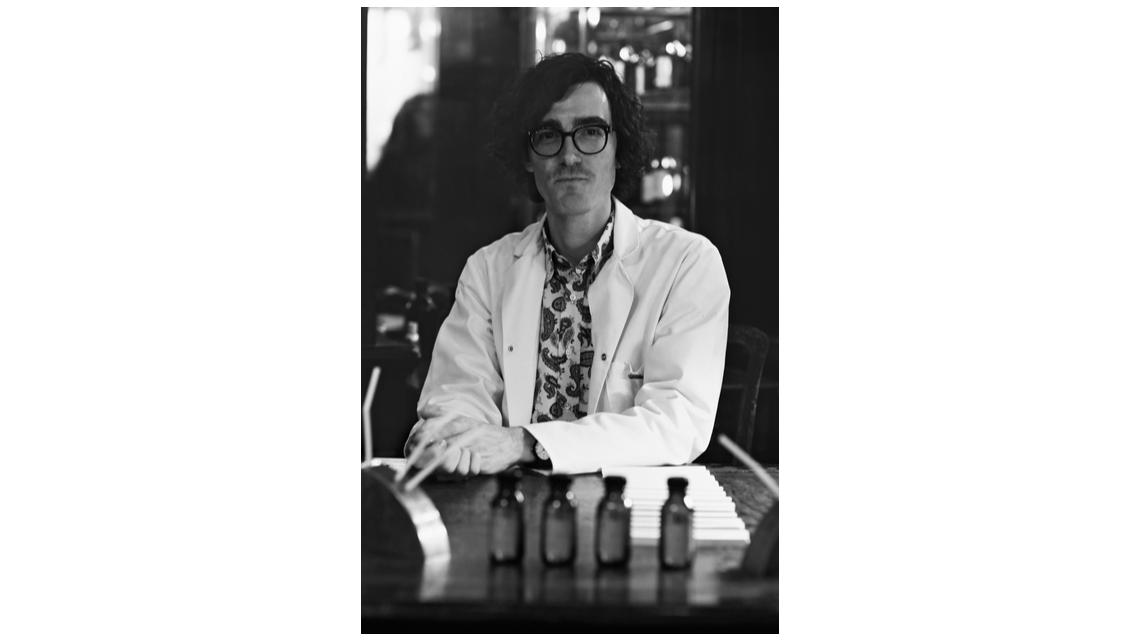 Nicola Pozzani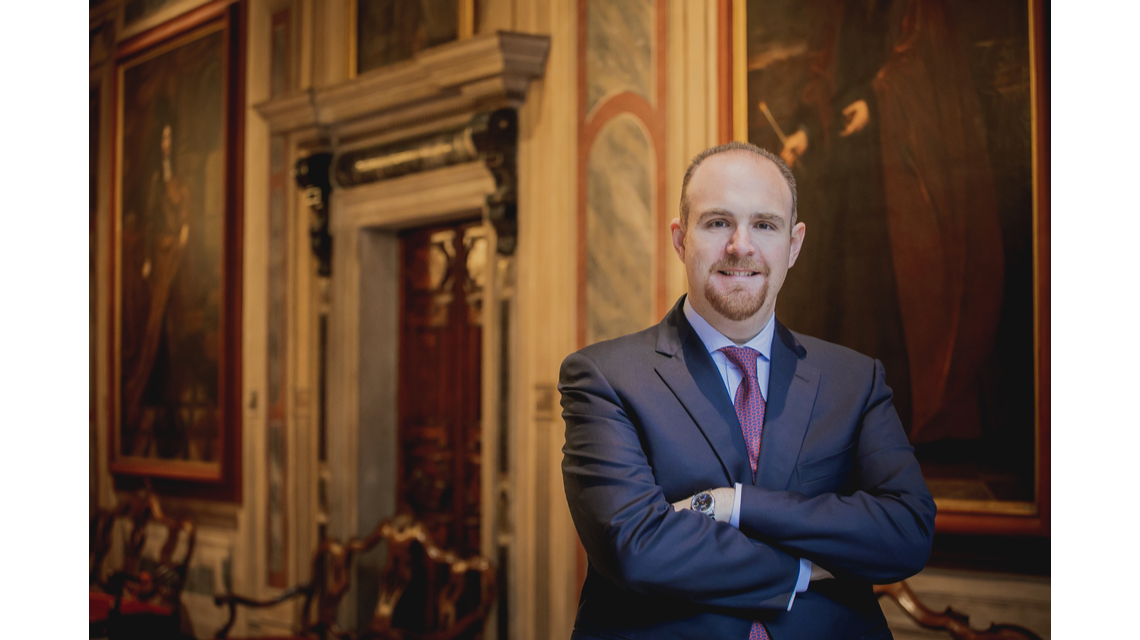 Marco Vidal
In your role, what would you like to bring to the brand?
I feel very privileged because we are in a place where everything we do is formed and inspired by history and culture -which are things I like very much - but we are based in the now and we work towards the future. I'm very excited because we get the chance to work with some of the best noses in the world and that is a very important asset. Every time there is a new project, a new inspiration and you find a good team with the perfect story and the right perfumer, it's like creating magic. It's a lot about magic, creating some fragrance magic and special moments for people. My role is very much that. I look forward to creating new things with the Merchant of Venice.
___________________________________________________________________
Stepping through the doors at the flagship location in Campo San Fantin transported me back in history. The palatial, 19th century décor includes elegant paneling, carved walnut woodwork and four stunning terracotta allegorical statues representing Botanicals, Medicine, Surgery and Physics. Against this backdrop the fragrances are placed like precious jewels in an extraordinary setting. I had the pleasure of smelling an assortment of the fragrances, guided by the incredibly knowledgeable manager, Monica. She asked about my preferences then steered me towards the sophisticated Byzantium Saffron from the Murano Collection, an intoxicating blend of saffron, cedarwood, patchouli and amber. I couldn't help asking to test Arabesque from the Murano Exclusives because I was so intrigued by the pattern on the flacon which was inspired by the Palazzo Ca' d'oro on the Grand Canal. The fragrance, an opulent concoction of tobacco leaf, ginger, plum and cedarwood was sublime. I could have stayed in the shop all day discovering every fragrance, which I will definitely do when I make my next pilgrimage to Venice.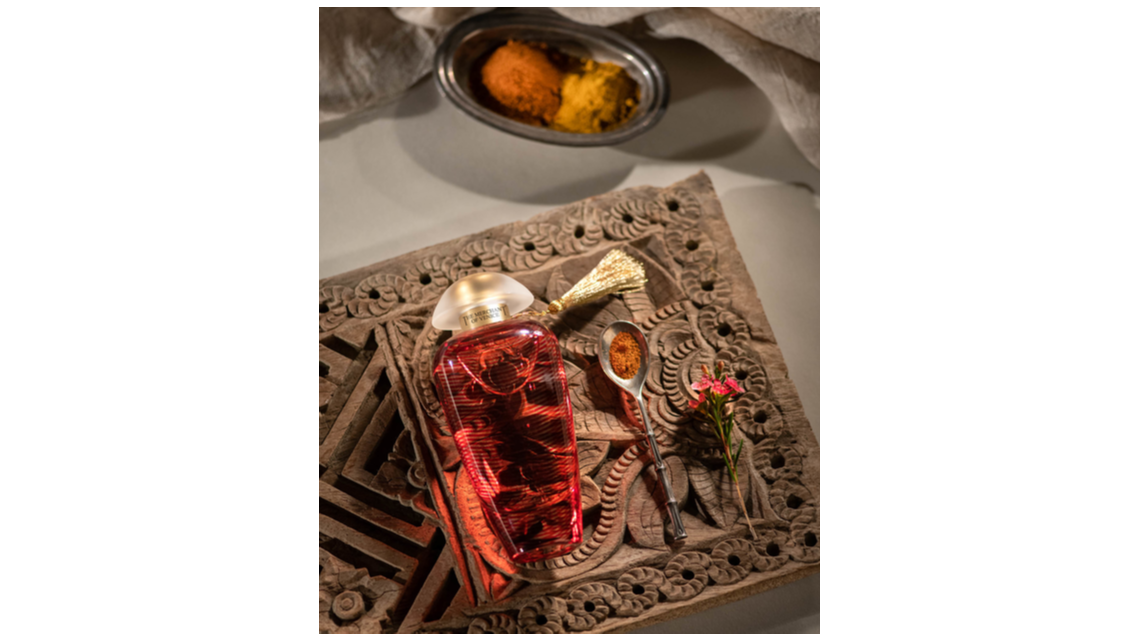 Byzantium Saffron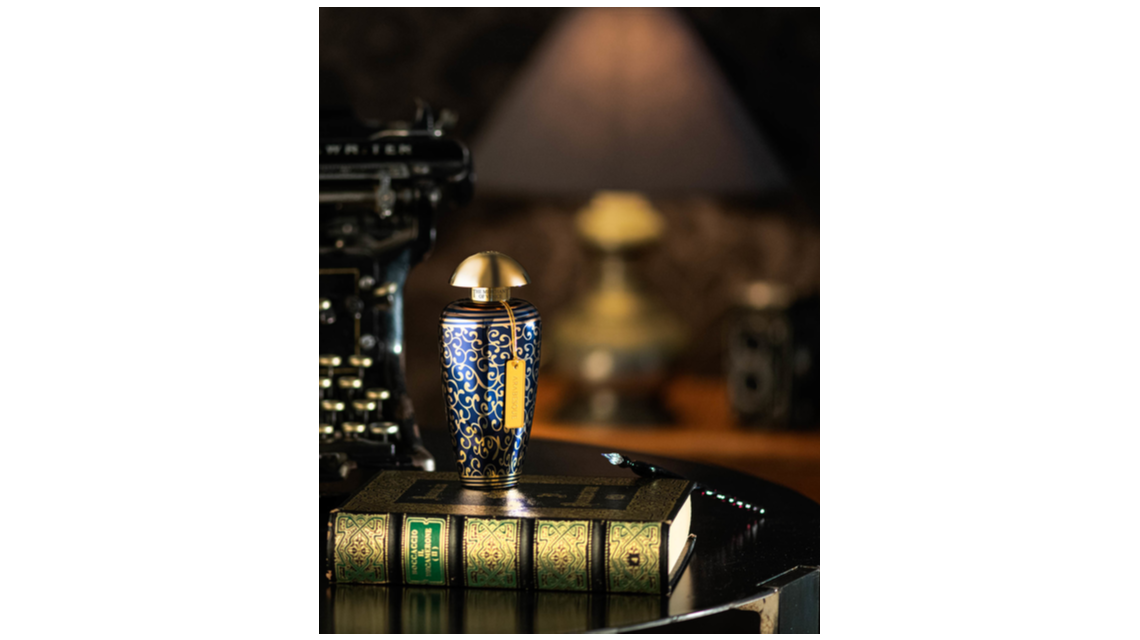 Arabesque
* It is documented that Henry III purchased fragrance during his visit to Venice in 1574
**The rooms of the Palazzo Mocenigo Museum dedicated to perfumery are under renovation following the Acqua Alta of 2019 as well as the need to become COVID compliant while ensuring a superb experience.

For more information, visit: www.themerchantofvenice.com/en/


SOURCES
Vidal 120, Massimo Orlandini
The History of Perfume in Venice, Anna Messina