The cyber perfume era has arrived with a world première from Look Labs
2022 . 01 . 21 | written by Laurence Arrigo Klove
A breakthrough, a crypto NFT perfume from Look Labs. It hit the headlines when it came out. Is it one of the wackiest NFT, possibly scary, or simply exciting?


A new dawn from Berlin based Look Labs has come
The list of superlatives is endless. Scary. Dark. Magical. Innovative. Futuristic. Artistic. Sustainable. Digital. High tech. Collectible. Beautiful. Expensive. Exciting. Disruptive. I'll personally go with excitingly disruptive. Jordan Katzarov created LOOK LABS®, Berlin-based only back in 2020. Berlin we know is a special place, where innovation and creativity flourish, uninhibited, without restraint. This über cool approach is reflected in the company mission to combine art with technology and sustainability in new interactive experiences for consumers. The invention of a cyber perfume perfectly fits in. Hermione Granger in Harry Potter encapsulated the feeling 'it's sort of exciting, isn't it, breaking the rules?"


The perfume cyber invention made the headlines.
When the cyber fragrance came out in April 2021, it rapidly hit the headlines. The media was quick to pick up this totally innovative release, Fragrantica, dezeen, Perfume&flavorist, Cosmetic Design-Europe, Packaging South Asia and so many more talked about this new breakthrough. Then in December 2021, fastcompany*, selected it as one of 'the six wackiest NFTs of 2021'. Is it 'wacky' or simply put a sign of the times we are in, full of innovation and new technology even if it feels weird or extracted from a science-fiction movie?
* a monthly American business magazine published in print and online that focuses on technology, business, and design

The concept of cyber perfume in the metaverse world.
Look Labs has used near-infrared spectroscopy to invent a digital reflection of the perfume, named Cyber Eau de Parfum which has then been encoded as an NFT (non-fungible token). A limited edition of 10 digital artworks was made together with Sean Caruso, a Canadian artist, using the blockchain technology and certificate of authenticity. In short, we are inside the metaverse* universe.
* Term coined by Mark Zuckerberg from 'Snow Crash', Neal Stephenson's science-fiction novel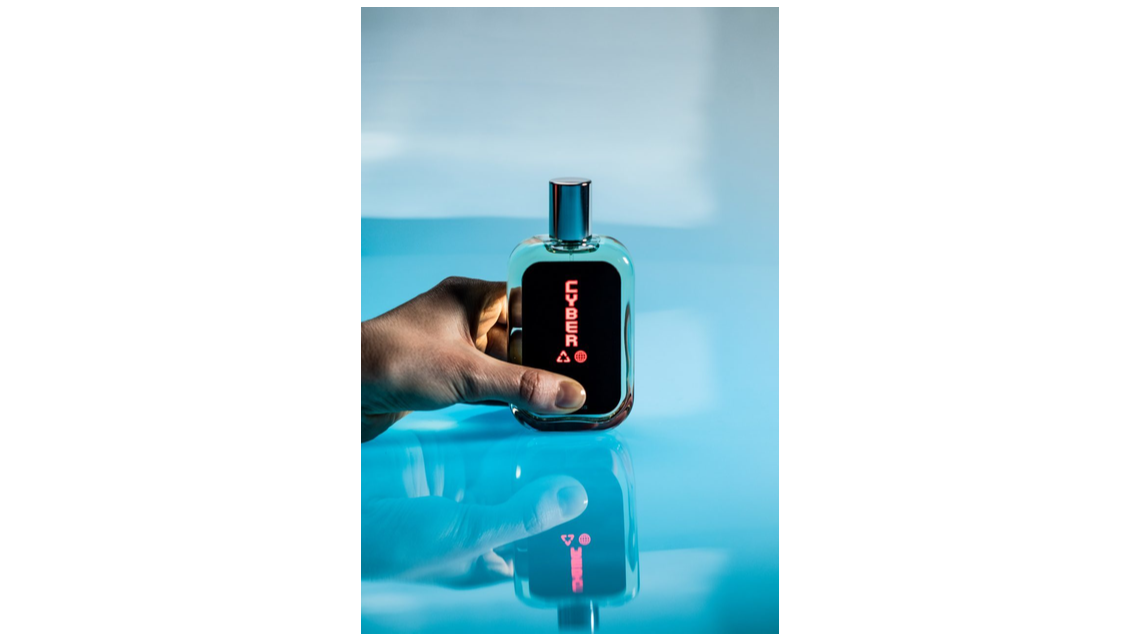 The real scent does exist and is backed by an expert perfumer.
"The digital scent is the so-called extracted digital reflection of a physical scent" says Look Labs founder. The fragrance composition was left to an expert perfume from Grasse. So, while the scent inspiration was derived from science-fiction movies and scientific artificial intelligence, it did use expert perfume tradition. 'CYBER EDP' aims to translate a futuristic urban life into a perfume. Its initial energizing headnotes give way to a heart of incense, followed by woods and amber base notes. Totally genderless and beautiful. Tradition and Innovation are magnificently blended together.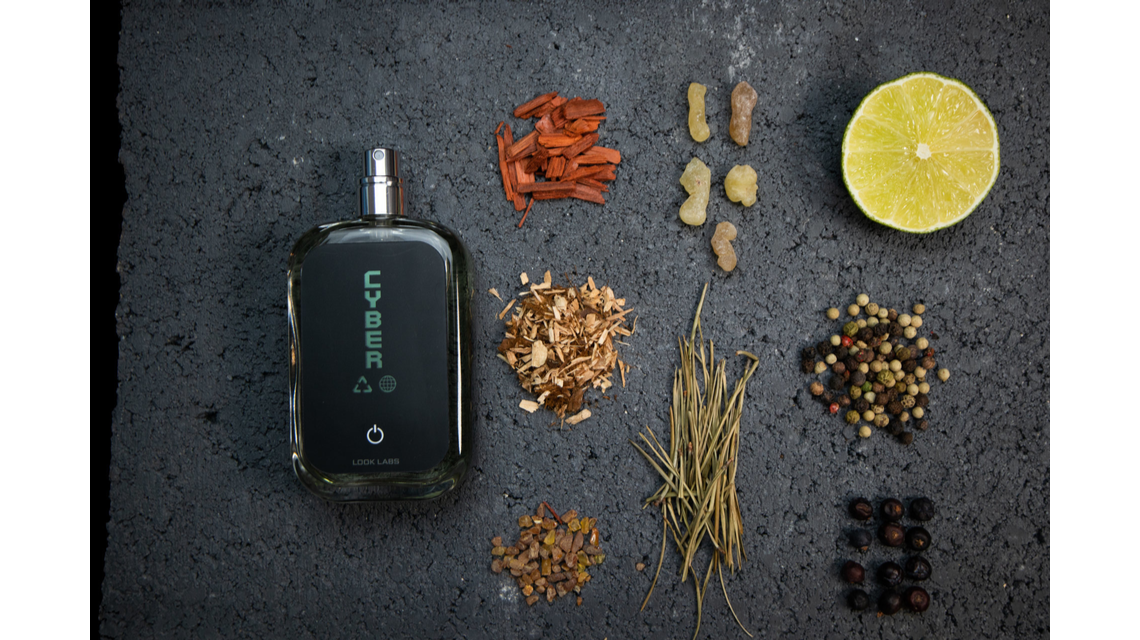 Cyber perfume composition
We are talking luxury perfumes.
This high-quality perfume is priced at the higher end of the market. The 888* physical perfume bottles of 100ml cost $280. The digital artwork on rarible had an initial suggested price of 10 Ether, or roughly $20,960.
* The number refers to 1888, the year the French perfumery who produced the perfume was founded

Committed to Sustainability.
This new perfume concept is aimed at the generation Z, who has totally embraced not only new technology but also the environment crisis. The cyber perfume label, cap and outer packaging are therefore fully sustainable, while the perfume bottle is refillable.

New Technology integrated in the packaging.
The innovation has also been added to the packaging with the addition of an OLED label. Such label lights up when pressed, so that the name 'Cyber' is lit up in bright red. Recycling and earth symbols also light up in red to push forward the message of how important it is to protect our planet and our environment. The message comes across loud and clear.