The British Approach to Perfumery Chapters 1 & 2: Fragrant Beginnings & Jermyn Street and the Rise of the Barber
2023 . 10 . 12 | written by Karen Marin
Land of pomp and pageantry, of the stiff upper lip combined with a dose of Ab Fab and Mr. Bean, Great Britain is a study in contrasts. At once traditional and conservative, the Brits are also known for their eccentricity and quirky nature, which carries over into the world of fragrance. Over the past few months I've met with countless fragrance industry insiders to bring to light the story of the British approach to fragrance, which is quite rich, and, unexpectedly, includes one of the oldest continuously running perfume houses in the world. But let's not get ahead of ourselves – how did it start and how did it evolve? Who are the heritage brands still relevant today? What's happening in the artistic sector? What is the value of a royal warrant? So many questions! I've broken the fascinating story down into five chapters which merely scratch the surface. We'll start with just two and the subsequent chapters will be published over the next few weeks – so be sure to come back for the full story!
Chapter 1: Fragrant Beginnings
Looking back one thousand years to the Middle Ages, Britain was largely an agrarian society where most people lived in the countryside. Aside from vegetables, legumes, wheat and rye, there were vast fields of lavender, purported to have been brought to England by the Romans. Violets, heather, and rosemary were native ingredients and roses were cultivated as of the 18th century.
"Queen Elizabeth was reported to be obsessed with lavender. Apparently there were huge fields in Croydon in South London around this time. The hearsay is that she put it in her tea, her cakes, her food, in her perfumes, in her baths, everywhere." Josh Carter, Fiole UK
In the 16th century pomanders were worn on the body to ward off bad smells, and the pouncet box, which held liquid perfume or snuff, became popular amongst the wealthy, even gaining a mention in Shakespeare's play, Henry IV.
By the 19th century, lavender sourced from Croydon, Mitcham, Banstead and other locations was supplied internationally. John Grossmith (who founded the perfume house Grossmith in 1835), grew lavender in Hundred Acres Farm in Banstead along with other herbs such as peppermint and rosemary. Their essential oils were extracted by Grossmith through steam distillation and used in the leather industry to soften, fragrance and prepare a tanned hide ready for use in making gloves and other leather-based products of the time. Lavender, renowned for its healing properties, was also used to flavor jams, honey and custards.
"They say Queen Victoria used to go to Croydon to get her Lavender Essence" – Samuel Gearing, Fiole UK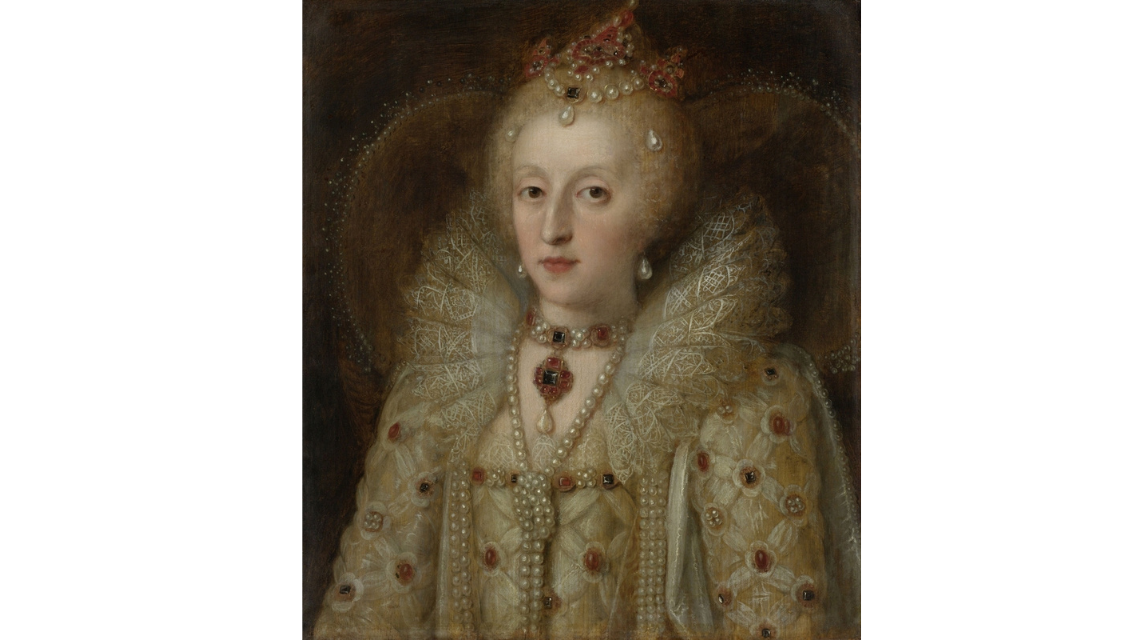 Queen Elizabeth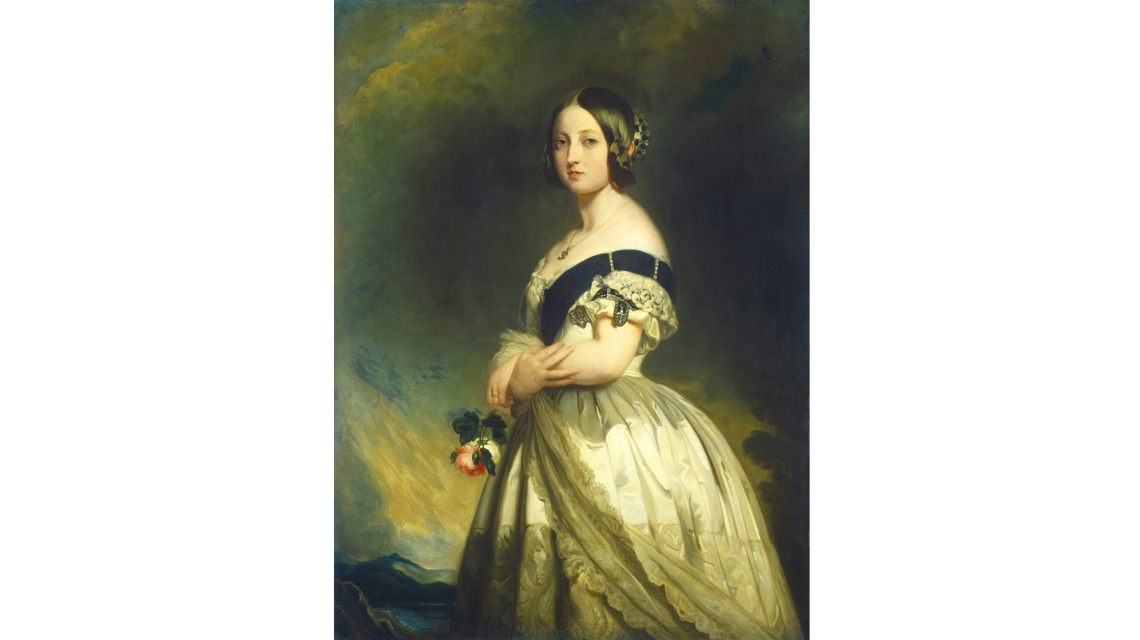 Queen Victoria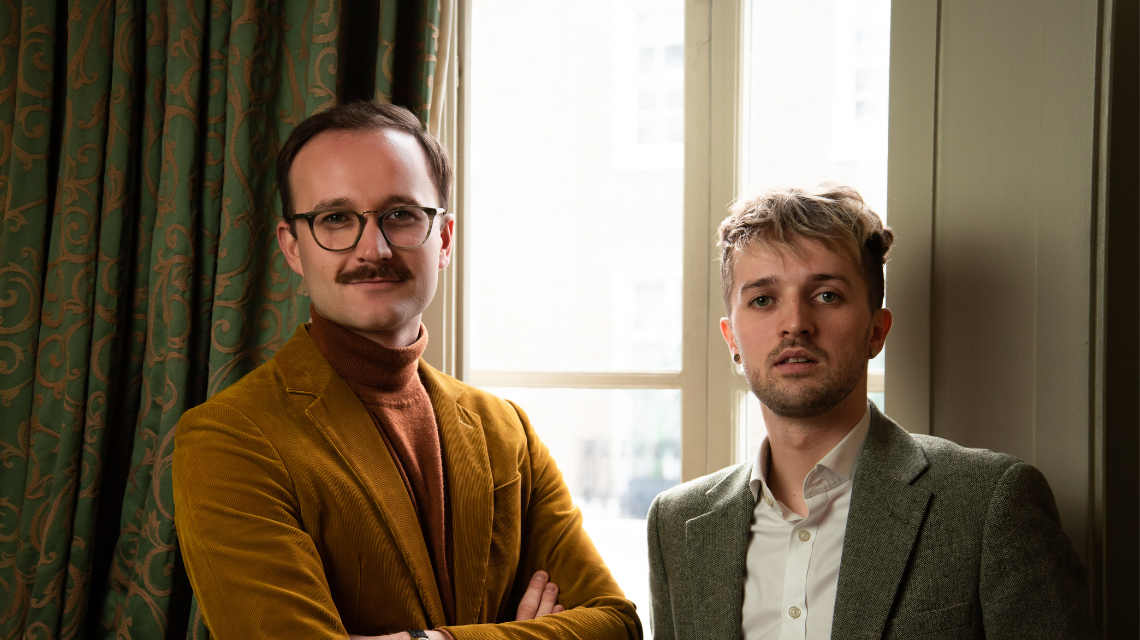 Samuel Gearing and Josh Carter, founders, Fiole UK
London was of course a major city and had become an international center for trade. As Nick Steward of Gallivant Perfumes told me, this history is still visible. "So many buildings have survived the bombings of WWII. You can see the history in the signs that indicate the former establishment of the East India Company or the Surinamese Seamen's Club."
He then revealed an interesting fun fact. "My studio is located near a place called Newington Green where you find some of the oldest houses in London that date from the 1640's and 1650's, meaning they survived the Great Fire, which is amazing. In the space in front there was a patch of ground that was used to breed civet cats for perfumery from the mid 1600's to the 1850's when the area became more developed. So there was definitely perfume making in this area. Perhaps the paste was sold as a perfume product for the base or it was used for gentlemen's hair pomade?" The mystery is unsolved to this day.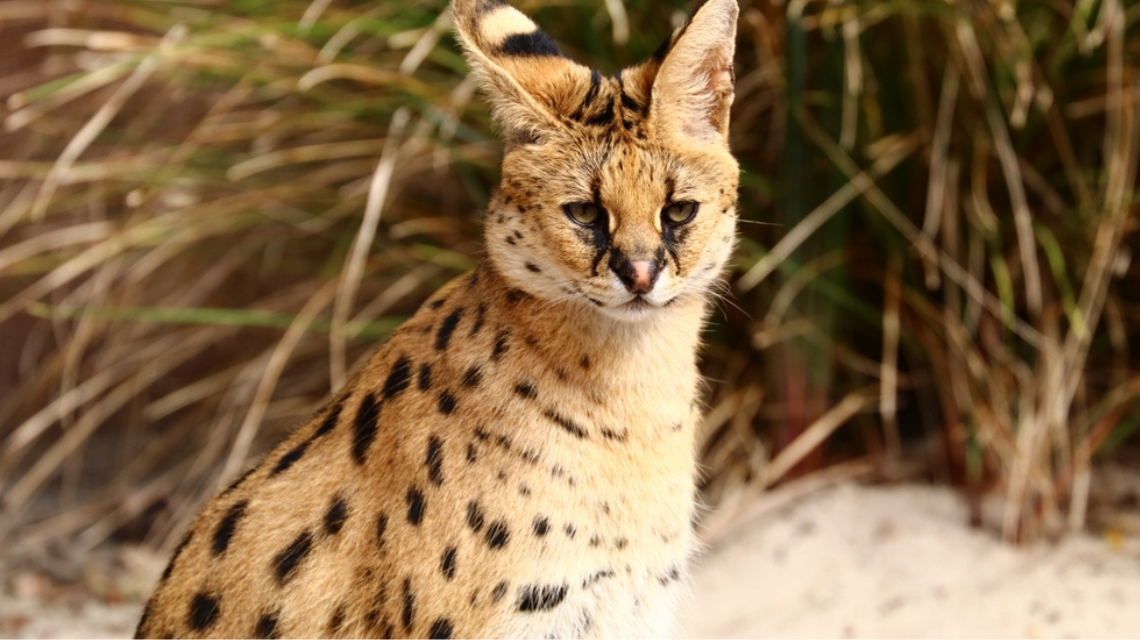 Civet Cat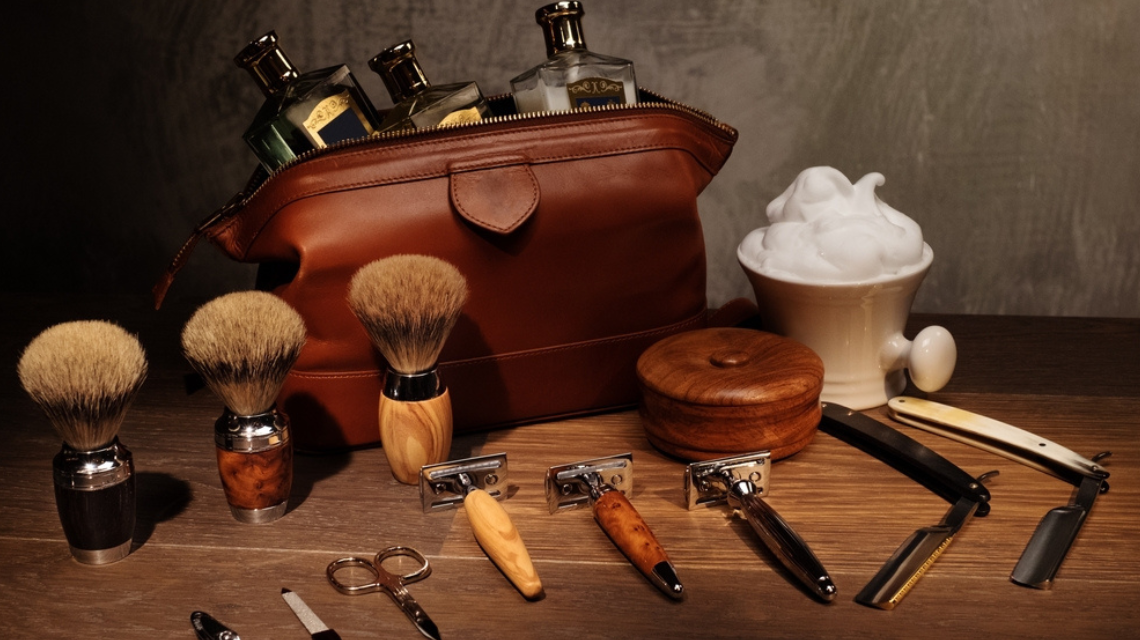 Gentleman's Grooming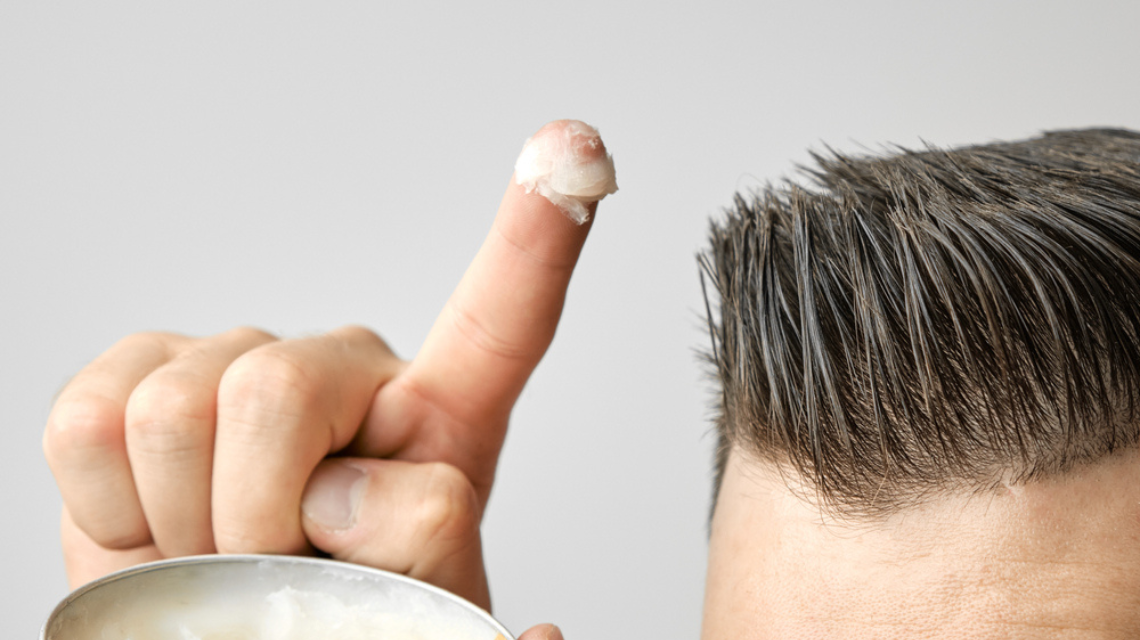 Hair Pomade
Indeed hair pomade leads us to the next chapter of this story.
Chapter 2: Jermyn Street and the Rise of the Barber
Continuing my search for the origins of fragrance in British culture brings me to the posh St James's district in London where in 1730 Juan (John) Famenias Floris, a native of Menorca, became the resident barber at the St James Hotel which was on Jermyn Street at the time. Edward Bodenham, the Perfumery Director for Floris and ninth generation family member, gave me some insight into this humble, but essential, profession. "Being a barber in those days of course meant making lots of scented products, talcum powders for gentlemen's wigs and ladies hairpieces, brilliantines for hair, even scented tooth powders in rose and violet, and mouthwashes. We still actually produce one that dates back to those very early days."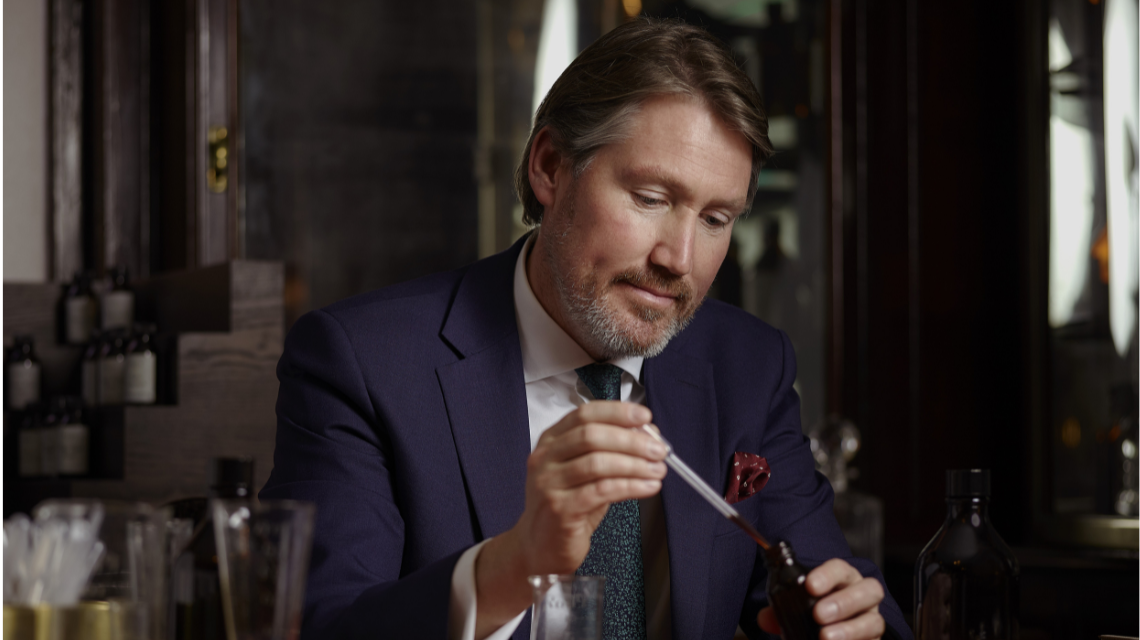 Edward Bodenham, Perfumery Director, Floris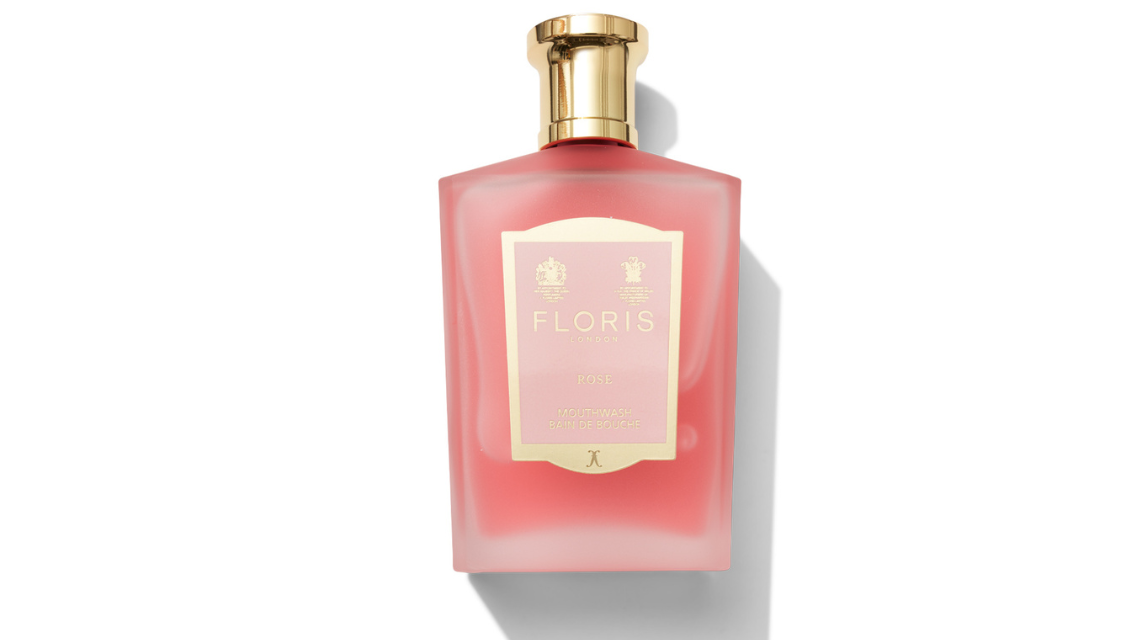 Floris Rose Mouthwash
The unassuming barber set the tone for gentleman's grooming which segued into toiletries and then fragrance. Stephen Gray, former Managing Director at Clive Christian, observed, "Jermyn Street was a center of sartorial elegance. There were a lot of clubs nearby and the royal court wasn't far away, so courtiers would be enjoying themselves until late at night, but they had to go to the Houses of Parliament the next day. Well, there was a hammam on Jermyn Street and so these gentlemen used to all meet there in the morning to be groomed".
"We could say that because in Britain it developed more along functional lines, it was not as much of a usage of fragrance for pleasure as opposed to grooming." Persolaise, writer and perfume critic
Around 1790, DR Harris & Co, Perfumers and Chemists opened an apothecary around the corner on St James Place selling Lavender Water, Eaux de Colognes, and a Pick-Me Up tonic said to be a hangover cure (and still sold today!). Colognes in fact were popular throughout Europe in the royal courts and with the royal families. The fragrance Limes from Floris dates back to the 1700's. Mr. Bodenham explained, "It was created for the summertime in London to make you feel fresh and invigorated. It's still so popular today even though it dates back to the early days. It's timeless really." Gender-neutral, transparent, based on natural ingredients: how incredibly appropriate for the 21st century!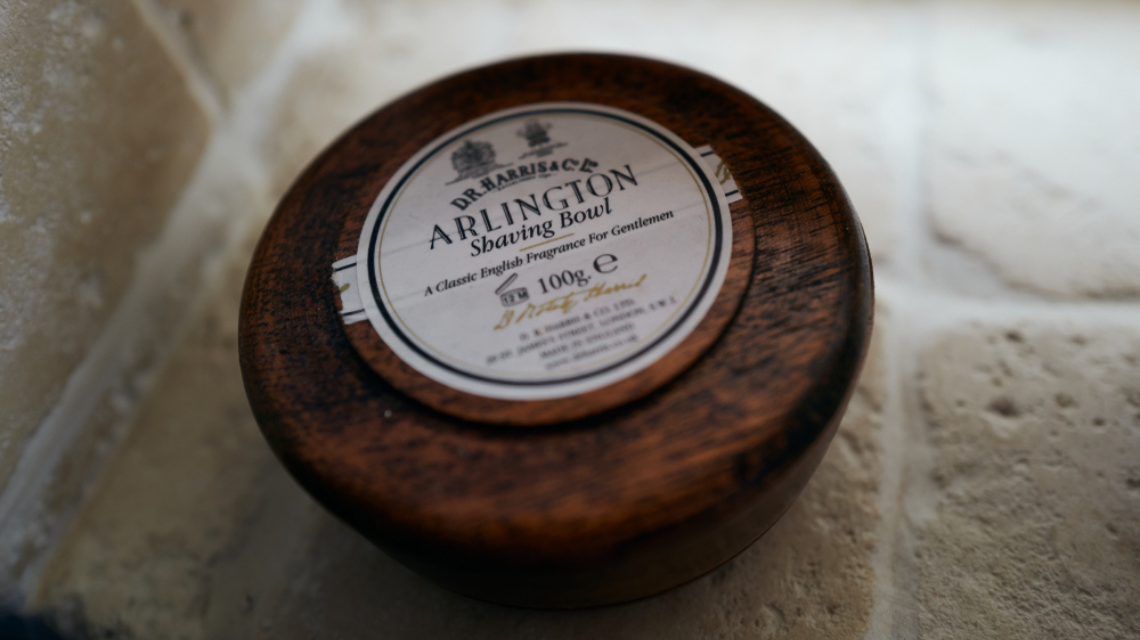 DR Harris & Co Shaving Balm
Jermyn Street continued to flourish, and in 1867 William Penhaligon opened his barbershop at N°66 near the Turkish baths. In 1872 he created the fragrance Hammam Bouquet which was meant to mask the sulfurous odor the baths left on the skin. That same year the Crown Perfumery Company was established in London. Mr. Gray related some of the company history. "At Crown Perfumery, which eventually became Clive Christian, the most successful product was scented smelling salts, which previously smelled very pungent and unpleasant. The son in the family, William Thompson Junior, was a chemist, the father was a milliner and corset manufacturer. Women were fainting during fittings, so the son came up with the idea of scenting the salts with lavender which wasn't so unpleasant. Then they made lavender water and the business morphed into perfumes."
The Victorian era ushered in a period of modesty, where understated soliflores were the rage, but another undercurrent was present at the same time. According to Mr. Steward, "One of the things about the Victorians was the absolute global focus they had although that history has some dark sides to it. And to this day, the British are very open minded about things coming from overseas because we are so used to it. We may think of the world as our sourcing ground so our palette is broad." These were the days when the sun didn't set on the British Empire, which meant all things foreign and exotic were flooding back to the motherland. People were intrigued by curiosities. Mr. Gearing noted that "The Victorians were absolutely obsessed with ambergris. They even combined it with food and dining. They wore it and they thought it was an aphrodisiac."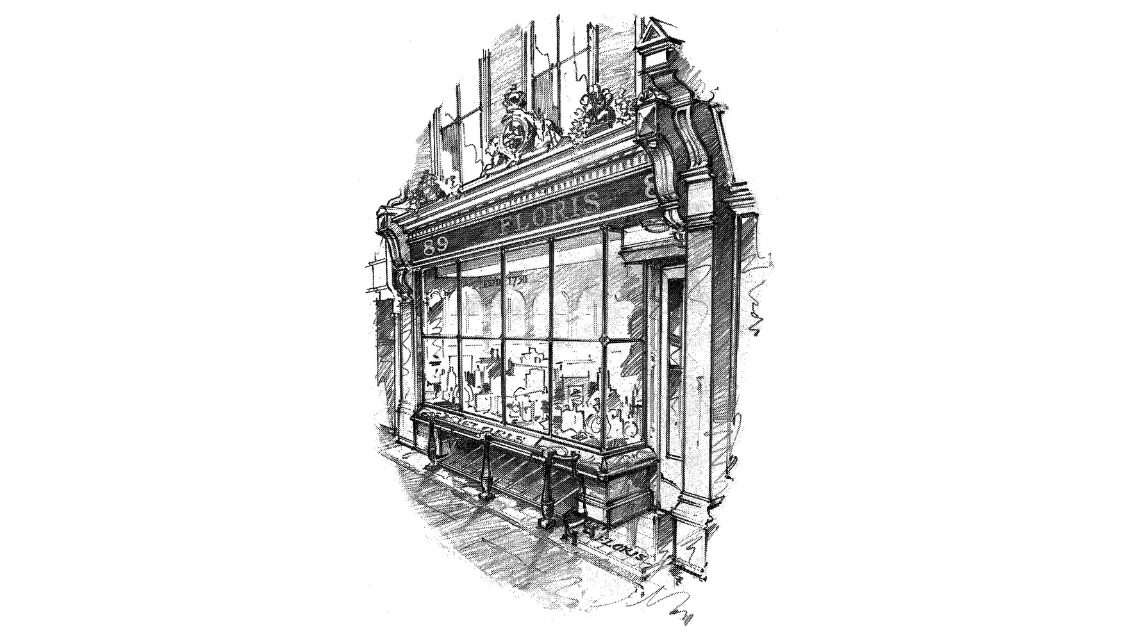 Floris on Jermyn Street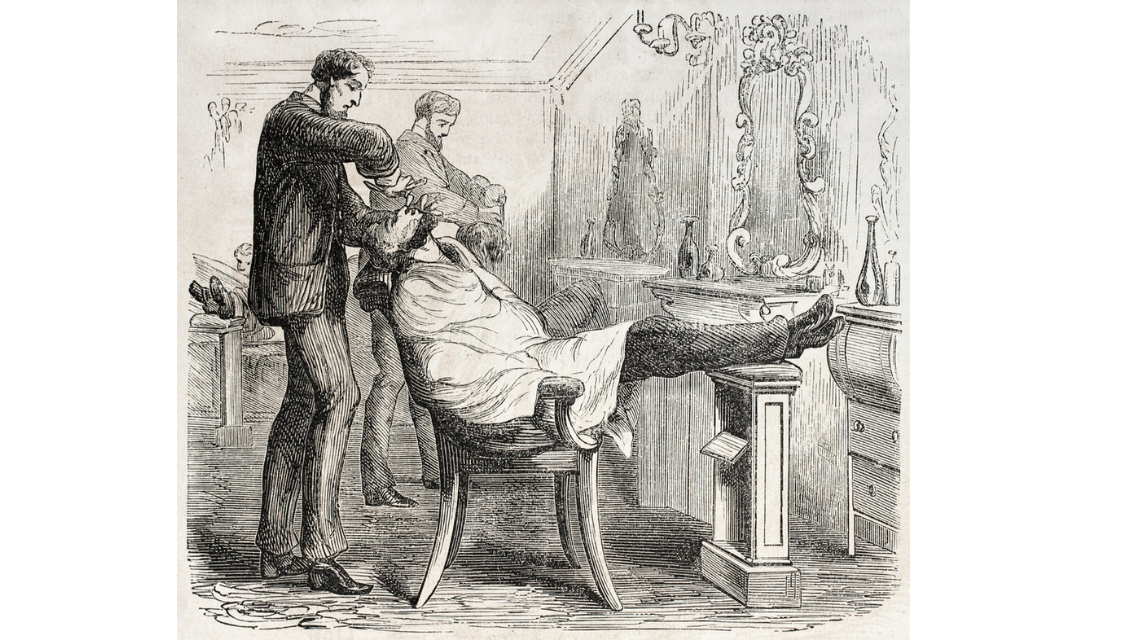 Vintage image: the Barber
These conversations made me start to wonder, aside from being open-minded and curious, what other characteristics are typical of the Brits and does it come through in British Perfumery? We'll explore this topic in Chapter 3 which will be published next week.