Sweet Sensations: where the art of perfumery meets the art of pastry
2020 . 09 . 11 | written by Karen Marin
I have the great fortune, in my role with Essencional, of coming across creative individuals in the fragrance world who are passionate about what they do. Such is the case with Hélène Deguen who, after 7 years in the fragrance and cosmetic sector, made an unprecedented career transition to become a pastry chef. Inspired by her love for raw ingredients, in 2019 she created KUBO, a pastry boutique where gastronomy meets olfaction. Helene explains " Every day I enjoy working with fine raw materials, focusing on them and using them to create and delight people. It's what motivates me in this very beautiful profession as a pastry chef. "
Ms Deguen originally studied chemistry, specializing in its application to cosmetic composition. While working for Kenzo Parfums she discovered the special universe of perfumery, including the vast range of raw materials. In her downtime she found a creative outlet in writing her own blog where she focused on her twin interests of food and fragrance. "I decided to create a little blog where I could bring together my passions for gastronomy and olfaction. I loved doing it, and this is how I was introduced to the art of pastry. " Soon after, she followed an accredited training program to become a professional pastry chef, which led to the creation of KUBO Patisserie.
Hélène enlisted the participation of two former colleagues, Symrise perfumers Pierre Kurzenne and Marine Ipert, who were thrilled to join her in this innovative endeavor. Hélène told me "…it was important to me to highlight the beautiful materials that perfumery and gastronomy share but also the cross-fertilized work that we do with perfumers, a work with four hands that allows us to be creative and bring together a new way of discovering perfumery and eating pastry." Inspired by their fine palette of ingredients, they developed the pastry range, entitled Les Collections, along with complimentary fragrances. "We selected together duos and trios (of ingredients) with which we wanted to work. Then it became a kind of ping pong: either the pastry had already been thought of and the perfumer worked on the notes and then I readjusted the recipe or we started with a note that inspired me to make a recipe." Take for example the Madeleine Neroli Joli where Marcel Proust's favorite treat is enhanced by suave Madagascar Vanilla and the luscious orange flower. To heighten the sensorial experience, the giftable coffret includes 8 Madeleines accompanied by a 5ml "touche parfum" in Vanille Excessive. In another set almond and hazelnut Florentine cookies, enrobed in lavender-infused dark-chocolate, are accompanied by a chocolatey rich, gourmand fragrance. Smelling the "touche parfum" while tasting the pastries brings a new meaning to the term indulgence!
I asked Hélène to tell me about what is most challenging and what new temptations will be waiting for us in the near future. "There are some raw ingredients that are more complicated to work with in pastry making but nothing is impossible! It's all a question of dosage ! We already have new projects in the works, one of which focuses on notes we aren't in the habit of eating! " This is intriguing and definitely warrants follow up before the end of the year!
KUBO is located in Paris' 10th arrondissement, a part of town that has gone through a renaissance and is now a thriving and growing hotbed of artisanal boutiques, cafes and restaurants. The quartier exudes a creative and open-minded spirit that KUBO fully embodies. I visited the minimalist, light-filled boutique early on a Friday afternoon and there was a steady stream of customers. I tested a delicious dark chocolate and praline cookie (Cookie Pralin Coquin) which was not at all sweet, but in which the quality of the dark chocolate was evident. Hélène told me her clientele is made up of people from the neighborhood as well as those who love both pastry and fragrance. It has also attracted individuals tempted by her in-boutique workshops open to adults and children. I asked Helene about the importance of teaching children how to smell. "As children we are not at all taught how to smell or even that the sense of smell is an important part of our daily life. Introducing children to perfumery through pastry is a fun way to learn to cook good things and to learn the sense of smell, it helps them recognize the materials of our daily life! I am passionate about offering the workshops, but unfortunately we have had to put them on hold temporarily due to COVID-19."
In terms of her personal fragrance usage, Helene prefers colognes and the scent of orange flower. "I often wear the Cologne by Thierry Mugler, a musky citrus that I particularly love and also Frederic Malle's Cologne Indélébile which i find to be a magnificent interpretation of orange flower."
Hélène left me with some final thoughts on fragrance: "Fragrance has a real power on our memory that lets us recall good moments in the past, but it is also an inspiration for me, another way of creating cakes and pastries."

KUBO Pâtisserie
25 rue Jacques Louvel-Tessier
75010 Paris
https://www.kubo-patisserie.com/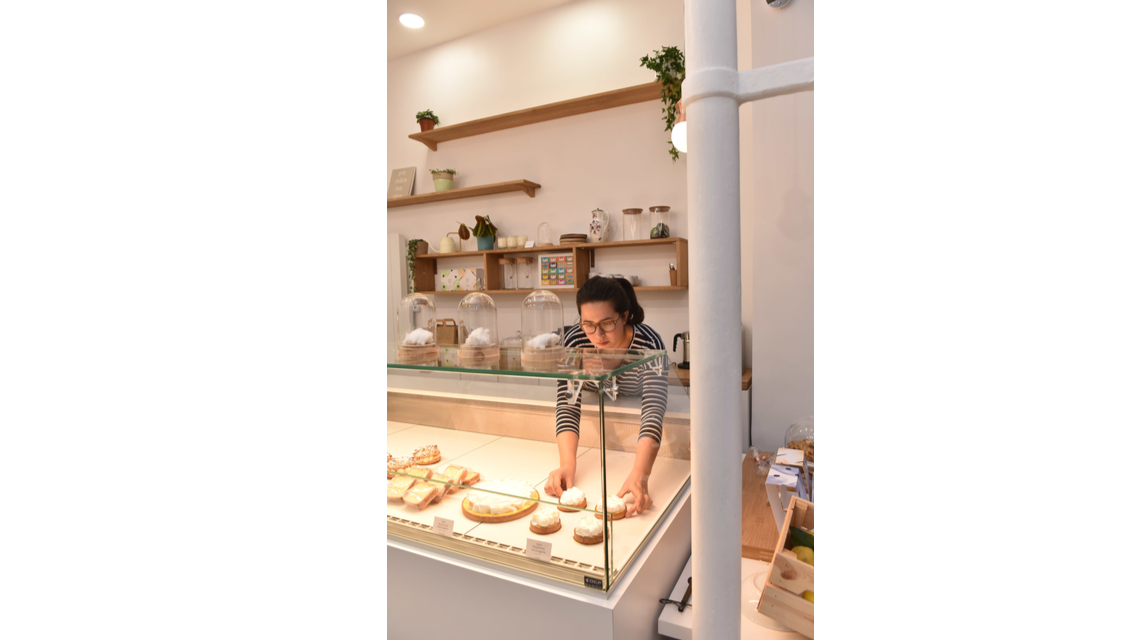 Helene Deguen at work at KUBO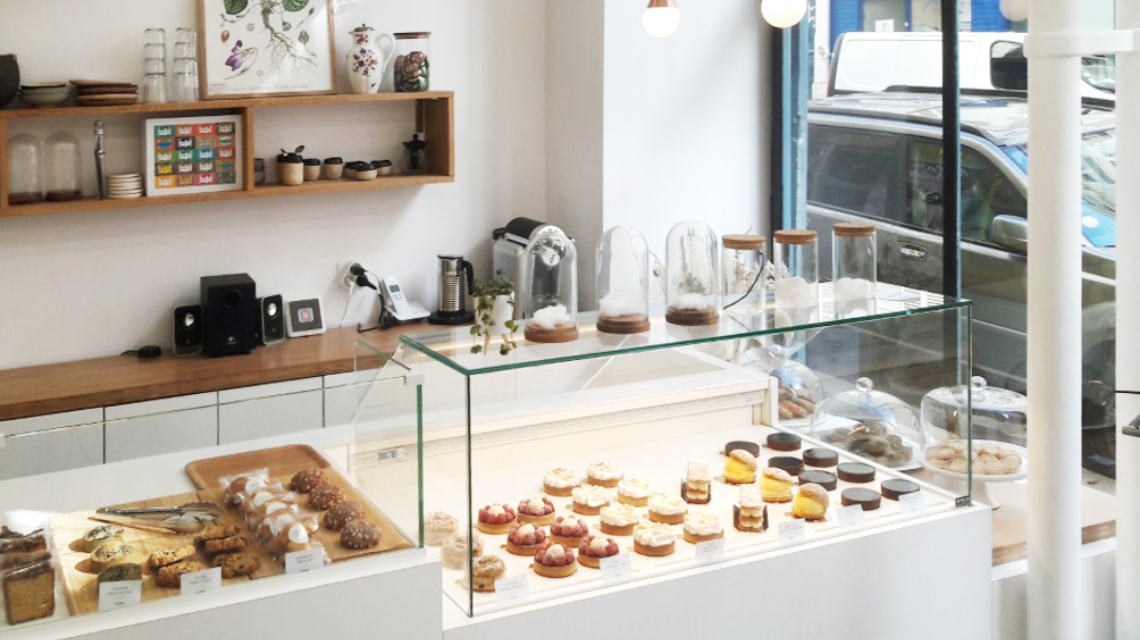 Pastry assortment at KUBO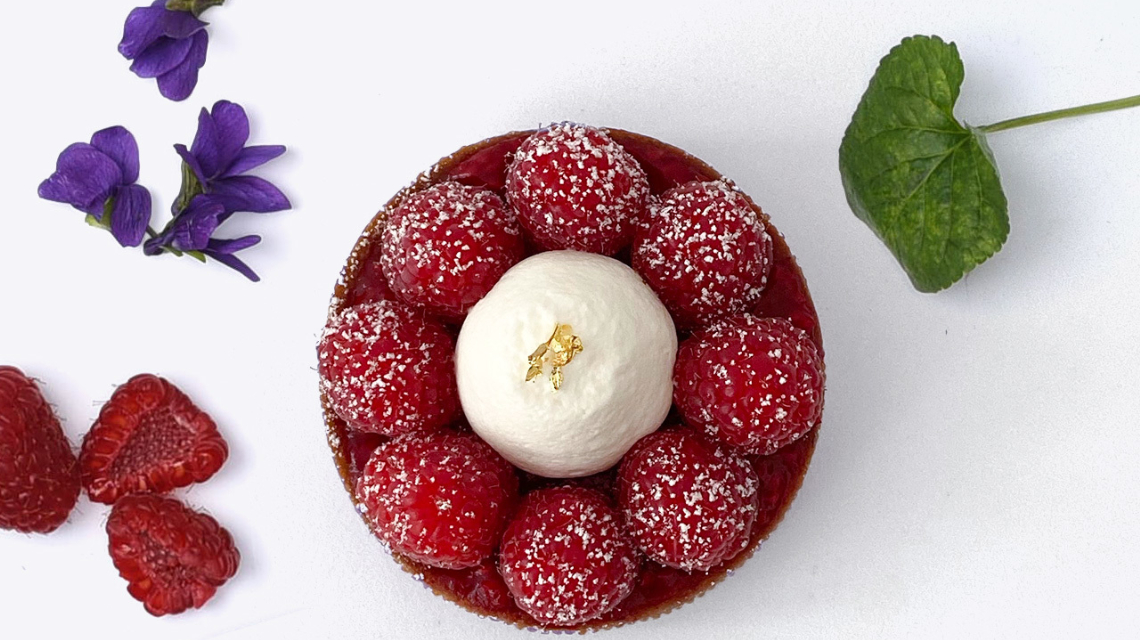 Tarte Framboise Câline KUBO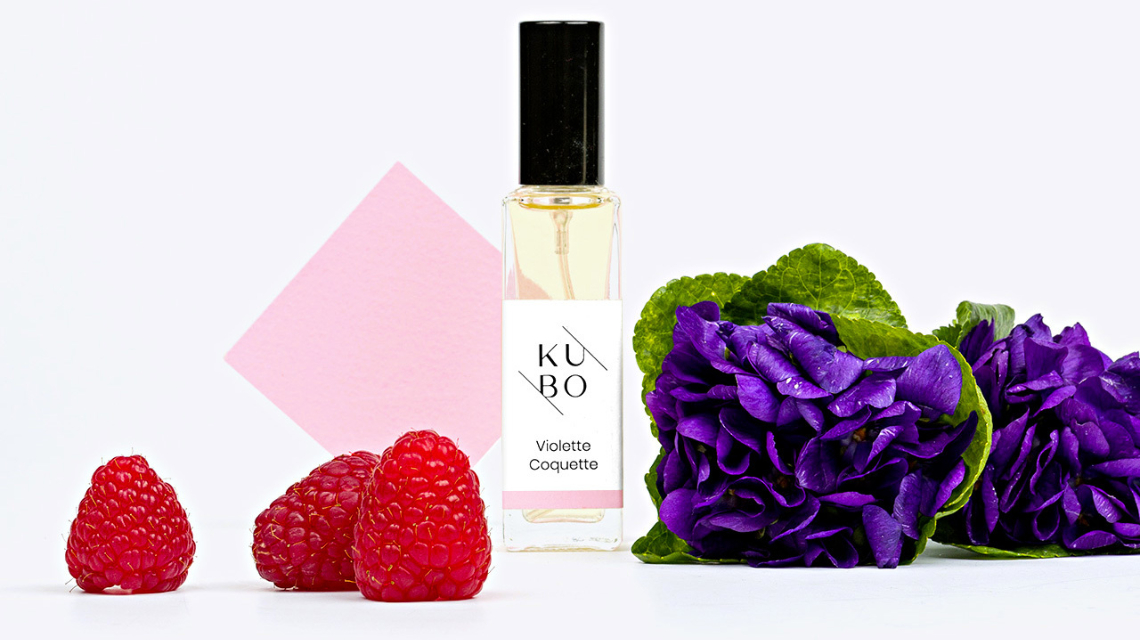 Violette Coquette Parfum KUBO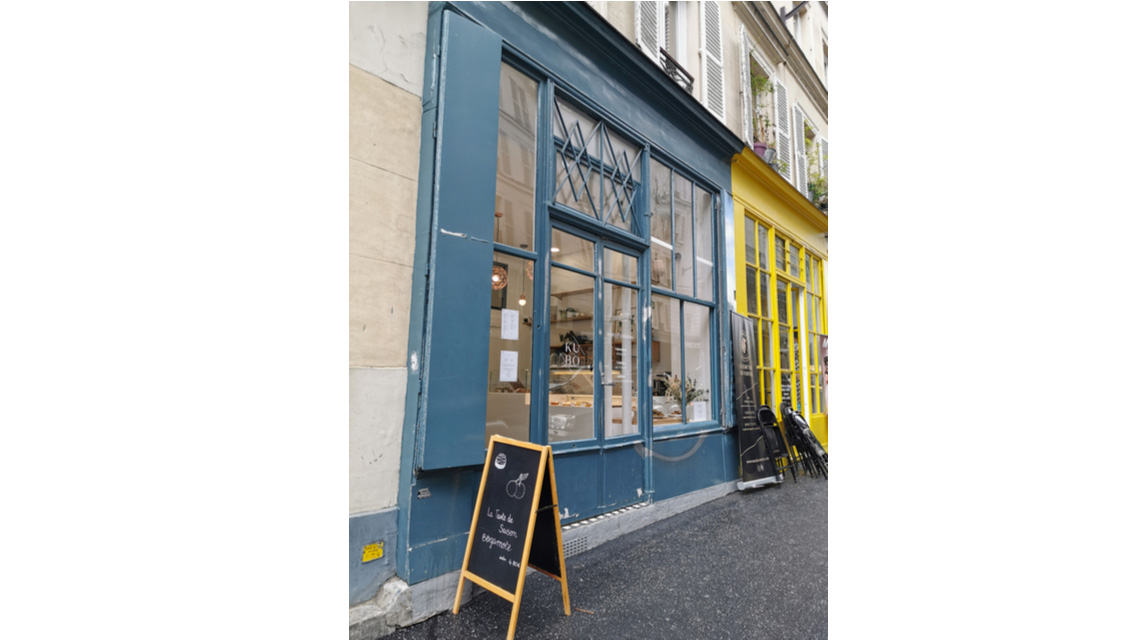 KUBO Patisserie