Spraying & Spritzing Post Lockdown : The Real Story
2021 . 06 . 04 | written by Karen Marin
For the past 16 months I've been writing about fragrance and beauty, devouring industry information, attending numerous webinars and trying, along with my colleagues all over the world, to determine what the in-store fragrance testing experience will be like once shops reopened. Here in Paris, with mandatory masks rules in place, the stores were finally allowed to open their doors again on May 19th. I gave it a week to let the dust settle before making a circuit of six different stores to get an idea of what is really happening. My conclusions?
It depends on where you go.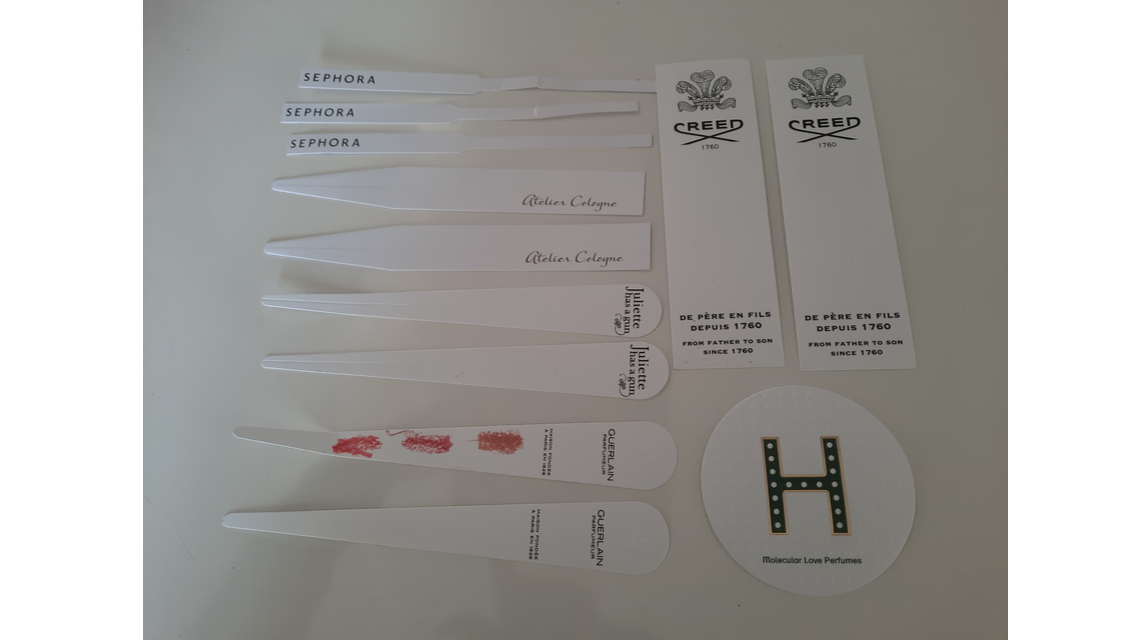 DEPARTMENT STORE 1
Upon entering a security guard assures that you don't forget to use the hand sanitizer dispenser. At the ground floor entry there are assorted lifestyle brands like Rituals, body care and then the makeup counters. Since it was a week before Mother's day, there was a display of fragrance giftsets as well, complete with testers and blotters. I got to the store around 13h30 on Lundi Pentecôte – a holiday in France – and you can see I had the fragrance floor on the first level to myself. The few salespeople who were working were not very attentive, so I was able to wander around the artisan fragrance section unguided, I could touch and spray anything I wanted because containers with blotters were readily available and testers were on counter. I was unfamiliar with one of the brand presented, so I took my time walking around the installation, picking up several bottles and spraying the blotters to discover the brand. No one stopped me and no one approached me. Finally I went over to a counter where a salesperson was seated and I asked if I could smell a few scents. While talking about a new fragrance, I asked her about the protocol for testing fragrance now. She told me that I should ask to smell specific fragrances and then the salesperson would pick up the bottle, spray the blotter, hand it to me, and then I could lower my mask to smell. Indeed, in theory this is the case, but in practice, with a small staff, it is not the reality.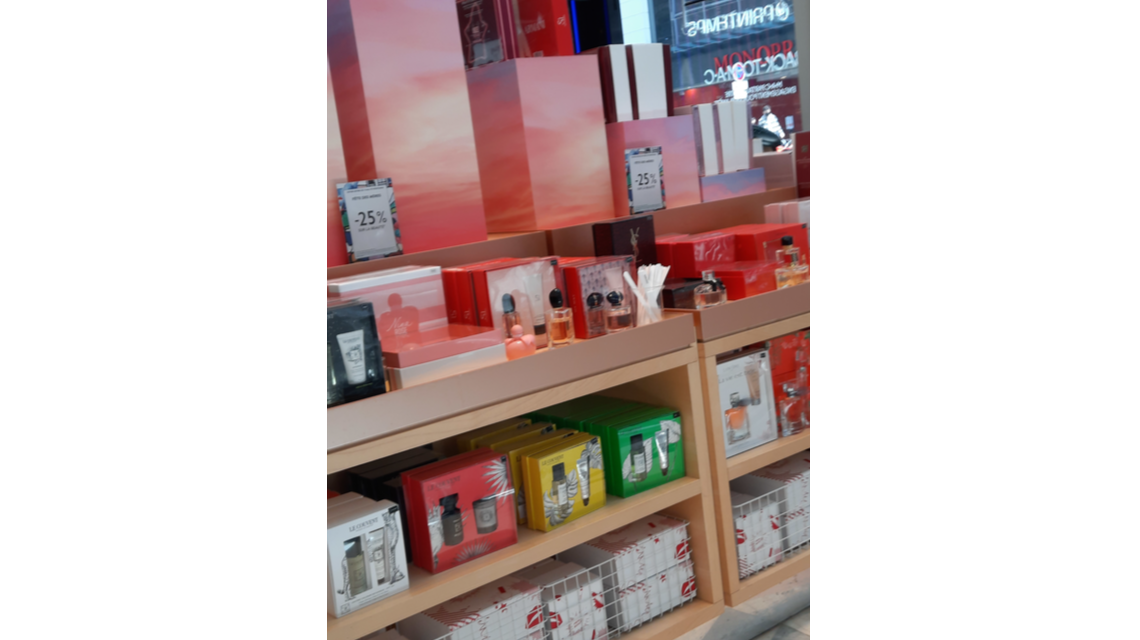 Department store 1, gifts sets, testers and blotters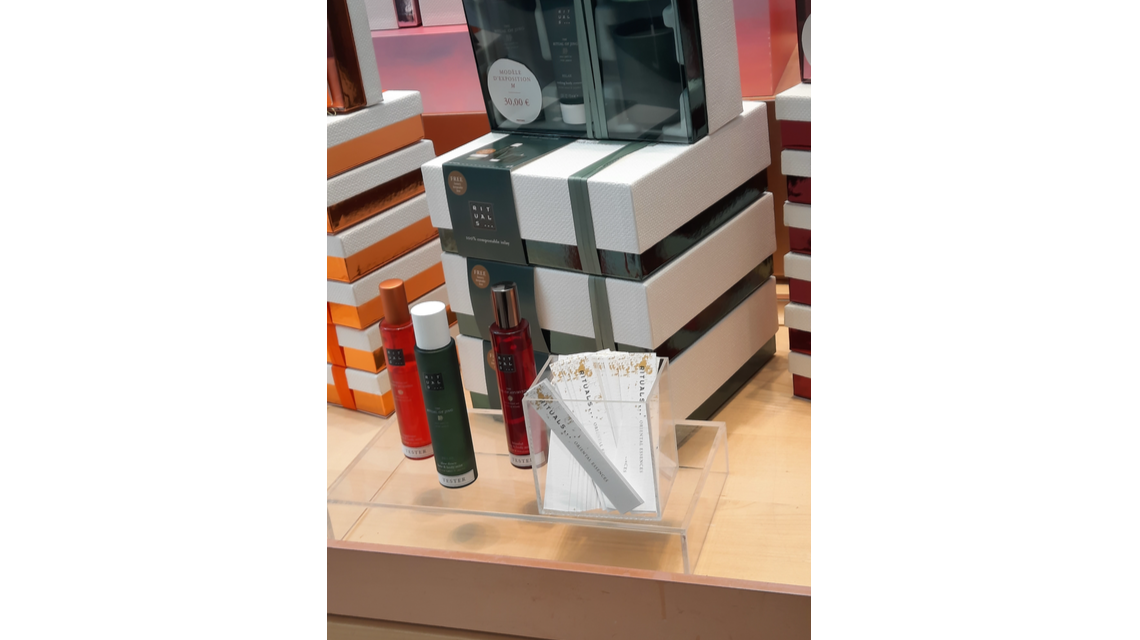 Department store 1, blotters at brand's corner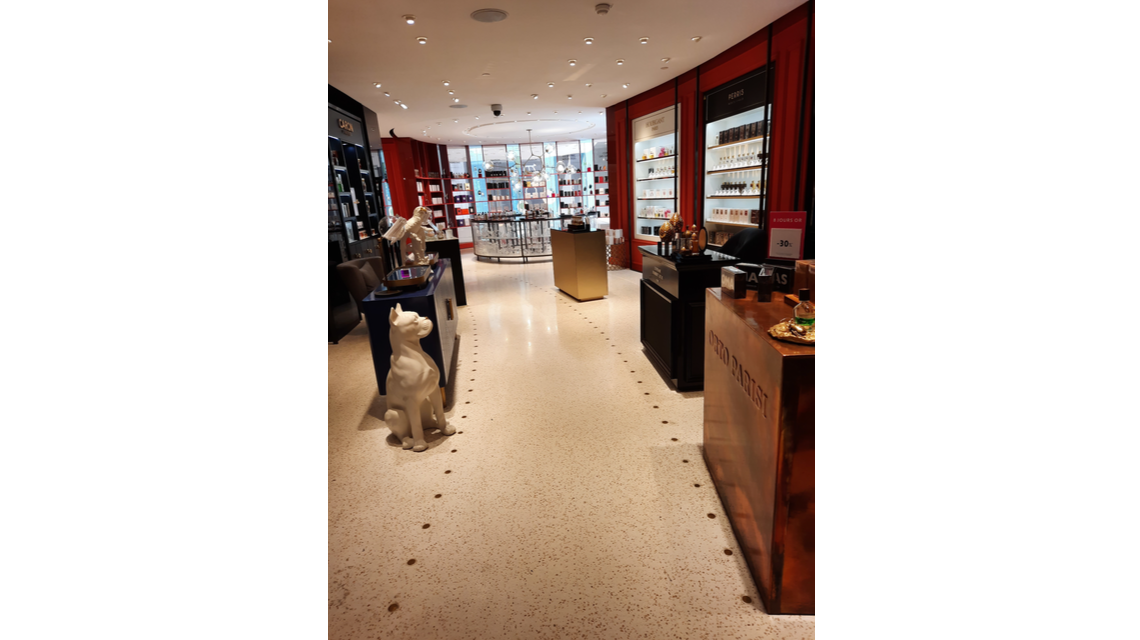 Department store 1, Fragrance Dept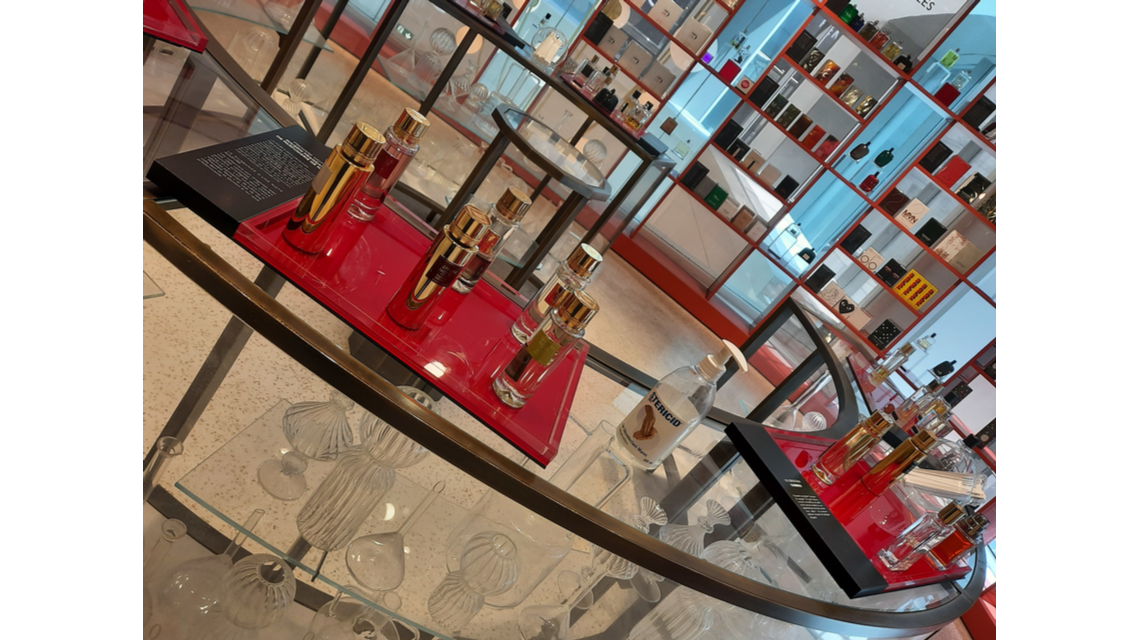 Department store 1, testers out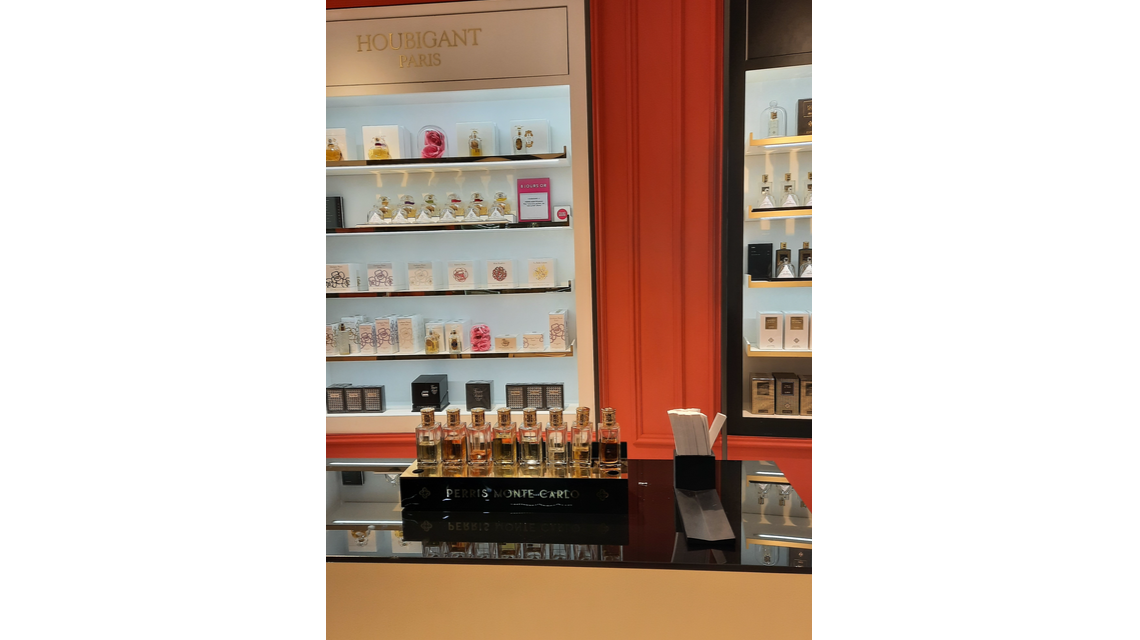 Department store 1, fragrance counter
BEAUTY AND FRAGRANCES RETAIL CHAIN
This particular store opened in 2020. It was the second stop on my tour, so it was still a holiday and still early afternoon. The store was very quiet. As at the first department store, I did need to use the hand sanitizing dispenser at the entry before I even picked up a basket. Plenty of staff was on duty and they were all very welcoming and friendly. Color cosmetics are on the ground floor, fragrance and skincare on the first floor, so up I went. This store has a section called Parfum Selection Privée which includes many niche and artistic brands. A very knowledgeable salesperson engaged with me while I was looking at the one of the displays. I asked to smell a few fragrances, and she picked up the tester, sprayed the blotter, handed it to me and let me dip my mask to smell it while she described the scent. I thanked her and moved on to the alphabetical wall where another salesperson approached me. She invited me to test whatever I wanted, she indicated the container holding blotters and told me to take my time. She also showed me her new favorite fragrance, so I give her points for suggestive selling, but clearly, there are no set rules for testing. Out of curiosity, I went down to look at a beauty brand gondola to look at some new lipsticks and see how I could try them. Initially I was on my own, so I found a tissue and drew a slash of color across it. A salesperson eventually came over and did not object to what I was doing, so I guess it was ok.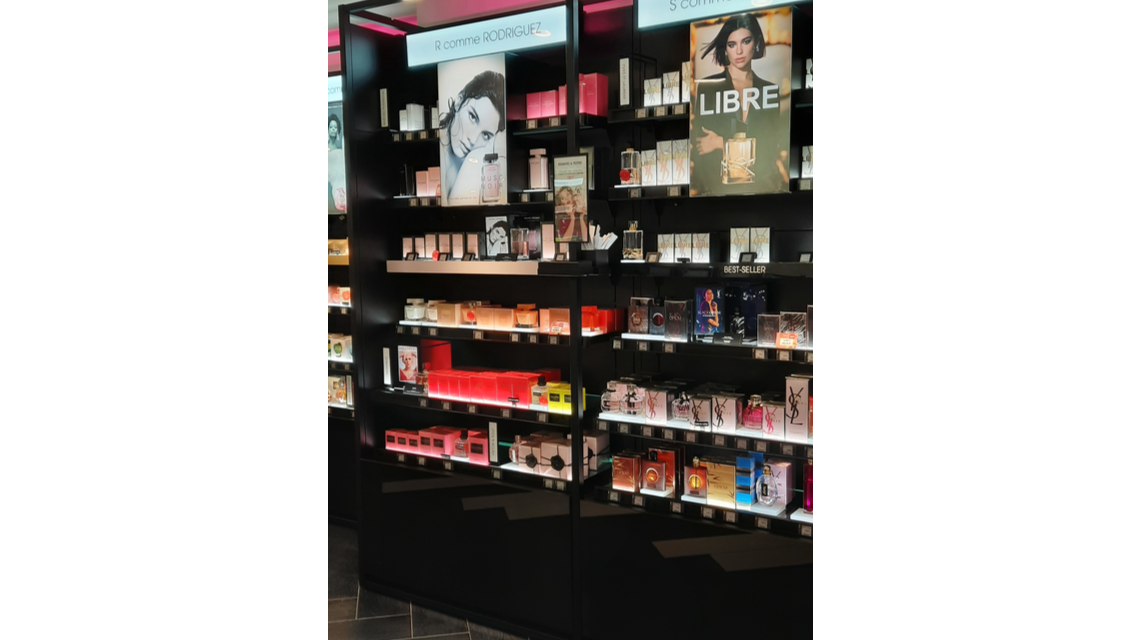 Beauty and fragrances retail chain wall with testers and blotters
Two days later I saw a former colleague of mine who lives in New York. He told me that in the US some stores have erected tents outside the shops, the customer enters the tent, has their temperature checked and sanitizes their hands before entering the store. Testers have been removed from the color and skincare gondolas as well as from the fragrance walls, so it is mandatory to consult with a salesperson to try anything. Note also that large department stores in the US have eliminated the mask rule for people who are vaccinated – but it's on an honor system, so who knows who has really been vaccinated?
MULTIBRAND BOUTIQUE
Early afternoon mid-week I made a trip to a beautiful perfumery located in a high-end neighborhood. With such a luxurious location, I was anticipating a very different experience, and the shop did not disappoint. I was warmly greeted while using the hand sanitizing dispenser, then I asked if I needed to make an appointment. The salesperson told me it wasn't necessary then asked me what I wanted to discover. I told her I hadn't been in the shop since pre-lockdown 2020, that I wanted to try some new fragrances, and then I asked about the current protocol. She invited me to sit at a long consultation table, set up to accommodate a few clients, spaced well away from each other. Then she asked me what kind of fragrances I liked, and based on my answer, she went round the shop, collecting fragrances for me to try. This was a true consultation based on my preferences. Since I mentioned I like ambery scents, she showed me a couple of fragrances. Then I changed my tactic completely and said that going into summer, I might want to switch to a citrus scent. She went directly to a specific fragrance first, then picked up a few others for me to try. When I asked if I could test the first one on one arm and another one on the other she obliged me and then offered me a sample of each. I told her I wanted to wear them and come back another day to discover scents from specific brands. The experience was very personal and I didn't feel pressured at any point.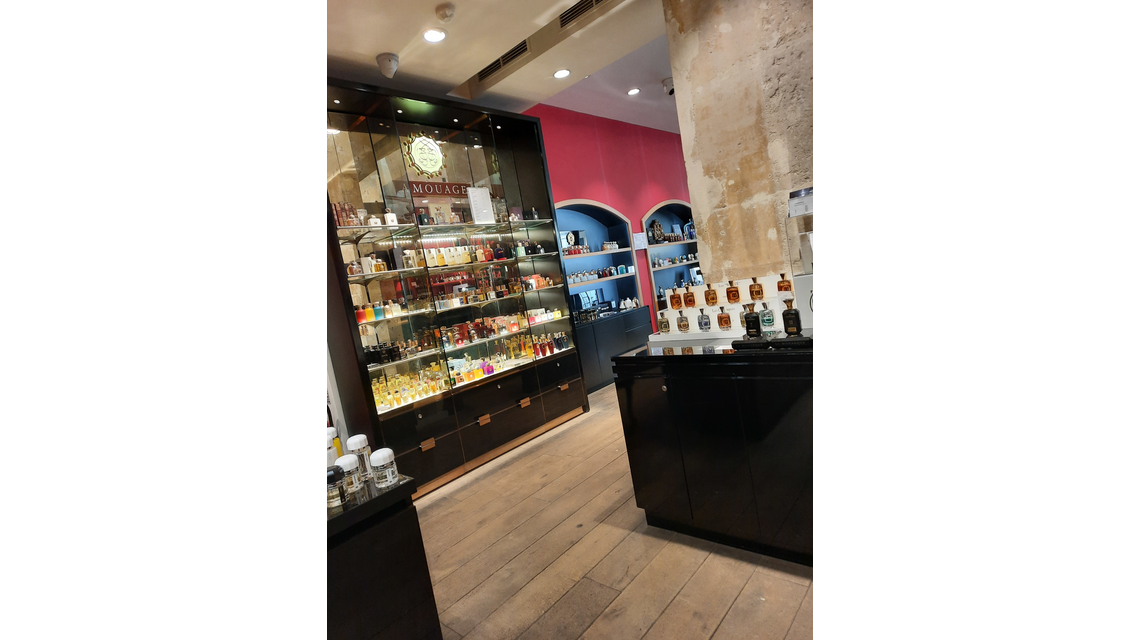 Multibrand boutique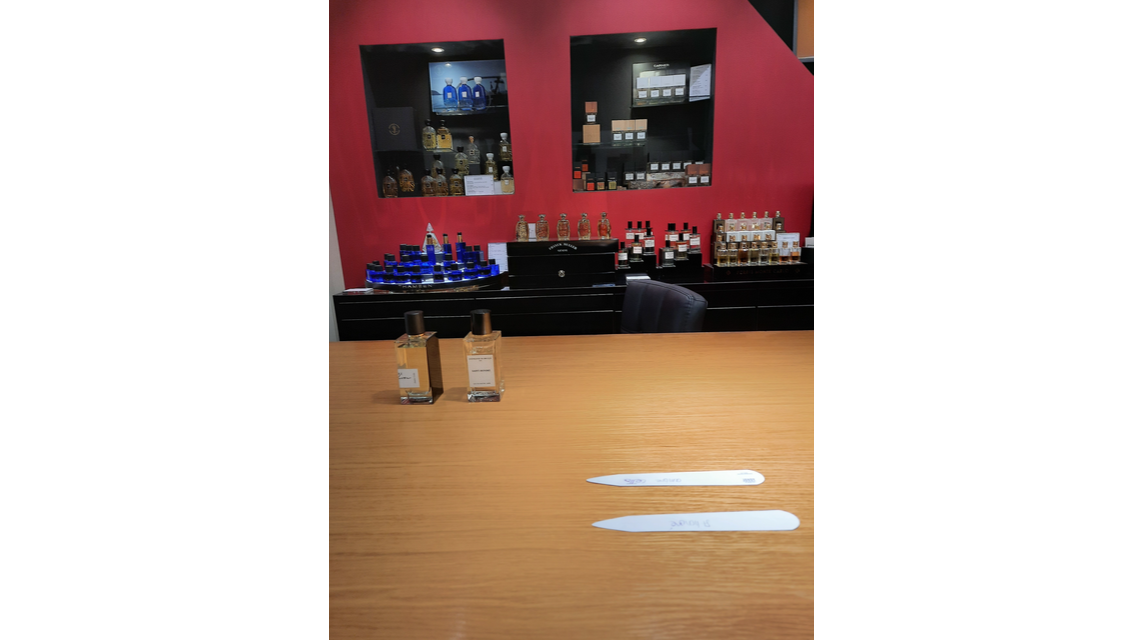 Multibrand boutique consultation table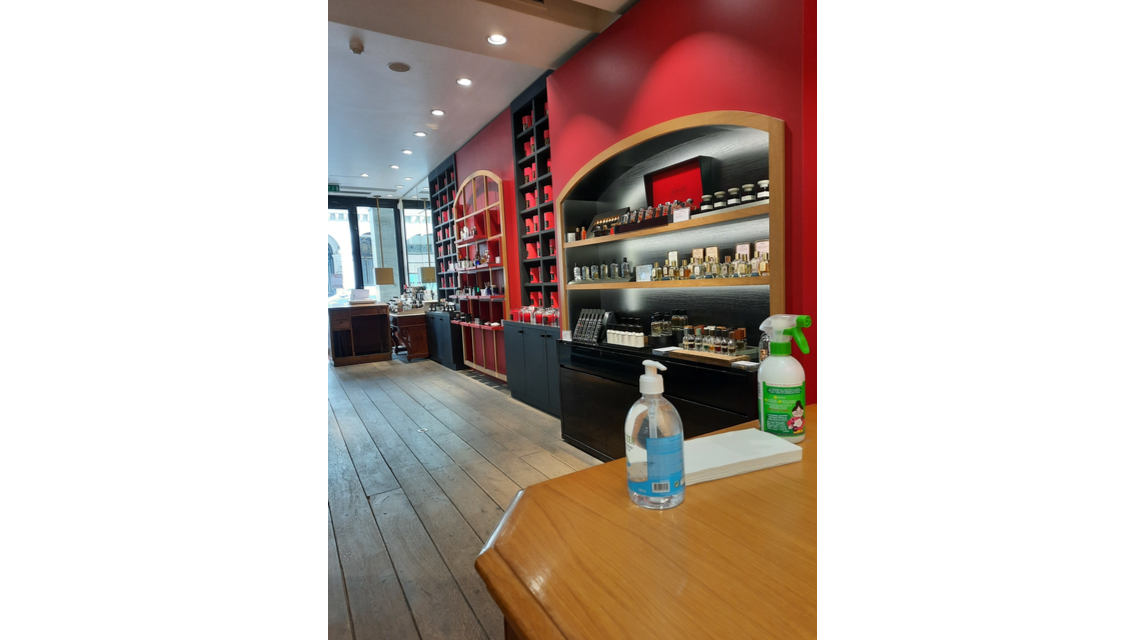 Multibrand Boutique, safe and clean
BRAND BOUTIQUE
Then I made my way up the street to a boutique located in a prestigious shopping district. I was greeted at the entry and after getting a squirt of their custom hand sanitizer I asked to smell ta few new fragrances from the brand. The salesperson walked me over to the display, showed me the bottle then sprayed a blotter with a specific perfume. She rattled off the notes but didn't say much about the scent itself. I was expecting another citrus scent but the honey stood out for me. Then she showed me another one. I thought the scent would seem more "wild" in keeping with the name, but I clearly detected violet, a far cry from wild in my book. Before leaving I asked to look at the new lipstick. The salesperson used a blotter to draw slashes of color. I left the shop feeling a bit disappointed.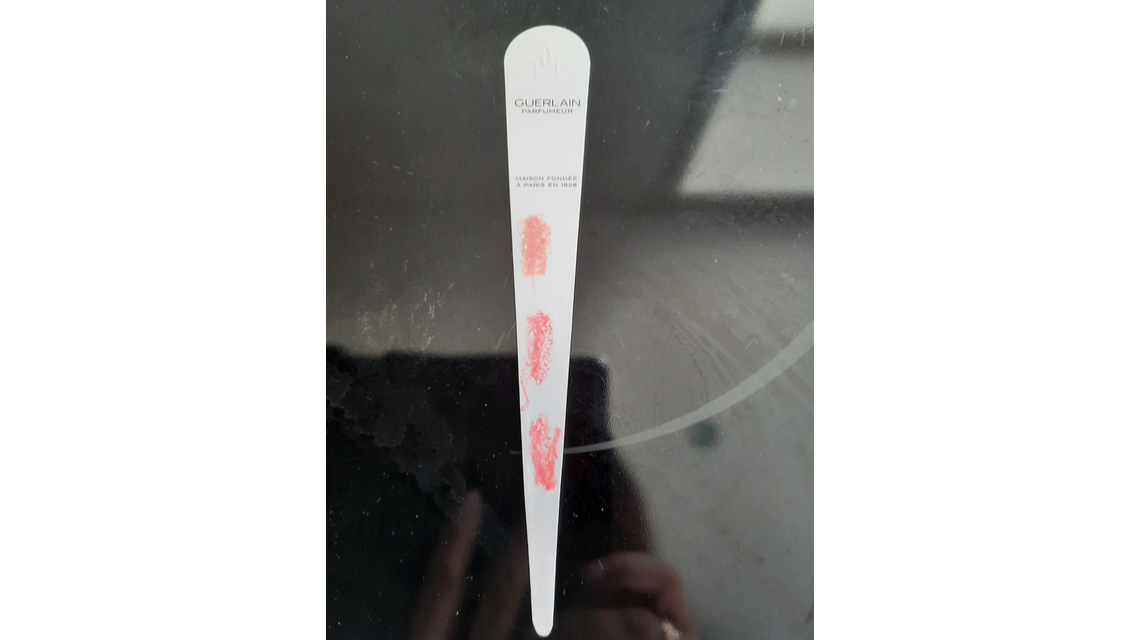 Brand boutique, testing lipstick
DEPARTMENT STORE 2
I decided to end my shopping forays on the Champs Elysées on Friday around 18h. The department store I visited is a bit of a hybrid with an upscale selection of brands across all departments. The fragrance area is slightly off the ground floor and the first space you come to includes a lot of brands who have experience corners and stations. A salesperson was working with a few clients at one space but the other areas were not staffed. I noticed blotters and testers were readily available. I walked down to a lower level where more fragrances, skincare and haircare are located. A few men were in the fragrance area testing a bunch of fragrances with no assistance, so I figured it was ok to explore on my own. I went up to one of the very central display to smell the new fragrance, which was featured. Then I went over to a brand wall to smell one of their fragrances that I hadn't tried yet. I ended my tour at the another brand corner to spray a blotter with a scent I had heard a lot about but had never smelled. I was never approached and never assisted during my visit.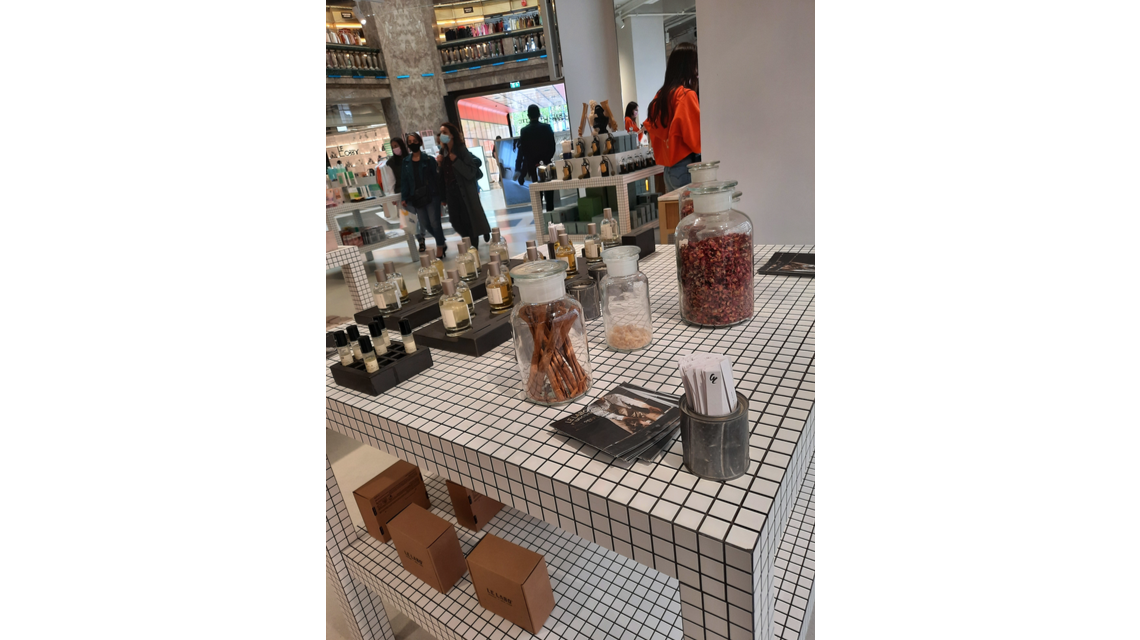 Department store 2, brand table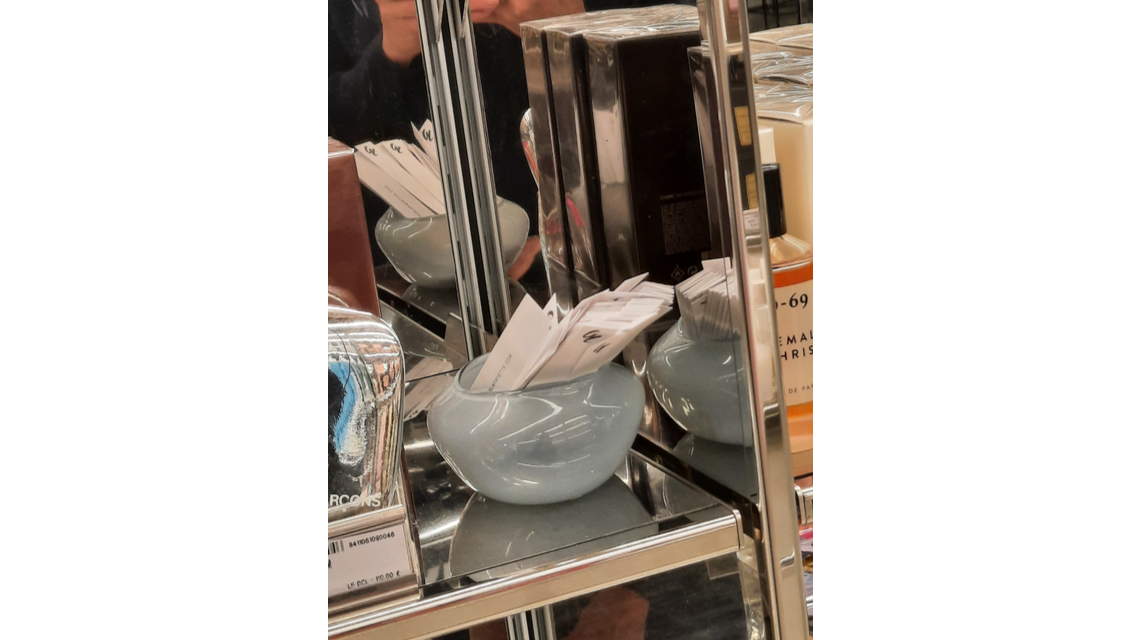 Department store 2, blotters out
BRAND BOUTIQUE 2
This store is supposed to be an experience store. I had never been in, so I decided to take the plunge and see what protocol a big international brand had set up in shop. A guard was at the entry and he invited me to use the ever-present hand sanitizer. I could see that all of the salespeople were busy assisting shoppers so I had time to wander around. I have to say I was a bit taken aback because the salespeople were all wearing clear plastic disposable gloves. It was off-putting and made me feel that I shouldn't touch anything. I actually wanted to replenish a pencil I use, but I left the store without even asking about it – I'll just order online.
CONCLUSION
I know that there is a lot of chatter on the internet about the new normal, how stores will adapt, how product testing will evolve, and how retailers need to reinvent the system. Earlier this Spring I attended a webinar about this subject and I expressed my doubts. The moderator answered by saying it will take time for salespeople and consumers to get accustomed to new systems. I hate to say that after my six visits, I wonder if anything is really going to change. If it hasn't changed yet and stores have reopened, when will the systems change? Initially in one beauty and fragrances retail chain all the testers were removed, gondolas were wrapped in plastic and you have to ask for assistance. I asked the salesperson about why it wasn't still in place. "Yes, we were doing that for a while, but we weren't selling anything so we stopped." That tells you a lot, doesn't it?