Spice it up. Givaudan's Cardamom Momentum Picks up and Warms up.
2023 . 10 . 05 | written by Laurence Arrigo Klove
Givaudan scores a triple up. A new iconic spice is out. Backed by its 2018 Indian strategic partnership with Synthite, following solid years of research & development, the company is releasing innovative natural ingredients resulting from new extraction methods. Exclusive floral and spicy naturals such as jasmine, tuberose, ginger, and cardamom now enrich the company's palette of ingredients. Enthusiastic perfumers have all at once new possibilities in the composition of the fragrances. Three experts from Givaudan tell us the story of how the cool cardamom took a zesty swing to a warmer destination.
For Essencional, I decided to investigate the cardamom matter further and interview no less than three Givaudan experts: Eugénie Briot, History & Transmission Project Manager; Eléa Noyant, Naturals Marketing Manager and finally Marypierre Julien, Senior Naturals Innovation Perfumer.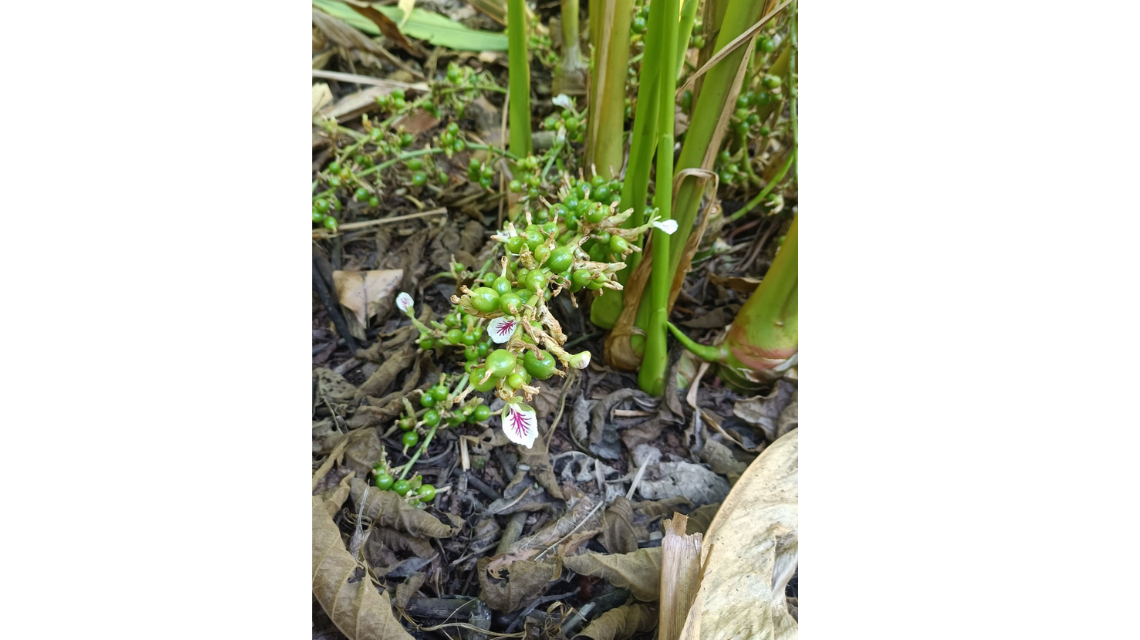 A strategic partnership for an iconic aromatic spice
Cardamom is one of the world's most ancient spices and one of the most expensive ones after saffron and vanilla. The name comes from the Latin 'cardamomum', which is itself derived from the ancient Greek 'kardámômon', composed of kardamon – watercress, and amômon – amom. Elletaria cardamomum, 'the queen of the spices' is home in India. Native in the Indian subcontinent, it happily grows in the Kerala mountains and produces large quantities crops. Established in 1972, Synthite is a local expert and a global player in the supply of exceptional botanical extract ingredients for flavours and fragrances. Eléa Noyant tells me that since 2018, Synthite and Givaudan have joined forces to produce quality ingredients using the latest crafting techniques.
"We are always looking for innovative solutions and Synthite brings to us an impressive expertise in the development of new natural fragrance ingredients."
Maurizio Volpi, President of Givaudan's Fragrance Division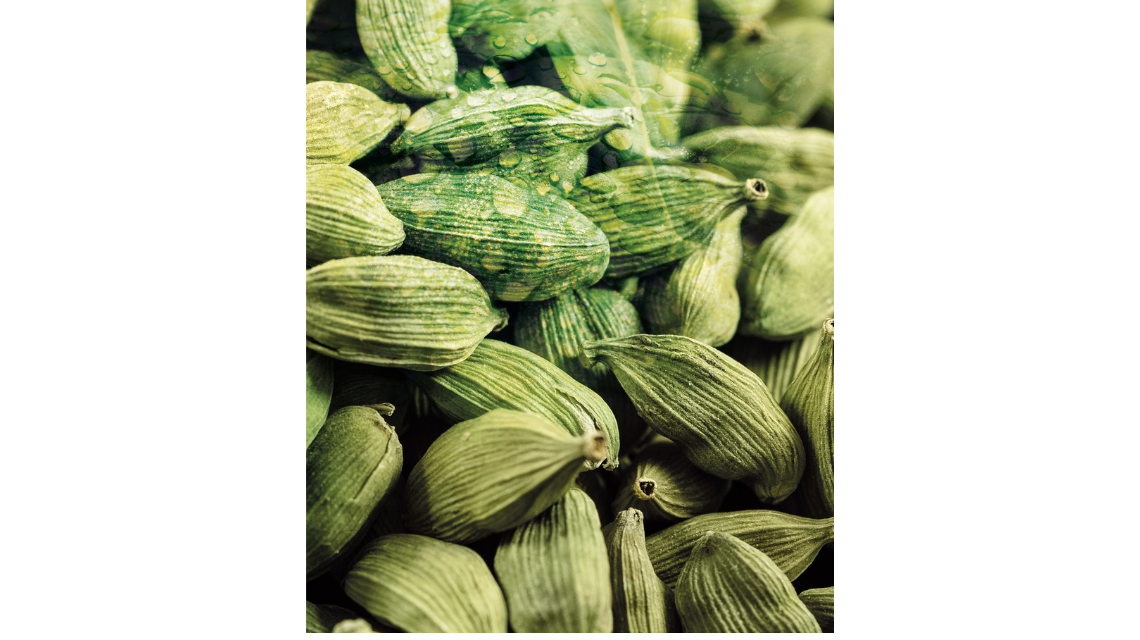 Cardamom whole pods will be freshly distilled by Givaudan.
Cardamom translates the natural olfactive vision.
The Givaudan exclusive Cardamom CO2 Absolute India Orpur™ is derived from an innovative extraction method. Instead of using the usual cardamom dried seeds, the new natural uses the spice fresh whole pods. The pure golden CO2 absolute extract of hand-harvested cardamom is here the outcome of a unique combination of extraction processes. Usually available to only inhouse perfumers, the new Cardamom CO2 presented at SIMPPAR, became instantly a star. The cool side of the spice, its freshness and herbaceous side have been balanced in an astonishing way. A warm tone, a feel of candied mandarin and of sweet chocolate has softly and unexpectedly appeared. The beautiful versatility of the spice both cool and warm has been revealed.
An International Naturals Innovation Team At Work
Since 2021, Marypierre Julien leads the naturals development by coordinating the innovation team projects with the needs of the perfumers across the world, Paris- New York – Dubai – Mumbai -Singapore – Shanghai - Sao Paulo. Her passion for naturals is unlimited and takes 'vegetal innovation' to new, creative, and magical spheres:
"Crafting a perfume is a process of balance and finesse, but it is also about the magic of making someone happy".
Marypierre Julien, Senior Naturals Innovation Perfumer.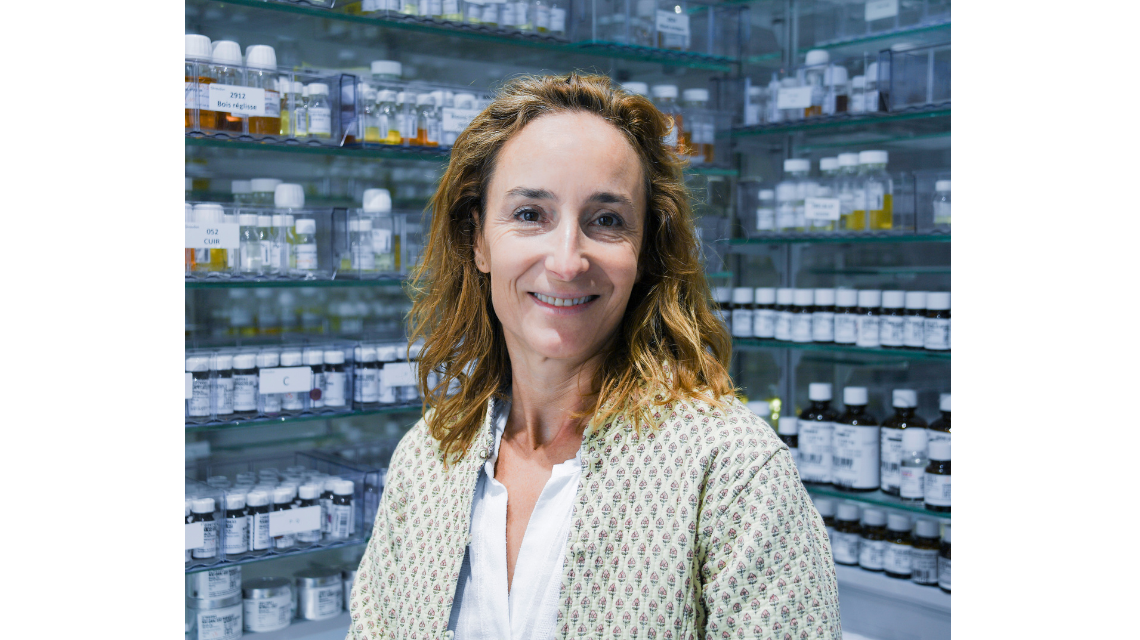 Marypierre Julien, Givaudan Senior Naturals Innovation Perfumer
Cardamom Superb Combinations in Scent Compositions
To a perfumer in the know, cardamom is a very precious asset in a scent creation. Its intensity allows for a modest dosage, usually less than 1% of a scent composition. The complexity and variety of its olfactive notes allows an experienced perfumer such as Marypierre to play with limitless options in her personal approach of structuring and combining ingredients. Used as a top note, cardamom brings an airy freshness; in the heart, it releases a magnificent floral note; as a base, its woody and balsamic note is unleashed. Its depth varies according to its chemical composition; the Cardamom CO2 Absolute offers coffee and chocolate notes whereas the Cardamom Essence brings fougere and aromatic touches. According to Marypierre, cardamom splendidly blends with ginger spiciness, blackcurrant greenness, raspberry juiciness, vanilla sweetness, or the white flowers lushness. Jasmine, tuberose, and cardamom Indian crops harmoniously reunite in majestic scent compositions.
'Oh, My Cardamom, You know Me and You Don't'*
You think that you know the famous fragrances that contain the highest dose of cardamom… Narciso for Him by Narciso Rodriguez developed by Sonia Constant perfumer at Givaudan. Cardamusc by Hermès, created by Christine Nagel. Déclaration by Cartier composed by Jean-Claude Ellena. Kenzo Jungle signed by Dominique Ropion. Intoxicated by Kilian designed by Calice Becker. Clarins L'Eau Extraordinaire composed by Nathalie Cetto and Marypierre Julien ... But how about l'Eau Parfumée au Thé Vert by Bvlgari? It is quite impossible to guess that instead of tea, it is the beautiful cardamom used by Jean-Claude Ellena that gives this unique feeling of freshness and lightness. From then on, his passion for cardamom remained strong and most of the perfumes he composed for Hermès – the Jardins – the Colognes – Voyage – contain a substantial amount of it. With a cardamom dosage of little less than 0,5%, L'Eau Parfumée au Thé Vert was truly a game changer when it came out in 1991. Its intimate, restrained, and minimalist composition stood against heavy and popular perfumes like Poison, Obsession. At that time, the perfume was a daring and original release that turned into an incredible success story. Cardamom brings a breath of fresh air but also character and volume to a fragrance composition. Its duality seems to be at the heart of its quality. Its identity cannot be confined to a defined category. By essence, the spice is very much genderfluid and difficult to grasp given its versatility.
*Chanel tag line for the launch of N5 l'Eau.
'Cardamom is about being, not appearing. The spice complexity unsettles established olfactive codes and gives to the perfumer a new universe of freshness to explore.'
Eugénie Briot, History & Transmission Project Manager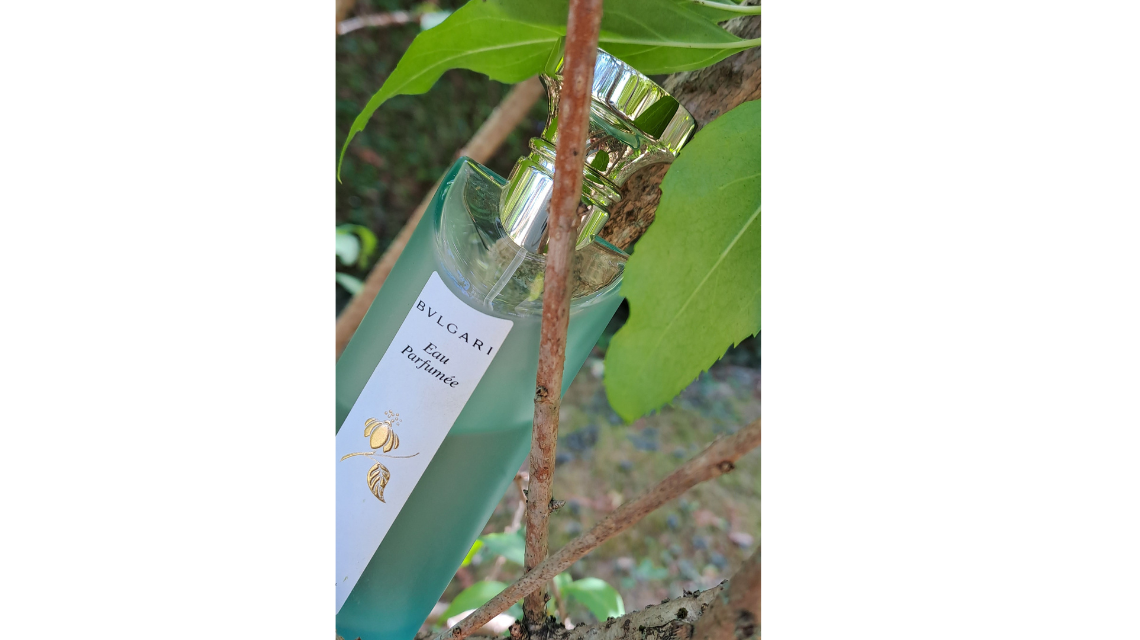 L'Eau Parfumée au Thé Vert by Bvlgari, an innovative composition of cardamom
Cardamom takes us to exotic and unknown destinations.
In our Occidental culture, our relationship to cardamom is relatively new and we are still not quite familiar with it. Contrary to others spices like pepper thoroughly used in the Western World, Eugénie Briot tells me that cardamom remains an 'exotic' spice, less commonly used, at best associated with Indian cooking, ayurveda and well-being health rituals. In addition to that, it is difficult for us to read through it given that it destabilizes our common fragrance knowledge. We believe that freshness in a scent exclusively stems from the citrus, mint, or eucalyptus ingredients. Cardamom does not belong to those families and yet its chemical formula magically contains all of them: terpinyl acetate (found in the pine note), cineol (eucalyptus globulus note), terpineol (essential oil of lavender and juniper), limonene (found in citrus, 70% in the essential oil of orange and grapefruit). The spice can therefore deliver a rich and intense feeling of greenness. In conclusion, its complexity allows for the creation of a new olfactive definition. A new code of freshness and elegance in a fragrance.
--------------------------------------------------------------------------------------------------
The Cardamom's Fragrance History Remains to Be Written
Given the exciting research taking place and resulting in a new generation of cardamom essential oils, if you wonder what will be the main component of the winning and upcoming fragrance releases, you have the answer. CARDAMOM.