SIMPPAR 30 years – Best of Show
2022 . 09 . 06 | written by Ermano Picco
Created in 1991 by the French Society of Perfumers, SIMPPAR is the Professional Exhibition dedicated to the raw materials and services for the Perfume industry.
There's no doubt the 2022 edition is one for the record books as, after a three years hiatus due to the pandemic, exhibitors from all over the world were finally back in Paris for the 30-year anniversary exhibition.
Accomplices the enjoyable weather of the Parisian spring, SIMMPAR got me back to traveling overseas, eager to reconnect with perfumers, press and other professionals. The enthusiasm was palpable, so it's no wonder the Espace Champerret gathered a big crowd with 106 exhibitors from 23 countries (57% of them from overseas), and more than 2300 visitors. Everybody was back in the game shaking hands, talking face to face (masks weren't mandatory anymore since months in France), and of course smelling the presented cutting-edge raw materials boosting creativity in tomorrow's perfumery.


Citroflor
One of the closest booths to the entrance was the Calabrian company Citroflor, so I told myself why not starting with some genuine Italian pride? Leveraging on three generations in the production of citrus essential oils, Citroflor nowadays guarantees traditional quality while boosting evolution and growth. Among the classic essential oils, they presented me a top notch neroli oil from Reggio Calabria bearing an exquisite freshness with aldehydic citrus sparkles and delicate bittersweet hints. Continuing with the more floral citrus, their cedrat stroke me for the verbena-like elegant verdancy which you can see paired with the wave of modern peppers to revisit the evergreen cedrat cologne. Italy is not only citrus, but beautiful Mediterranean blooms and Citroflor let us smell a gorgeous broom absolute from Etna – Sicily with sunny and honeyed animalcy, as well as an hypnotic jasmine absolute with unctuous extra-virgin olive oil texture and plummy fruity hints.


Capua 1880
When if comes to citrus, of course Italians do it better and Capua is another historical company that contributed building this reputation. In the last years, along with sfumatrice extraction, they also reintroduced the traditional sponge technique and lately the NatProFile® technology exploiting the volatile compound-rich water processing waste. NatProFile® Collection includes bergamot, rose and neroli affordable naturals. The new introductions in the collection are far more unexpected. First there are Licorice extractions obtained from the production scraps of famous Calabrian Amarelli Licorice. While the Licorice extract is bitter and woodier, you can guess the smell of the Licorice concentrate is more anisic and as yummy as a licorice liqueur. The other remarkable addition is the outstanding Honey extraction bearing gorgeous powdery floral, sweet tobacco and fine animal tones without waxy aspects. The Capua team disclosed to me this was such a stunner that Guerlain (inhouse perfumer Thierry Wasser was around as well) instantly secured themselves a good supply.


IFF / LMR Naturals
Chez International Flavors & Fragrances and its naturals subsidiary Laboratoires Monique Rémy three new collections were introduced. The first one showcases citrus oils, both sweet and bitter oranges, lime, mandarin, bergamot and lemon straight out of their CitraSource's innovation center in Florida. The second collection features "conscious green extracts," as the result of a disruptive extraction process using bio-sourced solvents followed by purification, a patented technology notably going further on sustainability. Along with lavender, blackcurrant bud, jasmine and lavender enfleurage CO2 extracts, I was presented with an exquisite conscious narcisse absolute bearing a little floral greenness backed by a sumptuous barnyard signature. The mouthwatering Nepalese Timur pepper CO2 extraction with passion fruit notes and the Oakwood CO2 DM (molecular distillation) with rhum and smoky vanilla hues were other stunners in the line.
The third set, on the synthetics side features Veraspice™ as its star, a spicy molecule in the iso-eugenol/clove likes with white floral hints similar to Methyl Dianthilis™ (Givaudan).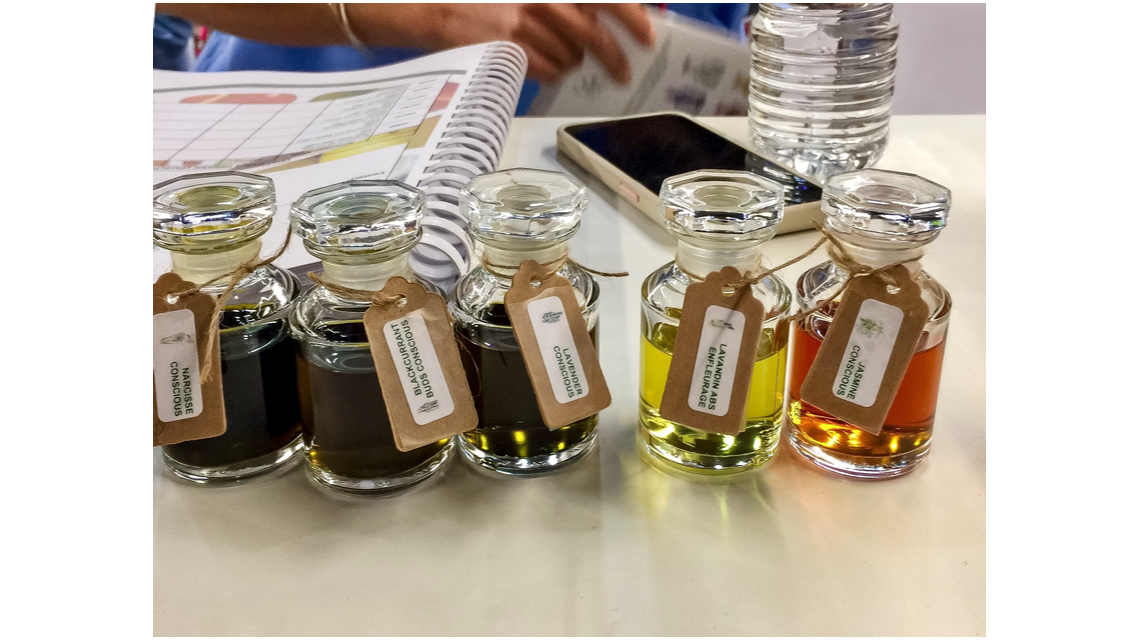 IFF-LMR Conscious green extracts ©Ermano Picco


Firmenich
Keeping on with the titans, I was lucky enough to book a seat at the Firmenich presentation in the meeting area. In my nearby I was happy to wave various independent perfumers among which Antonio Alessandria, Karine Chevallier, Sébastien Plan, Patrice Revillard, and Cécile Zarokian as well as other professionals like Nez – La revue olfactive (exhibiting as well) founder Dominique Brunel. The Swiss company latest introduction in the Beyond Muguet line is Muguissimo, a brand new muguet aldehyde born from green synthesis with the same ozonic vibe of cyclamen aldehyde. They also reintroduced their cedarwood tinged amber molecule Sylvamber™, along with the new Z11 HD, a powerful dry woody note with elegant ambery facets obtained combining white biotechnology and green chemistry. A 100% renewable and biodegradable ingredient with outstanding performance. Firmenich ambitious announcement to be No. 1 in Conscious Perfumer by 2030 was also followed by the launch of surprising naturals like Rose Damascena Firad, a cold concentration of Bulgarian rose water still bringing the lovely litchi tinged, honeyed rose profile. Also, the sensually gourmand Vanilla Planifolia Madagascar Infusion P2F is carefully and responsibly sourced in Madagascar with full traceability through the proprietary digital application Path2Farm™.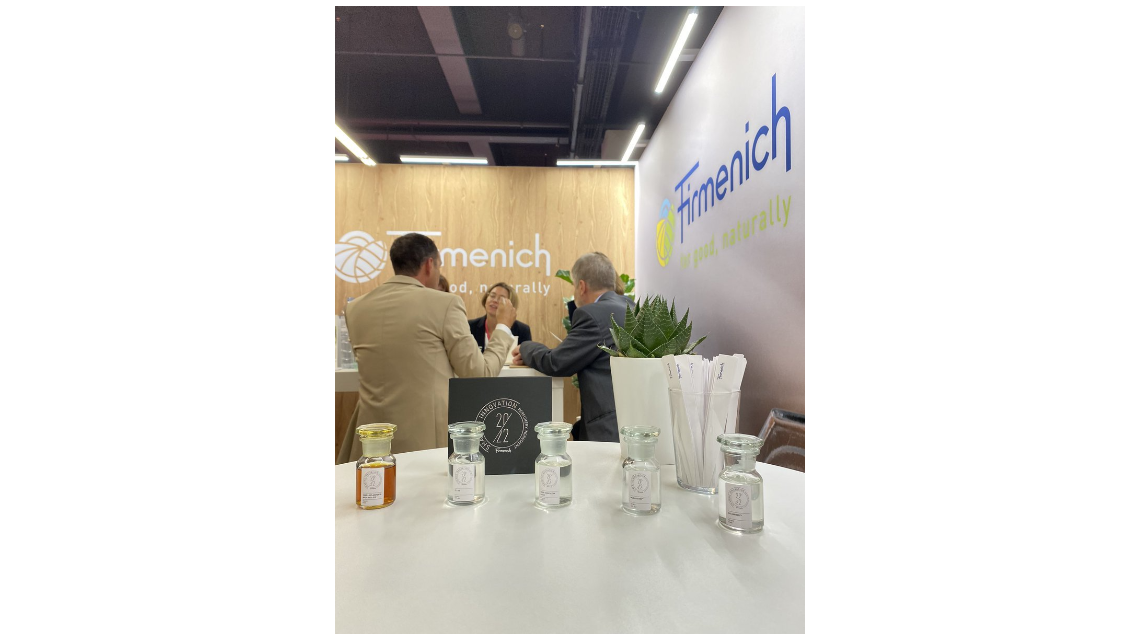 Stand Firmenich ©Firmenich
MANE
The colorful paper blotters display Mane adopted in the last years always bring interesting discoveries, and this time is no exception. Yellow is for rectified Pink Grapefruit essential oil bearing the zesty bittersweet chill of pomelo. Pink is for Jasmine Grandiflorum e-pure Jungle essence™, that's how the company reinvented enfleurage using natural vegetable oils in a respectful process. The result is a true-to-nature lighthearted, less animalic jasmine note with beautiful fruity undertone and you can smell it in Etat Libre d'Orange Exit the King (Ralf Schwieger and Cécile Matton). Olive Green is for Greencatcher™, a specialty featuring the captive Bigarone™ that offers the crispness of bitter orange freshly rubbed leaves with ozonic fruity hints. Cream is for Cocotone™, a 100% natural isolate through biotechnology smelling as exotic and yummy as grilled coconut. Black is for Vayanol™, another natural isolate from rice bran waste with a charming clove-like smoky vanilla scent and fruity undertones. Lastly brown is for Patchouli Gayo pure jungle essence™ sourced from the Gayo territory in Sumatra Island, Indonesia which combines a sophisticated mossy character with addictive cocoa facets. On a side note, blonde is for Perfumer Alex Lee, a longtime friend I was happy to meet and that made the experience even more fun.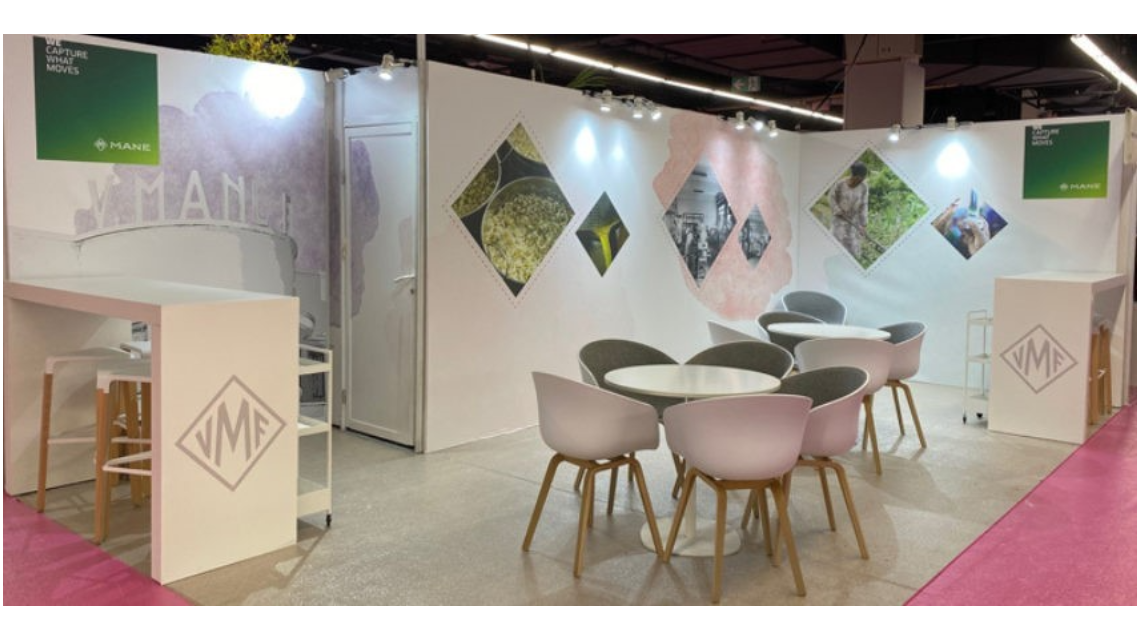 Robertet
If perfumery is an art, raw materials are the colors and Robertet totally knows how to artistically display them. Fascinated by the work of Japanese artist Dai Dai Tran, they teamed up with him to create roses out of used blotters from recycled paper to prove once again with this installation that beauty can spring from trash. Sandalwood was on everyone's lips at the show, especially supplementary to the Indian production. A creamy sandalwood Nepal from biological agriculture with rosy and balsamic hues enters the house catalogue. Another beautiful woody addition is the boozy vanillic colorless oakwood essence. On the spices side, colorless saffron from Greece, Sichuan green pepper CO2 with sparkling verbena, lime and mandarin facets, and the surprising Civegan, a 100% vegetal civet alternative obtained by co-distilling Penja white pepper from Cameroun with fractioned patchouli. Its roaring smell is redolent of oud, fermented cheese with peppery undertones. The most exquisite introduction though is the Son de riz absolue (rice bran absolute) obtained valuing the processing waste from rice whitening in Camargue. The smell is incredible with boiled cereals unusual gourmand notes backed by floral and powdery hues and an interesting sunburst straw texture.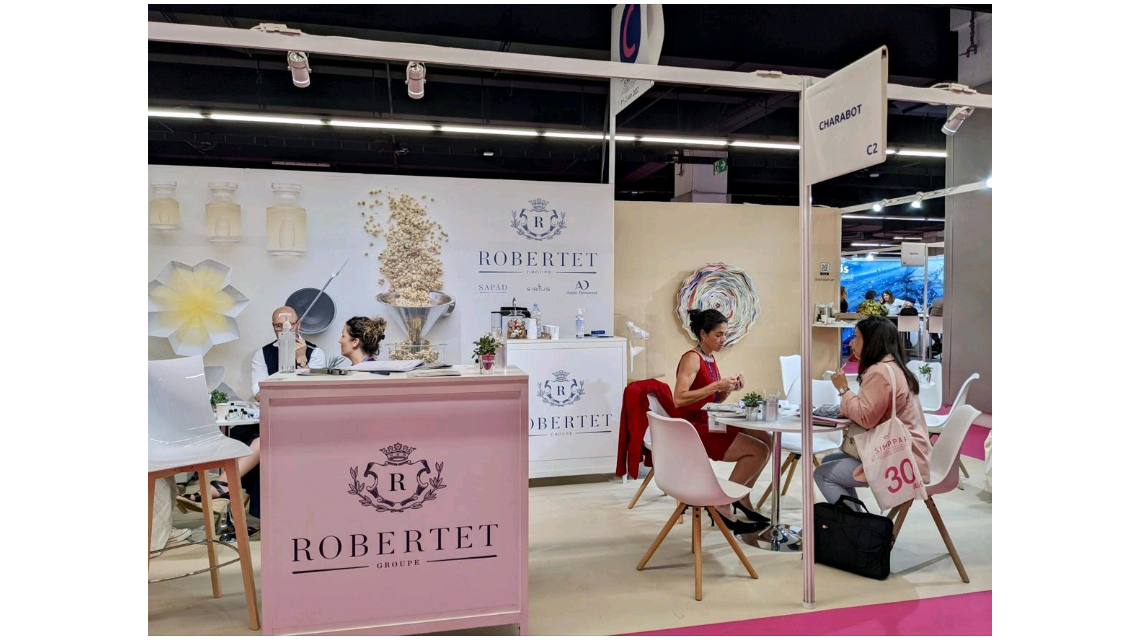 Takasago
Takasago booth was all about lab-like clarity and functionality. Add the super kind Takasago Vice President Lee HongJoo welcoming me with the traditional two-handed exchange of business cards, and you have the quintessence of Asian politeness. The brand new fruity-flowery molecule with green metallic hues Hedirosa® blows mouthwatering crispness to rose and juicy bouquets. I was totally smitten by the 3D realism this material adds to sulfurous passion fruit accords.


Biolandes
The best buzz of the show was the surprising Popcorn extract introduced by Biolandes. Produced in partnership with a French-based food company, this extract is part of their upcycling range for it is obtained by treating the sorting losses of corn grains. The smell is totally addictive and adds to the perfumery natural palette the buttery gourmand and cereal sweetness typical of caramel and ethyl maltol. The other star of the booth was Vetiver By-absolute obtained from valorization of the post-distilled roots residues. The result is a delicious liqueur with caramel coated powerful smoky woods hues that reminded me a good glass of Jack Daniels Sinatra Select Tennessee Whiskey. Equally beautiful but certainly less edgy, a joyfully fruity ylang-ylang essential oil and a frankincense oil (Boswellia Sacra) from Oman with a lovely aldehydic topnote.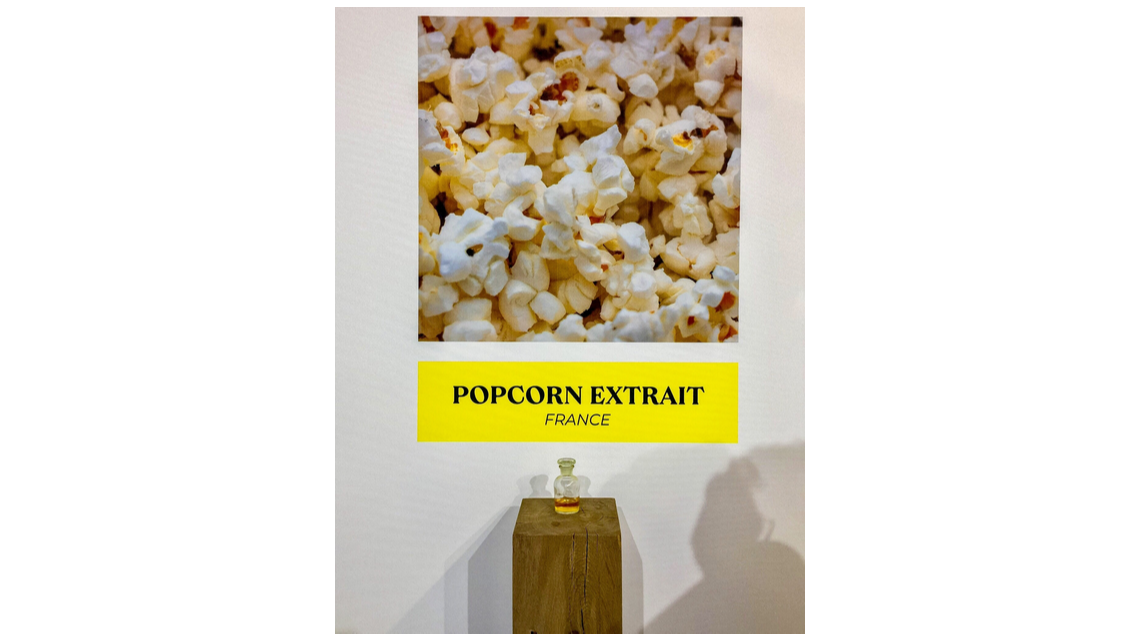 Stand Biolandes ©Ermano Picco
Synarome
A visit to Synarome's booth for smelling their historical bases is always worth. The stars of the golden days like the smoky vanillic Ambrarome or Rhodinol (Coty's La Rose Jacqueminot mystery ingredient) are still in great shape, but also lesser-known specialties like the savory Algenone or the Isolpulegol strike for their distinctiveness also when used in today's compositions like pear solinotes and white floral bouquets.


PCW France
If you think incense is a hackneyed raw material that has little to say yet, you probably are wrong. I too had to change my mind at PWC while smelling the different varieties of frankincense they offer: Boswellia Occulta, with its lemon and grapefruit freshness similar to elemi, Boswellia Carterii that's closer to the typical mineral coldness, Boswellia Sacra, also known as the green incense or Luban in Oman, and the unusual lively Boswellia Papyrifera which recalls the green piquancy of verbena.
Primal smells can either be spiritual or carnal, and after incense it's the turn for the feral Himalayan costus with its hypnotic fur touch in the vein of moss and orris root with hints of fruity osmanthus.


Floral Concept
I was happy to see again Julien von Eben-Worlée, the son of Floral Concept founder Frédérique Rémy (the daughter of iconic Monique Rémy). The first time we met was at Perfumum Torino right before the pandemic, where they were giving a presentation about the company and the collaboration they did with Jean-Claude Ellena to fine tune the amazing Timur Pepper essential oil he used for Frédéric Malle Rose and Cuir. We just picked up where we left off, from the stimulating Timur pepper with its pink grapefruit and passion fruit sparkles. Julien also proudly showed me pictures of the new production site in Saint Cézaire, Pays de Grasse where they make an incredible Clary sage oil, less cold with charming fruity and floral hues. Finally, we smelled two patchouli extractions, the velvety Patchouli heart and the drier and more balsamic Patchouli MD, both very true to the original shady character of the wood.


Payan Bertrand
What looks like a typical cottage kitchen from the French Riviera is actually the seting of Payan Bertrand booth. "Please have a sit. Coffee anyone?" is the feels-like-home welcome. I sat and while waiting for the coffee, I was able to smell the licorice-like bittersweet aroma of Gential Resinoid Extra (anisic notes seem to be an upcoming trend, doesn't it?) as well as an Oak chips extract (from waste) less armagnac-like with unusual woody almond hues. Other inspiring additions are a colorless Lentisk extract with exciting balance between turpentine coldness and tobacco warmth, and above all Fleur de Cuir, a 100% natural specialty mixing fractioned cedarwood oil and osmanthus extract for an unashamedly and sumptuously velvety fruity-leather note.
Founded in 1854 as a family company, in 2022 Payan Bertrand celebrated 100 years of belonging to the Proal family, so why not celebrating with a sweet treat? The last tasting was a gelée made with Orris pallida resinoid MD delivering all its white chocolate deliciousness.


Focus on sandalwood
Last but not least, sandalwood made a huge comeback at SIMPPAR as previously mentioned. Nowadays it is estimated that 90% of sandalwood is still sourced from illegal harvested means (as an endangered species). Of course, we're talking about sustainable and traceable sourcing here from various countries for quality today unquestionably means "good for the planet" and "good for the people", in particular for farmers. Safeguarding farmers and cultures is a hot topic all over the world as can be seen, not just in Europe.
FP Aromatics Singapore exhibited the widest variety of Sandalwood oils, starting with the heavenly creamy Mysore Sandalwood to the smokier Osyris Lanceolata, as known as African sandalwood. Quintis brings us to Australia with different batches of Santalum album, from the beta-santalol laden buttery ones to the fresher ones with crispy grapefruit topnotes, passing by the drier batch bearing typical pencil shavings hues. The company also took this chance to reveal the ten finalists for its "Sandalwood Reimagined" competition that were available for testing.
Relying on four generations of farmers growing Australian plantations, the newborn company Copperhead Sandalwood showed me two Santalum Album batches from East Kimberley region, and Northern Queensland. The milkiest one they call the "gold standard" was heartwarming indeed.
An interesting alternative for sandalwood I smelled comes from BMW Fragrances, an Indian company specialized in true-to-nature reconstructions. , Through a patented process setting high standards, their Sandalwood NNO™ (Near Natural Oil) grants a sustainable and affordable substitute for the King of woods from Mysore.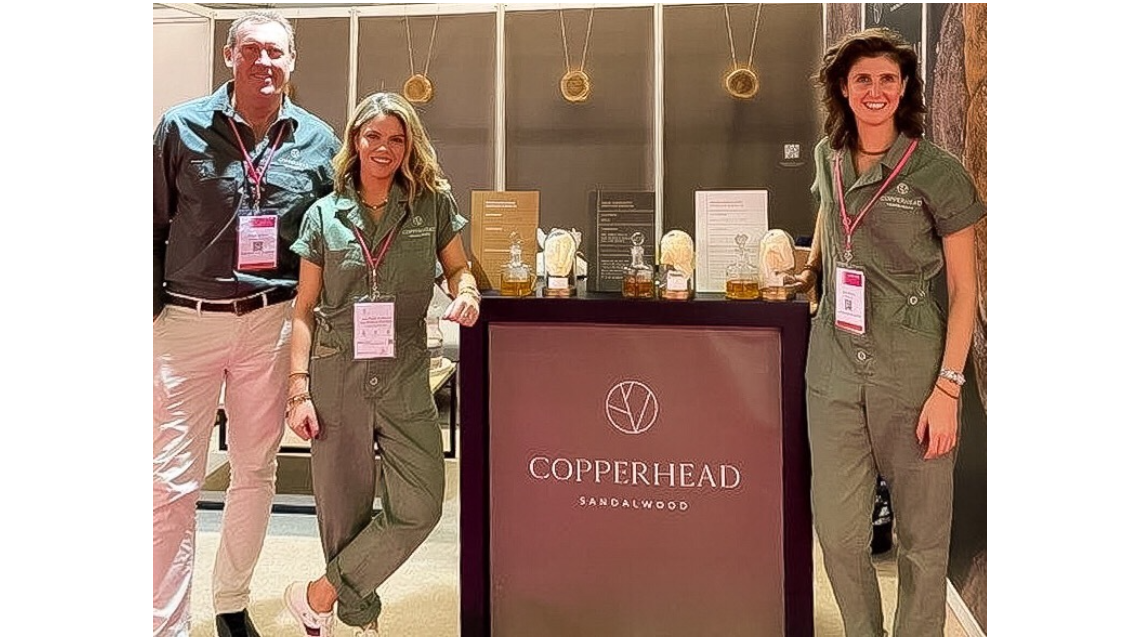 Stand Copperhead Sandalwood ©Ermano Picco
As usual the SIMPPAR first day closes with the toast celebrating the yearly meeting of the SFP - Societé Française des Parfumeurs. With such an amazing restart, there are many reasons for a toast to a brighter future for perfumery. Cheers!