SIMPPAR 2023 – Best of Show
2023 . 07 . 13 | written by Ermano Picco
Since its announcement, the 31st edition of SIMPPAR - the Professional Exhibition dedicated to the raw materials and services for the Perfume industry has been breaking the mold. Created back in 1991 by the French Society of Perfumers as a biennial event, it takes place for the second year in a row, so becoming an annual feature able to gather more and more perfumers, creators, and other professionals as well as press and, above all, an increasing number of young international students mostly from French Perfumery Schools like ISIPCA and École Supérieure du Parfum.
Though the research on naturals as well as synthetics had a remarkable speed-up in recent years, a yearly date will hardly keep up with the amount of new raw materials being churned out. And yet, this no fuss, user-friendly, and straightforward salon will always be a must for professionals.
Beginning early in the morning on May 31st, there's a bustle at Espace Champerret in Paris: a stream of more than 3300 visitors flocked to see 110 exhibitors from 24 countries, about 1000 more than the previous year reflecting the growing interest of a wider audience of pros. This makes room for another breaking news: during the fair it was announced next year the fair will relocate from Paris to Grasse. This emphasizes once more the central role of the Grasse area as the Capital of French Perfumery and savoir faire linked to the territory and the farmers growing the iconic trio of flowers: jasmine, tuberose and of course HRM the Rose Centifolia.
Back at the 2023 edition, the key words on everyone's lips are evermore sustainability, transparency, and certified conscious sourcing. So let's start strolling through the booths along the green carpeted lanes of the Salon.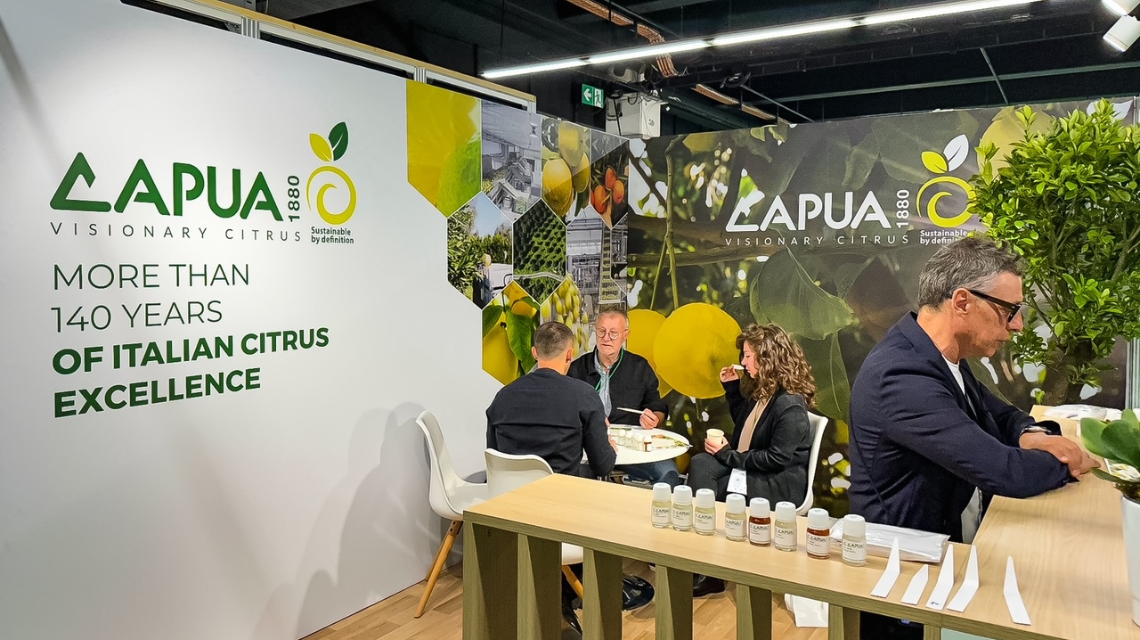 Capua 1880
Maybe it's because the Capua 1880 booth is always located near the entrance, since my first time, starting with them has become a sort of good luck ritual. Or simply it's because it's always worth it.
The latest outcome of their NatProFile® technology exploiting the volatile compound-rich water processing waste is a super trendy row of natural fruit essences. Strawberry extract smells so joyful and juicy to instantly put a smile on your face with its 3D pulpy texture unfolding sugary, floral, and slightly herbal hues. Wanderlust is in the air with the unctuousness of Banana extract which uses both fruit and peel waste. The powerful green-floral topnote is a springboard from which to dive into a foamy platano and coconut milkshake.
The crown jewel of the trio though is the mind-blowing Sour Cherry extraction: the tapestry of balmy, cinnamic and herbal hues it unfolds feels like tasking the ruby-red drupes while smelling honey-dipped tobacco and sugared almonds.
Simone Gatto
Brief stop at the booth of another top-notch Italian citrus producer. Simone Gatto showed me the classic Calabrian bergamot FCF (furo-cumarine-free) high on ethyl-linalol as well as a Decolorized Lemon bearing aldehydic and slightly green, and floral hues. The coolest item though was the Bloody Orange essence obtained by distillation from the waste of orange juice extraction, so 100% from upcycled materials. I couln't be fooled by its trademark optimistic, juicy and sugary-sweet smell: it's the unmistakable pillar on which Jean-Claude Ellena built Laboratorio Olfattivo Arancia Rossa from the Viaggio in Italia Collection.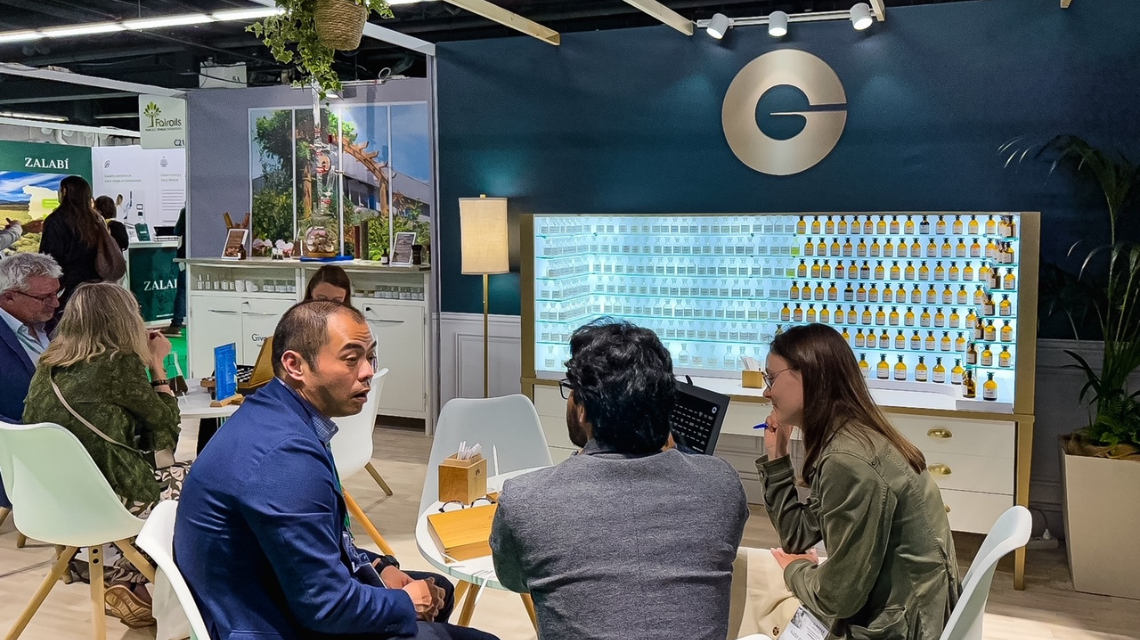 Albert Vieille - Givaudan
Albert Vieille / Givaudan
Givaudan had been missing for a few years, so it was nice to see the company back with a chic Bauhaus-like setting ruled by a huge perfumer's organ leaning against a charcoal background. If no news was announced on the synthetics front, Albert Vieille that joined the group right before the pandemic presented outstanding naturals. First an Ambrette Absolute from Ecuador and Peru with a diffusive sake topnote and a tuberous iris profile. Speaking of super trendy notes that will trickle down on upcoming fragrant releases, there's cardamom. The extraordinarily vibrant Indian Cardamom "Orpur" CO2 is extracted from fresh whole pods instead of the usual dried seeds, resulting so in a richly textured profile. A classic like Madagascan Vanilla Absolute could not be missed with its addictive, caramelized, almost leathery sumptuousness redolent of the smell of dark dried pods.
Astier Demarest
Astier Demarest calling card is a super silky Patchouli Coeur from Burundi bearing hints of roasted cocoa beans. I was also impressed by the finest Neroli here, gently floral, and almost honeyed as well as Petitgrain, both result of the collaboration with their Tunisian partner Shedan.
All of them are "Fair for Life", a certification that places emphasis on a more and more uncompromising requirement for perfumery raw materials: a fair-trade supply-chain guaranteeing farmers and workers remuneration, support and contributing to improve their standard of living by ensuring the sustainability of their industries and communities.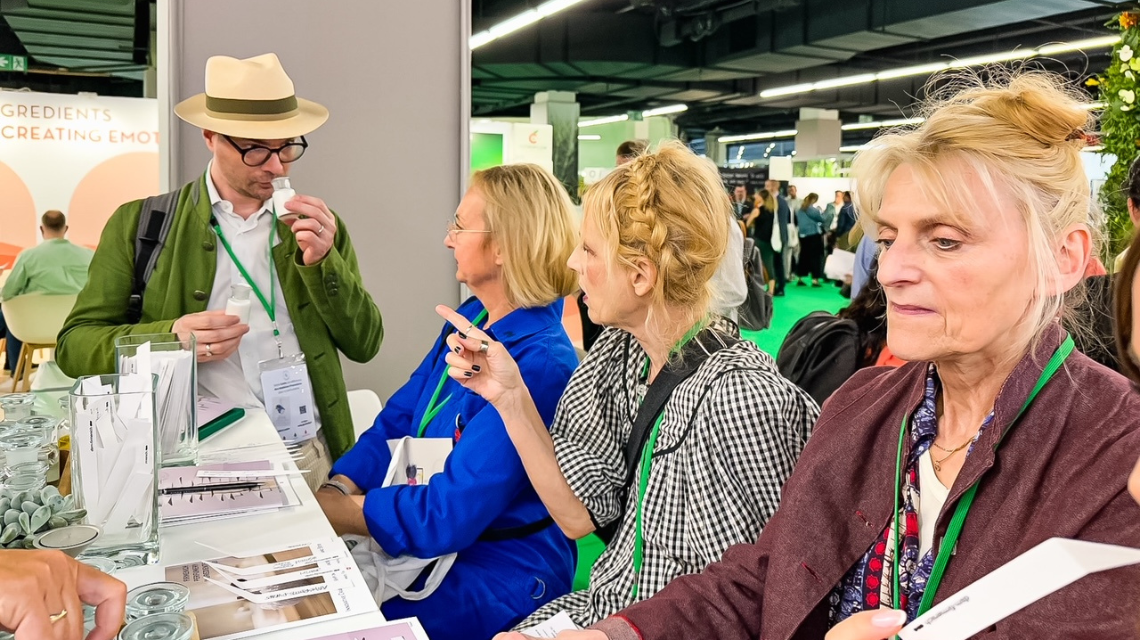 Olivier David & Friends at DSM – Firmenich
DSM - Firmenich
I passed by several times in two days, but the Oscar for the busiest booth goes to Firmenich, or better we say DSM – Firmenich after the recent merger. I had to stand in line under the brand-new logo for almost 10 minutes. Thankfully I was in good company as fellow perfume writer and Osmothèque Technical Committee member Olivier Pierre David and a his friends joined me. Making the most of FirAbs technique, a co-estraction combining synthetic captives with natuals, their latest Ambrette Firabs is finally available with its captivating pear liqueur and super musky powderness. Another next gen cardamom is taking the stage here with Cardamom Green pod SFE (Supercritical Fluid Extraction) from Guatemala shining bright like a green peridot. On the synthetics side, I could smell again the Beyond Muguet line star Lilyflore, but above all the brand-new Mimosal with its lovely cyclamen laden ozonic mimosa which perfumers will find very versatile. Hedging against future restrictions, the Swiss company introduces Cyclopidene as a replacer halfway across methyl para-cresol and methyl benzoate, to say a roaring almondy ylang-ylang, and Doremox to replace rose oxide or diphenyl oxide.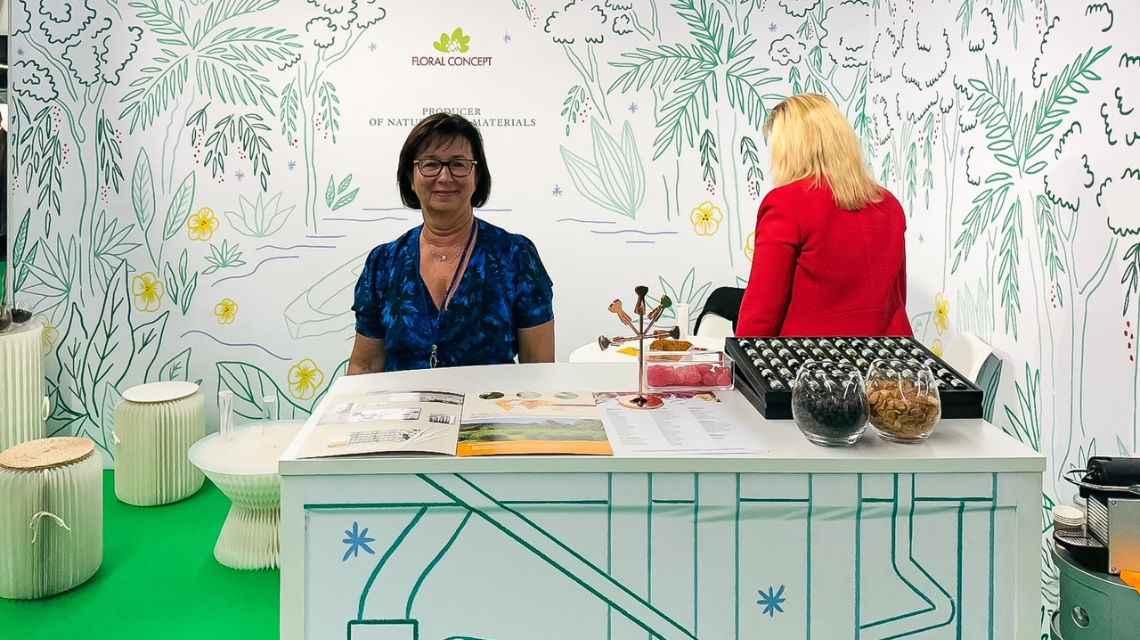 The Founder of Floral Concept, Frédérique Remy
Floral Concept
Kindness and top-notch raw materials always get together at Floral Concept with Julien, the son of the founder Frédérique Rémy. The new production site in Saint Cézaire, Pays de Grasse inaugurated last year enabled the company to expand their catalog with amazing news. So after a recap of the classics, Bulgarian, Moroccan, and Turkish rose, Tuberose India, Incense, etc. a Rosewood Peru "for life"[1] strikes me with its floral lavender-like freshness.
After a citronella quick opening, Geranium Rosat oil rings a bell: wild strawberries over velvety leaves. The charming Cypriol Coeur feels like tobacco dried leaves with someone smoking a cigar not too far, while Veriver Haiti Coeur mixes the bitter bite of grapefruit with the herbal mineralcy of près salés (the scrubs growing on the shore in Normandy). What melts my heart though is a Spanish Beeswax Absolute all about ambery opulence and honeyed licorice. Julien explains to me that's because bees feed on cistus flowers, so gourmet!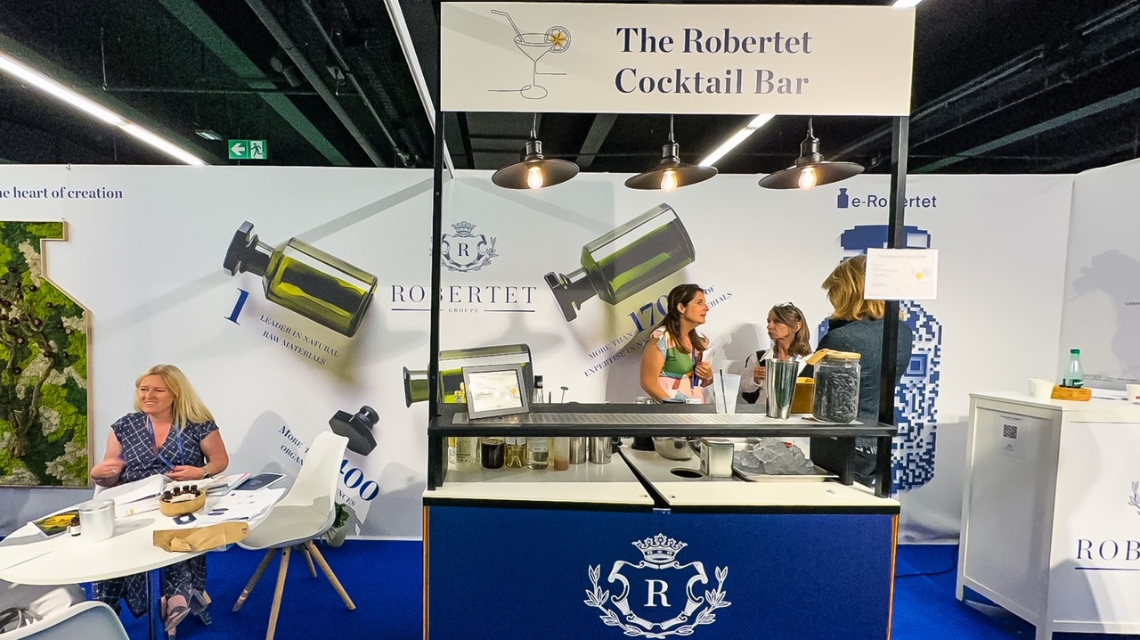 The Robertet Cocktail Bar
Robertet
Another contender for the busiest booth, there's an incessant flow of people willing to smell and drink! Center stage, the Robertet Cocktail Bar was serving brews made with a new range of mouthwatering raw materials. The focus is on CleanRscent (pronounced with an French "erre" making it sound like cleaner scent), a new collection obtained via a patented hexane-free extraction process with lower energy consumption. A tastier powdery, floral and less animalic Vanilla Bourbon Absolute (Ecocert, Fair for Life, and Bio Agriculture certified) reminded me of the classic pod infusion. Venezuelan Tonka Roasted Beans Absolute was even yummier like drinking a foamy glass of toffee milk. Casting you straight to a sun parched Mediterranean island, Cypress Wood Colorless extraction exudes the unexpected warmth of a resinous dry wood. My love at first sniff though are Jasmine Sambac India CO2 extract specialty (lacking the typical indolic and bubblegum notes) that smells like almond butter infused fresh flowers, and Nosy Be White Ylang essence (low methyl para-cresol and estragole) as spicy, sweet and powdery as a bunch of pink dianthus and Madonna lilies.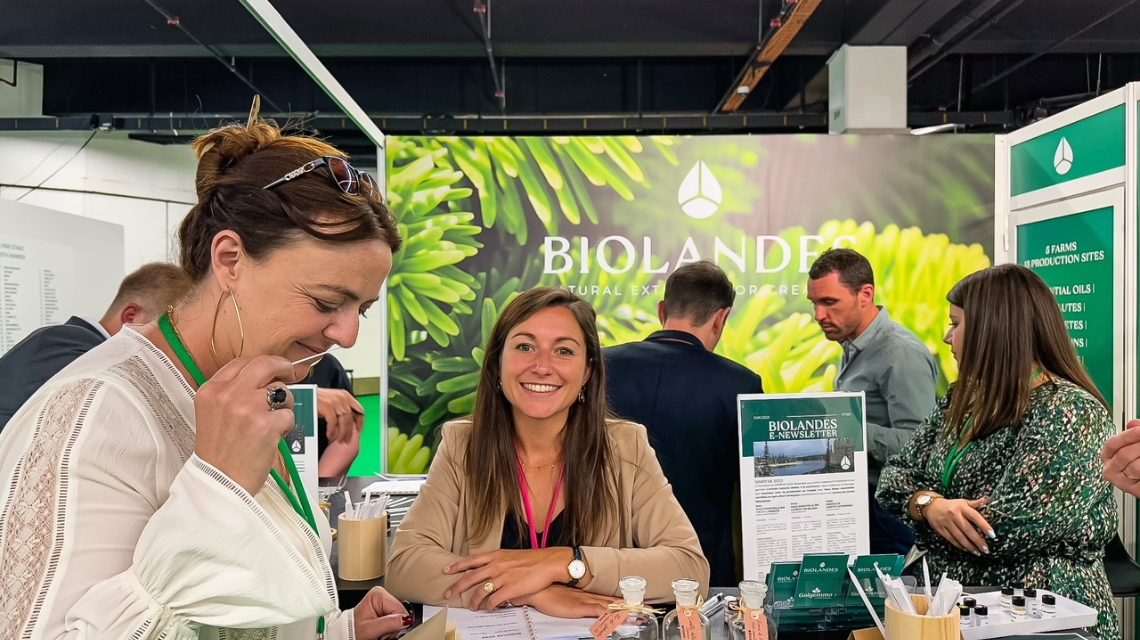 Perfumer Stéphanie Bakouche at Biolandes
Biolandes
Last year Biolandes took us to the cinema with its Popcorn extract, now they fly us to Québec to smell the first fruits (all from bio certified crops) of the recent acquisition of the Canadian company Labrador Production. Labrador Tea (Ledum groenlandicum) essential oil brings a unique spiciness redolent of cumin and carvi with a sweet mint topnote that brings a well-being sensation. The plant itself is well known in aromatherapy for its stimulating properties, and as the lady at the booth tells me, it is an epitome of resilience being the first bush to grow after the many wildfires in Canada. Smelling the second local production, Fir Balsam Bark I get turpentine-like freshness backed by powdery amber, way less pine-nutty than regular fir balsam. Last, a Carrot Rectified essence from a mix of French Indian infertile seeds (which makes it an upcycling material) casts me straight to canned peaches and apricots, all the way lactonic.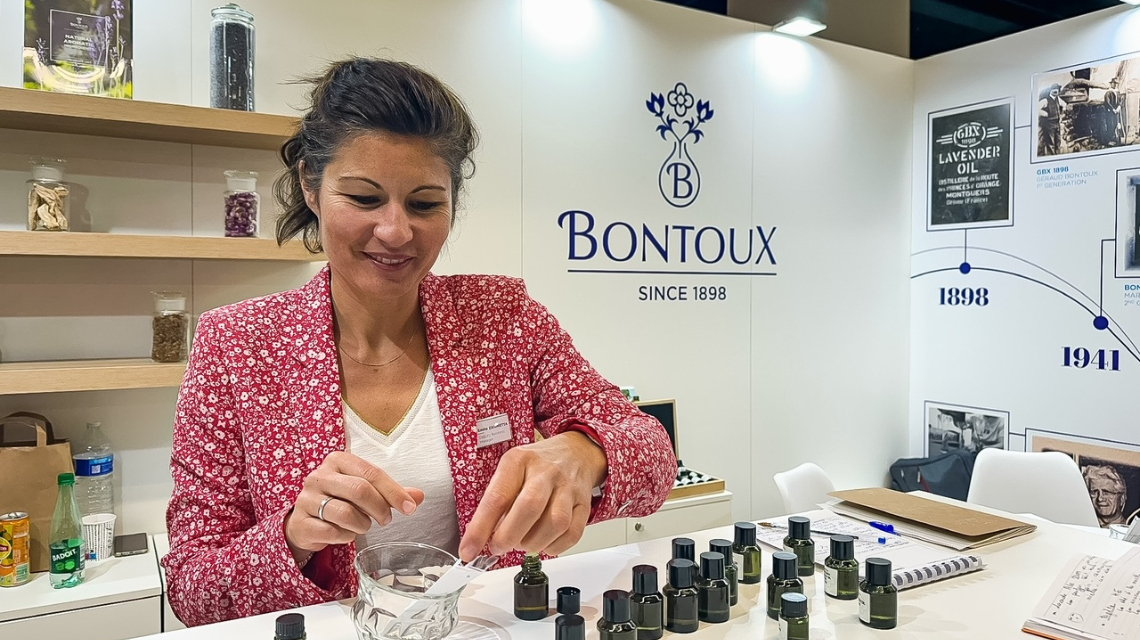 Bontoux
Chez Bontoux the journey starts from Provence, as the company is a member of the SPLP (Sauvegarde du Patrimoine Lavandes en Provence) fund supporting the French lavender growers. Lavender Absolute MD (molecular distillation) "Pur Coeur" offers a really edible profile, like a honeycomb dripping lavender honey. Sticking to France, here we have an evocative coniferous Cypress il, and a Carrot Seed oil that smells like woody iris with just a bare hint of fruit, contrary to carrot absolute. Sun shines bright in the Rectified Bergamot Reggio from their Calabrian partner Patea, and from Spain a juicy Yuzu oil with its exhilarating green mandarine sparkle. The same happiness exudes from the organic Ginger Fresh from Madagascar, so full bodied and textured that's lip-smacking. When it comes to spices though, clove is king and Bontoux Madagascan Clove Bud oil is literally intoxicating with its powdered animalic piquancy. From that they also get Natural Eugenol Isolate, so leathery smoky I can totally see it breathing new life in suede-oud accords.
IFF / LMR
Laboratoire Monique Rémi never disappoints speaking about quality, and their newest additions to the Citrus Pure Premium Collection, cold pressed oils of Lemon and Orange (so trendy lately) are so bright. Egyptian Neroli essence was under the spotlight as well with the verdant Rectified Mastic oil Morocco. The most innovative natural I saw though is Turmeric Leaf oil from India: not only it comes from upcycling waste, but it also lends a peppery, verbena, and lime zest sparkle that would make a modern cologne almost on its own. As for synthetics, the news is the release of captive Operanide, a molecule bridging radiant AmberXtreme and velvety Cashmeran with a fuzzy muskiness. Performing yet elegant!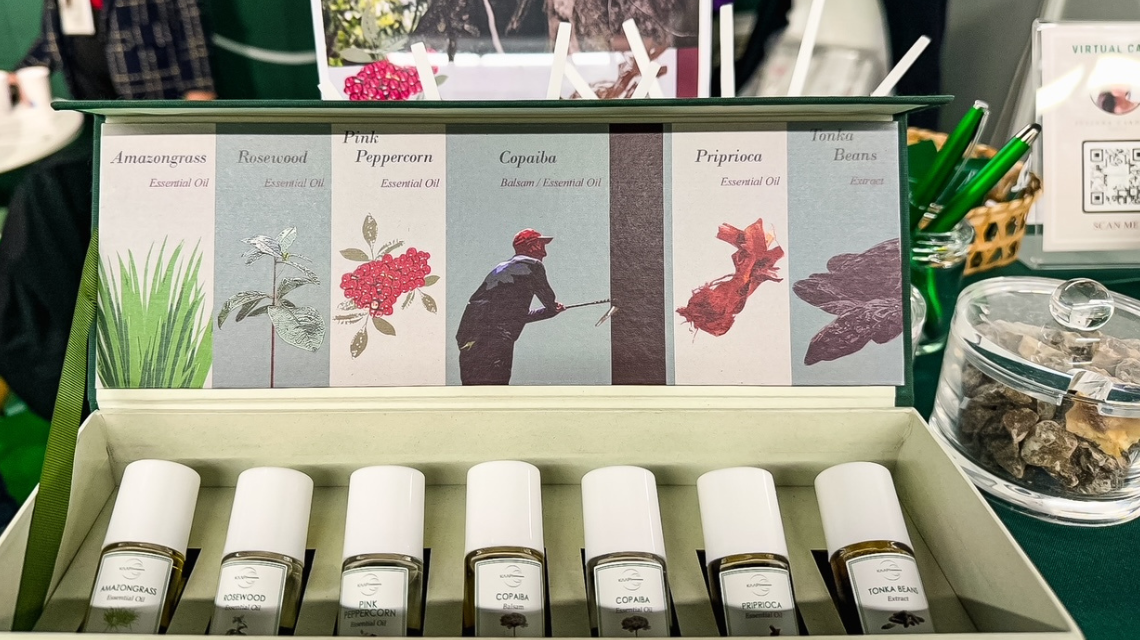 Kaapi Ingredients portfolio
Kaapi Ingredients
Brazil has a special place is my heart for its dreamlike nature and precious biodiversity. I was happy to see exhibiting Kaapi Ingredients, the first company from San Paolo producing local natural raw materials not only for they are interesting, but also for the focus on quality, sustainability, and welfare to workers. Copaiba Balm is well known for its balsamic earthiness close to patchouli, but who ever heard of Egletes oil? Now that's a tropical daisy opening with a terpenic, almost minty freshness that later blooms into tuberose, mate, mango, and blackberry. So complex. Tangy with anisinc hints, Amazongrass oil is a good substitute for citronella. Last but not least, Priprioca (cyperus articulatus) oil comes from roots, and you can get it from its vetiver-like nutty saltiness, joined here by a subtle mushroom hint.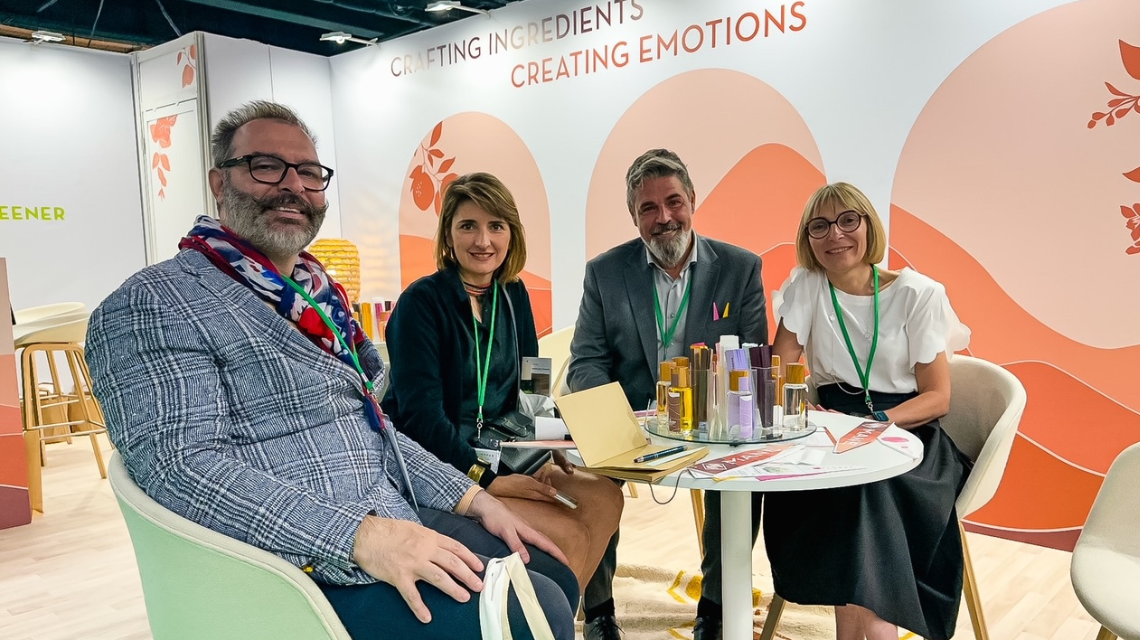 Ermano with Aurelie Dematons, Cyril Rolland, and Véronique Nyberg at Mane
Mane
Sharing part of the exploration with nice and knowledgeable people like Nez columnist Aurelie Dematons is always a pleasure, so we agree to sit together at Mane's table. Veronique Nyberg explained to us her role as Vice President Perfumer & Creation Fine Fragrance supervising all the briefs they get to better address technical research and anticipate trends. Black Tea extract from Sri Lanka opens with boiled spinach and artichoke tones that makes obvious it was first developed for the flavor division. Its edible fermented tea, tobacco, and hay drydown though made it worth entering the perfumer's palette, aside its 92/100 Green Motion™[2] rating. First introduced last year at Pitti Fragranze, Rosa Lani Absolute from Moldavia is a new rose variety breeding Alba and Damascena. A dewy, jammy rose, it is naturally low in methyl eugenol. Benzoin Pure Jungle Essence™ with its addictive rhum, brown sugar and candied chestnuts profile, as well as the heavenly Jasmine Sambac E-Pure Jungle Essence™ very orange blossom bubblegum are exquisitely modern takes on classic materials. On the synthetics side, Patchoulyl Acetate strikes for its savory chypre effect redolent of patchouli and Orcanox™[3]. Last, FloraPeel is an hesperidic specialty embedding the captive Bigarone™, and speaking about biotechnology, Melbatone™ is a green natural replacer for the classic C14 lactone, smelling way juicier like pulpy peach and apricot.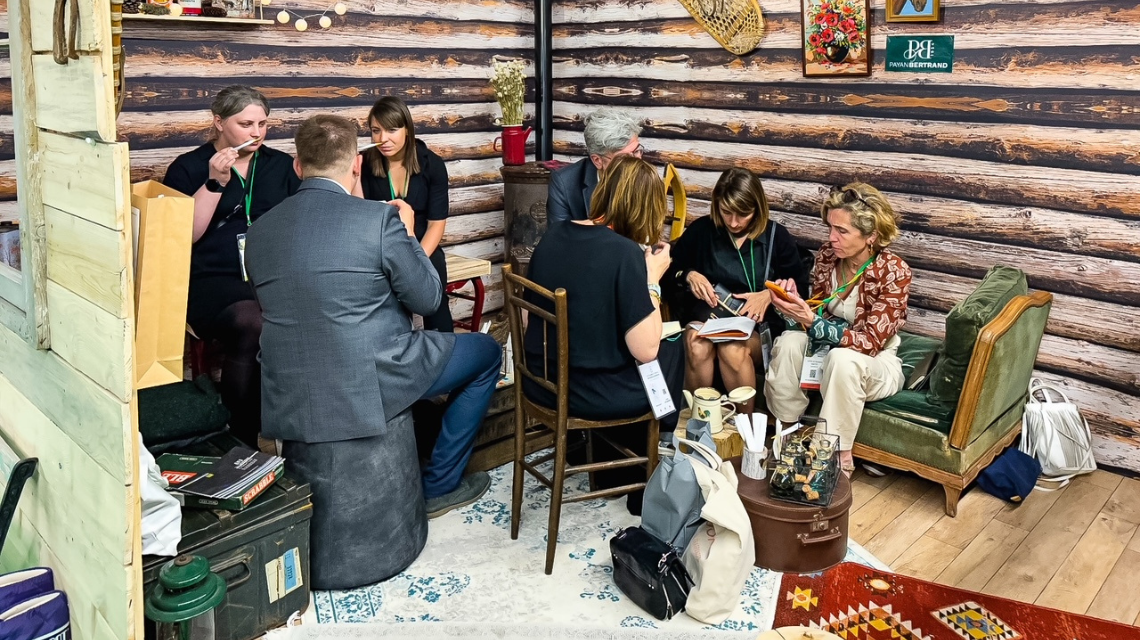 The Payan Bertrand mountain cabin
Payan Bertrand
The setting at Payan Bertrand is all about summer in the Alps with a cozy mountain cabin, in line with the latest additions. After smelling Ambrettone, a musky specialty combining ambrette CO2 extract fractioned and other natural ingredients, I get a refresher of last year's Flouve Absolute from Grasse that takes me back to my childhood games rolling in the hay, and the boozy vanillic Oak Chips extract. The first novelty is Roasted Cocoa extract from Cameroun offers a contrast with its intense cocoa beans dragées aroma. The best discoveries though are Ginger Fresh Indonesia with its tasty candied ginger fizz, and the exquisite Bulgarian Elderflower Absolute Extra that I was happy to smell with Master Perfumer Patricia de Nicolaï that agreed on the faceted beauty of this floral tobacco smell hinting to chestnut honey and dried figs.
PCW France
What a pleasure to meet again Patrice Blaizot, who recently handed over the reins to his son Xavier, now CEO and leading perfumer. If last year a selection of different species of boswellia impressed me, now it's time for spices with Black Pepper SCFE redolent of mornings in a pine forest by the sea, and Turmeric Root oil with its slightly roasted caraway hues, but so powdery sweet. Xavier Blaizot, who recently took the lead of the family business, recommends it as a natural booster for vanilla. Originally conceived as a flavor, Coffee Oil Indonesia provides the unusual coolness of iced coffee. Breaking news: PWC is soon releasing a collection of natural isolates as proof that we're going to see more and more natural perfume creations on the shelves in the future.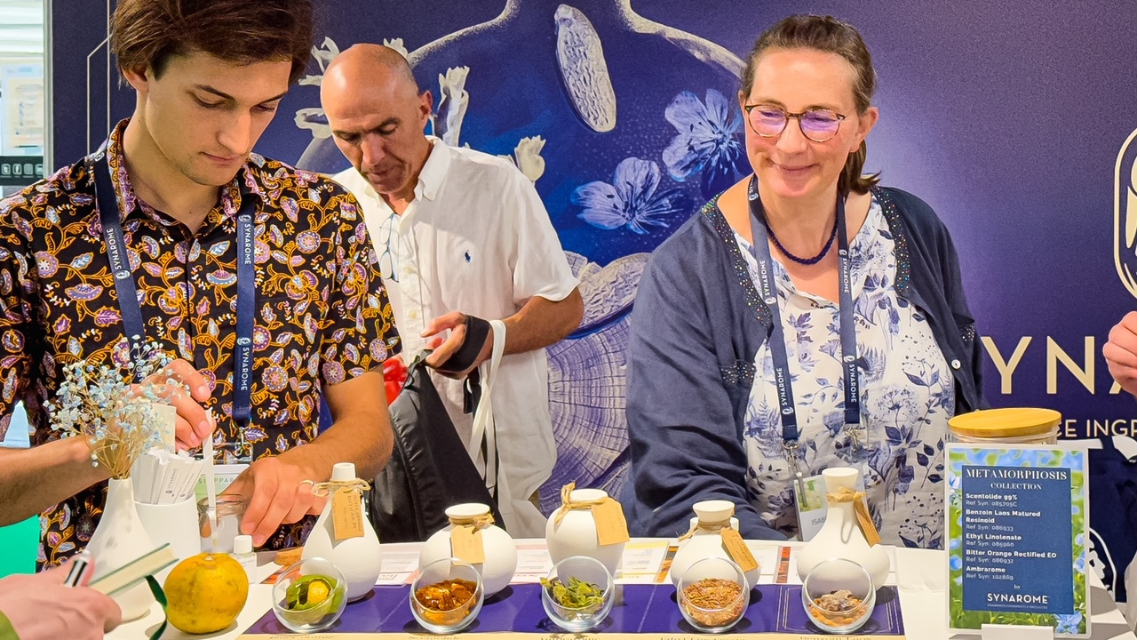 Synarome
Synarome is among the oldest companies in the perfume industry, and still keeps alive iconic bases like the roaring Ambrarome from Spanish cistus and the vicious Cuir HF[4]. The brand-new collection Metamorphosis features specialties based on the natural transformation of biomasses. Ivory Coast Bitter Orange Rectified essence, the 100% vegan Ambrettolide-identical Scentolide 99% from shellac, Ethyl Linolenate from linseed oil unfolding unctuous hues of grilled sesame and hay, polished furniture and painters ateliers. Dulcis in fundo, Benzoin Laos Matured Resinoid has lost its papier d'Arménie texture to melt like blonde caramel infused with addictive vanilla and cinnamon. To die for.
Takasago
If like it seems, the reseach for naturals is having a golden moment, new synthetics are no less and at Takasago and they must consider three aspects as Vice President Lee HongJoo explains me. What's the source? How does the molecule behave once in the environment? How is it used? Responding to all these criteria, they present Hindinol (laevo-Mysore sandalwood core, think lactonic-musky sandalwood), Dextramber (a less dry, ambery Norlimbanol-Dextro), Polyambrol (a woody, less rotting Ambrinol), and Laevo-Citronellyl Acetate which bridges the citronellol and fruity aspects of rose, also conjuring some strawberry-scented pelargoniums.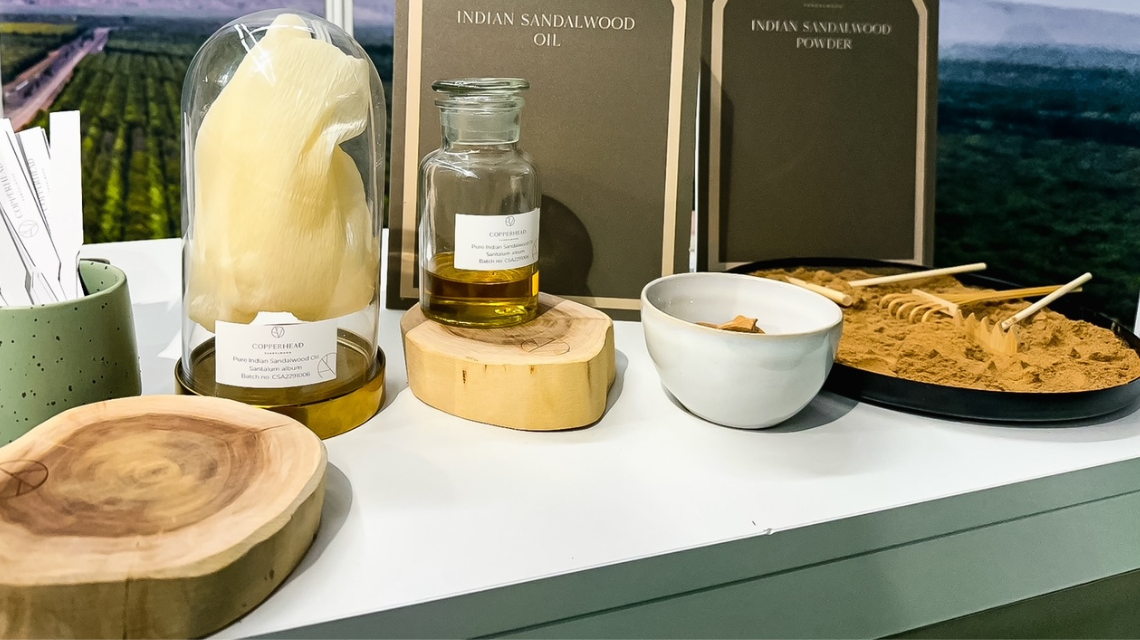 Copperhead Sandalwood oil, wood chips, and powder
Sustainable Sandalwood
The trademark milky mellowness of Mysore Sandalwood oil is a reference since ever, and it is still the matter of what dreams are made of, as can be smelled at Quintis Sandalwood. They also produce Santalum album oil from Australia that's just barely greener and roasted, but oh, so suave that's become nowadays a valuable option to dream on.
This also is confirmed at Copperhead Sandalwood, a young Australian company also producing Sandalwood chips and powder which makes a sumptuous natural body scrub, seeing is believing. As I confirmed them, this year's crop is even better than the previous one. This way, I can't imagine the level of excellence Australian sandalwood will reach in a few years.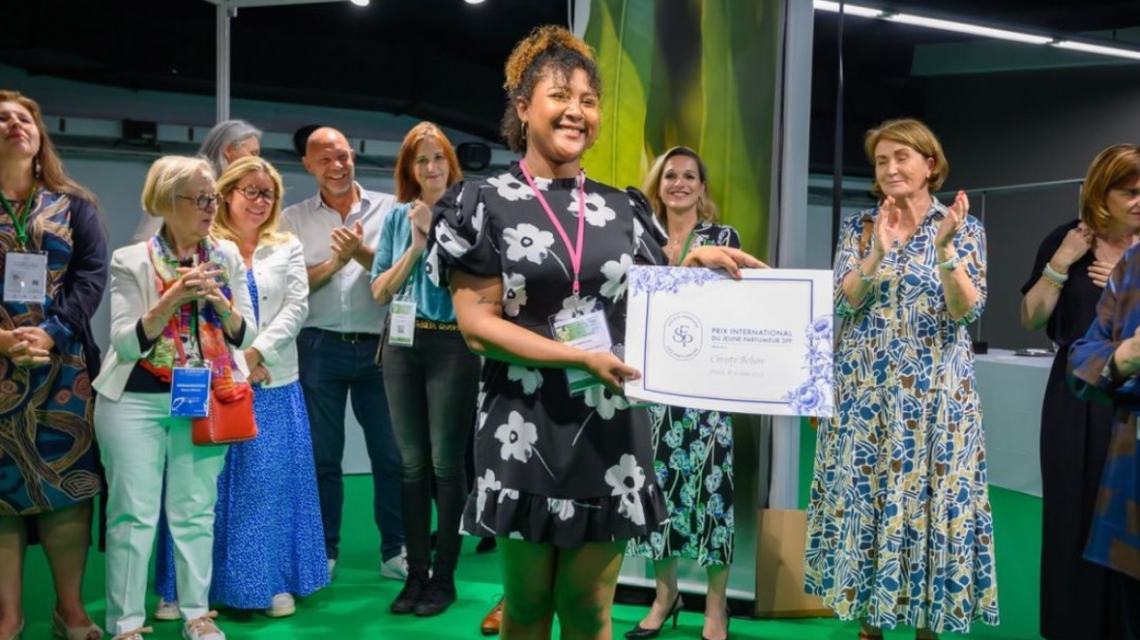 Prix International du Concours du Jeune Parfumeur winner Christy Belson ©SFP
The first day ends as usual with the annual cocktail held by the Societé Française des Parfumeurs which means as well the Prix International du Concours du Jeune Parfumeur Award Ceremony. The theme matching the exhibition carpeting was "Green in perfumery like Yves Klein monochrome blue and Pierre Soulages black", and the winner Christy Belson, intern at Givaudan, boldly played with her Hemp Escalate, a woody green marrying elegant bay leaf with hemp over a bed of ambery oud.
Young perfumers, creativity, innovation, the ingredients for this immersive event to celebrate the Art of Perfumery and shape the olfactory landscape of tomorrow are all there.
That's all from Paris, see you next year in Grasse!
______________________________________________________________________________________________________________________
[1] The For Life Social Responsibility certification is broad in scope and requires adherence to criteria including environmental responsibility, fair working conditions, transparency, and community relations.
[2] Green Motion™ is a proprietary tool able to measure the safety and environmental impact of fragrance and flavour ingredients on a scale of 0 to 100. Its ranking is an adaptation of the 12 Principles of Green Chemistry defined in 1998 as they pertain to quantifiable data.
[3] An aromatic Cashmeran-like captive coming from the upcycling of exhausted byproducts from clary sage distillation.
[4] Smoked, animalic leather base created in 1926 by Hubert Fraisse (from which the letters HF), the father of Arpège co-creator André Fraisse.