Schwarzlose Berlin, Surviving through History and Reviving a Sleeping Beauty
2021 . 06 . 01 | written by Laurence Arrigo Klove
The Berlin perfume brand has witnessed many historical events since its creation in 1856. It managed to survive every time against all odds. Once though, it became a sleeping beauty for 36 long years. In 2012, the curse was broken, and her deep sleep ended. We take you through the "Happily Ever After' tale chapter.
Question: Hallo René*, as you run several high-end perfume brands successfully, why did you decide to become a protagonist in the J.F. Schwarzlose tale?
I am German, I live in Germany and I have been working for 2 decades in the perfume industry. I embarked on this fun experience as I felt I could contribute to the revival of a cultural and historical brand. Unlike other countries, Germany has few perfume houses with a long history and sadly most of them have disappeared. This is unfortunate as many companies from Leipzig, Frankfurt or Cologne had brought historical lasting contributions to the perfumery world with innovative formulations and new ingredients. With scarce natural resources at hand, they had developed synthetic ingredients and allowed the creation of major perfume classics of the past century. A connoisseur brand like J.F. Schwarzlose is therefore very precious to me.
*René Dominik is the managing director of Brandertain Gmbh.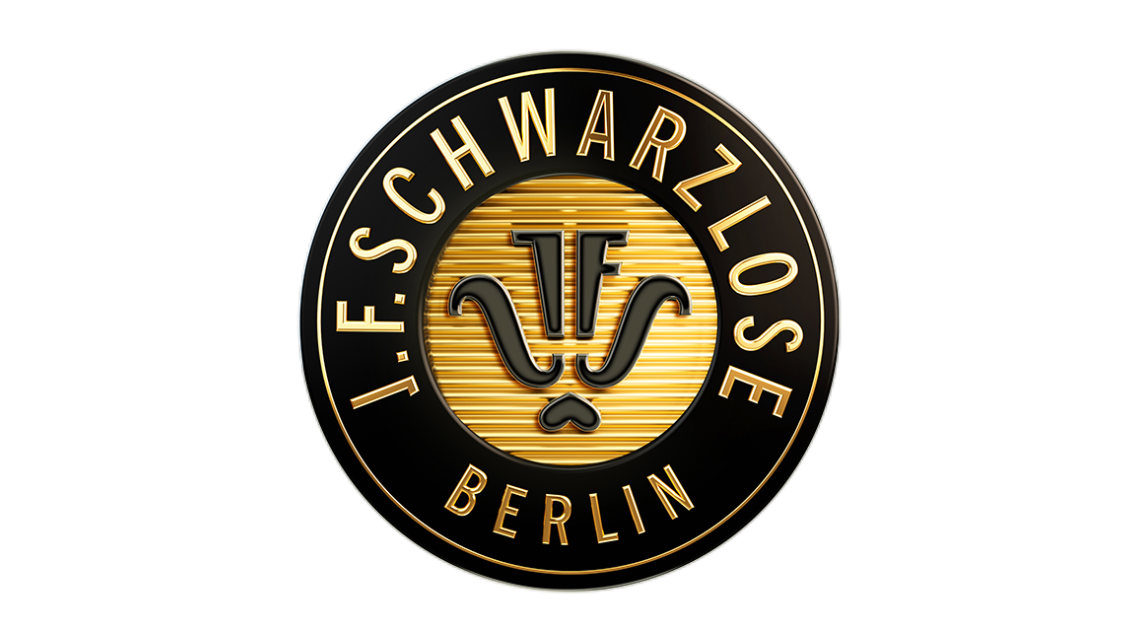 JF Schwarzlose Berlin Logo
Question: How did you meet the other cast team members?
I have known Lutz Herrmann for many years as he created the product designs for many brands I worked for. As creative director, he showed me his fabulous new concept for J.F. Schwarzlose and I immediately fell in love with it. At that time, Lutz had unveiled the story of the official perfume house, supplier to the Royal and Imperial Courts of Prussia and Germany. He had carefully collected vintage products as well as precious information about the brand from national archives. He designed the brand's comeback collection together with his business partner Tamas Tagscherer and the French perfumer Véronique Nyberg. I met the acting team in 2018 when Lutz asked me to join. Without hesitation I immediately agreed and said yes.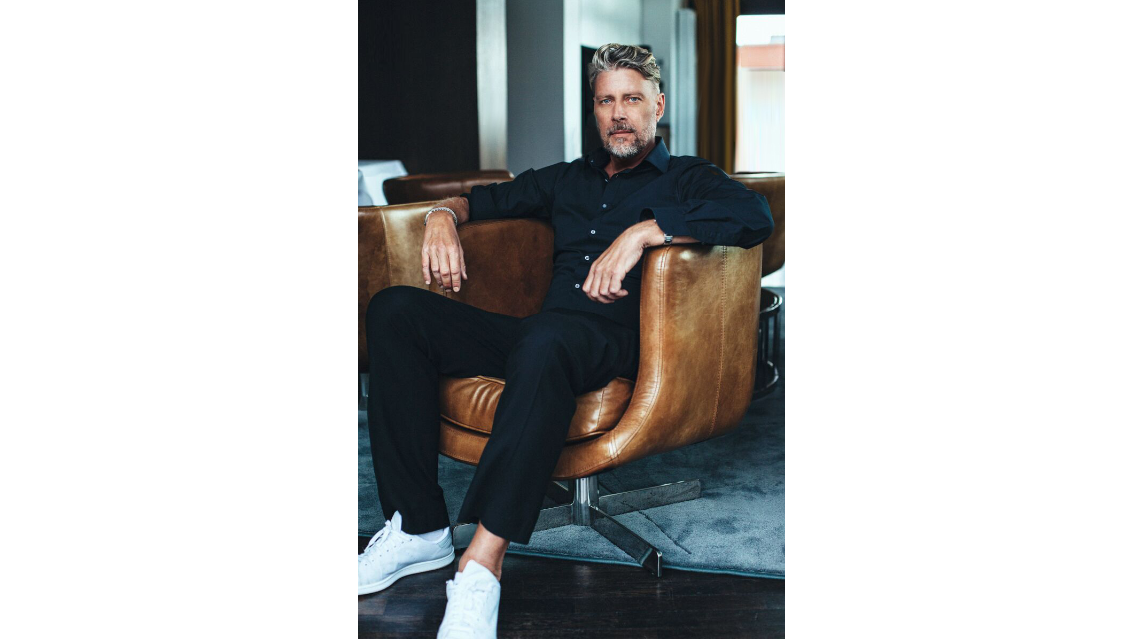 One of J.F. Schwarzlose Berlin artist, Lutz Herrmann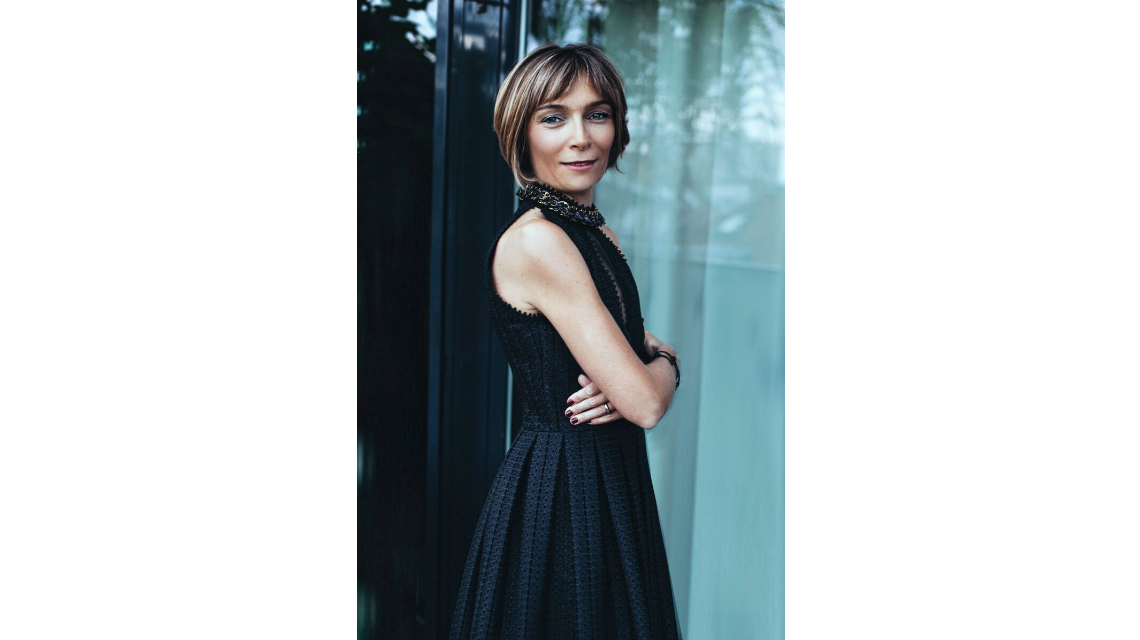 One of J.F. Schwarzlose Berlin artists, Véronique Nyberg
Question: Can you give us the key milestones for Schwarzlose that unfolded after the 2nd world war?
The second world war sparked temporary setbacks. In 1944, due to heavy bombardments, the Schwarzlose perfume factory in Berlin was totally destroyed. However, when the war ended, thanks to the Marshall plan, the owners rebuilt the business quite successfully. It was as if the glorious days of the roaring 20's and the late 19th century were back. Unfortunately, new events taking place in Berlin's post war times quickly created vital complications. The Berlin Wall separation between East and West Berlin was one unsurmountable hurdle; what to do when the factory was on one side whereas stores were on the other? In 1976, the owners decided to close down following a summoning of their municipality to relocate Schwarzlose's factory to a non-residential area. 120 years of perfume business came abruptly to a temporary end. Magically, the spell was broken and in 2012 the brand was brought back to life. The good times are hopefully here to stay.
Question: Is there still today a Schwarzlose boutique in Berlin?
Not for the time being. We are dreaming of making that happen in the future. We keep close to the brand roots though as we have chosen our offices in a building in the heart of Berlin Moabit, just around the corner from the old factory location. What's more, our offices are in a loft, inside an old factory itself. Let's see what the future holds for an owned boutique project.
Question: Schwarzlose Berlin statement is 'Tradition and Quality since 1856', how do you apply this statement?
Certainly. When Joachim-Friedrich Schwarzlose founded his first store in 1856, the family was already committed to offer superior quality. From the start, they carefully selected the best suppliers and the best ingredients, focusing on reputable European companies. They manufactured soap, haircare, candles and perfumes. Today, we remain fully committed to that legacy. 100% of our ingredients and packaging are sustainably sourced in Europe, mainly from Germany, France and Italy. Our production relies on hand-made and small batches processes. Privileging local businesses has been a crucial part of our ethics since the revival of the brand in 2012. Likewise, several of our commercial clients - like Berlin's famous KaDeWe - were already partners of Schwarzlose more than 100 years ago.
Question: So, the Schwarzlose scarf is also a tribute to tradition and quality?
Absolutely. In the old days, elegant women were wearing scarfs and sprayed perfume on the fabric not only on their skin. Parisian ladies used specially created scents as 'Eau de Toile' and Schwarzlose launched a 'Taschentuch-Parfum' (Handkerchief Perfume) for that purpose. We have celebrated this tradition with a limited-edition silk scarf designed by Olaf Hajek who illustrated the stories of our perfumes. This year, we decided to offer our clients a bandana 'Eau de Toile' to bring the tradition back to life.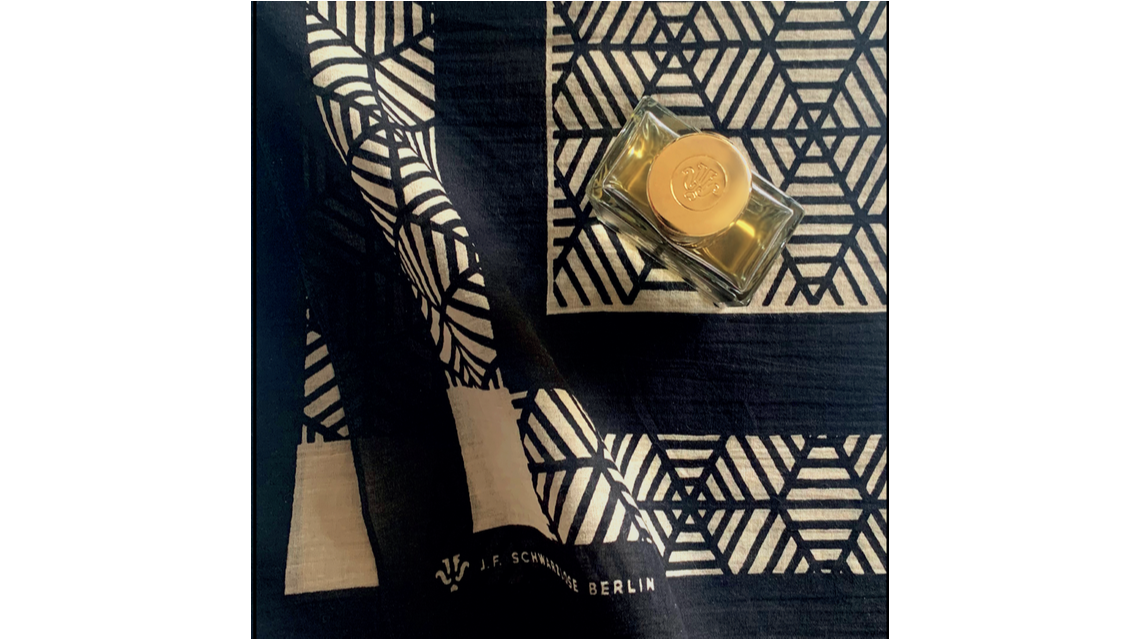 Silk scarf from Schwarzlose
Question: Can you explain where the name of the brand 'Schwarzlose' comes from?
On this matter, I am going to disappoint you, there is nothing more to it than the accurate name of the founder. I mentioned that Joachim-Friedrich Schwarzlose created the company by founding a drugstore that would later develop into a fragrance house. And the store and company simply carried the founder's name. We also asked the descendants of the family to see if there was something more behind it. We found no hidden story on this front. There is, however, an interesting piece of information about Joachim-Friedrich himself. He was a piano maker who decided to venture into a different business, a more profitable one in order to provide financial means to his large family, he had no less than 5 children. His idea was not only to give financial resources but to teach a trade.
Question: Do you mean that the family children were supposed to continue the perfume business?
Exactly. All of them either worked in the family business or created their own perfume companies. It became a perfume family 'dynasty'. Today, the descendants live in the USA, Europe and of course Germany.
Question: Your brand has not gone unnoticed and has won substantial recognition, official prizes, articles in Vogue … can you tell us what you are most proud of?
The Schwarzlose team is proud of everything achieved in the past 9 years! Being featured several times in leading magazines like Vogue or GQ is of course fantastic. Selected to be part of 'The Major German Brands', an annual publication of the German Design Council that is internationally distributed by the German government and its foreign embassies to promote German design, is a great honor too. Winning an Art & Olfaction Award in 2017 for our 'Altruist' fragrance was marvelous. But what makes us happier and prouder than anything else is the feedback we get from perfume lovers all around the world.
Question: How did you develop the new brand perfume identity to be both old – in line with the heritage and new – with Berlin modern times?
Our creative director Lutz Herrmann is one of the most experienced perfume packaging designers around. When developing the look for the new Schwarzlose perfumes, he applied many elements of the original brand identity and made them sharp, bold, modern and above all, 100% true to what Berlin is all about today.
Question: How is Schwarzlose today paying an homage to the beauty of Berlin and its energy?
You are right, Berlin is a special place, quite different from other Western capitals. Former mayor Klaus Wowereit described the city as 'poor but sexy'. Visitors from all over the world love its cultural scene, especially the uninhibited nightlife where anything and everything can happen. We try and capture that spirit with the Schwarzlose perfumes. Our scents do not follow the mainstream trends. Instead, we derive our inspiration from the brand's historical scents and apply a modern creative twist thanks to our perfumer, Véronique Nyberg. Each of our scents has a story to tell, linked to the Schwarzlose history or to Berlin or both. As an example, '1A-33' is a modern take on the original 'IA-33', the Schwarzlose car license plate. Car license plates were introduced in Berlin in 1906; the Roman 'I' stood for Prussia as Berlin was its largest city, 'A' for Berlin and '33' was the district where the brand factory was located. The story does not end here. Our perfume '1A-33' also contains Berlin's most typical fragrance note, lime blossom, as 'Unter den Linden'* avenue is Berlin's version of the Champs Elysees.
*under the linden trees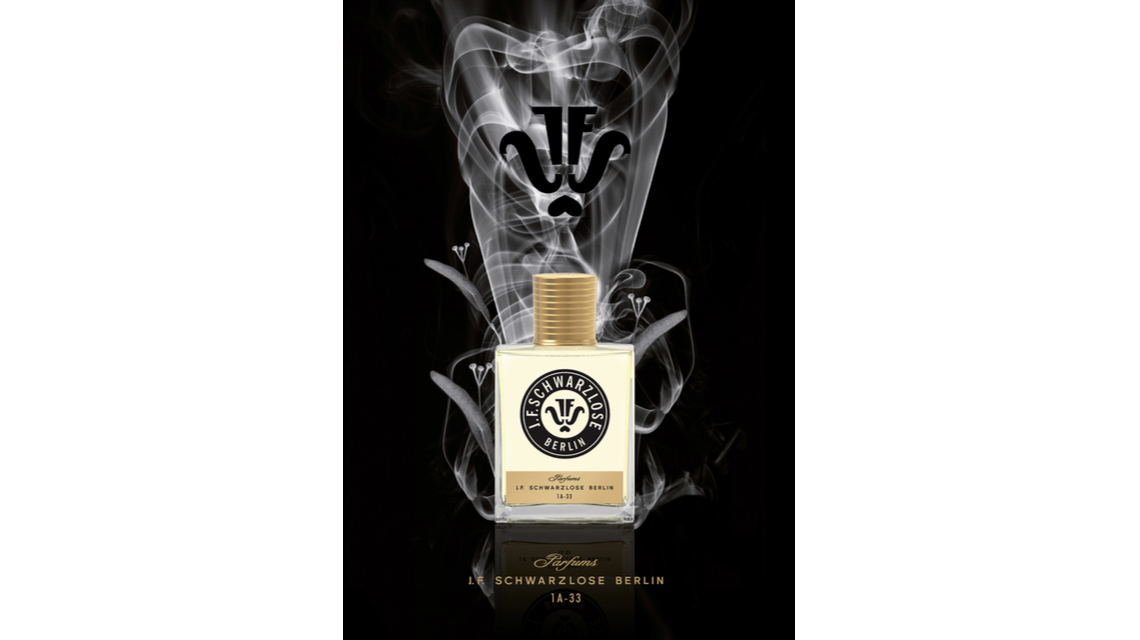 One of the best-selling perfumes from the collection '1a-33'
Question: Out of the 8 perfumes in the collection today how many existed before the 2nd world war? Did you have to adapt the perfumes formulas by the way?
Most of our current scents are inspired by historic Schwarzlose perfumes from the archives: '1A-33', 'Treffpunkt 8 Uhr' , 'Trance' carry the same name as their original blueprints. 'Leder 6' was inspired by the old Schwarzlose scent 'Spanisch Leder' and '20I20' links back to the cult perfume of the 1920's, 'Chic'. As most of the old formulas were lost, we had to start with a thorough chemical analysis of the ingredients found in old bottles. Based on that scientific analysis, our in-house perfumer recreated the perfume collection. Both authentic and true to its past as well as creatively modern. We are so pleased when some of our senior clients, who remember the original scents, tell us how we have been faithful to the original scent personality. With our perfumes, we bring back to life their youth memories. We have 3 perfumes on the other hand, 'Zeitgeist', 'Altruist' and 'Rausch' that are purely inspired by Berlin here and now.
Question: Sorry to ask a sticky question, if the brand is so old who are your clients today, old people who know the story – or young ones who don't know it?
Before Schwarzlose, I had never experienced a brand with such a broad universal appeal, across all ages and genders. As I mentioned before, seniors remember the original Schwarzlose scents and love their favorite youth perfume in a modern reincarnation. The brand also attracts many young fragrance connoisseurs, who are in their early 20's and want their perfume to be different from the mainstream ones. They thoroughly enjoy the perfume stories of Schwarzlose. Nowadays, the brand has a large fanbase across generations that is growing steadily, year over year.
Question: Can you pick one perfume out the collection that is your favourite and explain why?
Right, this is not an easy one for a perfume chameleon like me. I like many scents as I am used to choosing them according to my mood and the occasion. In our collection ' 'Treffpunkt 8 Uhr 'and 'Leder 6' are my favourites. As a vetiver lover, 'Treffpunkt 8 Uhr' instantly got my attention and I like how the vetiver note mingles with the other ingredients. 'Leder 6' is my all-time winter favourite as I enjoy its warmth and softness. It feels a little bit like relaxing on a leather couch, next to an open fire and wrapped in a cashmere blanket – heavenly!
Question: The future, what new chapters - no more tragic ones, enough of that - will be written to the fairy tale?
For sure, the future will bring more magic! Seriously, our archives are so full of untold stories with historic Schwarzlose perfumes waiting to be brought back to life. We have also ventured into home fragrances and just happened to launch three room fragrances – LEDER, BERLINER LINDE and ZEITGEIST. This is again a revival of the original Schwarzlose 'Zimmerparfums' - Zimmer means room- more than 100 years old. We are also working on a modern interpretation of a Schwarzlose Fougère perfume. Watch this space! Berlin is not just the place for party and nightlife, we have a very interesting perfume scene that is worth to be discovered.
Happy Times - Enjoying a Peaceful Resurrection
I am happy to confirm that Schwarzlose is enjoying peace. All the survival battles are behind. Hurra! Smiling faces all around. Confidence in the future. Desire to invest and develop. In Paris, when world war two armistice was declared, American soldiers lined up in the streets to receive kisses from girls. One of them, Lawrence Alton wrote "I never celebrated so in my life before. I ate, drank, and yelled until I almost gagged'. With Schwarzlose, celebration time is reasonable but real. "Happily, Ever After' it is.