SCENT TRUNK: Indie Perfumers take us on a new olfactory journey every month
2020 . 10 . 02 | written by Karen Marin
What happens when an eclectic group of fragrance industry professionals come together to create an alternative for the modern fragrance enthusiast? Scent Trunk arose with the goal of offering a unique olfactory experience in a direct-to-consumer approach. With a launch calendar inspired by pop culture, art, trends and travel, Scent Trunk's Fragrance Council searches for under the radar, indie perfumers to commission a new fragrance every month and season. In this article, Creative Director Yosh Han, tells us more about the concept from its inception to what's coming soon.
What is Scent Trunk? How did it get started? What's the story behind the name?
Scent Trunk was originally founded by two college friends in 2015 who wanted to democratize bespoke perfumery. Their business model didn't quite work out as planned but the concept was very fresh. In 2018 Scent Trunk was purchased by Perfumer's Apprentice, a supplier of raw aromatic and flavor materials, so we inherited the name and we love it conceptually. We re-branded in 2019 with a new emphasis on Travel + Scent so we're reframing the idea of a Scent Trunk, similar to the vintage steamer trunks which house a collection of fragrances.
In its current state, Scent Trunk is a showcase for the Art of Perfumery. We want people to discover, learn, and enjoy an experience as they find a signature scent or build a fragrance wardrobe. All Scent Trunk fragrances are inspired by the contemporary zeitgeist in art & culture, fashion & beauty, and food & travel. We partner with talented artists to bring their creative vision to life - whether they are professional perfumers working with a natural palette or a combination of natural, synthetic and sustainable ingredients. Every month there is a new Original Edition fragrance and then we have a complementary seasonal creation in our Indie Spotlight. Each of the categories and works of scent art are offered through the online boutique for individual sale or by membership programs which can be annual, seasonal or monthly.
How did you go about finding the perfumers you work with?
We have a Fragrance Council who reviews the landscape of indie perfumers. We want to work with Noses who are artistically driven, not necessarily in the commercial mass market realm, and who exhibit a talent with materials. We are committed to supporting diversity, and we're going to be consistent by moving towards a portfolio that represents the global population. Our objective is that 50-60% of our roster will be created this way – across all our offerings be it Original Edition or Indie Spotlight. We have taken a special interest in BIPOC* perfumers who have been so marginalized by the industry for decades. But in addition to diversity, we also work with creators whose primary medium isn't necessarily fragrance, such as musicians, painters and digital artists. We want to shine a light on grassroots people to reflect what is happening in the community at large.
Take for example our March 2020 edition, which was created by musician and perfumer, Heather d'Angelo. Her focus ingredient was neroli and, here briefly is how she describes the fragrance: "I travel to the coniferous forests of the Mogod Mountain Range in Tunisia on a bright morning at the end of a short but brutal winter. I'm surrounded by evergreens glistening with dew in the sharp sunlight… A sea breeze reaches me-honeyed with the bitter orange blossoms and the promise of spring."
In September of this year we worked with Shabnam Tavakol, Grasse-trained perfumer and founder of independent fragrance studio Kismet Olfactive. We challenged her with saffron, an ingredient of great importance in her Persian heritage. Her creation is rich and decadent while being airy and crisp. We say on our site that "it seems to float between sparkling stars and sweet nostalgia — suspended between weightlessness and gravitas."
Tell me about the Fragrance Council What is their primary role?
Our Fragrance Council is comprised of 6 individuals who collectively have over 40 years of expertise in the business. We come from the worlds of design, product development, retail, wholesale, manufacturing, supply chain and distribution, both on a domestic and international basis. We work intimately with our perfumers on the brief but largely leave the creative process to them. We want to give them as much creative expression and freedom as possible given the framework.
Tell me about the editorial calendar. What is it that most inspires the perfumers?
Based on the compositions, I'd say the perfumers are really inspired by the big theme for the year which for 2020 is the Supernatural Future. The focus ingredients also drive creativity. Perfumers love working with tricky, challenging essences so we're lucky in that that they have risen to the challenge!
The year 2020 has been complicated with the arrival of COVID-19 and a worldwide pandemic, global warming, and explosive events happening on a global level. How has lockdown and self-isolation effected the creativity of your perfumers?
All our perfumers were so grateful for the commissions but more importantly, they were really enthusiastic about our community. So many perfumers work in isolation, and our team at Scent Trunk is wonderful. In some cases, the perfumer has also been tapped to create original artwork for the monthly perfume's complementary post card so we have included our Art Director Syd Buffman in these conversations as well.
Who is your customer? Demographically, are they American? Urban? How do they find out about Scent Trunk?
Our customer base is broad. We inherited a largely Millennial crowd from the former site, but we also have many consumers from less urban cities in the middle of the US as well as, to be expected, the major cities. We do have quite an international fan base as well. We have many who subscribed originally to the customized concept and others who are dedicated "fumeheads." We pride ourselves on delivering a unique product not yet on the market.
Tell me about some of the scents, perhaps the most unusual and the most recent ones.
The pennyroyal fragrance from Tyler Monk in November 2019 is a changeling! It's such a difficult material to work with and we were so delighted when it became a finalist for the Art and Olfaction Awards! For Summer 2020 perfumer Sarah Horowitz created a fragrance called The Now, a scent like cleansing rain or a walk out in nature, the perfect olfactory escape from the current chaos of the world.
What's in store for 2021? What can we look for in the year ahead?
We are working on a new, enhanced version of our website which will launch soon. We are also putting the final touches on a new collection which we call DIY Bespoke. We will definitely have cutting edge projects and collaborations with perfumers who should be in the spotlight.
*Black, Indigenous and People of Color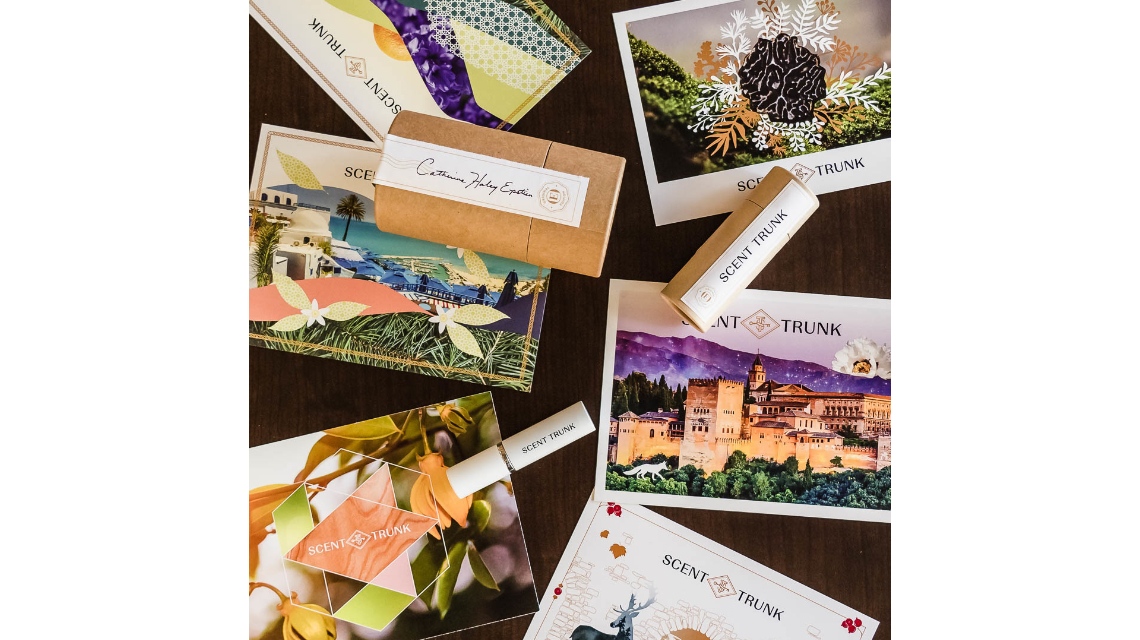 Catherine Haley Epstein for Scent Trunk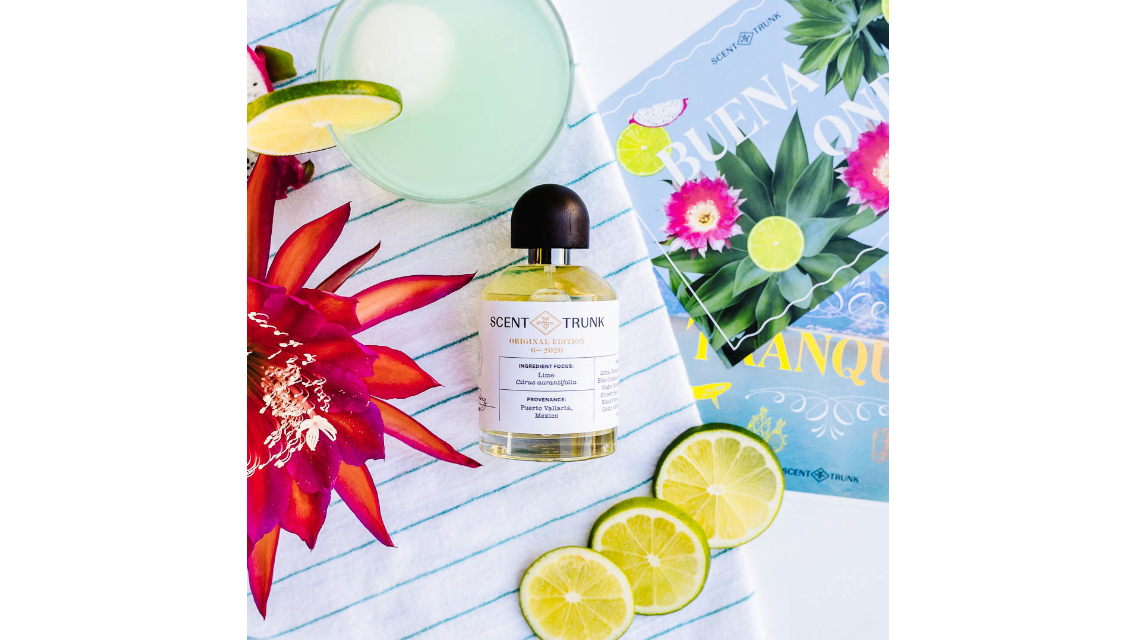 Scent Trunk Lime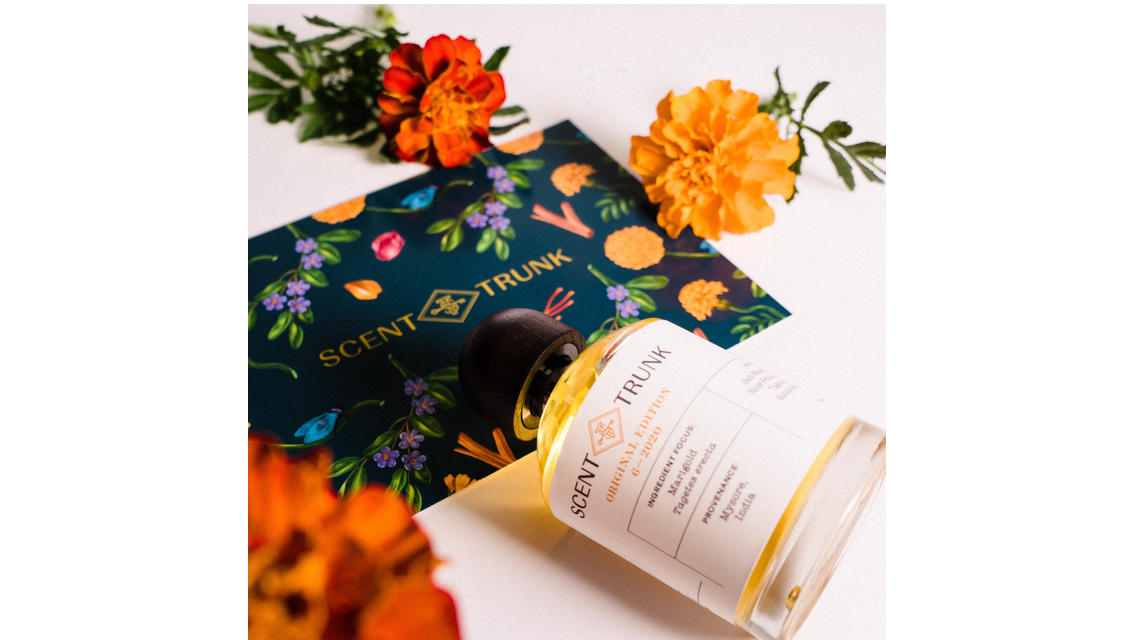 Scent Trunk Marigold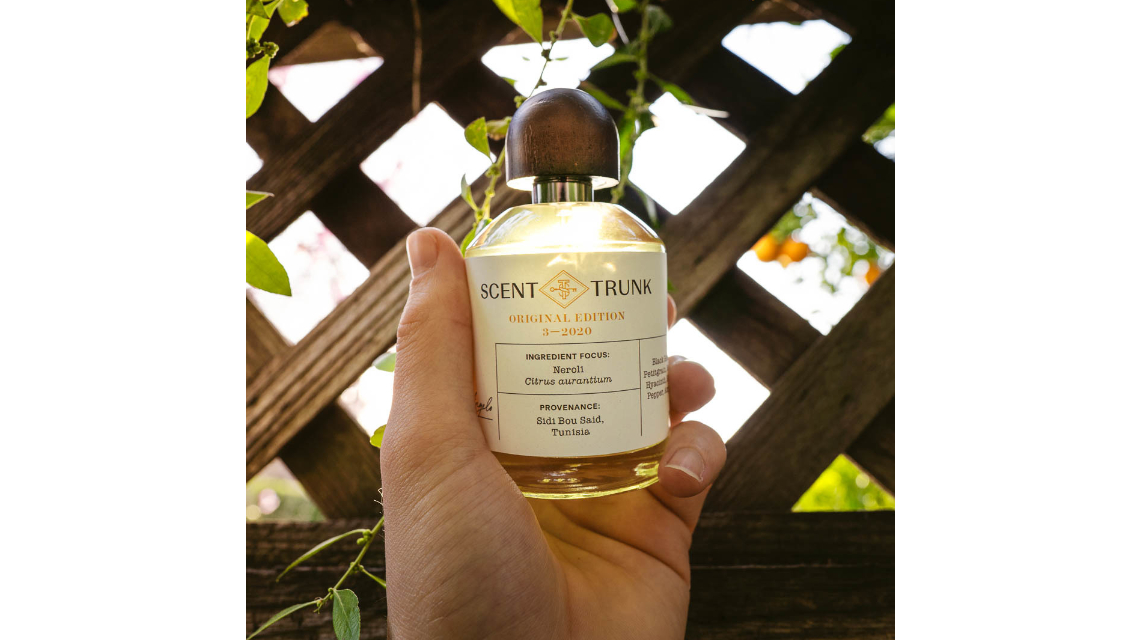 Scent Trunk Neroli