Rives de la Beauté – the niche fragrance event in Paris
2022 . 10 . 06 | written by Karen Marin
No sooner did I return to Paris after Pitti Fragranze than it was the moment to attend Rives de la Beauté, the Paris-based event celebrating niche fragrance and beauty. Rives is unique because it highlights fragrance locales throughout the city while hosting a select group of brands in a temporary space, L'Atelier des Rives, in which installations, workshops and seminars are also held. The four day program was a great opportunity to discover branded and multi-brand shops all over town before circling back to the Atelier, located this year at the Galerie Joseph in the Marais district, where I spent most of my time.
Like so many industry events, Rives had been on a COVID-induced hiatus since 2019, but it seems all of Paris wanted to party on September 21st, the evening of the kick-off event. Rives is open to the general public with no entry fee, and when I arrived at L'Atelier de Rives the place was packed. Brands were spread through three key rooms and every stand was mobbed. Rather than fight the crowds, I headed downstairs to experience the "Speed Smelling" collection developed by IFF noses. Every year since 2009 the company determines a theme – which acts as a brief - and then challenges their perfumers to create a fragrance while giving them complete freedom without constraints. It's definitely an exercise in creativity which also encourages the perfumers to include as many "captive" molecules patented by IFF in the formulas as possible. This year's theme was "An American in Paris', and, being one myself (now with duo French nationality), I was curious about what the perfumers would propose. Some of the fragrances were inspired by Coca-Cola notes, the clean laundry smell and the American outdoors. My preference was the version proposed by Nelly Hachem-Ruiz, a concoction inspired by the thought of Paris in 1944 where GI's drank soda and smoked blonde tobacco. The roster of perfumers was impressive and included Dominique Ropion, Delphine Lebeau, Julien Rasquinet, and Anne Flipo plus others. The resulting fragrances aren't meant to be commercialized but are available in a coffret which features all thirteen scents. I learned that the collection is called "Speed Smelling" because when it is initially revealed to the Press each perfumer has a seven minute one-on-one meeting with journalists to explain their compositions. Kind of like Speed Dating!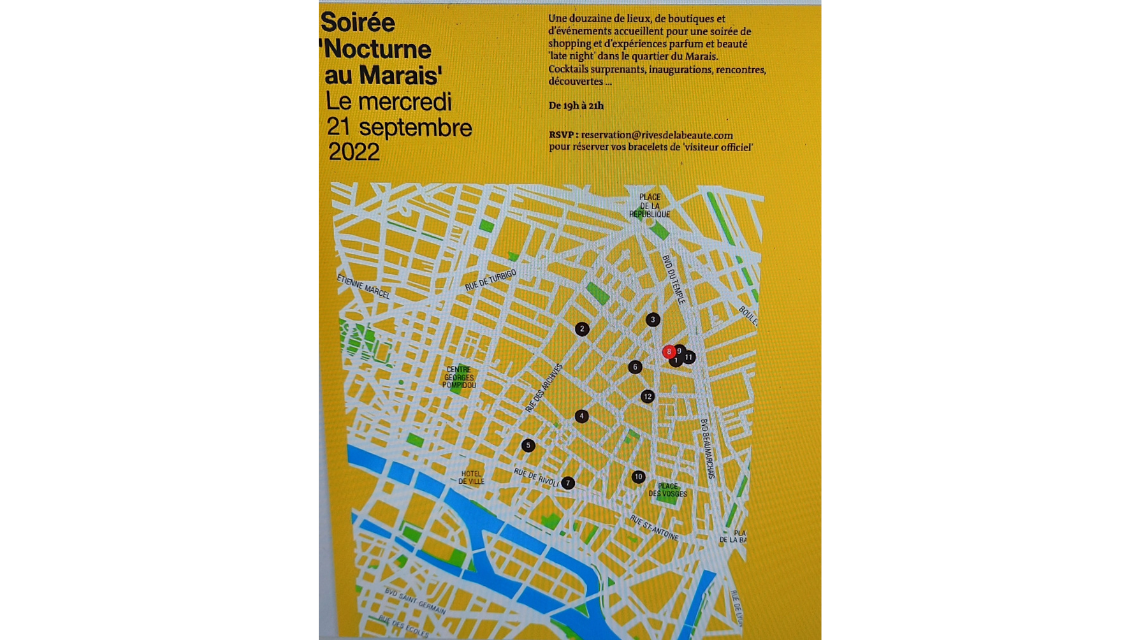 The evening event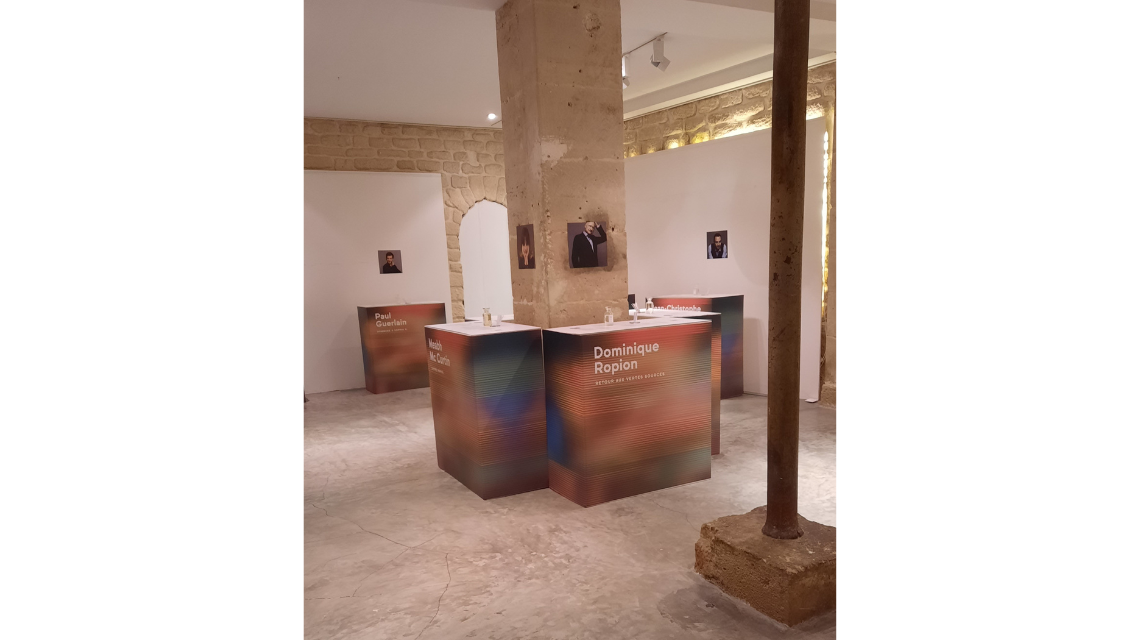 Speed Smelling Installation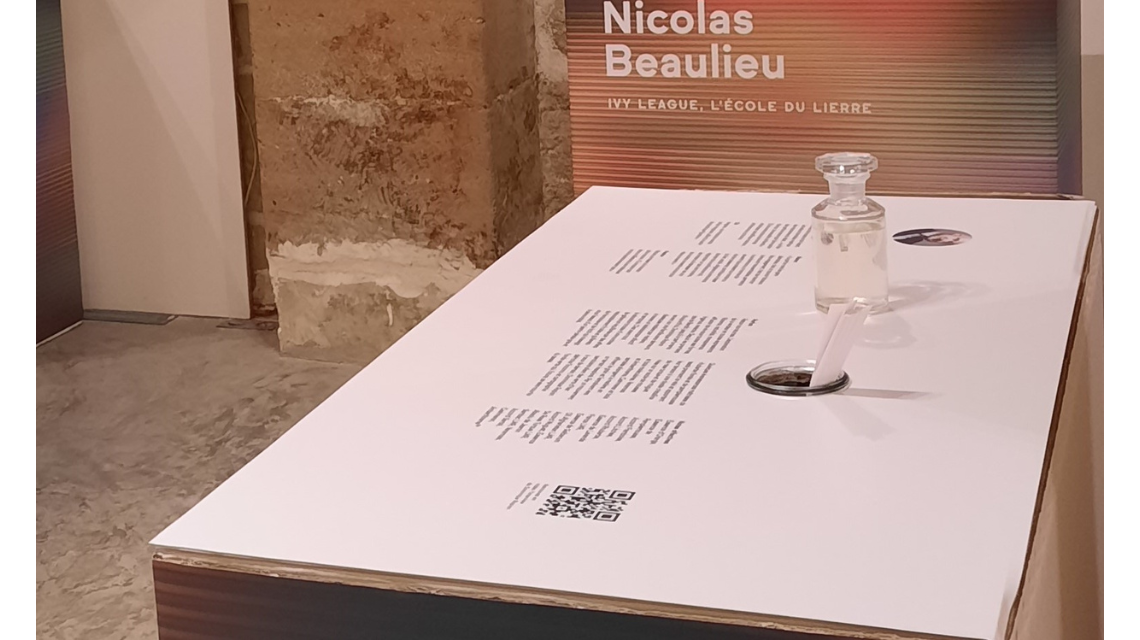 Speed Smelling Presentation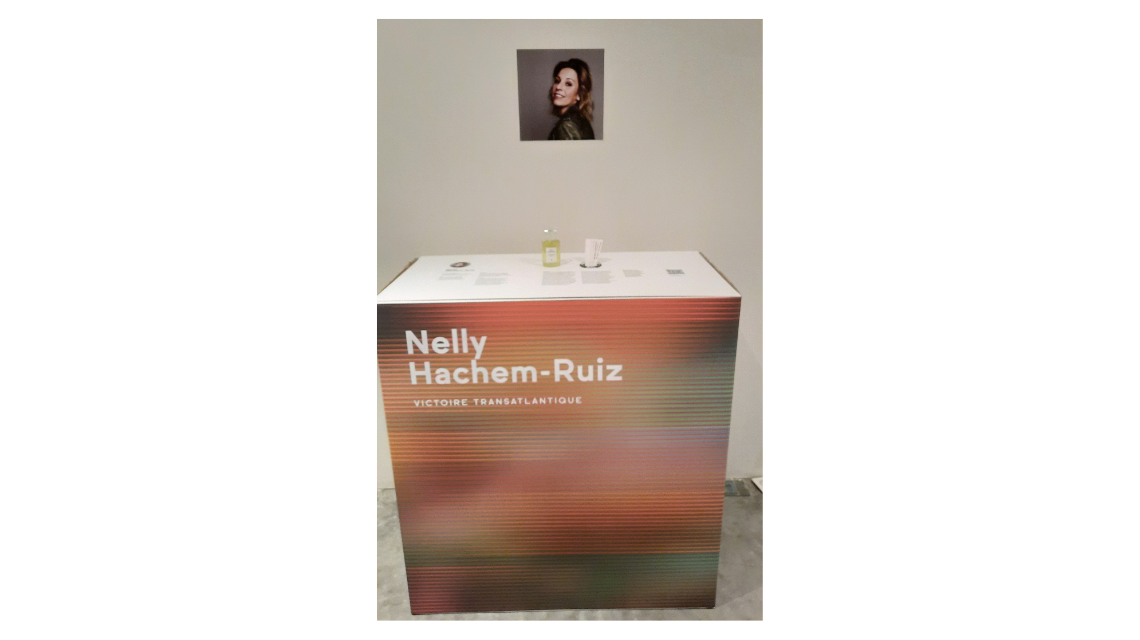 The author's preference
And indeed this idea of speed smelling could actually describe how one approaches a trade event of this nature. With over twenty brands exhibiting at the Galerie, you can only pass a few minutes before heading on to the next stand. Fortunately I was invited to the Press breakfast the next day which was much calmer and allowed me time to visit with brands I'd never seen before. I started with Edit(h) a Japanese brand who had exhibited at Esxence who I hadn't seen. Edit(h) was launched by Nikko Jirushi, a company that has been making Japan's traditional vermillion ink pads since 1905. Observing that fragrance and Japan's stamp culture are both means of asserting one's identity, the segue into scent seemed natural. Kentaro Kuzuwa, 6th generation owner and former Music Director, oversaw the creation of the original collection of five fragrances destined for the Asian market, as well as a collection of "Remixes" deemed more in line with Western taste. He graciously showed me the full range, performing the ritual of using the individual stamp of each fragrance when he marked the blotter. The crisp, green notes of Jardin Tokyo call to mind an imaginary garden in the capital, while it's remix, Jardin des mots, adds a floral dimension coming from rose and muguet. The brand deftly combines heritage and modernity to express Japan's traditions in a new form. Once the fifth remix is finalized the brand will look to open distribution abroad.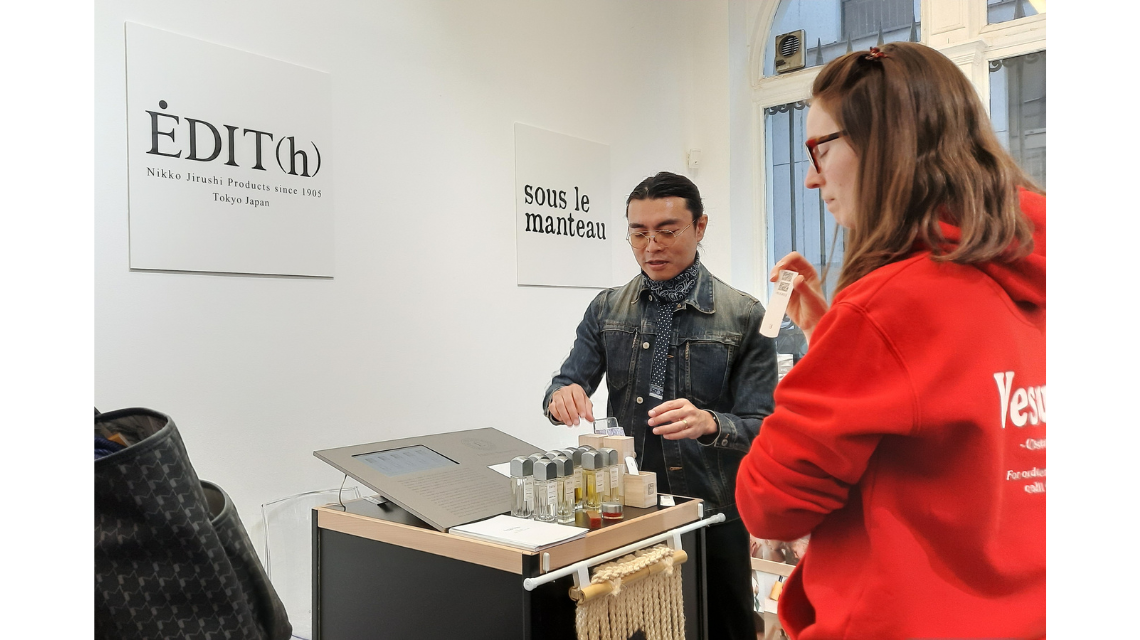 Kentaro Kuzuwa of Edit(h)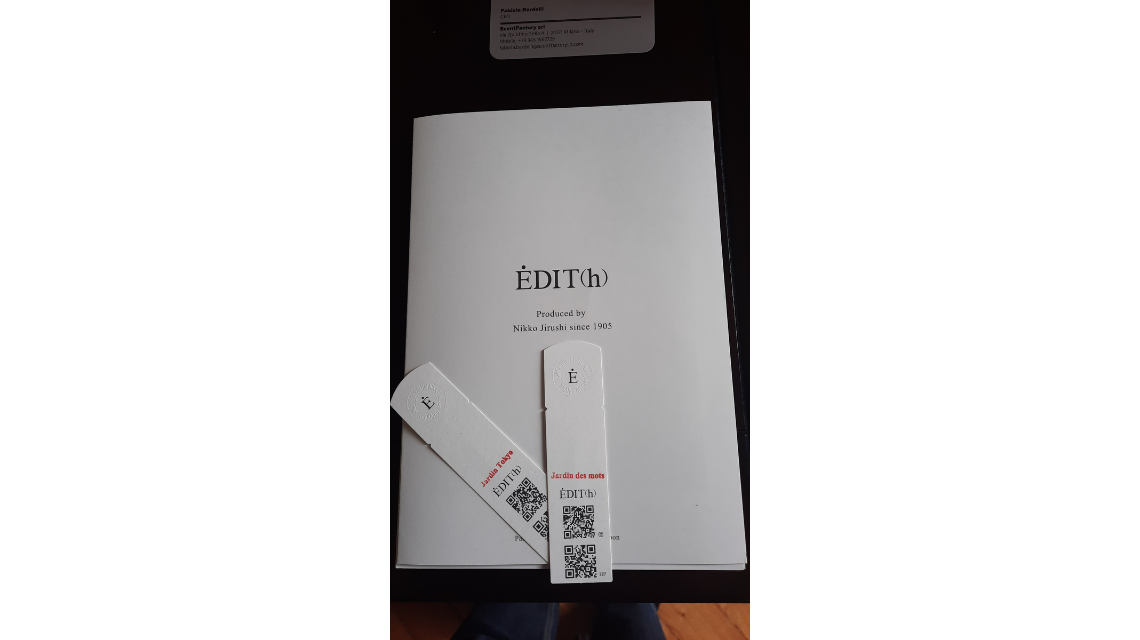 Edit(h)
Next I moved into the back room to discover a brand I had read about that was getting some buzz with Youtube bloggers: Scents of Wood/L'Ame du Bois. This brand, founded by Fabrice Croise, is devoted to forests, trees and wood. It has a very unique concept in that each fragrance combines wood-infused perfume oils with an organic perfumer's alcohol aged in different types of wood barrels. The barrels, collected from places as diverse as Kentucky, Scotland and Cognac, are repurposed from their past lives where they may have held cognac, bourbon, rye and even maple syrup. Given this premise, the names, such as Cedar in Acacia, Ebony in Oud, and Praline in Maple, are very descriptive, straightforward and easy to understand. It's definitely the wood fragrance lover's dream! I fell hard for Vetiver in Bloom, perhaps somewhat intrigued by the lavender color of the juice, but even more so by the scent as it developed on my skin. The delicate Syringa flower tempers the earthiness of the Vetiver, mellowing into an addictive enveloping scent. I was delighted to find out the perfumer was Natasha Coté-Mouzannar who I had met years ago at Givaudan when she was finishing her training. Initially Scents of Wood launched as a Direct-to-Consumer, subscription brand in the US, but now they will be expanding points of distribution. As Fabrice told me, "We will be launching at Jovoy Paris and Jovoy Qatar (soon to be followed by London), at Le Paravent in Lyon, at Etiket in Montreal and at Lucky Scent in the US. We will also be launching a new DTC subscription in the US and the world's first fragrance NFT subscription, worldwide." This is a brand to watch.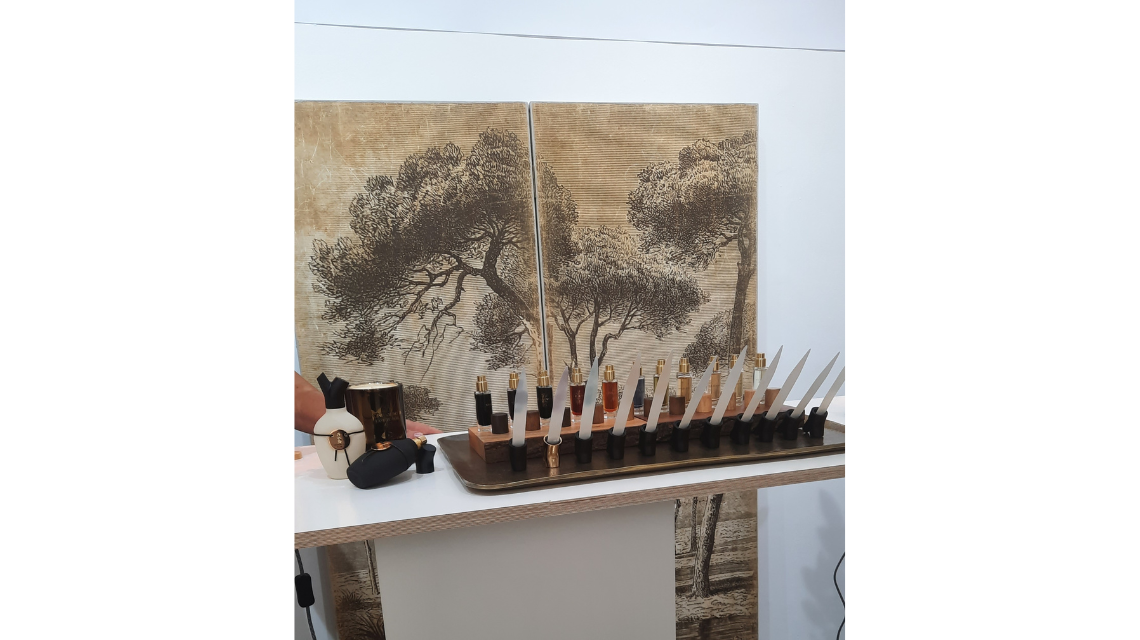 Scents of Wood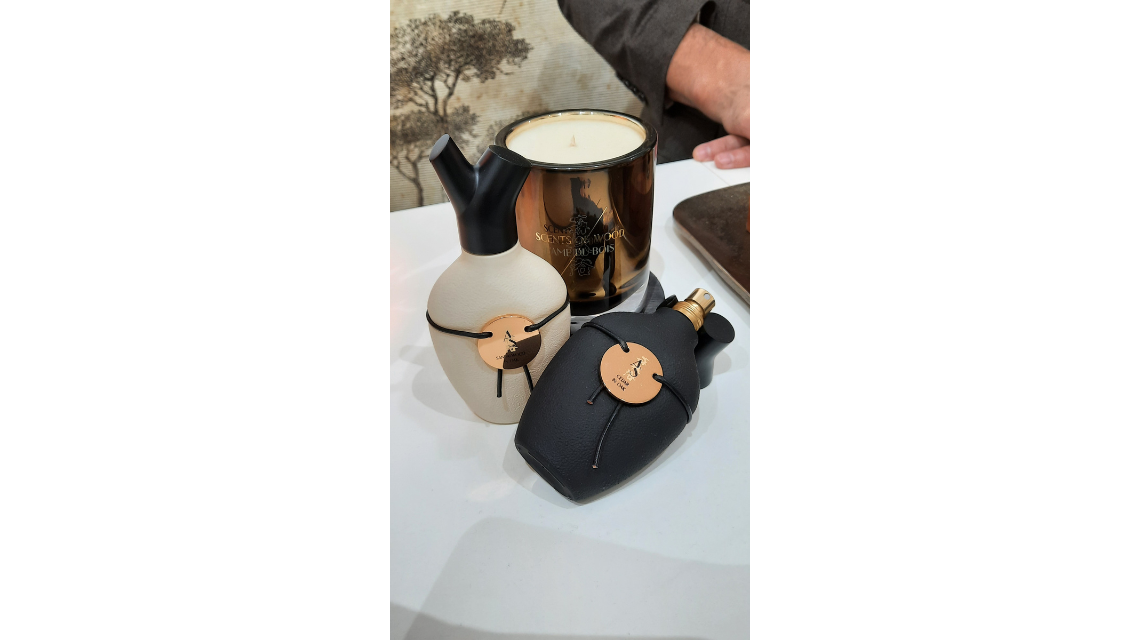 Scents of Wood Flacon and candle
Moving on, I came across In Astra, an Italian niche perfume house created by the Bardelli sisters. Sofia (the nose) and Fabiola (the creative director), were inspired by the beauty of the universe and the stars in the night sky. This meeting of astronomy and perfumery manifests itself in four fragrances all named after specific stars including Antares, a white floral and Tistar, where the brightest star in the heavens come to life in a fresh, woody floral. Next, I made my way over to SoraDora, another new brand that has been getting a fair amount of acclaim with bloggers on YouTube. I had meant to see them at Pitti Fragranze but time escaped me. Founder Quentin Dorado kindly showed me his collection of seven fragrances inspired by his ancestor who left his native Portugal to settle in France. A self-taught perfumer, Quentin's scents are highly concentrated, all in perfume extract form, tenacious and long-lasting. Broceliande is a rum-lime Mojito-type concoction with warm spice and gourmand notes. Gladiator opens with the fresh and familiar notes of pineapple, grapefruit and neroli, spiked by geranium and mint before ending with wood notes. My overall favorite was Mandorle, a delicious boozy-leathery gourmand with cocoa, almond and rum notes rounded off with cashmere wood and suede. After this encounter I circled back to say hello to Michel Gutsatz and Clara Feder of Le Jardin Retrouvé. At the center of this brand is the garden – both physical and conceptual. We all know of a garden that we love where flowers bloom and birds sing, and then we all have come to understand the need to respect the planet - our universal garden. Yet then there is our inner garden: our thoughts, our dreams, our feelings, our emotions, our well-being. For this garden, the brand presented at Rives L'Oracle du Jardin/The Oracle of the Garden, a set of 24 cards to use in meditation and inner reflection, enhanced when performed as a ritual coupled with one of their scented candles. The cards are beautifully illustrated with dreamy images of plants, fruits and flowers and each one sends an encouraging message and positive energy to the player.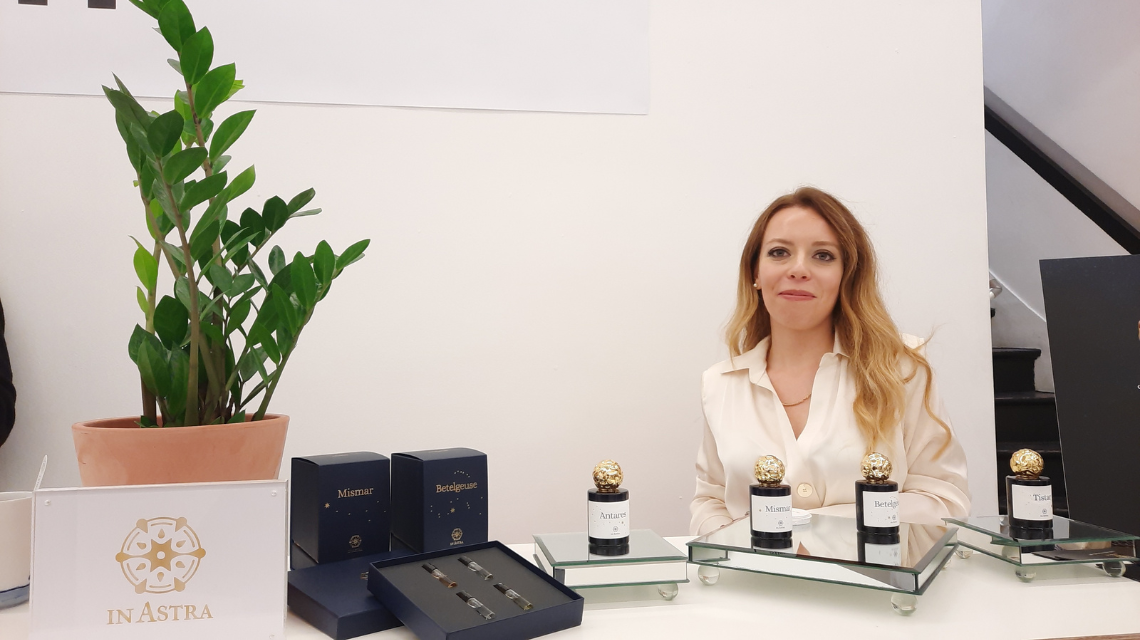 Fabiola Bardelli of In Astra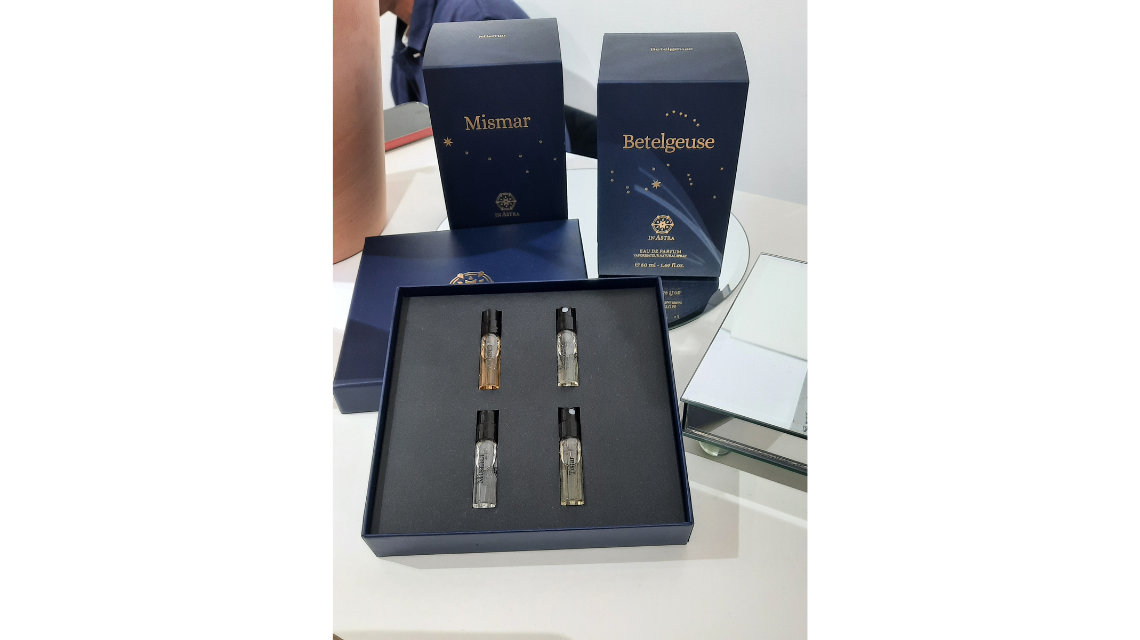 In Astra Discovery Set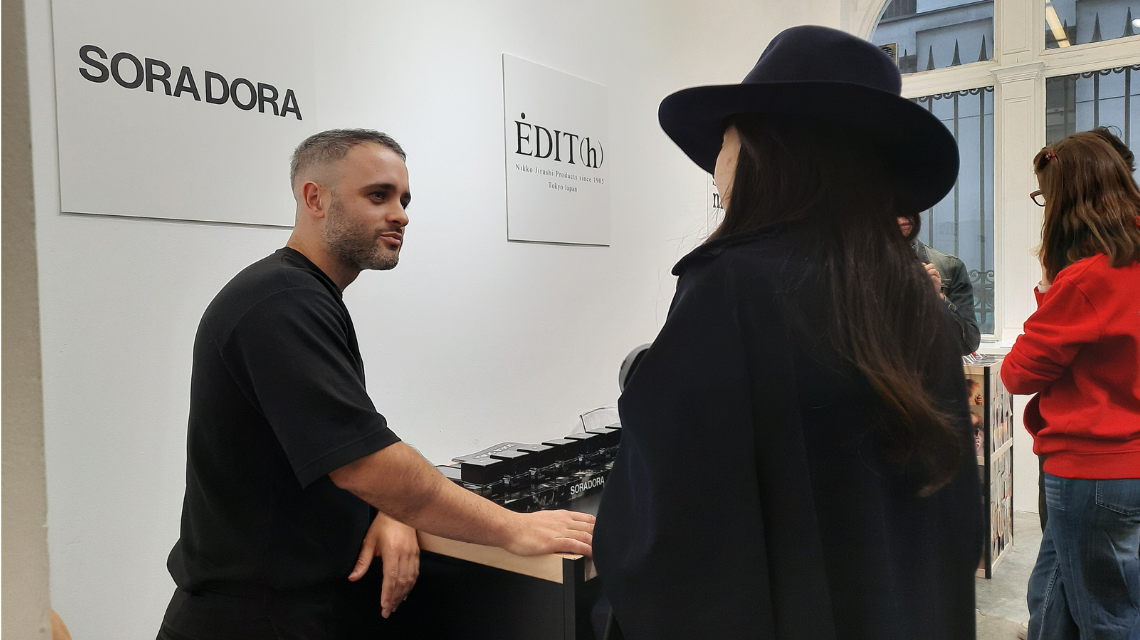 Quentin Dorado of SoraDora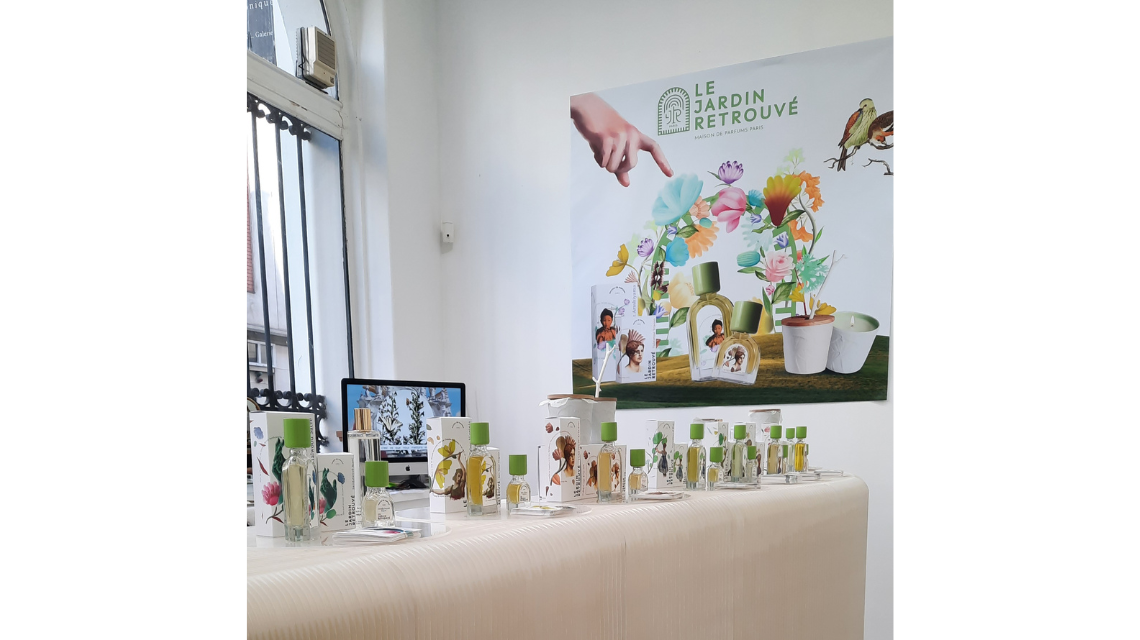 Le Jardin Retrouvé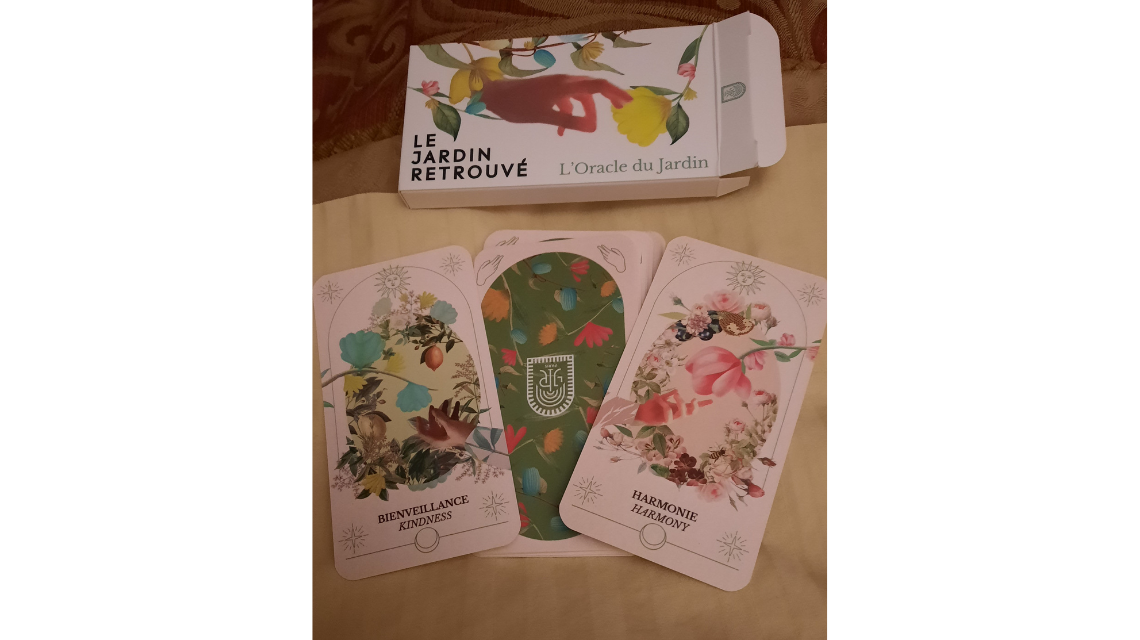 L'Oracle du Jardin
Now soaring on a wave of feel-good vibes, I made a few final stops noting the number of brands who emphasized the use of natural ingredients (Obvious, Bastille, Elaio) or who focused on environmentally friendly packaging, such as Elementals who is considering moving to a mycelium-based material made from mushrooms grown in a controlled environment, which effectively would make them the first carbon negative perfume brand. Clearly there was a lot of creativity and innovative thinking going on with the group of brands exhibiting at Rives this year. I was so focused on the Atelier that I had little time to get around town to the events occurring at shops on both the Left and Right banks. I did make a quick visit to Le Bon Marché, Paris' specialty department store, so I could smell the new fragrance 724 from Maison Francis Kurkdjian. After enjoying a huge success with Baccarat Rouge, which became a TikTok phenomenon, I was curious to smell the perfumers' latest creation. Allegedly inspired by the 24hour a day/7 days a week energy of big urban cities, I was not prepared to smell a soapy-clean, and certainly non-polarising fragrance. No criticism of the scent itself but it struck me as commercial and safe. No risks taken here, somewhat sad after what I'd just seen at Rives where the words experimental, ultra-modern and ground breaking could apply.
The following week I caught up with Wouter Wiels, the event organizer and I asked him to comment on the event. "We are happy that it was possible to reorganise the event after the two year break due to Covid. Both the participating brands as well as the visitors were satisfied with this 2022 event that was organised in less than 3 months' time. There was an interesting selection with a few brands organising experiences in their shops, and our ephemeral space l'Atelier des Rives, illustrated our core values with brand presentations next to cultural and informative exhibitions and talks. With the successful closure of this twelfth edition, we are very motivated to start working on a new format for next year's event where a major city itinerary event will be organized around a groundbreaking scent exhibition. Stay tuned !"
Sounds exciting! Congratulations to Wouter and his team for hosting an inspiring and thought-provoking event. Looking forward to next year!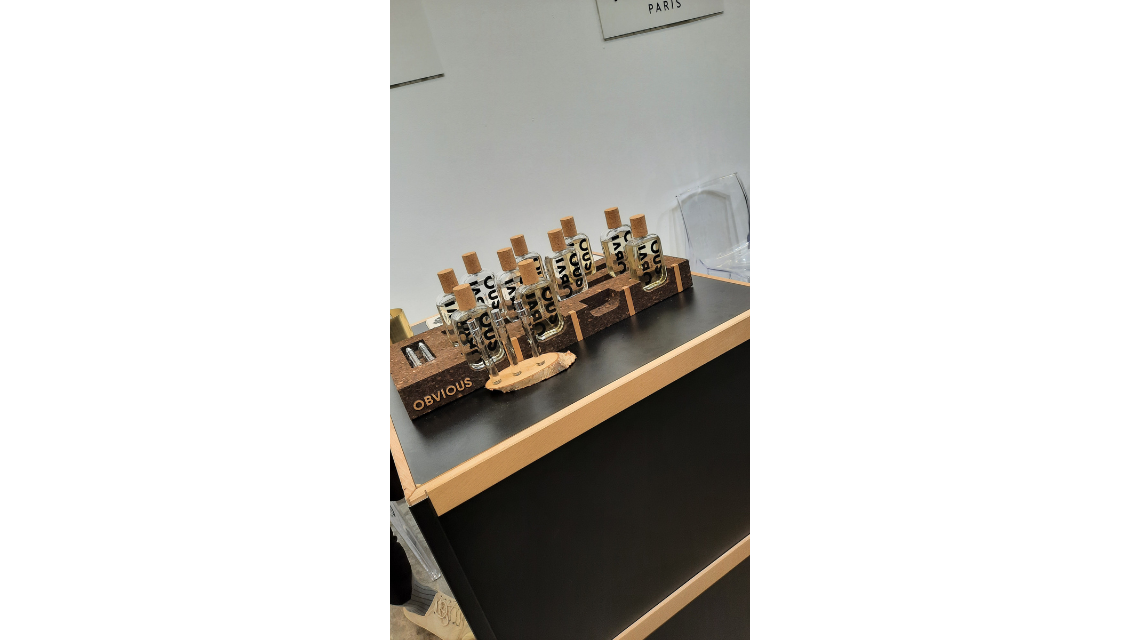 Obvious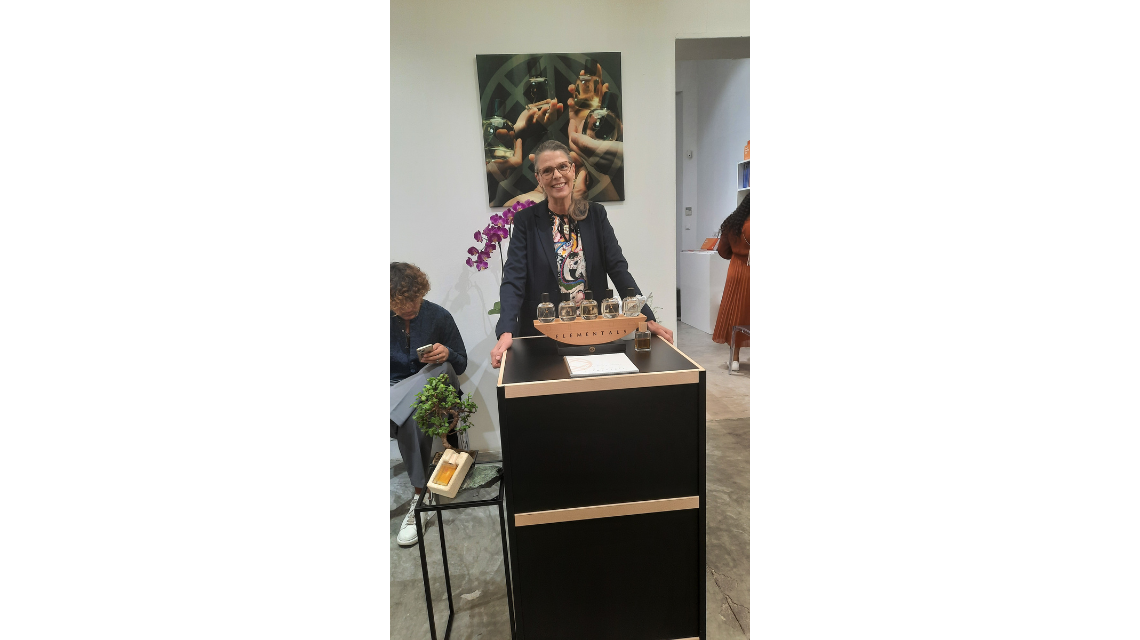 Deana Fries of Elementals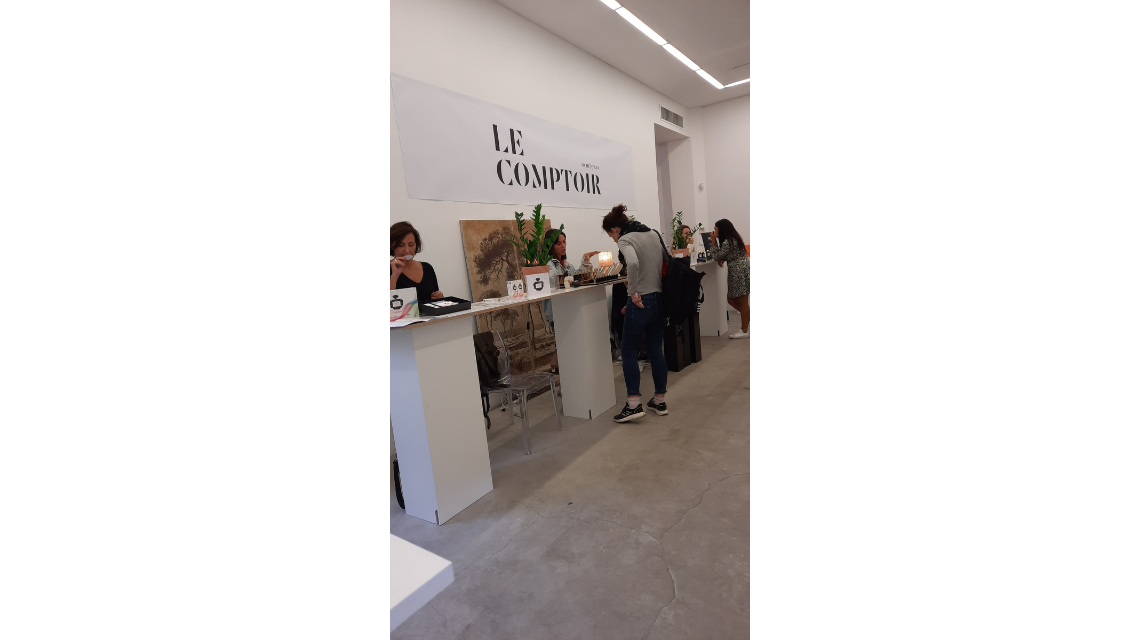 L'atelier des Rives