Returning to Stores Post Lockdown: The World Tour
2021 . 07 . 09 | written by Karen Marin
Following the 3 waves of the pandemic, many countries around the world have started to open up and consumers are going back into stores. What experience awaits shoppers in the fragrance and beauty department? I wrote about this topic earlier in June when I visited six shops in central Paris*, and in this article, I broaden the scope to include Italy, China, Australia and the US. What is clear is that retail has changed and that there is still a lot of uncertainty and a lack of universal protocol. Let's span the globe and dive into what's happening and what the future may bring.
ENTERING THE STORE
Universally, all countries report hand sanitizer at the shop entry plus the presence of totems throughout larger stores on all levels. Dispensers are often found at cash desks as well as on product display tables. In fact, this has turned into an opportunity to sell disinfectant gels stocked by the store!
Temperature checks at the entrance are still being conducted in Italy in department stores, large perfumery chains and at some independent boutiques. In some cases someone is assigned this duty, but in smaller independent shops, it is no longer in practice. In some regions, the devices have not even been seen for quite some time. In China, temperature checks are done automatically upon entering a shopping mall, then people must scan a health QR code to register and show it to the guard before passing through.
Australia is still upholding social distancing measures (currently 1 person per 4 square meters), which limits the number of people who can be inside a retail store depending on the store's size. Stores display the maximum amount of people allowed inside at one time at their entrance and this is monitored by staff or their security person. Queuing outside happens when the stores reach full capacity.
The US has increased store capacities in hopes of increasing foot traffic.
MASKS & GLOVES
Wearing the dreaded mask is still mandatory for customers and retail staff in Italy and in China. In Australia the rules change depending on the current exposure risk, but in general, retail staff wear masks when facing customers, and the general public wear them indoors if it is mandated by the government. Restrictions in the US are much more relaxed. Mask mandates in most states have been completely lifted or retailers are relying on the "honor system" under which people who, on their honor, have been fully vaccinated, don't need to wear masks. However, since this cannot be controlled, some store employees want to continue to wear masks for personal safety reasons.
Wearing gloves is not mandatory in any of the countries surveyed, most likely due to the ready availability of hand sanitizer and the practice of using it before and after consultations, and after handling cash.
TOUCHING TESTERS
In Italy in general, only sales staff may touch testers, and as much as possible, customers aren't allowed to touch products on their own. The staff tries to make sure this rule is respected and there are signs on counter, but sometimes people ignore them or they don't notice them. Product testing protocol varies by category. For fragrances, once a consumer selects a fragrance to smell, a salesperson uses the tester to spray a blotter and then offers it to the customer who is then allowed to lower their mask to smell the fragrance. Certainly, this practice creates an opportunity to engage with the customer, to provide a personalized service and create a pleasant moment, in spite of the mask constraints. In the Skincare areas, salespeople are present but they cannot offer any services or give direct treatments. They consult with shoppers, and in the process if needed they can show product texture, in some cases only on their own skin using a disposable spatula. For Make-Up, the salesperson demonstrates color on her own skin since customers are not allowed to touch testers. In a large department store in Milan, makeup artists wear plastic visors and use disposable kits to try lipstick, eyeshadow and blush. Some brands also use disposable kimonos during make-up testing. The overall feeling is that restrictions are lessening and that there will be a slow return to pre-pandemic testing procedures.
China's protocol is very similar to Italy's, although consumers are allowed to touch testers. For the most part, no services are offered in skincare or makeup, although in some high-end boutiques a rare one-on-one consultation may be offered. Since most stores are located inside malls, consumers tend to walk in and look around. They may be guided by retail staff to smell and test fragrance and at that moment they may remove their mask to sniff.
In Australia, customers are allowed to touch testers for the most part, but Perspex shields have been installed on many counters to add another layer of protection.
In the US, testing product varies on a case by case basis and it's a mixed bag. In some places it looks like business as usual pre-pandemic, where display units are accessible and testers can be touched. Elsewhere in the country, all the testers have been removed from the selling floor, or when testers are available, only staff is supposed to touch them and provide assisted service. And speaking of services, anything involving direct contact, such as in-store makeovers, is very limited. However a source in Denver was able to get a makeup touch up since the makeup artist sterilized product with alcohol before applying it. But sometimes the salesperson suggests that customers test product on their arm instead of their face. Luckily for fragrance, this is less of a hindrance, however, finding a tester may be the problem. According to insiders who reported to me from Southern California, theft is a major concern. Consequently, testers aren't left on counter – they may be behind the counter or locked inside the case, so customers must ask to smell a fragrance.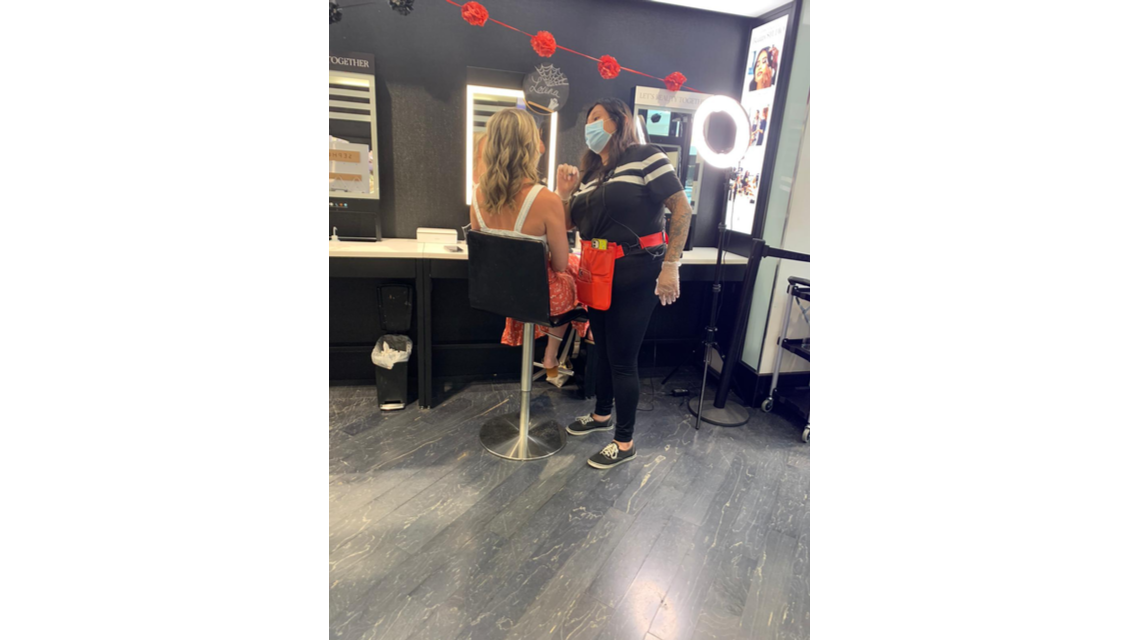 Makeup touch up in progress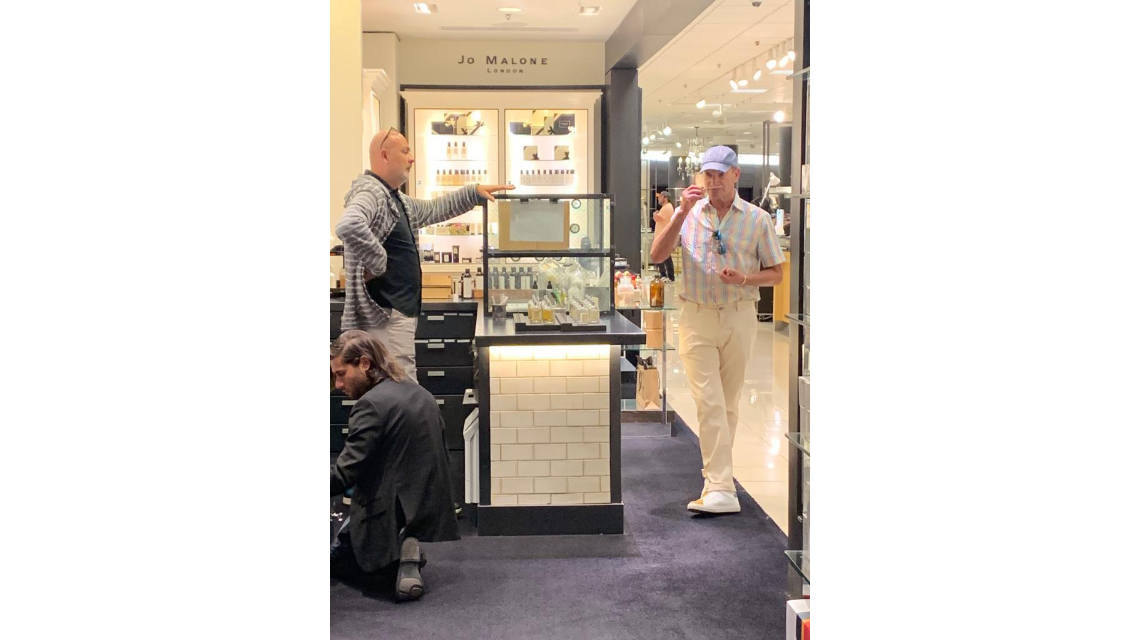 Sniffing blotters USA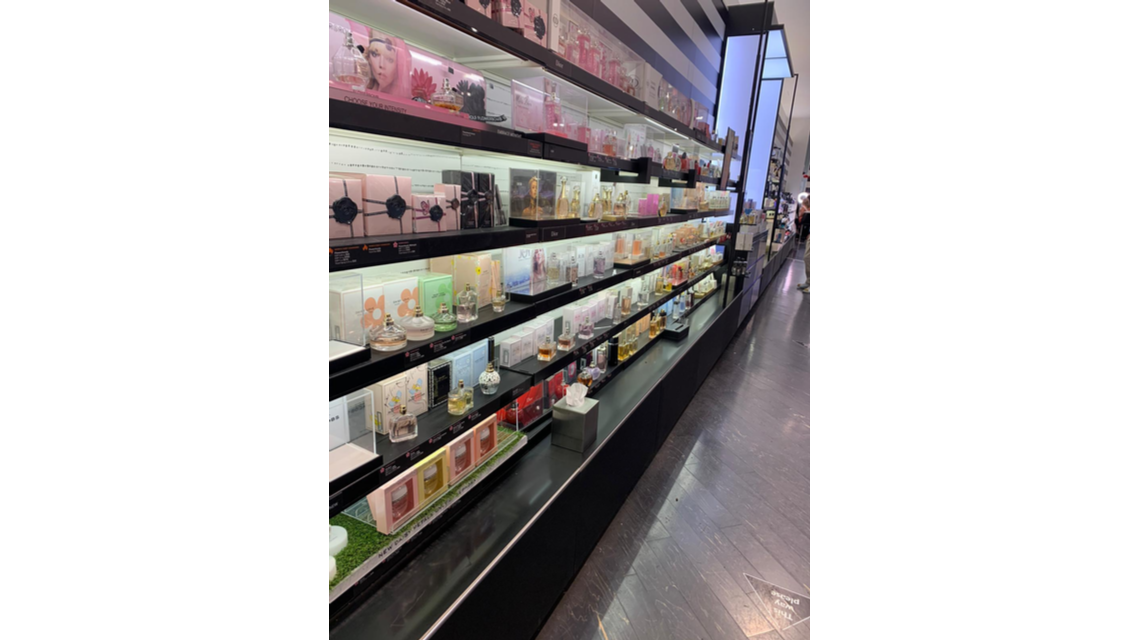 Business as usual USA
Testing fragrance USA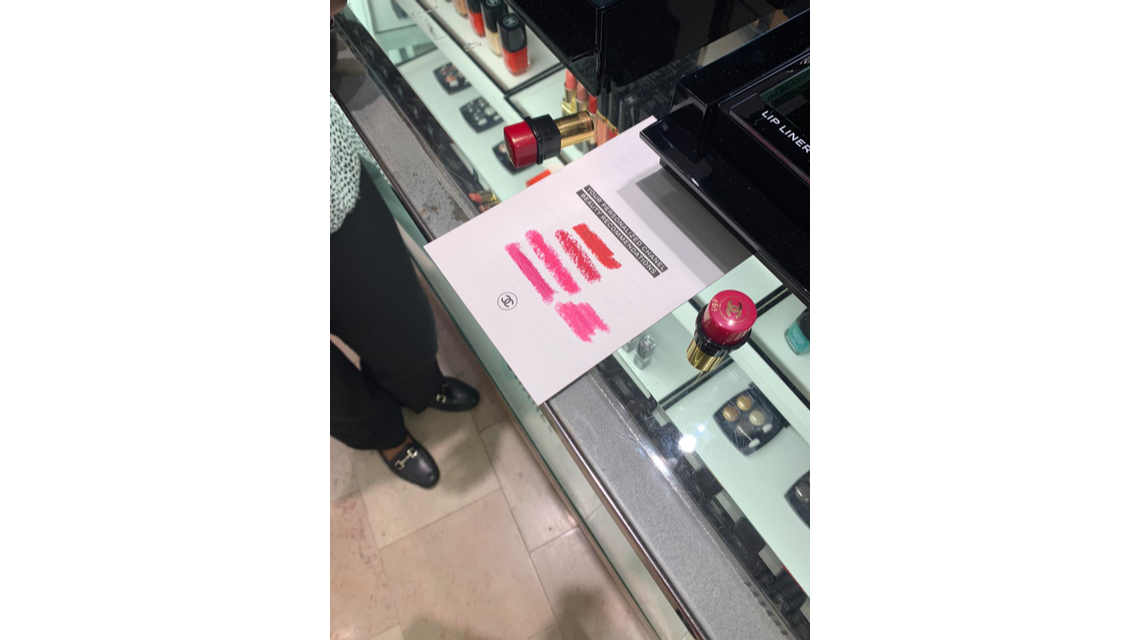 Testing lipstick USA
DIGITAL
In the US, retailers are still offering a gamut of services, digital try-ons and online appointments. There are more and more QR codes in stores which link to mobile apps that provide product information, diagnostics and virtual try-ons for color cosmetics. Customers got used to convenience during lockdowns so click and collect – referred to in the US as BOPIS (buy online pickup in store), curbside pickup and same-day delivery are more prevalent than ever before.
Shopping online is still a big opportunity all over the world as e-commerce penetration is as high as 40% of total beauty sales. Australia is going through yet again another lockdown so editorial is directing consumers to fill their online shopping carts. Though small compared to other countries, online sales in Australia have grown to 11% of total beauty sales.
THE STORE EXPERIENCE: LOOKING AHEAD
The good news is that most countries are noticing that consumers are coming back to stores. Reports from Australia indicate that even if there is less foot traffic, the shopping experience is better: people are less rushed and salespeople can spend more one-on-one time with clients. They are also genuinely appreciative of the fact that customers have made the effort to go in stores. In the US, retailers are reporting an increase in customers who want to browse. This is a positive sign since initially people wanted to get in and out quickly – now they take more time to discover.
There also appears to be a worldwide trend of store openings and short-term pop-up shops. Bear in mind that the pandemic brought on the demise of many businesses so retail space became readily available and rents dropped. US cult-brand Glossier and beauty-centric magazine Allure are both opening stores. France just saw the long awaited reopening of iconic department store La Samaritaine which now boasts the largest beauty department in Europe. Chanel had its Factory N°5 pop-up and the Patou Market opens for one week only during Fashion Week. It is clear that the physical store needs to go above and beyond, offering an experience not possible to have online. From focusing on novelty products to jaw-dropping merchandising to creating social spaces within shops to communicating on eco-conscious issues and hot topics, shops and department stores are rising to the challenge of delighting the consumer in the (hopefully) post-pandemic world.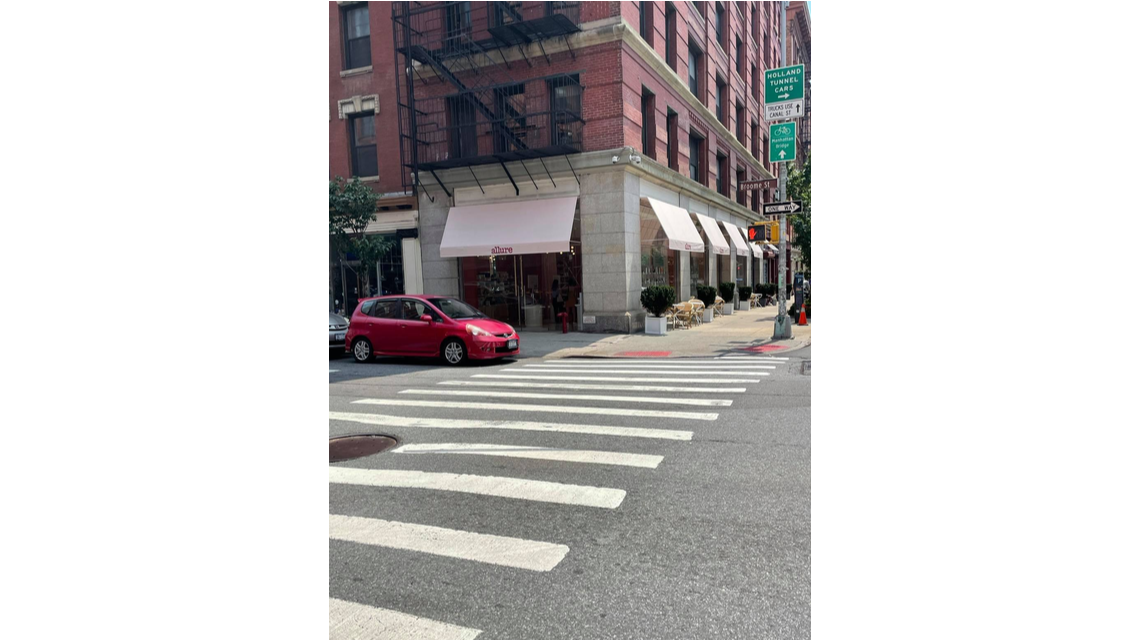 Allure shop facade nyc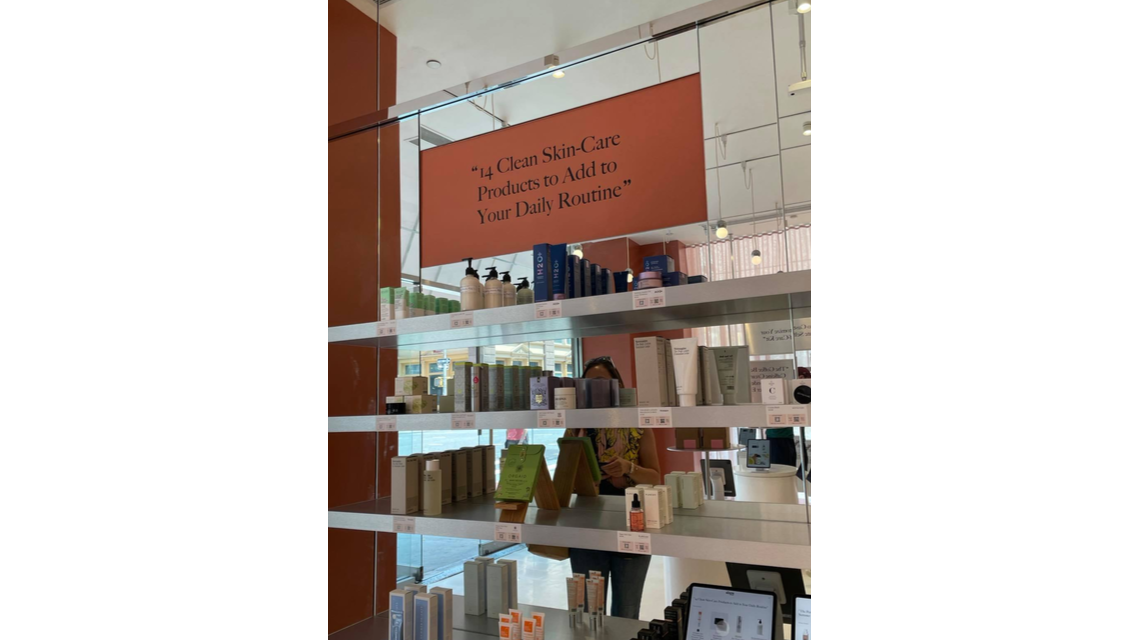 Allure shop merchandising the magazine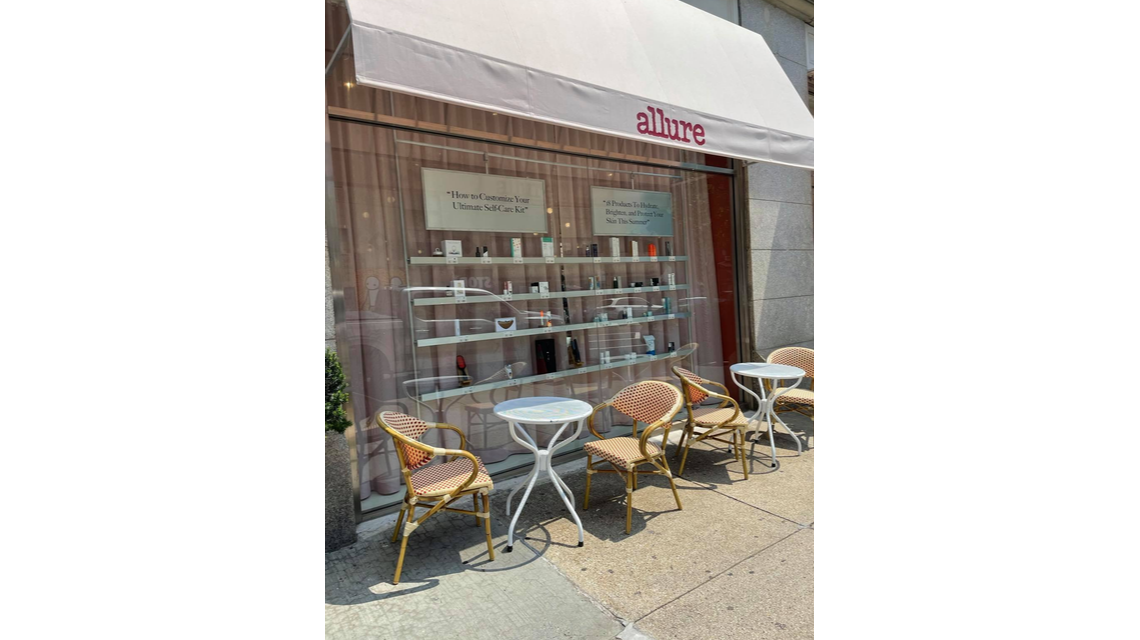 Allure shop Nyc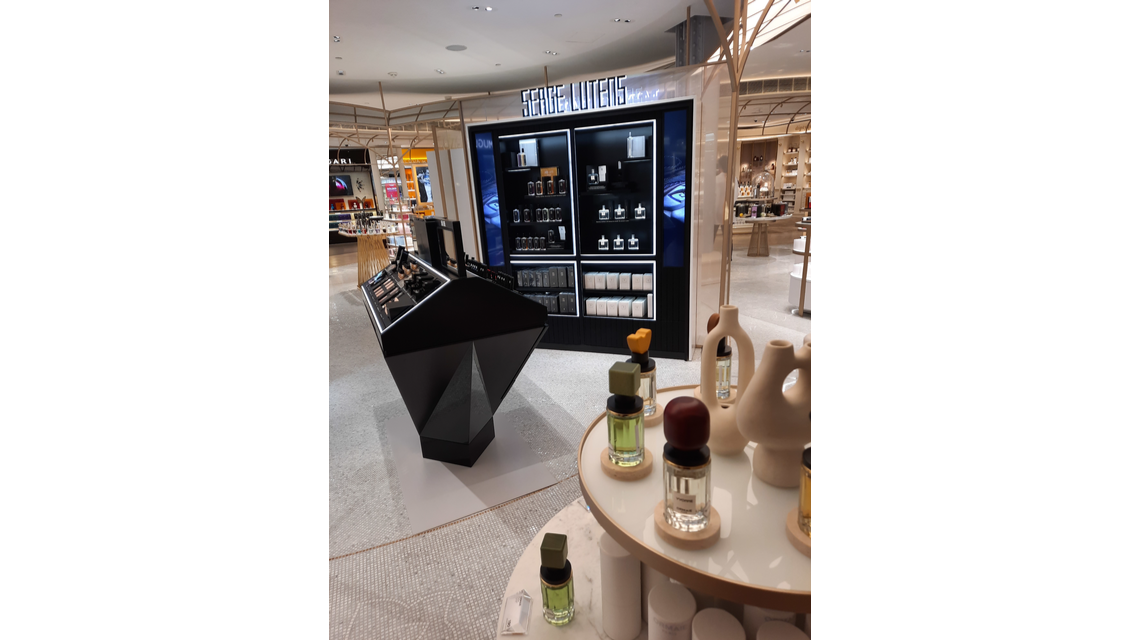 Fragrance dept la Samaritaine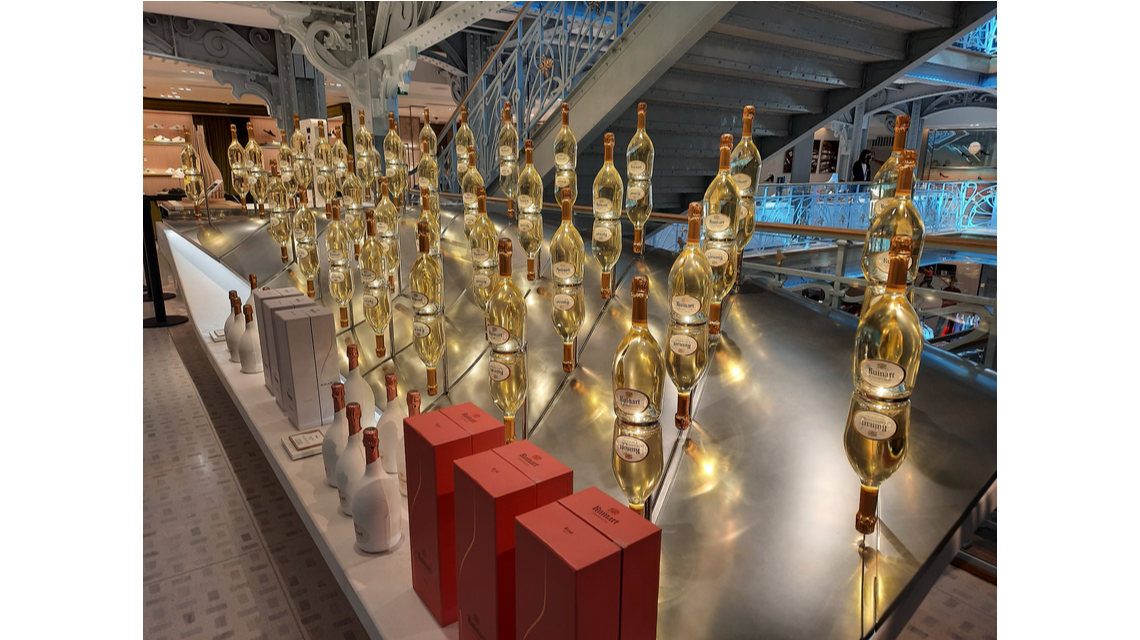 Over the top merchandising
A 4th WAVE?
Just when we thought it was safe to go out again, a 4th wave of the pandemic, triggered by the Delta variant, is a real threat. The World Health Organization calls this variant the "most transmissible", meaning it can spread quickly and easily. People who are not vaccinated, or those who have only had their first dose, are most at risk. As of June 30th, Australia went into another lockdown affecting half of the nation's population and four major cities. The European Centre for Disease Prevention and Control is reported in the press as being particularly wary of this strain which seems to be more contagious than others. EU countries are encouraging all citizens to get vaccinated and are very aware that what happens in the next few months will determine if further measures will be required in the Fall. It would be catastrophic for many businesses the world over if this comes to be.
CONCLUSION
Even with restrictions in place, consumers are still hungry for experiences, they need human interaction and they still want to see, touch and feel products. It's even better if they can be entertained or learn something when visiting the shop, hence assisted service is even more important than ever before. Coupled with that is the need to have well versed, well trained sales staff in store to accompany the shopper on their journey. Consumers have embraced the convenience of shopping online, but now they shop omnichannel, going back and forth between the physical and the digital. Indeed this shopping behavior seems to be the new normal and sends a positive sign moving into the second half of the year.
A special thanks goes out to Clayton Ilolahia, Lupe Moreno, Yuqing Zhang, Diana Espino and Sheena Goldblatt for their "in the field" observations and reporting.
Photo credits to Diana Espino, Sheena Goldblatt and the author.
*See article Spraying & Spritzing Post-lockdown; The Real Story published June 4, 2021
Sources
https://www.smh.com.au/business/companies/adore-beauty-boss-sets-sight-on-the-other-half-of-the-market-20210704-p586p1.html
4 Reasons To Invest In Physical Luxury Stores | Jing Daily
https://www.nbcnews.com/think/opinion/covid-delta-variant-hints-bigger-problem-america-ncna1272673
https://www.ft.com/content/e8e2a356-8568-44e7-8219-3884e51ee70e