Parfums Voyages Imaginaires, an Exotic Escape Game
2021 . 07 . 20 | written by Laurence Arrigo Klove
Isabelle Doyen and Camille Goutal, 2 lifelong friends have embarked on a new adventure. Under their expert hands, or rather eyes and noses, they take us to new horizons. The travelling game is utterly beautiful and exotic. Let's discover what they are up to. Some fun. Positively.
Question: Isabelle, shall I say professor*, you are an expert perfumer why on earth start a new brand in 2020?
You should not have started with me. Wrong Pick! This question is for Camille. I simply tagged along. You see, I am always in for the new adventures she enthusiastically plans for us. Camille is the best travel agent you can think of. Thanks to her, I discovered new destinations, London, Scotland, Venice, to name a few. I thought I knew those places well but with Camille, I see and experience something totally different. Both of us marvel at landscapes, city environments, art, architecture, music, poetry, people, anything really. Together, we have so much fun. We are like two kids, always eager for new things and thoroughly enjoying the present moment and each other's 'delirium'. We naturally also share the same passion for perfumes and for beautiful ingredients such as ylang-ylang, one of our favourites. I only have one condition: I must be allowed to travel with a heavy suitcase, full of my books. I read a lot and I stick to the old-fashioned way of reading, paper.
*Isabelle has been a professor at ISIPCA for many years and has her own lab - Aromatique Majeur – together with Camille.
Question: now Camille, it is your turn, tell us all, the truth and only but the truth.
I must start by saying that Isabelle and I have a lot of adventurous spirit in common. Isabelle can lure you in making you believe that she is the serious one but trust me, this is not true! She grew up in French Polynesia, she has this exotic destination within herself. I have also travelled to many countries like Madeira to name only one. I was apparently already a frequent traveler as early as one month old. So yes, we share the same passion for adventures and for perfumes. We indulge in exotic destinations but also in close to home ones. By the way, 'Isabelle let me inform you, that I am taking you to Lyon shortly'. Isabelle says 'really? I did not know, great!'. We have this capacity of discovering the exotic in 'domestic' places. So, the truth is that I did ask Isabelle to play ball on a new fun challenge. To create something totally different than what we had worked on before, a 100% natural fragrances brand. I had this burning need for renewal.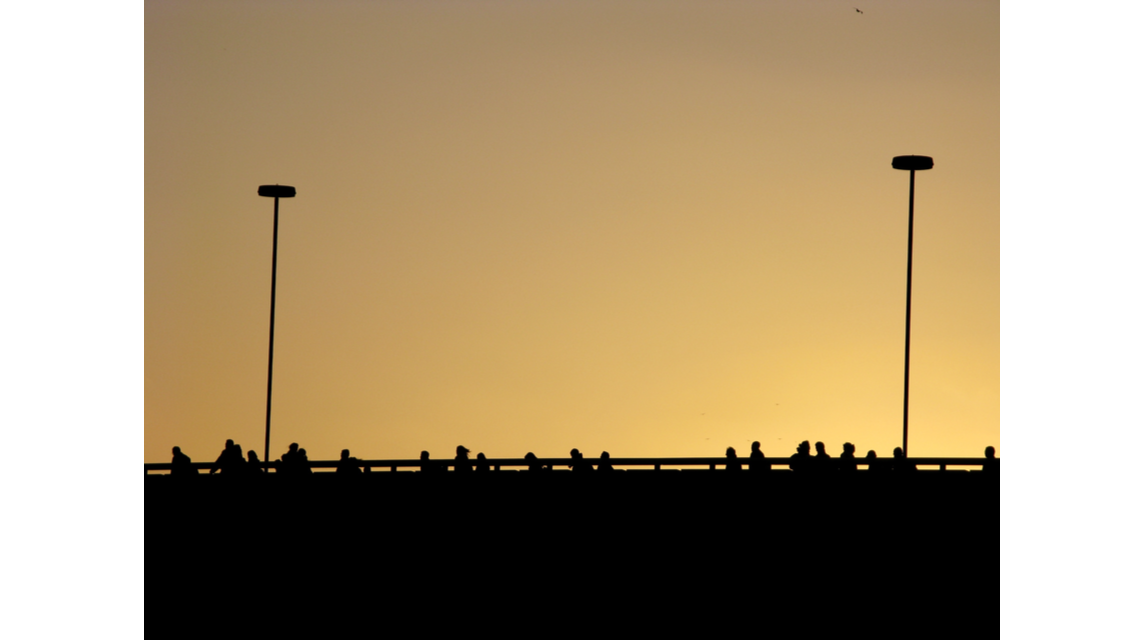 Question: can you explain more about your 'natural' ingredients quest?
Absolutely. Both of us wanted to construct perfume formulas in a totally different way than the one we were used to. Camille adds that she believes that when one creates perfumes, then one is a lifetime student. Isabelle explains that it is extraordinary to study new natural molecules, to work on nuances more intimate and suffused, and more expensive ingredients. Camille points out that there was one specific event back in time that made her decide to venture on a 100% natural fragrance project. With Isabelle, of course. This event was a press conference that she had organised during which their lab was completely decorated with foliage and branches. It was as if one was entering a real forest. The feeling of nature was mesmerizing…
Question: what do you miss most from the synthetic world you have left behind?
Without the shadow of a doubt, Isabelle says hedione, methylionone and white musks. It is quite complicated for me to do without. As you know, it is challenging to compose with a narrow choice of ingredients, but it is so satisfactory. The high quality and concentration of the formulas result in beautiful and persistent perfumes. Their trail however is lighter says Camille, which is not an issue as we think the 'knock out' perfume effect belongs to the past. We are creating a new perfume experience, a new way to enjoy and indulge into perfumes.
Question: who came up with the brand name 'Voyages Imaginaires'?
Camille answers. Well, the name stays close to the concept of our fragrances. That was not a difficult one. The challenge was that the name was too long to be used on a fragrance bottle. We had to find a creative design solution that could be powerful enough to immediately identify our brand. This is how we came up with the capital letter 'V' for Voyage and the 'Dot' to represent the I, like 'a shooting star in the night sky'. Our brand is an invitation to travel with our imagination, memories, and dreams. Ultimately to escape into a free moment in time and space. Isabelle adds that one of her favourite books by the writer Alberto Mangel, is called 'Voyages Imaginaires'. Another good reason, to choose such name for the brand.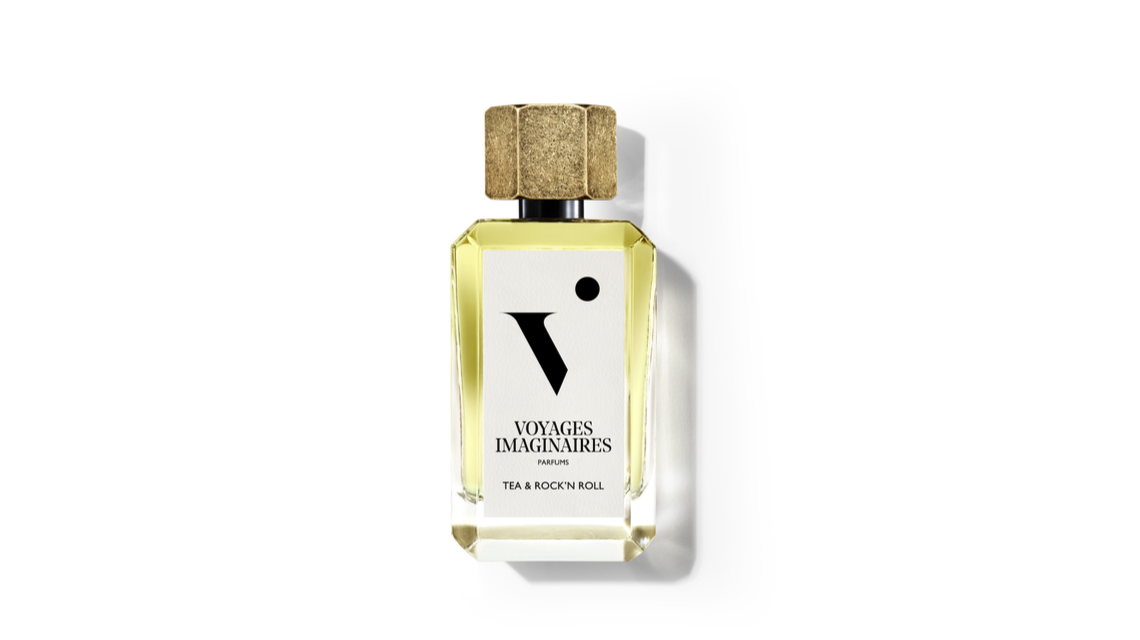 Voyages Imaginaires Tea & Rock'N Roll
Question: how did you come about choosing the other elements of the brand design?
We wanted the perfume bottles to be classic and modern at the same time. Isabelle smiles at Camille and says, 'you even found the idea of the metallic cap in the plumbing section of a DIY shop!'. She carries on explaining that of course they had to use the beautiful pictures of Camille, a professional photographer, so they had the idea of having double-sided labels for each perfume. The packaging elements also follow the respect for 'nature': an FSC paper, water base ink, biodegradable cellophane, and reusable boxes... Once the bottle is removed, the perfume box has indeed been designed to store postcards and pictures from one's travels or anything else one wishes. Like a collector's piece.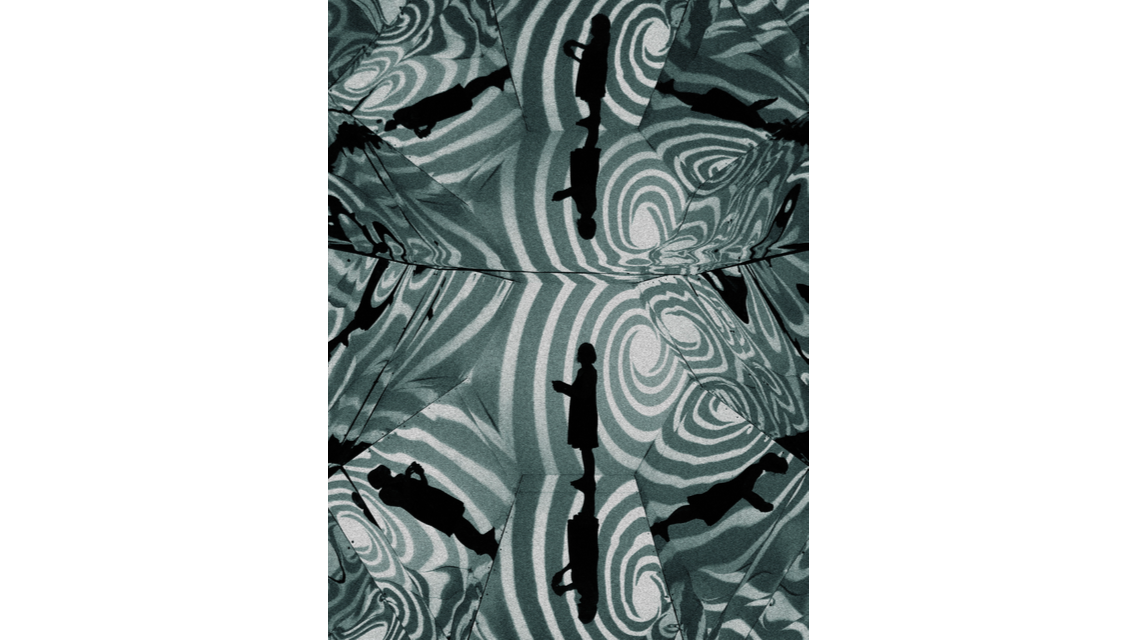 Double-Side Label for Tea & Rock'N Roll
Question: you say that your perfumes are 'haute couture', so what is your vision of luxury?
Luxury says Camille is to have total freedom of creation. Isabelle adds naturally the cost of the high-quality ingredients is also a piece of the 'haute couture' concept which is reflected in the perfume's prices. Camille explains that at the beginning they had in mind a very affordable perfume brand but quite quickly decided otherwise. The model just did not fit at all with their concept and approach. Ultimately, both agree about the search for perfection. Their creation is to result into something timeless and original at the same time.
Question: so how did you go about developing the 5 scents between the 2 of you?
Both explain to me that it is not a linear process. Rather like the construction of a puzzle. The beginning is blurred, one tries and makes attempts, and then, over the course of time, little by little, things fall into place. No debate. Perfumes are created and finalised. Their five initial destinations cover London, Morocco, the Mediterranean coast, Asia and of course French Polynesia. Each destination corresponds to an intense and intimate experience lived either during a real travel or an imaginary journey. They smile at each other. They seem to share secrets.
Question: Tell us more about how you capture your inspirations.
Isabelle explains that she always carries a small notepad with her. She takes notes, writes down ideas or thoughts and picks herbs and flowers like a botanist creating an herbarium. Whereas Camille, shoots pictures, but of course. Plenty of them. A typical trip amounts to 1'000 pictures, as through them she captures the essence of the moment. Her notes purely consist of pictures and create her inspiration.
Question: if you were to pick your favourite perfume from the collection, which one will it be?
Camille says without hesitation le Grand Jeu. Remember the James Bond movie where Ursula Andress, lies down in her bikini on the beach to take the sun heat after her swim… this is my exotic inspiration from Polynesia. My sensuous skin feeling.
Isabelle resolutely picks Tea & Rock'N Roll. Beware this is not your usual restrained, quiet tea scent. Not at all! This is Earl Grey tea savoured at 5 am, when one has partied all night. Having listened to Keith Richards' music. Or even better, sharing his unconventional dandy attitude.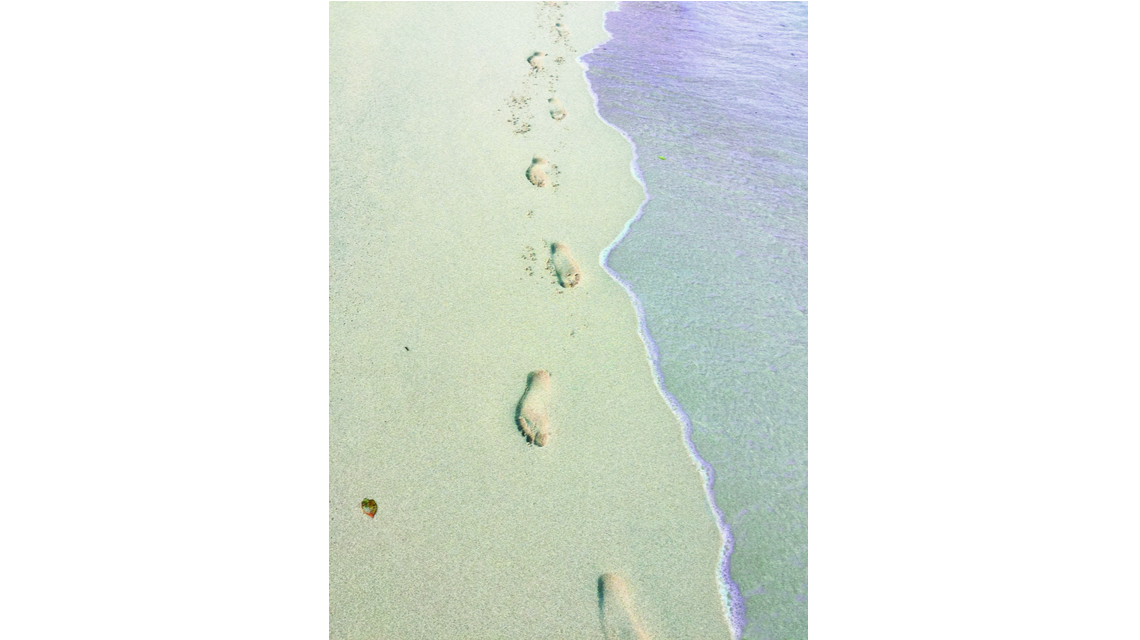 Voyages Imaginaires le Grand Jeu
Question: now that I have seen you interact with each other, it seems to me that there is a strong bond between the two of you. How did your friendship evolve into such a solid 'rock'?
Camille answers while Isabelle nods and smiles. We have been working together for many years. We belong to different generations, but we share similar values and the same adventurous spirit. I am impressed by Isabelle's talent. Isabelle is quick to say and 'so am I'. We have also gone through an exceedingly difficult time together when my mother was sick. This has surely also solidified our bond. We know what matters. We know what we want from life and what makes us happy.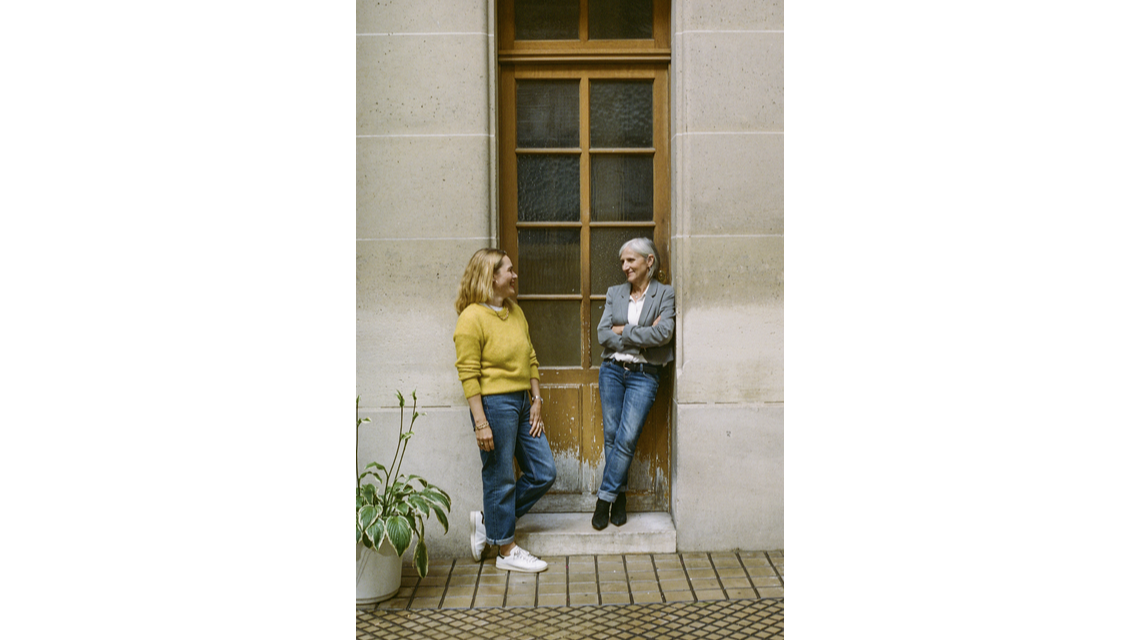 Voyages Imaginaires Secret Door
Question: in launching your Voyages Imaginaires brand, which challenges did you have to overcome?
Camille says that of course challenges and resilience are part of the game. They had though one unexpected hurdle due to the covid travelling restrictions. They simply could not visit any of the suppliers to validate each element of the packaging. That proved to be a complicated and lengthy process. Isabelle adds that IFRA rules and regulations also apply to natural fragrances and are not easier than the usual ones she knew inside out. Both agree that they were not thrown out of their confidence zone by those 'small' challenges. Done that. Next.
Question: so, can I ask what are you most proud of?
We do not have big egos, so being proud is not something we are used to. Camille says she is quite tempted to answer, 'we are not proud, end of story'. However, after having given it some thought, she agrees that she is proud of what a small team of only 3 people has accomplished so far. Isabelle, Camille and Rebecca, the latter in charge of marketing and development. Everybody super busy, efficient, focused, relaxed and happy.
Question: do you have a plan for the future? New destinations in mind?
We do! We already have 2 additional destinations based on imaginary journeys and new inspirations. However, we will not tell you which ones. We do not want you to be in the know. We prefer to let you dream about potential new destinations while keeping it a secret for the time being.

Girls Wanna Have Fun – Experiencing New Horizons
This playing team is based on such a solid partnership and is so full of talent that they are unbeatable. The girls are reasonably upbeat. They showcase huge smiles and sparkling eyes. They are determined in embracing new adventures. I have made up my mind to join them in their escape game. After all, they seem to be perfect entertainers. I am ready to go. I will not travel physically though. I am staying put where I am. Their perfumes will absolutely take me far away. I do not need virtual or augmented reality. Only a magnificent perfume; from Voyages Imaginaires, that is.
Experience the Escape Game https://voyagesimaginairesparfums.com/