Parfums Dusita: Paradise On Earth with Pissara Umavijani
2023 . 05 . 11 | written by Karen Marin
The world of artistic perfumery is filled with passionate people who are driven, dedicated and persistent in pursuing their dreams. For this episode of "La Gente di Nicchia" our story starts in Bangkok, where Pissara Umavijani spent her childhood. Mesmerized by the scents of jasmine, champaca and frangipane which grew in the garden where she played, it's no surprise that the world of perfumery beckoned to her, and indeed, in 2016 she launched her brand, Parfums Dusita. In this exclusive interview she shares her story and comments on the challenges facing entrepreneurial women today.
How did you get started in the world of fragrance?
I was a collector and am very passionate about vintage perfumes such as Shalimar, Narcisse Noir, and L'Heure Bleue. My father travelled a lot and would bring things home. Once he brought me Mitsouko. He used to love Fidji by Guy Laroche.
I had a friend in Thailand who also collected and one day we combined our collections. We decided to try creating so we could learn even more. Slowly, we ordered the raw materials because we wanted to discover the magic of fragrance, to understand what is formulating, how the research is done. It was a long process yet we started doing the research by smelling in pairs, buying raw materials, learning the proportions, learning by doing.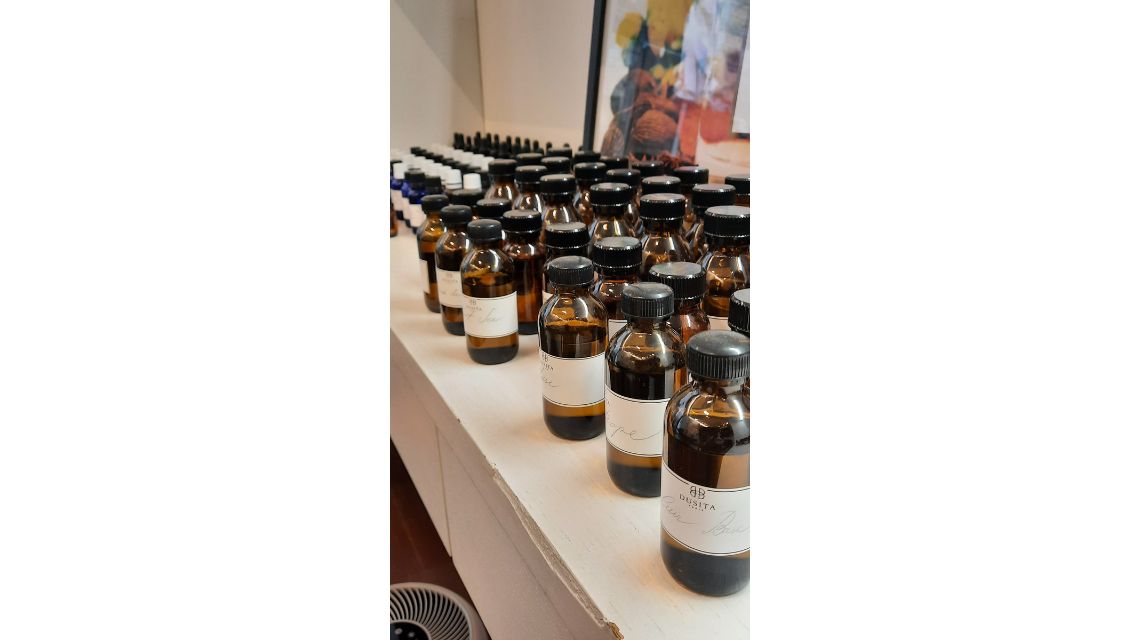 What was your path to creating the brand?
I brought my organ and fragrances to Paris from Thailand when I began attending the ESMOD fashion school. I thought, ok, I have a background in communication, speech and psychology from Thailand, plus a masters in psychology, so I can do this. I had no idea how difficult it would be. It was much more than I imagined. I went to Jovoy and would spend hours in the boutique looking at everything. Eventually I met François Henin (founder of Jovoy) and he told me to come back to show him what I was working on. He encouraged me and suggested that I create my own brand. I remember walking in Place Vendôme, thinking it would be easy! I made a first draft on what I thought the brand would be but then I changed everything. I thought I'd come back to François in three months but it took three years!


I understand Chantal Roos was a mentor for you!
After attending ESMOD I went to a luxury management school. I remember having lectures every evening about topics like watches and even chocolate. Then one day Chantal Roos came to speak. She spoke about building the brand in terms of pillars, the need to have a story to tell, one that people will want to listen to. She told us to use the best quality of raw materials, to pay attention to every detail. I remember I met her after the lecture and I asked if I could meet with her to ask for advice. I didn't know she was working on her own brand with her daughter, but I did know that Francis Kurkdjian was an alumni of the school, and that Chantal Roos had played an important role in his career because she gave him a chance, and helped to move his career along.
Leading up to my meeting, I knew I had to prepare but I didn't know where to start. I didn't ask for technical information but rather for advice. Chantal was very helpful, she was my advisor, she told me not to listen to people who don't believe in you – to just follow your dream. She talked to me about the launch of Opium, and she said she believed in the project despite the criticism. She has a lot of energy, she is very strong, she knows her mind, and is very straightforward. She supported my project and, looking back, I learned so much from her.


Another person who has had a huge influence on you is your father. Tell me about him, his poetry and how it inspires you.
My father was a professor of English literature. He was passionate about language, he spoke fluent French, he was a Fulbright scholar, and earned a masters and doctorate in English comparative literature. He wrote poetry which is very deep. It's not that the vocabulary is complicated but the meaning is profound and complex, so you have to reflect and think about it. For example, about love, he doesn't use the word love. Here is one of my favorites:
My feeling for you is like a flower blooming in an empty room.
It makes you dream and think. I associate his work to my perfumes because the day before he passed away, he said he had spent his whole life writing the volumes of poetry but he feared his work wasn't known. So my mission has been to make it known.

After his death I traveled to Europe to follow his path. He told me wherever you go, bring a pen and paper to write down your thoughts. He was always traveling but always writing - writing about his impressions of the places he was in at the time and the deep emotions he felt at that moment. He was immersed in his art. He used to write at night until 2 or 3 in the morning. I created the fragrance Montri as a tribute to him. It has notes that represent his character plus scents that he enjoyed. There are woody parts for strength, there is the iris that he loved, and spices inspired by his travels to Nepal and India. I imagined what he might have liked today to create this fragrance.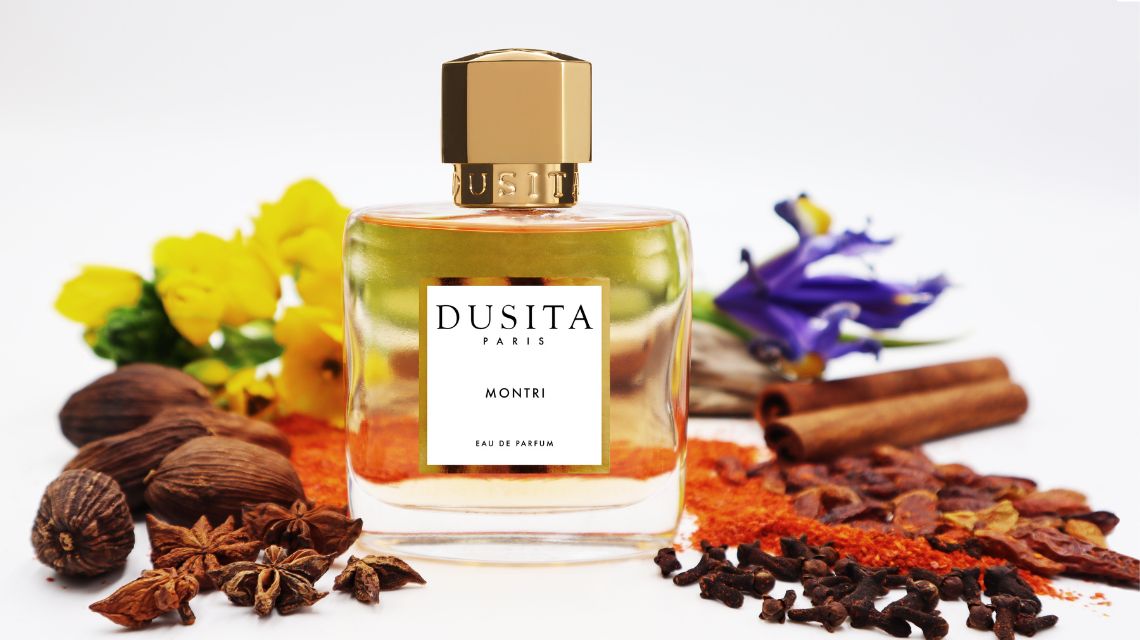 Montri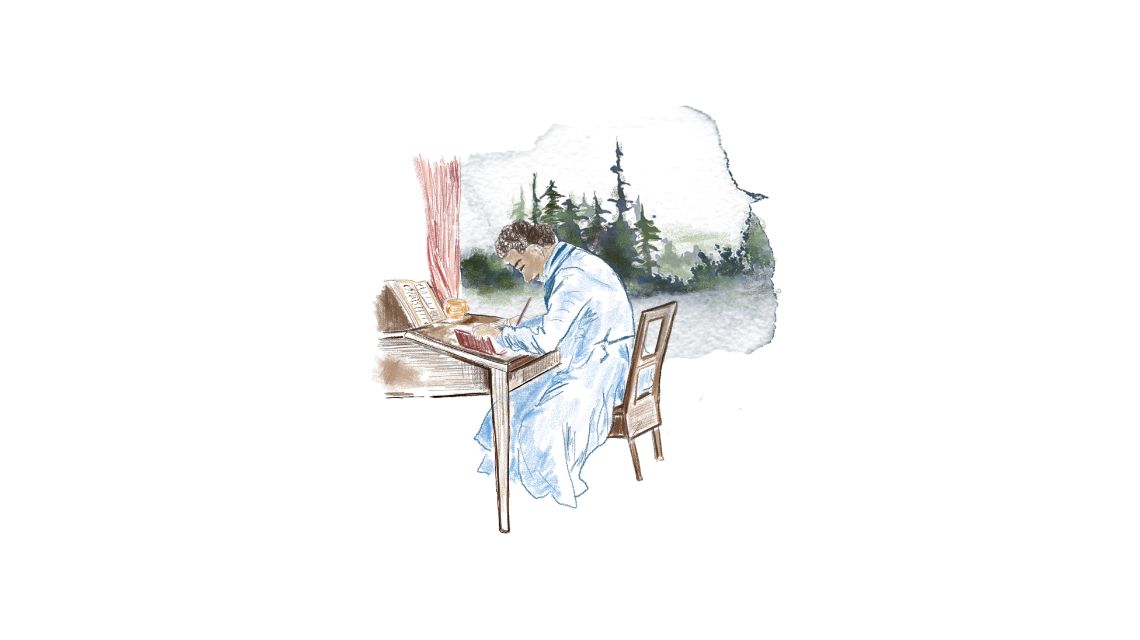 Montri Watercolor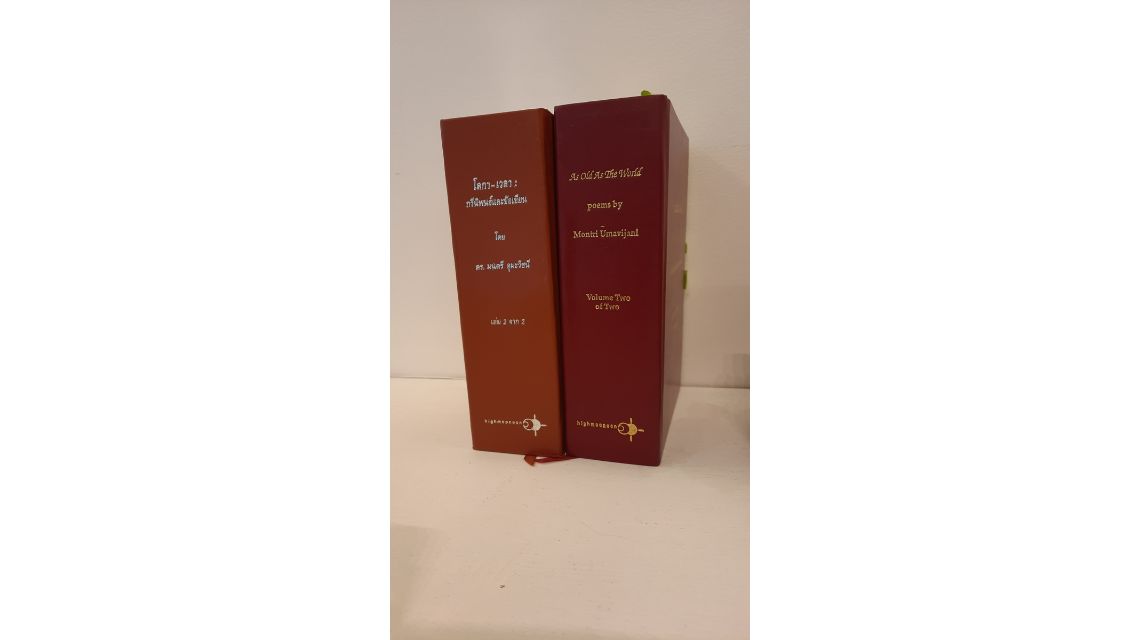 Two volumes of poetry by Montri Umavijani
(Clearly, like father, like daughter, as Pissara is very dedicated to her brand, to developing and growing it, to doing everything necessary to make it the success she wants it to be.)
The culture and heritage of Thailand are present in your fragrances. What would you like our audience to understand about the culture?
I want to bring a part of where I'm from into my perfume creation, to share the culture through fragrance, but I want to leave a place for imagination. The idea of Thailand is in my mind, it's always with me, but I'm talking about a place that doesn't exist anymore. This is, like, from 200 years ago! I'm a nostalgic person so my imagination isn't what is happening now. For example, with the fragrance La Douceur de Siam, I had the image of a princess in Thailand……walking slowly, at sunset, seeing the sun set over the temple.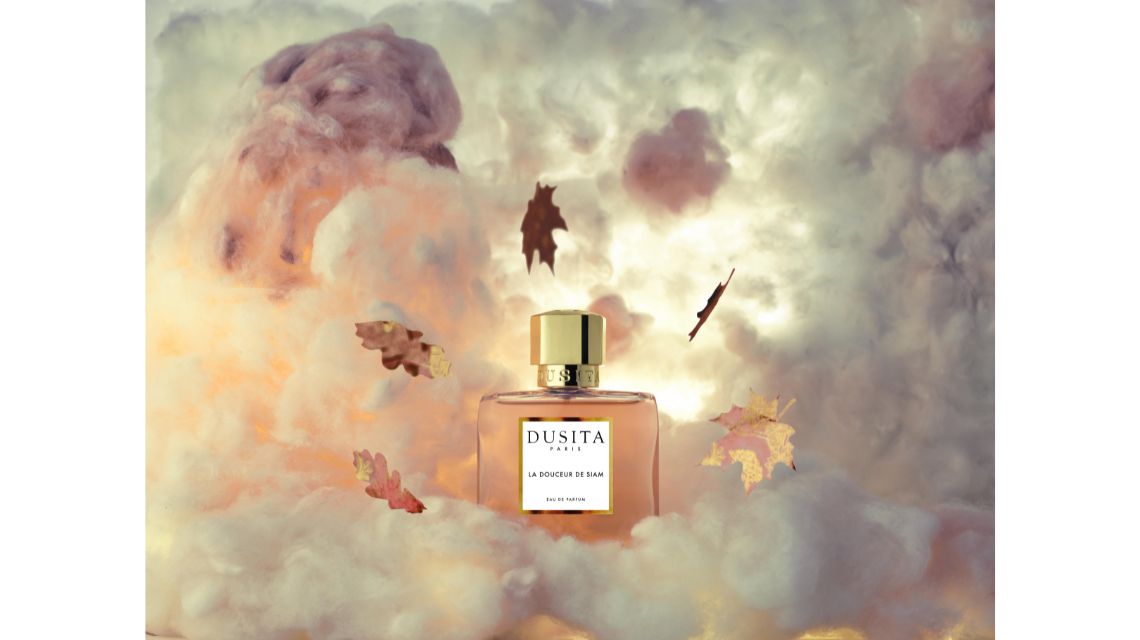 Hospitality is also very important in the Thai culture. When people come to the boutique we offer a drink, we smile, we try to make them feel at home. I extend this to my team who is eager to learn and who enjoys working for a small brand.


Your brand is named Parfums Dusita – does this have a special meaning?
Dusita means happiness, and it's a paradise in your mind where you can live, here and now, because it's a state of mind. It's the place where you are passionate and happy.


You've already mentioned Montri and La Douceur de Siam. Tell me about another fragrance.
I want to have something for everyone in my collection – people may not like everything but I hope they like at least three. As I mentioned, the fragrances are sometimes inspired by my culture but also by where I live here in France. Recently we launched La Rhapsodie Noire which is in the gourmand family. One night I was walking over the Pont Neuf while listening to Gershwin's Rhapsody in Blue. The sun was setting and I was filled with thoughts of Paris during the 1920's when musicians and artists gathered in cafes. I decided to create a fragrance dedicated to that era, when people were drinking coffee, maybe mixed with rum, when the scent of tobacco coming from cigars was in the air, and also a bit of fougère notes coming from the eaux de cologne worn by the men. So I imagined this scent and added a bit of modernity to make it contemporary and to reflect the elegance and the creativity of the time.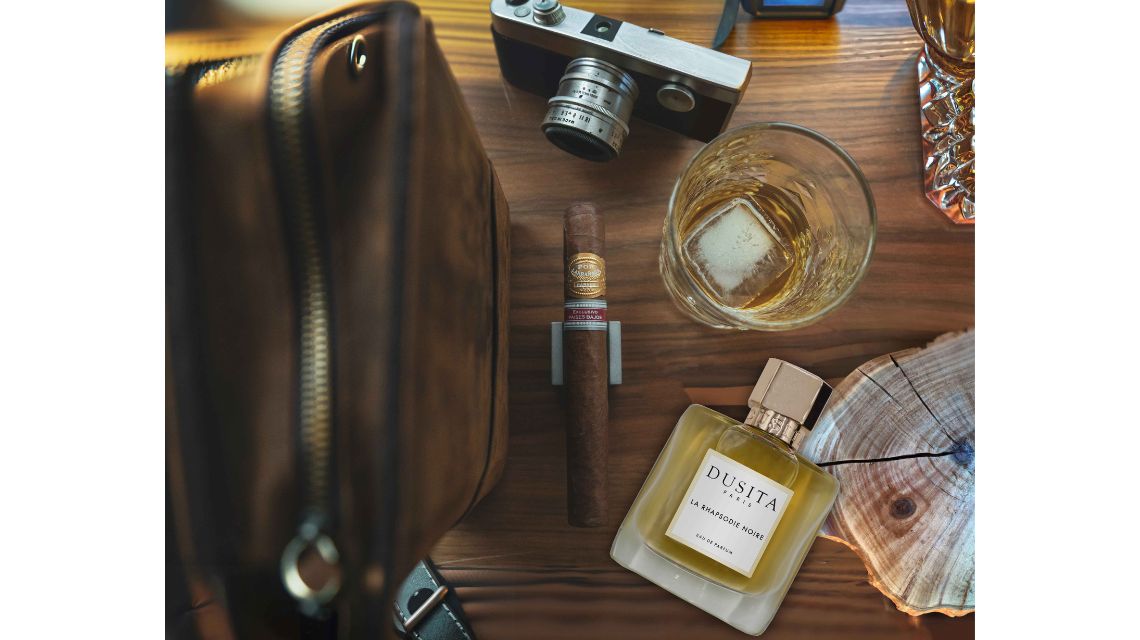 La Rhapsodie Noire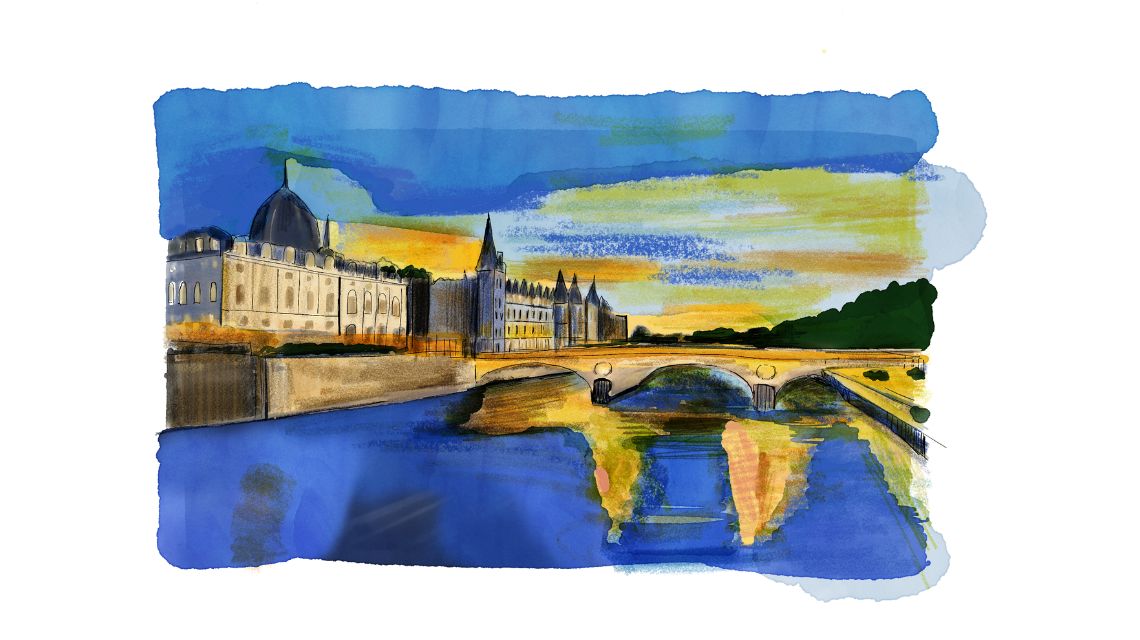 La Rhapsodie Noire Watercolor
My latest creation, Rosarine, was just presented at Esxence and will be globally released in late May. It is a tribute to rose, arguably the most beloved floral note, and includes both Bulgarian damask and May rose from Grasse. There are fruity, spicy, green, earthy, woody and even gourmand nuances, but Rosarine is unmistakably centered around the "queen of flowers". I saw the fragrance as a token of the first day I visited the beautiful Parc de Bagatelle in Paris. It was there, among the thousands of blooming roses, that I first promised myself to follow my dream: become a perfumer.
As with all my other fragrances, Rosarine will be accompanied by a reproduction of a watercolor drawing I have made which captures the source of my inspiration, as well as a poem I have selected from my father's work.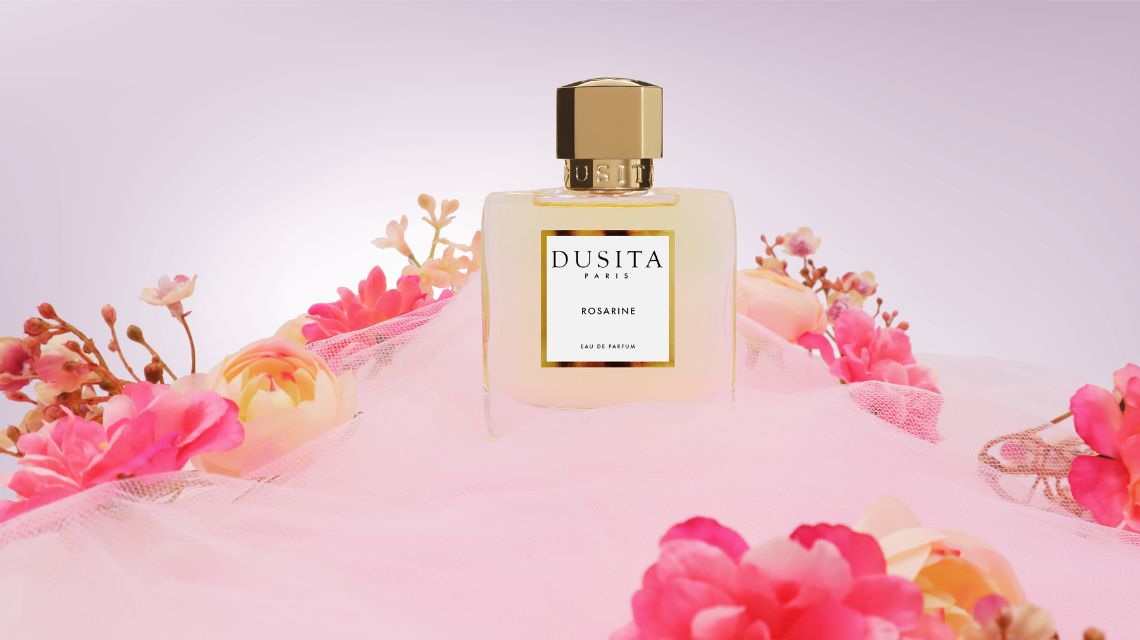 You are a perfumer, a brand founder and a retailer. Tell me, how you juggle these three roles? How do you prioritize?
Well, everything depends on the priority of the moment. When I need to formulate, I come to the boutique less. I really like to focus on one thing and finish it then move on to the next. When I had new team members I came to the boutique to train them. I'm very hands on. I also do some campaign photos.
You have to determine what's the most important to accomplish at the time. I tell my team, if you concentrate 8 hours a day, then it's enough and we don't need to put in overtime.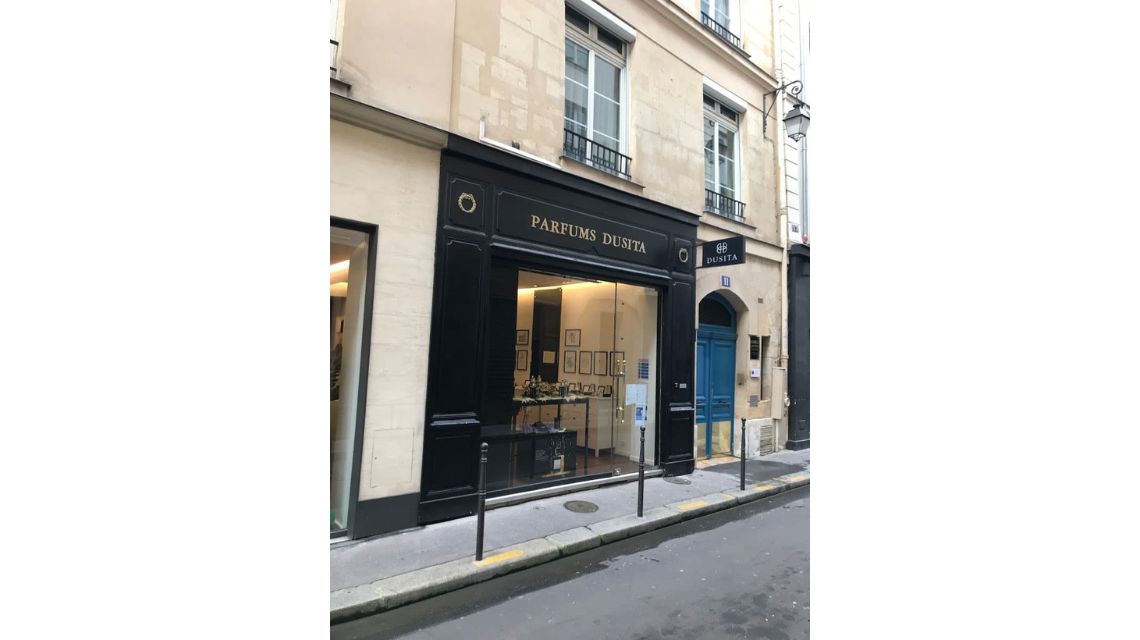 Let's talk about your distribution.
Parfums Dusita is present in about 45 countries, 10 of which were added since TFWA 2022. I'm grateful to be present in so many countries, and it makes me want to see what I can do for them.


What best practices have you learned that you can share with other artistic perfumery brands?
As a small independent brand, you learn from things that happen, how to do things differently next time. I learned a lot about building relationships, about how important it is to care about people we work with as business partners. We need to support each other. Now we call everyone we work with, and we prepare something for them. We have meetings everyday with our partners on a personal level. We want them to know we are serious about building our brand and also that they are important to us.
You have to understand that business is about people. I like my team to be better than me and then we share our strengths. At first I worried that the best people would leave to go to big companies, but younger generations have a different mentality. They want to follow their passion and have a sense of well-being in their life. They want to live the good life now, not wait until their retirement. And they also put great importance on mental health and happiness, and getting it from what their work brings to them.
In business, you can learn every day if you're open to it. Big brands have the means, but we develop at our pace. What we can do is react to the times which is what we did during COVID. We did live sessions, web events, and sometimes we didn't talk about the brand – we talked about happiness to connect with our audience. In a small business you can react quicker, change course when you need to. That's part of being an entrepreneur.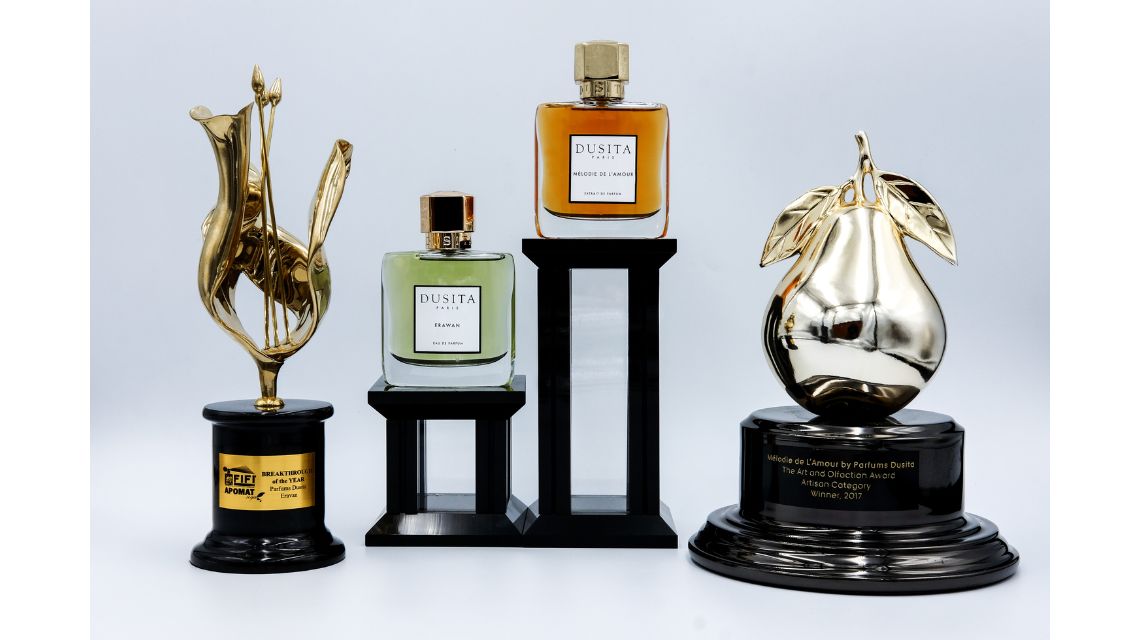 Erawan and Mélodie de l'Amour award winners
What do you think are the biggest challenges facing women in business in 2023? And particularly in the fragrance industry?
For me it's that we all have a role at home so how do we balance being a mother or a caregiver and also then managing a business. More and more women are brand owners, which I'm happy to see. We need to empower and encourage other women. There are many challenges but we have a small network where we can help each other to get things done.


Aside from fragrance, what else are you passionate about?
I like to walk my dogs around Paris - it's so nice to be in the open air. Now I do dog training, and I have learned special techniques that I can even apply in my business life to be more assertive. If you're soft spoken sometimes people take advantage – now I can have a different voice when I need to!
---
As a fellow expat I can attest to how challenging it can be to establish yourself in a different country and culture. It's fearless to launch a business and only a fragrance professional can understand how incredibly fearless that is in France. West meets East in Parfums Dusita where fine French fragrance traditions comingle in a collection that is an authentic tribute to the mystique of Siam, the Thailand of long ago. Pissara's personal touch infuses each scent with a romantic yet modern twist and a sense of elegance that is exceptional in our world today.