Nissaba mission is to give back to earth. My perfume. My land.
2023 . 02 . 02 | written by Laurence Arrigo Klove
A Firmenich boy embarked on a journey of making beautiful fragrances with a purpose. He composes scents with ingredients from one land to directly invest back in it.


I had the wonderful opportunity to watch you Sébastien developing the project, so I want to start by this hidden preparation phase. Tell us how you decided to launch Nissaba.
I must go back to my work at Firmenich ten years ago when I had a vision of a new sustainable procurement. Back then, I kicked off thirty-five innovative supply chain programs. Each project was based on one natural ingredient starting from its origin to its final destination: from the farmer, via intermediaries and all the way to the perfumer and the final perfume. Such traceability was completely new at that time and was very appealing to major clients of Firmenich who could add value to their brand reputation. My motivation was different and was based on the land itself…

Do you mean that your field visits really paved the way for the launch of a brand with a purpose?
Exactly. I spent half of my time travelling around the world, visiting farmers, understanding their work, their challenges, and their aspirations. I wanted to help them cherish the land and have a positive impact.


Nissaba is pioneering change in the perfume industry
Can I say that your perfume brand is the first one directly involved in sustainable farming of natural ingredients?
Absolutely. Nissaba both reduces the environmental footprint to the minimum and wants to make a positive social impact. Our model works from the top as we take 5% of our overall sales (not our profit!), and give it back to farmers as a direct investment in their land, training, tools, and natural ingredients. Our investment makes a big difference for them*.
*Nissaba already made upfront farm investments in partnership with two vocational schools, Mahadera in Madagascar and Mbaracayu in Paraguay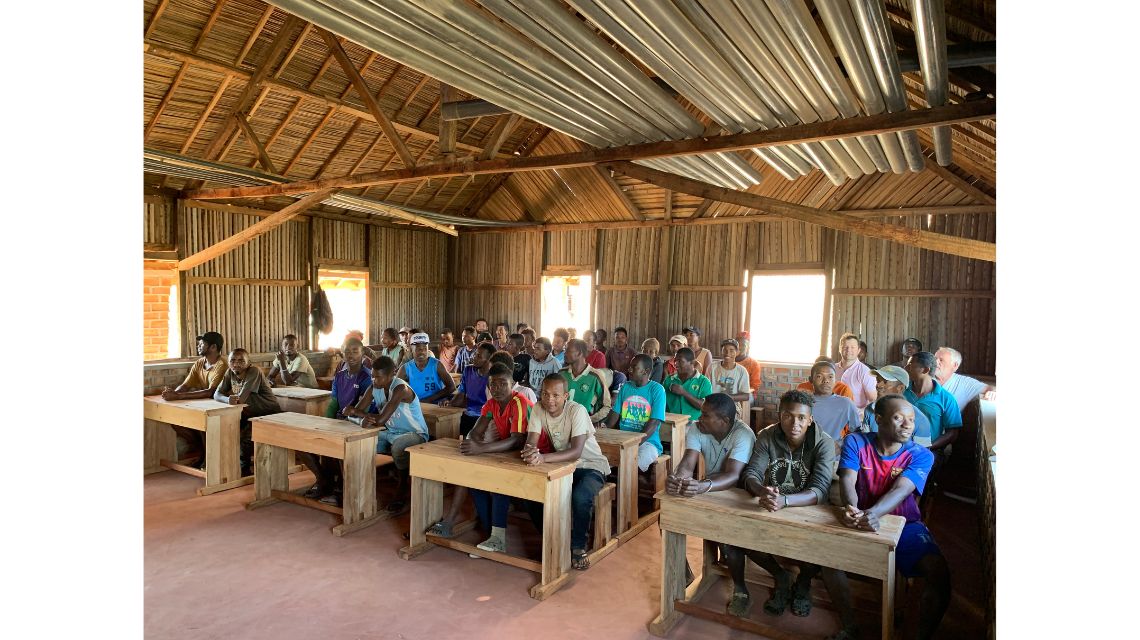 Mahadera, Nissaba's partner in Madagascar, is a farmer's school specialized in vanilla
So, you are building a bridge between the harvesters who grow perfume ingredients and the clients who want to have a positive impact…
Yes, this is precisely the purpose of Nissaba perfumes. We want to honor the valuable work of farmers who nurture their forests, soils, and plants. With each one of our perfumes, we, together with our clients, pay tribute to nature and the preciousness of one specific land.


Nissaba nurtures 'gardens of excellence' worldwide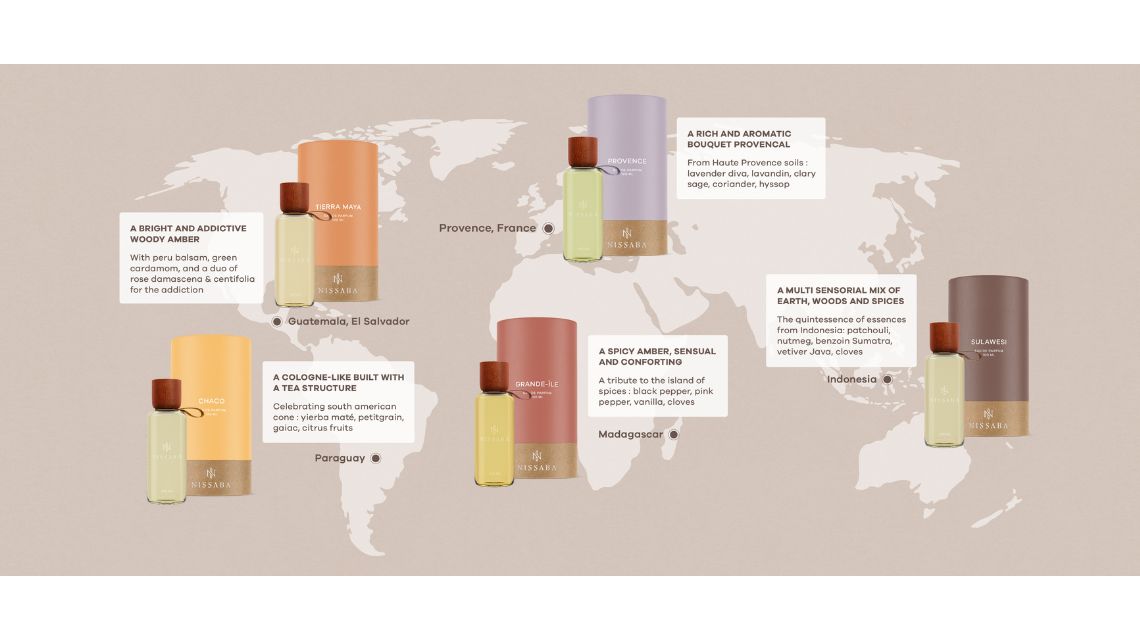 Each perfume is composed with natural extracts from one single origin
How did you choose the first five lands that you picked for the names of your perfumes?
My aim was to create one perfume for each continent based on local ingredients cultivations while presenting a diverse perfume collection. Sulawesi is a spicy woody from Indonesia, Grande Île a spicy amber from Madagascar, Tierra Maya a woody amber from Guatemala, Chaco a tea cologne from Paraguay and finally Provence, a rich aromatic bouquet.


Fragrances created as incarnations of lands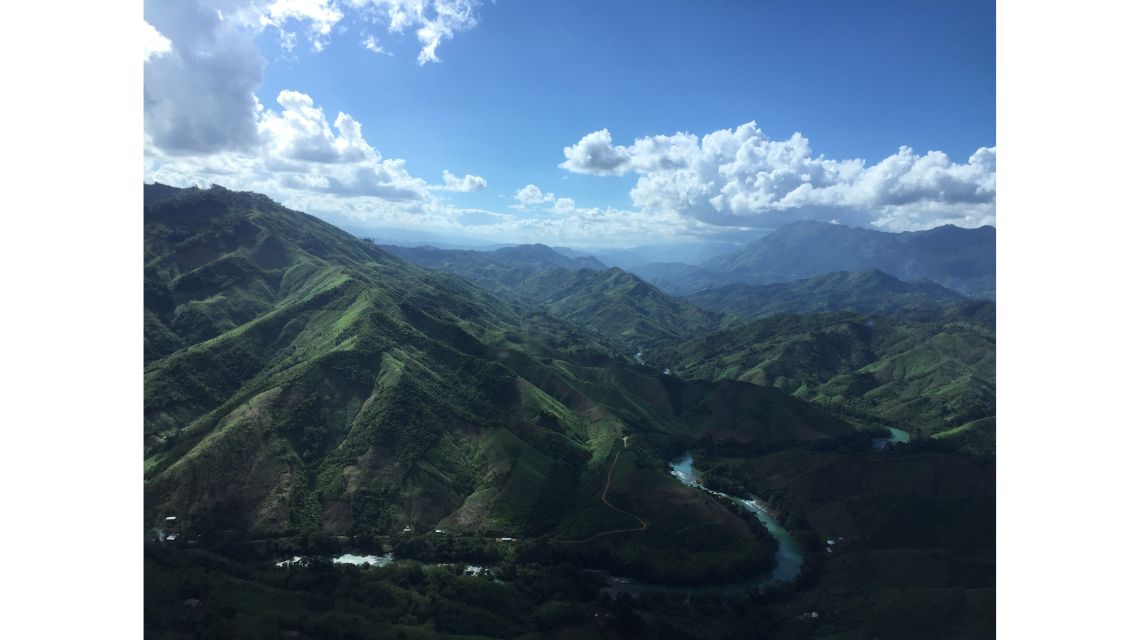 Tierra Maya and its fields of cardamon in Guatemala
Why did you choose Provence in the South of France, a destination that we know well?
You may be surprised to hear that close-by farmers are also facing challenges. They need to diversify their cultures to keep their land fertile. In Haute Provence, lavender crops are complemented with clary sage, a variety of aromatic plants, and cereals. We therefore decided to pay tribute to their valuable work with a fragrance.

On the local front, how is the 'made in Geneva' important for your brand?
Geneva is the home-base of Nissaba perfumes. I live and work in Geneva, the Silicon Valley of perfumes and flavors, that accounts for 11% of local employment. More importantly, we have selected suppliers with a maximum distance of three hundred kilometers from Geneva: the perfume concentrate is made by Firmenich in Geneva, the final perfume in France and the bottle in Italy, all nearby.

When did you come up with the name Nissaba?
At one point, I realized that the bond between all the projects I was committed to was agriculture. I came across the goddess Nissaba from Mesopotamia by chance and quickly decided that she was beautifully summing up the brand purpose.

This is perfect timing, give us three adjectives to sum up your brand.
Authentic. Good Vibes. Transparent.

Now that you mention transparency, I would like to zoom in on your bottle and its eco conception
Yes, the bottle is quite unique by its lightness. It is more than half of the usual weight of a perfume bottle. It is refillable, the cap has no plastic and instead a 100% FSC certified wood. We did the opposite of what one expects from a luxury brand.


Nissaba invents a new luxury based on transparency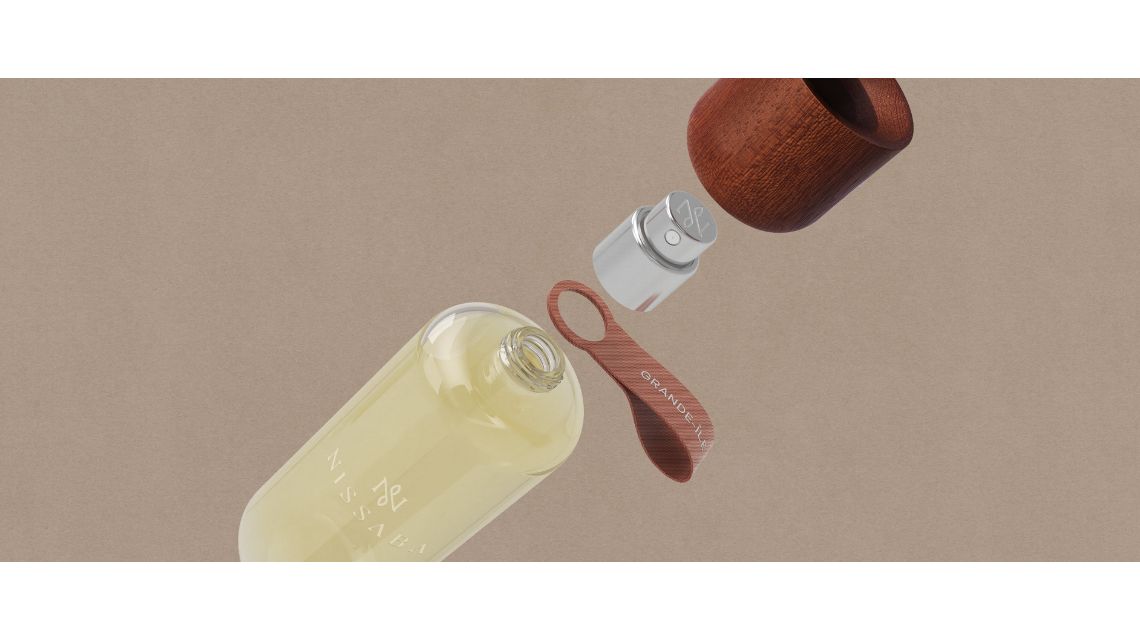 Nissaba beautiful lightweight perfume bottle
What makes your brand belong to the luxury world?
Luxury is core for Nissaba in two distinct ways. First, the brand fragrances are composed with a high dosage of the very best premium natural extracts available. Second, my vision of luxury is based on a minimalistic simplicity and on transparency. Our high-end approach does keep the usual attention to detail, the refinement of high-quality, and a sophisticated perfection. My twist is to keep the essential only.


Smells nice. Sounds good. Does the right thing. What else?
In terms of simplicity, how was the process for each perfumer to compose a fragrance based on only one land?
They thought the project was surprising and a lot of fun. The rules of the game were, no budget limits, no client's tests, and no comparison with the competition. Since I know the ingredients well, we spent most of the time on the end-result of the fragrance formulation. We debated at length on the overall harmony of the perfume created by a maximum dosage of star ingredients. The idea is first to provoke an immediate pleasure of wearing Nissaba perfumes. Our scents trigger emotions, the rational approach comes second.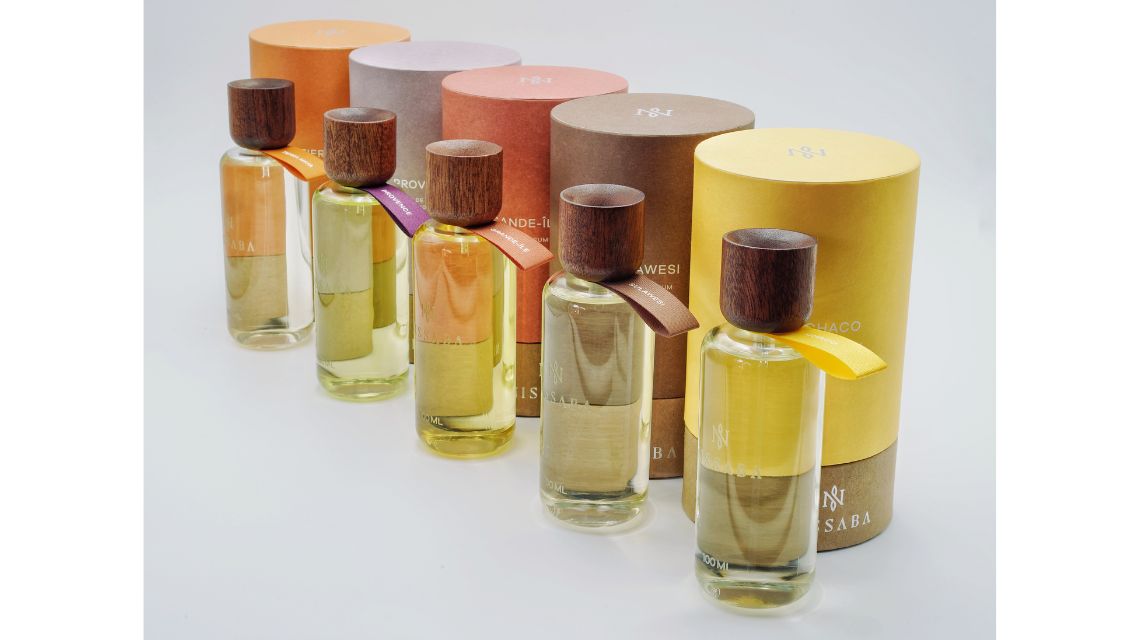 The Nissaba perfume collection
Last question, do you already have new perfumes, sorry I mean new lands, in mind?
Of course! Nissaba needs to grow to be able to fund many more meaningful projects.
---


The good adventures of Sébastien.
An ingredient expert, a land specialist, an adventurer, a perfume lover. Surely. A humanist, as he wants people to discover a new way of consuming and buying fragrance. One that has a positive impact and takes us directly to a destination on earth. I will never visit those fields Sébastien knows inside out but I know I can contribute to a meaningful mission. I am feeling good about it, and I am smelling beautiful. What else?