MyScentJourney: building the bridge between brands, users and influencers in everyday language
2020 . 09 . 18 | written by Karen Marin
A childhood fascination with the way things smell has led Eduardo Garcia de Alba to pursue his passion for fragrance outside of his day job as an industrial engineer. Eduardo, who is based in Mexico City, started chronicling his personal collection of over 400 fragrances as a hobby on Instagram until he discovered that a community of like-minded people existed. This discovery led to the creation of MYSCENTJOURNEY, a new concept destined to build an active and international fragrance community and to help brands to get to know their consumers all over the world. Already active on several social networks, MYSCENTJOURNEY is a multi-phase development that is sure to breathe new dynamism into the fragrance universe. Meet the visionary founder behind this innovative project who kindly granted me a Zoom interview.
Tell me about the concept and your ambitions.
When I was a kid, I was always smelling things. I started collecting fragrances when I was 15 and it is my passion. I came across a lot of great content online, and then I discovered that there were other people out there like me. There are beautiful photos where a lot of thought has been put into the layout and there are many reviews and posts that share stories and thoughts. But Instagram is not a database and quite often, if you don't see or read the post today, you will miss it . The only way to search is by scrolling through the feed, but what if you don't know the name of the influencer or the reviewer? Or of the fragrance? You can't even be sure that these people have written about a fragrance you are interested in. It's possible to have more on an archive on YouTube but you have to know who is doing what to find them. So in this sense, it's not easy to find information and the posts are perishable. I knew there had to be a better way to host this information.
MyScentJourney is a specific forum where all content can be given a space and it can be easily accessed. Our mission is to become the most inclusive and reliable fragrance-info storeroom. And it isn't driven by likes! The review community has really grown, but many critiques are very scientific and only appeal to people who are knowledgeable. Fragrance is a science and an art, but it's also meant for the use of the people, so you must be able to communicate to everyone. I wanted everyone to be able to post so we create a global fragrance community! People will be able to sign up to post their reviews and opinions on the site. And all the content is indexed so you can search by any variable. Each individual fragrance page has several graphs which indicate various characteristics (best season to wear this scent, type of occasion, day or evening, who is it for, etc.). Both the brands and the users will indicate their opinions, and it will be eye-opening to see how they compare. I believe this information could be very interesting to the brands because they will see the profile created by the community. It represents what people really think.
It seems very user friendly. Is the review function live or in test mode?
I haven´t released the platform massively yet, so if you stumble upon my page, you can sign in and vote, comment and if you request to be a reviewer, you could also upload your reviews. but I'm waiting to do a big opening soon!
There is already a wealth of information on your site about brands, notes, and accords. Where does it come from?
So far what I have done, and just for the fragrances in my collection, is to look for the information directly on the official brand pages but sometimes the brands don't have a page or they don't include this information. I'm in the process of contacting brands so they can send it to me directly, but It's been complicated due to the crisis. There is a huge value for the brands to be present on MSJ because we can be a show-window that provides global visibility. We will be able to let brands know if their product has potential in new markets based on consumer interest.
And then on top of that, you have written a personal review of each fragrance?
That´s right! All the perfumes that I have uploaded to the platform are perfumes that are part of my collection. I started writing a review every day of the fragrance I was wearing and I had previously uploaded it to Instagram. I also took the photos of the perfumes!
You have written a perfume manifesto that is so clear and straightforward – you really speak to everyone from novice to professional – in terms that are easy to understand. You really have a way of cutting through a lot of marketing jargon to speak honestly to consumers. What kind of feedback do you get from them?
It´s so great to hear that you liked the manifesto! The truth is that this has always been how I´ve seen perfumery and it´s precisely the message I want to spread! I have found that the vast majority of people see perfumes as an "extra" or "unnecessary" beauty product, however that is because they have not understood that just as you don´t only have one pair of shoes, you can't only have one perfume. Because if they are dress shoes you can´t go running in them or vice versa, you can´t attend a wedding with tennis shoes. Once I explained this philosophy to people in the perfume discovery events I used to do (before COVID), I loved to see how their faces change and little by little they become more interested in this world.
Here is an excerpt from the manifesto:
Why the concept of a Signature scent is wrong?
Just as you don´t continue dressing as you did when you were 15, why do you think your
perfume can still be the same one? There is a perfume for every occasion and age.
Just as you don't dress every day with the same clothes, you shouldn't wear the same perfume every day.
I understand it, you are in love with your Jeans, they are the most comfortable piece of clothing you have, and you look very cool. But that's not a reason to wear them for a wedding. Clothes, like perfumes, have a place and time to be worn.
You are present on YouTube and Instagram along with the site. Tell me about your digital strategy.
I started my YouTube channel on January 7th of this year, and I have been uploading 3 videos per week. I've been told that the way I describe scents gives the viewers a good idea of what a composition really smells like. The videos are in Spanish because I want to target the Spanish-speaking market on You-Tube while I keep the Instagram posts in English. MyScentJourney is in both languages so it can be more global.
Is the Spanish speaking market well served for Fragrance with other bloggers, vloggers?
It´s difficult to answer this question without sounding pretentious but the truth is that I don´t think it is well served. There aren't a lot of people doing this and often they present the same information that you can find in other channels. Because I focus on scents from my own collection, I speak about masculine and unisex fragrances, from designer to niche brands and anything else I happen to have.
What are your next objectives say for the next 6 – 12 months?
MyScentJourney is meant to make it easier to reach a broad audience and increase brand awareness because it encourages the interaction between brands, consumers, influencers and content creators. Since the project revolves around three major players, the objectives for each one are:
1. Reviewers: I'm working on a tool to make it easy for reviewers to import existing information onto the site. Once the import tool is authorized, I will start promoting the platform so that content creators can register on the site and start sharing their reviews.
2. Brands: The platform offers brands a way to create curiosity, grow awareness and target new customers. I want the brands to get to know the project and the scope it will have in the short and medium-term so they will want to be present.
3. Users: The platform provides a holistic way to discover brands. Going forward I envision selling some discovery kits so that users can know and try perfumes that until now they don't know or simply can´t buy since they are not sold in their territory.
With such a rich personal collection, were there any particular scents or fragrance families that you have worn during COVID lockdown that were particularly comforting?
The truth is that I'm not a reference there, because for me, whether or not I leave my house has not changed my perfume habits at all! I continue to perfume myself as if I were going to a party, even if I only go to "visit" my living room, haha.
https://app.myscentjourney.com/
In this video, Eduardo discusses his project in English after the initial introduction in Spanish.
https://youtu.be/pFNGBytQ-FE
In the following video, Eduardo gets a beautiful cabinet, designed by his wife, to properly arrange his fragrance collection.
https://youtu.be/ZrgQ0sxopQw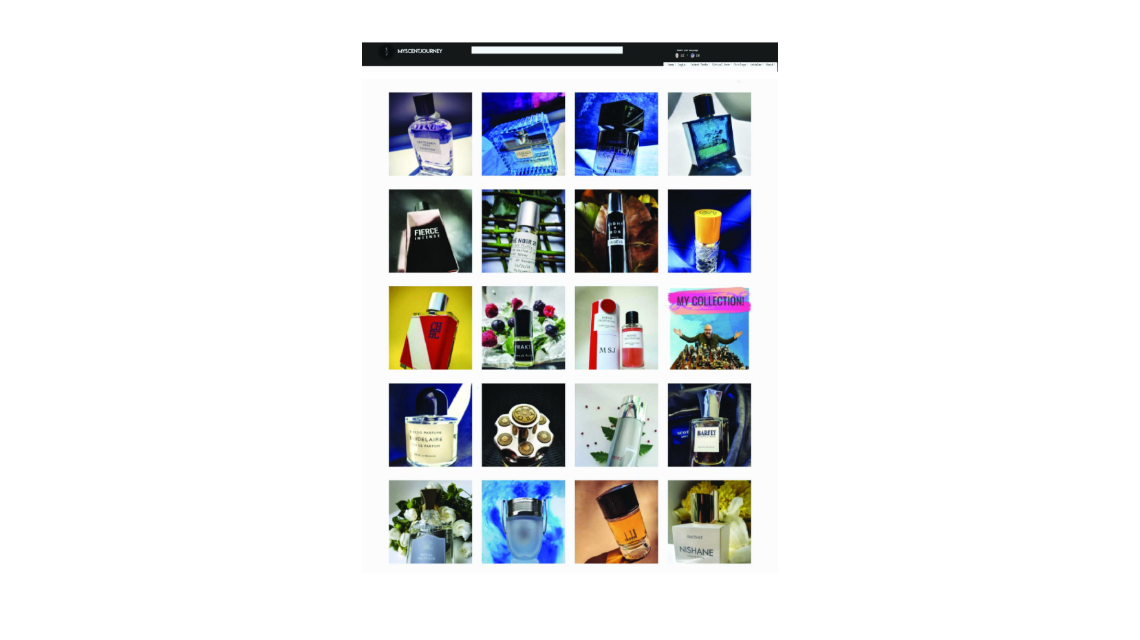 myscentjourney.com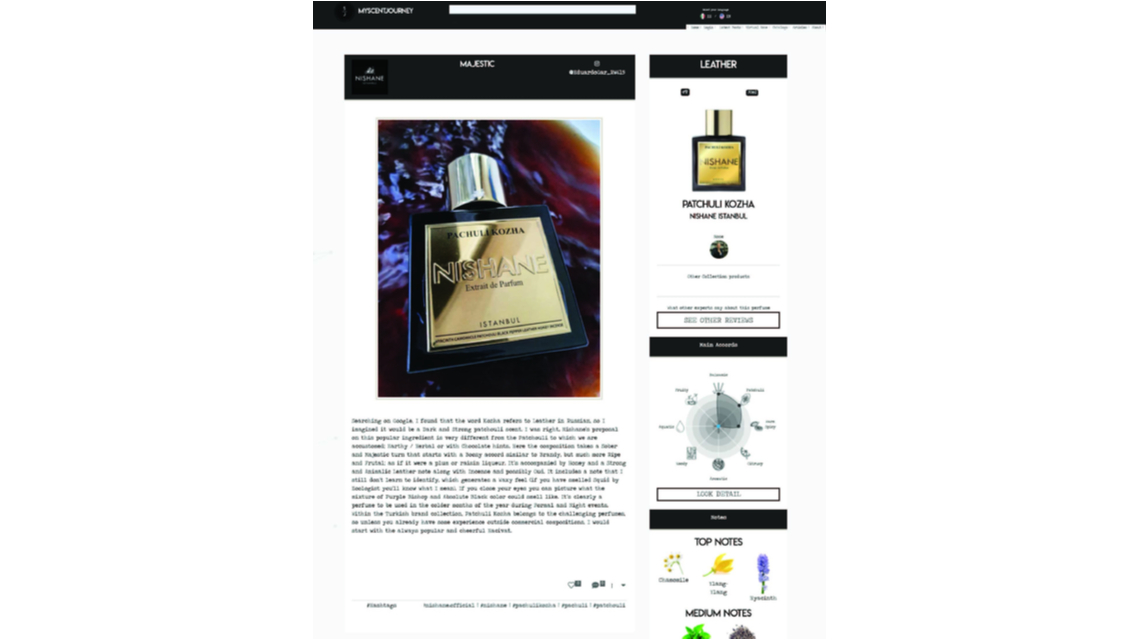 A perfume's page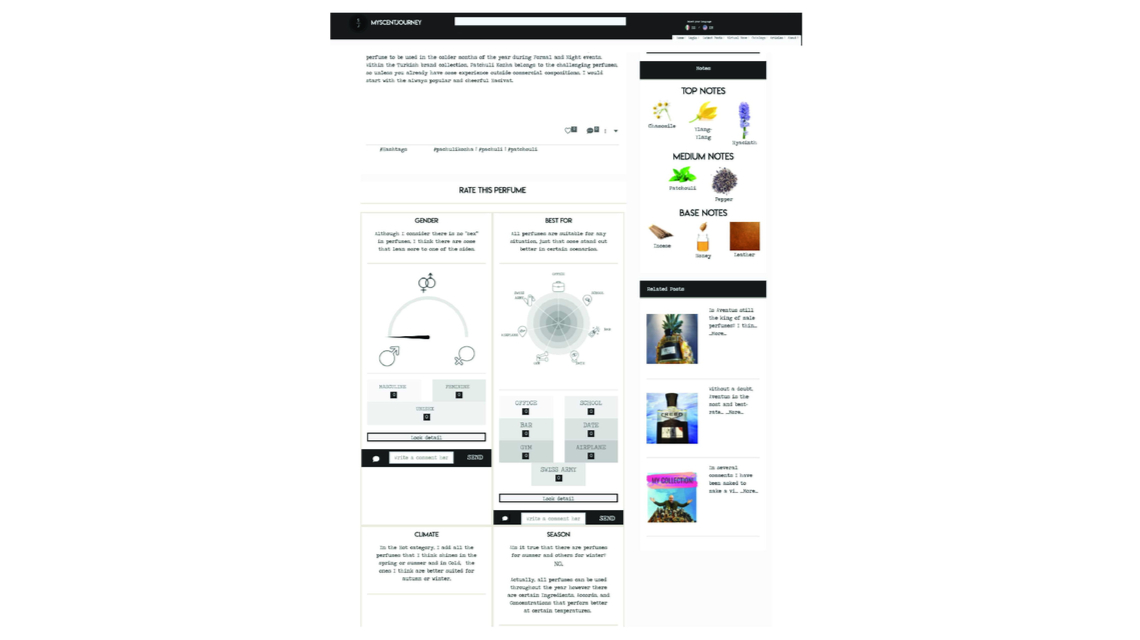 Fragrance profile page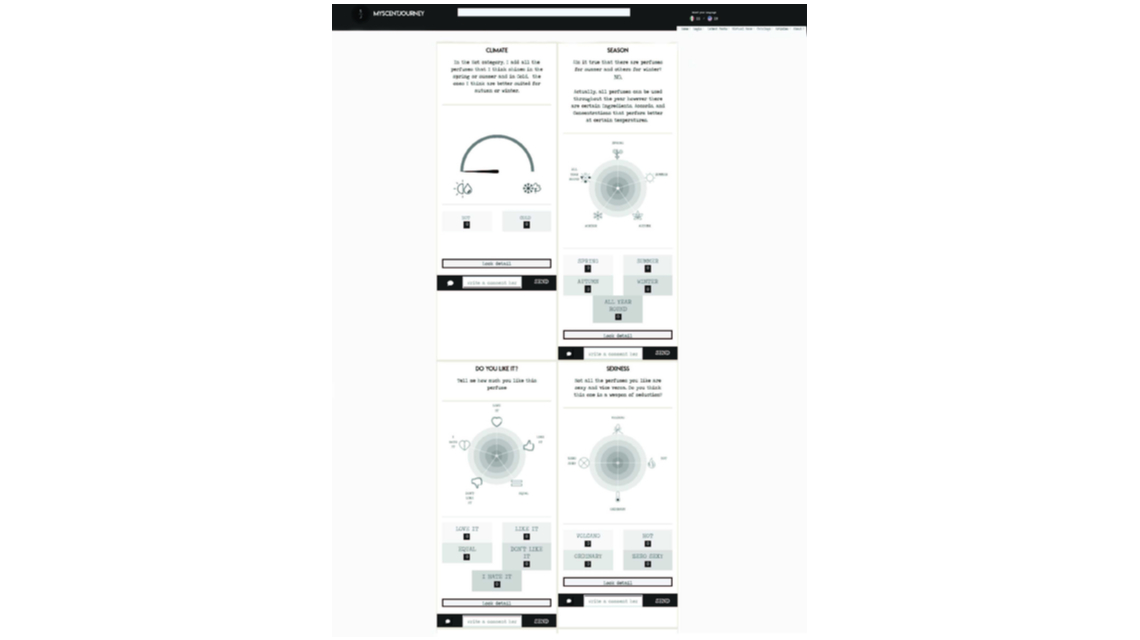 Attributes to vote on part 1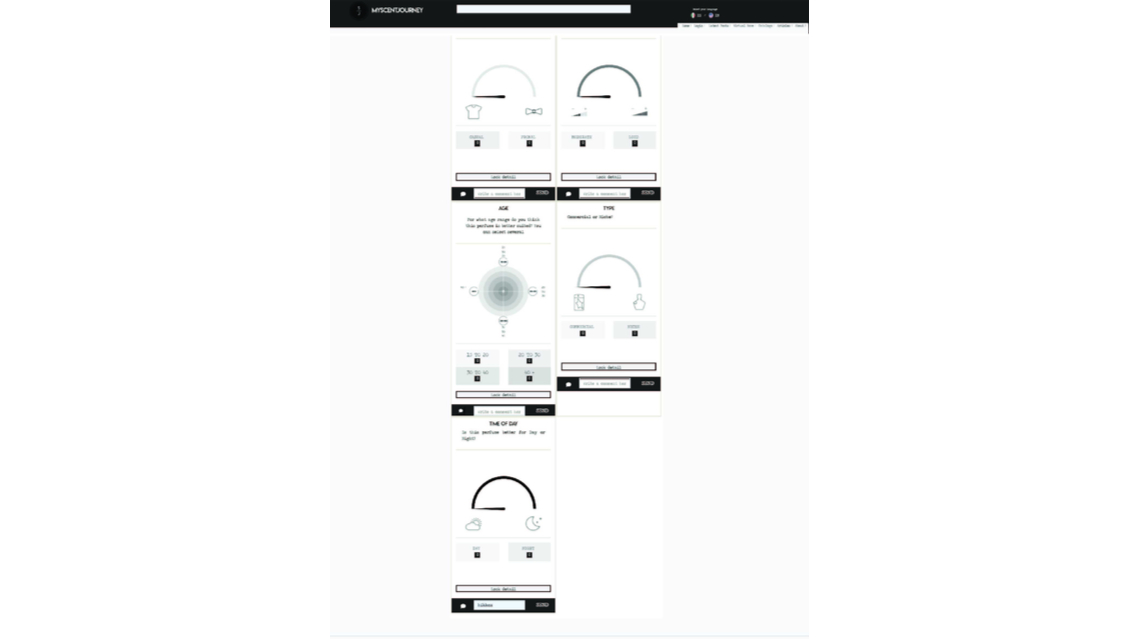 Attributes to vote on part 2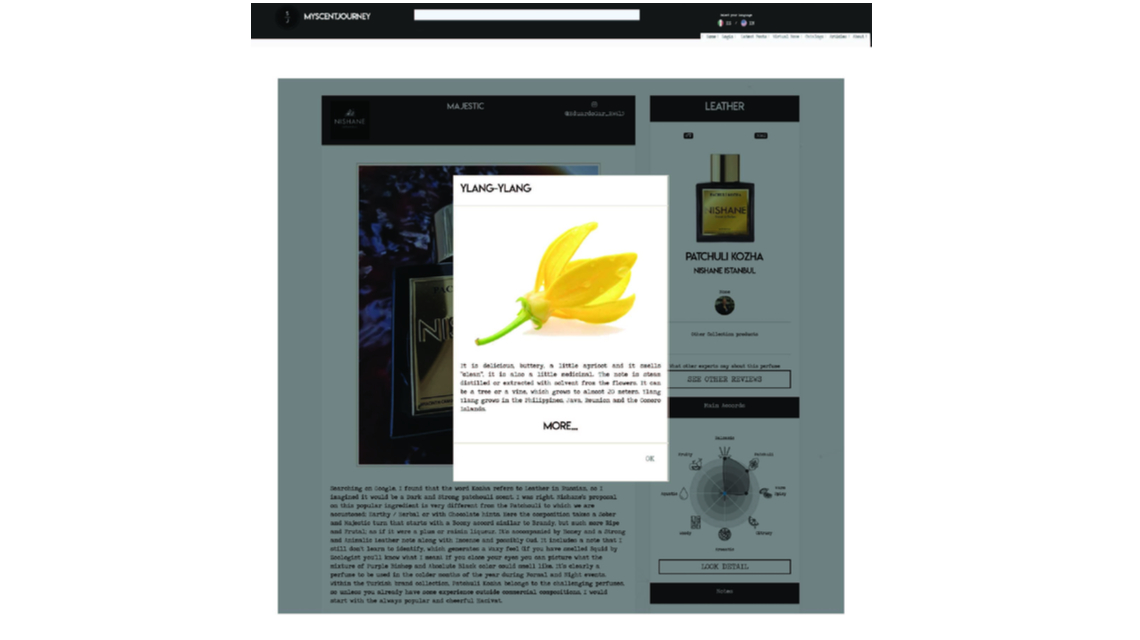 Note focus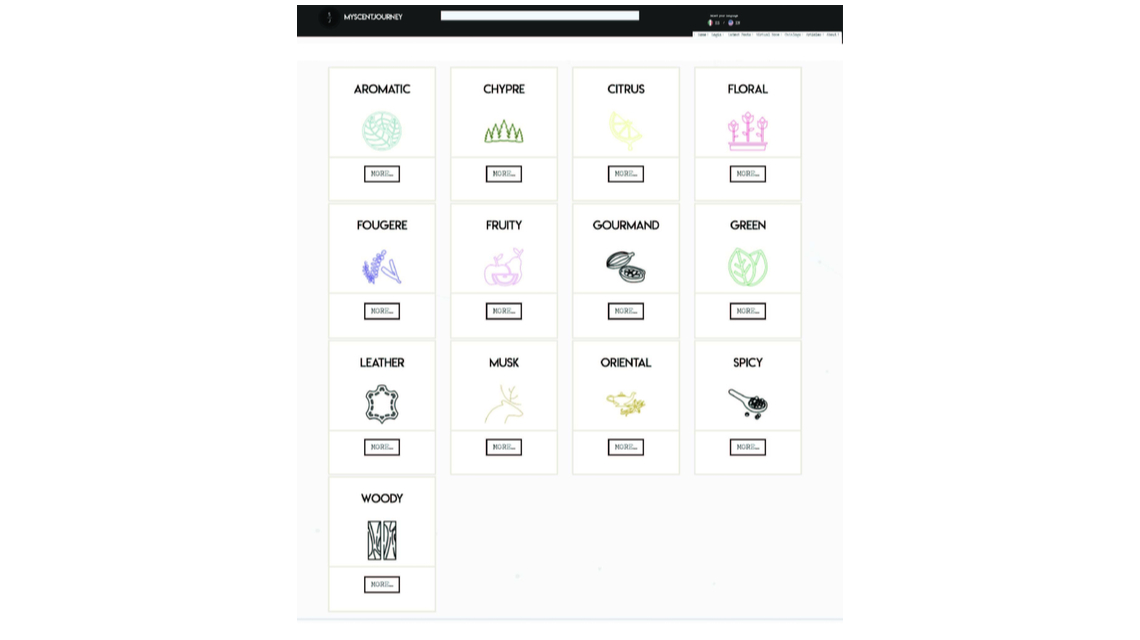 Olfactory families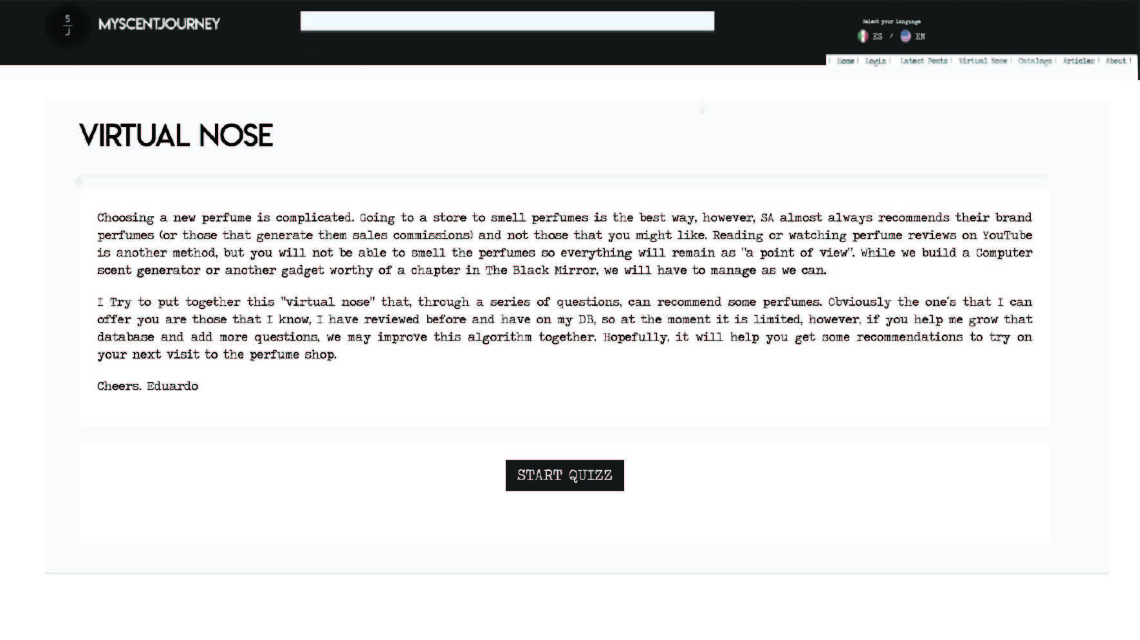 The virtual nose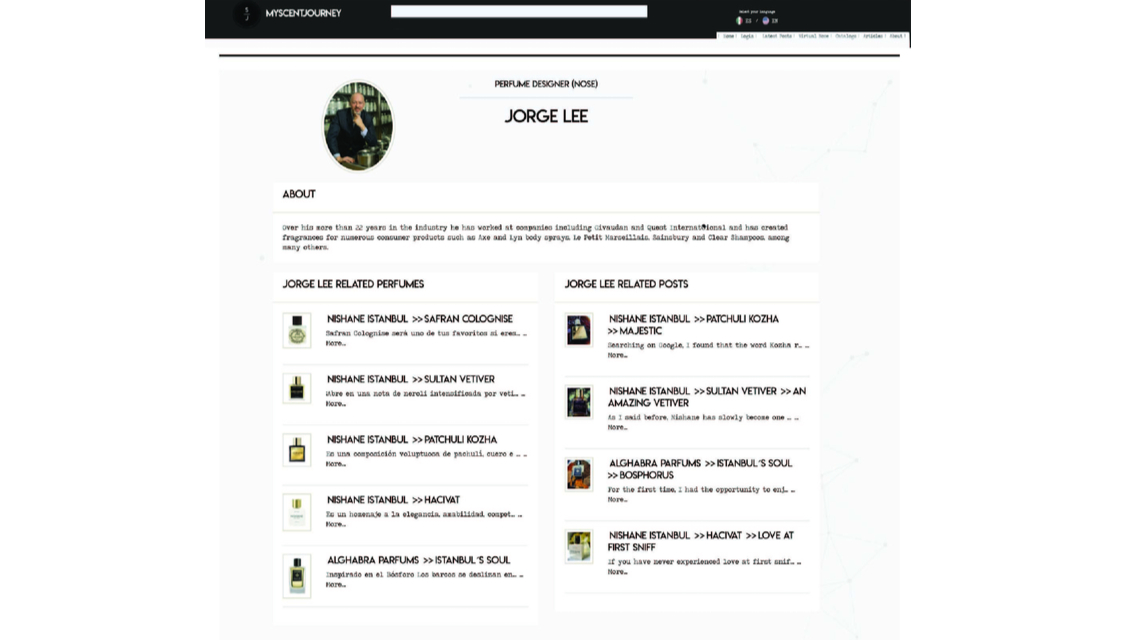 A perfumer's page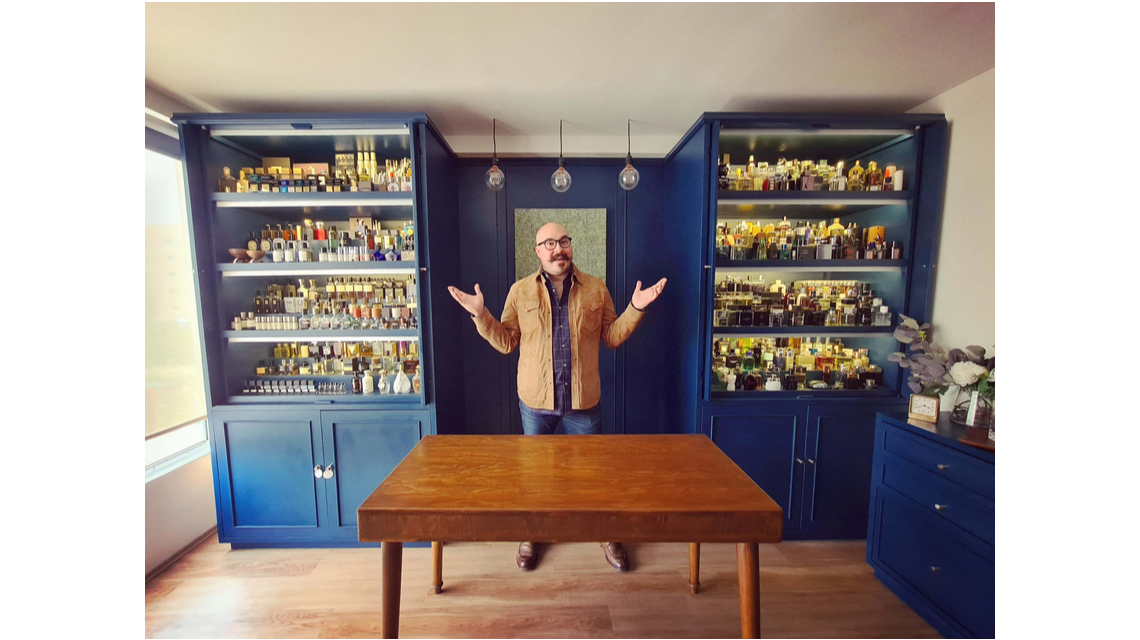 Eduardo Garcia de Alba and his collection of fragrances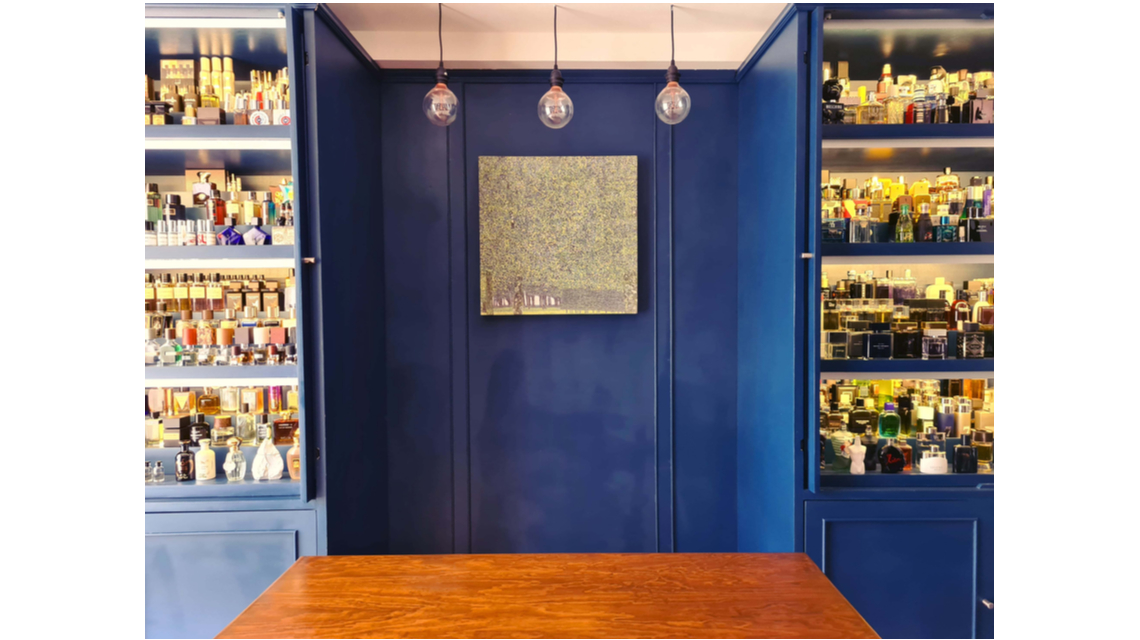 The cabinet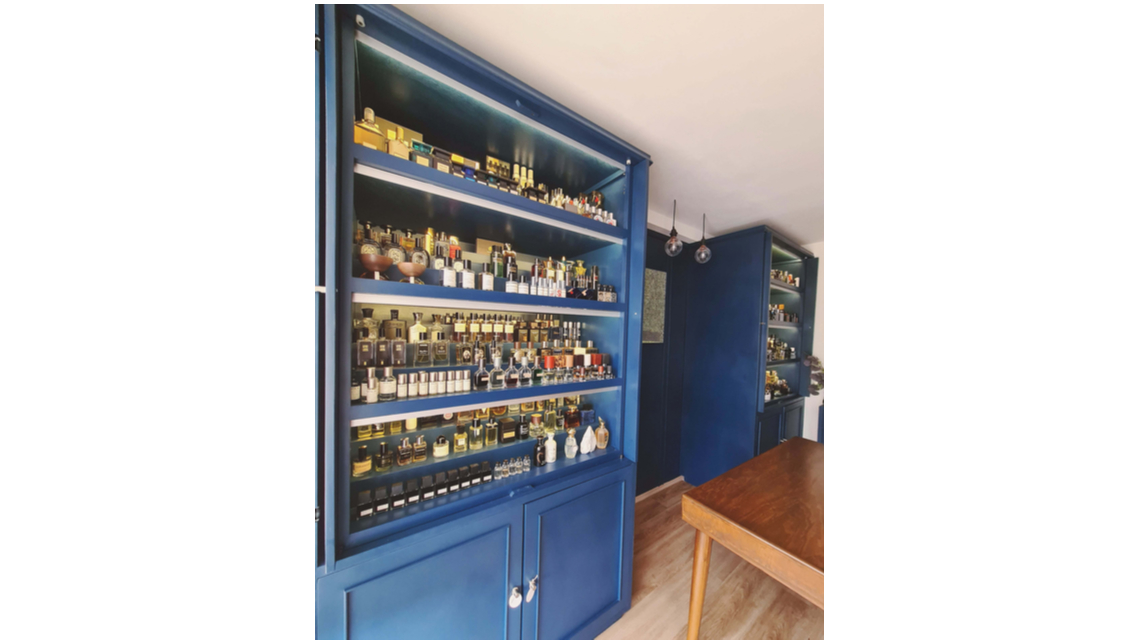 The cabinet