Miller et Bertaux, You & Me Together, Wherever
2021 . 12 . 03 | written by Laurence Arrigo Klove
Artists' duos are full of brio. Miller et Bertaux has passed on the baton to Domy and Denis, sister, and brother. Loyal to the brand, they are addicted to travelling adventures and share their olfactory memories.

Question: So Domy, tell us the story of how you met the artists' duo, Miller et Bertaux?
Well, I must take you back to the 2000 Parisian Maison & Objets fair. My brother and I were showcasing our company products and services, Lothantique, while Francis and Patrick were looking for a partner to produce their perfumes. At that time, the brand had a shop in the Marais district selling with success their unique clothing collections. Collections inspired by their distinctive style, poetic, adventurous and free. Their idea was to add perfumes as an accessory to complete their look. Discussions kicked off and we very quickly found out that we would be much more than just business partners. We became friends sharing our visions of life, our travelling adventures, and their captivating tales.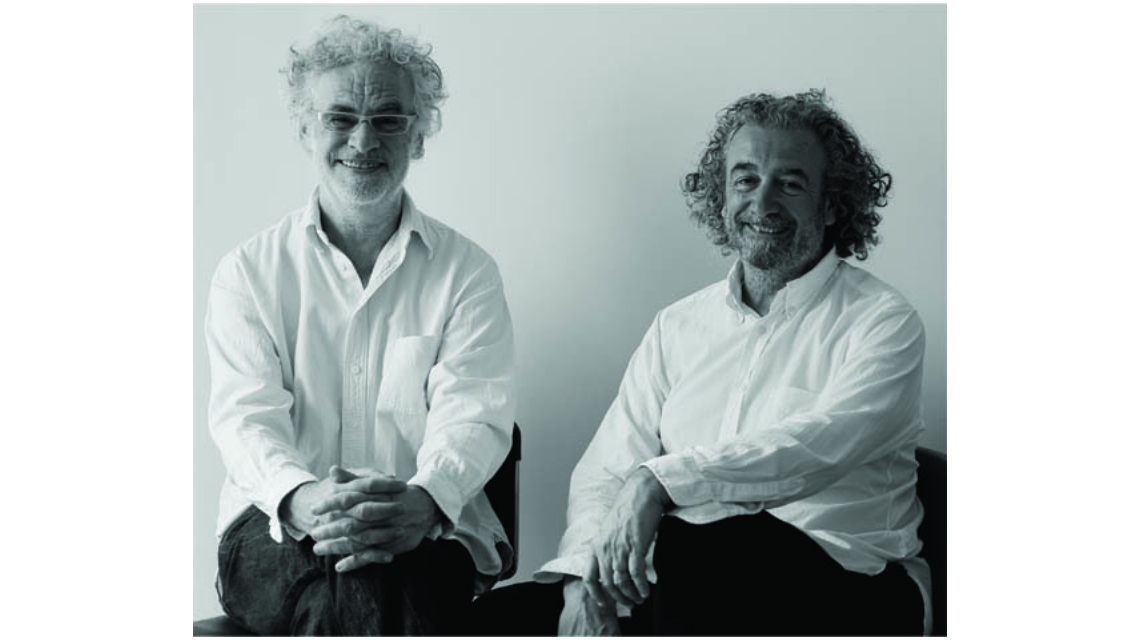 Miller et Bertaux, the founder duo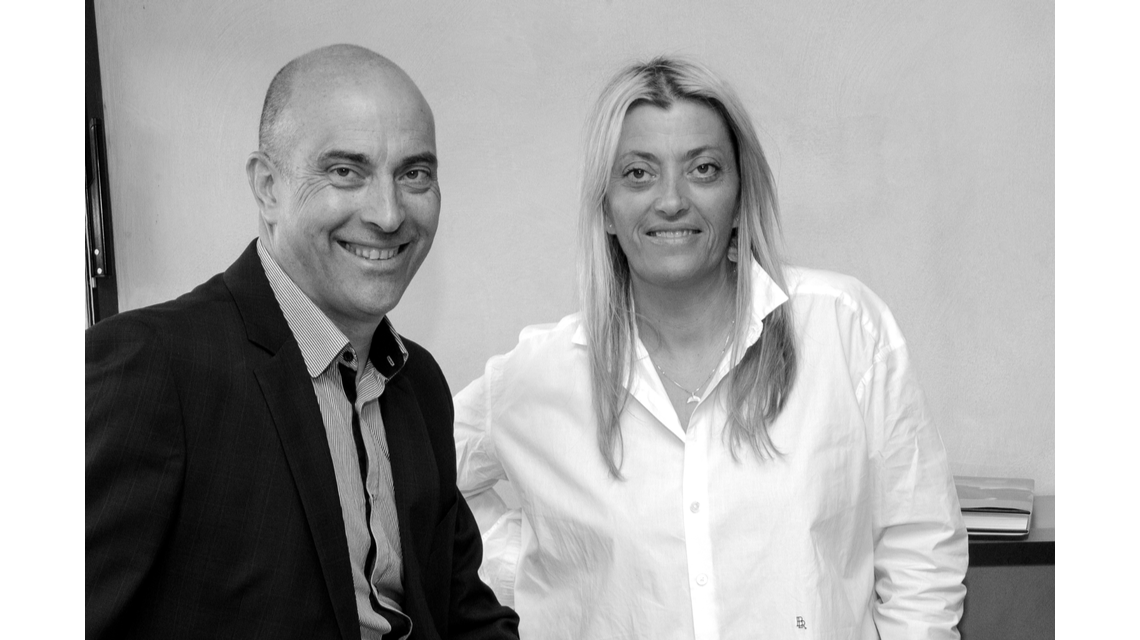 Domy et Denis, the new brand duo
Question: Fast forward to today, why did you decide to take full ownership of the brand?
I must point out that for Miller et Bertaux venturing into perfumes turned out to be a real success. The clothes collection was dropped, the boutique closed while perfume sales kept on growing steadily. Under the guidance of Francis and Patrick, we managed to express their most beautiful memories and travelling emotions into their fragrances. In one way, my brother and I have been caught under their spell. When they invited us to take over their brand in 2020, we quickly decided. It had to be yes.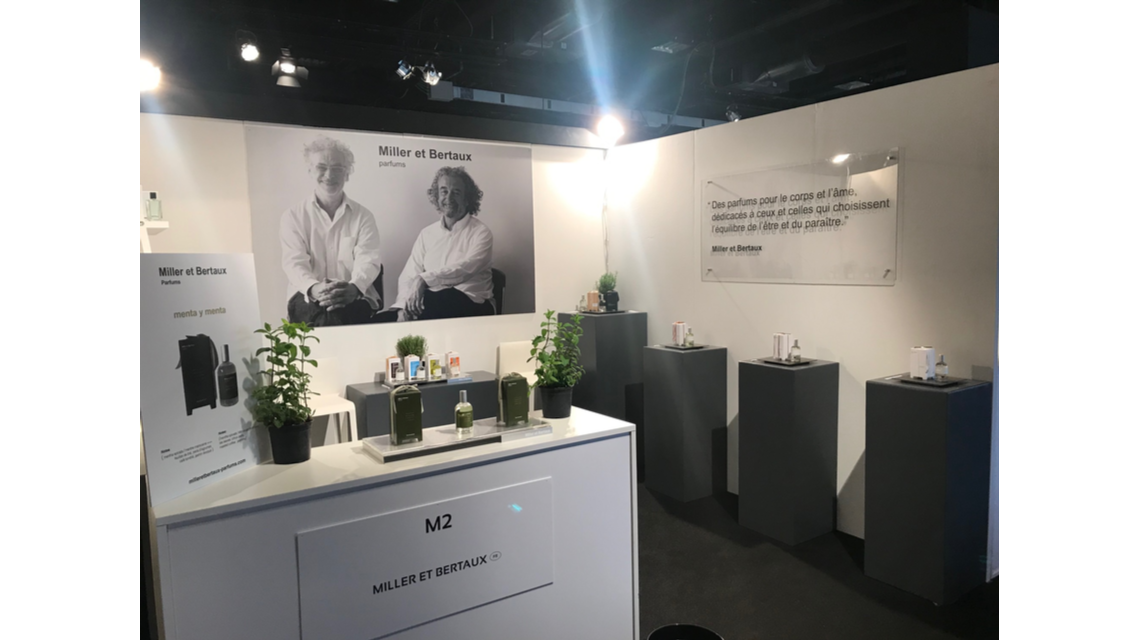 Esxence Miller et Bertaux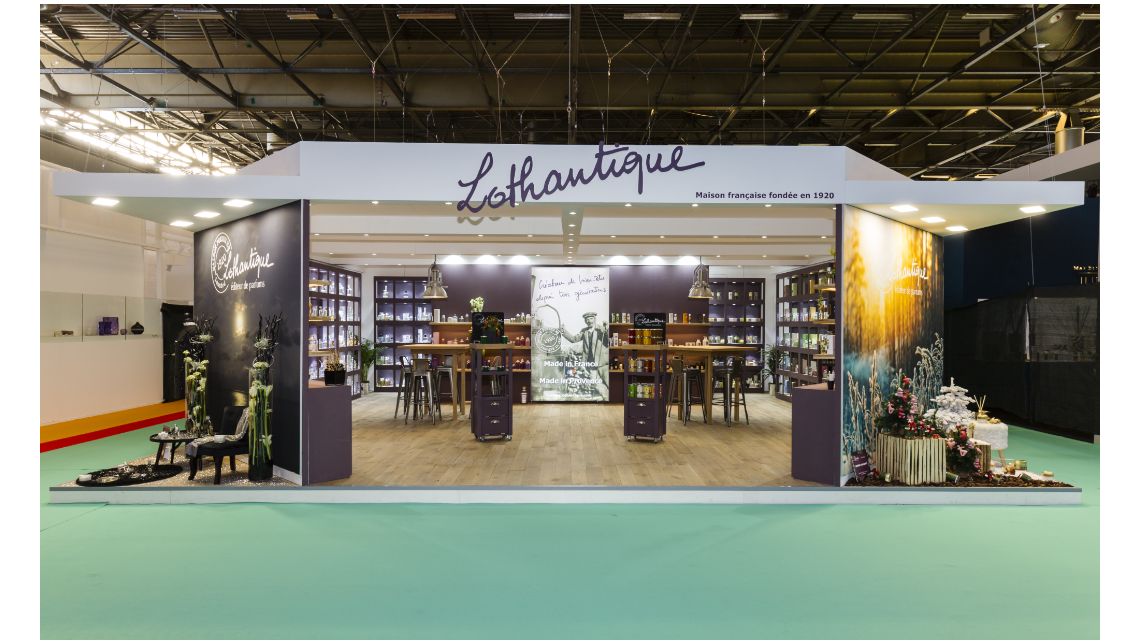 Maison & Objets Paris, Lothantique
Question: What do you think is the toughest challenge that lays ahead of you?
My brother oversees sales and distribution, so he has his own share of challenges. As for me, assuming the brand artistic responsibility is utterly exhilarating as well as intimidating. In the past, we were used to not being in the limelight. Today, we are, and we feel the responsibility of the Miller et Bertaux legacy. We want to do well. We do not benefit anymore from Patrick and Francis expert and kind advice. Our own inspiration must guide us in the right direction. We do not want to disappoint. We hope we have understood the precious heritage we have taken over. Clients will be the ones to judge.

Question: Aren't you being a dash too hard on yourself as your last perfume Malagasy is a proof of your talent?
You are right Malagasy has been a clear success in terms of sales. But I simply want to point out how seriously we are taking up this duty of continuation. The world of Miller et Bertaux is free, full of curiosity, openness to the world, yet it aims at a high level of quality. On this matter, we decided with Patrick and Francis to have a transition phase during which we would together create the brand fragrances. Out of this joint work, we released Menta y Menta – inspired by Moroccan mint, and Pimiento +++, our interpretation of Mexico.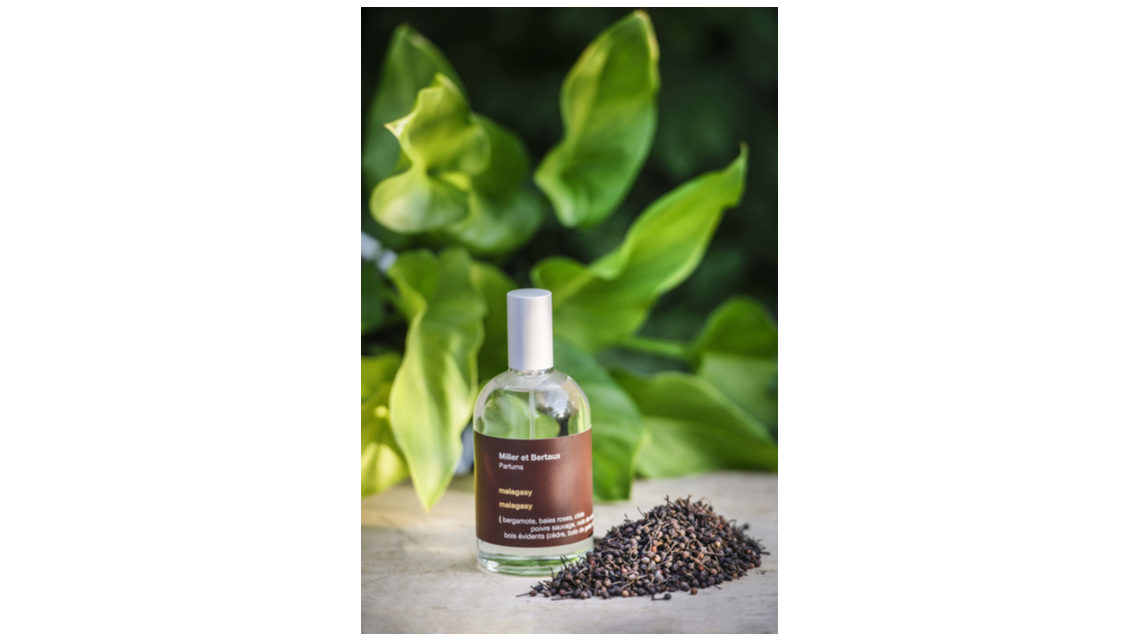 Malagasy, the latest perfume release under the new artistic director
Question: Since you have great ambitions, which brand is a role model to you?
I am going to surprise you with an answer not so original. I am very fond of Hermès fragrances, the aesthetics, the fragrances - in particular, the Jardin collection - make me dream of exotic destinations. I am embarking on a journey thanks to their fragrances. The company also remains proudly independent. I share that stance.

Question: Tell us more about the world of Miller et Bertaux, what is so unique about them?
Their statement is to 'create fragrances for the body and the soul.' Their world is authentic, extremely creative, and totally original. The woman, or the man who is taken by the charm of Miller et Bertaux perfumes has a strong personality, she or he, is standing out for one reason or another from the crowd. But this strength comes with a poetic side. All perfumes boxes from the brand come not only with the ingredients pyramid, but they also feature a beautiful poem.
Question: What adjectives precisely define the Miller et Bertaux brand?
Complex. Strong. Original. No Gender. Poetic.
Question: Let us go back to Malagasy, your first perfume as artistic director…
The island of Madagascar is very special to me. I fell in love with the island so much so that twelve years ago, I bought a house on the small island of Sainte-Marie, famous for the whales coming close by to its shores. Malagasy -in the local language means 'from the Madagascar'- is an olfactory journey in search of the most precious island wild pepper 'Voatsiperifery'. This rare pink pepper, the top note of the fragrance freshened with bergamot, is assembled with rich spices and intense woody notes.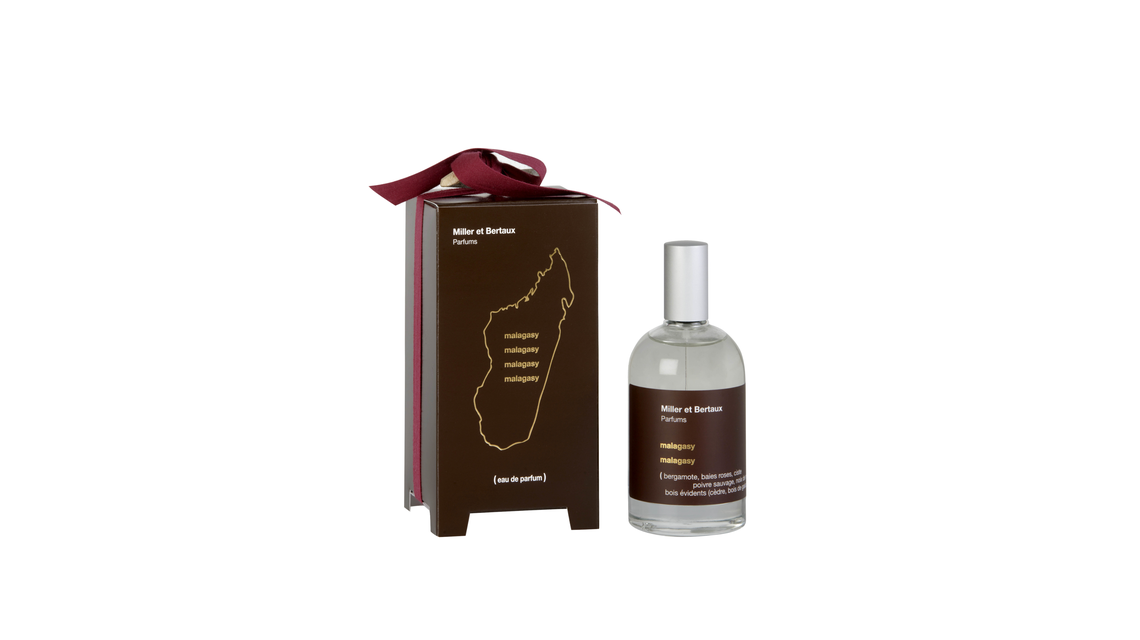 Malagasy, the island of Madagascar in a bottle
Question: How large is the perfume collection of Miller et Bertaux today?
There are fifteen scents in total. We are going to carry on with all the perfumes created by the brand. They are like our children, small treasures that we cherish immensely. We will soon add one more to the collection, number '16', which will be launched at Esxence next year in Milan. This time the destination is South America, as I express my olfactive memory from my trip to Chili three years ago. When I travel I realise that all my senses are aroused but smell is definitely the most powerful one, the one that fixes my memories and my emotions. I always come back with a perfumed souvenir, spices, or flowers in my suitcase.

Question: what are your preferred perfumes from the collection?
My number one is Indian Study – based on sandalwood, with rose, patchouli, and spices. I must add Menta y Menta for its unique freshness and boldness simplicity. And of course, my personal creation, Malagasy.

Question: Do you have favourite ingredients and 'no thanks' ingredients?
I would say that like Patrick and Francis, I am open to all adventures, to every ingredient that awakens my curiosity. There is no censorship on ingredients.

Question: What is your commitment regarding sustainability?
The first thing that comes to mind is short-distanced suppliers. To reduce our carbon footprint, we really prioritise vicinity over price to put things into perspective. We are based in the Southwest of France, and we have selected suppliers in the Provence, Alps and Côte d'Azur surrounding area. In terms of packaging, all the materials used are recyclable. Some of them are made of recycled paper. We also have in place a CSR programme that will take us further along the way. Now I want to point out that my commitment to Madagascar also involves a 'giving back' programme to a local NGO who provides schooling for orphans. So, Miller et Bertaux perfumes do try to do good.

Question: Looking forward to the future, what are you most confident with?
We are confident we will do well. We have built trust and respect with our suppliers, our distribution clients, and our end-clients. We will continue our strive to create high quality, original fragrances, carrying on the work of Patrick and Francis. I will quote the 'Gaiac' fragrance poem which illustrates quite well the spirit of the brand and its aim to offer 'something special':
'Close your eyes and take a big breath... Close your eyes and relax… Close your eyes and explore memories and lands of internal experiences… Close your eyes and … something special…

Personal take
'Tea for Two or Two for Tea'
Brother and sister always meet around a cup of tea. A strong brew tea, connoisseur loose leaves imported from Japan, India, and many more exotic lands. Lovely. Tea is relaxing, soothing and inspires one's mind to travel to faraway places. Tea can be quite strong though so that a dash of milk or cream comes handy. Possibly sugar too. Well, I am afraid that Domy and Denis like their tea black. The duo simply enjoys the full flavour breadth. Like their olfactive creations. Don't you?
'From our trips, with love'.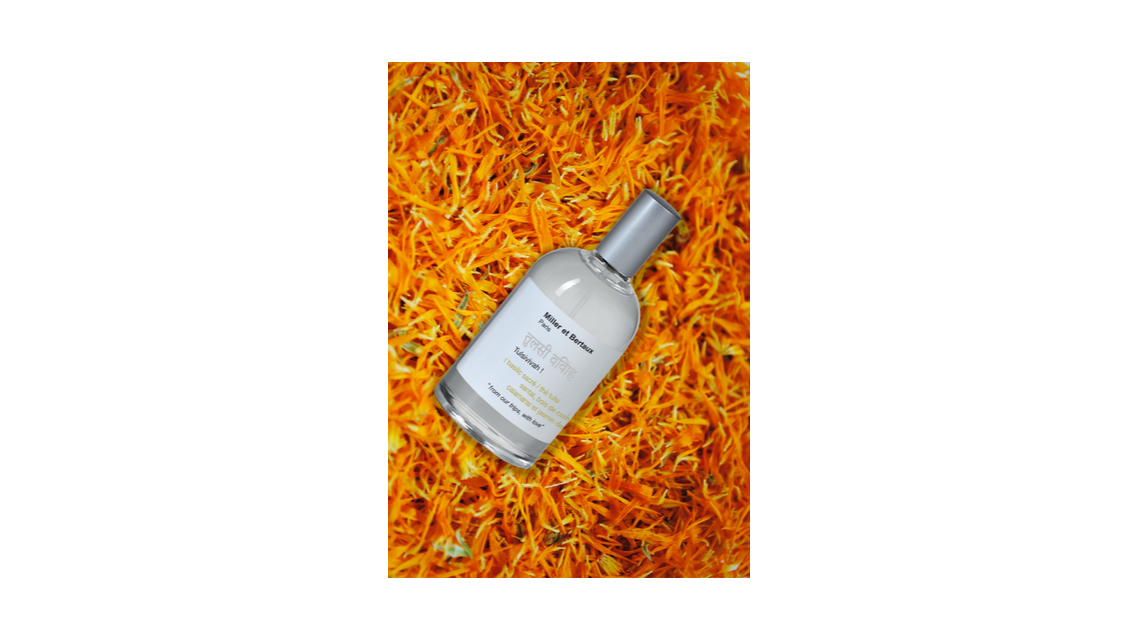 Tulsivivah! 'from our trips with love'
www.milleretbertaux.com
www.noseparis.com