Maya Njie: Where pictures tell a thousand smells
2022 . 07 . 27 | written by Karen Marin
They say a picture paints a thousand words, but can it also inspire a perfume? Absolutely, and the proof lies in the eponymous fragrance collection created by Maya Njie (pronounced 'Maia N-Jai'). Inspired by family photographs, Maya blends nostalgic ingredients culled from her Swedish childhood and Gambian heritage into handcrafted unisex fragrances which translate personal memories into wearable scents. Like an alchemist, she has bottled moments in time that answer the question, what did it smell like then? Initially created for her own use, interest in the fragrances grew organically, prompting her to launch the brand in 2016. I caught up with Maya in her Shoreditch London studio to talk about her journey as a brand founder and creator in the niche fragrance sector.

I understand that you were inspired by photos in a family album, and that you had the idea of capturing these moments in scent. Why fragrance?
Smells in general, not just perfume, have always been a big part of my life. As a child I remember the smells of going into someone's house, or how a person smelled – their perfume, their garden, the outdoors. As an adult I studied at the University of the Arts London where I did a surface design course. This included textile printing, wallpaper printing, photography among other disciplines. I felt inspired by my heritage which brought together Swedish fashion and interiors of the 60's and 70's with prints and patterns from Africa. This made me think, how can I communicate this in the best way? I borrowed photographs from my Mums family album from a time before I was born, when my older sisters where children. I scanned these photos, colour picked them and put them on my mood boards. Doing this process made me realize that there was a prominent sense being overlooked – our sense of smell. I knew then that olfaction was the missing piece to how I wanted to tell my story.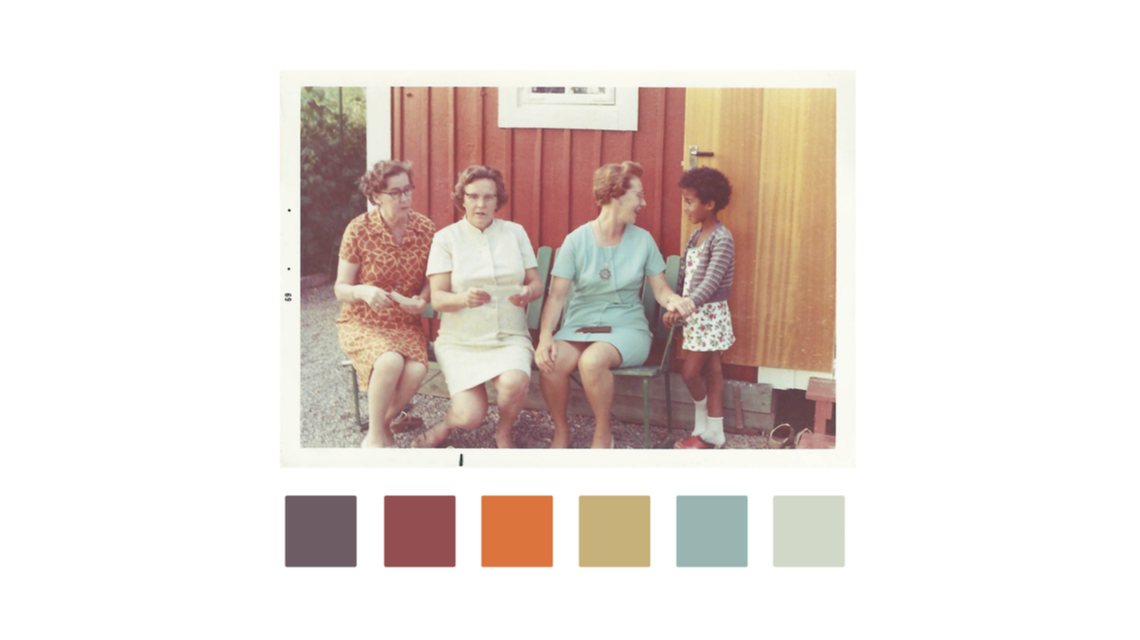 Nordic Cedar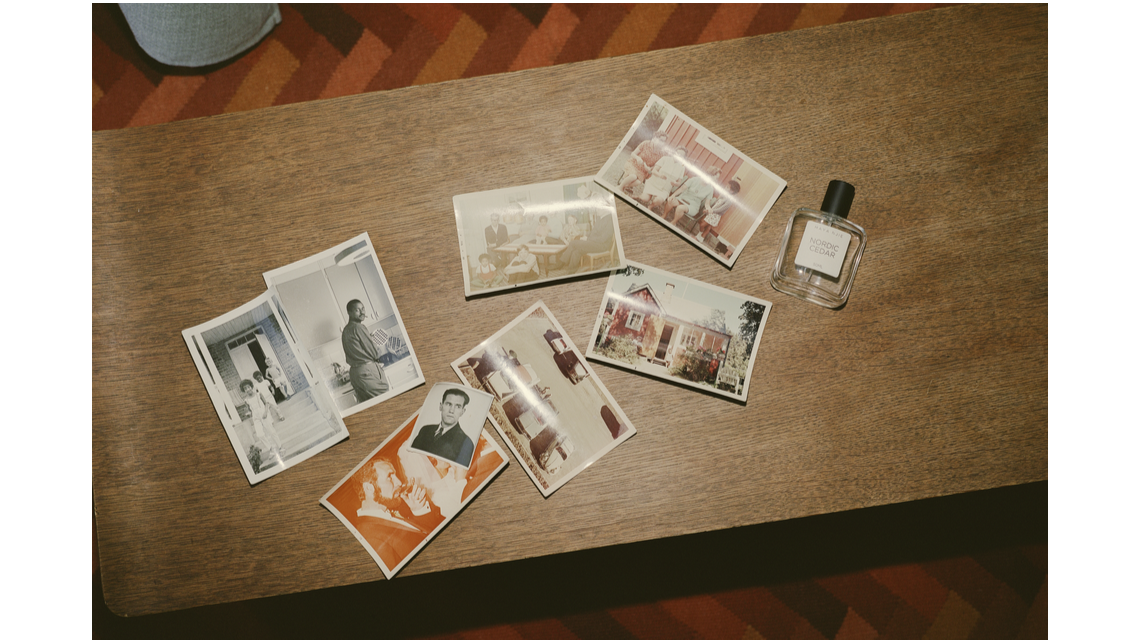 Family photos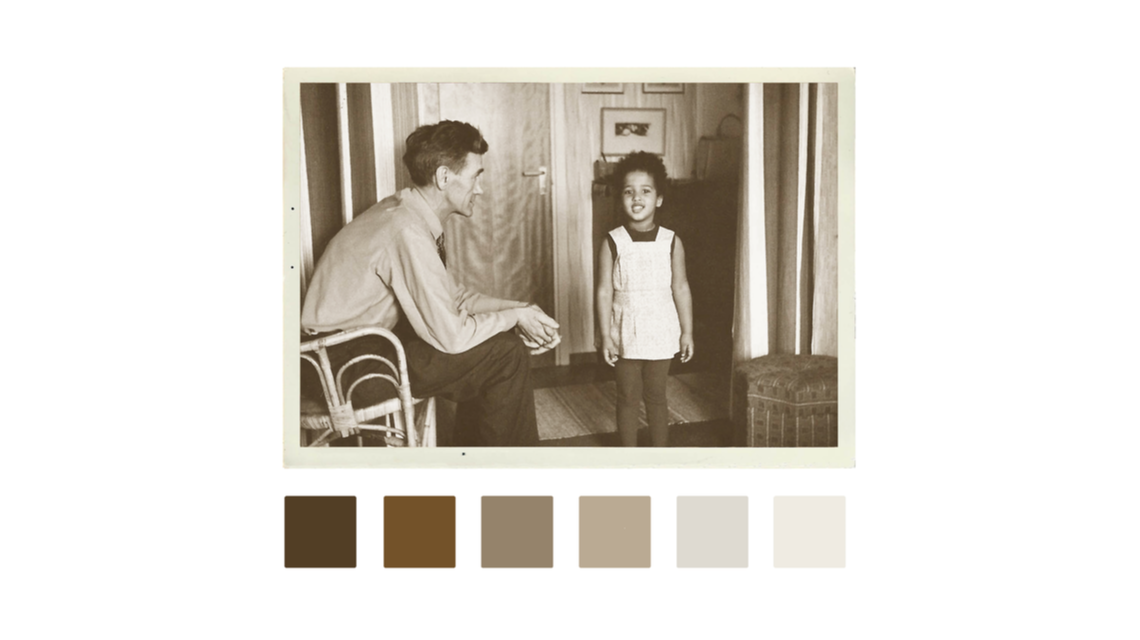 Tobak
When you started making your own creations, was it with the vision of launching your own brand?
Not at all. At the start it was simply a personal project about memories, photographs, scents and my communication of that. After university I took on a noncreative job as a building manager / front of house at an arts hub in east London. I started scenting the reception area for my own enjoyment. People would ask me about what they were smelling when they walked in and I would show them the pictures and explain what I did - scent really is such a brilliant way to start a conversation. I would then get calls from people asking if they could buy the fragrances. Initially it was something I was doing for myself, but as the interest grew amongst friends, and friends of friends, and then strangers I thought, I've obviously got something here. I kind of knew that it was going to work because in a sense this feedback was my market research. So I left my job and put all my time and the money I had earned from my sales into paying for safety reports, more ingredients and learning about what it means to put a perfume on the market.
During lockdown, there was a growing interest in my fragrances as consumers started seeking out more Black-owned businesses. As many of us found ourselves indoors and disconnected from our families, scent played an important part in our well-being. I started receiving many messages from people explaining that they had found solace in my fragrances, and that when they looked at the pictures they thought of their own families and memories they had of them, and that is exactly what I want – for the wearer to link my perfumes with their own life experiences.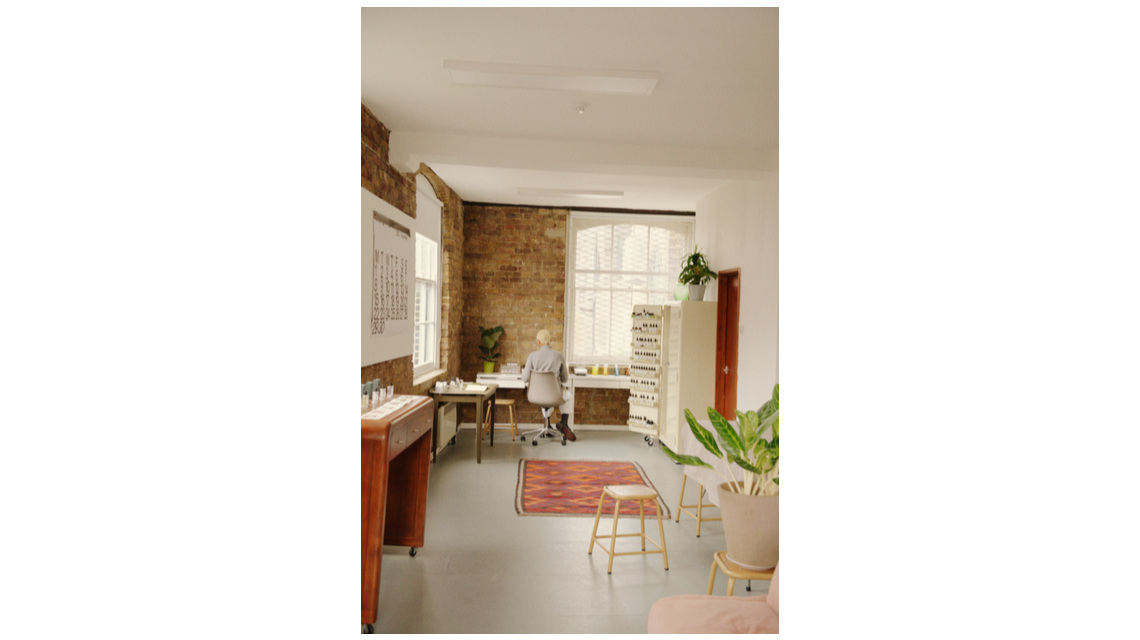 Maya in her studio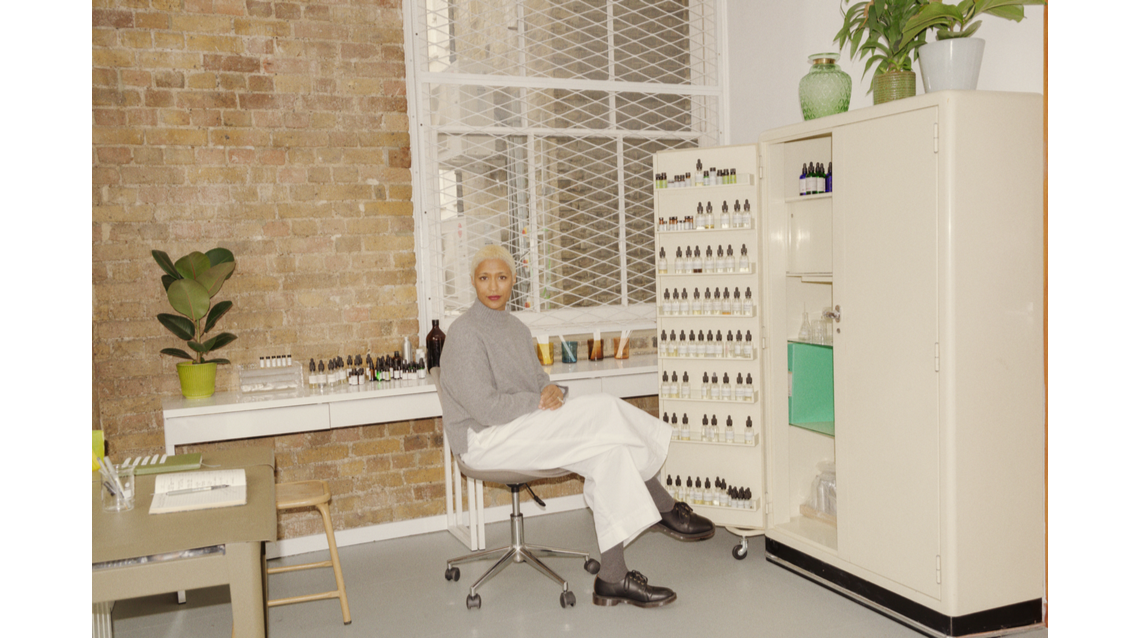 Maya at work
How did you go about learning the art of perfumery?
I have experimented a lot and so much has been trial and error. I don't have a chemistry background, but I do know what I think works in terms of pairing ingredients. I buy materials and I think about what they inspire in me and what else I would like them to sit next to. It's sort of instinctive. There is so much I have yet to explore, I'll keep experimenting and learning. What I really enjoy is how one ingredient can inspire two or three others. It's kind of like putting patterns and prints together or dressing yourself. You can mix three elements and get it wrong or you can get it spot on – it's all subjective. There are amazing materials out there, some via perfume houses and others via farmers across the world. What I do is bring all of the aforementioned together.

You grew up in Sweden and you have Gambian heritage. Tell me about your olfactory memories from childhood.
The Swedish connection to fragrance is multi-faceted. There's the element of nature, such as fir trees and the woody dampness of the forest floor, the smell of moss and mushrooms. And flowers such as lilacs and hyacinths. Then there's the indoor aromas such as my grandads pipe tobacco or my mums baking, from that I distinctly remember vanilla, cardamom and saffron being the most present. The African influence is connected to more citrusy and tropical smells like orange, pineapple and coconut. There are also smoky, woody smells like the burning of grass, the roasting of peanuts, and the aroma of resinous incense in people's homes.

Tell me about the collection. How do the photographs match up with the fragrances?
When I started officially selling perfumes in 2016 I started with 5 scents. My first formulation was Nordic Cedar. I fell in love with a picture of a group of ladies sitting on a bench outside my grandads allotment house chatting away to my sister. I knew I wanted to work with cardamom, which is the most common spice in Sweden, mixed with the feeling of being in a cabin surrounded by wilderness.
From there, I started looking at indoor settings that I thought were representative of my family and Sweden in general. With Vanilj, I chose a very personal portrait of my uncle and auntie on their wedding day. It's all about celebration and familiarity. My aim became to change the narrative slightly and bring in more warmth to the formula. On paper there is little difference between Nordic Cedar and Vanilj as they share the same blueprint, but when you wear them, they tell two different stories.
The fragrance Tobak is a perfect example of both of my worlds coming together. Even though it is based on my grandfather in his apartment in Sweden, sitting in his leather chair smoking his pipe whilst offering me toffee, it very much translates to my Gambian memories of the craft markets, wood carving, tobacco leaf smoke and the lingering smells of sweet milky teas.
Next I wanted to do a fragrance that focused on foliage and gardens. The name Les Fleurs comes from a Minnie Ripperton song which encapsulates the feeling of green flora so well. It's a very bright, crisp, floral fragrance. I encourage people to try this fragrance even if florals aren't their thing as the response is often "Oh, this is not the fragrance I thought it was going to be". It's very easy to wear, and it has a green and crisp woodiness in the background that lends itself to all genders.
Tropica is a lighthearted and carefree connection to Gambia. It has a fruity opening with ripe pineapple, coconut and fig. Iris and rhubarb then add to the fruity notes with a sandalwood and ambergris base. This fragrance will most likely take you wherever your childhood memories go of being on holiday which is the oily coconut sunscreen element, but it has a more sophisticated dry down as the day or night develops.
The latest launch is called Voyeur Verde, a perfume based on my holidays in the south of Spain. The photo that inspired the scent depicts an abandoned car being taken over by nature with a backdrop of the mountains. It's kind of an ode to the Mediterranean climates where nature has run wild.
The opening is very citrusy, maybe with a little sour touch, this is the combination of bergamot, mandarin and cypress. The heart comprises of fennel, iris and ylang ylang which gives it a herbal and floral subtlety. The dry down is all about cedarwood, frankincense and rosewood.
Releasing new fragrances can be daunting I find as you never know how they will be received. The most important thing though is that it feels true and authentic to myself.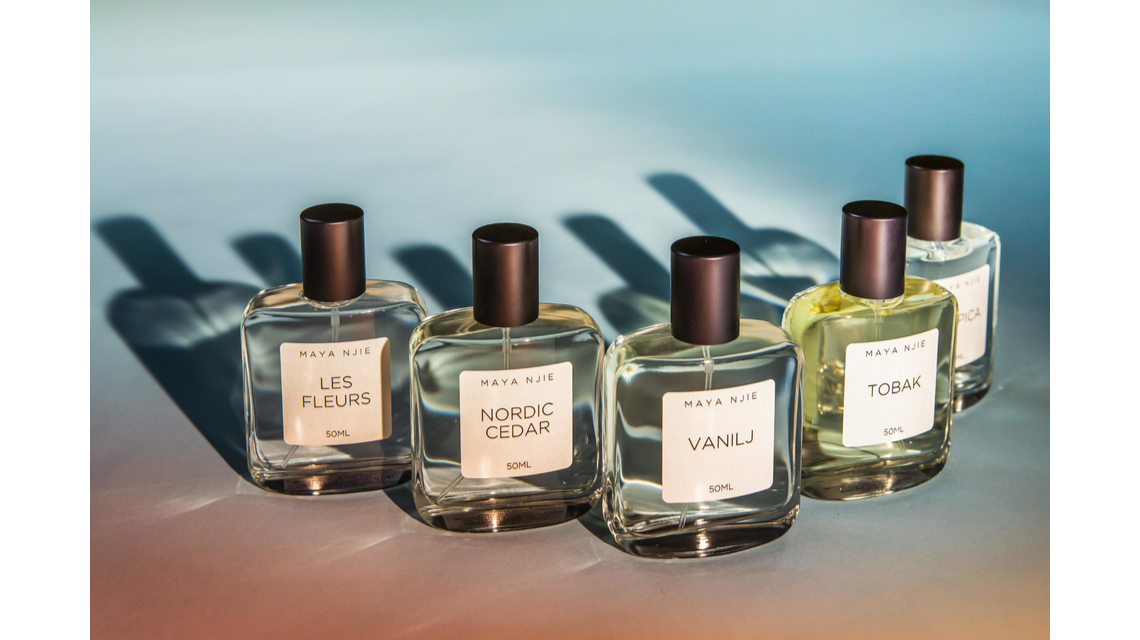 Maya Njie Collection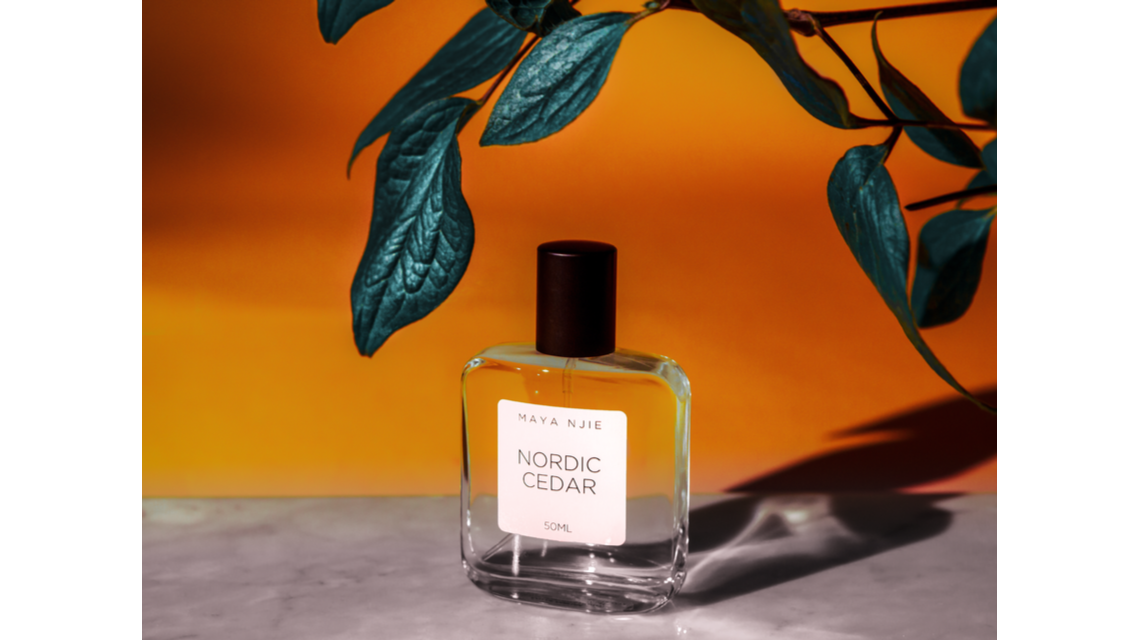 Nordic Cedar landscape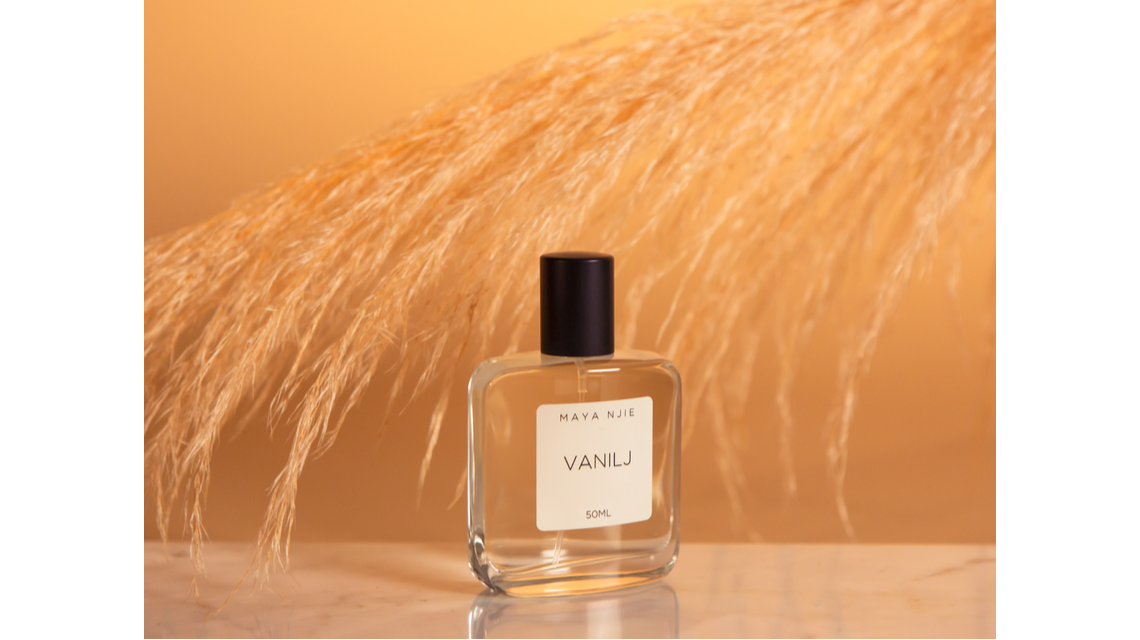 Vanilj landscape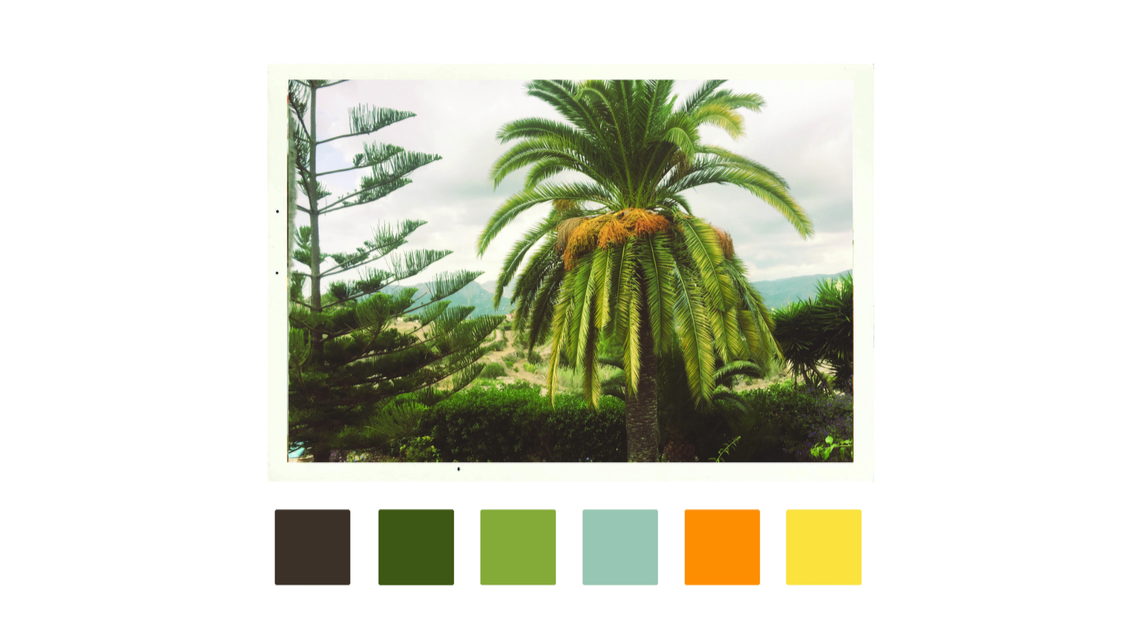 Tropica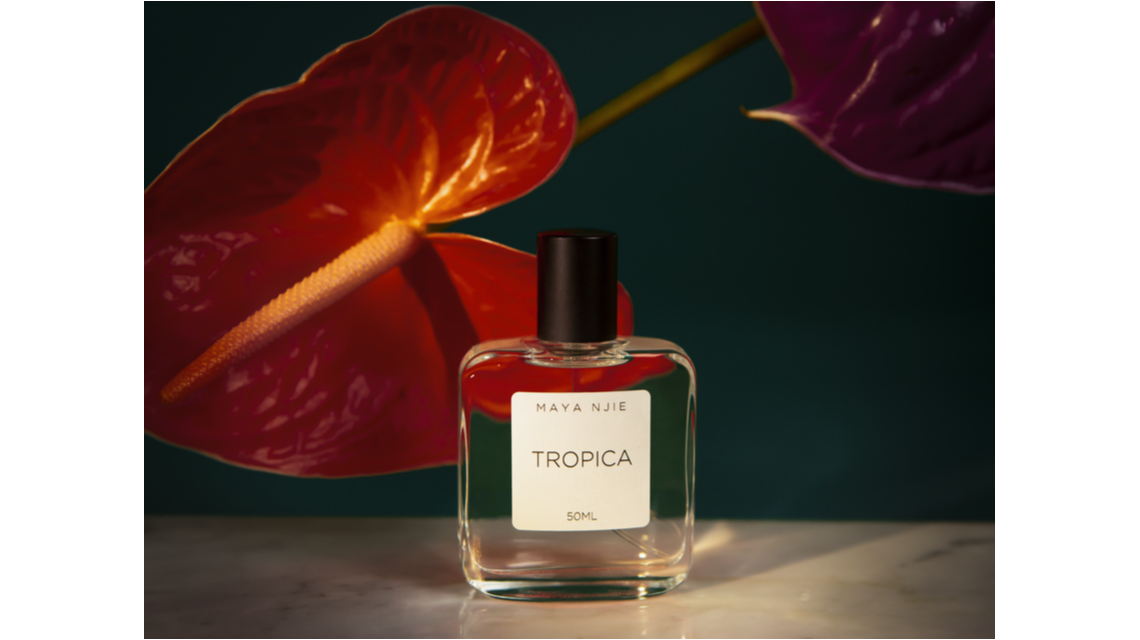 Tropica landscape
I see you also offer a bespoke perfume blending workshop. Walk me through the experience.
The workshops are a friendly and straight forward way of getting a feel for what it's like to blend your own fragrance. They are two hours long and held in my studio. Whilst here we spend the first hour smelling ingredients that span across top, heart and base notes. I encourage conversations around possible memory triggers connected to people, color associations, even musical notes, really it's anything that comes to mind. Each participant gets a workbook with a fragrance wheel, descriptions on the notes and a formula sheet. The second hour we spend blending perfumes under my guidance and at the end the participants walk away with their very own 20ml bespoke perfume and formula booklet.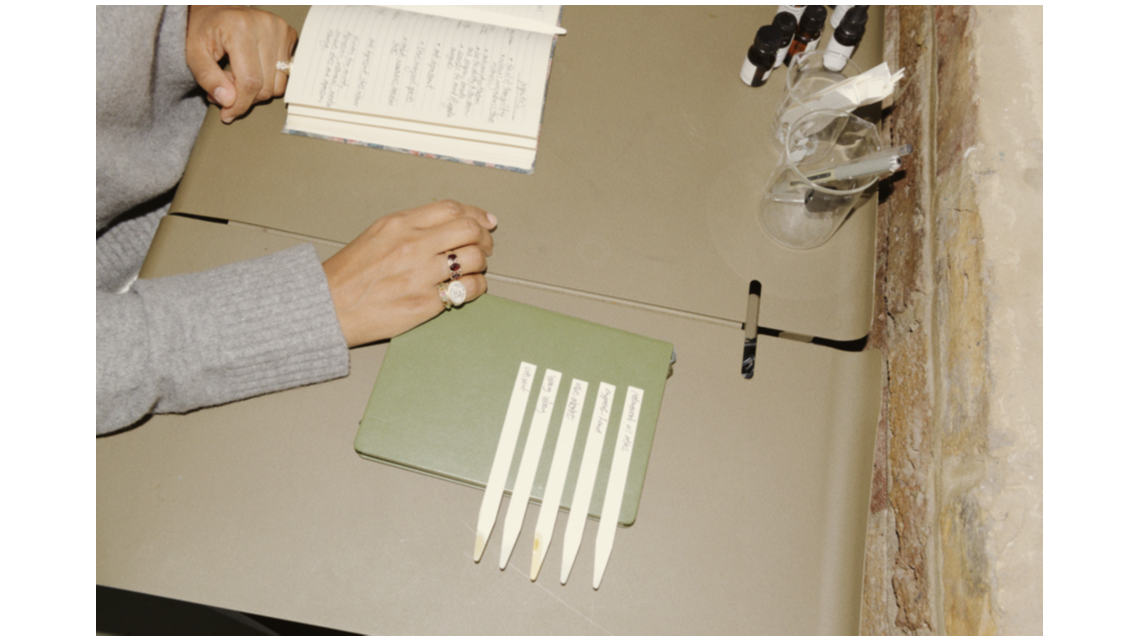 You currently have a focused range of 6 fragrances in the collection. Are you looking at adding any references or developing new scents?
I currently offer 3 sizes; a 50ml, a 7.5ml pocket perfume and a Discovery Set. I am working on new formulas but very much work at my own pace. I am interested in home fragrance and candles and would love to add these to my offering. I have to see how my formulas work in wax and so on, it's all part of the development happening behind the scenes.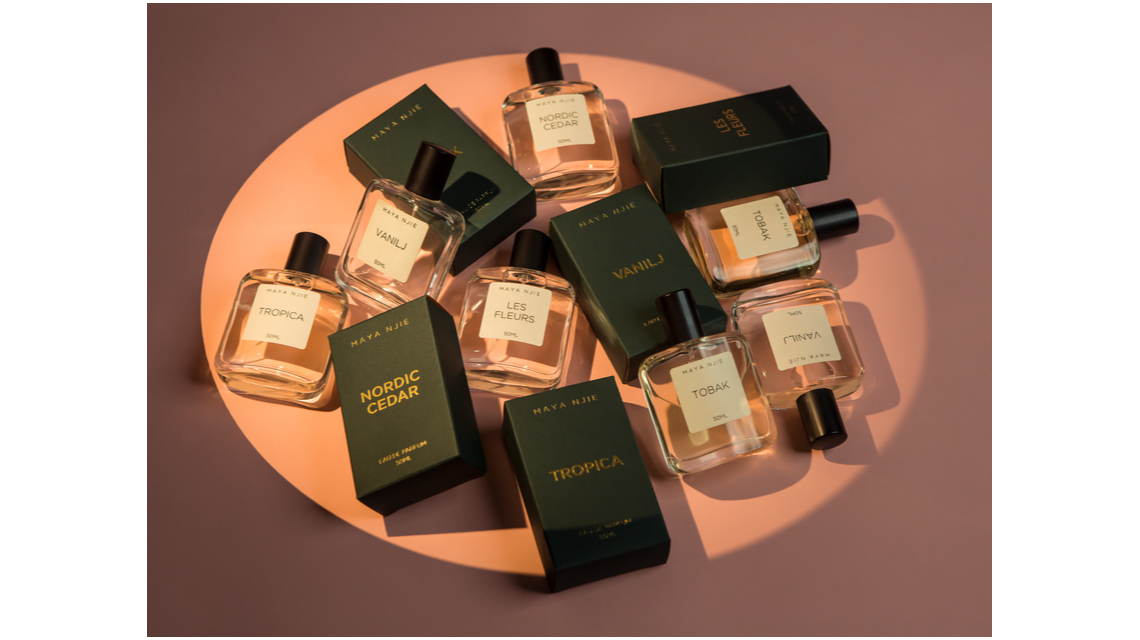 The 50 mls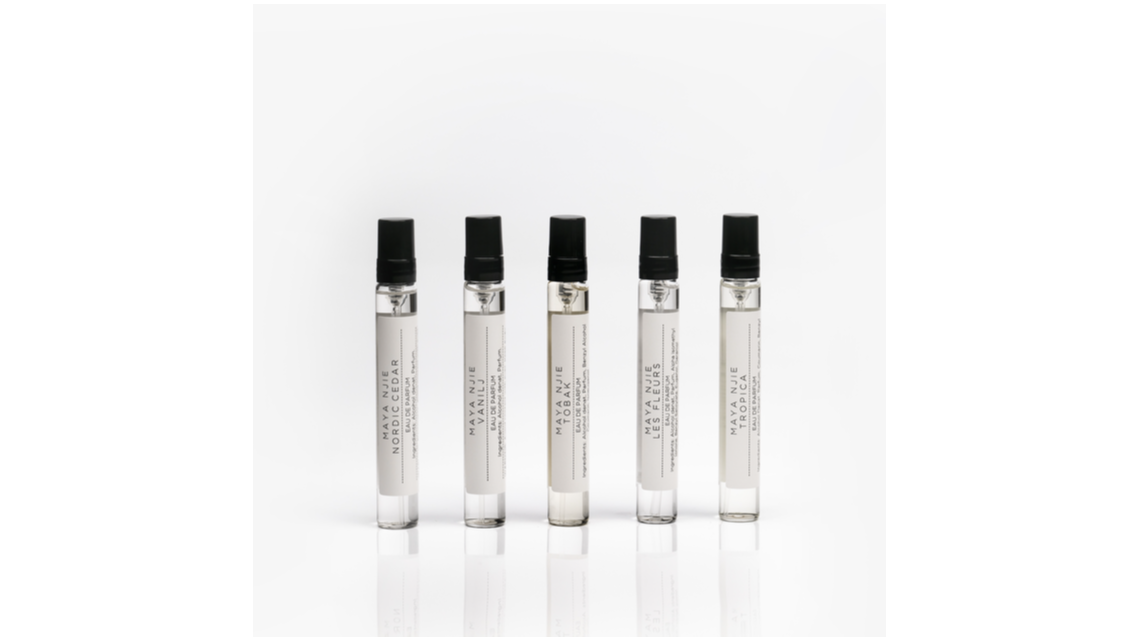 Pocket perfumes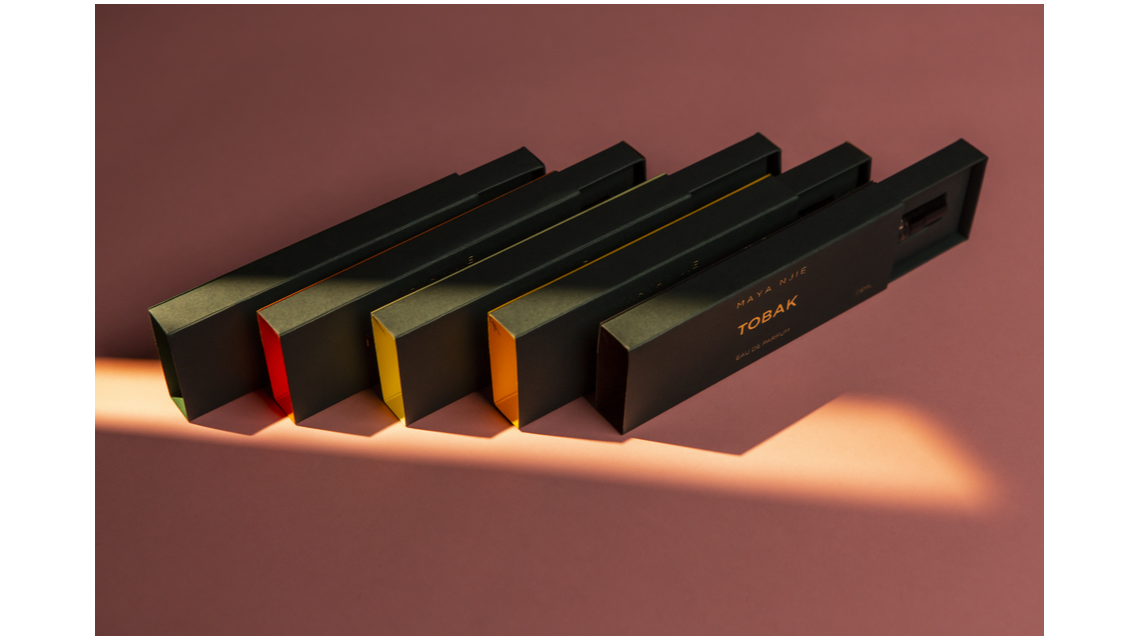 Pocket perfume packaging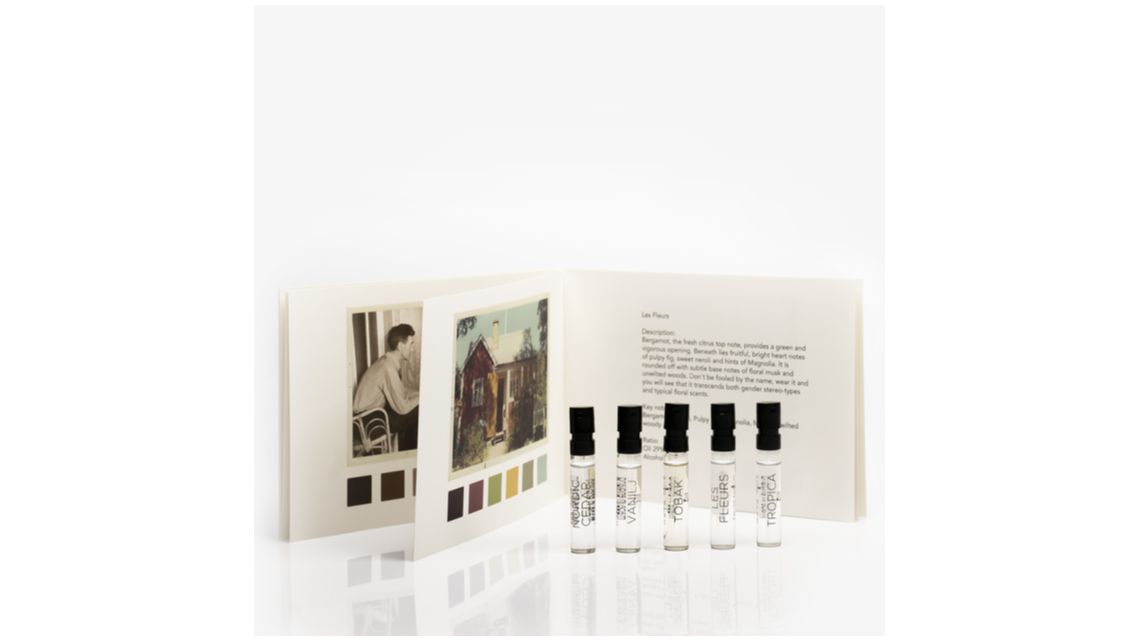 Discovery set with booklet
Where are you distributed? How have you gone about building brand awareness?
My perfumes are available at Liberty and a selection of stores here in the UK. I also sell via Net-a-porter in the UK, mainland EU and the US. I also distribute to stores in the US and Japan. I would love to expand further into Scandinavia, Europe, Asia, the Middle East and Africa. This is where it helps to have distributors on board, especially when you're dealing with the headache of flammable goods and their shipping laws.
Being an unknown brand selling perfumes online has its challenges. How can I enter this market without any real budget or financial support? Instagram has helped me a lot. Once I started sharing my story via photographs, palettes and still life photography it was actually what made me stand out in the end - what I thought was my weakness has become my strength.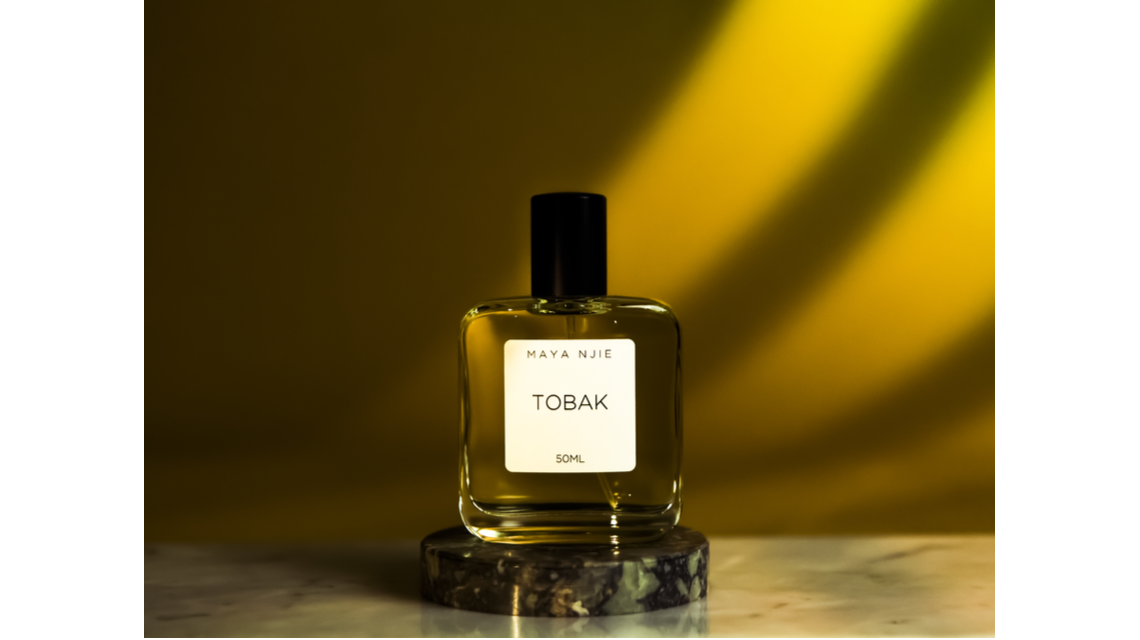 What have been some of the most challenging moments for you as the founder and creator of an artisan fragrance brand? What advice would you give to other niche brands?
There is a huge legislative side to cosmetics which consumers don't see. It's a minefield at best with all the laws and changes, new IFRA regulations vs Cosmetics Europe. New rules for the UK after leaving the EU which meant I had to find a 'responsible person' based there to keep trading. Someone to entrust with the legislative work, a daunting area to get into if that's not your background.
Unfortunately shipping directly to customers outside the UK is not a viable option any more. I have a forwarder who deals with the larger international wholesale shipments.
For me it's been great to outsource these areas instead of trying to tackle them on my own and I feel I have found the right people for the job. It's money well spent and it frees me up to think more creatively and productively and drive the business forward in those areas.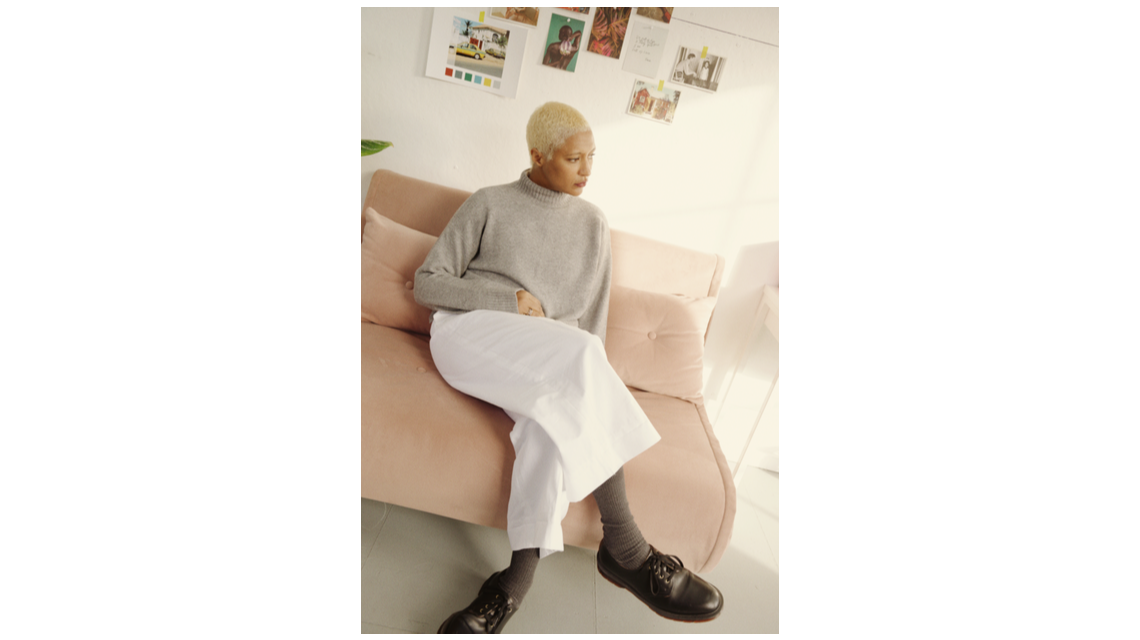 Contemplating the next step
---
This Spring I was able to visit Maya in her Shoreditch studio. She is such a gracious lady! After a warm greeting and tour of the facilities we settled in with mugs of tea before the full range of fragrances. As I smelled each one Maya used the photo cards as a tool to put me in the setting evoked by the fragrance and to retell the story behind the scent. It's always heartwarming to experience the collection with the creator, but even more so here because all the scents center around family and personal memories. Bravo Maya, and may you have the time for creativity to continue to flourish and grow!