MASTER PARFUMS: PLAY THE GAME AND DISCOVER WHAT YOUR NOSE KNOWS
2021 . 01 . 29 | written by Karen Marin
Anne-Laure Hennequin is bright and cheerful on a Monday morning when we meet virtually to talk about Master Parfums, the first educational games about fragrance and the olfactory world which she created. She shared a key observation: "We live in an over-perfumed world, yet the sense of smell is the least used, the most under-estimated, and the most mysterious." Formerly Trainer at Kenzo then Education Director at Puig, she felt she had a mission: to simplify perfume education and promote perfume culture to the widest audience possible. Curious to find out more? Let's dig deeper.

You have referred to Master Parfums as an "edutainment" tool. What do you mean by that?
After spending 20 years in training I have found that the best way to teach is to make it fun, interactive and playful, while the best way to learn is by being part of the learning process and by doing it yourself. So for me it was logical when I decided to create a way to educate consumers about perfume that it would be via a game.
My motto is a sentence by Confucius "I hear and I forget, I see and I remember, I do and I understand". This is the basis of "edutainment", and it has always been the point of departure for all of my training tools when I worked as the Education director for brands.
Master Parfums has two different games: the Pocket Quiz, a type of card game and then the Olfactory Game which is more complex. Tell me about each of these.
I launched the Pocket Quiz in November of 2018. There are 120 questions about perfume culture divided across 4 color coded categories. The pink group covers history, literature and art; the blue group features the olfactory palette and ingredients; the green group is about brands, perfumes and tips, and finally the yellow group is what I call the secrets of perfumery with questions that cover everything from the mechanics of the way we smell to how a perfume is made. Each card has 3 levels of questions, amateur, connoisseur and expert, and the goal is to climb all the steps to become the Master of Perfume. (Editor's note: The Pocket Quiz won a Cosmetique Mag award in 2019 -Indies brand content)
For the next game, I wanted to add an olfactory dimension, so in November, 2019, I launched the Olfactory Game. I worked with Givaudan to create fragrant pens that capture the 12 most used facets of perfumery such as the citrus, green, floral, woody and spicy accords. This game includes 120 questions (different from the Pocket Quiz) with olfactory challenges where the players have to recognize what they are smelling with the pens. Then there is a creative challenge in which they create their own fragrance by using the pens. It's a unique game that trains your olfactive memory and also lets you sketch out a fragrance. The pens were tested in the Givaudan labs and they last 3 – 5 years when properly capped and stored.
Discover the Olfactory Game in the video
How did you do the research to come up with so many questions?
I have been interested in perfume since I was a kid so I have always fed myself with information about it. Obviously working in training during 20 years kept nourishing my culture! For this project, I used many books including Les Parfums by Elisabeth de Feydeau, works by Annick Le Guérer, and Rolande Salesse for the technical information. I read Nez which is a great source of inspiration. And I went to conferences by the Société des Parfumeurs Français and the Osmothèque whenever I could, and I went to Esxence. When you're passionate, you read a lot, you research and you immerse yourself in your passion. I already knew a lot because of my profession, but I really enjoyed doing the research!
Let's look at a few examples of questions from each category and from different levels. *Answers below
Blue/Amateur: Which is called the Queen of Flowers? Rose, Lavender or Lily?
Green/Connoisseur: Should you wear fragrance in the sun? Yes or No
Pink/Expert: In Greek mythology, which plant was related to Aphrodite, the goddess of beauty and love? Myrrh, Musk or Myrtle?
Yellow/Expert: Olfactory Receptors can only be found in the nose. True or False?
Is Master Parfums targeted towards people in the industry, consumers or both?
The games are intended for all levels, from neophytes to perfume enthusiasts. Neophytes will learn about perfume culture and train their olfactory memory. People who are reluctant to play, saying they know anything, end up having fun and saying they learned something! The games are also great for perfume enthusiasts who always search new ways to explore their passion. It is a way for them to share their passion with friends and family.
As for students and members of the profession, they can challenge their knowledge and even deepen their expertise. And it is a great training and team building tool. They can practice their olfactory memory, recognize accords and scents, sketch out fragrances and deepen their culture about perfume history ingredients, brands, tips. It is a wonderful tool to build expertise and increase passion for your work, thus communicating enthusiasm to others. Enthusiasm is contagious!
How have you used social media to get the word out about Master Parfums and to build awareness?
Most of my communication comes from my Instagram and Facebook accounts. A few bloggers and perfume enthusiasts who bought the game and discovered them, preach the good word for Master Parfums. I also am lucky to have a few guardian angels who have believed in the project from the beginning and help me get some visibility with perfume enthusiasts. I am thinking of course of François Hénin from Jovoy, who I like to call my Master godfather, and also The Nez/auparfum team.
Before Christmas I started a collaboration with the brand L'Orchestre Parfum. Pierre Guguen had the great idea of creating a Live Quiz via zoom about perfume and music perfume. We had people from all over the world who connected and played to win perfume and games! We are currently planning additional dates for 2021 which will be listed on our social media channels.
Do you have new products in the pipeline for 2021?
I have many ideas but I need the petrol to make them happen! In the spirit of brand personalization I am working on the creation of Master Parfums Pro. The idea is to adapt the concept of Master Parfums to promote the DNA and culture of one brand only or a group of brands. This could become an internal training tool, a gift, and the information can even be used for content creation.
What do you think we learned about our sense of smell in 2020?
People who suffered from anosmia linked to COVID-19 may now appreciate the importance of the sense of smell. People said, "I could never imagine how important my sense of smell was before I lost it."
A life without scent and taste can be quite bluesy. You lose many emotions and sensations; you can lose your zest and appetite for life! And on top of it, you are more vulnerable to accidents (gas leak, rotten food, smell of fire, smoke…) so it can be dangerous as well. We use our sense of smell in a passive way… you smell because you have to breathe, but you do not really use this sense to its full advantage. So it is under-estimated for sure and not trained enough!
For more information visit:
https://www.masterparfums.com/en/welcome/

* Answers:
Blue/Amateur: Rose
Green/Connoisseur: No
Pink/Expert: Myrtle
Yellow/Expert: False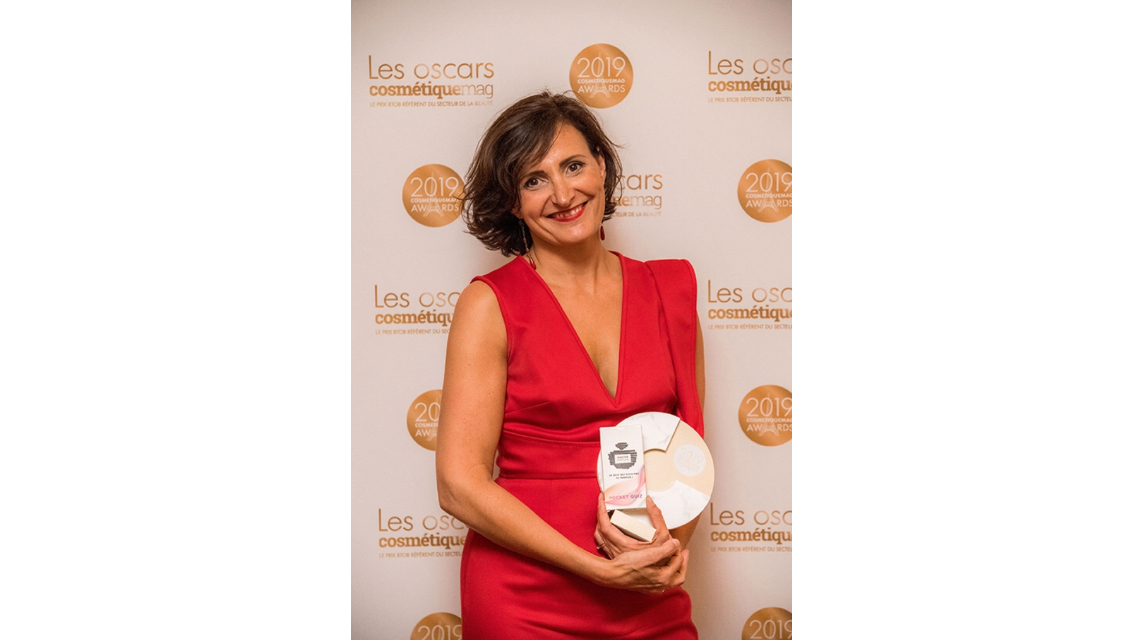 Anne Laure Hennequin with award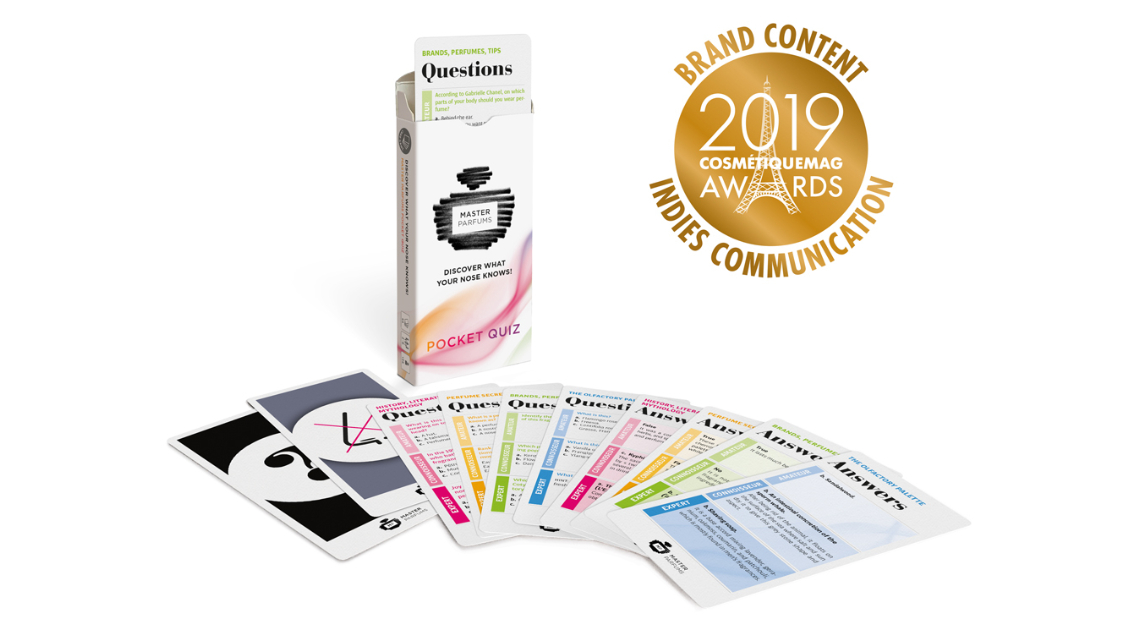 Pocket quiz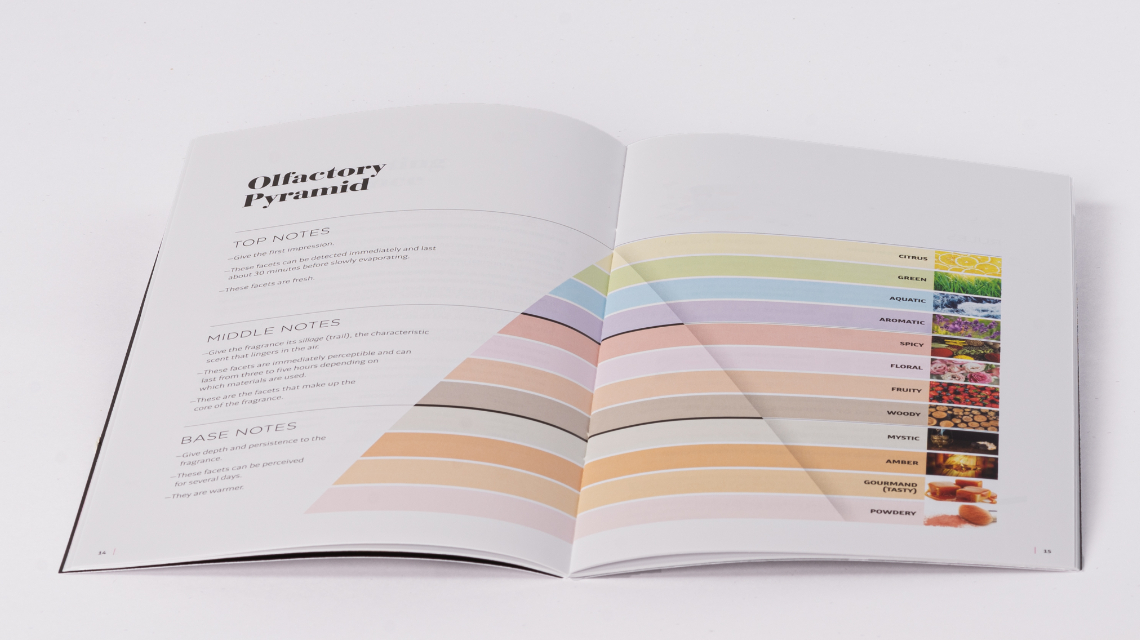 Olfactory Game Booklet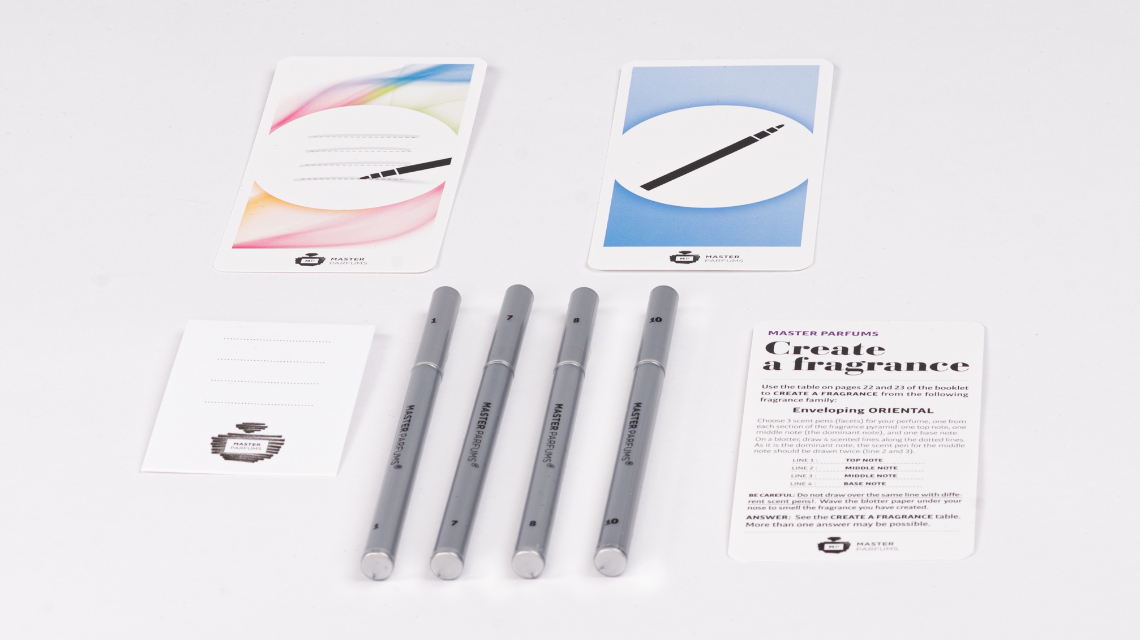 Olfactory Game Creative Challenge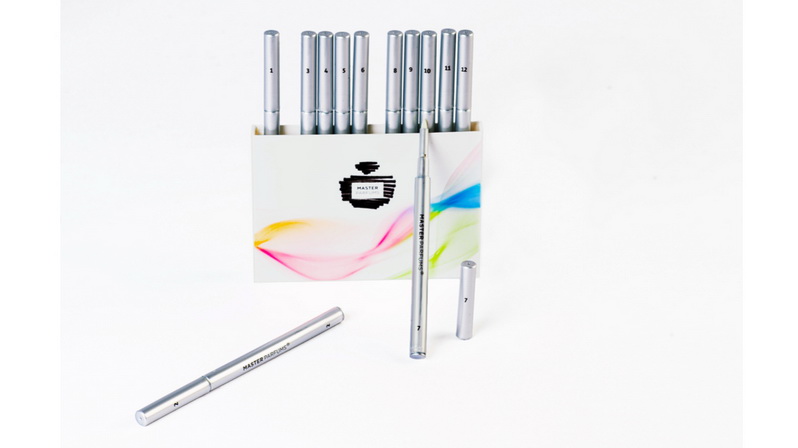 Fragrant Pens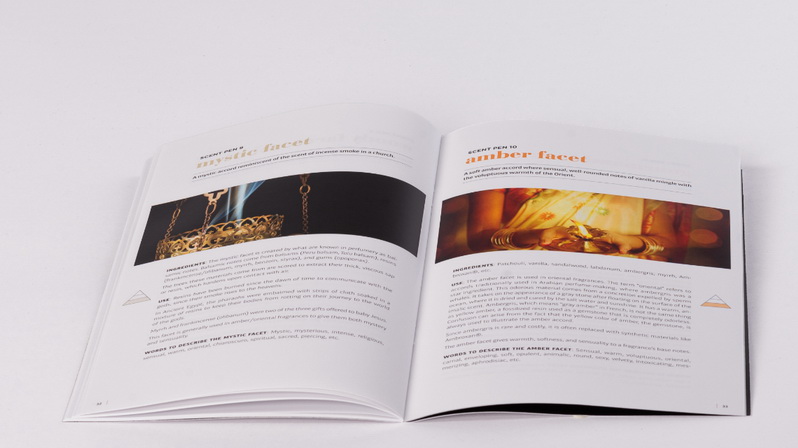 Olfactory Game Booklet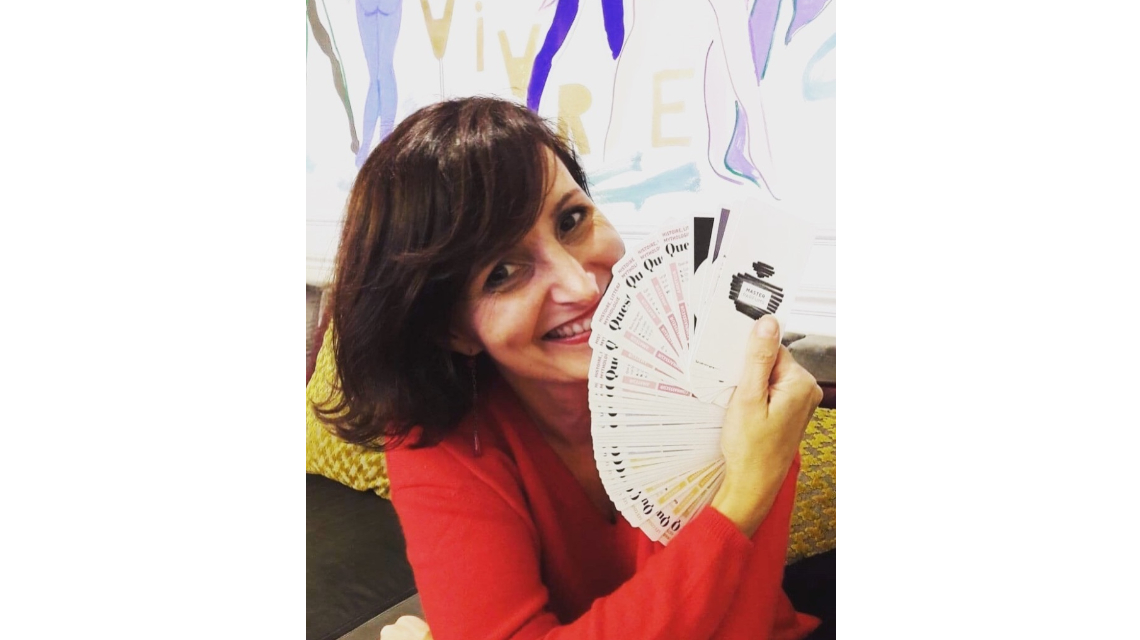 Anne Laure Hennequin