Maison Lesquendieu Perfumes, a loving dialogue between a grand-father and his grand-son
2021 . 06 . 15 | written by Laurence Arrigo Klove
Jérôme embarked on an arduous search for a book written by his grand-father Joseph Lesquendieu. He not only found the book but his own mission. To start afresh the glorious family perfume brand. The men-duo shares the same initial, the same passion for creating luxury perfumes and so much more. Let us listen to their conversation.
Question: Why digging in the family past was vital for you prior to launching the Lesquendieu brand?
I am lucky to belong to a family who has cultivated the sense of belonging and of continuing the good things achieved in the past. Multiple stories were told during reunions bringing together the Swiss and the French family branches as well as close friends. I was captivated by them and listened intently. My grand-mother completed our genealogical tree back to 1640. One of its main personalities was my grand-father, the young chemist who first became a bright pharmacist and then an acclaimed perfumer. He had built a successful international business at the beginning of the nineteen hundred. My father had told me that his father had written a book about the perfume business but that he had never found it. I had to find it myself. I just could not be in the know of 70 years of business legacy and great knowledge of my grand-father. I searched extensively the home library where these archives were supposed to be, to no avail. One day, in 2004, against all odds, I found a double wall in the library bookcase. Magically, the book was there waiting to be picked. I was surprised by how thick the book was, in fact, it was made of two heavy books. I realised Joseph had rigorously written a detailed description of his experiences in producing scents. The whole of his learnings, what to do and not to do, was in these archives. It was indeed a very comprehensive methodology manual. I digested it passionately. It gave me the desire to learn even more. Above all, it triggered my will to start afresh the business which had abruptly stopped in 1980. I steadily worked on a plan for launching the family brand which happened in 2014.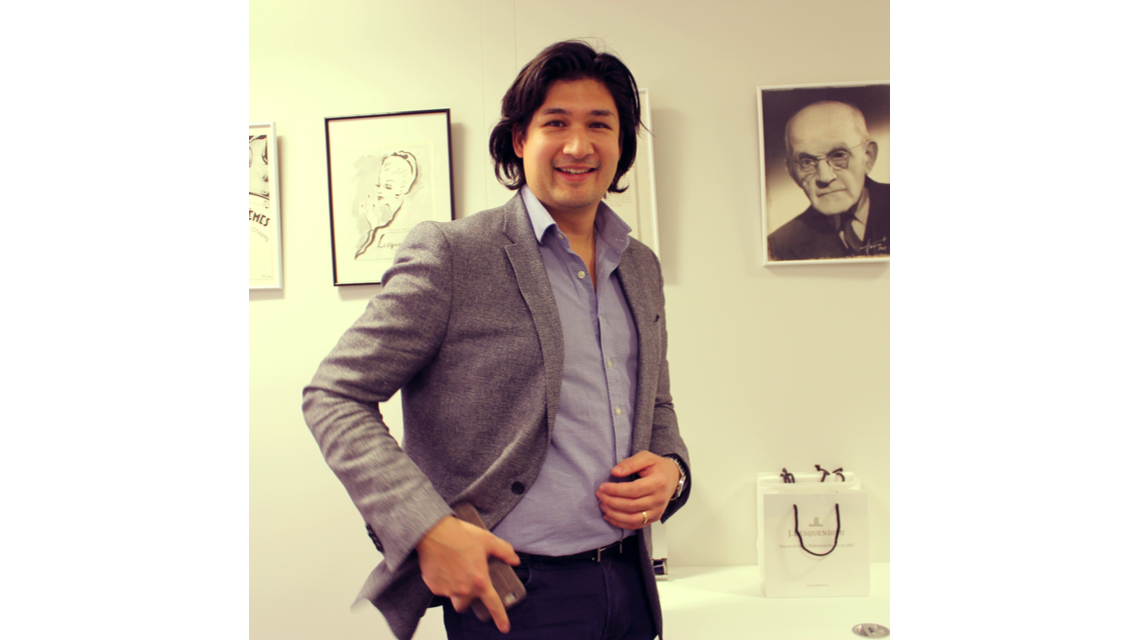 Jérôme smiling in front of the picture of his grand-father, Joseph Lesquendieu, the founder
Question: Your grand-father had grand ambitions from the start and tackled heads-on the US market. Tell us more about it.
I am going to surprise you here. On this matter, he was not proactive. He simply jumped on an opportunity - and on the boat - that took him to New York City. He saw the potential when the United States were not so important. Back in 1904, elegant European cities were the place to be, not New York. At that time, affluent clients from the United States were regularly visiting Paris and shopping at the Lesquendieu shop, located rue de la Tacherie in the 4th arrondissement (just off rue de Rivoli, close to the Town Hall). On their boat journey back home, word of mouth spread out about the brand and the quality of its products. Distributors therefore contacted my grand-father in order to buy stock from him. Ultimately, Joseph decided to open his own US subsidiary on 45 West, 45th street in NYC. The international footprint expansion happened rapidly and by 1908, Lesquendieu was distributed in 18 countries, including St Petersburgh, Geneva… London, a key destination, came about in 1925.
Question: Is your grand-father, Joseph Lesquendieu, the main inspiration behind your work today? What do you have in common with him beyond the initial?
Absolutely. As you have understood, I always refer to his book. Always at hand, I refresh my memory and read extracts of it. Now that I think of it, we do share many personality traits. Both of us are quite strict in terms of refusing the 'that will do' approach. We do not compromise on quality, we want to push boundaries, to focus on doing things better. We can be quite opinionated. We have strong characters. My grand-father was however very human. During world war one when there were only women left at home with the children, he wanted to give them the opportunity to earn their living by working in the Lesquendieu production plant. He did not stop there. He offered free medical treatments to the families. He also raised their salaries by 20% in comparison to those prior earned by the men. Quite a daring gesture, when treasury was in poor supply and women in those days were not deemed 'fit' to work. 100 women or so took up the challenge. It worked. The production continued nicely. Today, I hope I mirror that human side too. I like to empower my team and profusely congratulate them on their achievements. I am also totally convinced about the unique qualities women bring. This was already true at the time of my grand-father who listened carefully to my grand-mother guidance. Today, women can be outspoken but we, men, have a responsibility to support their empowerment.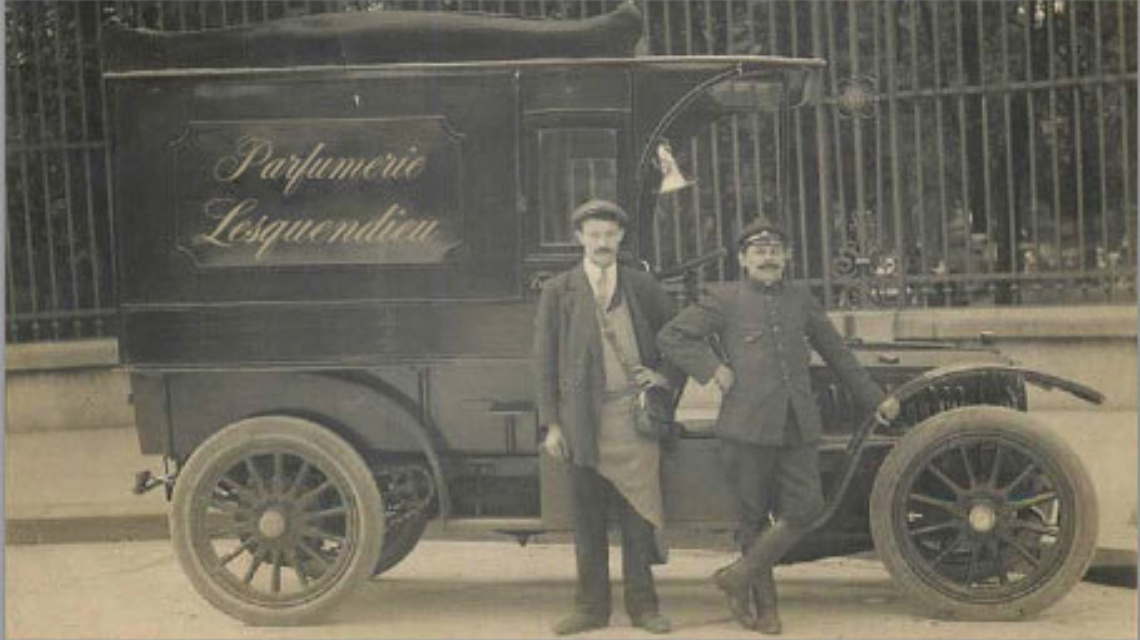 The Lesquendieu company car
Question: Throughout your quest what did you find that was totally unexpected?
I found a clock! Quite a special one. Not Swiss but still magnificent. My grand-father had left it in his office in Paris when it was occupied by the Germans during World War Two. He decided to fetch it while running the risk of being caught as he was an influential person who had in addition helped Jews to escape. Thanks god, he succeeded and returned to the country-side safe and sound. I had the pendulum of the clock fixed in Switzerland, easy task, and it now beautifully stands in my home living room.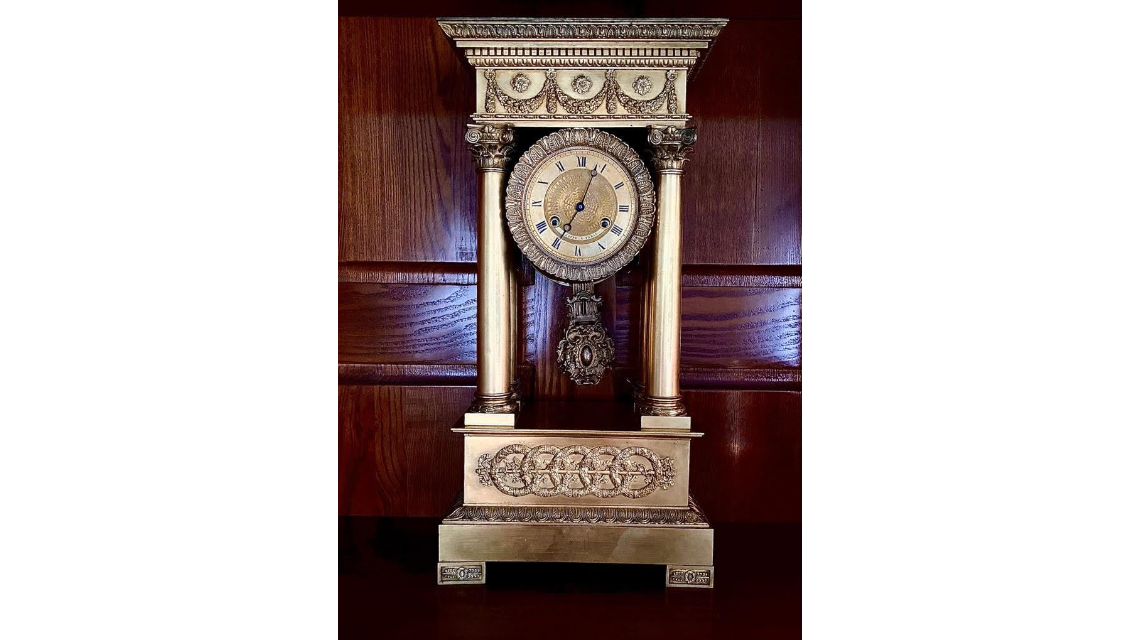 The family clock found by Jérôme
Question: Which place did perfumes have in your life prior to your decision to relaunch the family perfume brand?
Naturally, my childhood memories are full of perfumes. My father worked in the family business until the end. Every summer holiday, I played with perfume bottles that were everywhere in my grand-father house. Perfumes were always a topic during family conversations. Given this family background, I could either turn against or in favor of perfumes. I became the latter, totally passionate. However, I started my professional life in private banking in Switzerland. You see, I needed time and above all I needed to find the book first! With my cultural background, I am at ease with the production environment, the language used in the industry, the natural ingredients... I am not a chemist though, so I know what my limits are.
Question: What adjectives precisely define your brand DNA?
Passion. Excellence. Tradition. Family. French. Human. Innovation. Freedom. The adjective's sequencing order is critical to understand the brand. Let me explain. Passion comes first as my grand-father business could not possibly have survived two world wars and a plant destroyed by fire without passion. Excellence comes second as his core approach was transmitted to the family 2nd and 3rd generation. With passion and excellence, one achieves tradition and longevity. Innovation is key to survive and build the future. Freedom comes with financial independence. I could not run the business without it. It pushes me every day to achieve more, yet without external constraints.
Question: Venturing into luxury perfumes in 2014 is no easy task, I assume you must be a risk taker, right?
I guess you have figured this one out! I like taking risks and being accountable for them. If it does not work, I am the only one to blame. So far so good. I must point out that I do take my time. Like Joseph. My grand-father could go until the 117th trial before he got it right. I do the same. I have the freedom to do so. I do not have to obey to any market or investor rule. I also play with small numbers to start with to minimise the upfront risk. As an illustration, I decided to only launch 5 perfumes when I could have gone for 17 that were easily available.
Question: Can you please explain your choice of the 5 Maison Lesquendieu perfumes?
I precisely chose 5 perfumes to offer to our clients a variety of styles while telling the story of the brand. I naturally kept their original names: Lesquendieu (a bold mysterious leathery scent from 1903), Feu de Bengale (a warm soft elixir created in 1925), Bonne Fortune (an exhilarating contrast of fresh and warm notes, also from 1927), Glorilis (an intense rich composition from 1953) and Lilice (a powdery sensual composition from 1920). Lilice was not a perfume for sale when my grandfather was alive. It was simply his love declaration to his wife, only for her, nobody else. He had worked for months on end on an accord between iris and rose. In the end, he silently gave the perfume to her during a dinner invitation, taking everybody by surprise. He was so relieved when he realised that she liked it. I believe that I am paying tribute to his work and life passion with my decision of selling the 'forbidden' perfume. He would not be cross at me. Instead, he would be happy of my daring.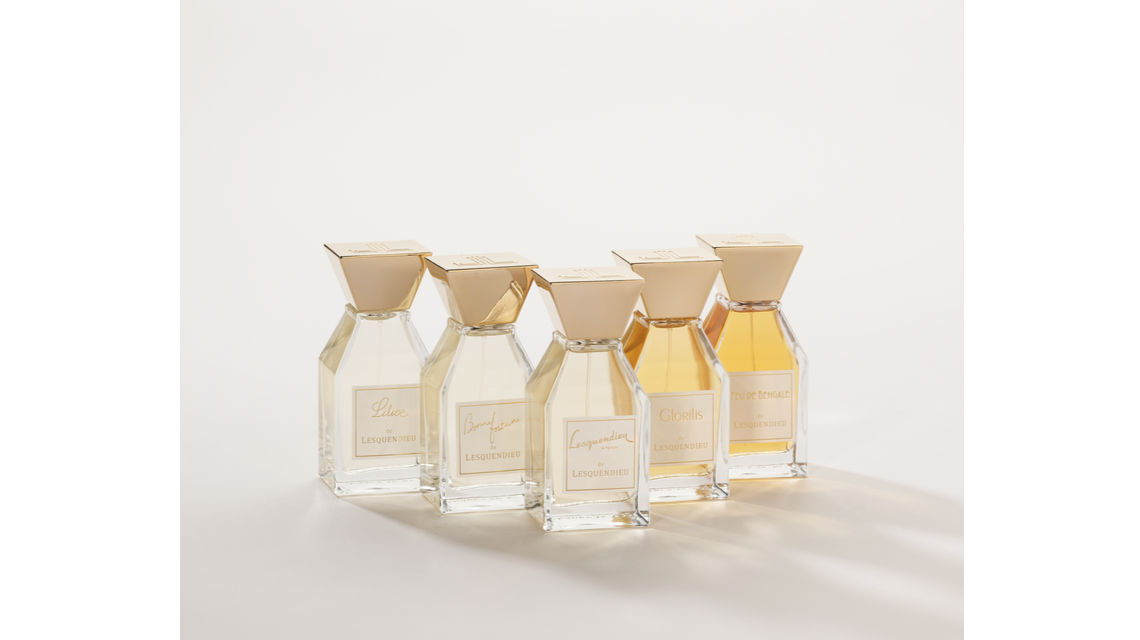 The Maison Lesquendieu perfume collection
Question: Now, I am going to ask you a bold question, how can perfumes from the past adapt to the current times? What is the definition of modernity for you?
Fine by me. I did have to put some thought into this and ask myself that same question. My vision is to bring innovation while keeping the same emotion brought about by Lesquendieu original perfumes. As you can expect, formulas had to be adapted to be in line with the current IFRA rules. Quite simply, Joseph is the nose of the current perfume collection. I went about selecting an excellent laboratory in Grasse to produce 'his' scents. I kept loyal to my grand-father intent and style. He had a daring touch, he wanted to bring to the table an original twist, like hot and cold… His creative intent was to surprise people and please too (of course). There is no need to change more than necessary. The daring element of those times rings true today.
Question: Do you then keep the same artistic approach defined back then by your grand-father?
I must admit that I am stubbornly sticking to his luxury approach. I apply Joseph belief 'creativity and quality should define the fragrance, not the budget'. The cost is the end of the equation, not the beginning. I first choose the perfume bottles, the cap with gold carat enamel, the lengthy craftmanship process... I follow this path of keeping an extremely high level of quality no matter what it takes.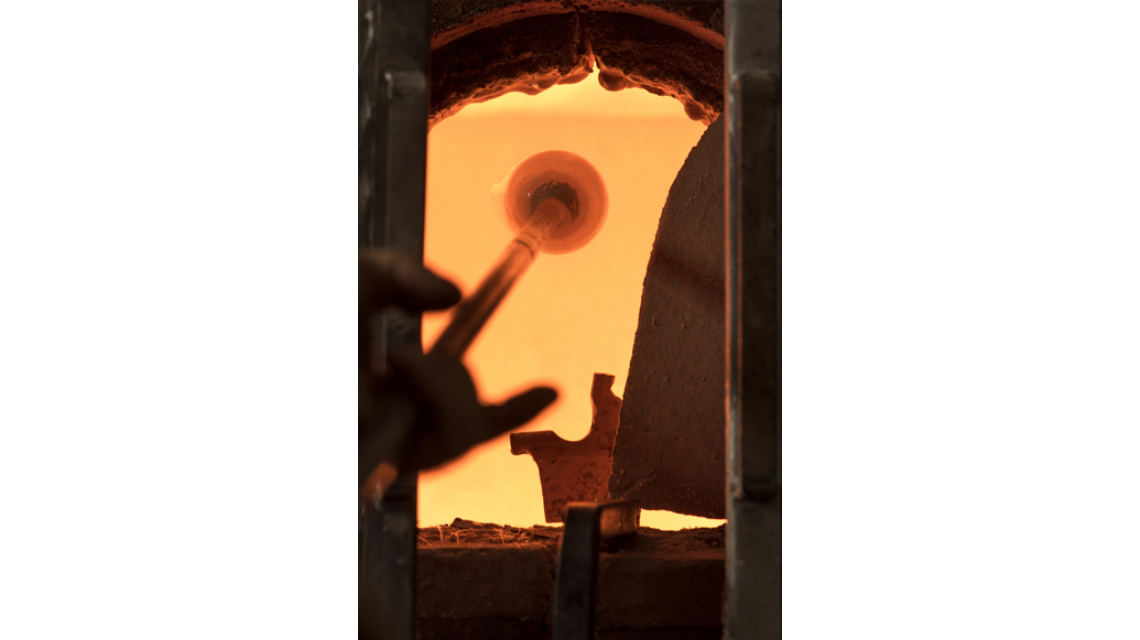 Lesquendieu commitment to craftmanship
Question: So how do you define luxury?
First, it is a commitment to quality. A luxury brand must respect its clients delivering a high level of quality with all necessary means. Service is also a piece of the commitment. I like to use Japan service approach as an example: a client is above all greeted inside a shop with a 'thank you for coming'. I like to add 'thank you for your time', if a purchase is made or not, that is irrelevant. Second, luxury in my opinion is to bring a creative twist, something unexpected. My grandfather had a great story of one of his stays in a luxurious hotel. He had arrived by car and had left his keys to the hotel and when he picked up the car, he had found out that the hotel had taken the initiative to do the car service without informing him and without charging him. Of course. This story still rings true today.
Question: What precisely do you think distinguishes an excellent perfume from an average one?
An excellent perfume for me is the one that will bring you the most vivid emotion and makes you dream. An excellent perfume does not lie. It gives an authentic experience. So, in one way, the matter does not revolve around cost. It is about truth in the approach and in the emotions created.
Question: Do you have any favourite ingredients?
Like my grand-father Joseph, I cannot deny I like leather. Prior to my grandfather, the family was producing leather goods. I guess the family has been 'indoctrinated' with that smell and I personally like the contrast of its power and freshness. I am also very fond of orris, amber and saffron. I like ingredients that can be both powerful and soft.
Question: Why are the 'roaring twenties' so important to you?
You are right. In my mind, this is the best time in history so far for the world of luxury, for perfumes certainly but not only. Fashion, travelling experience, craftsmanship, quality reached a peak. For my family, it was also a special time, full of happiness. My grandfather had achieved success, his business was thriving, he could enjoy life and afford to buy a castle in the North of France where he had many friends' parties. There is another reason why I am so fond of this time. In 1930, when Joseph inaugurated his new production plant – a fire had destroyed the previous one – he had to wait for the mayor to kick off the official celebration. He used the time to draw, or rather 'doodle'. Such drawing was the design I chose for the Lesquendieu candles.
Question: Why did you take the initiative to create Lesquendieu candles?
Often, candles are produced without the know-how of a perfumer. This, to me, does not make sense. The same care applied to perfumes for oneself must be applied to candles, home scents. I really wanted to translate the Lesquendieu perfume style into an interior perfume. For once, I ventured into an unknown territory, my own. Where my grandfather did not venture for lack of technology available, I went forward. With 'Cuir Orange' and 'Fleur d'Acacia & Bois de Santal', my creative twist was to assemble flavors that surprisingly complement each other. I decided to use a lengthy and complicated craftsmanship process to reach the highest quality in terms of wax burning and perfume diffusion. Luxury applies here too.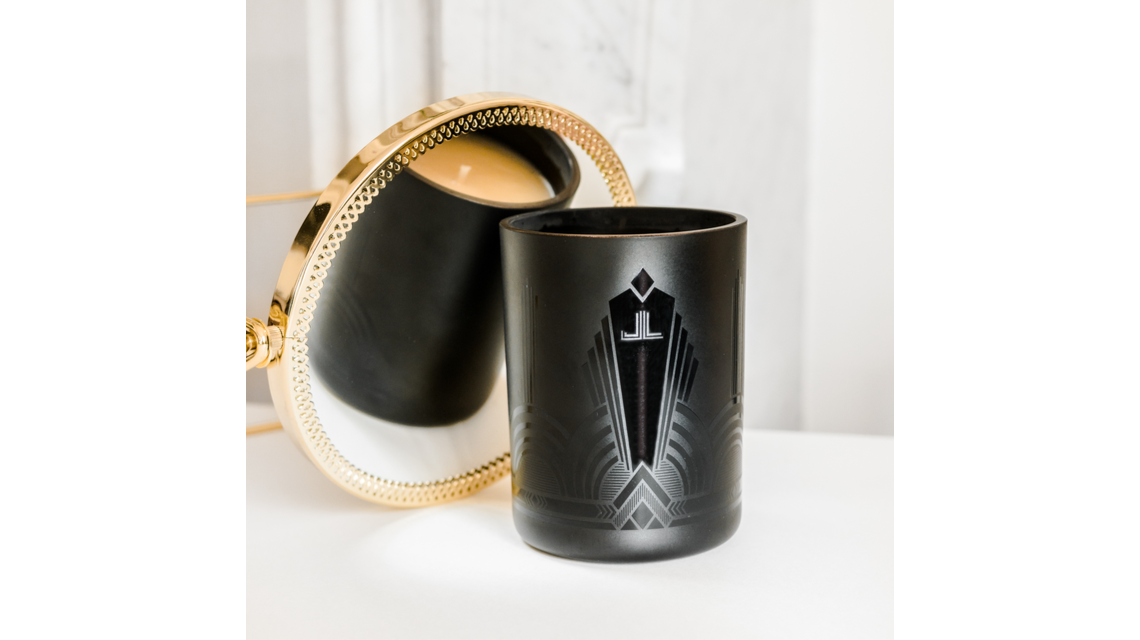 Question: What are you most proud of and what are you most scared of?
I want to do well. As well as my grand-father. I worry at times that I will not manage to do as grand as him. I always want to do things better. I challenge my excellent team to innovate. I do not accept the 'can't be done'. I am proud of the quality of the perfumes and candles we have achieved. What is more, what I am really proud of is our clients' loyalty. We have 80 points of sales in multiple countries all around the world. The feedback we have is so enthusiastic that it fuels us with more positive energy.
Question: So, what does the future hold in store for Maison Lesquendieu?
I am sure you are going to be happy with my piece of news. I did it! I have dared to create a new perfume collection with my own inspiration. This time around I did not use the book - sorry grand-dad - joking. My collection is called 'Collection Orientale' and launches first in June in the Middle East. I have composed 4 fragrances, working hard with my favourite ingredients, and adding a surprising element. Curious? Read the next chapter of the Lesquendieu book. Hope you like it!
__________________________________________________________________________________
In the Name of my Grand-Father
Jérôme is totally devoted to the cause of restoring the grand business of his grandfather. Through him, his grandfather is alive. His bible is his grand-father book. It is as if he was guided by 'do this in memory of me'. Paying tribute, respect and admiration are high. Jérôme knows where he is going as he has a deep sense of purpose. He has not only acquired extensive knowledge, but he intuitively knows. Decisions are made without hesitation; they seem to come naturally. Intelligence is sharp. In the Name of Love. No matter what it takes.