LUCKYSCENT: America's Go-To Retailer for Niche Perfumery
2022 . 12 . 01 | written by Karen Marin
Almost 20 years ago a pioneering duo started a website dabbling in niche fragrance. Initially just a side project, a hobby in which they could share their passion for rare and edgy brands, the site unexpectedly resonated with fellow fragrance aficionados, and Luckyscent.com was born. Flash forward to 2022 and the website, along with its retail sister, the Scent Bar, is the go-to retailer in the United States that caters to a clientele in search of niche and artisan fragrances. The impressive online brand assortment runs the gamut from Amouage to Zoologist, by way of Creed, Memo, Ramon Monegal and hundreds more. Customers can order 1ml samples for at home trial from close to 3000 fragrances – an absolute treasure trove for the fragrance lover! In-store, the no-pressure environment encourages experimentation while building a fragrance community. I met with co-founder Adam Eastwood to learn more about the business model and to get the full reveal behind this American success story.


ON HOW IT CAME TO BE
Franco (Wright) and I had a boutique graphic design studio back in the early days. We'd been doing design work primarily for beauty and tech clients which gave us a unique position of working in the emerging ecommerce space and beauty at the same time. Our exposure to the fragrance side of beauty struck a nerve with us. We both had an interest in edgy fragrance brands like Comme des Garcons which was a super appealing concept as graphic designers. So we built our website as a side project. Kind of a goof really…but it struck a chord with other people who were tired of the usual offerings in the mass market. Niche wasn't really a thing yet back then. By 2003 we had to close our design studio to focus on Luckyscent. It was a very organic transition for us and the adventure continues.


ON BUILDING THE ASSORTMENT AND DETERMINING RETAIL READINESS
When we began Luckyscent, we used to travel to Europe looking for unique brands and fragrances. It was like treasure hunting with surprises around every corner. Ever since the volume of new brands and product creations has exploded in niche. Now with how connected everything is, we really don't have to travel because we receive so many submissions. Typically, Franco does a first pass then has the store staff give feedback. We involve our store staff in the decision making process because they're the ones who will be interacting with the customer. We want them to be excited about the brand and share their enthusiasm with the customer.
Our interest usually starts with the story and then, obviously, the juice. In some cases people present to us before they have their logistics and packaging worked out, so we may guide them a bit on that. But overall…it's just a feeling we get from the brand and the story it tells.
We appreciate everyone who works at trying to participate in the industry, so we try to be mindful that these creations are very personal to people. We approach them all with a great deal of respect.
"Luckyscent has a large selection of perfumes, some that are difficult to find elsewhere…"*


ON THE SAMPLING PROCESS
Samples are key to discovery as they offer the customer the ability to try things before they purchase. Most of our first-time web customers start with samples just like first time buyers at the shop always sample first. Sampling gives the remote customer the ability to test drive before they buy. Our samples act as a stand in for a store visit. Actually it's even better in that you can try anything we carry online. The stores could never carry a tester of our entire assortment.
We offer many ways to get started from curated sample packs featuring out "Essential 13" from different categories, to a custom fragrance fitting where the customer answers some basic questions about themselves (not necessarily fragrance related questions) and a store staffer will select the samples based on the answers, and then they write a personalized email to the customer. Since this is done thoughtfully by a person, not an algorithm, it is much like visiting the store in that we recommend scents based on your personality.
All samples are hand-made on site to ensure authenticity and consistency, so it is an extremely labor intensive service. We pour, label and inventory all of the samples. It's a great tool but complicated to manage. It was easy making samples when we only had 12 brands, but once we expanded, it became a difficult service to offer. We do it to allow those not able to visit our Scent Bar locations to sample some of the finest and rarest perfumes. Typically we fulfil orders in 1-2 days if the products are in stock.
Sampling has also been a great way to limit returns. If someone blind buys a scent, we include a sample so they can return the unopened merchandise. People appreciate that we are focusing on getting them something that works for them, rather than just a sale.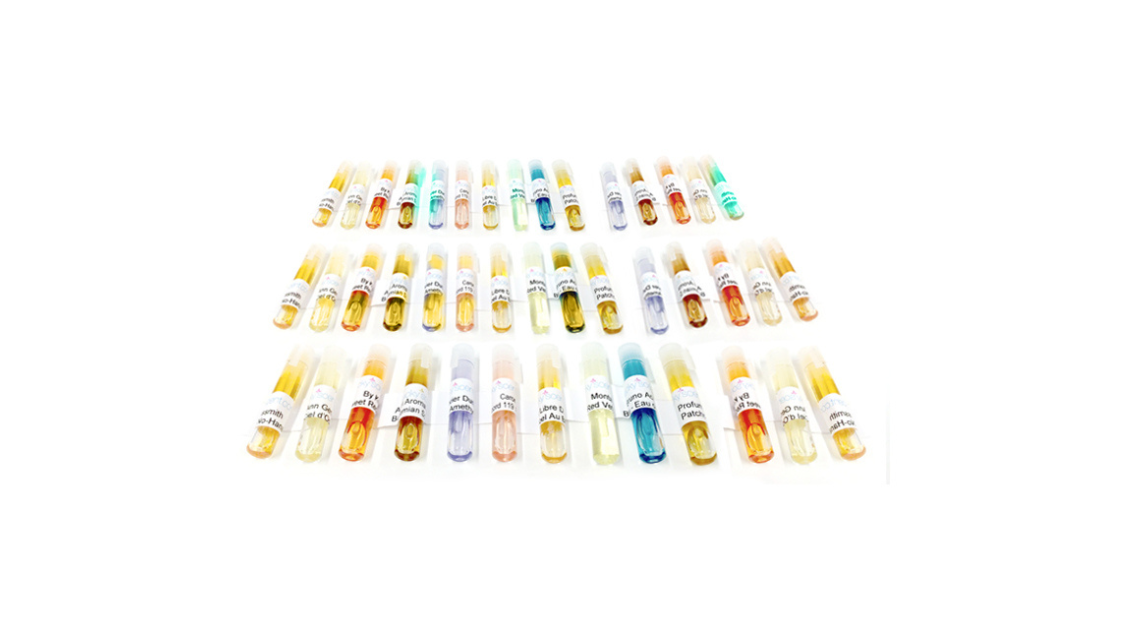 Samples samples samples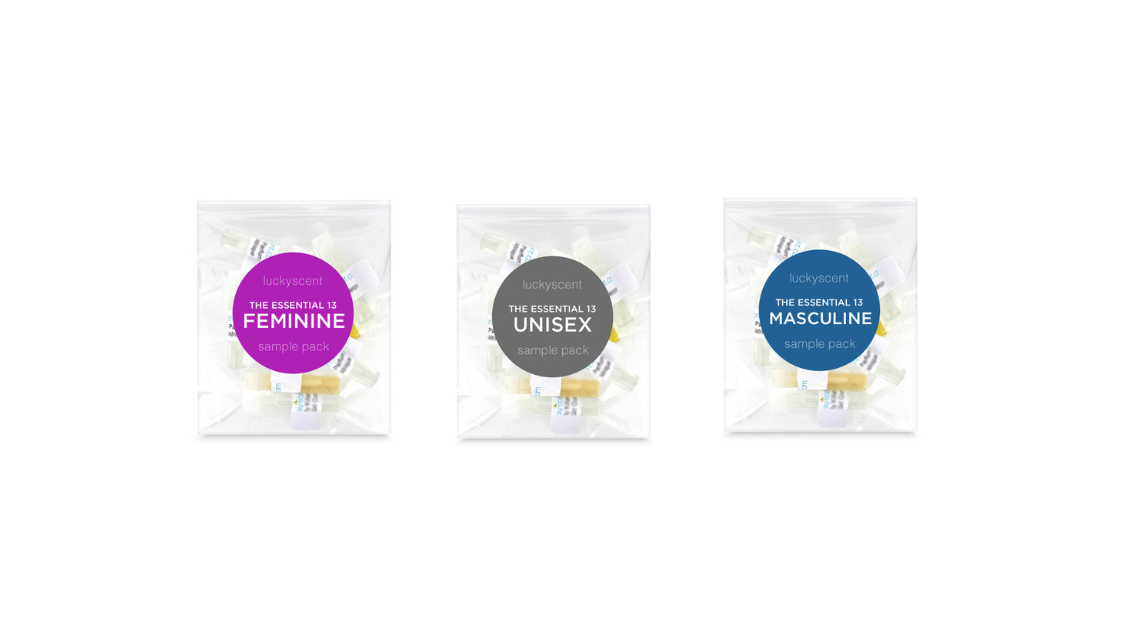 The Essential 13
"Because I am able to order samples first I can try out different perfume before ordering a full bottle.,,,"*


ON HOW TO MANAGE A HUGE INVENTORY
Diligence. It is a never-ending task that!


ON THE IN-STORE EXPERIENCE
The Scent Bar experience is key to the brand. We feel that the shops are a true reflection of our collective personality. They're staffed with the most genuine and friendly people we can find and a major part of what they do is simply making customers feel welcome while sharing their passion for scents. The actual "sale" is secondary. We build a trust and mutual respect through our ethos of welcoming everyone, whether they are a first-timer or an experienced fragrance enthusiast. We help the newbies find the perfect scent that "fits", and for the more experienced, we offer some of the rarest and most unusual scents. But all of this happens in a very casual and social atmosphere, so it's meant to be fun…not serious. And it is.
Our store are merchandised by fragrance family not by brand, not by gender. It's like a bar where the gin and the vodkas are together. We think it's easier for the customer: they can go straight to the place of what they like. And the Scent Bar environment is kind of like a bar where people stand so you get a lot of social cross talk as well. We've even been described as being like a wine bar for fragrance.
We currently have two stores in LA and one in New York. We were so excited to open in New York, we have a great location, a beautiful shop in Nolita on Elizabeth Street. And absolutely, we will look to open more Scent Bars in some key markets.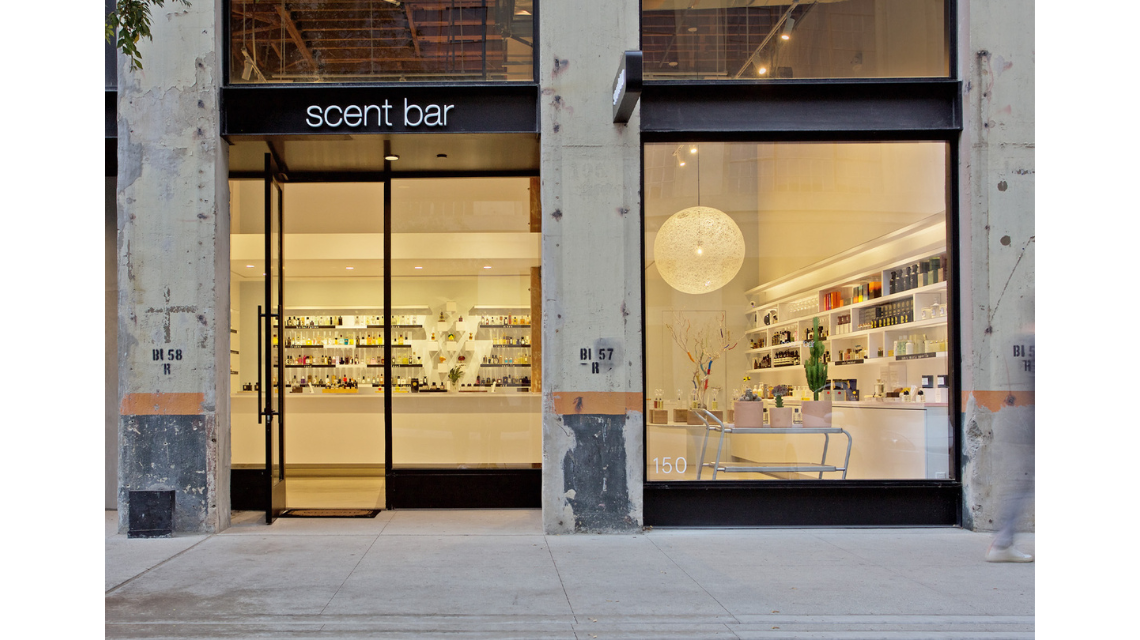 Downtown LA store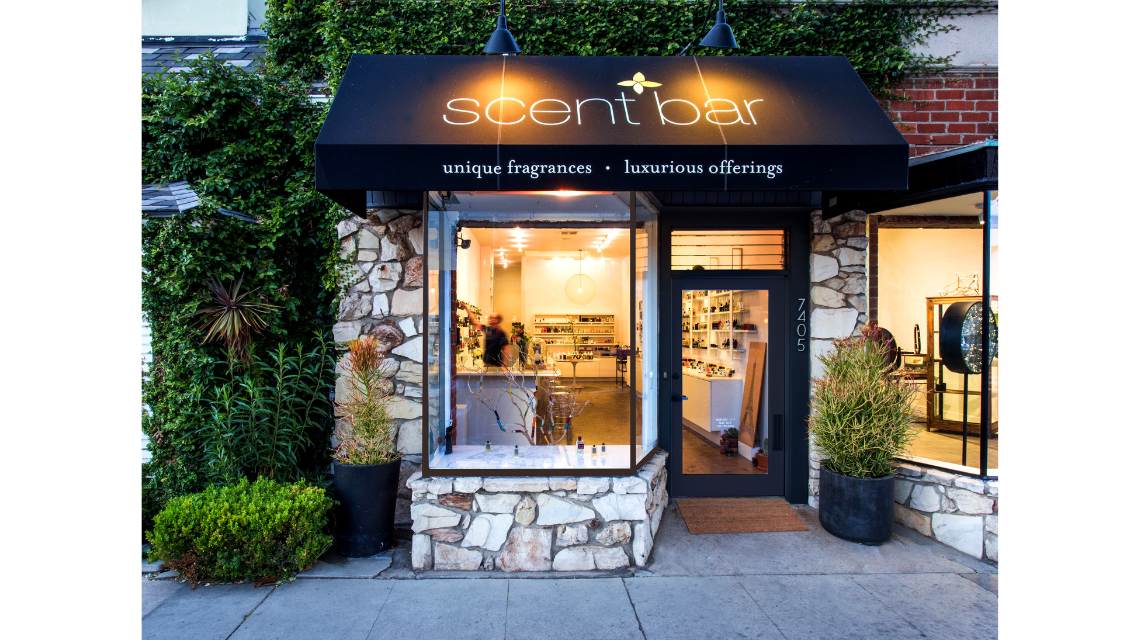 Scent Bar Hollywood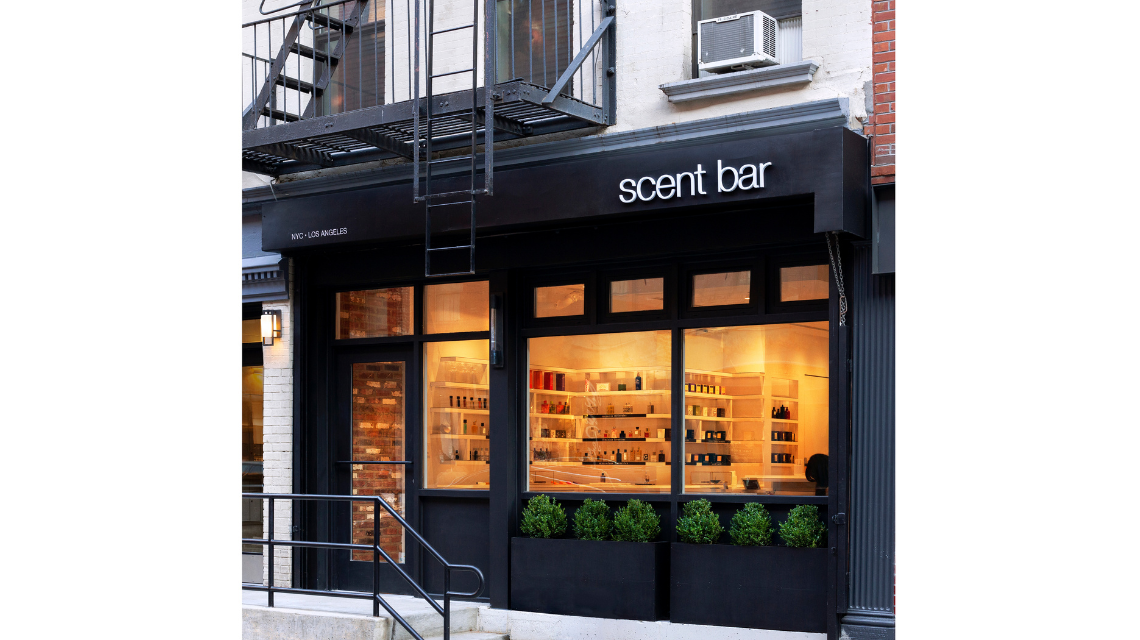 Scent Bar NYC
"Luckyscent is amazing and has something for everyone…."*


ON BUILDING THE COMMUNITY
The sale is important but the relationship where we build a community is most important. The sale is secondary. So many come in and try things without purchasing…but if they trust us and like us, they tend to be very loyal down the road. We try to make friends and we trust that the commerce will follow.
Anyone can sell fragrance on a website. It's the experience of coming to our shop and feeling like a friend is helping you discover this incredibly creative world of scent. This is what makes Luckyscent a more fulfilling fragrance shopping experience. The connection to the people.


ON THE STORE STAFF & SERVICE
We like to think of our staff as a reflection of ourselves: easy going, not so serious, informal, not intimidating. And they need to be able to talk to someone who knows nothing and also the customer who's really knowledgeable. So there's this perfect person we look for and they're very hard to find! It all starts with the personality for us more than someone with product knowledge because we will train them. It can take several months, working side by side with a seasoned employee, to learn about all the brands that we carry. Many staffers are former customers.
Our Scent Bar staff provides excellent service daily. They make the customer feel welcome, they encourage people to experiment and explore. Attentiveness, kindness and helpfulness. They are simple concepts. Without the pressure to buy (which is not part of our ethos either, we don't have sales quotas), customers feel more comfortable and trusting. We're honest, straightforward people and so is our staff.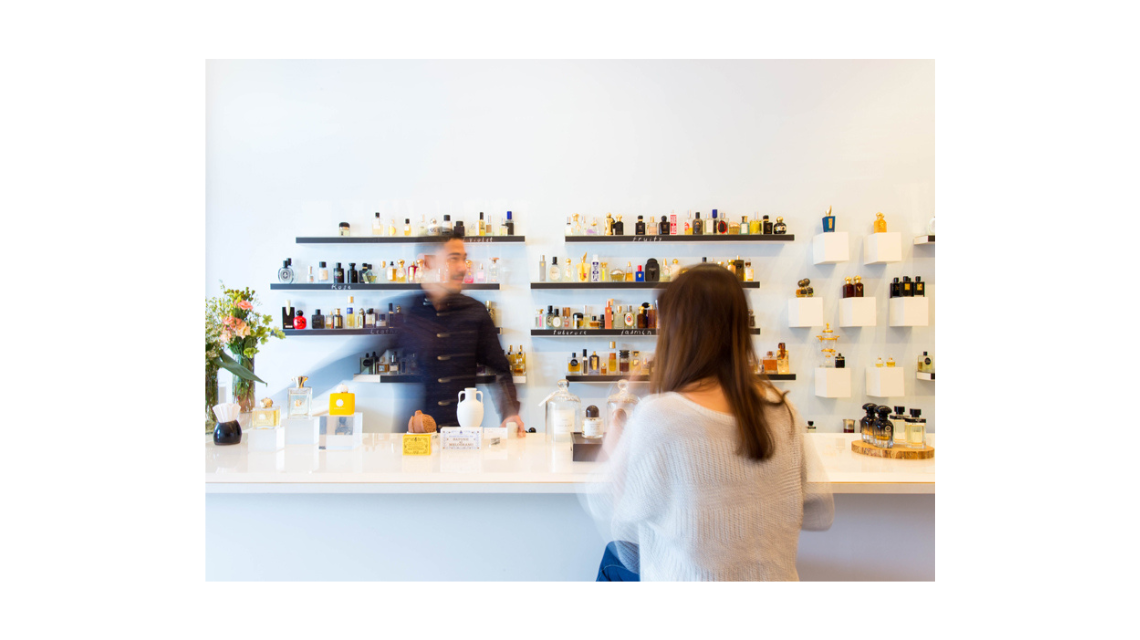 Working with customers at the Scent Bar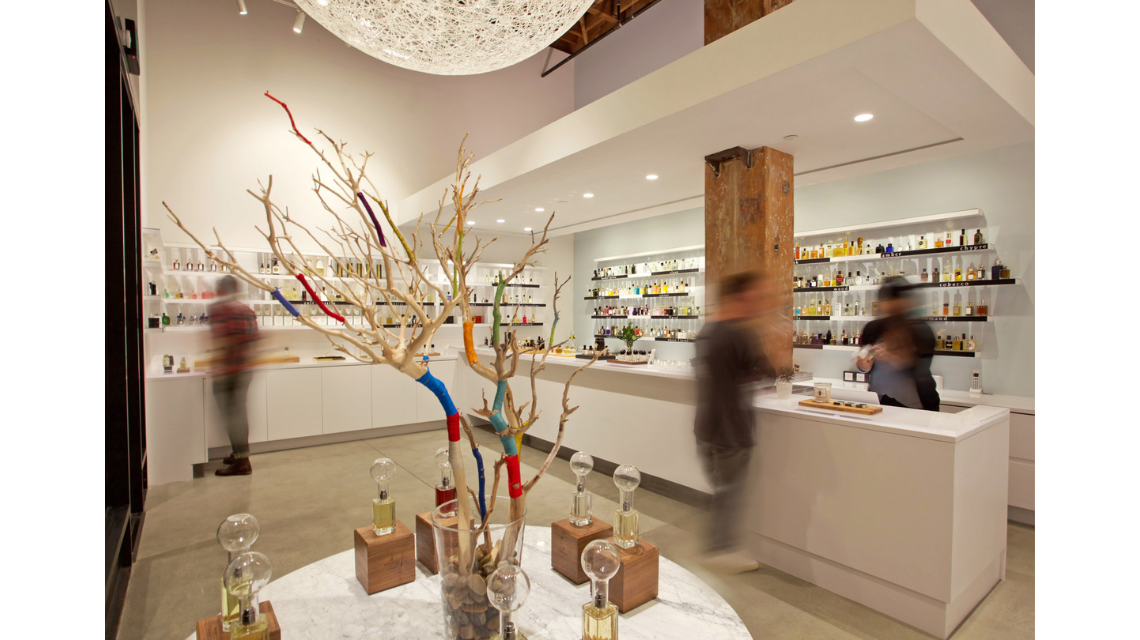 Inside the Scent Bar
ON SOCIAL MEDIA & VIDEO REVIEWS
We have a broad presence on social media but focus mostly on Instagram. We started doing Instagram Lives and then video reviews during COVID to keep in touch with the customer. The videos are primarily reviews of scents we love created by our staff members at our Scent Bar locations. It's a way to help people understand why we love particular scents while giving them the Scent Bar experience from afar. We aren't trying to create discord or negative content, just to highlight things we love. If a fragrance gets reviewed it's because our staff loves it. The content has grown into something more with livestreams and Instagram, but ultimately it is another facet of the Scent Bar experience. It's a window into who we are and what we're about.


ON SUSTAINABILITY
We do anything we can to promote sustainability. We reuse and recycle wherever possible. Packing materials can be terrible environmentally, so we use biodegradable shipping materials wherever possible. My personal favorite are the corn starch peanuts. They just dissolve in water.
When you order from us we also include complimentary samples based on what you ordered. We have a keen awareness of the ecological impact of shipping and product waste, so we try to include items that are of interest, not just instant throw-always. I think we do a great job of curating those samples to customers likes which often leads them to discover something they've never heard or…much less tried.


ON WHAT CONVENIENCE MEANS TODAY
Convenience is getting anything you want delivered to your doorstep with a minimal amount of effort. It can be a curse in a way because it takes the fun out of the search. In the age of Amazon, the novelty of convenience has worn off and has become a baseline expectation. We still get a lot of praise from customers for the speed at which they receive their orders, mostly because we often ship the same day or the day after, but we offer more than convenience. We truly offer an experience. That is a convenience we can get behind.


ON THE FUTURE
When you look back it went by so quickly but we went through so many different types of eras. We're always curious about what's coming next from brands and the industry. What does expansion look like for us? Now we want to determine what we want to become.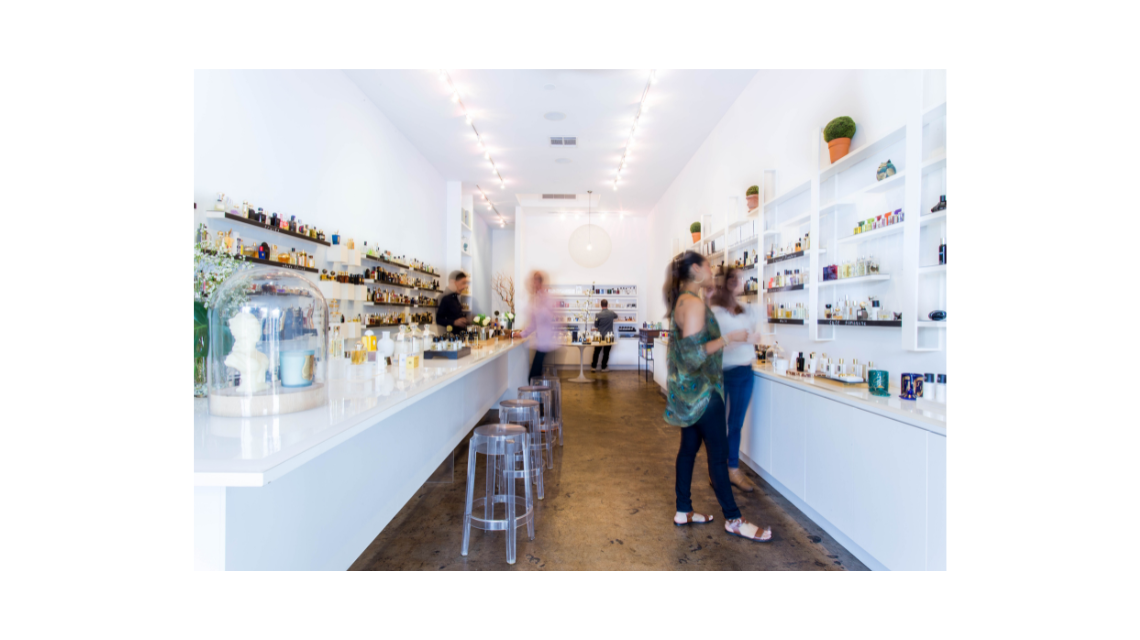 Store experience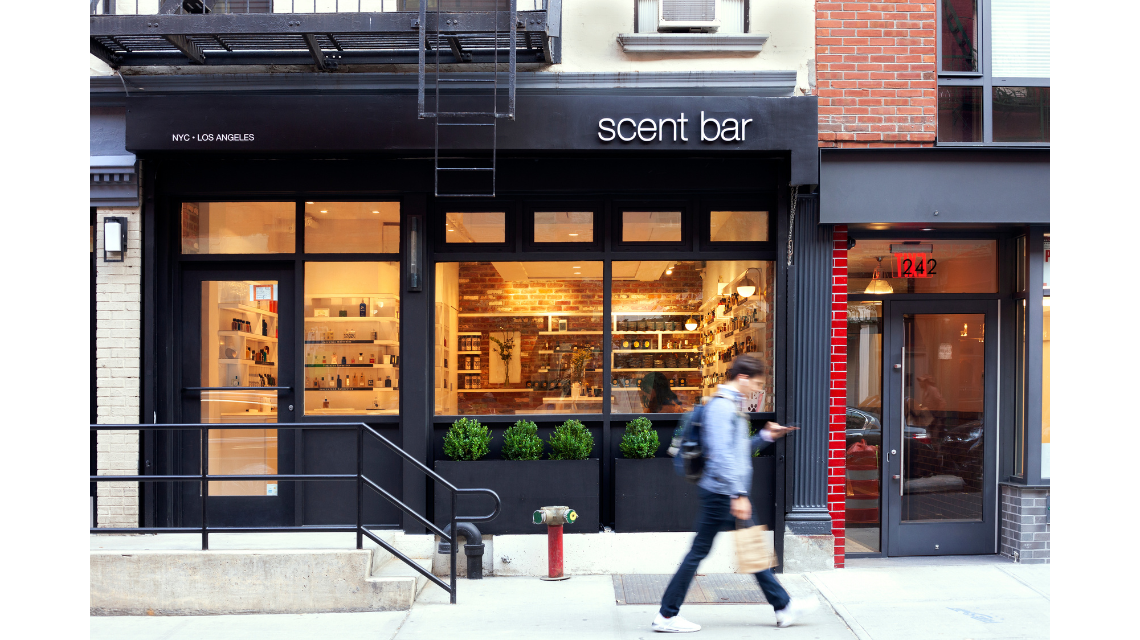 Scent Bar NYC
---
Leave it to American ingenuity to combine the best of the internet with the best of the in-store experience to create a retail solution that offers a vast assortment, is efficient and convenient, and allows for discovery in a relaxed, unpretentious environment. I remember when Luckyscent came on the market in the early 2000's when the idea of selling a sample was completely unheard of – and now it's the norm. I was quite impressed with the massive list of brands which seems to include everything I've seen in recent tradeshows and niche perfumeries – but all in one place. Kudos to the team at Luckyscent for curating a fragrance lover's dream! Although the Scent Bars are only bicoastal, the website serves the whole country while also shipping internationally to just about every continent. Again we've found a retailer who is completely in line with Essencional's mission to support, foster and grow niche perfumery.
* Quotes from consumer feedback found online
Photos courtesy of Luckyscent.