Lorenzo Villoresi, a Living Treasure
2022 . 12 . 15 | written by Karen Marin
How can I describe the nervousness that overtook me as I arrived at the Lorenzo Villoresi offices in Florence. I was about to interview the master, a formidable man recognized for his luxurious eponymous fragrance and lifestyle brand as well as his efforts to sustain and promote Italian excellence in artistic craftsmanship. Lorenzo Villoresi is a true Renaissance man who has knowledge in a broad range of subjects and skills in the fields of art, science, invention and writing. In fact, he was just awarded the title of Maestro d'Arte e Mestiere for Artistic Perfumery by the Cologni Foundation for the Métiers d'Art, and he joins the Libro d'Oro dell'eccellenza artigiana, which shines a light on the creators and artisans of Italy to recognize them as "Living Treasures" who promote the art and heritage of their country.
Lorenzo Villoresi's world is spread out amidst a labyrinth of interconnecting buildings inside a 15th century Florentine palazzo facing the river Arno. Slowly, he has acquired various floors to reunite his forefather's former residence. Today the space comprises the museum, a boutique, Dottore Villoresi's atelier, his home and a fragrant outdoor garden. Here, every type of citrus imaginable has been sourced and grows lushly under the Tuscan sun while ingredients like cardamom and frangipani are planted in large terra cotta pots. The spectacular views of Florence from the garden's upper level are breathtaking. Taking shelter from the midday sun, Dottore Villoresi led me into the grande salone, a large, comfortable reception room where he pointed out to me various objects and artworks that he has collected including an impressive Chinese incense burner. The room was certainly a reflection of the man who has travelled to many countries and has experienced many cultures, and it was the perfect place to begin our discussion.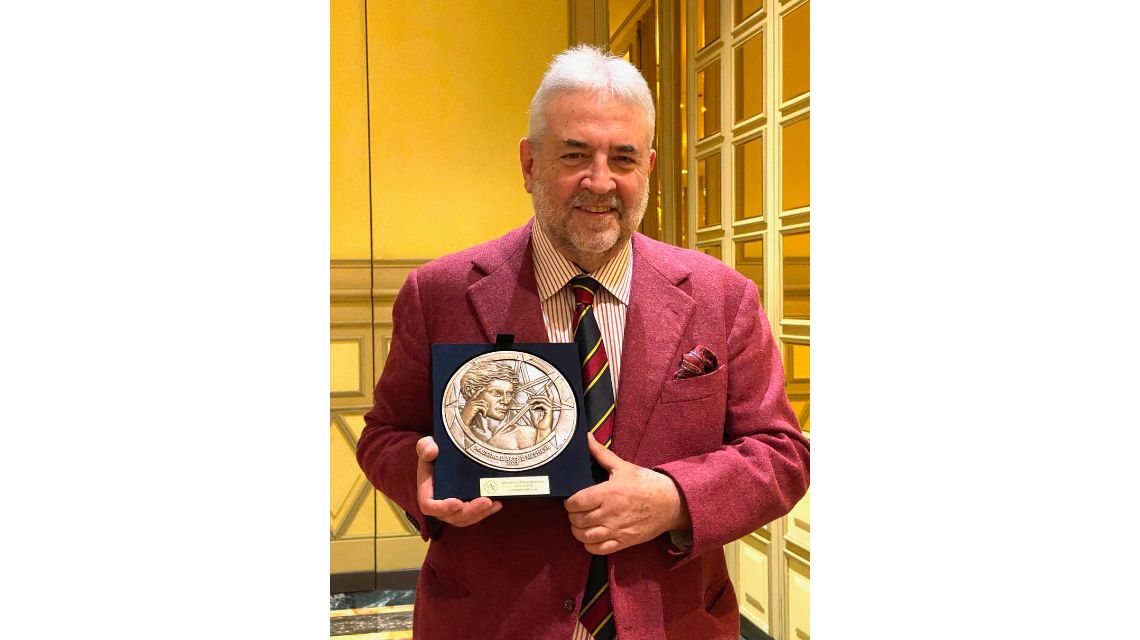 Receiving the award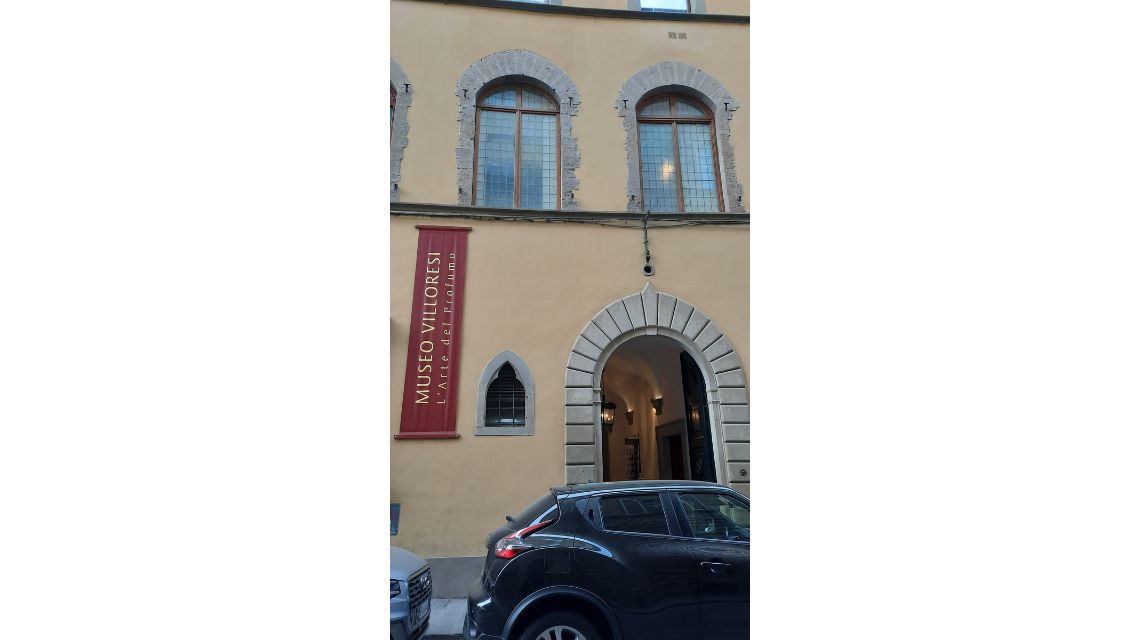 Entering the Palazzo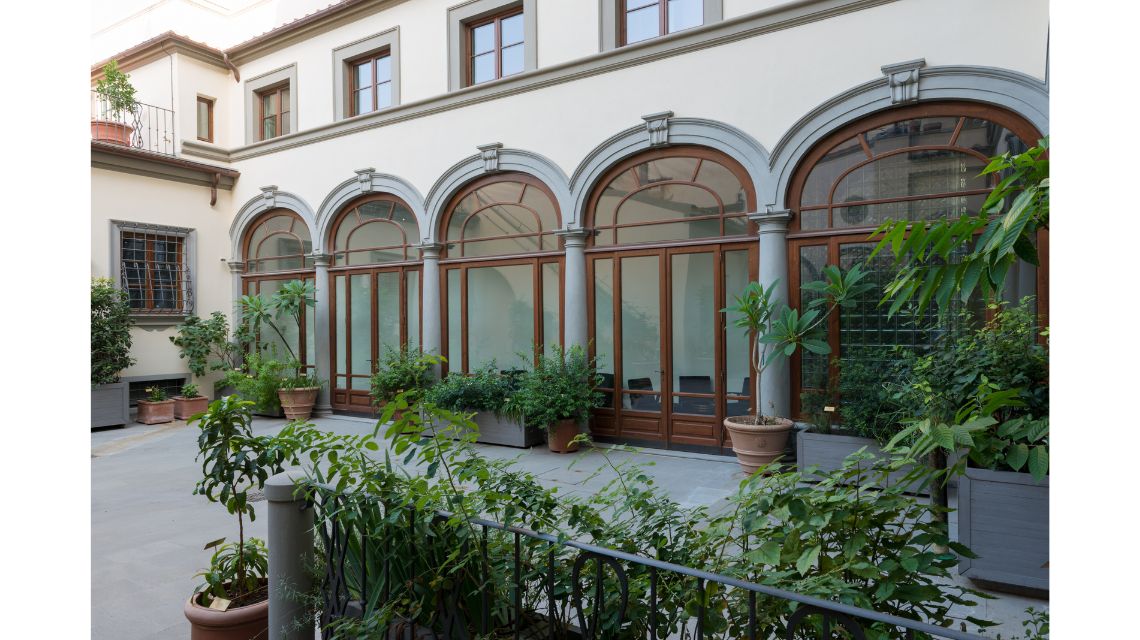 The Outdoor Garden
A SENSE OF WANDERLUST
Initially a student of psychology, Dott. Villoresi went on to complete degrees in philosophy and religion. Around 1981 he first travelled to Egypt and the Middle East. "It was impressive. Everything was so different. The coffee was served with cardamom, there was mint in the tea. The spices, the smell of the food, scent was around you all the time.The concept of hospitality, how you receive people into your home with a warm welcome and how you are kind to them – it all made an impression on me."
It was during these trips that he developed his interest in spices and raw materials which segued into a passion for perfumes. He began experimenting by using exotic spices for cooking, he put them in potpourris and experimented with them in distillation. "I realized there was a real difference between what was sold in the bazar and European perfume stores. I found objects, bottles and containers in the bazar – even heirloom Baccarat crystal. I started to collect essences and to bring them back to Europe. I also collected books on perfumery." And like an alchemist, he began to experiment. "I studied various methods and experimented with distillation processes. You must understand the ingredients before there is a product so I studied natural and synthetic ingredients. And then I started making bespoke fragrances for friends and family."



BECOMING A BRAND
But this was not destined to be a cottage industry for long. "The fragrances started this way. There was a lot of trial and experimentation which went on for about ten years as a personal passion. And then someone at Fendi contacted me to make potpourri, candles and home fragrance. Shortly after others started coming to me such as Smith & Hawken in the US who were looking for something different. I did some Private label but not always, yet I have found collaborating with others to be very interesting. So I decided to become a brand and in 1990 I created the Maison Lorenzo Villoresi. Then all of a sudden I was at Fortnum & Mason, Fred Segal, Bergdorf Goodman – top specialty retailers abroad."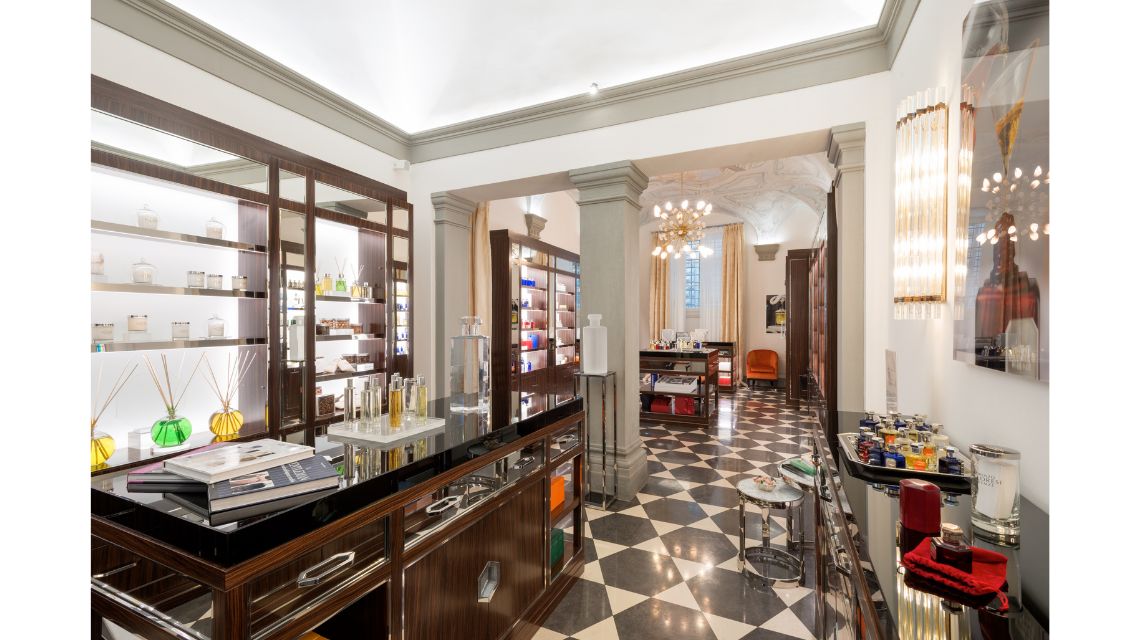 A CROSS CULTURAL INFLUENCE
Dott. Villoresi approaches the creative process as an artist, unbound by trends or boundaries. "There are no particular ingredients that I love to use for a fragrance development. They depend and vary according to the subject, the idea or the vision that I wish to create." Looking at the fragrance range, we see the meeting of many cultures and influences. The single themed scents found in the Vintage collection, such as Garofano, Wild Lavender and Vetiver are steeped in the heritage of classic perfumery and emphasize the opulence and timelessness of the key ingredient. Iconic fragrance Teint de Neige gives a nod to another time and place as it evokes the delicate scent of ladies' face powder so prevalent during the Belle Epoque. Yerbamate recalls the untamed nature of South America while Piper Nigrum transports us to the spice markets of Africa.
At the same time the brand is clearly entrenched in Middle Eastern traditions, practices and rituals. The deep and mysterious Alamut is named after a once impenetrable castle-fortress in Persia while Dilmun, radiant with orange blossom, is an ancient word that referred to the Garden of Eden. "My fragrances are inspired by myths and legends that I have learned during my studies. There are stories of shamans, there are cabbalistic symbols. Many of the names of my fragrances come from different cultures, different languages and different times. Dreams, legends, fairy tales – they all fascinate me." Indeed with the Tales of the Arabian Nights in mind, the fragrances transport us to another world, another dimension and allow us to share in the perfumer's vision.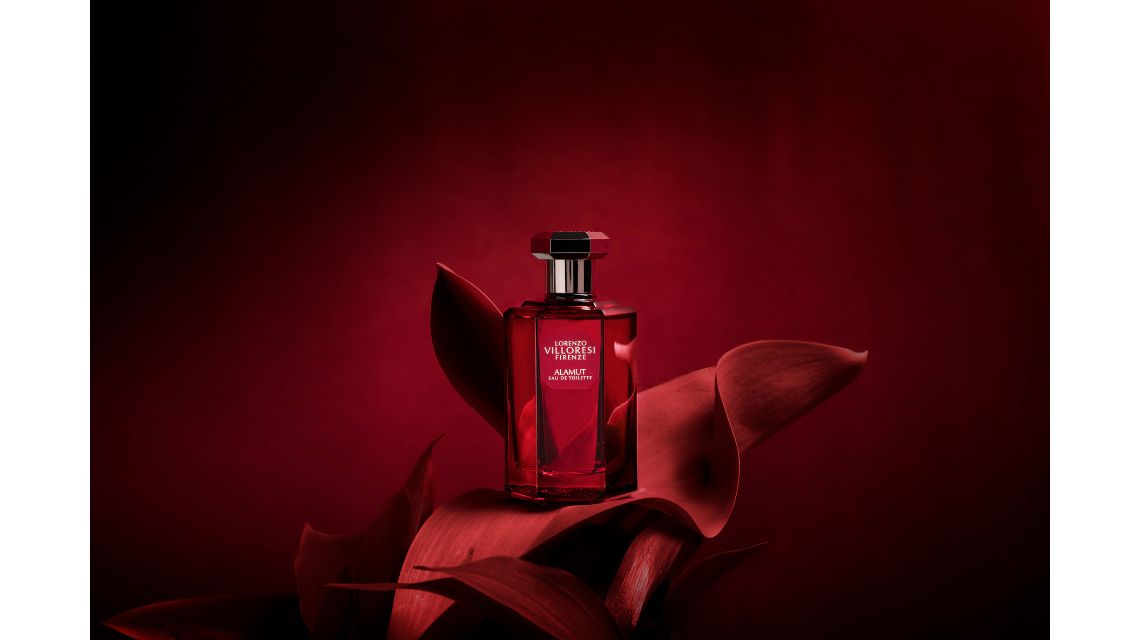 Alamut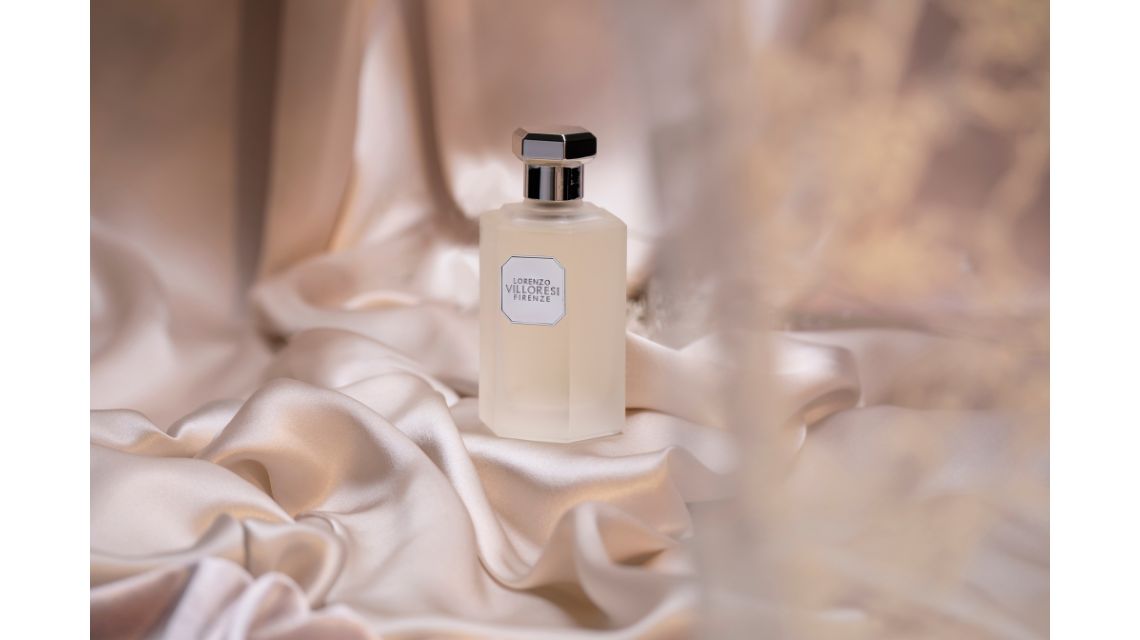 Teint de Neige
POINTS OF PRIDE
I asked if there was a particular fragrance that the Dottore was most proud of having created and he immediately mentioned Atman Xaman, a fragrance which took two years to create. Launched in 2018, the name in Sanskrit means "spirit of the shaman", a shaman being a spiritual figure who is both a healer and a holy man. As he explained to me, he sees this figure as an interpreter of the forces of nature and humanity. The scent itself is an elegant leathery-tobacco fragrance with the freshness of wood notes.
And now there is another source of pride which shows that the passion for fragrance runs in the family. Alessandro Villoresi, the perfumer's eldest son, is studying at the Grasse Institute de Parfum (GIP) and he is currently engaged in an internship. Will he follow in his father's footsteps? Time will tell.



ARTISANAL CRAFTSMANSHIP
With such enchanting stories behind the fragrances, it is only fitting that the vessels that hold them also be created with care and meticulous attention to detail. The brand's respect for the traditions of the art of perfumery are evident in every bottle, every cap and every element of packaging, while the hexagonal shape forms part of the brand DNA. "It is a timeless shape also existing in nature, for example in the beehive's cells. I also chose it for its many symbolic significances and for its simple and linear form."
Design details include hexagonal bottle and cap
The brand does not hold back on the quality of materials selected, be it the rare and valuable ingredients found in the fragrances or the fine Carrara marble, travertine and ebony wood chosen for the accessories. Coupled with an in-house perfumer, here is one of very few brands who proudly upholds the principles of the "Made in Italy" appellation so coveted in the world.
According to Dottore Villoresi, "The world of craftsmanship has changed. When I started there were 55 glass makers in Tuscany and now there are only five. But when you work with craftsmen you have to challenge them and ask for a miracle because they enjoy solving problems. They enjoy making it happen because it's interesting."



THE MUSEO VILLORESI
Nestled in the lower level of the palazzo is the Museo Villoresi, a beautiful space that takes visitors on a multisensory journey to discover the world of perfume. How did it come about? Conversations with longstanding friends and colleagues were a contributing factor. "I was lucky enough to have the famous perfumers Guy Robert and Maurice Maurin as friends, and also others like Jean-Francois Laporte and Annick Goutal. I talked with them about ingredients, extraction systems, the art of perfumery in all its aspects and about the museum, that we were beginning to conceive."
Why create the museum, I asked. "It is a personal passion and I'm just happy when people come to visit and enjoy it. For the past thirty years we would get questions for information about fragrance. Usually, the requests were technical and not about the history. I have a library full of books about fragrance and I have the answers, but I realized it would be quicker to establish the museum than to answer all the questions!" In this tranquil space, the visitor is guided through a series of exhibits to learn about the way a perfumer works and how a fragrance is made.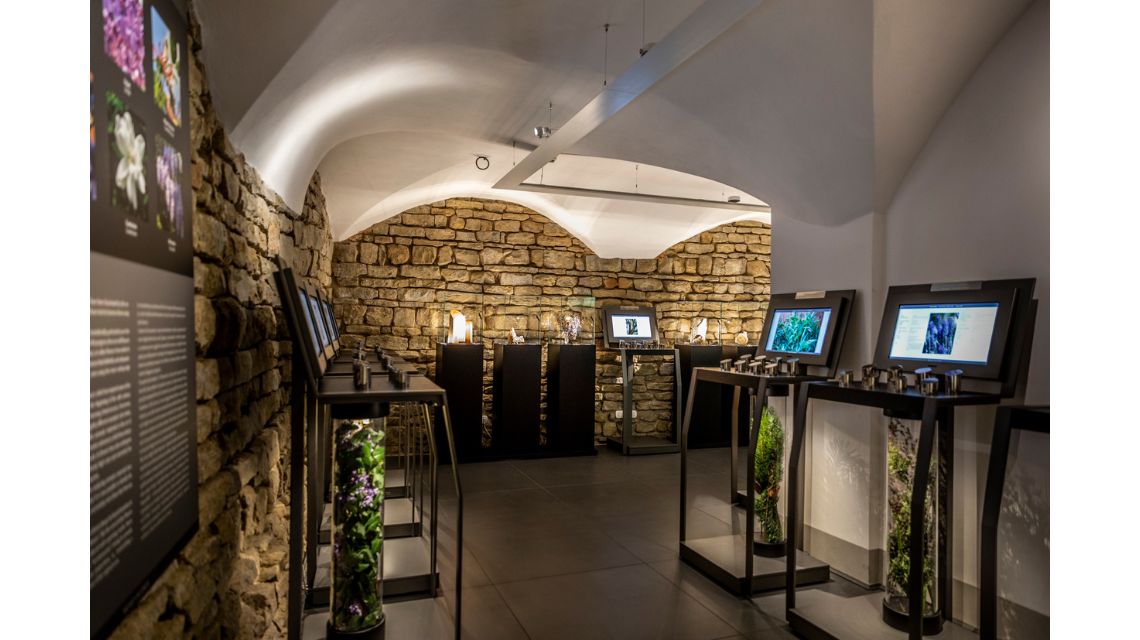 Discovering ingredients in the museum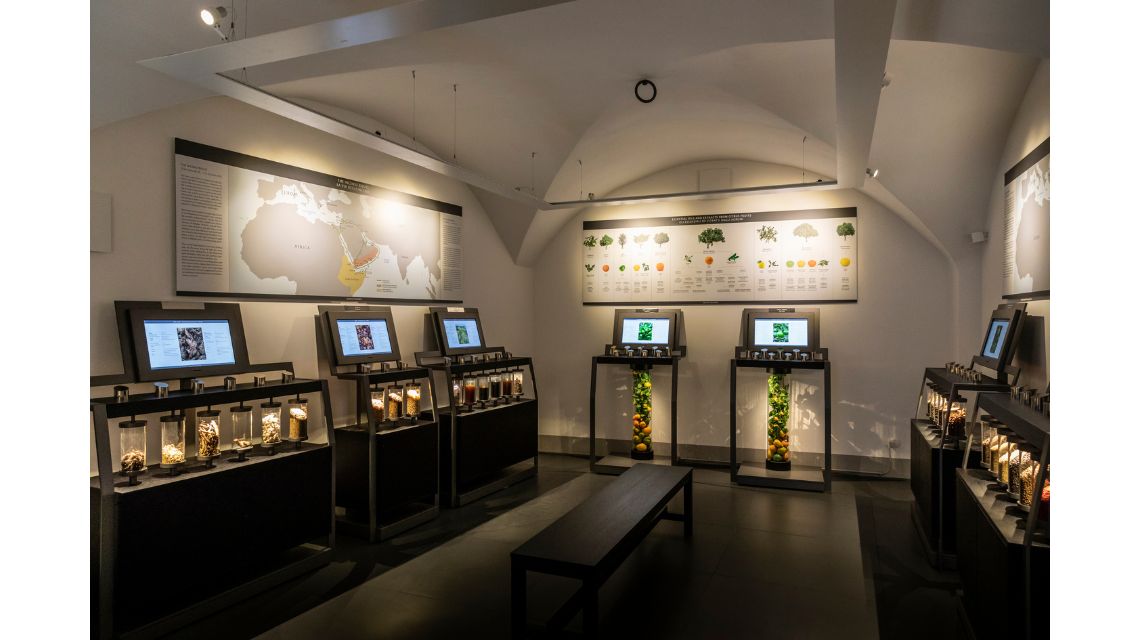 Interactive screens guide the visitors through a wealth of ingredient information
The heart of the museum, however, is the Osmorama, a library of over one thousand smells, both ancient and modern. I wondered, how is it possible to source ancient ingredients? "Ingredients that have been used since ancient times are available from several suppliers all over the world. Some of these are more difficult to find as extracts for the use in perfumery but they are more easily available as aromatic plants, sometimes coming from botanical gardens." I also wondered about the challenge of staying stocked. "It was one thing to create the museum but it's another to maintain it. It's not easy to keep all the ingredients in stock."
To further complicate matters, there can be confusion, as Dott. Villoresi explained, "Actually, many ancient ingredients found in the oldest recipes, some coming from the Mediterranean area too, are not always identified clearly: occasionally the confusion arises between plants which look similar or between different varieties of a plant."
Now in the 21st century new ingredients are constantly being developed. The Dottore commented, "It is also very special to have new ingredients in the museum that are coming from the world of flavors which translate into gourmand notes." I gently pushed the conversation into the hot topic of sustainability to get his take on the matter. "Sustainability is a very important subject now and we are all going in this direction. We have learned a lot from some large companies. Certain ingredients have become overused and then the production either gets limited or the ingredient becomes unavailable. Naturals are fascinating to work with and we see the multinationals finding sustainable options for the ingredients they are developing, both in naturals and synthetics."



AND NOW?
Lorenzo Villoresi has created a beautiful brand that goes beyond fragrance to also encompass lifestyle, he makes custom-made fragrances, he is the author of several books, the recipient of several awards, and he has created the museum, a passion project. I had to ask, is there anything else you would like to achieve? As he smiled to himself he said to me, "That's a nice question. I would like to develop the home fragrance line much more. To create a nice quality incense, even create the burners and perhaps work with talented craftsmen on this project. Maybe we would even put their name on the object."
Aside from fragrances, I wondered, what other subjects is he is passionate about and what he wished he had more time to do. "I would like to spend more time on music, but above all to travel. I recently went to Madagascar, to Indonesia and to Central America. But can you believe I still haven't been to India? I must go there."



CREATIVITY & THE VALUE OF SCENT
As our time together drew to a close, I had a few final questions for the Dottore. What do you need to stay creative? What inspires you? Without hesitating he told me "Having nice problems!!! You can have plenty of ideas but you must transform them into something real because ideas aren't important until they are real." These are the words of a "doer", not a "dreamer", and clearly this is a man who has brought his ideas to fruition.
He made a further comment about creation which I found quite enlightening. "Is perfumery the art of creating? Perfumery is one of the many arts of creating, along with musing and painting, for example. A perfumer has an idea and uses his skills to blend ingredients till the idea becomes the scent he wants, just as a composer writes down the music coming to his mind."
Lastly, I had to ask a philosophical question: what value does scent have in our lives? "Scent adds another dimension to your being, to your identity and can make you feel complete. It is a dream dimension which is not visible - scent gives you the possibility of entering another place, a magical place that other things can't bring you to."
As I turned to leave the palazzo, I couldn't help making parallels between our discussion and the man himself. Is Lorenzo Villoresi a virtuoso of fragrance? Is he a modern day shaman who heals us with scent? Is he a legend in his own time? Less than a month later he received the award that would recognize him as the Living Treasure that he is.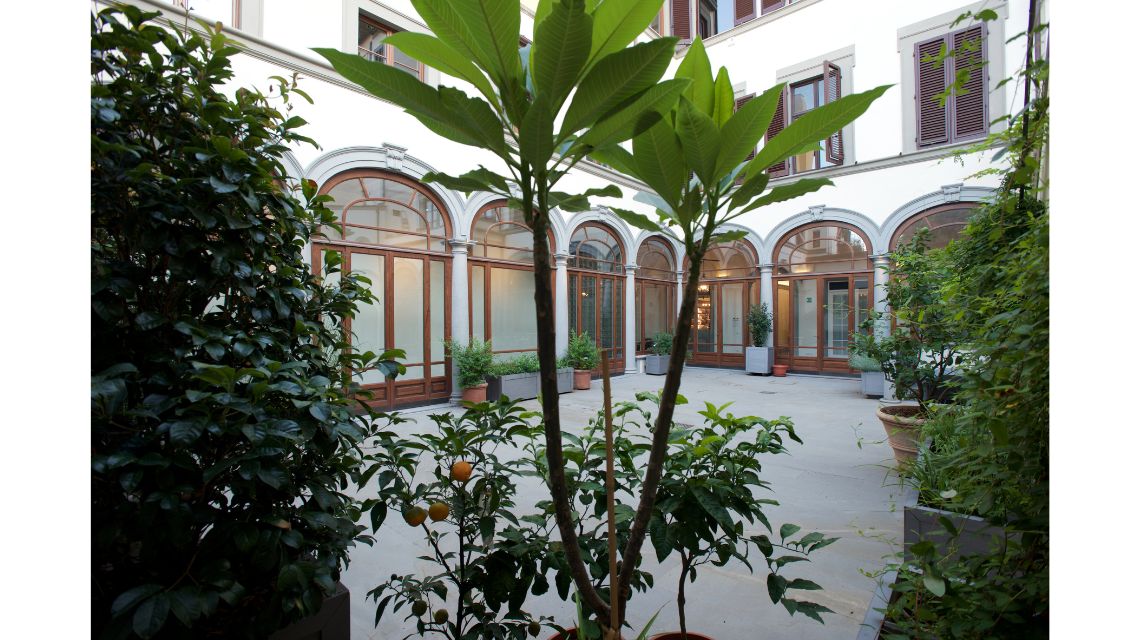 A last look at the garden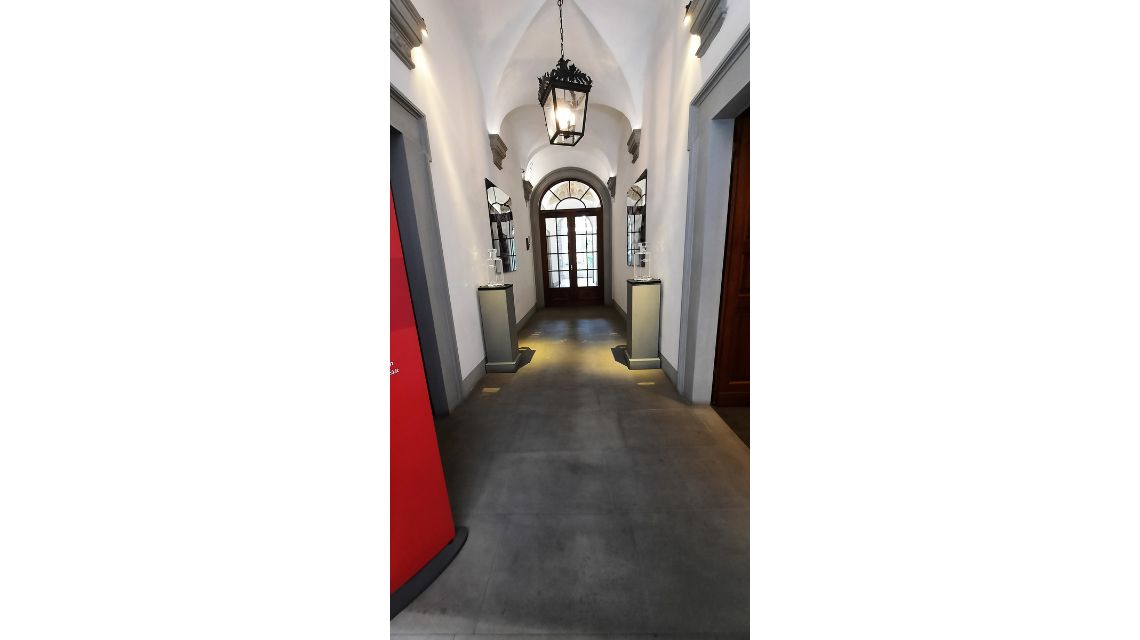 Leaving the Palazzo behind me