LIBERTINE PARFUMERIE: AUSTRALIA'S PREMIERE NICHE FRAGRANCE DESTINATION
2022 . 11 . 10 | written by Karen Marin
As we span the globe in search of the finest artisan perfumeries, our odyssey brings us to Sydney, Australia where we meet the team behind the exceptional Libertine Parfumerie. Founded by attorney Nick Smart in 2008, the retailer is a recognized trailblazer in the niche perfume scene Down Under. In his quest for excellence, Smart contacted the Michael Edwards Fragrances of the World organization to be mentored on all things fragrance related. Ten years after opening the doors at the original James Street location, Libertine partnered with the Myer department store group to open half a dozen shop-in-shops across the country, each with a curated assortment in tune with the local demographic. With education playing a key role in Libertine's DNA, I spoke with National Education Director Michael Marzano to learn more about the business model and the path to success.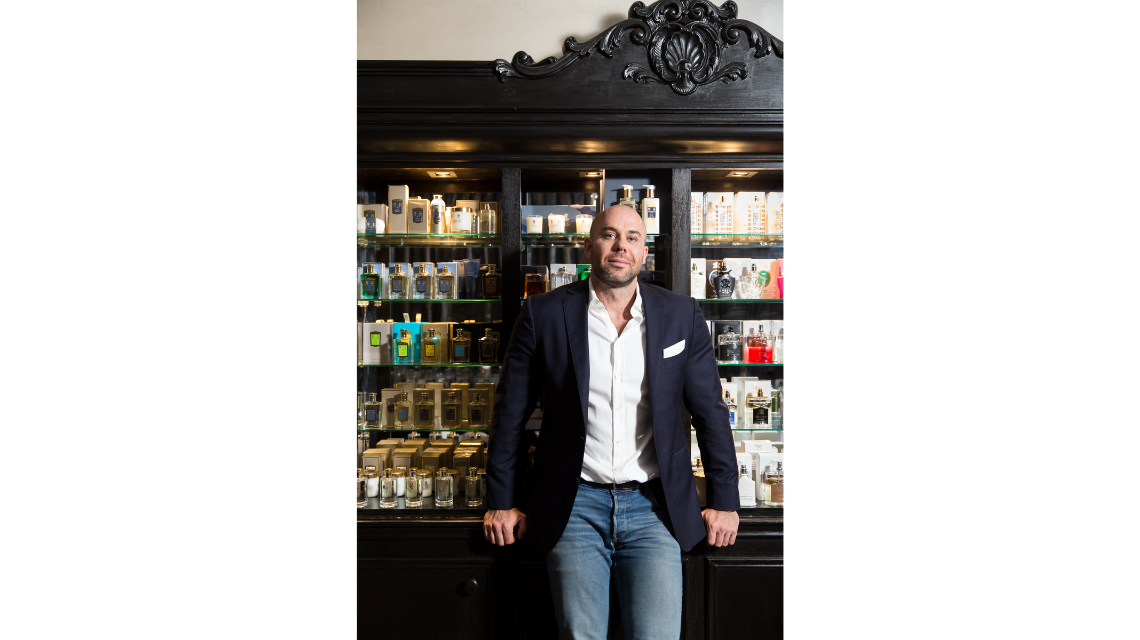 Nick Smart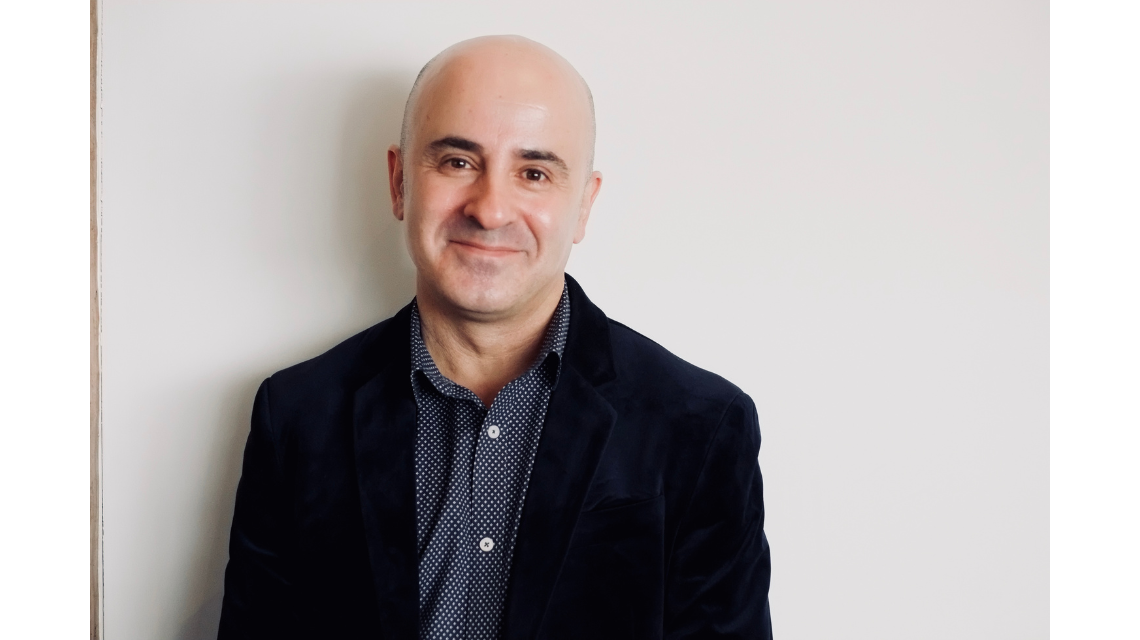 Michael Marzano
Tell me about the origins of the store and how it all began.
While in New York City on business, Nick Smart was walking though Barney's when he fell in love with the fragrances from Costume National. He contacted the brand in order to introduce them to Australia. Soon after, he went to France and met Gilles Thevenin through whom he discovered Parfums Lubin, another brand he wanted to bring to his country. Slowly he created a portfolio, adding brands like Amouage, and that's how he opened Agence de Parfums, what is now Australia's most esteemed niche perfume and home fragrance distributor. Working out of a tiny showroom in Brisbane, he opened accounts with Myer and David Jones, our local department stores, where he could make a multi-brand statement. Then he found the location on James Street where he opened the Libertine Parfumerie. We're still there today and we're bursting at the seams!
Nick really was a pioneer. He brought niche perfumery to Australia and really started educating the market on this segment. There wasn't a lot happening in Australia at the time – people who were shopping niche were doing it online or shopping overseas. So we really needed to recruit consumers, talk to them and introduce them to niche. We also had to empower the consultants and get them to have the stamina to take rebuttals and refusals, and to understand that people knew nothing about these brands. Our business really exploded in 2018 because we had acquired a significant platform of very exciting new and well established brands. Pre COVID, we enjoyed double digit growth on growth, both organic and like for like.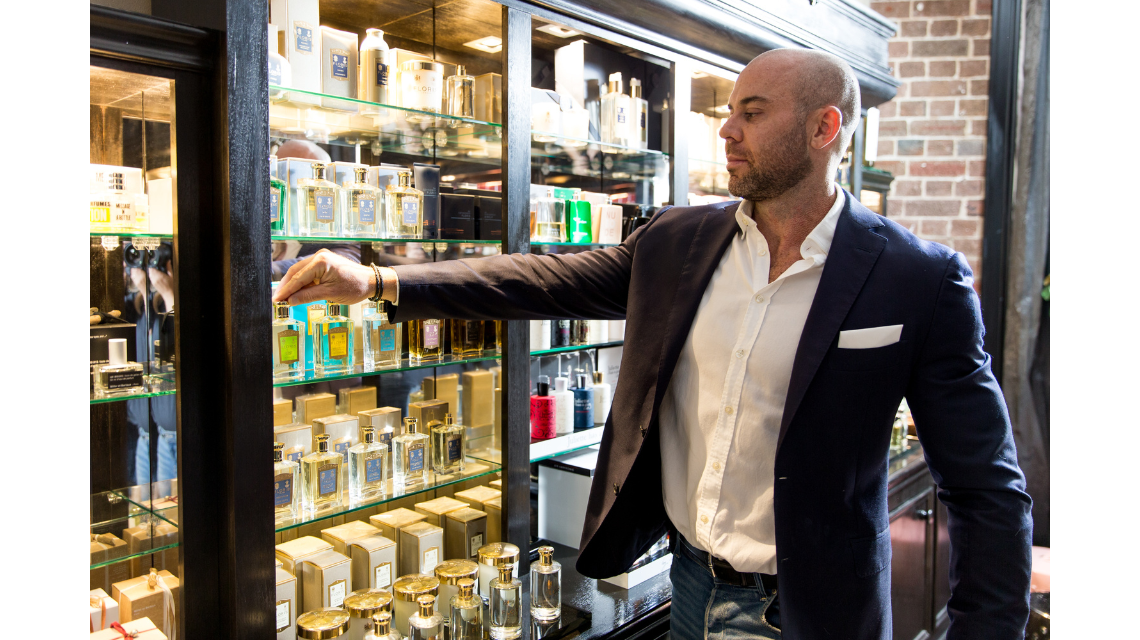 Nick Smart in the Shop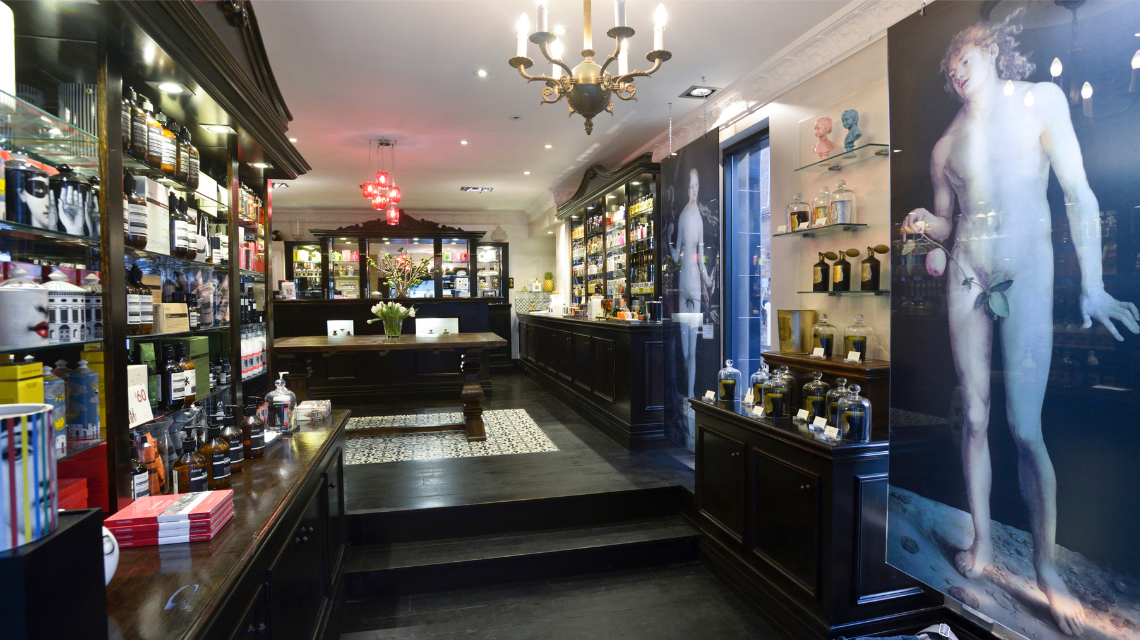 Inside Libertine Parfumerie
When we celebrated our ten year anniversary that same year we decided to take the next step by opening the shop-in shops in 6 Myer locations. We've taken the original concept from James Street and placed it into the retailer's space where the customer experiences the boutique in a bespoke type of service. Can you imagine, initially there were just 10 employees, now we have over 90!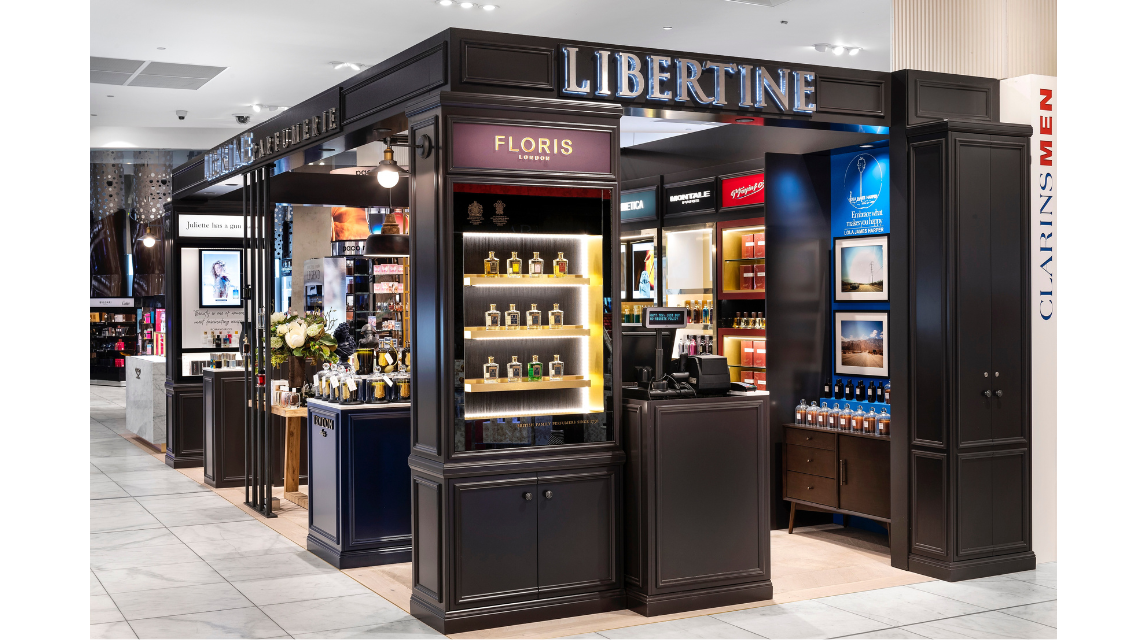 Libertine at Myer Melbourne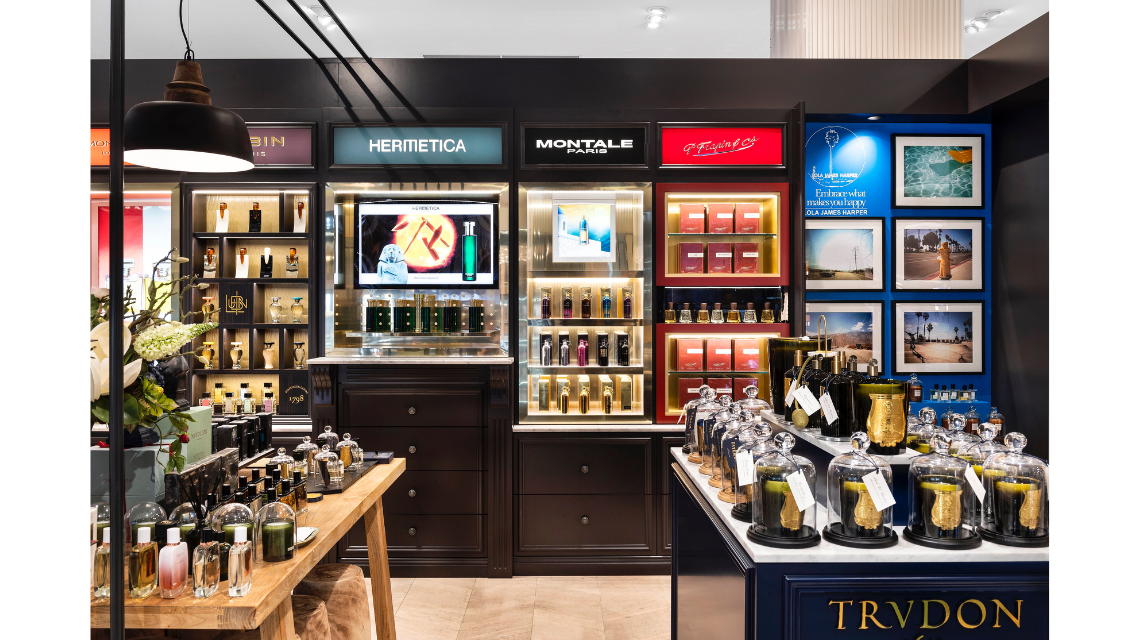 Libertine at Myer Melbourne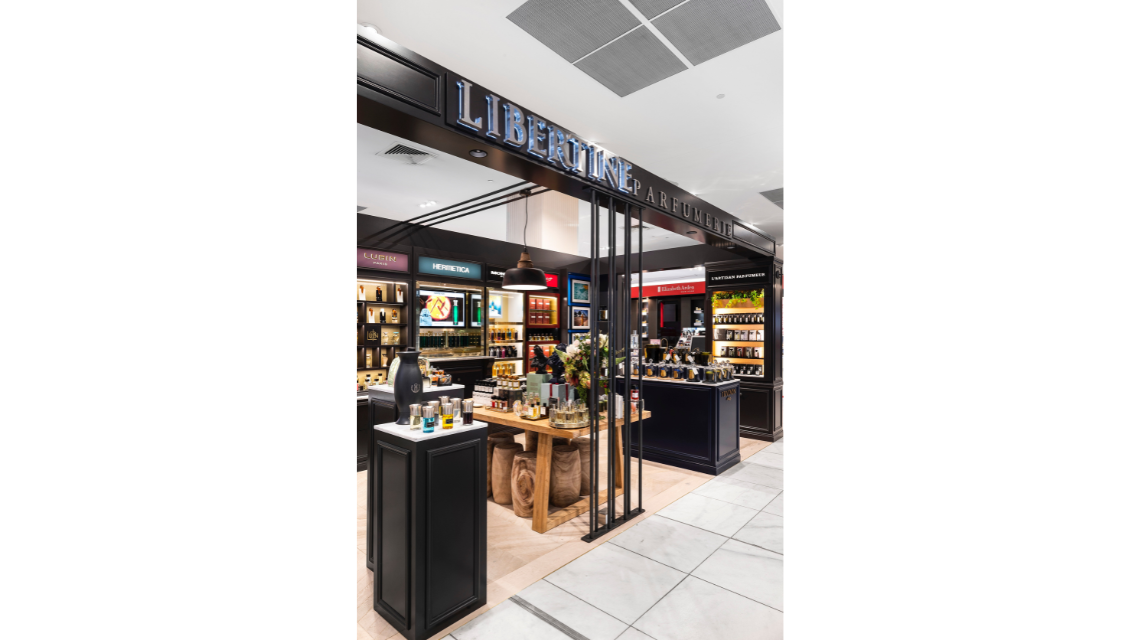 Libertine at Myer Melbourne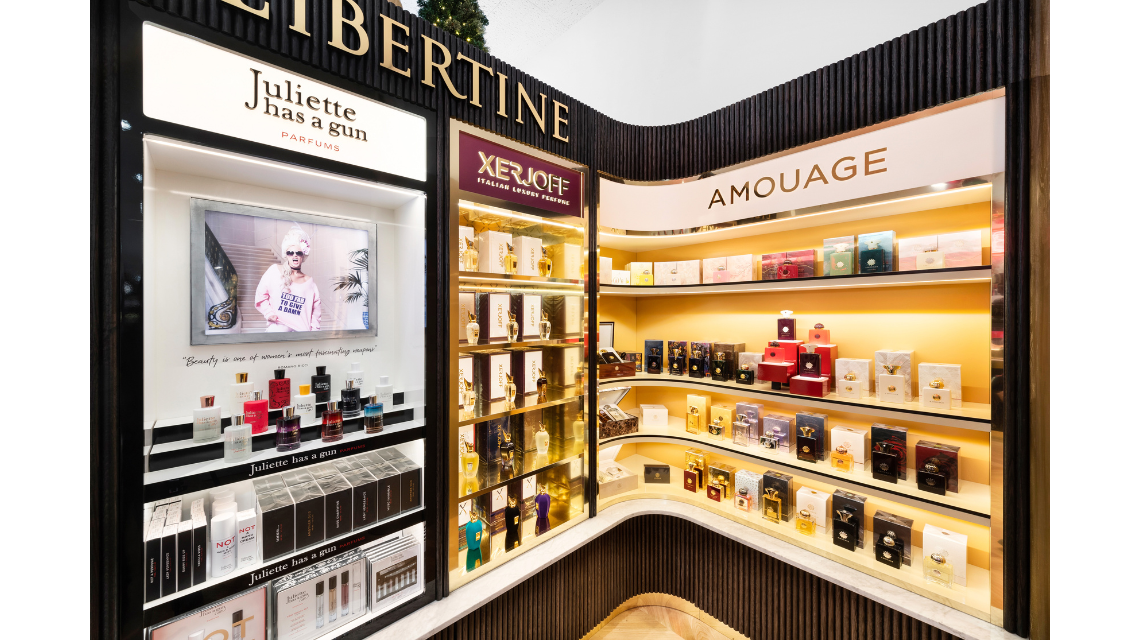 Libertine at Myer Highpoint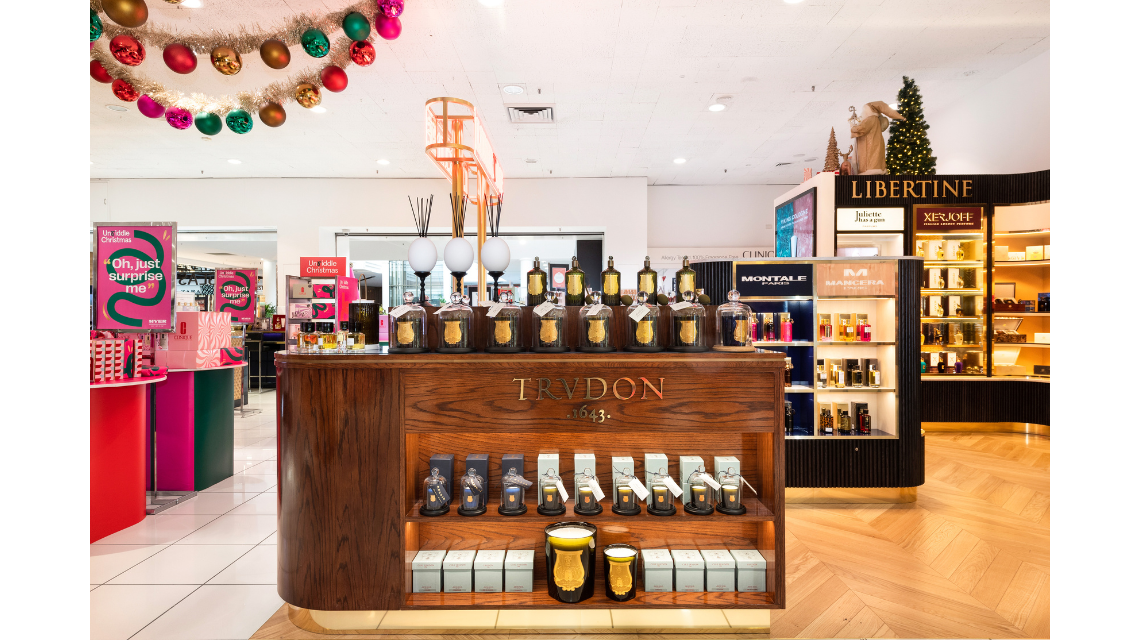 Libertine at Myer Highpoint
Let's talk about the brands you carry. How do you classify them?
When I joined in 2016 there were 12 brands and now we have over 60. Our aim was to grow and evolve slowly while attracting new brands. Some brands, like Trudon and Santa Maria Novella, have approached us, but we are also looking for specific brands. When Nick started going to Milan and Cannes he met all the principles. BDK came on board, then Mancera, Montale, Roja Dove, Xerjoff, and so on. What we've been able to do with our assortment is clearly delineate brands within a certain category. In luxury niche we have Roja Dove, Clive Christian, Creed, Amouage, and Casamorati, then in lifestyle niche we have for example Laboratorio Olfattivo, Maison Tahité, and Juliette Has a Gun. In our home category we have Cire Trudon, Compagnie de Provence, Tangent from Sweden, and Christian Tortu, among others.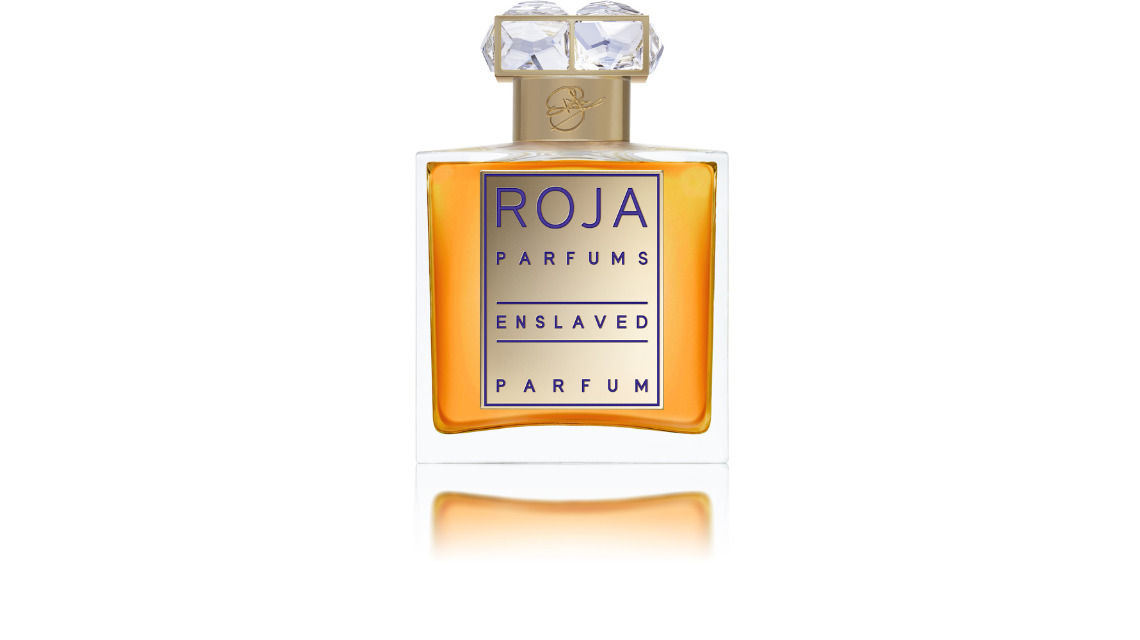 Roja Dove - Enslaved pour femme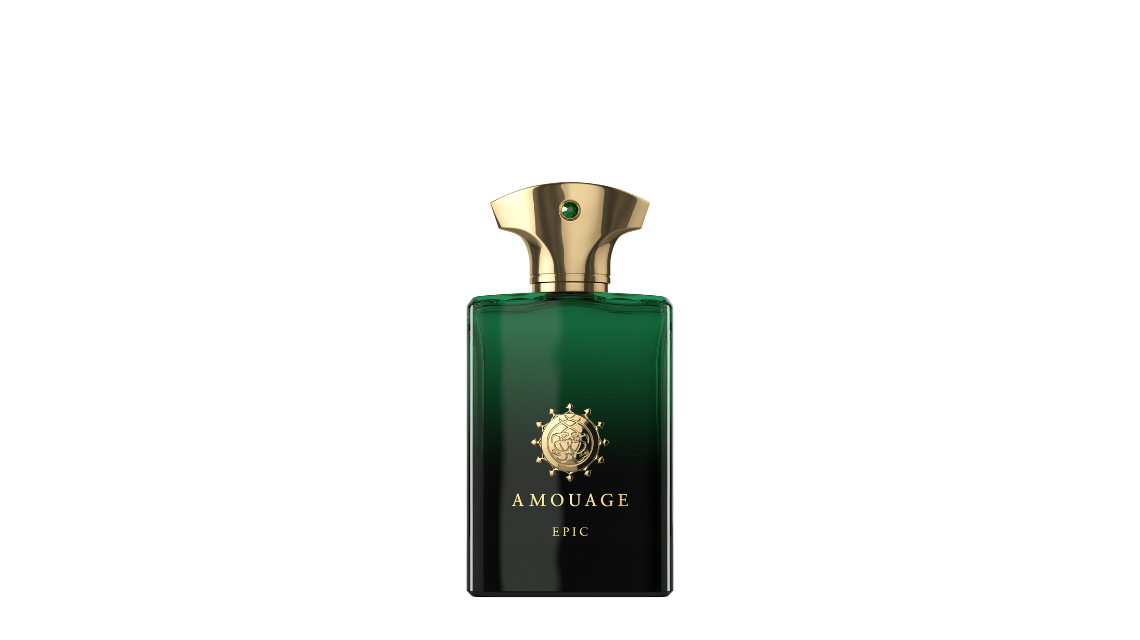 Amouage - Epic Man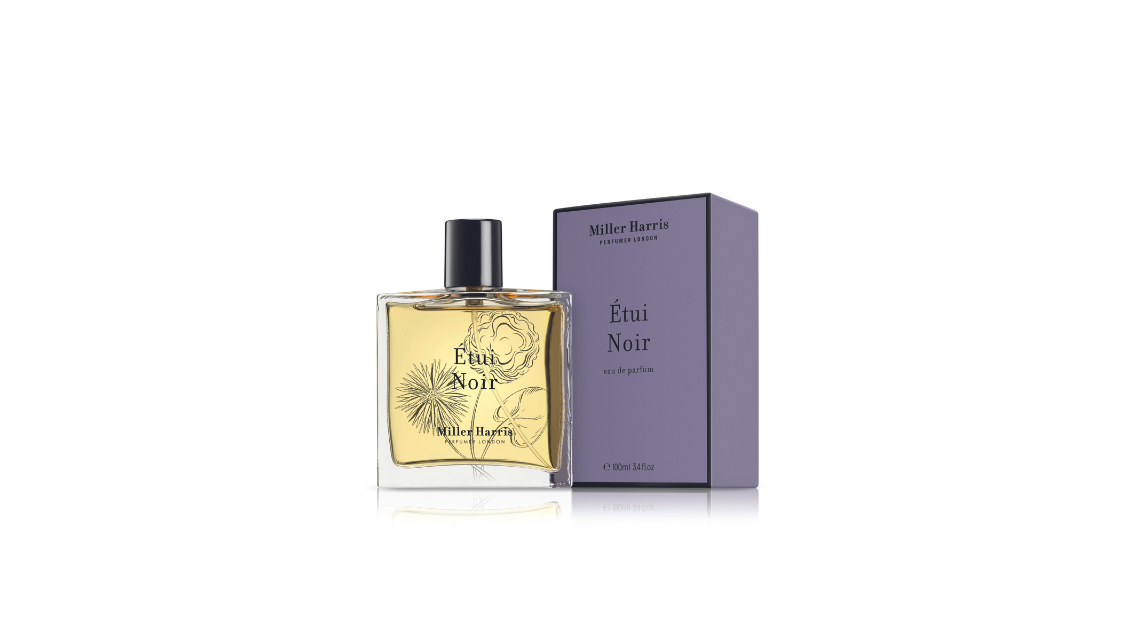 Miller Harris - Etui Noir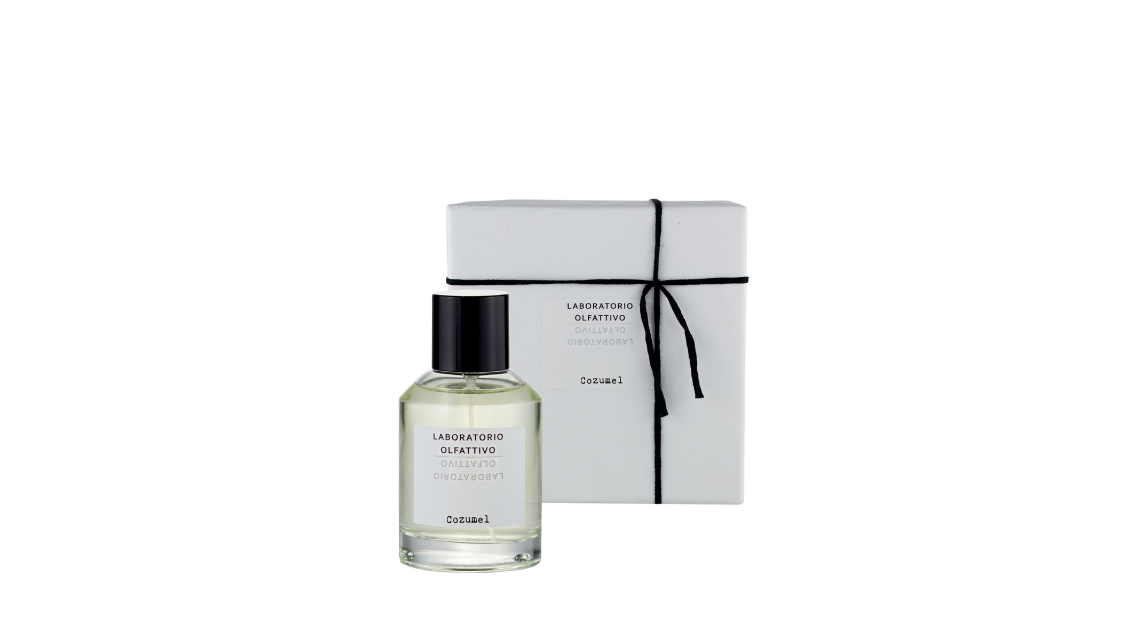 Laboratorio Olfattivo - Cozumel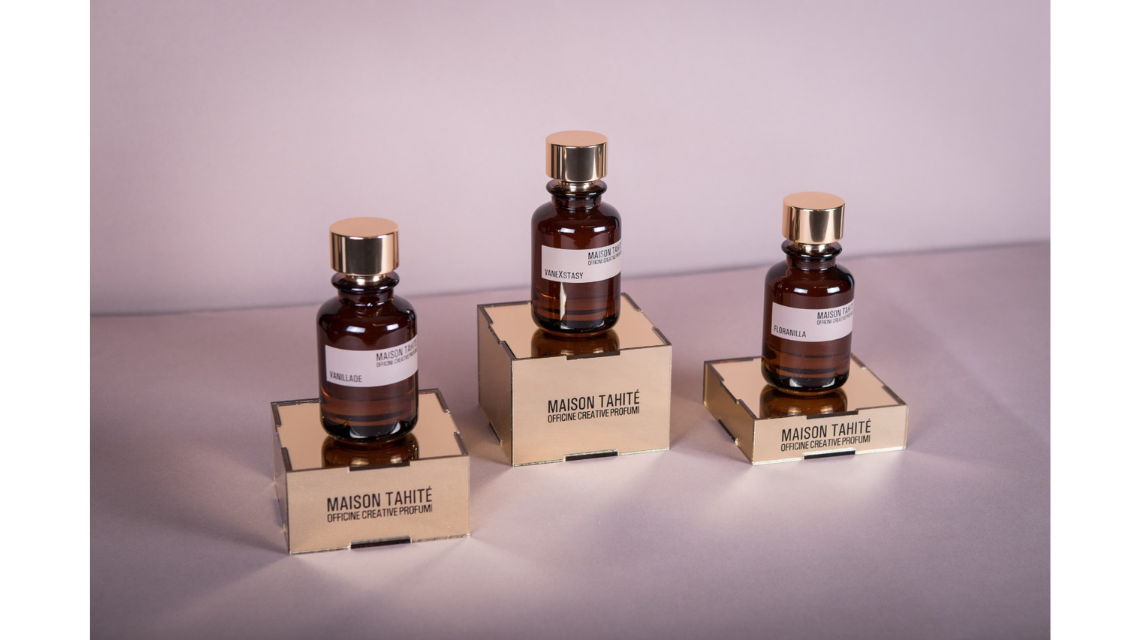 Maison Tahité
How is the home category performing?
It's our fastest growing category now. Australia is very lifestyle-conscious, people love ambient scenting and we are seeing a huge impact here. It can be comforting and cocooning, it can brighten the work environment as well. I have done an exercise in scent planning in order to create specific scent bubbles within the home: so if you have a freshly lit area, use citrus or fresh candles to bring it to life, in the kitchen place something herbaceous. Well, this has been an absolute success. People are buying multiple candles and room diffusers. In fact, Trudon is our number one brand in terms of sales. We understand we rank 4th in the world for Trudon sales!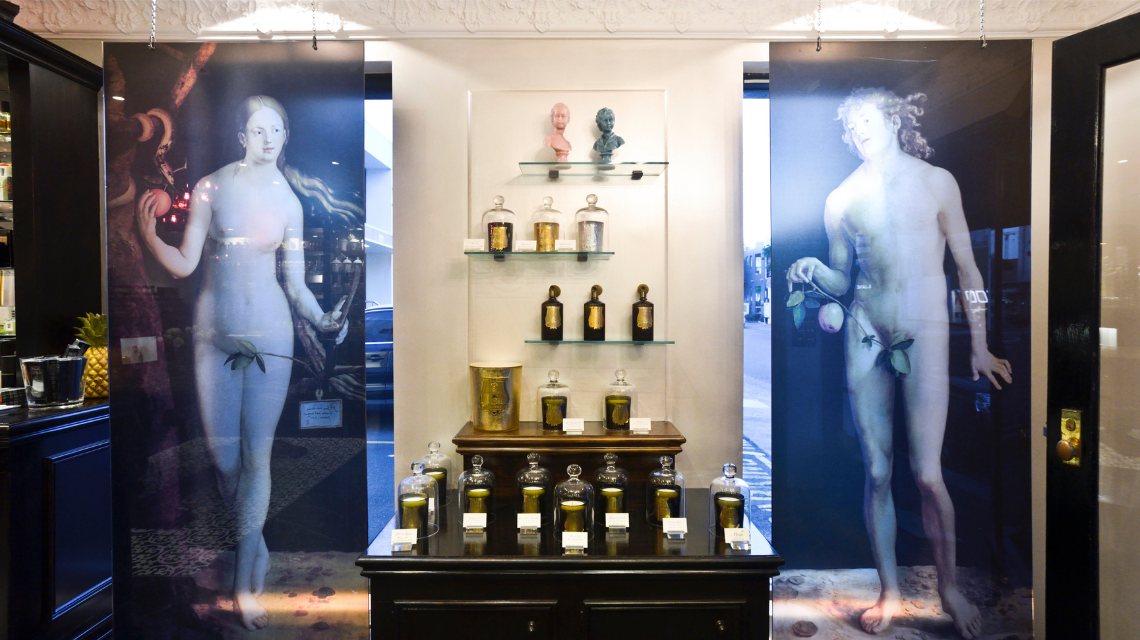 Cire Trudon at Libertine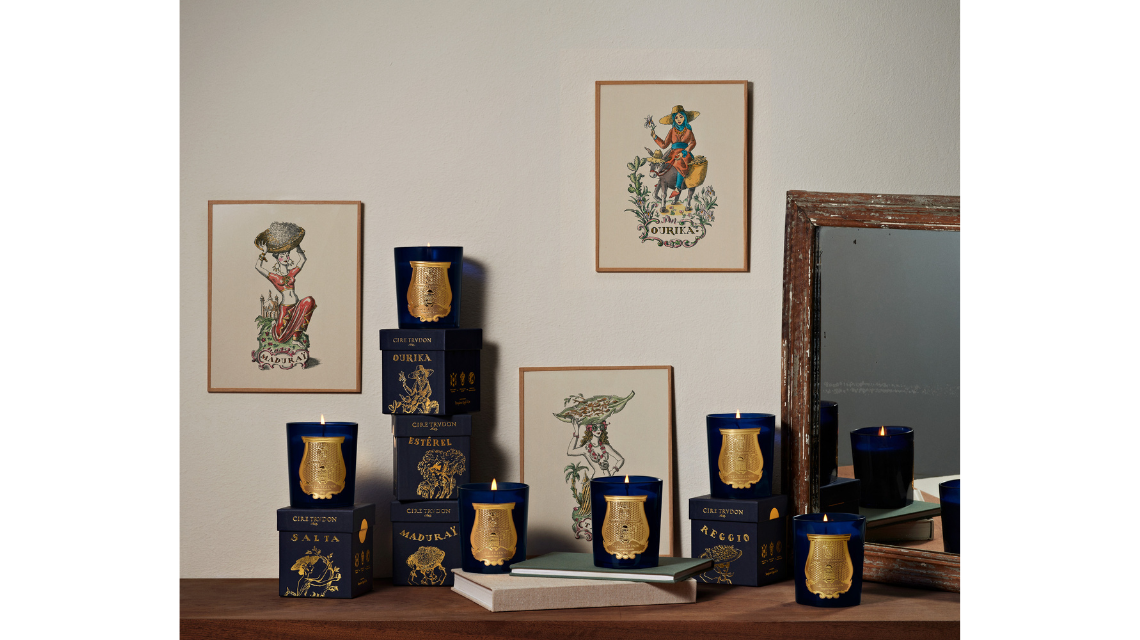 Cire Trudon Belle-Matiere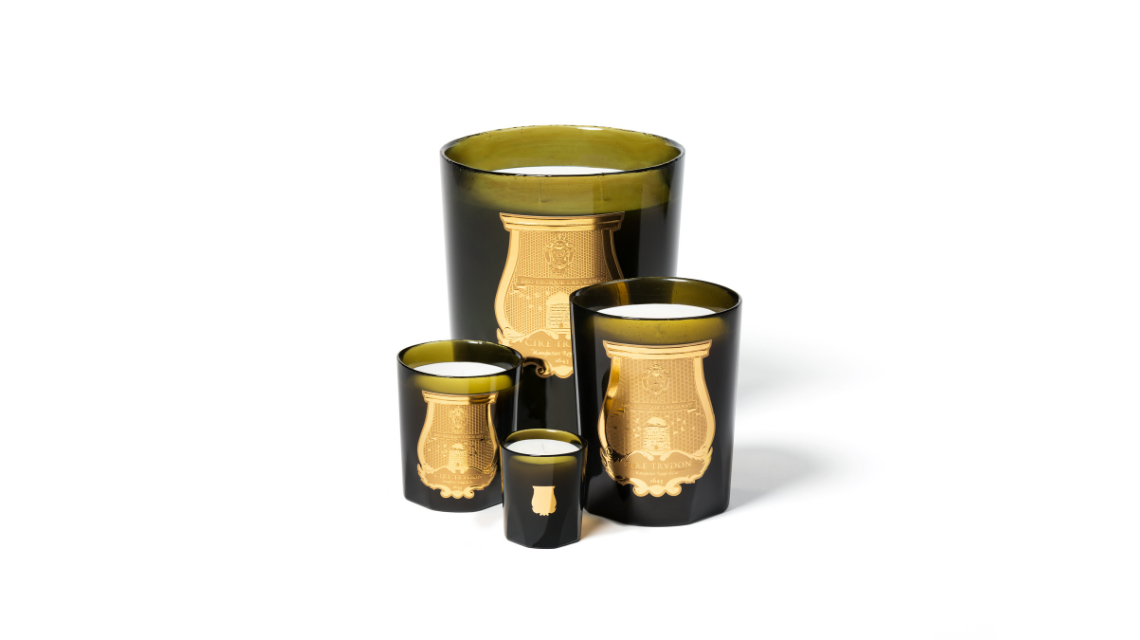 Cire Trudon
If I were a customer visiting your store, what experience would await me?
You would be offered a glass of sparkling water and a chocolate. We would ask you to sit, then we start with a brief overview of the story of Libertine and how all these brands came to us and how we built the relationship with them. Then we will ask questions: tell me what brought you here today; tell me about your fragrance experience, what you like wearing. And here is where the genius comes in: We have an interactive app on an iPad that the Fragrances of the World team have created for us. It brings us to various ways of finding a fragrance based on the one you have been using. We can choose by ingredient, by style, by brand, by family, and so we can show you the fragrances we can offer you. We can talk about how the dry down will evolve in 5 – 6 hours. This has been indispensable in giving us that edge over our competitors. We let the customer choose up to three – never more because we don't want to confuse them – and we then ask if we can apply on to the skin. Then we can talk about how to wear perfume, how to store perfume away from heat and light, different occasions you might choose a fragrance for and what to wear. The idea is that we're offering the client the opportunity to have a fragrance wardrobe that they can draw upon at any time. If they choose to purchase one of the fragrances then we sample them on the other two and we can invite them for an upcoming masterclass as well. If they don't purchase, we still sample them on the three fragrances tried and we invite them to join us at an upcoming masterclass.


Yes, I see the Masterclasses are an important part of your business model. How does it work?
The first class we did was in Spring 2020 for Juliette Has a Gun and we had 30 attendees. That was also the first attempt to enter into this realm of virtual discovery and it was an instant hit. In advance of each class the customer receives a box with a bag of samples, a copy of the Michael Edwards fragrance wheel with the fragrances already indicated on it, a bundle of blotter cards, a small bottle of sparkling rosé and a chocolate. The day of the class you sign on at home and you have a little party where you can experience the fragrances in the comfort of your home. In retrospect, the success of the online classes is really how we survived COVID. Initially the information was general but now the online classes are usually branded.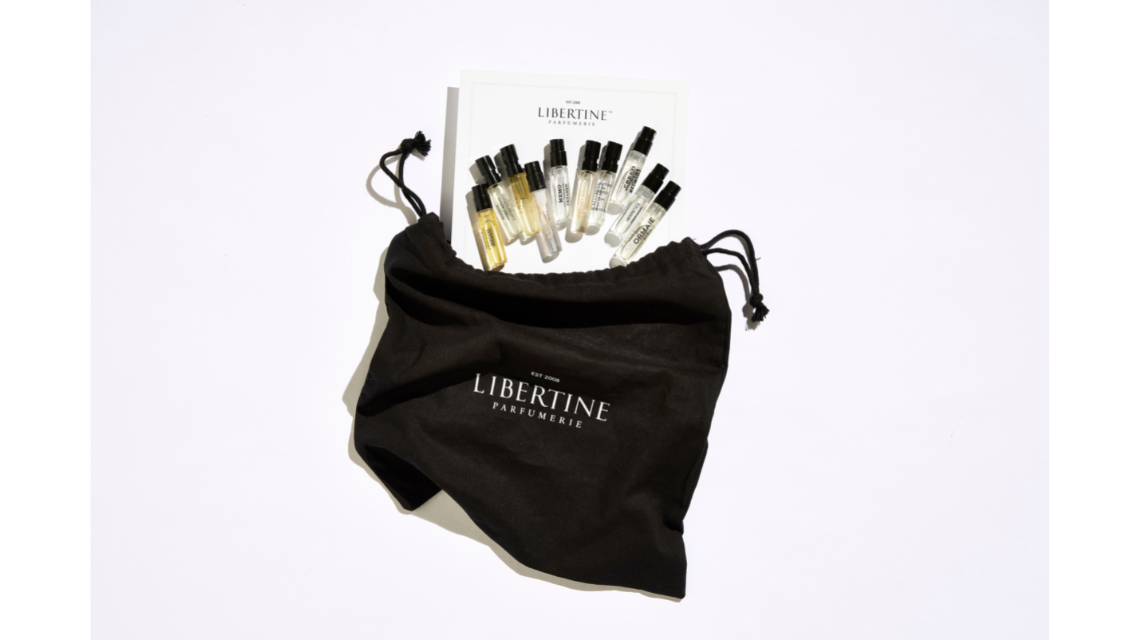 Samples sent to your home
We first started doing in-store masterclasses in Melbourne with my colleague, Lucy. We would take a nice, private space in the store and have up to 15 people. Masterclasses are generally linked to a $69 reservation fee which is redeemable off purchase the night of the event. We serve champagne and canapes, we talk about the fragrance wheel, we all engage and talk about fragrance in a very relaxed and intimate environment. Now we do perfumer masterclasses as well so we engage with the owners of the brands such as John Malloy from Memo, Aurelien Guichard of Matière Première, Linda Pilkington from Ormonde Jayne and Roja Dove from London, also Renaud Salomon from Amouage.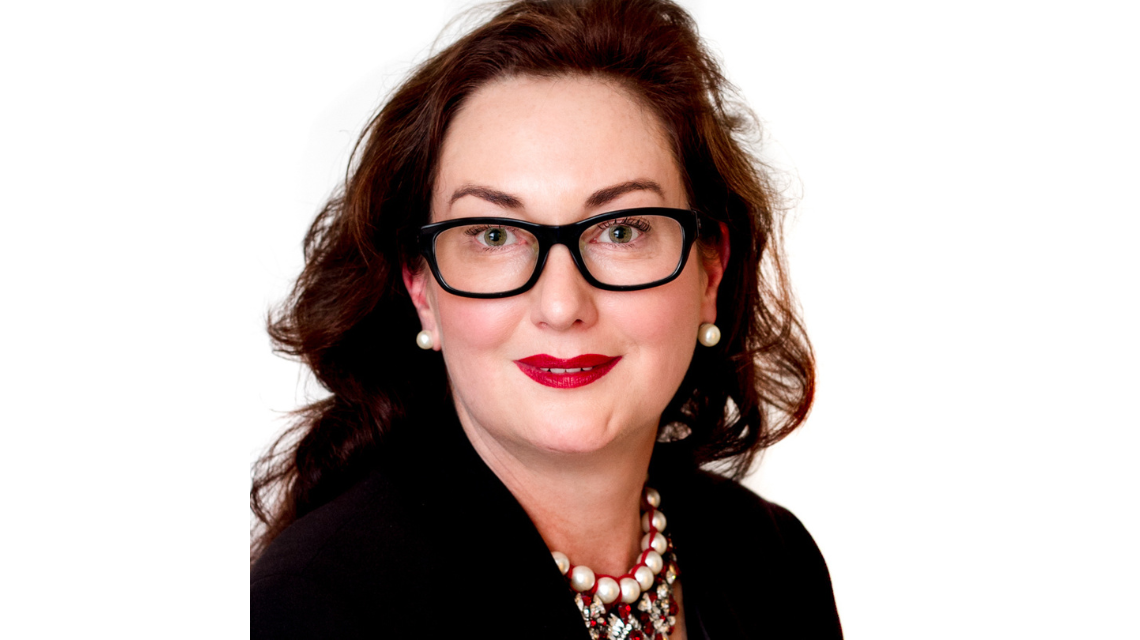 The Masterclass program is the platform that has built the business so quickly. People sample, purchase, come back and slowly this builds the customer base. Now we've got a lot of regulars who come back because they want to discover new brands. We incentivized customers to bring friends along to the classes by offering them a little bag with some new samples. It has created a roll on effect. We're trying to create a Libertine community and I think it's what people are looking for now. They want something that's credible, they want to be part of a group of people that share similar interest, and it's this idea of creating a type of family where people can come together and discover all things fragrance that attracts more people to us.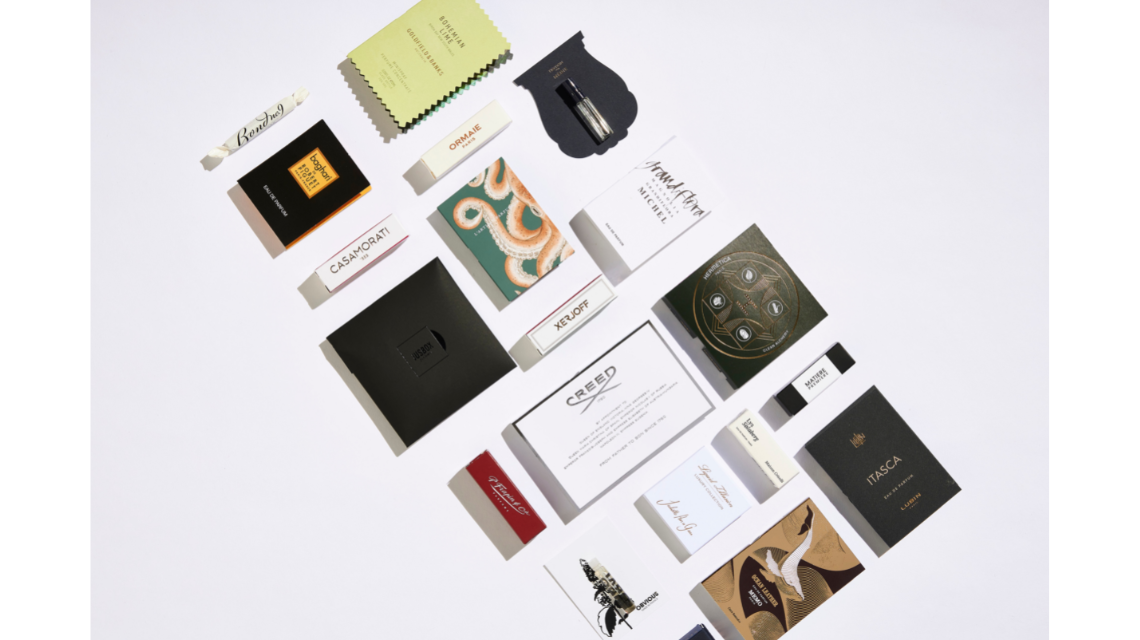 You're providing an entertaining way of educating the public about fragrance. Why is this so essential to Libertine and how will it evolve?
Education is a big part of the DNA of the company. We believe education is about empowerment; if a client knows more they will make informed choices and they will feel empowered to make those choices. So many people have absolutely no idea about what smells good on them, how it makes them feel, the evocative nature of scent and how it triggers memories. We want people to learn about fragrance first without a hard sell: what is fragrance, why it's important and how to wear it before looking at the rest. If you're empowered with knowledge about fragrance as well as how you will purchase your next fragrance, you're going to buy more.
We realize that people love coming to our classes, they love the information, they love the engagement, they love doing it from their own home but now they want us to go beyond what we've been doing. Currently we're developing an online educational package of pre-filmed beginner, intermediate and advanced classes that will be accessible to anyone anywhere in the world. The beginner class will cover the history of perfume, fragrance basics, how are they made, the extraction processes, the key raw materials, how it all comes together, how to choose a fragrance, understanding Michael Edwards' fragrance wheel. In the intermediate class we cut the fragrance wheel in half to look at the fresh-floral side of the wheel and then the ambers, woods and aromatics on the opposite side. We will highlight iconic fragrances from our collection that fit into each category and engage the viewer through storytelling. Then for the advanced class, we're going to be doing fragrance blending because a lot of these brands offer the ability to layer and create new complexities. We've got day, night and in between plus other ways of looking at the fragrance application as well to take the experience up a notch.
We feel strongly that educating and empowering is a gift that the client can take anywhere!


Providing this wealth of educating is also a service which leads me to my next question. In your opinion, what constitutes excellent service today ?
Cash and wrap retail, or online buying where you just click a button and it's done, I think that's has gone by the by. The customer expectation has changed because I think people want a bigger bang. I think the classes that we offer online have been instrumental not only in building our Brick & Mortar business – because it does filter out – but more than ever that it makes people feel they are part of a group. And when you get an exceptional service, when you are made to feel special, you feel good and want to go back for more.
In regards to our staff, when we recruit we look for people that have PASSION. We ensure that the new recruits receive full training, and we conduct update training regularly with our current team, to keep them informed of new launches and direction.


What is Libertine's position on sustainability?
This is one of our biggest triggers for customer engagement. They want to know about our footprint and the sustainability footprint of our brands as well. Refill ability, sustainably sourced packaging, these are all key messages. For our part, when we pack orders we only use recycled paper and tissue, no plastics and nothing from petrochemicals. Nick is very serious about creating a very credible sustainability signature here at Libertine.


Any final words you'd like to share with us?
I'll just share a few thoughts from Nick's philosophy. He is always thinking about his employees. How do I retain my staff? How do I keep them happy? He has built the family dynamic into his business. And of course he's also always thinking about how to showcase the fine world of niche fragrance In Australia.
---
The word "Libertine", as defined by the Oxford dictionary means: a person, especially a man, who freely indulges in sensual pleasures without regard to moral principles. In Australia it clearly describes a perfumery that wants to share the love for artisan fragrance while educating and empowering the consumer. Nothing immoral there! In fact this honorable quest aligns with Essencional's own mission to increase knowledge and to foster the artisan fragrance segment. During the interview Michael Marzano told me "True luxury is built around generosity." His words give me food for thought and made me realize that this sentiment was expressed to me in different words by other individuals in the artisan fragrance sector. As I continue to search for exceptional perfumeries around the world, I recognize a common thread they all share: the drive to entertain and educate while providing a fun and luxurious experience. Indeed, who wouldn't want to shop in such an environment? Where will this journey take me to next?
For more information visit: www.libertineparfumerie.com.au