Into the Wild. With Floratropia's sustainable and alternative model.
2022 . 09 . 15 | written by Laurence Arrigo Klove
Karine Torrent radically cherishes the beauty of nature. Her unconventional perfumes are inhabited by natural materials, ethically sourced, and processed all the way.



The founder commitment to a sustainable model for perfumes is real and authentic. She decided to leave the comfortable world of high-end perfume companies and move into the unknown. Her new universe is made of wilderness, where perfumes can express themselves in an unformatted, untamed, and singular way. Her radical sustainability engagement granted the brand its B Corp certification. She is both tapping into the past with vintage accessories while looking at the future with an alternative virtuous model. Her approach is unconventional and full of poetry. Her perfumes highlight French artisanship as well as a raw aesthetic. Welcome to her world.


The niche perfume aspiration is to bring about change
Let us start by understanding the brand name 'Floratropia' that Karine invented. She explains that she played with two terms, 'tropia' from Greek means 'to turn towards' (flowers) while 'utopia' refers to a highly desirable fictional world. Instead of only dreaming about it, she decided to make it real. She has passionately committed to changing things for good, reconnecting perfumes to the wild and raw beauty of nature. Her perfumes are made of 100% natural high-quality ingredients sourced from ethical and sustainable partnerships. The brand decided to get rid of all synthetic ingredients derived from fossil fuels, and chose refillable bottles with a maximized reduction of carbon footprint thanks to a low-waste, low-carbon refill solution.
'Wildly natural' is the brand avant-garde positioning
Floratropia does not tame raw materials. They are powerfully expressing themselves in a radical fashion, not softened, not rounded, untouched by petrochemicals but instead let free, retaining their full complexity. Floratropia's perfumes are extreme, completely unstifled, and totally disruptive. Their strength is based on an extremely high perfume concentration, and such exceptional naturality results into a cost six times the average market value.


A new, daring, and conscious perfume experience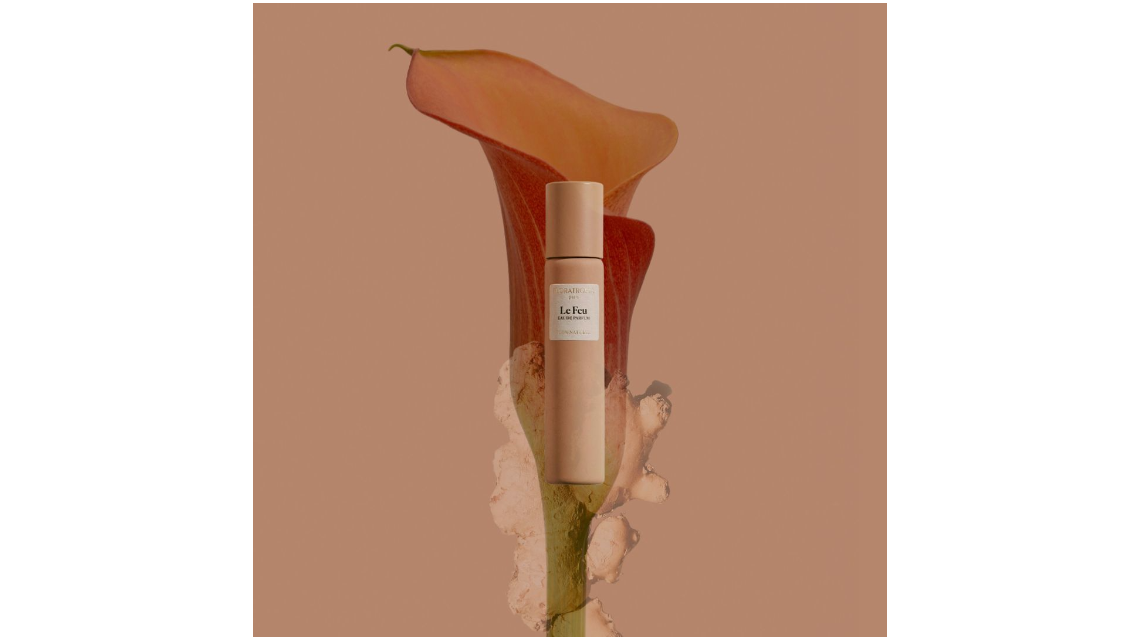 Le Feu, the iconic perfume of Floratropia
On their first encounter, Floratropia perfumes create a shock. They provoke a new emotion, quite different to the usual reaction one expects after smelling a perfume. They certainly do not leave anybody indifferent. After such initial destabilization, and some time to get accustomed to them, their beauty becomes apparent.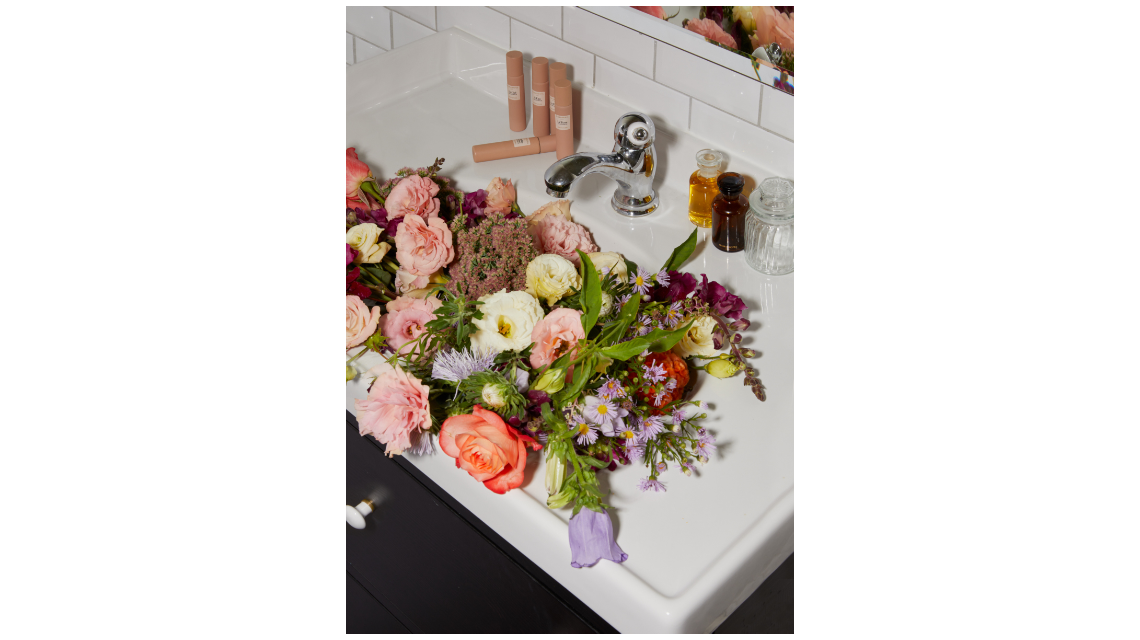 'Florettes', the 20ml brand perfume bottles
Strong natural elements compose the first collection
Composing 100% natural perfumes is extremely challenging and Karine chose Delphine Thierry from 'Inspiration Libre' (free inspiration) to accompany her on such journey. They both share a rebellious attitude, a determination to change the status quo for good. With such zero-compromise approach in mind, they composed Floratropia's first collection, and its four perfumes made of natural elements, water, sky, earth, and fire. L'Eau (Water) is a botanical cologne, bringing the freshness of a spring water. Le Ciel (Sky) is vaporous, made of pale, delicate and weightless flowers. La Terre (Earth) is woody green offering the aromas of the earth after the rain. Finally, Le Feu (Fire) shows the brand power with a unique milky infusion of flamboyant spices aptly named 'moon milk.' A fifth perfume, L'Ambre des Fleurs 'the amber of flowers' was then added to the collection. The perfume is half-amber and half-flowery, milky, comforting but also providing a countryside cereal flavour. An incredibly special signature that has become the brand best-seller.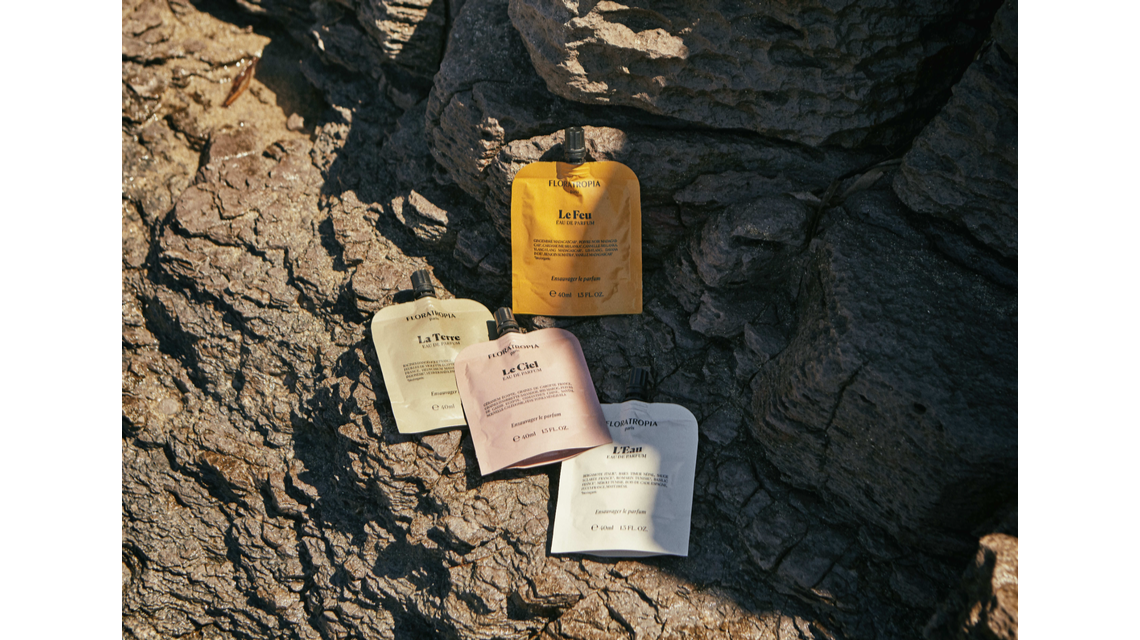 La Resource, the perfume bottle refill, minimized, carbon optimized collected free of charge, to be upcycled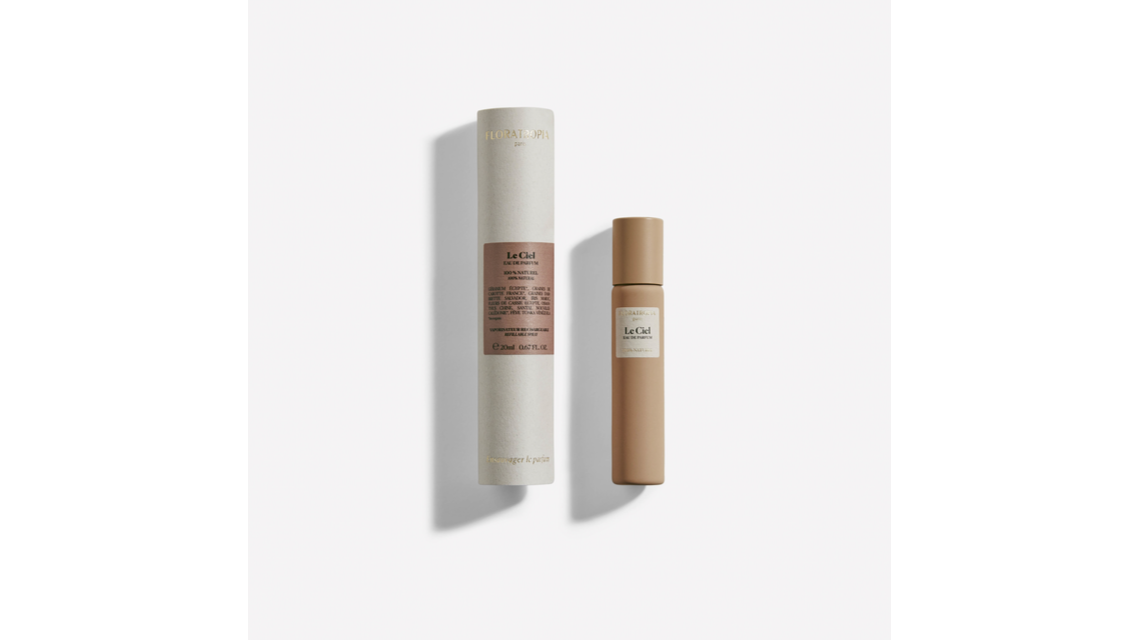 The perfume bottle is wrapped around recycled and recyclable parchment
To keep only the essential on the packaging front
Karine also had to tackle the environmental impact of packaging that usually comes with perfumes. From a negative carbon footprint, she invented a new model that maximizes the positive impact. Her mantra is 'reduce, reuse and recycle' to concentrate on the perfume itself. Her invention is la 'Resource,' a super-light solution both on the carbon emissions and on the supply chain. It is also collected free of charge after use to be upcycled.


Sustainable accessories finalize the brand aesthetic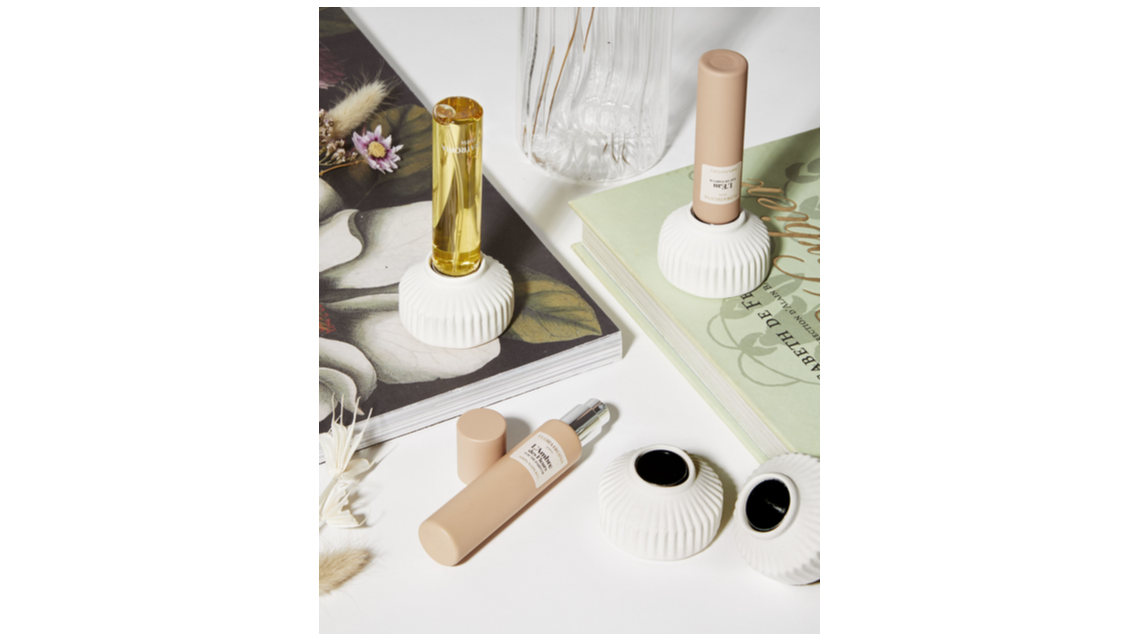 Perfume ceramic holders and vintage glass bottles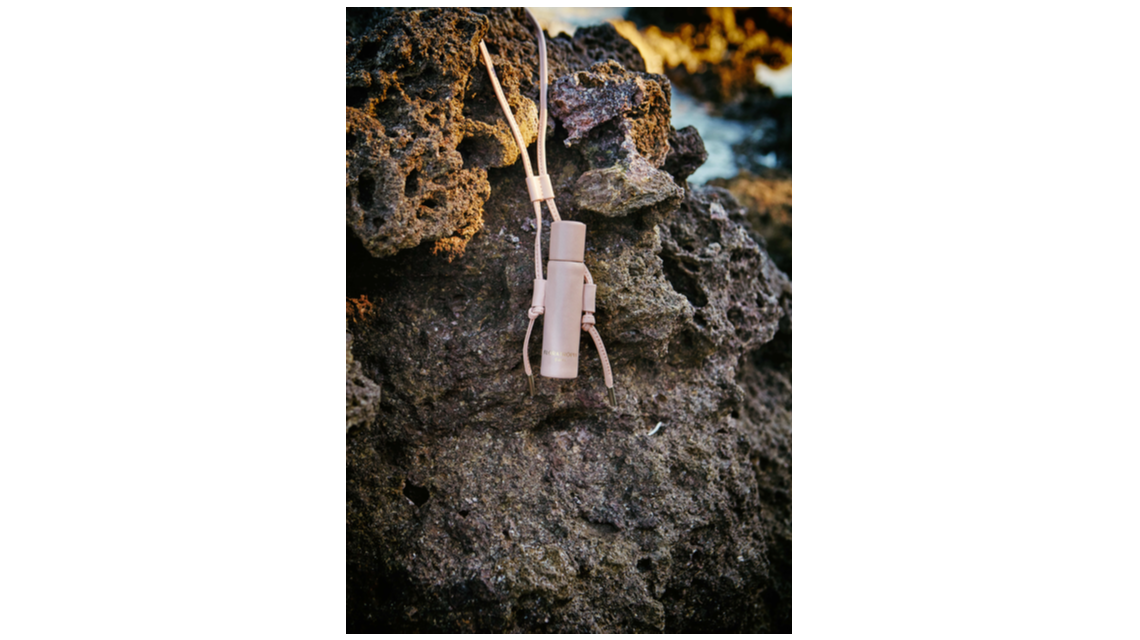 Made of vegan leather, Germaine& Edmond show French artisanship
Karine's aspiration to beauty is full of poetry. She has designed a nomadic perfume spray made of vegan leather, beautifully showcasing French artisanship and cheekily called Germaine or Edmond. Accessorizing perfumes was an obvious path to take to show her brand personality and style. This also means to go back to a 'slow perfume' concept, one when vintage accessories are preciously used and recycled. Beautiful glass vintage bottles are on display on Floratropia shop online sourced from her selected supplier 'René recycle.'


Restoration of biodiversity is her fundamental commitment
Only after two and a half years of brand existence, Floratropia achieved the B Corp final certification, a demonstration of the brand meeting the strictest requirements in terms of transparency, governance, and social and environmental performance. Floratropia is also ISO9235 compliant, the highest ISO level of naturality. Part of her environmental commitment, Karine also decided to give back 3% of her earnings to Noé, an NGO engaged for the conservation and sustainable development programmes related to floral biodiversity.
For Karine, the future lies in this precious biodiversity combat as well as sharing her alternative model to a wider audience. She has just launched a new 50ml glass format during Esxence which has she puts it was 'a rich and exhilarating event'.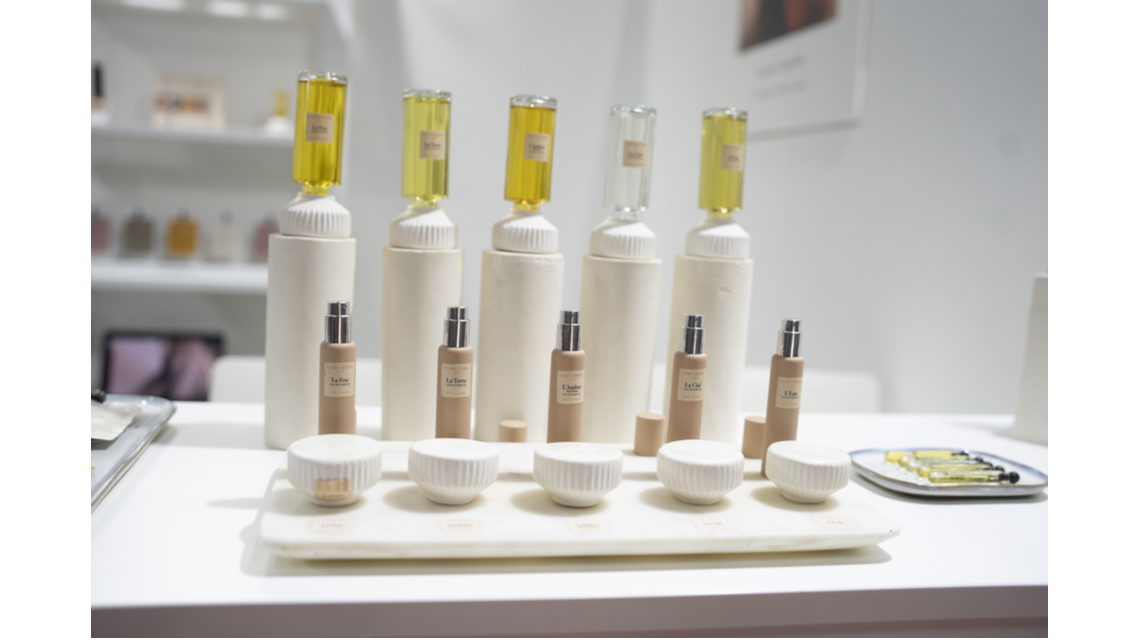 The new 50ml perfumes format displayed at Esxence
When I asked Karin to conclude by summing up her brand into adjectives, she promptly stated 'Creative. Poetic. Unformatted. Engaged. Wild.'
---
My take: the world of Floratropia is not made of an 'Utopia' fictional and impossible. It is real and making a positive impact. Unlike the famous movie 'into the wild', Floratropia is also not a tragic story. It is unfolding quite happily in an extreme way though. Extreme people can be happy and smile after all.