INNOVATION UK: FIOLE, THE WORLD'S 1ST VIRTUAL PERFUMERY
2021 . 06 . 11 | written by Karen Marin
Innovation in sampling and selling fragrance online is coming out of the UK. During two recent Zoom calls I spoke with passionate founders who, each with their own unique concept and means of reaching the end consumer, offer viable business opportunities and solutions that artistic perfumery brands should be aware of and should consider. In part one of a two part series, meet the creators of genius online fragrance discovery site, Fiole.
FIOLE: Bringing fragrance discovery to the comfort of your home
A meeting of the minds and a shared desire to get to the heart of what people want in a fragrance inspired Samuel Gearing and Josh Carter to create a one-on-one consultation method which led to the eventual development of Fiole, billed as the World's 1st Virtual Perfumery. A clever set of questions with easy to understand imagery takes the novice or expert on a journey of discovery where decisions are based on personal preference rather than marketing and branding. The end result determines a "Fragrance Personality" and then the fun begins.
Fiole - How it works Wide Crop - Male Rp
I caught up with the founders to dig deeper into the concept and how it was conceived.
Let's talk about your background and how Fiole came about?
Sam Gearing: Josh and I met about seven or eight years ago when we were working on the shop floor at Fortnum & Masons. I had done a lot of different things for Fortnums and then became the UK Account Manager for Micallef, then Grossmith's as well, and then in 2019 I started the agency SG brands looking after independent fragrance houses in the UK.
Josh Carter: I started working for the independent British fragrance company Illuminem, at their boutique in Mayfair, then was recruited to work for Roja Dove at Harrods, eventually moving to Fortnum & Masons managing his account there. Around the time Sam started up his agency I had shifted jobs and was primarily doing one-on-one private consultations for Roja Parfums with booked clients taking them through the brand. When Sam and I worked together at Fortnum's we used to spend a lot of time trying to understand what people really wanted when they described a fragrance so we ended up developing a method for one-on-one consultations that we genuinely believe is fool-proof because it's led solely by consumer decisions.
SG: It's not fool-proof in the sense of getting someone to buy, but at the end they find something they really love and it's based on their decisions as opposed to us showing them something.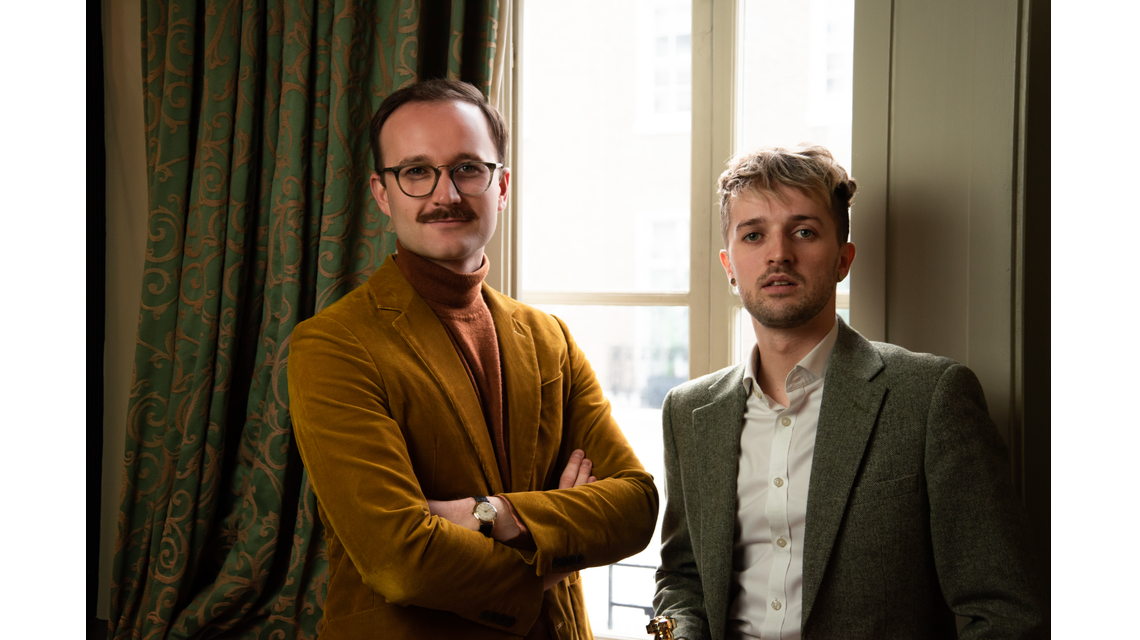 Founders Sam Gearing & Josh Carter
What prompted you to create this solution?
SG: When COVID hit, things slowed down hugely and we quickly realized that something needed to change. The more we read about online figures the more we realized we had to translate perfumery online, and in particular, a multi-brand experience concept. Loads of brands have their own website, so if you're loyal to a brand, you can go straight to their website. But to try to find something new out of things that you don't know, well that needed to be translated online. Everything that we saw was just wrong or riddled in subjectivity. We wanted to make sure it was still about the customer because what we'd proven to work so well in store was that it was about them and not what people wanted to sell them. It leads to more interested – and happier – clients. So we translated the consultation process online, completely removing subjectivity, making sure things were easy to understand, and Josh created the Fiole fragrance finder.
JC: We really wanted it to be as easy to use for someone who has never tried a perfume in their life as opposed to someone who knows a lot. The diagnostic is entirely rooted in customer facing interaction rather than using a brands' marketing speech. The back-end is the part that we see, which is our own method of analysis rooted in classical perfumery methodology, using fragrance families, sub-families and key characteristics. The front-end is the part that a customer sees where the method is simplified into accessible language and they're given image prompts to help them make decisions. The third part is the little magic touch.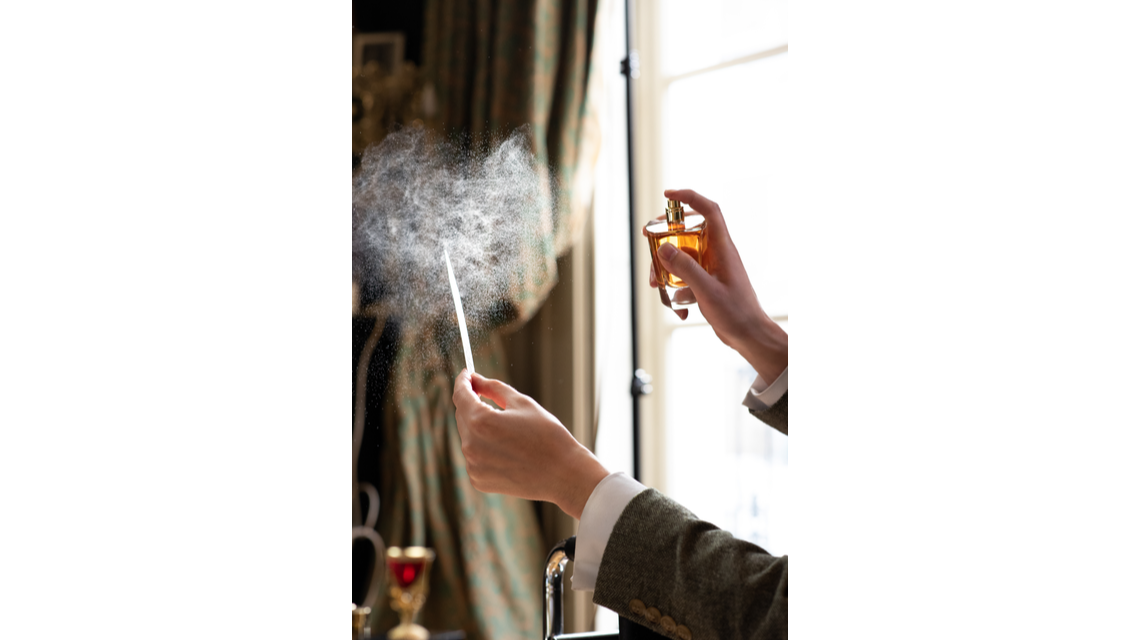 What happens after the consumer goes through the Fragrance Finder quiz?
SG: The consumer can order a box of 6 numbered fragrances based on their diagnostic result. We encourage people to try the fragrances blindly, then once they have narrowed down their preferences to two favorites, they can consult the information card which reveals the bottles, the brands and the name of all the fragrances. They may scan the QR code and can see the full story behind each product. Then the consumer can purchase the scents selected on the Fiole site, and the cost of the box is automatically deducted at checkout.
JC: It means the fragrances compete with each other! The brands don't get to sing about their products until after the consumer has smelled them. The decision is made based on the scent as opposed to other factors, and typically it's the other way around in stores.
SG: It was a little controversial to say to a brand, look you've done a load of branding, you've created stories, and for the first part of this customer experience, they aren't going to be told any of that because we're removing subjectivity. And yet, all of the brands that we stock online – well, not one of them had a problem with that because I think they knew confidently that they would perform. And we don't have best or worse selling brands in fact – they all sell.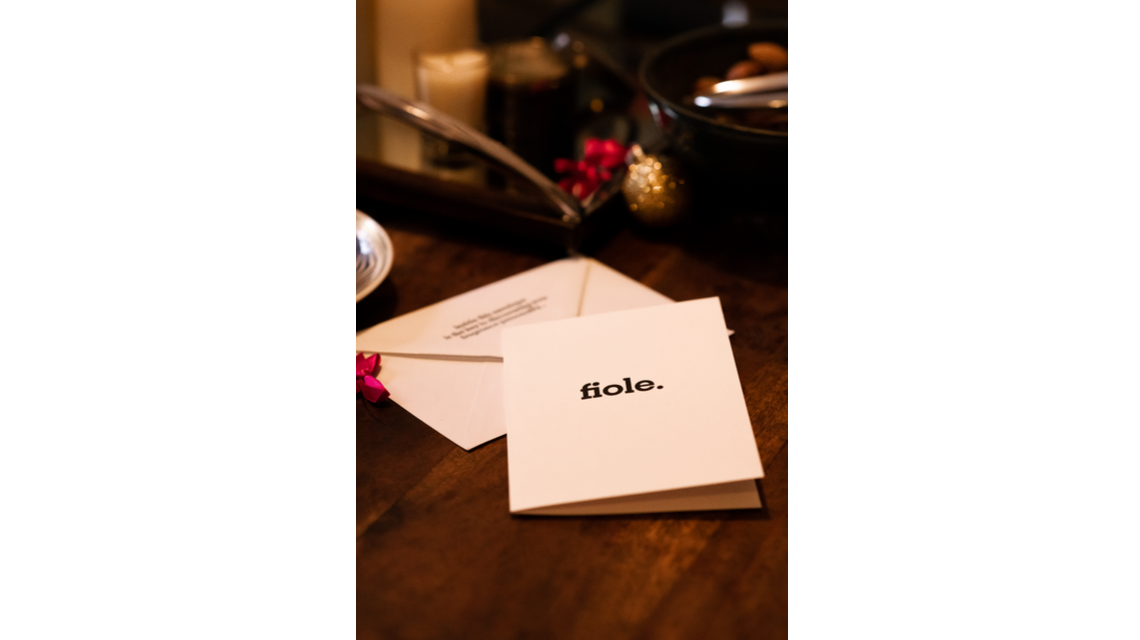 The Fiole Information Card
You have a very curated selection of scents. How did you go about choosing them?
SG: We favor small independent brands, though some aren't so small. We have a three stage criteria for finding a brand: 1) We have to like the people, 2) The quality should not be questioned, and 3) We want brands with a strong identity. So many brands look the same now. Sometimes you can walk into a store and you see many brands that look the same and even smell the same – even if they're owned by different people.
JC: In order for Fiole's mechanism to work, we have to have a fragrance that fits every palette, so there is also curation from our side to make sure we've ticked all the boxes, because if there's one that's not ticked the process won't work.
SG: In fact, at the moment we've got one box that's ticked but not as much as we would like, and we've solved that problem by bringing in a couple of things from one of our existing brands which is exciting. So there's constant curation to be sure the range is appealing and with accessible price points.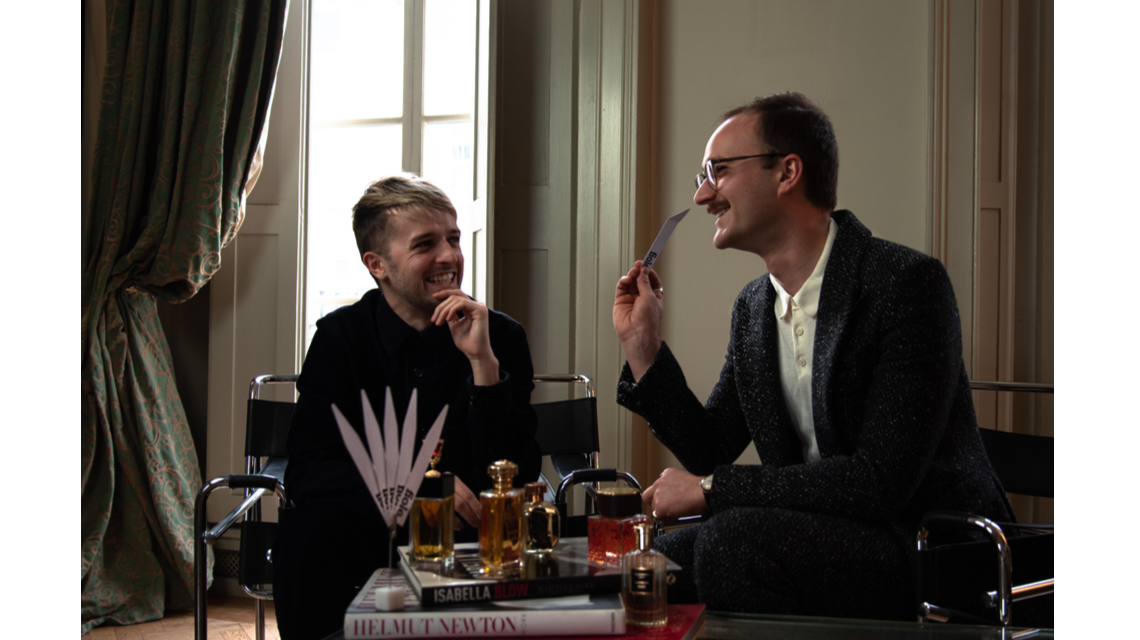 Founders Josh Carter & Sam Gearing testing scents
How does it work for the brand – what do they need to supply to you?
SG: We order stock in bulk, which requires a lot of organization since not all brands are at the same level of being ready to respond to this demand. We've come to solutions with all the brands and it's working quite smoothly now. They provide perfume and product to us, and we have a very professional process in our fulfillment center in the Costwolds. Some things we outsource but it all stays in the UK because post-Brexit it's much easier, but even more, we stay local.
Who is your customer ?
JC: So many people in the UK buy fragrance, but they all buy the same product because they're not aware of the other options that are available to them. It's not because they necessarily wouldn't like those products, it's because they don't have the right exposure to it. We have a thing that we say "If you're going out to dinner with a group of friends, you wouldn't all go out in matching outfits." But people do it with matching fragrance! We're trying to show those people who want to smell good, who want to feel like themselves, and confident for whatever reason, that there are other options for them.
SG: London is a very bizarre fragrance world because it's heavily reliant on international tourism, and when we started the agency there was a big desire to educate Brits on independent and niche fragrance which continues now with Fiole. In Germany and in Italy and in the Middle East, there's a really good understanding and a good appetite for independent fragrance. And we know it can happen here because people buy Creed, and Tom Ford and Jo Malone, so they do spend the money but they're just not exposed to enough stuff. There's so much room to smell different. Getting those customers who have been buying the same thing year in and out, to change and smell unique is something that we're definitely aiming for. We were asked if it's hard getting someone who is used to buying a 40£ fragrance in Duty Free to buy a 200£ fragrance, and the answer is no. We haven't had any price resistance.
You are UK based? Do you ship internationally?
SG: Current distribution is limited to the UK but we do have one major market we're planning to launch by the end of the year where there's huge potential but somewhat untapped. We're pretty confident that it will do well there. And beyond that there is potentially the EU once things start to pick up. Fiole is proving to be the future of how we sell fragrance!
Bravo to the team for their creativity, their entrepreneurial drive and their support of independent fragrance!
For more information visit: www.fiole.co.uk
Photo credits: Bertie Taylor-Smith