IN CELEBRATION OF INTERNATIONAL FRAGRANCE DAY, MARCH 21 2022
2022 . 03 . 18 | written by Karen Marin
Spring is a herald of optimism. It marks the renewing of the earth, leaves are once again sprouting on trees, flowers are blooming, the days are getting longer and the chill of winter begins to subside. It's no surprise that some cultures mark the beginning of a new year in Spring. Several years ago March 21st, which is the first day of Spring, was proclaimed as International Fragrance Day. Not only is this a day to pay tribute to all things fragrant, but it's also a day to appreciate our fantastic sense of smell. How could we go about celebrating this day? To answer that question I reached out to a few sources and took a look online to find out what is planned around the world.
The Fragrance Foundation in the UK will kick off a week's worth of initiatives which will take place from the 21st to the 27th of March. Aiming to bring magic back "to an industry filled with history, artistry and passion", they've created a digital and InRealLife (IRL) events calendar filled with activities to excite and delight consumers. Every day of the week is dedicated to a different topic including ingredients, how to's, career options, history, well-being, creators and sustainability. You can get your daily dose online or head to a participating store for live interaction. Whether discussing stories around British Perfumery, or listening to an interview with a perfumer, or learning top tips on breaking into the fragrance industry, or any of the other events, it's sure to be an educational and entertaining week which will "expand the appreciation, use and sale of fragrance amongst all people."
For more information visit: www.fragrancefoundation.org.uk/events?title=National%20Fragrance%20Week&id=98

In London, Fortnum & Mason is pairing up with Fiole in a collaborative pop-up entitled The Future of Fragrance during which Fiole will transform the iconic Scent Room with a cutting edge installation. Customers will be able to book one-on-one 45 minute consultations with a dedicated Fiole expert who will take them on a unique journey of discovery to find their perfect fragrance. The £25 booking fee may be applied to the purchase of a fragrance the day of the appointment.
For more information visit: https://m.youtube.com/watch?v=xumKB7TjDI8&feature=youtu.be

The Accademia del Profumo in Italy has organized several original events in Milan to celebrate scent in our life. Festivities kick off on March 20th with a workshop for children entitled "Little noses – the sense of smell explained to children". Kids will learn about their powerful sense of smell through blind sniff sessions in which they will link sensation, smell and visual cues. Then, on March 21st people can join a collective bike ride, the #PedalataProfumata, which will traverse the city ending at the BAM Biblioteca degli Alberi. The theme of sustainability in the world and in our daily lives is at the heart of this initiative. The first 50 people who register will receive a limited edition fragrance created by perfumer Luca Maffei. To end the day, there will be a tribute to Perfume at the Cinema with a special screening of the cult classic Thelma & Louise at the Cinemino in Milan. Although it may not seem like there are commonalities between these industries, is a nose not like a director, is the fragrance pyramid not like a script, and aren't the notes the actors? Ticketholders will receive a kit of 25 smells to enhance the sensorial experiences during the most "fragrant" scenes of the film.
For more information visit: www.accademiadelprofumo.it/giornata-del-profumo-2022/

The Museo del Profumo, in collaboration with the Accademia del Profumo, will host a daily event from 14 – 21 March celebrating the life and the work of the legendary founder of the Giviemme (GVM) perfume house, Giuseppe Visconti di Modrone. Every day at 3pm a guided tour will take visitors through the history, the adventure and the myth of this extraordinary Milanese perfumer who made the "Made in Italy" claim into a prestigious emblem recognized in Europe and America. Visitors will also see illustrious creations from the Casa di Profumo Giviemme. Reservation required.
For more information visit: www.museodelprofumo.it/eventi/

Over on Instagram, Nigeria-based Seinde Signature will be launching a digital campaign aimed at driving subscribers to share fragrant thoughts, memories and favorite scents. Founder Femi Olusola has reached out to his loyal customers who will create one minute videos about the favorite fragrance they discovered from the Seinde Signature Experience Center and its Salon de Parfum.
For more information visit: @seinde_signature

Never one to shy away from thought-provoking topics, the digital Scent-Festival will host a Zoom event on March 23rd entitled Re-Orientation to delve into the movement to replace the term "oriental" in the fragrance industry. The session will explore the historical and cultural context and will look at olfactory terms more in sync with the times. Independent brand founders and perfumers Nour Akoum and Dana El Masri will be guest speakers.
For more information visit: www.eventbrite.com/e/re-orientation-amber-ambree-to-replace-oriental-tickets-280545538257

In the US, the Fragrance Foundation will host a lively virtual event with exclusive content from perfumers, Fragrance Foundation members, Influencers and more. Brand creators will speak first-hand about fragrance innovation, and industry insiders will share their inspirational stories. With over 30 participating brands and some 100 retailers it promises to be an exciting and informative gathering. Fragrance Day activities are meant to drive consumer awareness while uniting retailers, brands, perfumers, and media in order to drive sales.
For more information visit: www.fragrance.org/events/
In New York City, on March 20th Sniffapalooza will host an aromatic afternoon at the Olfactory Art Keller, a new contemporary art gallery in downtown New York that focuses entirely on art with a scent component. Event attendees will discover two multi-sensorial experiences. In Luisa Gottschalk's "Glade: To Touch Painting" the artist presents six paintings which, when the canvas is touched, will release a scent embedded in the paint. Visitors will also be able to experience New York/New Fumes" , a scent exhibit in which 21 contributors – trained perfumers, visual artists and musicians – each created a single new scent exclusively for the gallery. Space is limited and must be reserved in advance.
For more information visit: www.facebook.com/Olfactory-Art-Keller-102784752297347/

The Fragrance Foundation in France will also join in the festivities by launching a series of weekly podcasts dedicated to the incredible stories of the men and women behind the scenes who play key roles in the industry. Entitled "Des Metiers. Une Passion" (Many Professions, One Passion) guests will speak passionately about what they do and about their love for fragrance. Each session will serve to promote the diversity and richness of the professional paths available while educating the public on challenges facing the fragrance industry today from sustainable development to being innovative to promoting the sector and maintaining the tradition of fine French fragrance. (Podcasts will be in French).
More information and updates can be found on the website: www.fragrancefoundation.fr

Even if you can't participate in any of the events, there are so many ways you can celebrate on your own! Taking a cue from the famous "Why Don't You…?" column by legendary journalist and editor, Diana Vreeland, may I suggest:
Why don't you wear your favorite fragrance from your teen years (if it's still around)? Visit a shop for a sample and ask for a current equivalent.
Why don't you have a "sniffathon"? Smell every fragrance you own or go to your local shop and make the rounds of the counters?
Why don't you take a walk in the park and smell nature? Visit a rose garden, stop and smell the roses!
Why don't you create a recipe based on the notes of your favorite gourmand fragrance?
Why don't you experiment with a fragrance family you've never worn? For inspiration, visit: www.fragrancesoftheworld.com and www.wikiparfums.com
Why don't you treat yourself to a seasonal bouquet of the most extraordinary flowers? Kudos if those flowers are present in a fragrance you wear!
Why don't you concoct a cocktail – or mocktail – based on the notes in a favorite fragrance? Raise your glass to International Fragrance Day!
Why don't you indulge your senses at the end of the day with a relaxing bath and aromatic candle? It may not be an original idea but it's still a nice way to treat yourself!
Why don't you wear your partner's fragrance for a day?

Don't forget to tell us what you did to honor your nose and celebrate our fragrant world! Happy International Fragrance Day to all!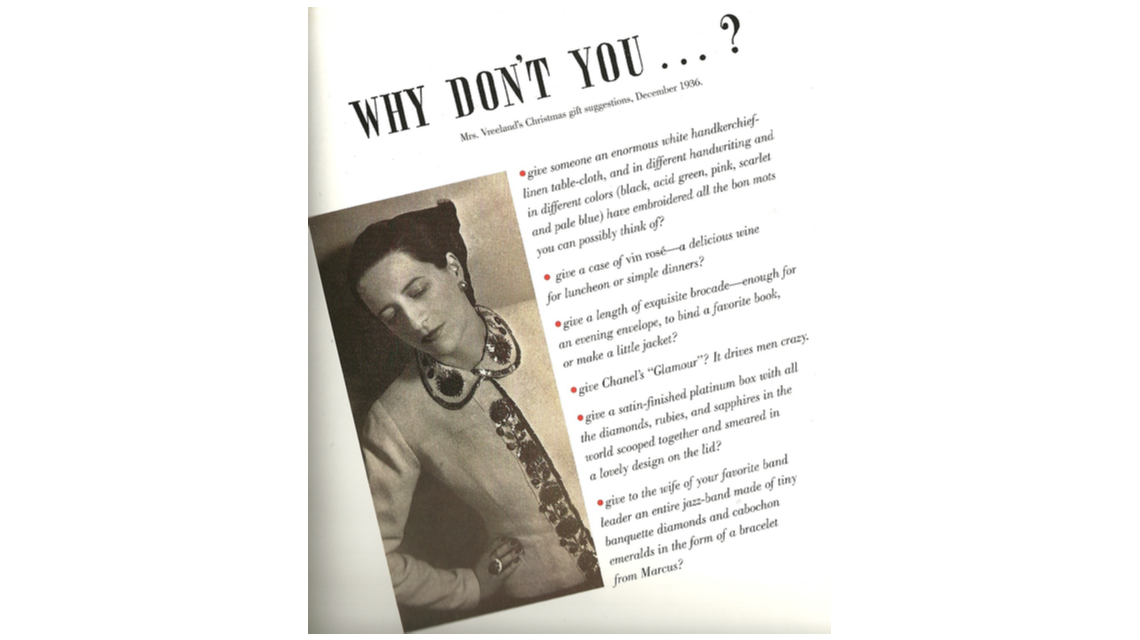 "Why Don't You…?" column by legendary journalist and editor, Diana Vreeland