HOW ARE WE DOING? 1ST QUARTER UPDATE AND 2020 RESULTS
2021 . 05 . 07 | written by Karen Marin
Recently Michael Edwards and his team released the launch updates and trends from Q1 2021 along with a summary of activity in 2020. The good news is that there are indications that Fragrance is experiencing a renaissance, coming back stronger in the luxury segment. Let's take a look at the past year for some key learnings before diving into 2021.
2020 AT A GLANCE
It was a year that changed everything: how we work, how we socialize, how we shop, how we behave. Globally, the world is experiencing inflation, the costs of labor, raw materials and packaging has increased, tariffs are fluctuating and the transportation network is a nightmare. The economic turmoil caused the rise of rational consumption and conscious spending. People want value for money. Speed and convenience are now critically important in the consumer experience, and we're using technology more than ever before. Consequently, new consumption habits have taken hold including click and collect, the preference for quality over quantity, buy now – pay later schemes, and even rental and resale models. Digital initiatives, including online consultations, livestreaming, and virtual stores, flourished. Wise brands reacted by creating a sense of community to support the collective amidst isolation and social distancing. The concepts of well-being and self-care rose to the forefront as consumers embraced fragrance for its mood-altering and therapeutic benefits that instill calm.
SALES PERFORMANCE
The chart below gives a snapshot of global performance, pulled from NPD data shared in webinars this Spring. Declines were universal except in China with reported overall growth of +71%. The increase in Argentina is offset by the staggering rate of inflation.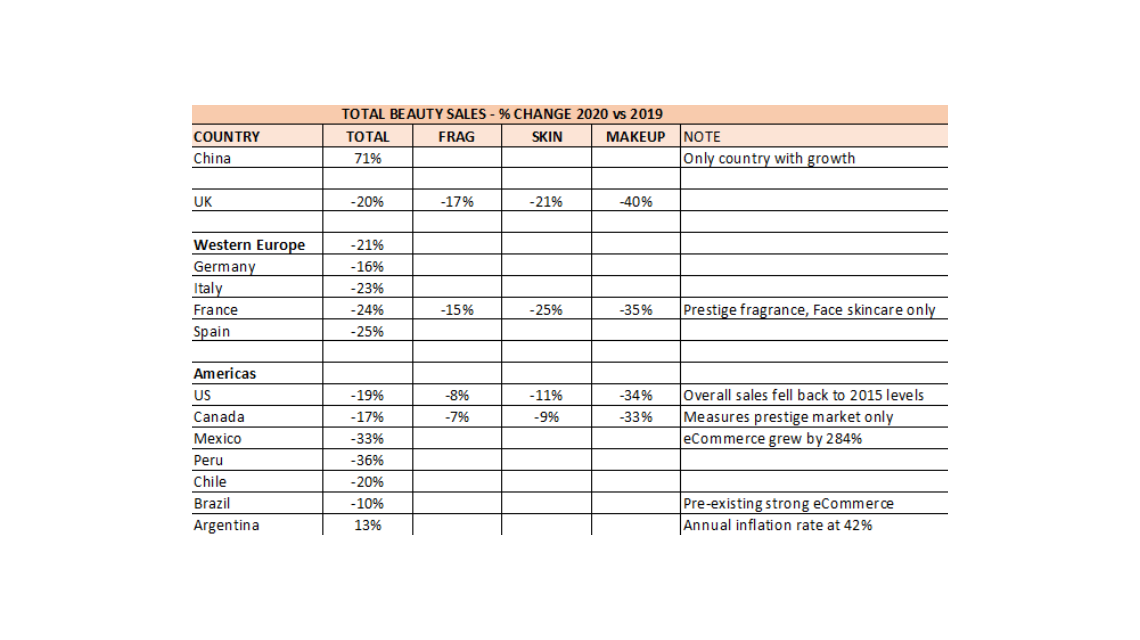 The US relied on promotion to drive sales, citing promo activity in 98% of the weeks of the year vs 56% in 2019.
In terms of category sales when available, Fragrance suffered less than Makeup or Skincare, proving to be more resilient throughout the pandemic. According to Euromonitor, global fragrance sales reached $51Billion in 2018, and China's share hit $12.35Billion, a 30% growth over prior year. Global fragrance sales are projected to increase to $70Billion by 2022.
THE NEW MEASURE OF SUCCESS
Given the results, how can a brand or a retailer assess their results? Do what analysts did: look beyond the numbers to see how agile you were. Did you pivot to new opportunities? Did you drive eCommerce sales? Did you embrace digital? Did you provide new services to your consumers? Successful businesses had to adapt while continuing to keep the customer at the center of all decision-making. Another way to look at performance focuses on market share gains or losses and making comparisons with your peers, or the overall category. If for example total fragrance sales were down 20% in your market, and you had a 12% decrease, your performance is better than average.
FRAGRANCE LAUNCH ACTIVITY
2020
As reported by Michael Edwards' Fragrance of the World Quarterly Update, "global fragrance launches declined, finishing -30% down on 2019. There was an increase in launches in 4Q 20, but the global pandemic impact on the fragrance industry was evident." By distribution, mass and lifestyle show the greatest decreases in percentages, while Niche, which dropped the most in sheer numbers, still launched over 1200 novelties – more than twice as many as Prestige and almost 4 times as many as lifestyle brands. Quoting the newsletter, " Lifestyle and mass fragrances are important to the industry yet we are seeing designer brands increasing their focus on creating luxury collections and niche, which typically represents a higher retail value."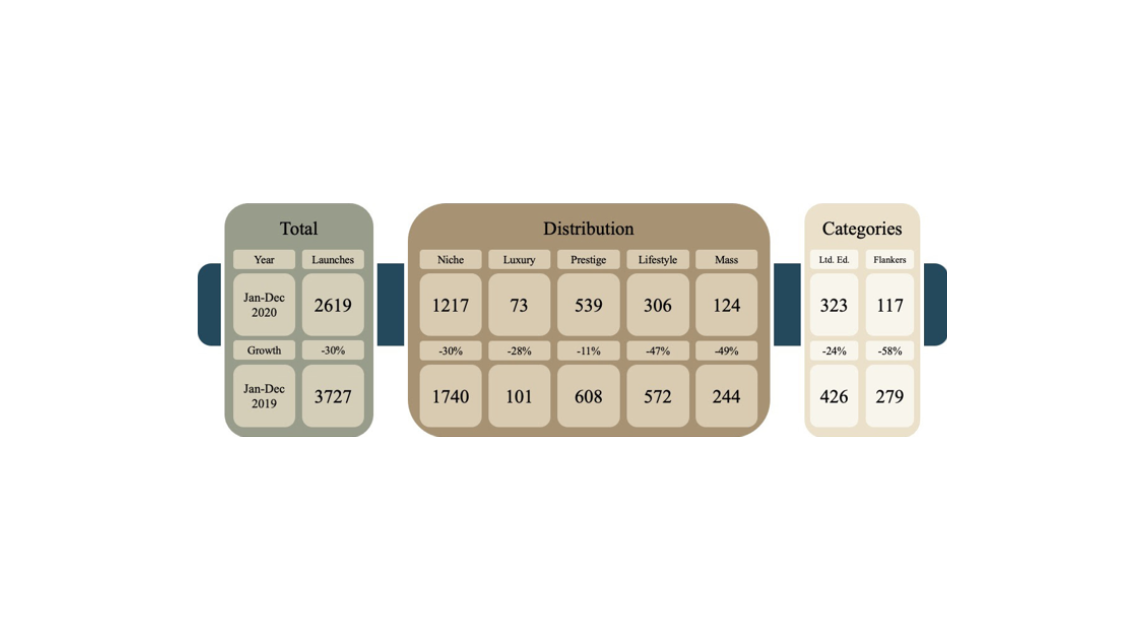 Data source: fragrancesoftheworld.info
Q1 2021
Looking at the first quarter of 2021 we can see that launch activity is down 35% to 2020. In terms of distribution, the newsletter points out"…niche and luxury started the year strong, a positive sign given how much niche fragrances now contribute to the annual number of launches." Of note is the continued decline in Lifestyle and Mass. Edwards and team conclude, "While these products remain significant, fragrance is rapidly returning to its status as a luxury product."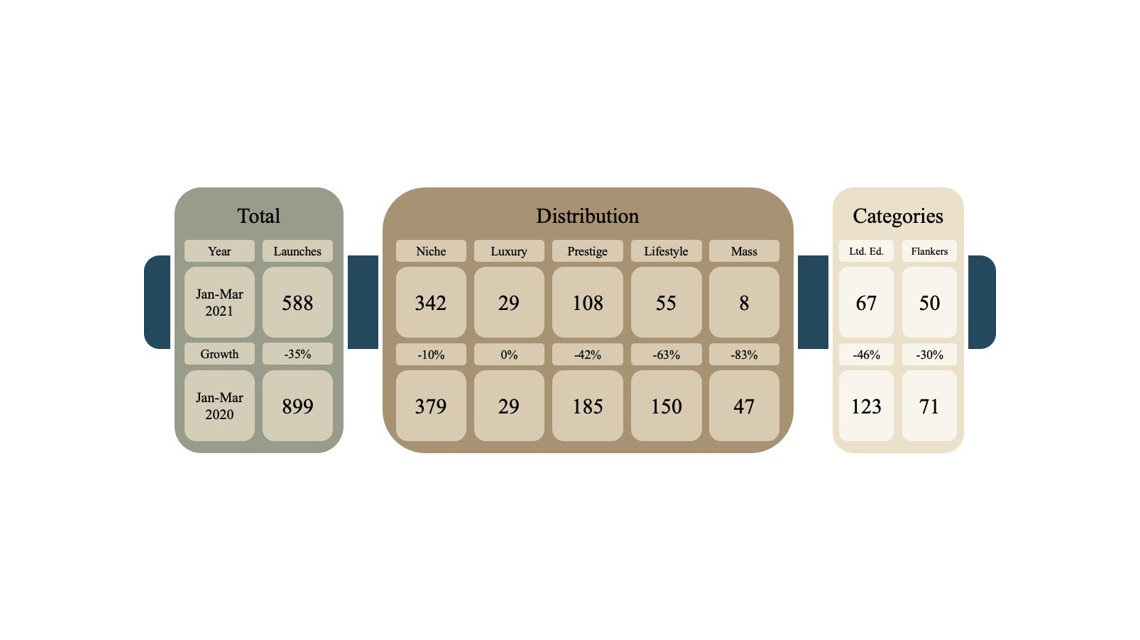 Data source: fragrancesoftheworld.info
EMERGING TRENDS
A few trends are recognized and are expected to continue in 2021, notably the focus on nature or green scents, comforting florals that evoke feelings of nostalgia and sophisticated fruit scents. With well-being and self-care in mind, there is a movement towards calming and soothing scents that impart serenity and tranquility along with others that bring us on a sentimental journey to happier times.
A NEW WORLD ORDER
Many countries around the world are relaxing pandemic restrictions and life is moving towards a "new normal". Here's a quick summary of analysts' predictions on what we can expect in the retail and business sectors:
• Create a 360°strategy to incorporate both offline and online since they function as one entity.
• Retailers have to adapt to the new Phygital Reality which combines the physical and digital worlds. This can include the use of QR codes, video consultations, virtual try-ons, in-store mobile apps for checkout.
• Brick-and-mortar will still be important – especially for fragrance – but it must evolve to offer more value to the customer in terms of experience, entertainment and education. People still want to be wowed.
• The big question is, how can stores provide sensory experiences when people are afraid to touch anything? Focus on making emotional connections.
• In some cases, stores may become a backdrop for digital events and livestreaming.
• eCommerce has to be more engaging, more original and more exciting with more personal touchpoints. Gaming and messaging are more important than ever.
• Travel retail is still a wildcard. The lack of travel forced people to shop locally which is an opportunity for local brands to develop and build a following.
• Brands with clear and unique messages will have opportunities with retailers who are looking to promote brands with whom they identify, and who are purpose-driven.
• Brands need to embrace the eco-conscious, sustainability movement or be at risk.
• "Clear and meaningful sustainability goals are now table stakes." according to Women's Wear Daily.
• Seek to identify gaps, new pain points and opportunities that are relevant to the consumer of today.
• Brands will recover at different speeds, some never will and there will be a shift in market share.
• It's critical to rethink the entire business model in sync with changing consumer habits and preferences.
• Find new opportunity in audio platforms and the use of sound.

FINAL WORD
NPD US just released Q1 results boasting an 11% increase to 2020 bolstered by fragrance growth of +45%. Even more encouraging is that in this market, fragrance, skincare and hair all exceeded 2019 numbers for the same period. Perhaps this means consumer confidence is bouncing back as the country continues to open up? Let us hope the rest of the world sees similar results post-lockdown.
Sources
Quarterly Insights: 1Q 2021 2020, Michael Edwards Fragrances of the World
https://www.happi.com/contents/view_breaking-news/2021-05-04/us-prestige-beauty-sales-rise-11-in-q1/
10 Takeaways From WWD Beauty Inc's 2020 Top 100 List – WWD