Goldfield & Banks, falling in love with the Down-Under Unique Beauty
2021 . 03 . 02 | written by Laurence Arrigo Klove
Dimitri fell madly in love with Australia. Its Spirit. Its wild open empty landscapes, its rich natural resources. Falling in love and sharing one passion with perfumes is the origin of Goldfield & Banks. Love consolidation is about sourcing local ingredients directly in a sustainable way. Happy Lasting love materialises into authentic beautiful perfumes. One sniff and the Aussie extraordinary beauty is yours. 10'000 miles magically evaporated. Grab your sunnies. Your hat too. Good onya!
Question: hello Dimitri, can you tell us why on earth you settled down on this amazing yet so far away island - Australia?
I admit this was a bold move. On the surface, it was an impulsive act spurred by an event, falling in love with my today's partner and the island itself. I was totally mesmerized by the Aussies different approach to life and I marvelled at the beauty of the country. However, deep down, this decision made perfect sense. My first visit to Australia took place seven years ago with a work assignment for Cartier as I oversaw the market launch of their perfume Baiser Volé. Having extensively consulted for major perfumes brands companies such as the Shiseido Group and Gucci, I simply could not stop from analysing the local perfume market. I found out there was no niche local brand. None. I realised that in this new land, laid this amazing untapped opportunity to create an authentic perfume local brand. I permanently settled down. Like a good European in search of new ventures, I had found my land of opportunity. I plunged into my Down-Under adventure.
Question: why did you choose the name Goldfield & Banks for your brand, a rather serious one?
My work concentrates on finding the most beautiful natural resources of the island and then using them for the creation of my perfumes. My intention was therefore to find a brand name that conveyed that core natural research intent. It took me one year of study and finally, I chose the name of a prime British explorer and naturalist Sir Joseph Banks who accompanied Captain James Cook in his journey to Australia in the late 1700's. I then added the term 'Goldfield' as it stands for the huge mining fields of Australia and it has been found that gold serves as a soil nutrient for multiple crops such as sandalwood.
Question: Explain the inspiration and your creative process behind a new perfume as all Goldfield & Banks perfumes have a specific location in Australia.
I spend most of my leisure time travelling in Australia, by car mainly – better have a resilient one. Beaches, deserts, tropical forests, their special atmosphere, their beauty and their smells trigger my inspiration. I pick a specific flower, tree or spice and I then embark on exploring the local farmers who can provide me with such precious essence. For example, our most recent perfume Bohemian Lime was inspired by Byron Bay in New South Wales, a very special hippie chic, tropical, exotic and happy destination. The opening of the scent is Australian Native Finger Lime which grows in the Byron Bay shire . My inspiration also works the other way around in such a way that I have a perfume script and then travel to the destination that fits the brief. One thing is for sure, there is an endless source of inspiration on the island. I have zero concern of running short of it.
Question: Can you tell us the story of the Southern Bloom perfume and its Boronia flower, one of your best-selling perfumes and Nicole Kidman's favorite?
But of course! Dimitri puts on a large smile 'like a split watermelon' - Aussie slang. Bruny Island is off the cost of Tasmania and on this magnificent southernmost island, farmers harvest once a year in September, a native precious flower, the Boronia. My perfume depends on such one-off essential oil harvest so that every year Southern Bloom is different, unique and luxurious. One kilo of absolute boronia oil costs 10'000 US$. It does happen that the perfume is sold out before the next harvest year. I don't compromise on quality so if that happens, so be it.
Question: Can you elaborate on the artistic design of your perfume bottles?
Well, my brand core design element is simplicity. Luxury exclusively lies in the ingredients used derived from a magnificent land. With this in mind, I chose a pure glass for the bottle illustrating the clarity of the Australian waters and I went for Pochet, a French premium glass supplier. The perfume name tags illustrate the serrated leaves edges of the Banksia trees growing wild in Australia. The perfume cap is made of timber wood also common on the island. The box is kept simple. Our other aim is to be environmentally friendly. With the exception of the perfume tube, we use no plastic. Our paper has been recycled and can be recycled again. We are sustainably certified and limit waste to the bare minimum.
Question: With whom are you partnering to develop the perfume scents?
Depending on the key ingredient chosen, I will choose a specific company for each perfume. For example, for Desert Rosewood, I am using the Buddha wood essence, a rare ingredient growing only in Australia. I chose a perfumer, François Merle-Baudoin based in Australia. He is a fifth generation Grasse perfumer who has moved to Australia some years back, see I am not the only mad one – down-under! I also work with Firmenich and Givaudan naturally, masters in scent creation. Hamid Merati-Kashani from Firmenich is superbly talented in woody notes. Jan Wessel is another perfumer I am particular fond of. From Givaudan, Amélie Jacquin and Carine Certain Boin are certainly top of my list. I have to confess that my briefs are super specific as I have the tendency of writing myself the pyramid notes. Yet, inspite of giving the perfumers a hard time, they seem to enjoy it and we work together well!
Question: Let's talk about your work in selecting raw materials and the sustainable approach you apply.
Quite right. This is absolutely core and vital for the perfume industry in my opinion. Living in Australia makes this matter even more paramount. I exclusively work with sustainable suppliers for native plantations as well as for non-native ones. For example, for Goldfield & Banks new Botanical Series, we use non-native ingredients 100% sustainably produced. For Silky Woods specifically, we use Agarwood derived from Australian planted Aquilaria trees from the Wescorp company. Prime concerns such as child labour, cutting trees are gone... It is so satisfactory to contribute to a positive environment footprint. This is the first Australian grown Agarwood and it is quite special, intense, smoky, with a tobacco flavour…
Question: Can you explain 'All our perfumes are tested under extreme humid weather conditions'.
Absolutely. I want the best for my customers. I want them to love their perfume. It has to be perfect. I do know that in humid conditions, perfumes can turn sour. Some ingredients evolve on skin and veer negatively such as the tonka bean. I take that into account and stay away from it. When I don't know, I test relentlessly until I know it is good. By then, the whole team working for Goldfield & Banks has validated the scent. Trust me, they are not easy to please.
Question: As a raw material expert, what is your favorite ingredient?
Right, I will have to select two not one. 'Wattle', our local mimosa, is the symbol of Australia, needless to say, I have to pick it. One can drive hours on end through a stunning landscape full of golden wattle trees with their delicious scent in the air. The Australian Commonwealth Coat of Arms features golden wattle and in 1954 Queen Elisabeth wore a 'wattle dress' to a state banquet during her royal visit to Australia. Unquestionably so, wattle is first. Second is iris, this time around not grown in Australia, but exquisitely powdery, classic, like a Guerlain magnificent Shalimar or Heure Bleue…
Question: In your adventure away from good old Europe, what has been your biggest challenge?
In one word, production. France where our perfume production takes place is 24 hours by plane. Distance makes it difficult to manage constant quality checks. I have to say that I am a control freak as in reality no unfortunate events have occurred so far. Distance also implies costly shipments of our perfume ingredients from Melbourne to France. For that one, it is our business model that we have to live with. No debate.
Question: what would be your love declaration to Australia?
I am not Australian. Yet I feel home here. I became an islander myself. I love the diversity in its people and in its land. The country is gorgeous. I appreciate the no fuss, down to earth, casual approach to life. I like the young, modern spirited country. I adore its spontaneous every day party occasion. Social life is fun, going to a barbie - Aussie slang for barbecue- is so simple. Having a drink while discussing a harvest with a farmer too.
Question: what is your Aussie vision of luxury?
Luxury in Australia is all about enjoying beautiful empty spaces, the sun, the water, the beach, the company of good friends, in a relaxed attire…dressing down is absolutely fine, dressing up happens quite seldom.
Question: anything you miss from old Europe?
I grew up between Belgium and France. My mum is from Antwerp and my dad is from Strasbourg. I am and feel definitely European. At times, I miss the seduction play we have in Europe. Here, there is also a high level of prudeness that I am still not used to. I do now and then miss the Continental hugging.
Question: if Goldfield & Banks was a car, a drink, a color, a tree, a beach, which one would you pick?
A luxury camper van, a glass of South Australian Red wine, the color blue, a palm tree, Hyams Beach for its beautiful whitest sand in the world.
Question: Why is your hat part of your brand attire? Is it some kind of a Crocodile Dundee touch?
It is. You're right! Quite simply, one needs a hat in Australia. The sun is scorchingly hot. My hat is handmade in Australia from the Akubra make, dating back 1874. Local high-end quality it is.
Question: Define your brand in only 4 words…
Resolutely: Exotic, Authentic, Inclusive, Destination.
Personal Take
Dimitri could be appointed as Head of Tourism for Australia. He would be the best advocate for 'Come and Live our Philosophy'. He is superbly positioned to promote Australia and a genuine good cause such as sustainable environment. His strength wouldn't rely on marketing tricks but on the real thing as he is super knowledgeable on the Australian culture, History, land geography and climate, holiday destinations, people origins … But as much as he likes the Aussie relaxed attitude to life, the famous 'that will do', he does not apply it to himself. He is a damn good perfectionist in anything he undertakes. Dear Dimitri, good onya!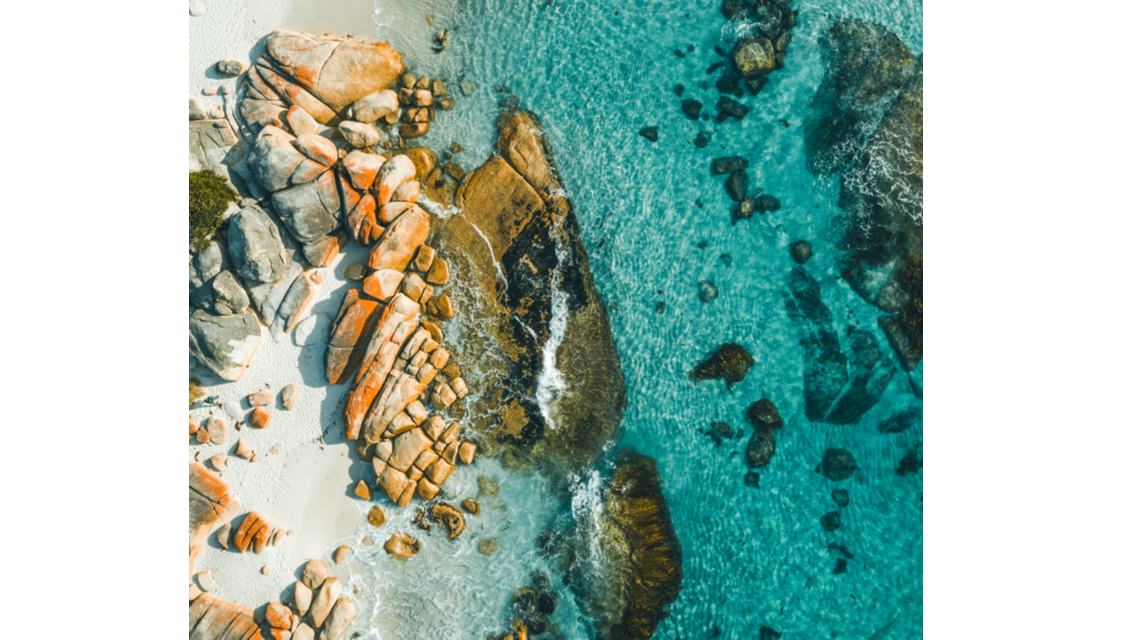 Australia Pacific Beach Splendor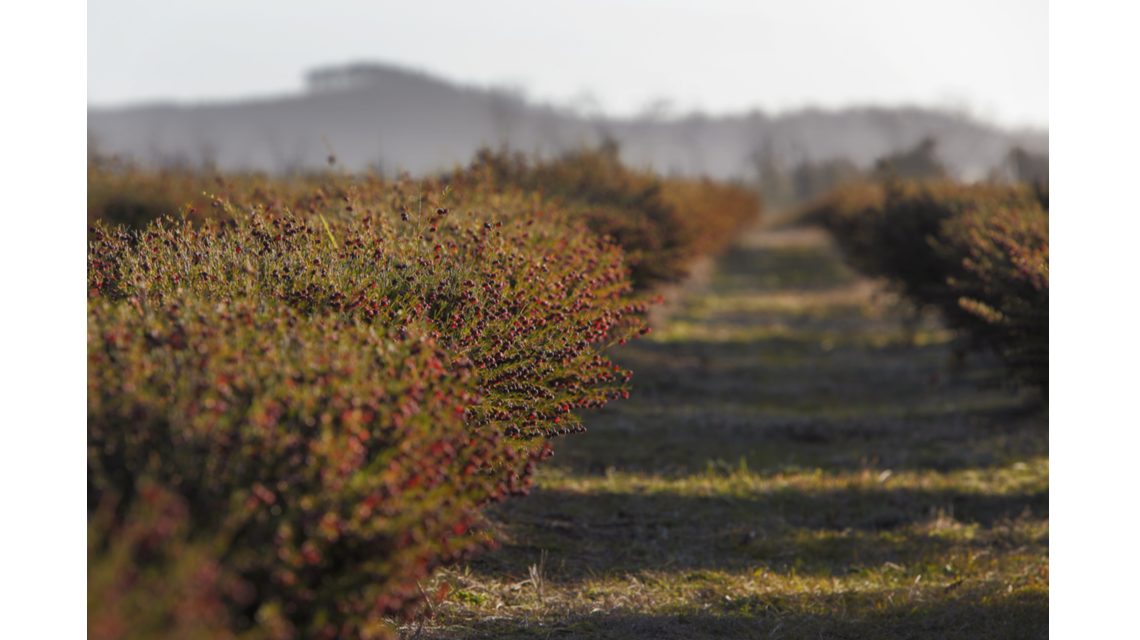 Southern bloom boronia flower harvest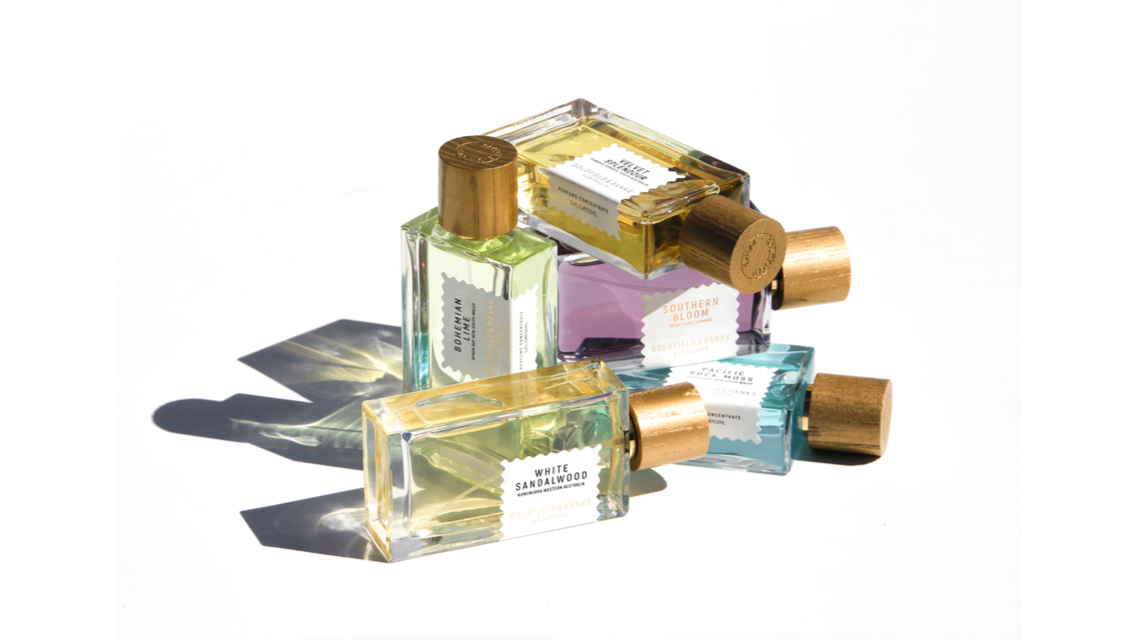 Goldfield & Banks perfumes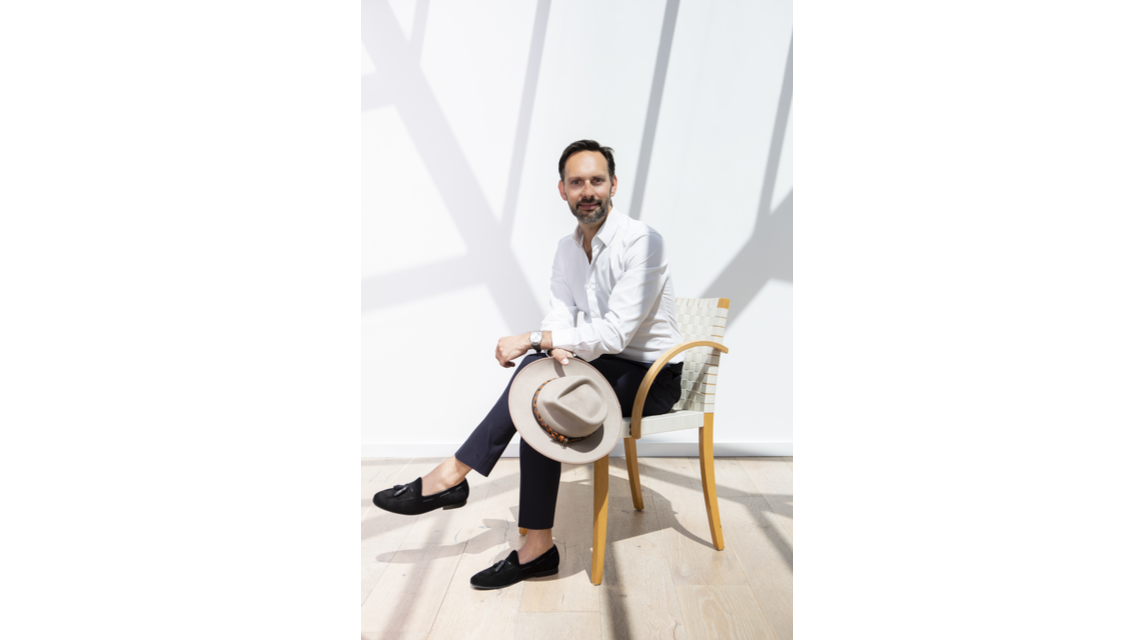 Dimitri and his companion sun hat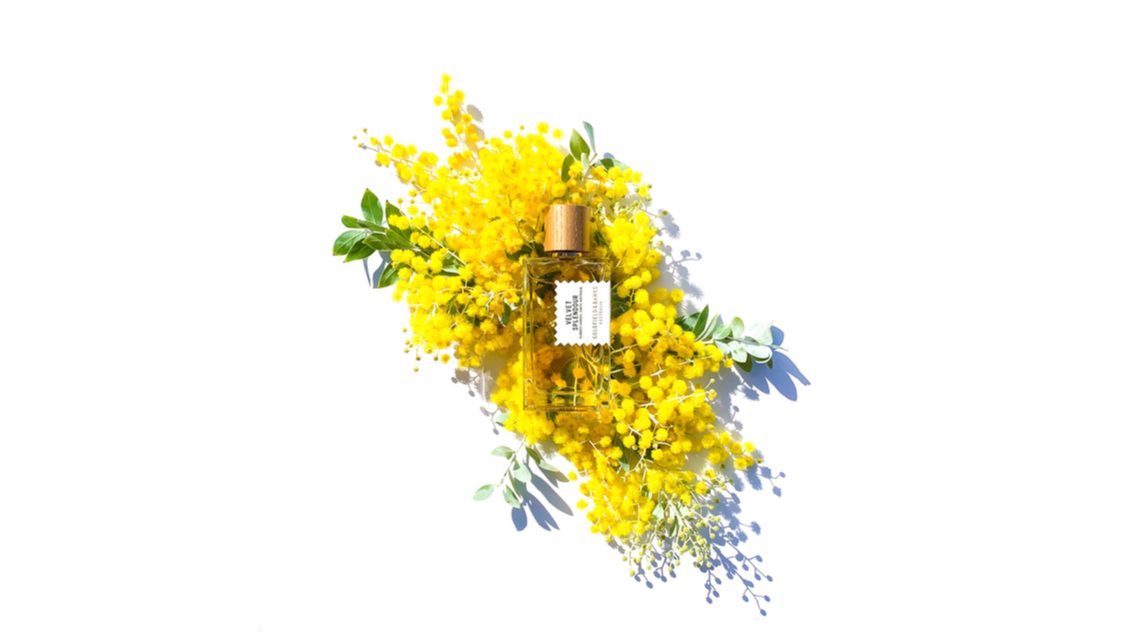 Australian Wattle for Velvet Splendour