Genealogy of Scent: Learning the historical & cultural significance of raw materials at the Institute for Art & Olfaction
2022 . 03 . 03 | written by Karen Marin
When was the last time you took a class and learned something new? When did you last dedicate time and attention to a subject that would grow your mind and enrich your well-being? Education doesn't stop once we've received our diplomas; education is a lifelong pursuit, and educational opportunities in perfumery exist at all levels and for all interests. The Institute for Art and Olfaction (IAO), a Los Angeles-based non-profit organization who seeks to foster access, education and scent experimentation, offers a diverse range of online classes that make it easy to learn more about fragrance from the comfort of your own home. Independent perfumers Dana El Masri and Ashley Eden Kessler have developed a series of classes that focus on one fragrance category every month with a four part accord and genealogy course. Though designed to "help new perfumers gain cultural understanding and technical perfumery skills", the course is open to all and will intrigue fragrance afficionados and professionals alike. To get a closer look at the program and find out more about the IAO, I caught up with Dana on a blustery winter day.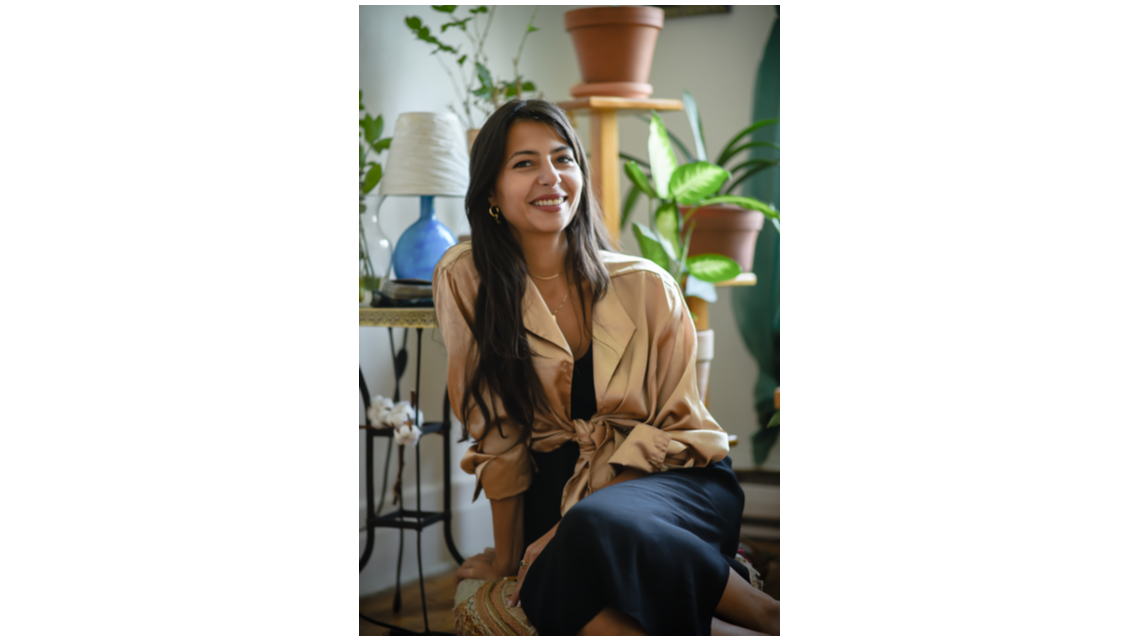 How did your relationship with the IAO develop?
It must have been back in 2012 or 2013 right after they had just opened. Ashley Eden Kessler, a fellow student at the Grasse Institute of Perfume (GIP), told me the institute was opening and that I should apply for a smell residency, which is different than anything I've seen anywhere. My first residency was in 2014 around the time I was ready to launch my own brand, Jazmin Sarai. I wanted to do multisensory pods with perfume and music in the same space but it was too big of an idea at the time. So that was the starting point and in line with the concept of scent experimentation. Instead, I got to use the lab, play with some concepts and accords, and come up with ideas. I have Lebanese and Egyptian roots. I discovered that Los Angeles has a lot of the same flora as the Middle East and North Africa between bougainvillea, jasmine, orange blossoms, and lemon trees, all familiar scents to me. I tried to recreate some accords, even hibiscus and bougainvillea, that don't have a scent. My second residency in 2018 was a little different. I thought, why not offer classes on the role of scent, culture and ritual in the Middle East and North Africa? This became the scent and society series. We tried to create a whole month of conversations, all community based and knowledge based ways of incorporating fragrance with different disciplines, to bring people together and see what comes of it. I drew out a large map for people to understand that these places are very different. I worked with a local rapper and philanthropist called Omar Offendum and we brought together Arabic poetry and scent: he would read poetry and I would introduce scents that were mentioned in the text. We also had Susu Attar, a local Iraqi-American LA artist who took over part of the IAO space and played with memories.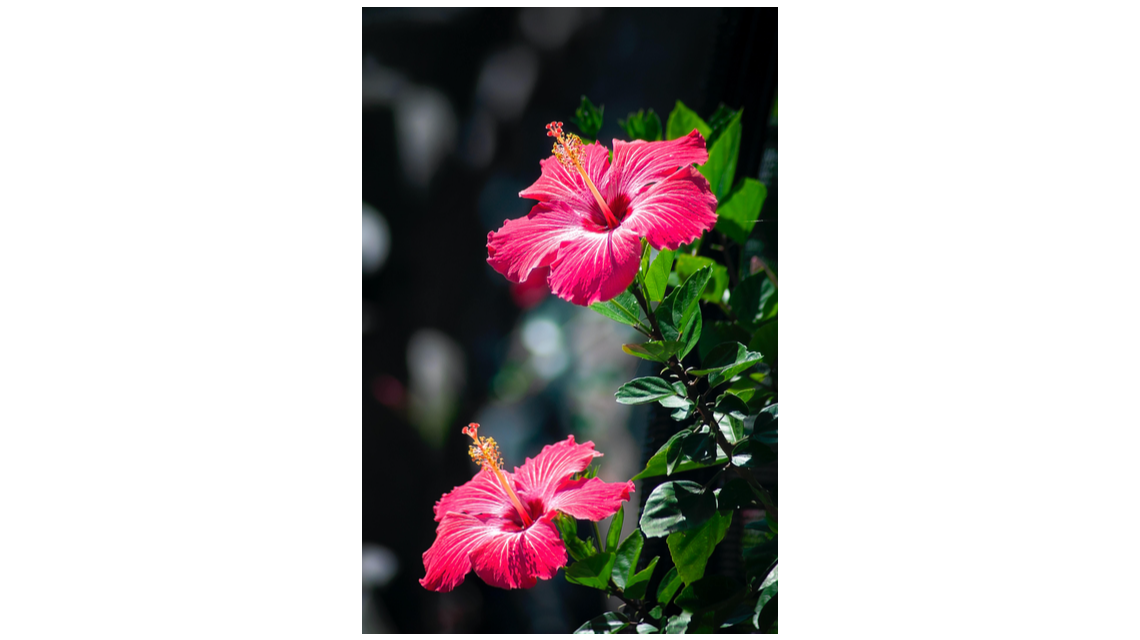 Hibiscus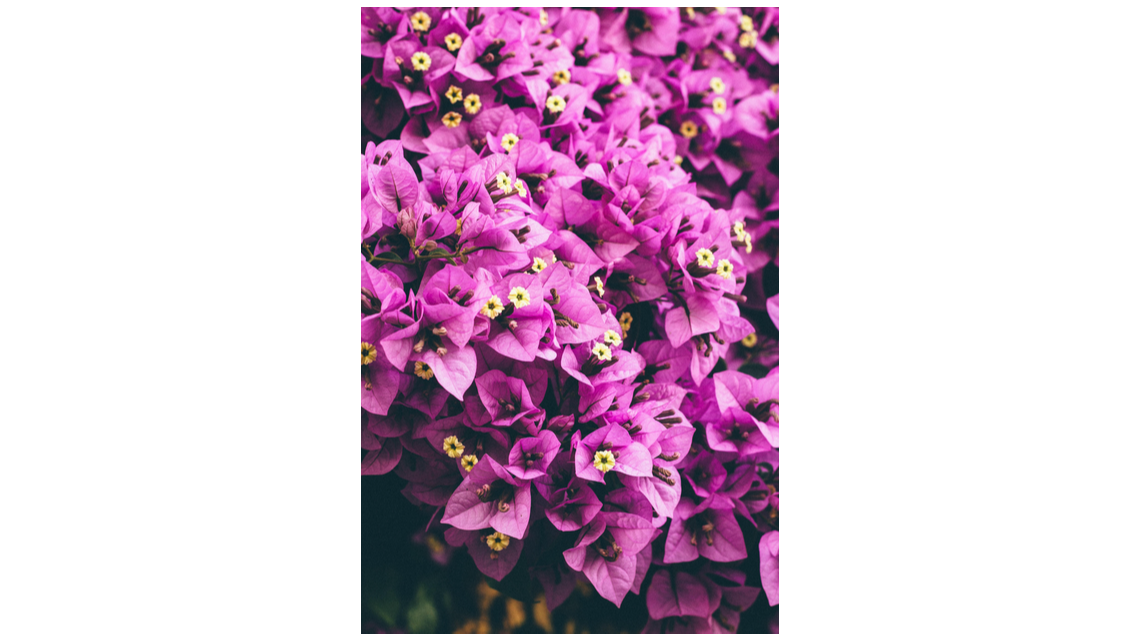 Bougainvillea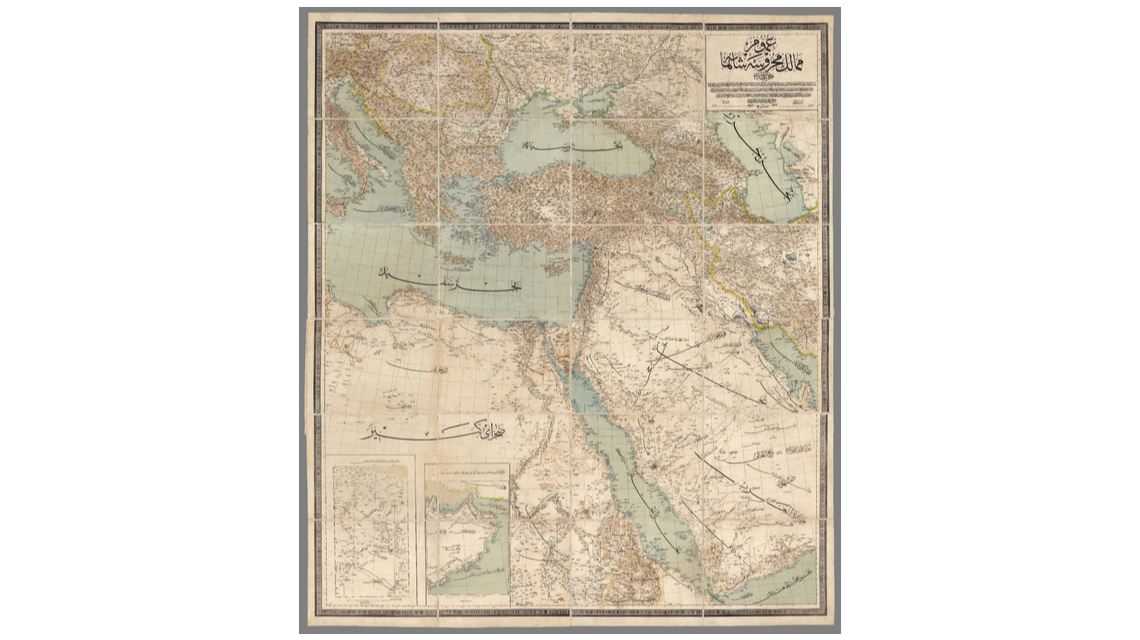 Map of the Middle East
How did the idea come up to offer the Genealogy of Scent course and what do you cover?
It started in the beginning of the pandemic. I've never made this a secret, but originally this was a class that all students at GIP took. I thought people could get more out of if it had been taught differently, so I developed my own program. What is common between my class and the one at GIP is the name and also the fact that we do talk about various perfume classifications and how they fit into the landscape. What makes it extremely different is that I'm very focused on the cultural and historical significance of the raw materials and also I'm including perfumes from the niche and artisan markets – not just American or French, and not just mass or prestige. We break up the ingredients into manageable segments so on average we cover three to five per class. People get a really strong understanding of raw materials, where they come from, how they've travelled, and in which classic and contemporary fragrances you can find them. I break fragrance creation down between classic, which I consider from 1800 to 2000, and contemporary, which is from 2000 onwards.
Another big difference is that I talk about the socio-economic issues of obtaining ingredients – think about sandalwood, how it's been over harvested and faces extinction. And then there are the socio-political conflicts that exist in some of the places where these ingredients are sourced from. We never talked about this, and yet a perfumer needs to be aware of the situation and know there are options. It's part of the landscape and the conversation needs to include ethical sourcing and respect for the planet. I do cover some synthetics, I talk about how to use them instead of naturals and I can even suggest certain suppliers.
To summarize, in my class we focus on the history and the cultural aspect plus the materials, the fine fragrance classifications all condensed into an hour and half. It's a lot of information! Remember, the IAO is all about accessibility, so when classes went online, they became accessible for everyone, even when travel to Los Angeles wasn't possible. Students get a suggested materials list which they can buy on their own. It's a shame we're not smelling all together because we learn so much from each other when people share what they think and experience.
In this class I also teach how to create the skeleton of something before students go into more complex accords which they can take with my colleague, Ashley, who's accord classes go in that direction.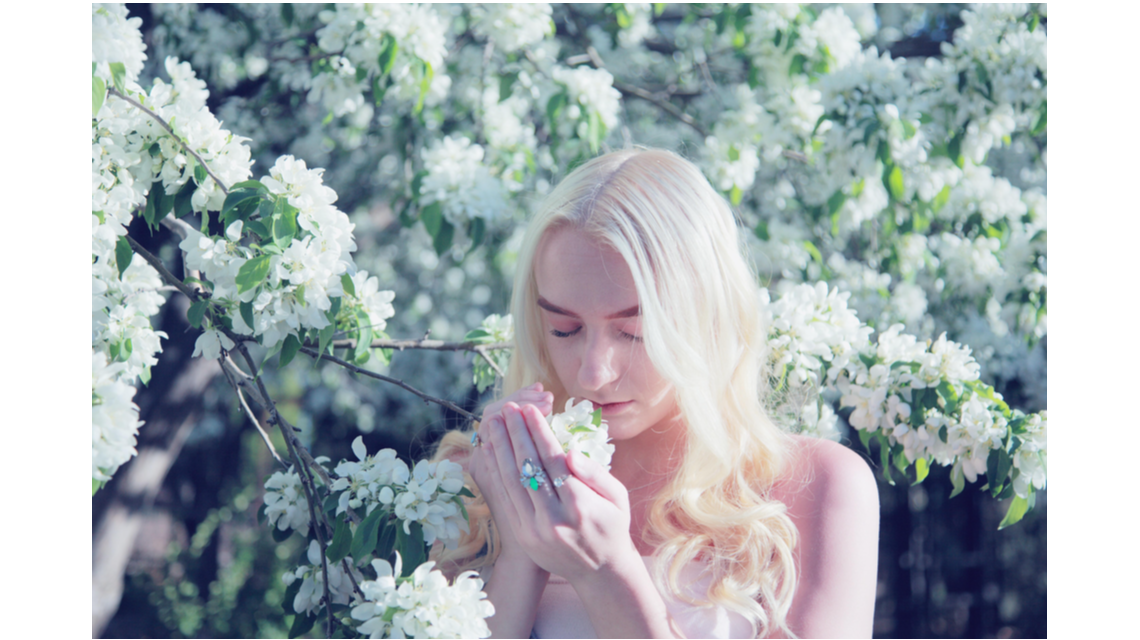 Smelling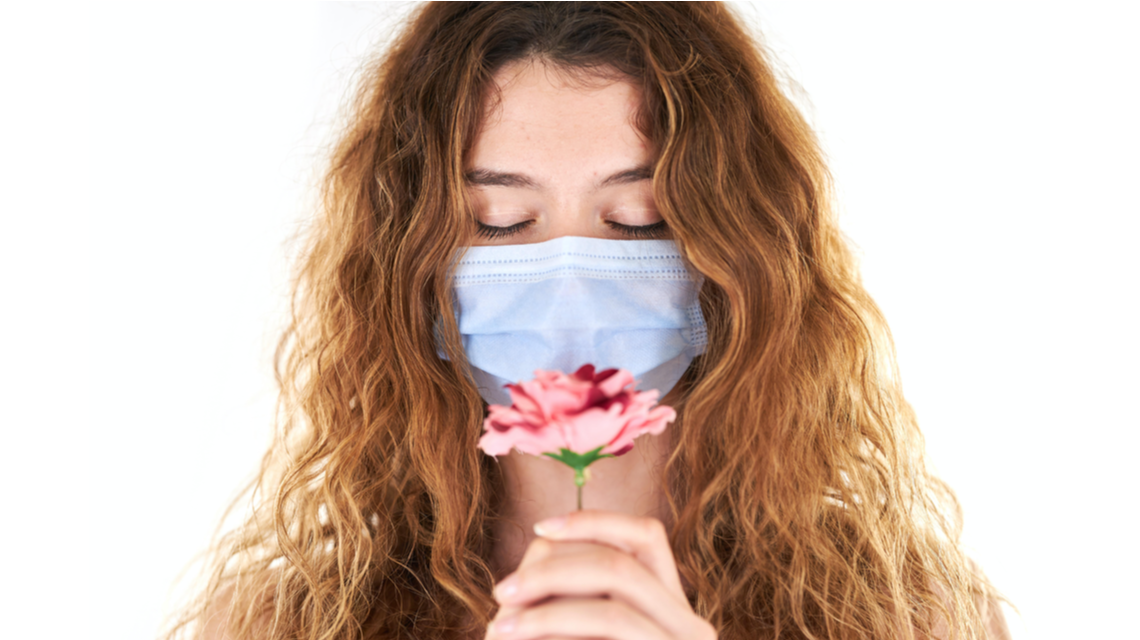 The challenge of smelling
What are some of the ingredients that are the most difficult for people to appreciate?
Potentially the animalics or the aldehydes are hard to digest at first. But there are also fragrances that people have a hard time smelling in the beginning. This is from a practical level and it can give a sense of self doubt if you can't smell something. I would say there are some musks or Hydroxy Citronellal which I couldn't even smell in the beginning.

What are some of your favorite ingredients?
That's hard for a perfumer to answer! My favorites to use or the ones that make we happy? Well, jasmine of course, and I love cardamom as a spice. Ginger CO2, benzoin, labdanum, pink pepper, frankincense, so many! I don't shy away from heavy scents but I don't make heavy fragrances!

What can you tell me about the people who take the class?
It's a diverse group. There are professionals, journalists who want to understand more about fragrance, people in another discipline who want to learn about fragrance to incorporate it into what they do. There are people who genuinely want to learn, and they're coming from all over the world: Europe, Australia, US. The IAO wants to make perfumery more approachable for people. We want to share what we know and help people learn.

Tell me about your background – how did you get interested in fragrances?
I'm the "smeller" in the family! I have a special ability to smell which I've had since a very young age. I grew up in Dubai with the olfactory culture of the UAE, and then I have memories of visiting my grandparents in Egypt, and the smells that were different. Most of my memories are smell based so I think this is where it started.
I actually have a degree in communications from Concordia University but after reading the book Jitterbug Perfume I realized I could relate to the perfumers, and I didn't even realize it could be a job. I trained at the Grasse Institute of Perfumery and that's when I realized I had synesthesia because we would start talking about materials and I would see them as colors and shapes. I used to even think of the days of the week by colors! My sensory perception has been very acute all my life.

I understand you have your own brand – Jazmin Sarai. What's it like to create, launch and grow an independent brand?
Jazmin Sarai is about scent, music and culture. You can think of Jazmin like jazz, and Sarai is a word that means palace in many cultures in the Middle East but also Turkey and India. I'm about building a connection between scent and sound, and this is a concept that wasn't really known by the public when I started. I felt like I had to create my brand because I felt I didn't fit into the French mode. I met Yosh Han at Pitti in Florence many years ago, and she encouraged me and gave me hope. She was one of the few people of color I had met in the sector.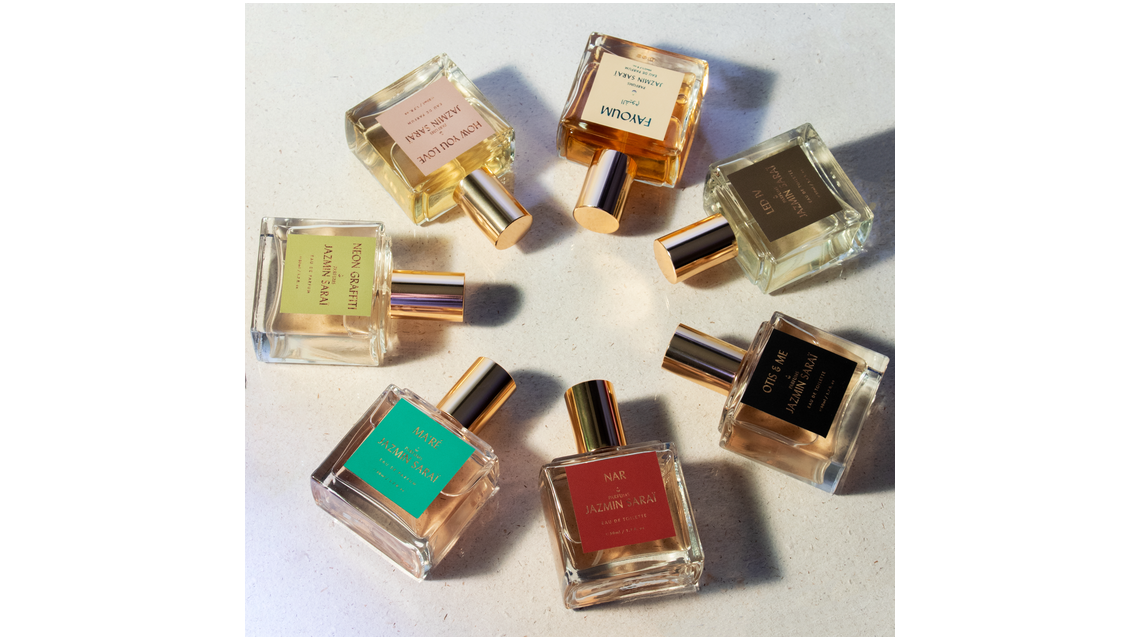 Jazmin Sarai collection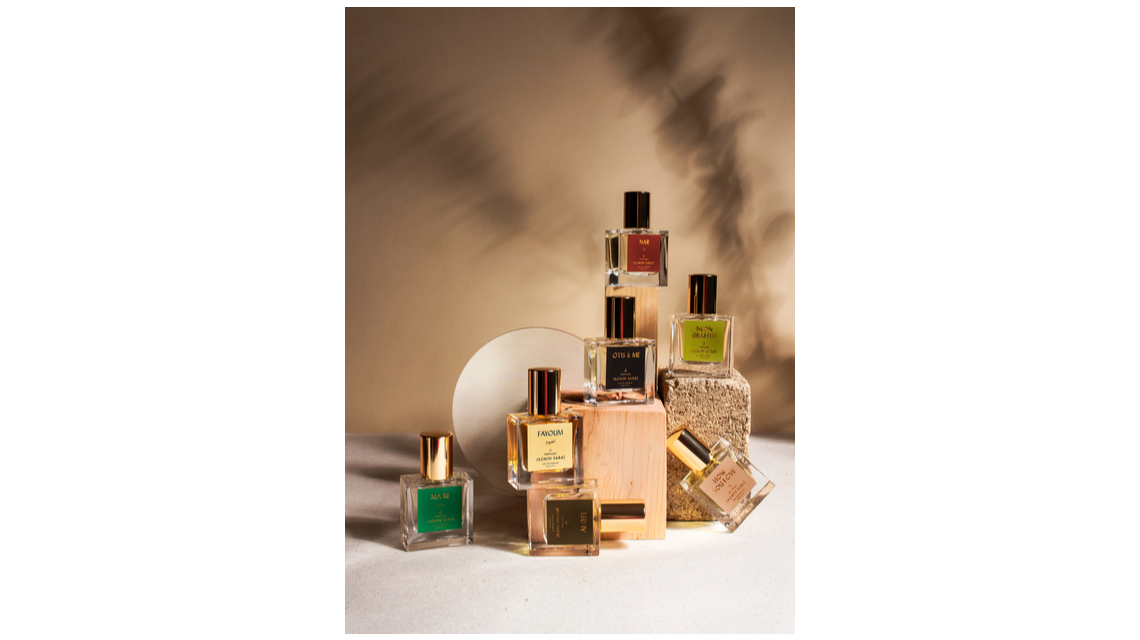 Jazmin Sarai 15mls
Being an indie brand is exceptionally difficult but what I'm doing allows me to have many options because it is quite broad. I only release something when I have something to say, but the creation process is long and formulation can take a year or longer. Plus I'm very attached to my products. I have a new jasmine fragrance that's ready to launch which I've delayed because I felt it wasn't original. I'm trying to decide how to market it so it's not just "bottle plus flowers". How do I do it without any sexual innuendo? I don't want to use the words exotic, erotic or sex. I don't want to use a man and a woman half naked on each other, which is almost always how this happens. How does a fragrance buyer want to feel when they see this? How do they want this to be expressed? I'm trying to be clear, mindful and exacting with my messaging.

Tell me about some of the projects you have worked on that incorporate fragrance into other disciplines or venues, installations, art events, and such.
Last year I created a perfume oil, which is sold out, for a now grammy nominated Pakistani musician, Arooj Aftab, for the new album Vulture Prince that she launched in Spring 2021. Another time I worked on the MF DOOM exhibit in Montreal on a multiple instrumental album called Special Herbs where each song was linked to an ingredient. We created a space with docks and old MP3 players with raw materials in their raw and oil form. You could listen to the song and then smell the ingredients. We had thyme, cedar oil, benzoin, bergamot, even raw saffron. It was a fun experience.
I want to bring people together and let then experience real life and scent, but you have to be there. Pivoting online is doable, but you're missing such a huge part of the piece.

Getting back to the IAO, you have been a judge in the past for the Art and Olfaction Awards – will you be again in 2022?
This is my fourth time judging and I'm doing the Artisan and Independent categories this year. I've just been made a member of their board, and board members are judging the preliminary rounds in 2022.
(Editor's Note: Per the Institute of Art and Olfaction website the awards "celebrate the unfettered expression and creative risk that can come with independent practices with scent, and to celebrate independent perfumery as a whole. It's true that the competition is tough, and not everyone will get the Golden Pear. But when we celebrate and promote independent voices, all of us will win.")
IAO award judgings under way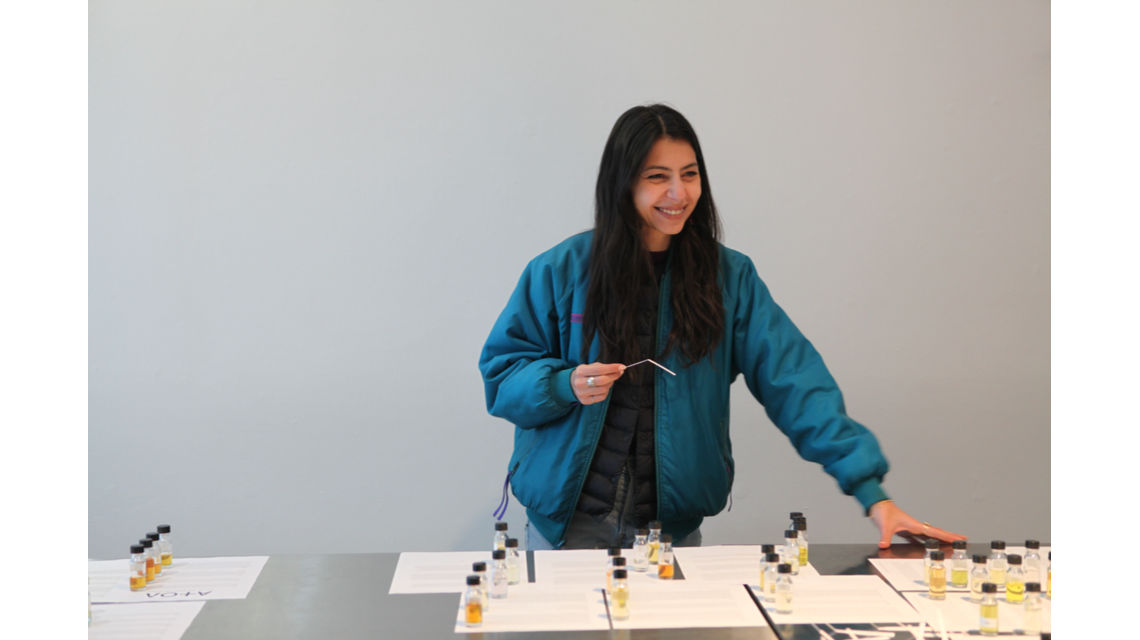 Dana El Masri reviewing submissions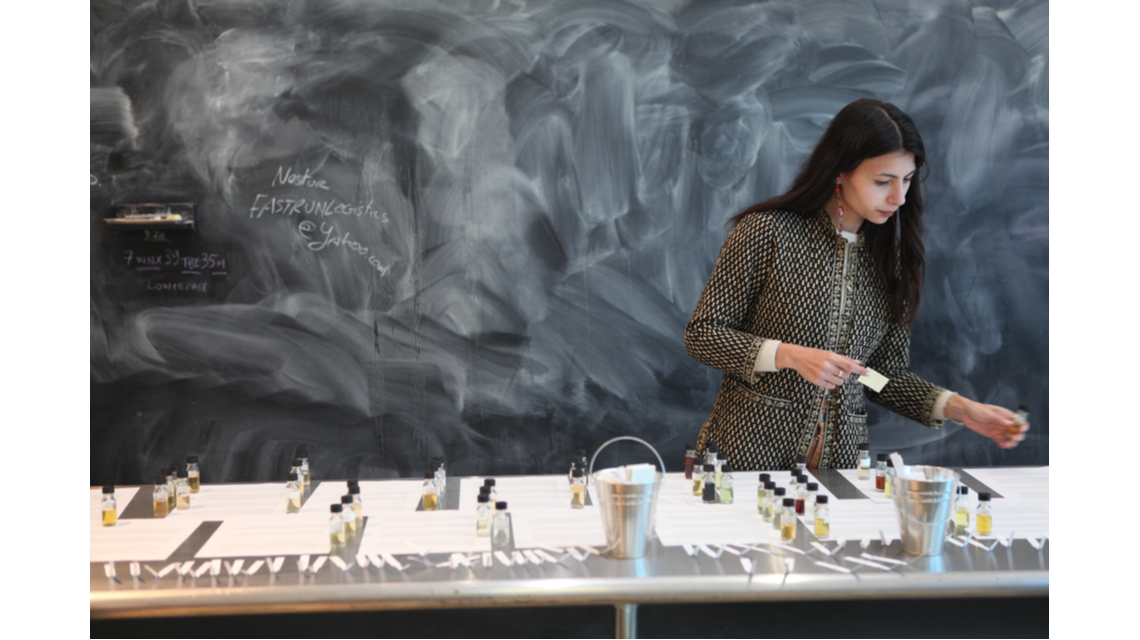 The judging process begins at the IAO
Just one last question for you, drawing on your knowledge, your experience as an instructor and as a brand founder, how do you think fragrance usage will evolve in the next few years?
I think the real question is how is our relationship to our sense of smell going to change? The fear of losing it causes more awareness and now there is research and funding going into studies about anosmia. But what about purifying our air, developing new air filtration systems? I think the use of essential oils will continue to grow both for well-being and in the purification process. I also find that for people living in diaspora, scent is a savior for self-care as ritual, as a form of meditation, and for mindfulness. Let's use these small pleasures to get us through this long and seemingly endless void.


For more information about the online classes, which anyone can attend, please visit:
www.eventbrite.com/cc/classes-for-intermediateadvanced-perfumers-65699

See also:
Jitterbug Perfume by Tom Robbins

Photo credits:
Hibiscus by Robert Thiemann for Unsplash
Bougainvillea by Dmitrij Paskevic for Unsplash
Map of the Middle East by Liam Sims for Unsplash
Smelling by Sharon Mccutcheon for Unsplash
The challenge of smelling by Engin Akyurt for Unsplash
IAO award judgings under way by Saskia Wilson Brown
Dana El Masri reviewing submissions by Saskia Wilson Brown
The judging process begins at the IAO by Saskia Wilson Brown