FUEGUIA 1833: An interview with the founder, Julian Bedel
2022 . 11 . 17 | written by Karen Marin
Argentina is not the first country that comes to mind when one thinks of fragrance, and yet, why not? Species of mimosa and acacia are indigenous to the country, pine and eucalyptus trees are cultivated there, and when we head to Patagonia, peaches, plums, pears and almonds are among the major crops. Fueguia 1833, founded in Buenos Aires by Julian Bedel, arrived on the niche fragrance scene in 2010. Bedel came to fragrance through an unconventional path as he initially followed his family footsteps and trained as a musician and painter. Seeking another creative outlet, he turned to fragrance with the idea of creating fragrances for a scent installation inspired by landscapes. The range was never meant to be commercialized, but consumer demand led to the creation of the brand which was initially conceived as an homage to the local communities of South America, to their rich heritage and to the natural environment of aromatic and medicinal plants which they protect.
Calling himself a scent artist, Bedel's training is purely empirical; he learned by doing and by asking growers, suppliers and manufacturers for help and advice. With no preconceived notions of perfumery and no restrictions, he sourced local ingredients, many of which had never been used in perfumery. Bedel is a multi-tasker who now splits his time between formulating, creating, designing, marketing and driving his brand. He graciously found time to speak with me via video conferencing in this exclusive interview for Essencional.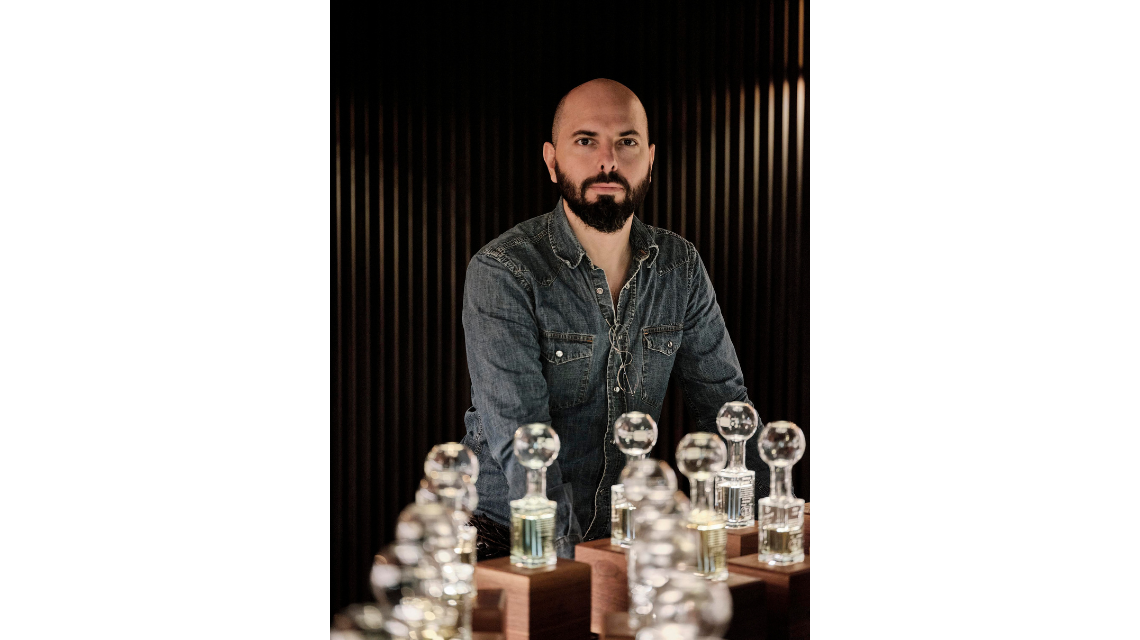 When and how did you first realize you had a passion for fragrances?
Scent is always a fundamental part of our life. My background wasn't really rooted in a passion for perfume but rather on scented things. I remember the smell of sanding wood and varnishes that were used for making guitars. I was more connected to the emotional part of what that scent creates in me rather than the scent itself. What is the feeling that this scent kickstarts? It's the same with plants. In 2010, when I created the brand, there was a more precise intention to capture scent from plants and things to start composing with them. I had the idea to make unexpected combinations or accords and see what happens.


How did you learn the craft of perfume-making?
In the beginning, I didn't know anything about traditional perfume schools or terms like chypre and fougère. I still don't know what a lot of it is. My interest is in a different direction and I approached it in the way that I know.
As an artist, one of the first lessons you learn is that you have to go to your atelier or workshop every day and work with the raw materials and the tools used in your specialization. I think this is very empirical in a way, so when I approached scented ingredients it was the same exercise. I was analyzing ingredients by chromatography. I started seeing patterns and differences, and then I realized why I liked certain things. You have to identify the boundaries of each ingredient, you get a feeling for what works and doesn't work. It's a matter of spending time with all of it. I wanted to learn what is the composition of geranium, rose, cedarwood, to learn the difference between thyme, mint, oregano, to know that the difference between orange and grapefruit is in traces. We do a lot of distillations and we work with different types of technologies in order to extract a specific facet from an ingredient. I don't have a good memory but I have a good memory for ingredients and the compounds because they are associated to a scent. You fix the name and the unique character of the molecule with a scent, so when you spot it in an ingredient, your brain is there delivering this association that you previously made.
I am very hands-on and I believe that sometimes you really have to do things yourself. You distill, you deal with the supplier, you deal with the formulation, you oversee the maceration, you monitor the stability. If you outsource one of these steps you are missing a big part of the observation that will be part of the building blocks of your learning. I'm doing every formulation and composition in our laboratory so everything we produce is formulated, created, and hand made in its totality by myself.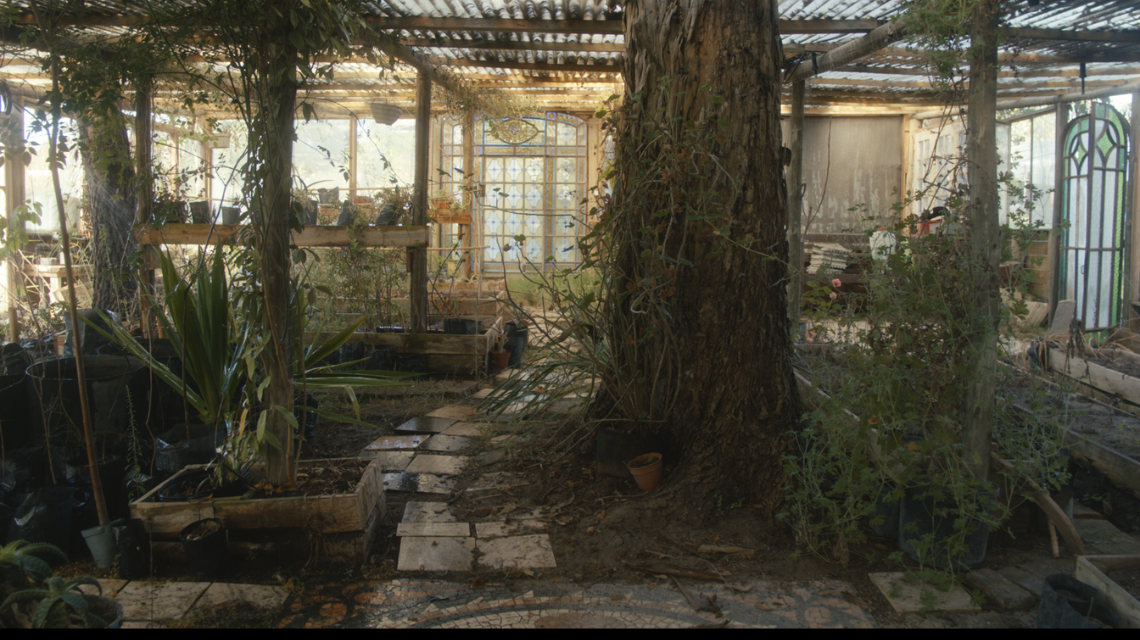 Fueguia Botany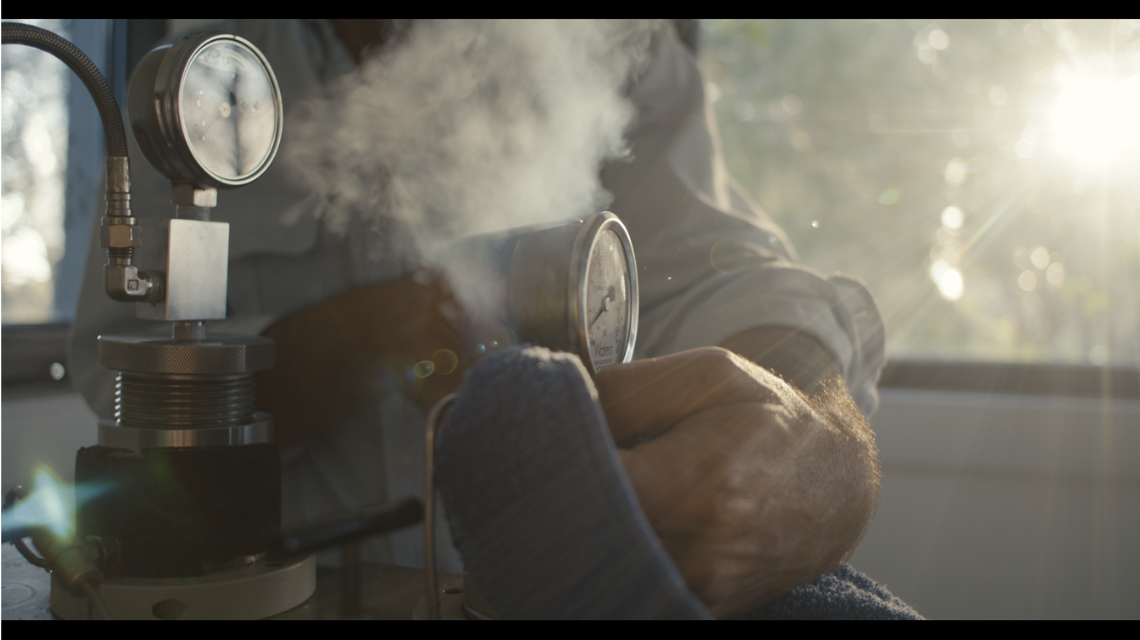 Process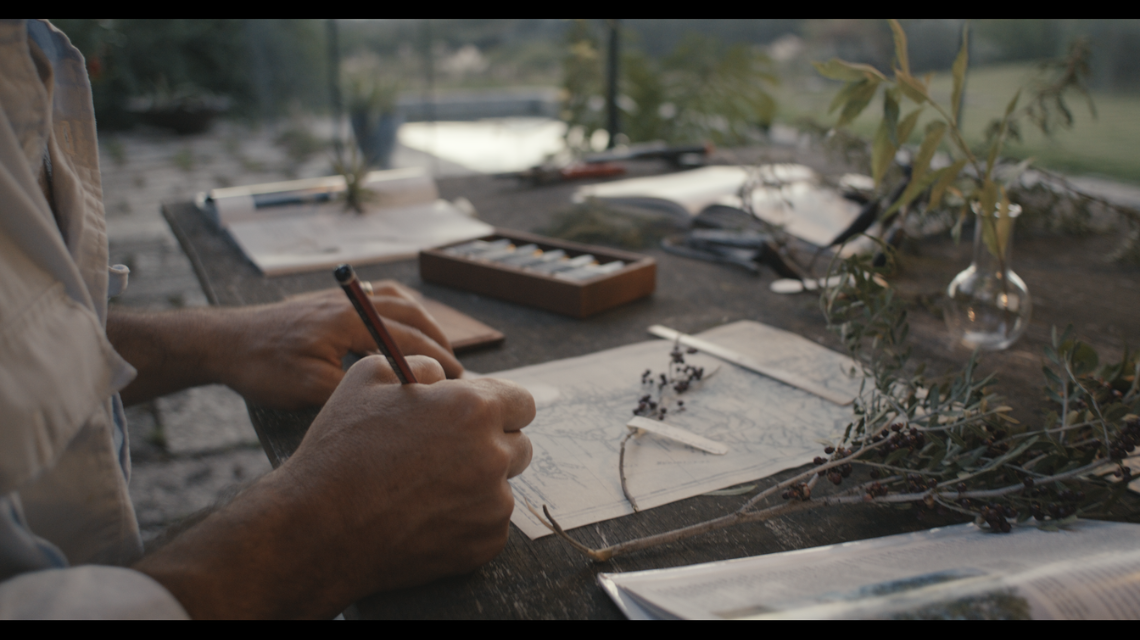 Creation
What parallels do you see between music and fragrance?
This fascination with the ingredients and the compounds is very similar to the way an artist works with pigments, where just a trace will create a particular hue, but it is also very similar to music. I'm a guitar player and most of the music I like is a three or four chord progression. Jazz, blues, reggae, rock, are three chord progressions where you create nuances by managing the intensity, the space, the time and the rhythm. It's a concept that actually correlates to the traces in a formulation. You can have a composition that's a three chord progression with 200 instruments, or the same composition with a voice and a guitar. You have to think, what am I adding by putting three guitar players, a horn, one base player, two drummers, keyboards and all versus one guy with a guitar who is singing? In both cases the piece is amazing but as a musician you have to decide what you need. I think seeing these parallels from music to perfumery helped me a lot when I finally put my hands into ingredients and started to have an idea of how to manage a formulation.


Do you see yourself as an artist using perfume as a medium for expression or are you a perfumer who uses scent as an artform?
The good thing with the word artist is that it's not defined. A perfumer has a technical knowledge, it's a profession, but an artist has a lot of freedom. I consider myself a scent artist. Scent is an expression and part of my work as an artist. If I know that I have used specific plants for a reason, and my objective is to create something that, when you spray it, will have an effect on you…well, this is like an installation. It's not perfume as a cosmetic, or decoration, it's about what effect is this creating in you, what emotions do you feel? In the same way a song can affect you and your mood.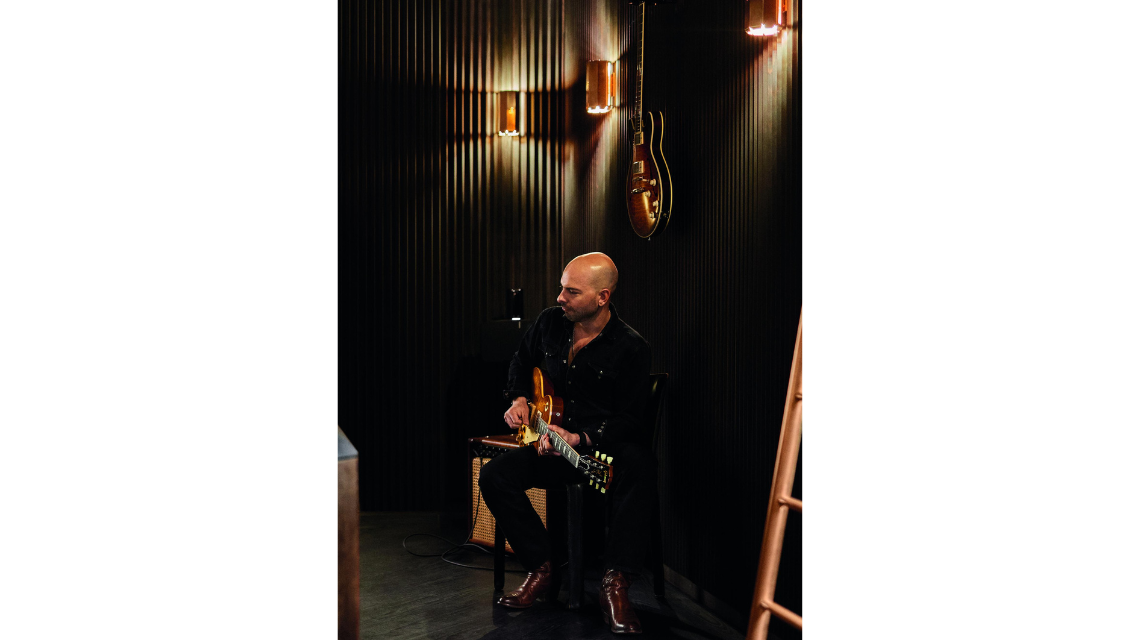 Let's talk about the fragrances. What inspires you to make a fragrance and how do you approach the creative process?
We have 11 collections divided into storytelling themes such as flora, fauna, music, and even anthropological phenomenon, but a story or an ingredient may fascinate me. The Muskara, for example, are all soliflores, and there are more than 20 where the name is Muskara plus the botanical name of the plant. My rule for these is that I can only use botanical plants from that family. With jasmine say, it's only jasmine – but many types of jasmine, different origins, different extracts or varieties of jasmine. It's my selection to make the perfect jasmine. Milonga Verde, the newest fragrance, is a representation of a cultural phenomenon that is both music and a type of tango. It's like a musical bonfire on the outskirts of the city. Aromatically this is a combination of green leaves and the smoke from the fire, the wood, and the charcoaled part of the wood with a mild feminine aspect.
I think complexity managed with the right volume is how I learned to create my formulas. Is it a guitar and a voice or 15 guys playing a string arrangement? The Muskara are like the guitar and the voice whereas Milonga Verde is a Wagnerian orchestra with 200 people on stage. I believe both ways are valid and I enjoy being challenged in these ways.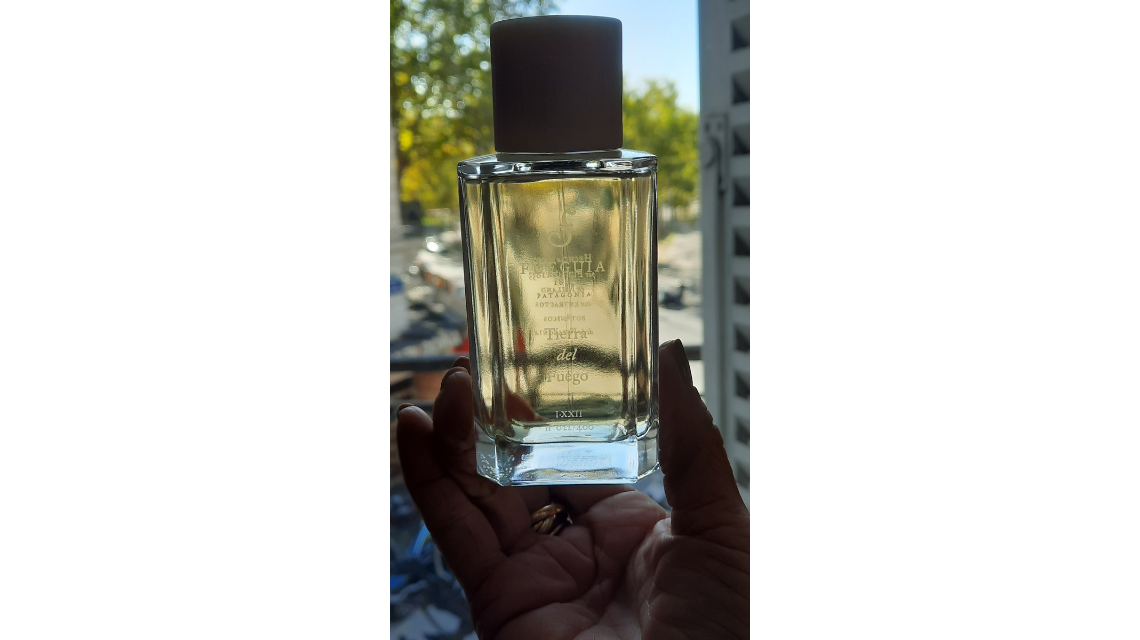 Tierra del Fuego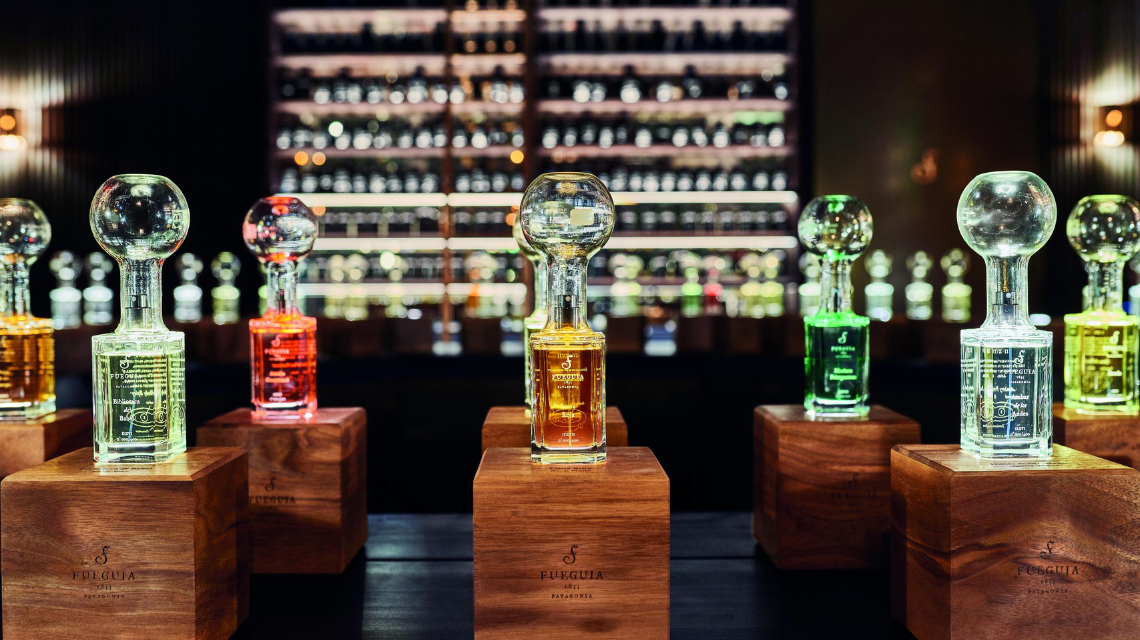 Fueguia 1833 creations
Tell me about the link with Patagonia.
Patagonia is a place that I love and a place I have visited since I was a kid. I liked exploring parts of the virgin territories, learning how locals traditionally related with the indigenous plants. Some help to lower fever, some help to relax, others help to sleep. These were my original learning sources. I found drama in the landscape where some plants are pushed to extremes from lack of water, lack of richness from the minerals in the earth. The idea of Fueguia 1833 was to take the stories that came from the end of the 18th century during colonialism, the violence, the exploration, the story of how a population was almost wiped out by colonization. I wanted to pick a story that had sense to me, was meaningful about the land and the natives and these plants, how the people interacted with them and what the story was before this period.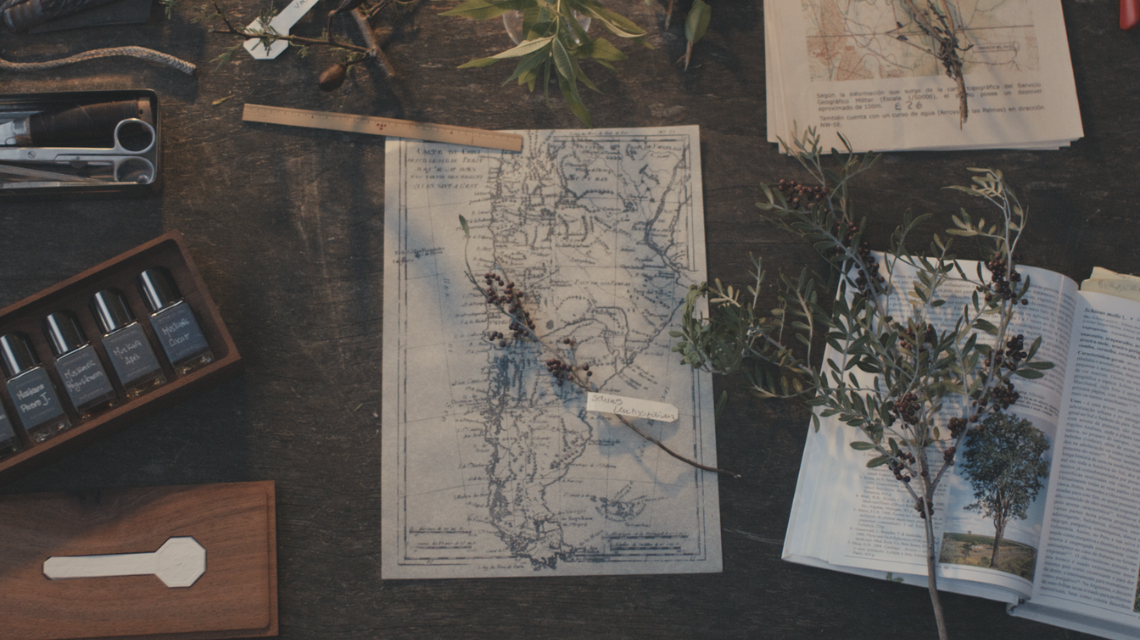 Inspiration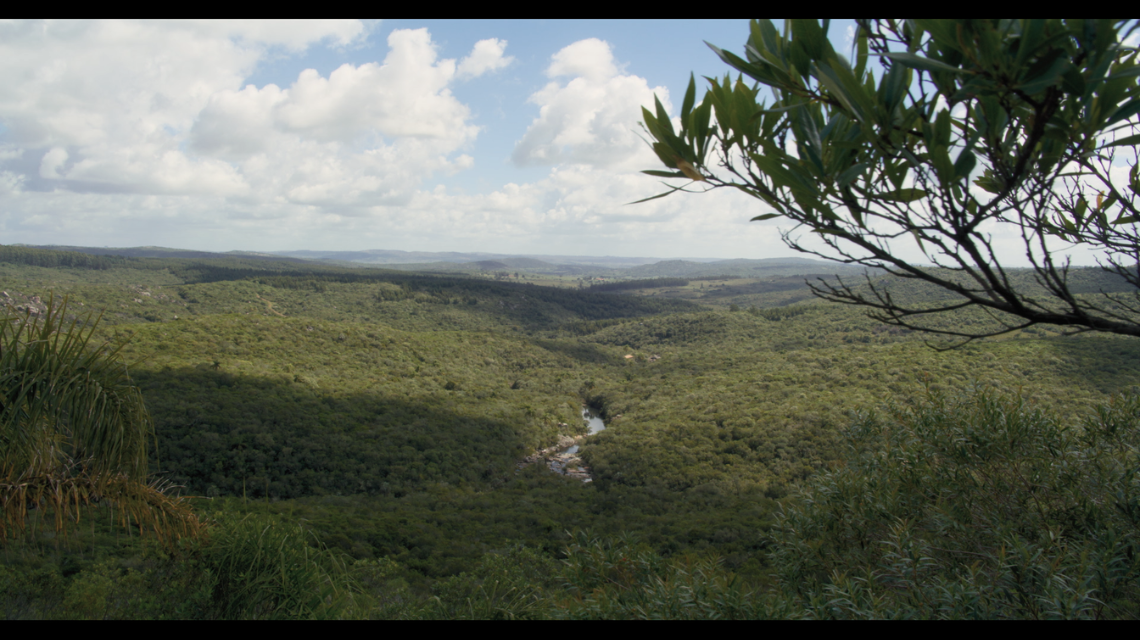 Landscape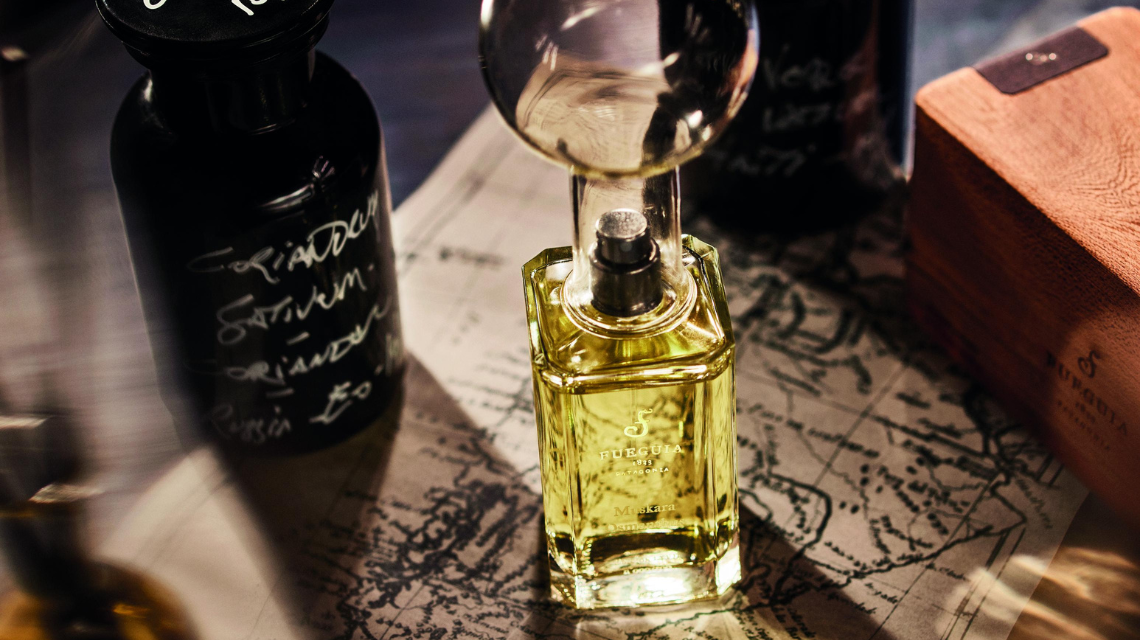 Inspired by exploration
Tell me about a fragrance you worked on that was particularly challenging.
One that I made for my ex was a challenge. There can be fragrances that are technical challenges and then in this case it was trying to create something that she would like. She told me to go back to the drawing board because she was very picky. Finally I created Valle de la Luna, a fragrance with Iris, sandalwood and an ambery base.


Let's talk about the Vintage Cave and how it came to be.
I realized that my essential oils on their own evolved amazingly with time. I was also buying some vintage essential oils like sandalwoods and patchoulis that were more than 20 years old. You have to understand that these ingredients are completely different after one hour, one week, one month. You end up with new compounds when you mix oils together that have aged. Since we're producing small quantities of 400 bottles per batch, the second batch will be different from the first because the harvest is different, the conditions are different. And by the way, we won't produce if an ingredient that is critical is not available.
We had returning customers who bought from one batch and then when they bought the next one they said "this is not the same", and of course it wasn't! At the same time, we had some fragrances that weren't selling that quickly, but we noticed they were starting to become better with time. So we decided we would reserve 10% of our production and leave it aside and not sell it until it had aged for five years. It's even more dramatic than wine because here you have so many ingredients colliding with each other plus the alcohol which becomes rounder and nicer. We let the customer experience both batches then let them decide which they like. This is the Vintage Cave concept and I think we are the first company doing this.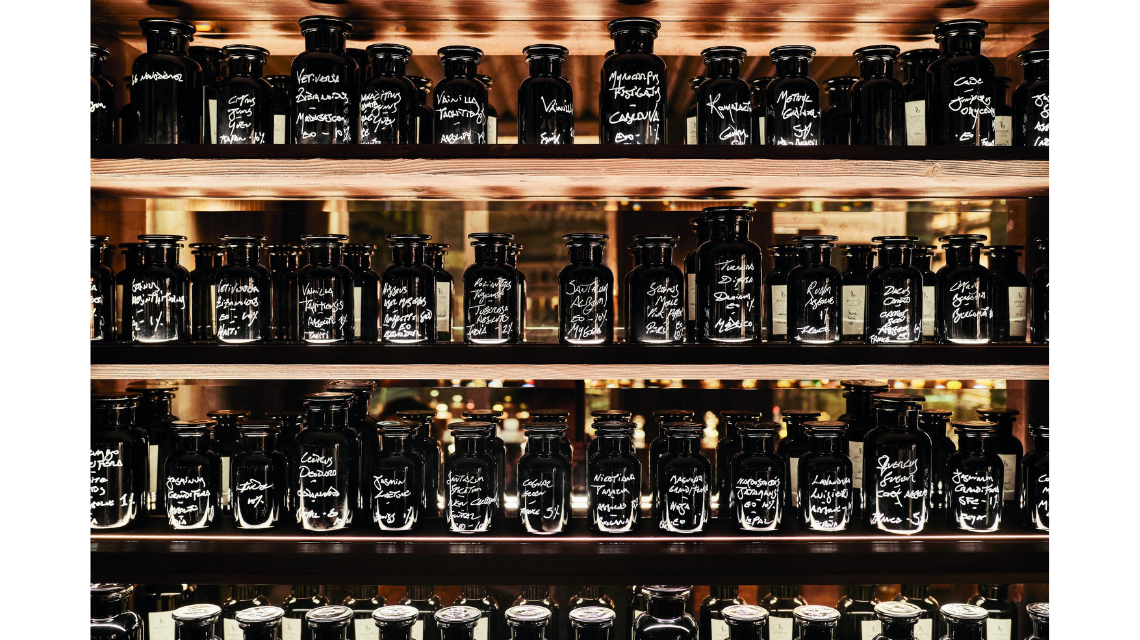 I heard you are working on a project with STRADIVARIUS, the famous violin producer. Tell me about it!
It's an amazing project. I was actually working on something else for our new boutique in Japan where there will be a wall of guitars made by me. I was buying a part I needed when I met the man who was in charge of the marketing department of the Stradivarius foundation. After a long process, we decided to work on a fragrance. We want to understand what are the markers that are unique to Stradivarius, and to each violin. We are using headspace technology to get analyses of the varnishes, we are trying to create the aged scent of the violin, the scent of the wood. With a violin you are very close to the instrument so there is also the scent and the warmth of the player which will be impregnated into the instrument.
The head of our lab is a specialist in chromatography, and we spoke recently. We may need to do more captures of other compounds, but I have enough material to start formulating. I don't want to make it to fantasy or too real – it will be a technical representation – not a commercial perfume. It will capture a moment, a feeling, using oils and resins, as well as the degradations that occur over time.
Perhaps playing a Stradivarius will make you play better – or if you wear this perfume, you may be inspired to play in a different way!


Julian, you are involved in so much – from creating the fragrances to designing the boutiques and everything in between! How do you stay creative?
I worry that I'm not delivering as much as I did when I was younger. I actually feel a bit lazy! I think I stay creative by doing, by working, by researching. For example, we are opening our third boutique in Japan, so we must keep raising the bar. I ask myself: What is the storytelling, what do we want to make people feel there? How do we do something related to Japan? Should we be traditional? And I found a nice concept. I try to focus creativity when it's needed and not lose it. I think by doing is the only way of keeping the things ticking!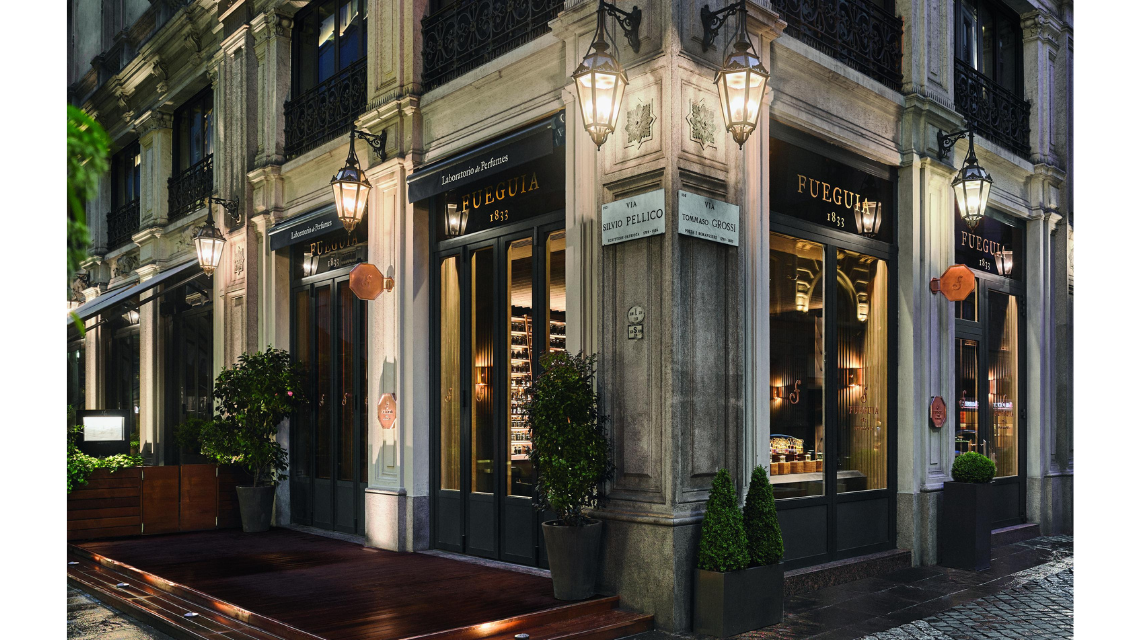 Milan Boutique Exterior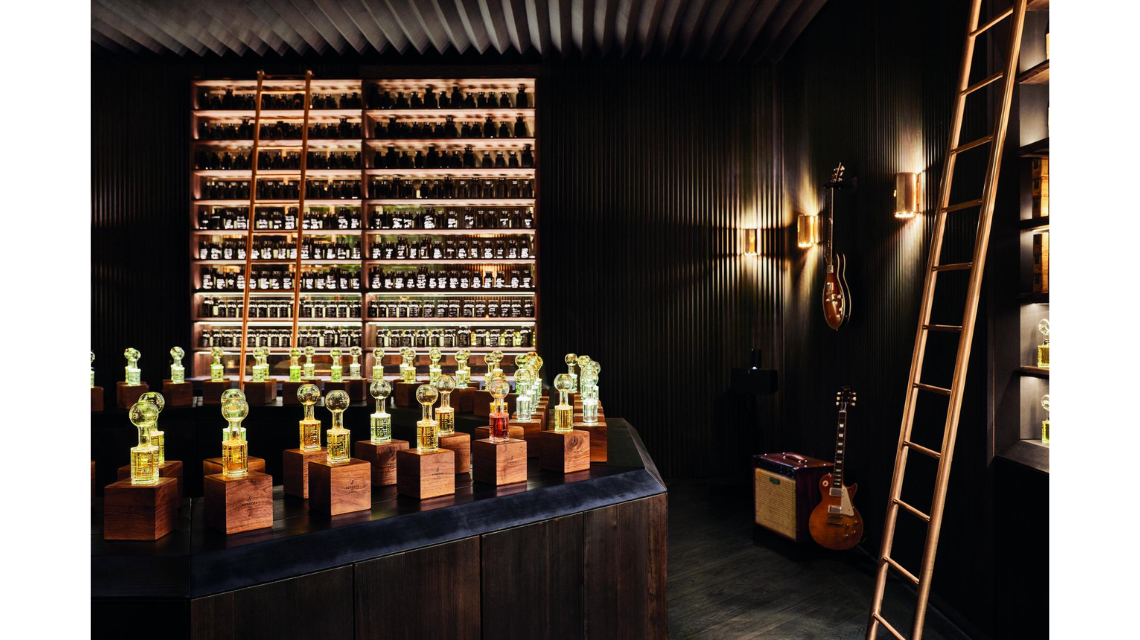 Milan boutique interior
---
Curiosity led me to research the brand name and the story is bittersweet. In the early 1800's England was carrying out scientific research in Tierra del Fuego. During a scuffle between the English and some natives – who allegedly set a boat on fire - a young native girl was kidnapped and held for ransom. She was named Fueguia by Robert FitzRoy, the man who would become the captain of the HMS Beagle. She was brought to England in an colonialism attempt to 'civilize a native'. She was rejected by her family when she was brought back to her homeland during the second voyage of the HMS Beagle (1831 – 1836) on which Charles Darwin was present. Darwin, in fact, writes about Fueguia in The Voyage of the Beagle. This story inspired the brand name which alludes to the less talked-about and brutal side of Imperialism that occurred during a time of great exploration and discovery. It pays tribute to the indigenous people of South American who watch over the aromatic and medicinal plants of Bedel's beloved homeland. Given this background, it is much easier to understand the names of the many of the fragrances and the fine olfactory storytelling that accompanies them.
While in Milan recently, on the advice of several colleagues, I made a visit to the Fueguia 1833 boutique, located next to the Galleria and the Park Hyatt Hotel. Immediately, I felt as if I had been transported far away from the bustle of the city and the sweltering day. I entered a peaceful haven dominated by an enormous octagonal fixture showcasing an impressive assortment of fragrances. Backlit shelves and guitars on the walls almost gave the space the feeling of a private club while the globe-like glass fixtures atop each fragrance made me feel like I was in the domain of a mad scientist. A young woman named Houdà guided me through several dozen fragrances while answering all of my questions; her knowledge, patience and warmth were exceptional. I was given an assortment of samples to try at leisure when I left the shop. The entire experience was luxurious, unpretentious and inspiring.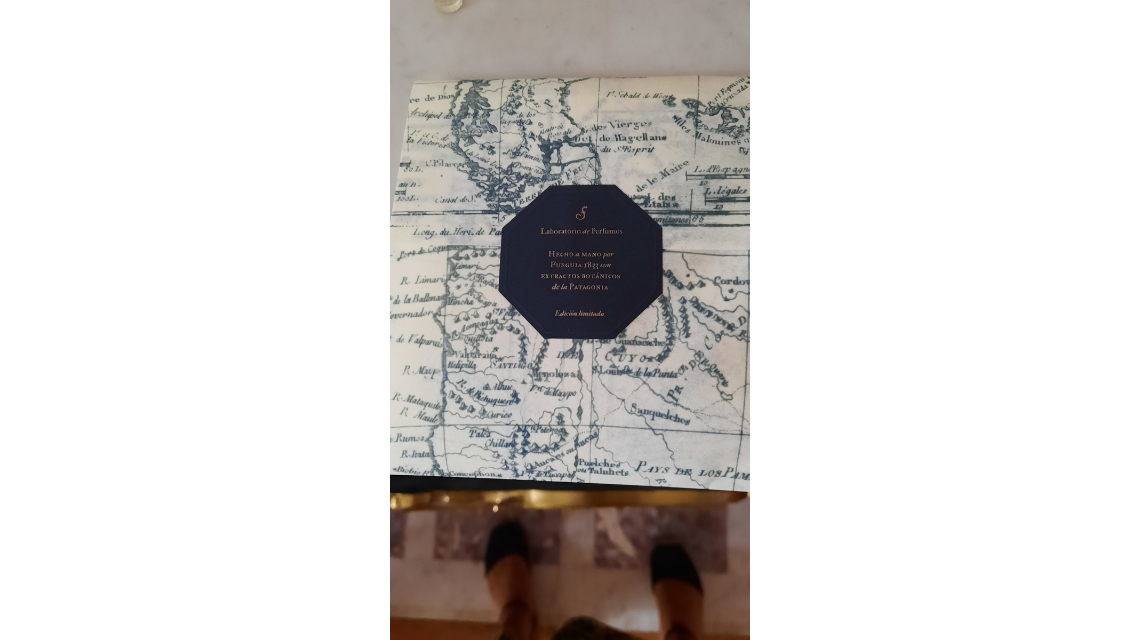 Sample Pack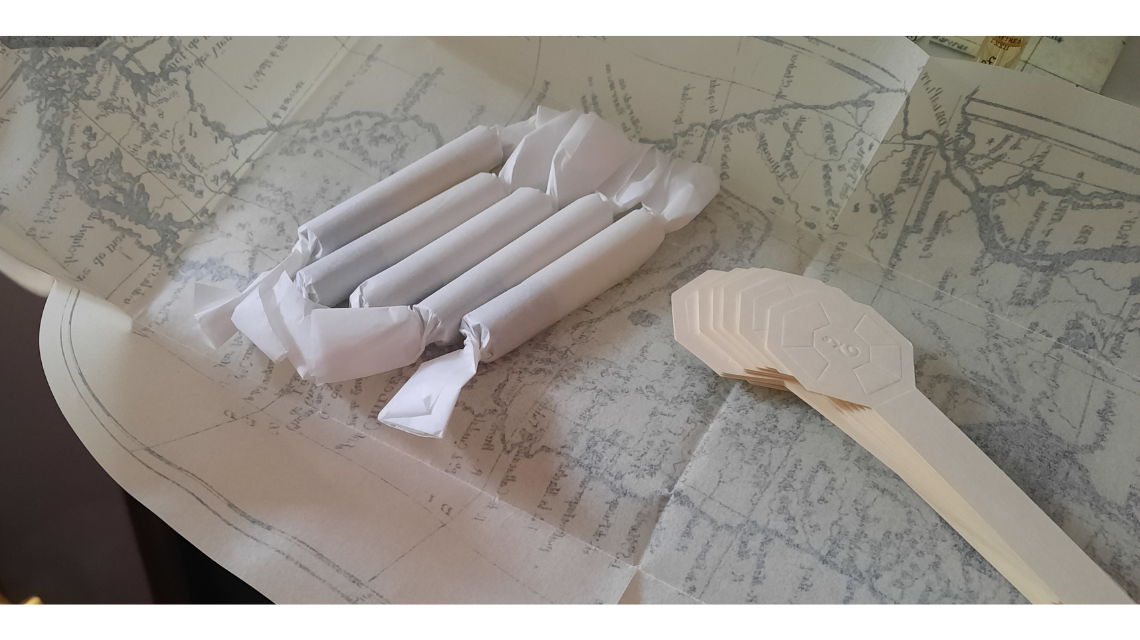 Sample Pack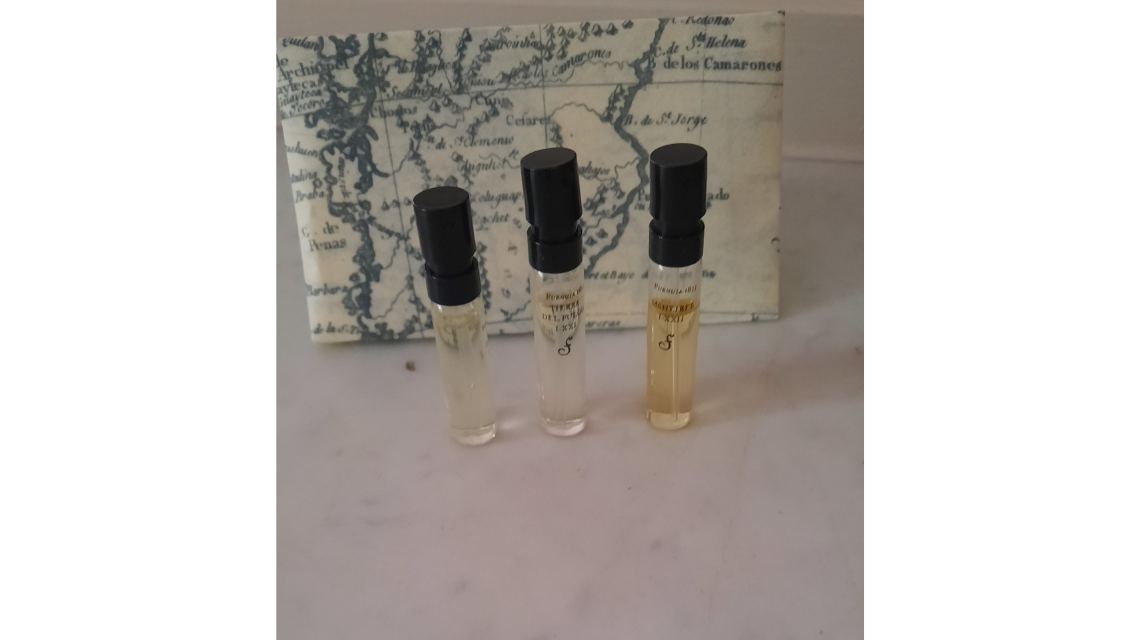 Samples