Five Veggies A Day Keep Fancy Fragrance Experiences in Our Way
2023 . 11 . 02 | written by Laurence Arrigo Klove
'Have some more', vegetable lovers! Your veggies experience a robust expansion from food consumption to the perfume dimension.
'Say yes' for once, opponents of greens! Your usual repulsion will fade away when sniffing veggie perfumes which are here to stay.
The 'vegetable' expansion reminds us of the Latin meaning of the word; 'vegetabilis' means 'growing, or flourishing'. Precisely. This is it.
A new perfume exploration into veggies is at play.
Keep on smiling but be prepared to read about a serious matter.
The English dictionary contains more than 100 types of vegetables. They are categorized by the part of the plant that is edible, such as roots (e.g., carrot), tubers (potato), bulbs (onion), flowers (cauliflower) and leaves (spinach). So, when perfumes tackle the universe of vegetable ingredients, they touch a vast, unknown, and exciting new world.
Five Veggies A Day. Made Simple. Just Spray It.
Five it is. This is the ideal number when it comes to eating and growing vegetables in a garden perfume collection.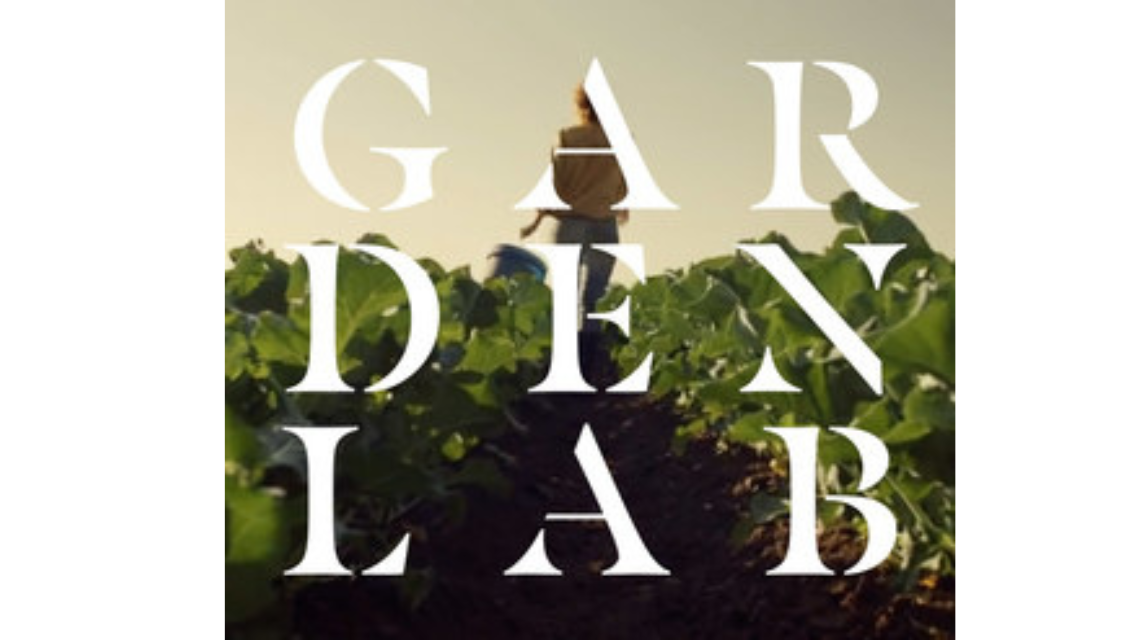 The Garden Lab collection by Symrise
Three years ago, the reputable Symrise company invested in the 'new frontiers of naturals.' With the 100% natural raw ingredients came a patented innovation named 'SymTrap™'. A new extraction process invented to capture the natural oils of real vegetables. It specifically allows the capture of the aromatic microelements of vegetables and the upcycling of food byproducts, thereby reducing food waste. Symrise's venture into advanced ingredients resulted in a 'Garden Lab' collection made of five natural veggies: artichoke, cauliflower, leek, onion, and asparagus. There is no mistake in this surprising list; I double checked wondering myself about what kind of olfactive result it may create. An intense smell of greens, both fresh and sweet, offers an olfactive experience that is definitely original and positively delectable. Imagining a perfume composition with the flavours of a mild artichoke, or a creamy cauliflower or tropical onion: it is daring to say the least. The reality proves that those new gourmet notes marvellously enrich the creation of fine fragrances and allow an expansion of the palette available to the perfumers.
"We have consistently implemented our innovative vision to create a fragrance with surprising olfactory facets." says Ricardo Omori from Symrise Fine Fragrance.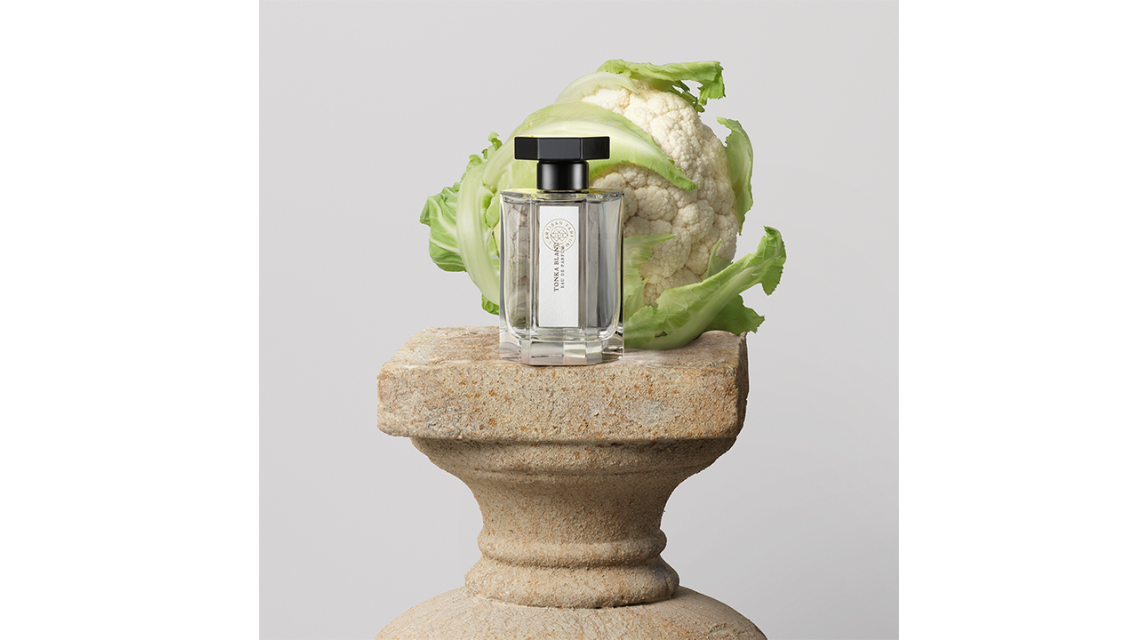 Tonka Blanc, Le Potager by L'Artisan Parfumeur
L'Artisan Parfumeur is another perfume company with a strong commitment to naturals. Its new collection 'Le Potager' contains five scents, created around vegetable notes such as cauliflower, beet, leek, sweet pea, and tomato leaf. My exercise of selection from the fragrance collection resulted in Tonka Blanc. Its gourmet composition is built upon an original juxtaposition of cauliflower with almond. The two ingredients marry into a delicious white creaminess. The fragrance's warm sweetness triggers an immediate attractiveness. It will come as no surprise that the creator of the fragrance is Alexandra Carlin, an experienced French perfumer who works at… Symrise.
The Vegetable Scent Trend is the Hot Topic in Town.
2023 has seen a vast array of articles discussing the topic of vegetable perfumes with catchy and witty titles. Here is my personal top of the pops:
'These gourmand perfumes can't be beet' from the prestigious Financial Times
'Vegetable perfumes are the next chapter in fragrance' by the Cosmetic Business
'So do we all want to smell like carrots now? by Glamour UK
'A bumper crop of vegetable patch perfumes to spray your five a day!' by the Perfume Society
'The Case for smelling like a sexy vegetable' by High Snobiety
'There is a vegetable in my perfume' the Cent magazine.
What is special about vegetable scents is that they seem to bring to the forefront a sense of humour and creativity that is not allowed with the other typical perfume ingredients.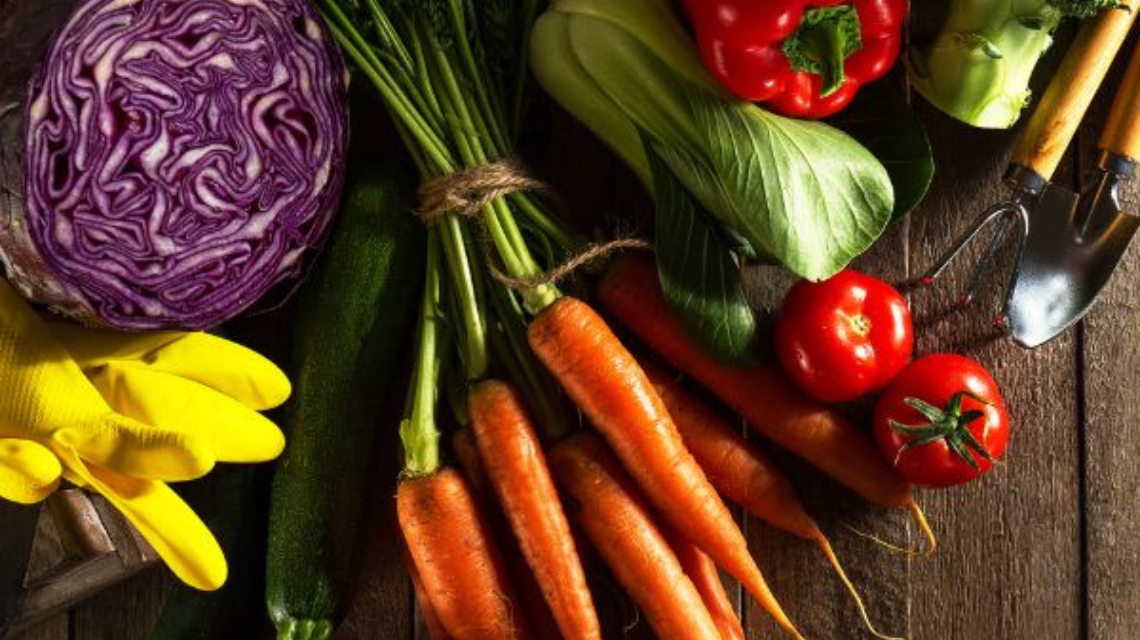 Get Your Greens by the Perfume Society
It is Time for Veggies. Our New Fantasies.
Vegetables beautifully allow us to play with our own fantasies. The game has endless varieties; 'As cool as a cucumber' gives freshness to a perfume; 'Two peas in a pod' provide balance to a fragrance composition; 'Full of beans' brings liveliness to a scent; 'To dangle a carrot' lets us dare and tempt something different… The vegetable lab holds innumerable fragrance experiences tempting the perfumers to be curious, to be innovators, to be playful, and willing to test (and sometimes fail) in categories that are unfamiliar to most people.
I have picked two innovative scents from two niche perfume brands: 'Gentle Flower' by Elorea, an Asian inspired US-based brand and 'Wild Carrot Oud' by the Polish cult brand Bohoboco.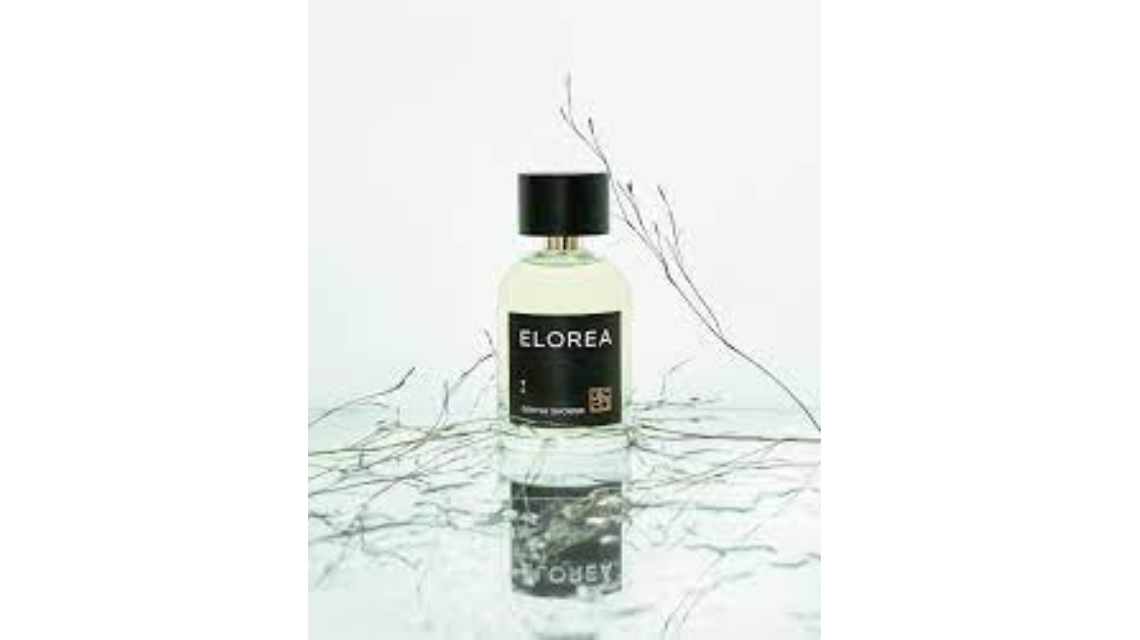 'Gentle Shower' by Elorea contains Perilla leaf.
The theme of 'Gentle Shower' by Elorea is an unforeseen rain which makes the harvest come to a halt while the senses take full control. The perfume places Perilla leaf in the top note, an ingredient widely used in Korean cooking. Its olfactive note is minty, with tones of anise and cinnamon. Perilla's additional touch of freshness is 'gentle'. A lovely fragrance.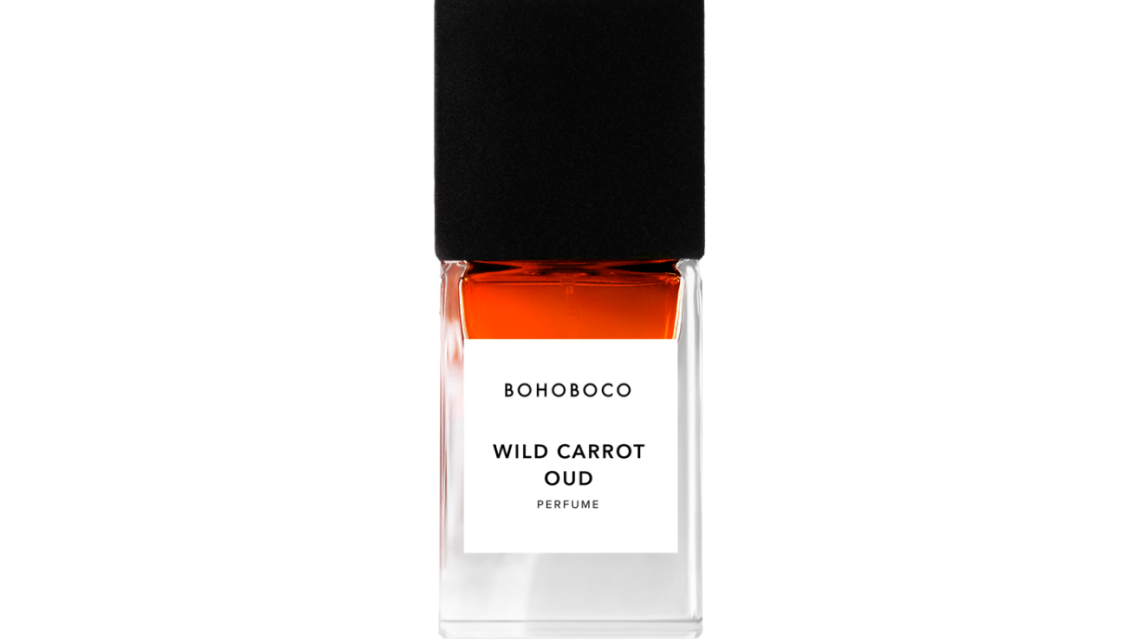 Wild Carrot Oud by Bohoboco
The 'unconditional olfactory world' of the creator results in complex perfume signatures. 'Wild Carrot Oud' by Bohoboco is no exception. Its organic carrots are neither mellow nor tame. They are full of wildness, intense earthiness, and their sweetness is contrasted by a cinnamon spiced bergamot and a strong oriental oud. A deep fragrance indeed.
Smelling vegetables is connecting with nature.
Time for the 'why' question. This is the reason why vegetable scents are trending so much nowadays. They have the capability to remove stress and connect us instantly with nature. Sounds like a yoga retreat or a well-being experience? This is exactly the point. With its strong commitment to nature and its 'Get Green Fingers' campaign, the Weleda company decided to do research in the UK. During the pandemic, they found out that 26.7 million people grew their own fruit, vegetables and herbs. 62% expressed that "connecting with nature has had a positive impact on their mood." When smelling a vegetable scent, a positive mood enhancing experience happens.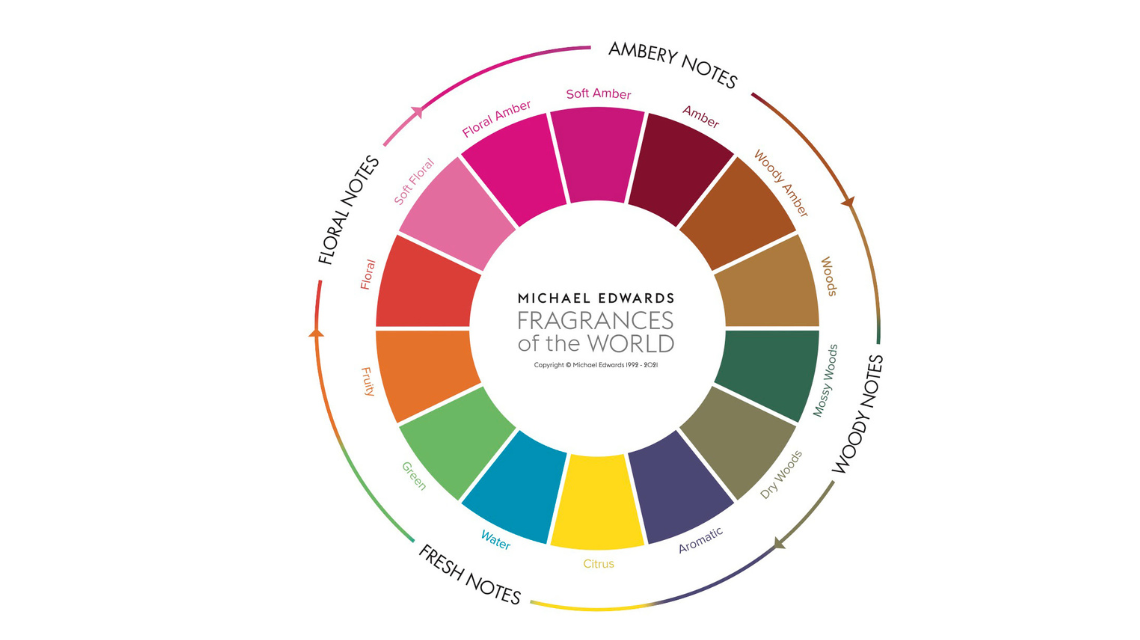 The Fragrance Wheel of Michael Edwards has a cucumber note under 'Green'.
Our new perfume delicacies are here to stay.
The positive experience has been tested and approved. Our craving for well-being and positive triggering feelings will continue to be strong. I turned to the famous Fragrance Wheel of Michael Edwards and checked that 'cucumber' is featured under the 'Green' family. I want to imagine a green future with a Fragrance Wheel showcasing a new fragrance family called 'vegetable'. This is such a nice dream.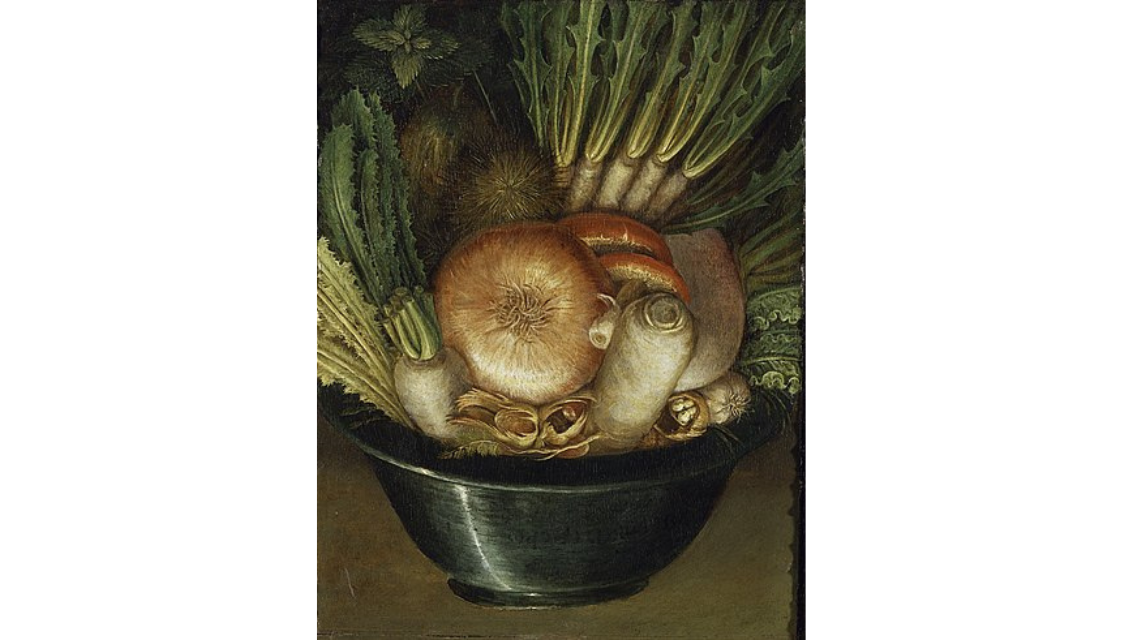 The Vegetable Gardener or Vegetables in a Bowl by the Italian painter Giuseppe Arcimboldo, painting from ca. 1587–1590
What a beautiful garden perfume world.
It seems we have all turned into passionate gardeners. This new trend brings an authentic positive momentum. First, it gives us the opportunity to travel back in time when garden aromas and diverse roots were used by perfumery for many centuries. Olive oil was before alcohol commonly used as a diluent in the perfume composition. Second, the new aromatic extracted substances are derived from energy sustainable methods. All in all, gardening gives us the treasures of having deep roots, made of precious memories, sweet moments, and natural elements. Smelling vegetables gives us an immense feeling of joy and of being connected with nature. So, shall I show you around my garden? Let's go gardening!
_______________________________________________________________________________________________________________
Main image: Still Life, Balsam Apple and Vegetables by James Peale, ca. 1820s, on view at The Metropolitan Museum in NYC. The vegetables painted from left to right are okra, blue-green cabbage, crinkly Savoy cabbage, Hubbard squash, eggplant, balsam apple, tomatoes, and purple-red cabbage.