Esxence 2022: If You Missed it, You Can Watch it!
2022 . 07 . 07 | written by Editorial Board
Esxence, the art perfumery event, which just closed its' doors June 18th, was bigger and better than ever. With over 280 exhibiting brands to see and smell, and over 20 workshops and panel discussions to attend, it was a challenge to fit it all in. In case you missed a workshop, or if you weren't able to travel to Milan, we've got you covered: Esxence has recorded all of the workshops and has made them available for viewing on their YouTube channel. As a moderator of multiple workshops, and an attendee of many others, I am happy to share this brief overview of most - but not all - of the events. Click the link and scroll through to find the full range.
On June 15th I caught the ribbon cutting ceremony before rushing off to moderate my first workshop of the show, Scenting Space: How Scent Can Create Memorable Events. This workshop complemented the small recreation of a multi-sensory exhibit, Fleeting: Scents in Colours, which was installed just inside the convention center. Did you see it, did you try it, did you smell the scents created to bring to olfactory life the artwork? All feedback would be most appreciated! In the discussion we learned about the complex process of creating an abstract fragrance from an abstract brief. We learned how this kind of project stretches the perfumers' creativity and allows them to work outside of their typical ingredient palette. As more and more institutions seek to create immersive events, we suspect there may be opportunities for brands to partner with organizations to add a scent element to experiences.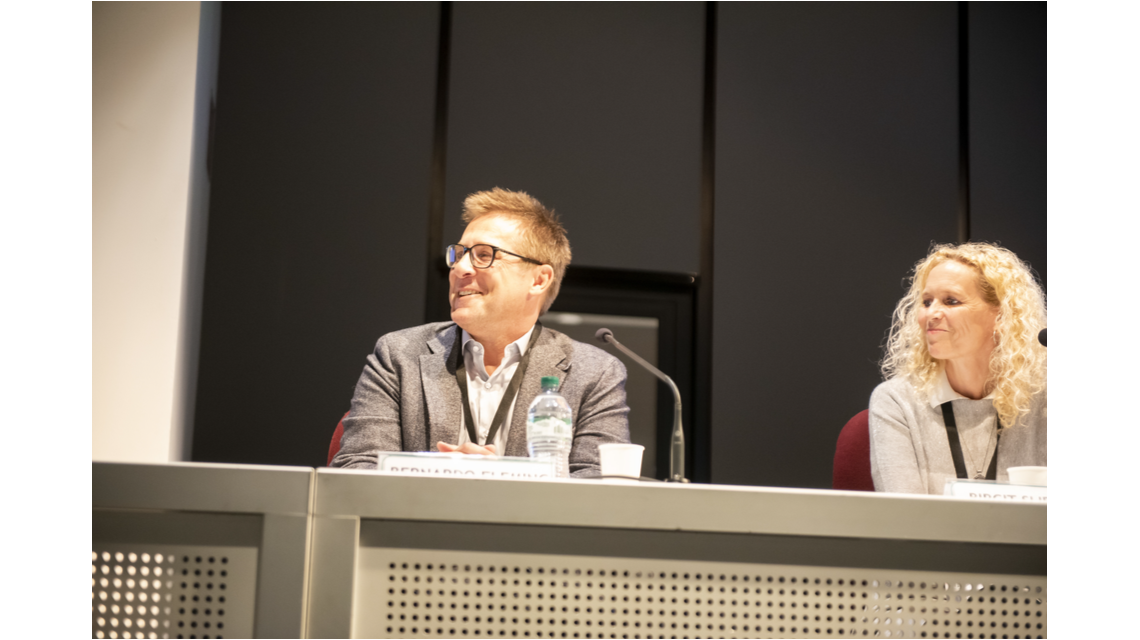 Bernardo Fleming and Birgit Sijbrands if IFF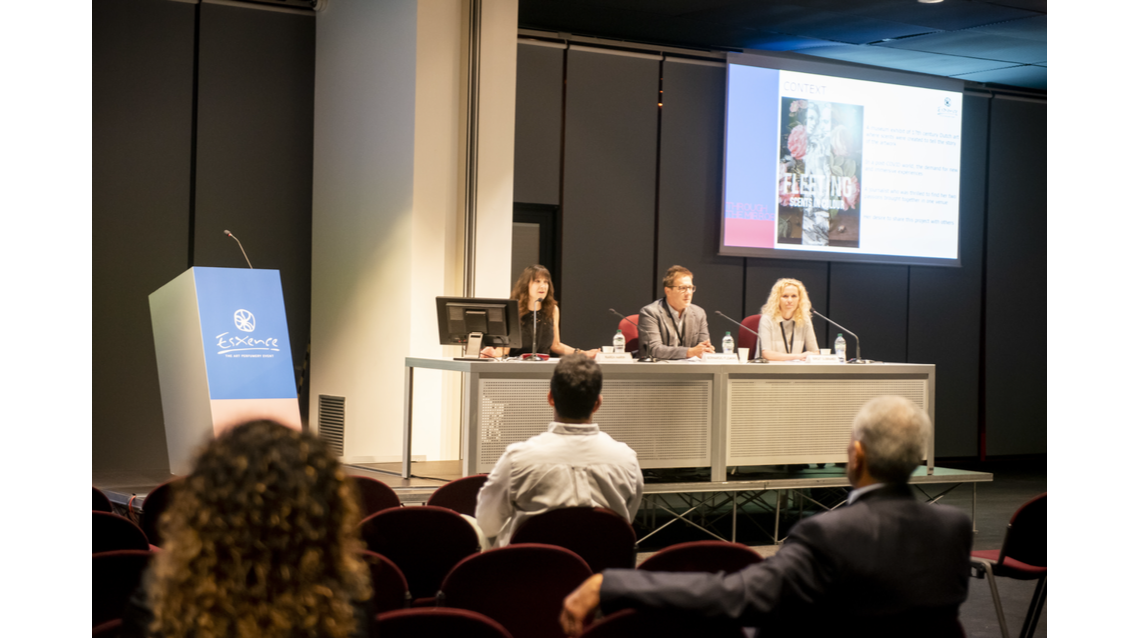 The full panel for Scenting Space: how scent can create emorable events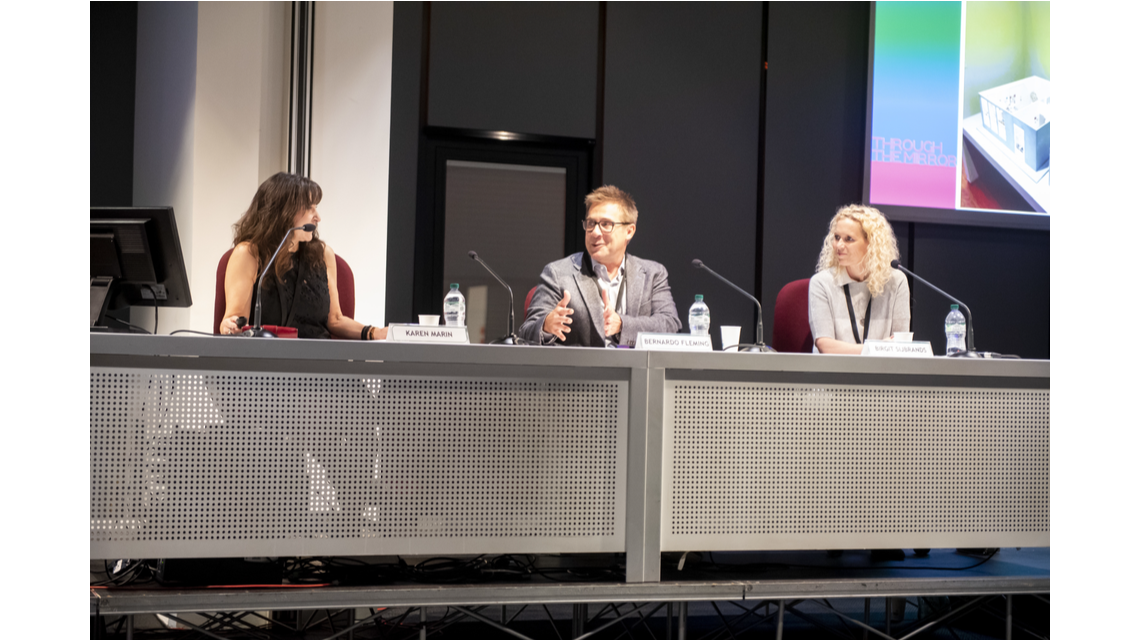 Discussing the abstract
Next up, I participated in the workshop entitled Economic Trends and the State of Artistic Perfumery in the Digital Space. Since 2019 the Essencional Study Center, in collaboration with the Develon Group and Marco Ricchetti, have provided insight into the impact economics have an our sector while also analysing data culled from a year of web listening and digital monitoring. In a nutshell, although the market was down 12%, fragrance has been resilient. We see trends in sustainability, being eco-conscious and exploring upcycling without veering down the road of greenwashing. We see that people have adapted to online shopping, and that the proliferation of discovery kits coupled with the demand for fragrance swaps and decants indicate an increasing interest in the niche fragrance category. We recognize that TikTok is becoming a viable platform on which to promote artisan fragrance. These factors are a positive sign for our sector, and especially at a time when consumer confidence is waning.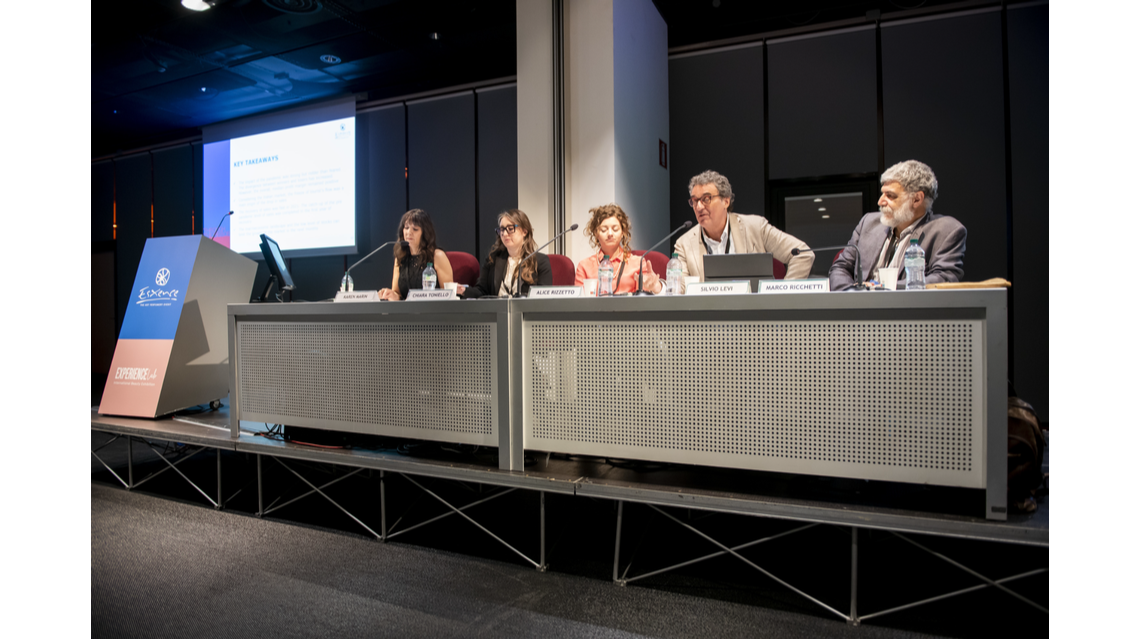 The full panel for Economic trends and the state of artistic perfumery in the digital space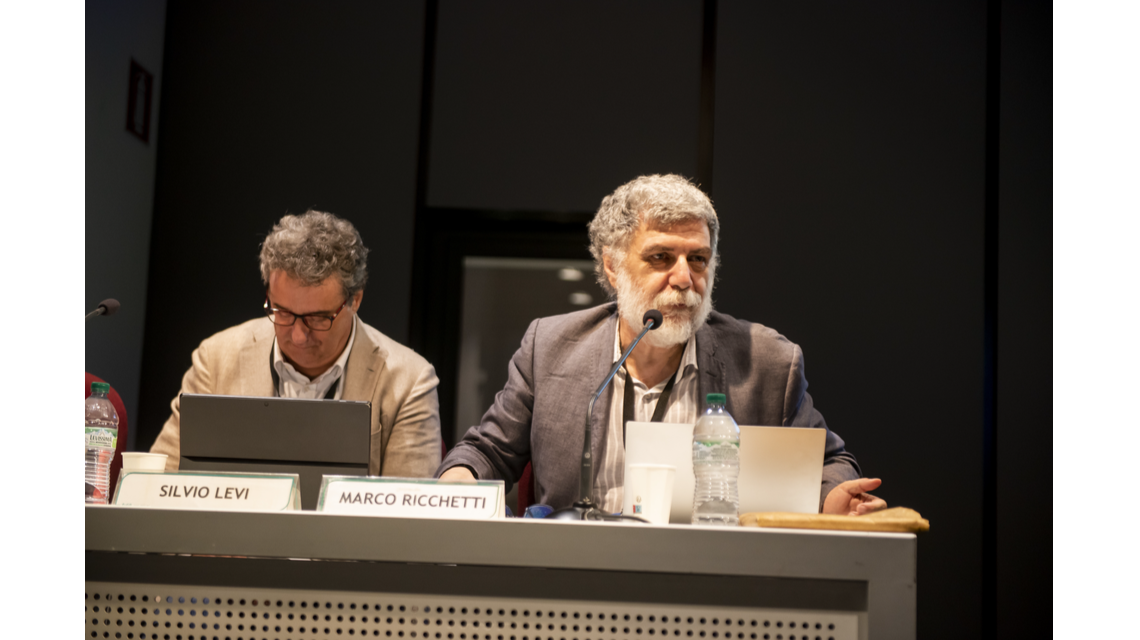 Marco Ricchetti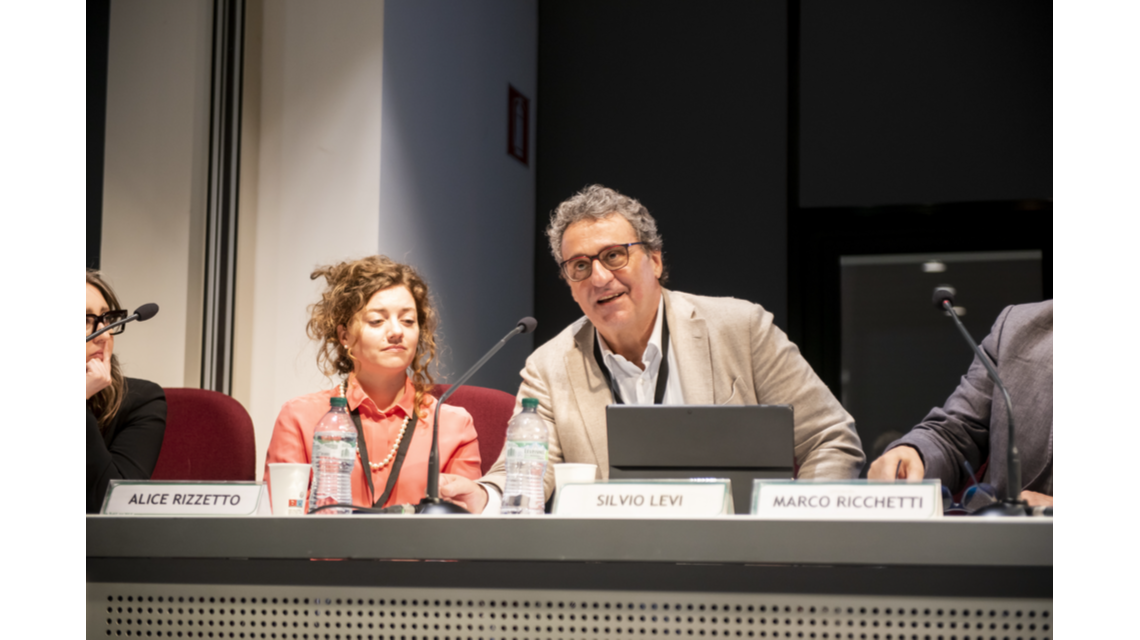 Silvio Levi
Later in the day Dominique Roques, author of Cueilleur d'essences, spoke about his career sourcing raw materials and ingredients from all over the world. His book has been translated into Italian, English, Chinese and many other languages. The day ended when another author, Sarah Colton, along with Wouter Wiels, founder and director of Rives de la Beauté, hosted the workshop entitled The Importance of Stories and Story Telling in Perfumery. Billed as a "literary salon" this workshop explored the value of the written word and perfumery. It was remarked that in the 1990's, as consumers became fatigued by celebrity spokesmodels, people became intrigued by ingredients, and had a hunger to know more, which gave more importance to editorial and content that told the story of brands and of their fragrances. The message was clear to all members of the press that, regardless of how often you write, whatever you are reading, whatever you are thinking when you choose the words you will write, you are spreading news and you are sharing your thoughts and values with the niche fragrance community. What a lovely takeaway which reinforces the power of the printed word in a world that has become image-centric!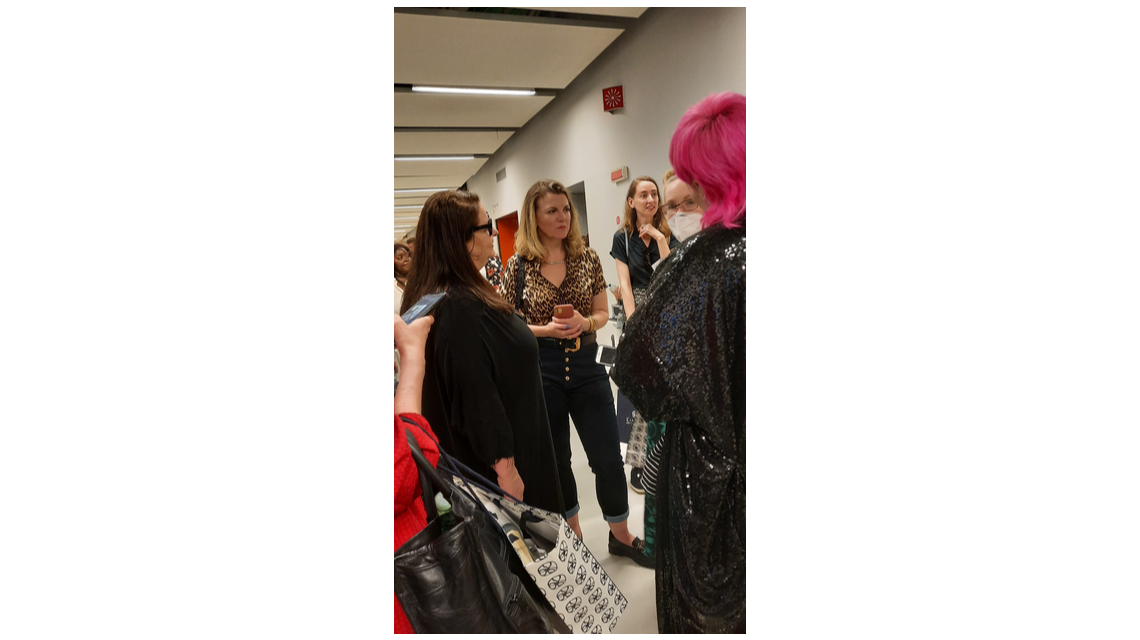 Beauty Matters Kelly Kovak and Sarah Baker of Sarah Baker Perfume waiting to begin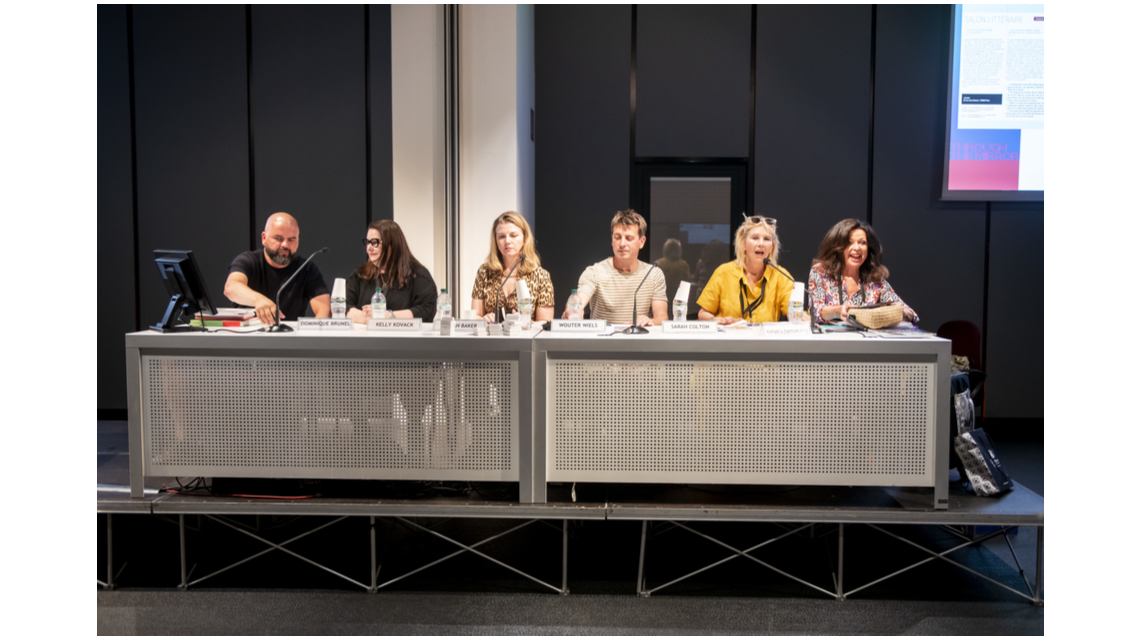 The full panel for The importance of stories and storytelling in perfumery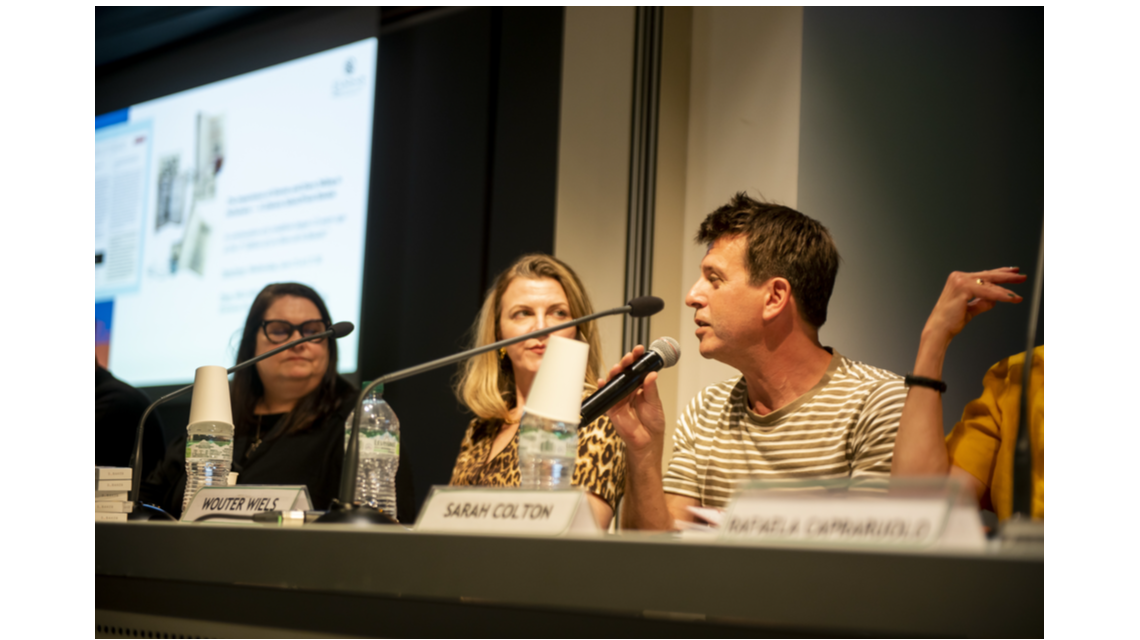 Wouter Wiels
The second day of the show began bright and early when I moderated International View on Artistic Perfumery: Africa. Truth be told we got off to a late start because we couldn't find the down escalator to get to the conference room! I don't think we were the only ones who had this challenge, but once we got started it was a rich discussion. Between the growing middle class who is educated, upwardly mobile, sophisticated and connected, the boom in sales of beauty and personal care products, and the COVID-prompted desire to find fine products locally, opportunities abound for brands who will build partnerships, who will be patient and who will share their passion. Indeed these three "P's" were identified by the panelists as the building blocks to success in the market.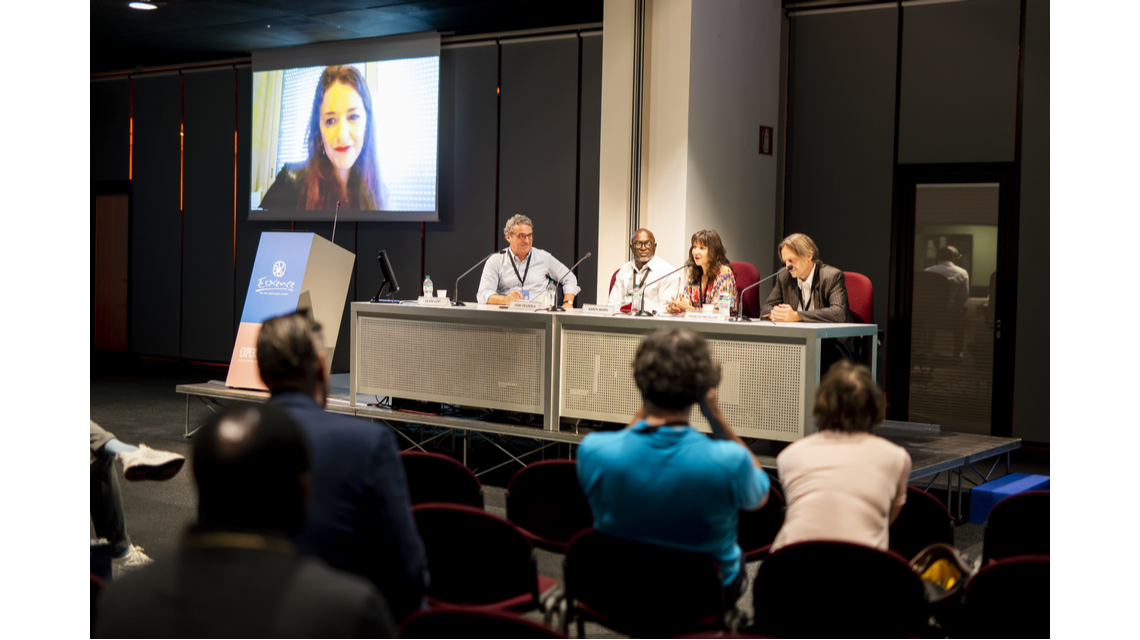 The full panel for International View on Artistic Perfumery Africa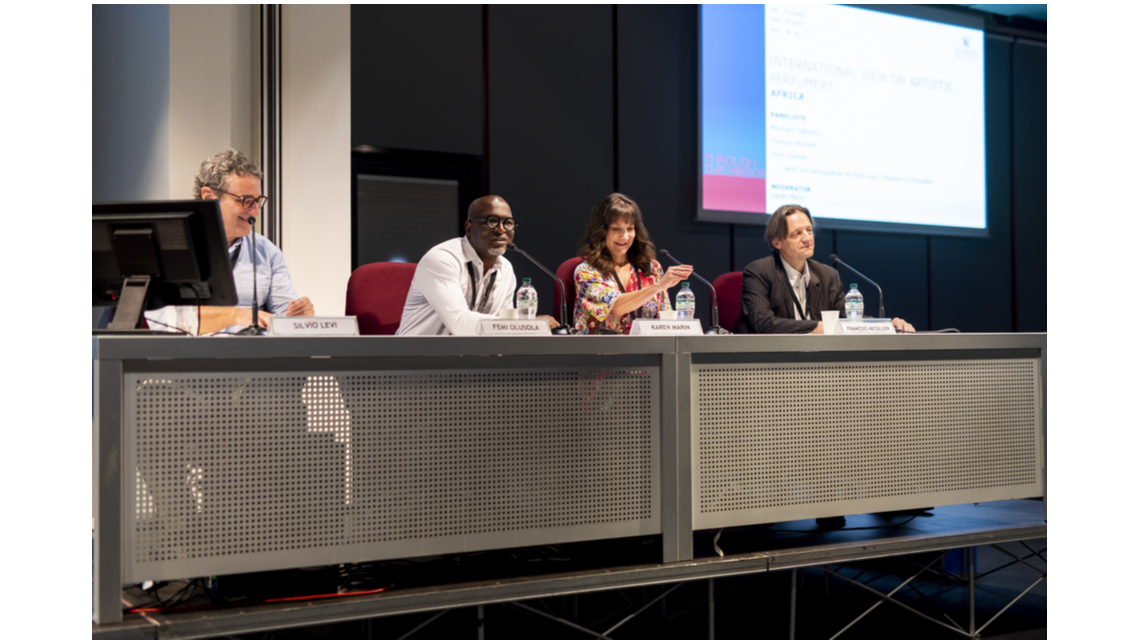 Femi Olusola speaks to the audience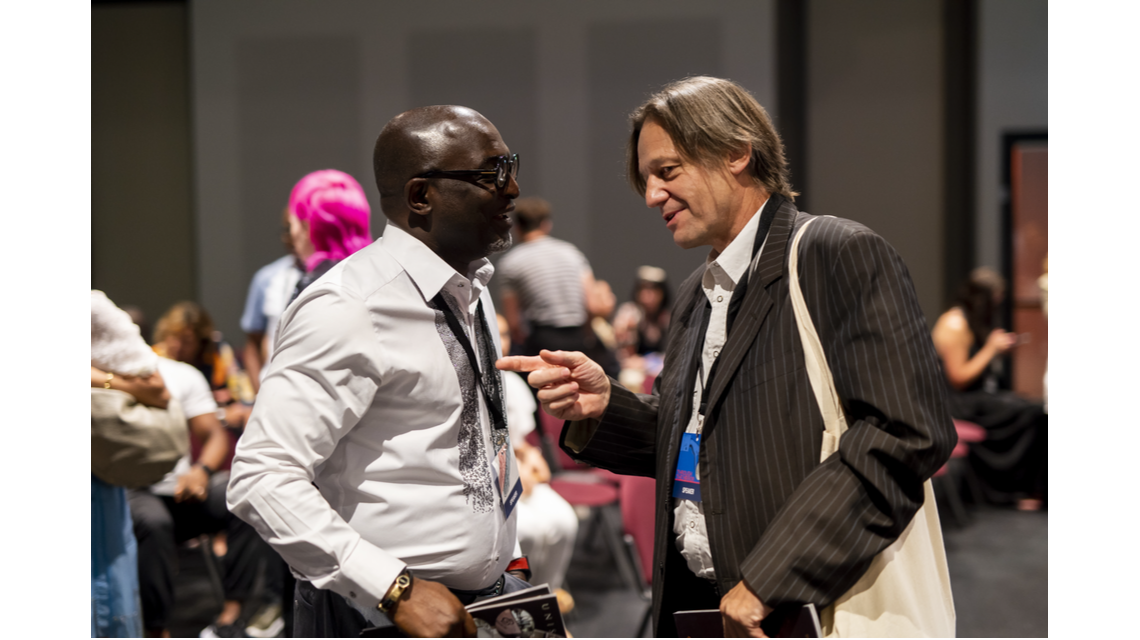 Femi Olusola and Francois Nicollier share stories
Next up, the workshop Promoting Artisan Fragrance in a Digital World, was rich in information. It all started by reviewing how consumer behavior evolved during and after COVID, then discussing digital demographics, followed by the rise in forums, online communities, and social commerce, plus the phenomenon of TikTok – yes even for artisan brands – before the panel ended with advice on how to repair a viral misstep. Recent statistics indicate that 95% of the journey to purchase begins online……so brands must be sure their digital presence is flawless.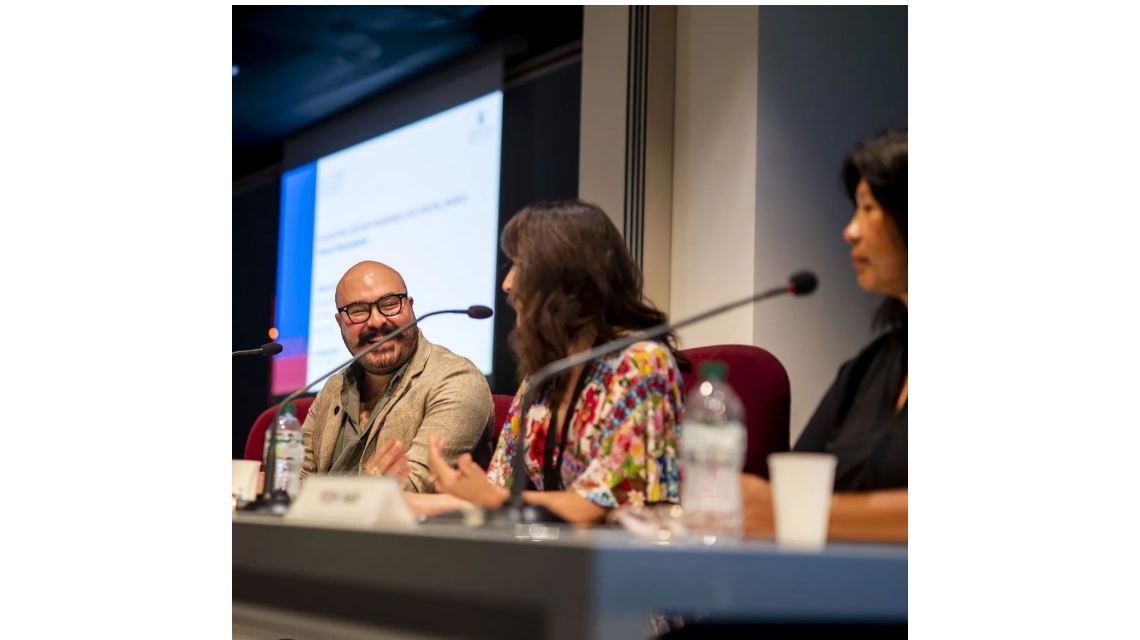 The panel for Promoting artisan fragrance in a digital world featuring Eduardo Garcia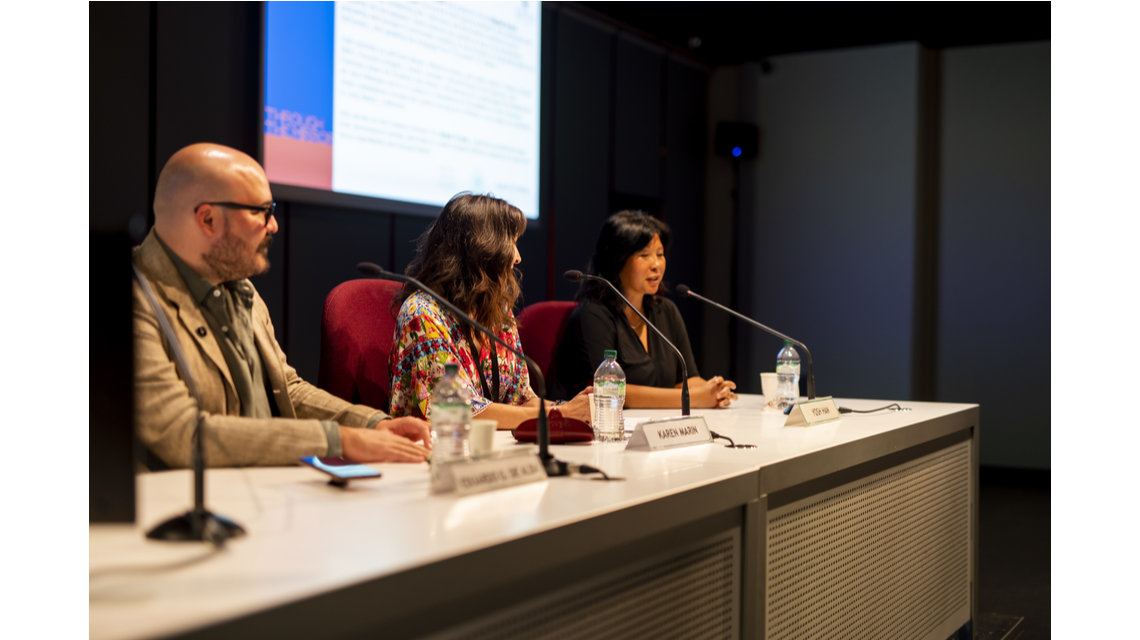 Yosh Han speaks to the audience
Fragrance industry expert Michael Edwards was not able to travel to Milan but he did record a video to give the audience an in depth introduction to his famous Fragrance Wheel. He began by explaining that in the year 2001 there were 435 fragrance launches, which grew to 1517 in 2011 and a whopping 2742 in 2021. This proliferation of launches certainly reinforces the need for a way to categorize scents. Of particular interest to the fragrance community is the fact that his classification system has replaced all references to the term "oriental" with "ambery". Michael did join the workshop live from Australia for audience questions. It was pointed out that the fragrances in the woods, woody ambery and ambery families have accounted for nearly 40% of the launches in artisan fragrance in recent years – might this change? Michael stated it is inevitable to see fresh interpretations. He hinted that a certain lightness is emerging, and that the rising interest in fragrance coming from China will be an influential factor is the development of more transparent fragrances. The team behind Fragrances of the World will be publishing the quarterly update later this summer and the numbers will include all fragrance data collected at the 2022 edition of Esxence.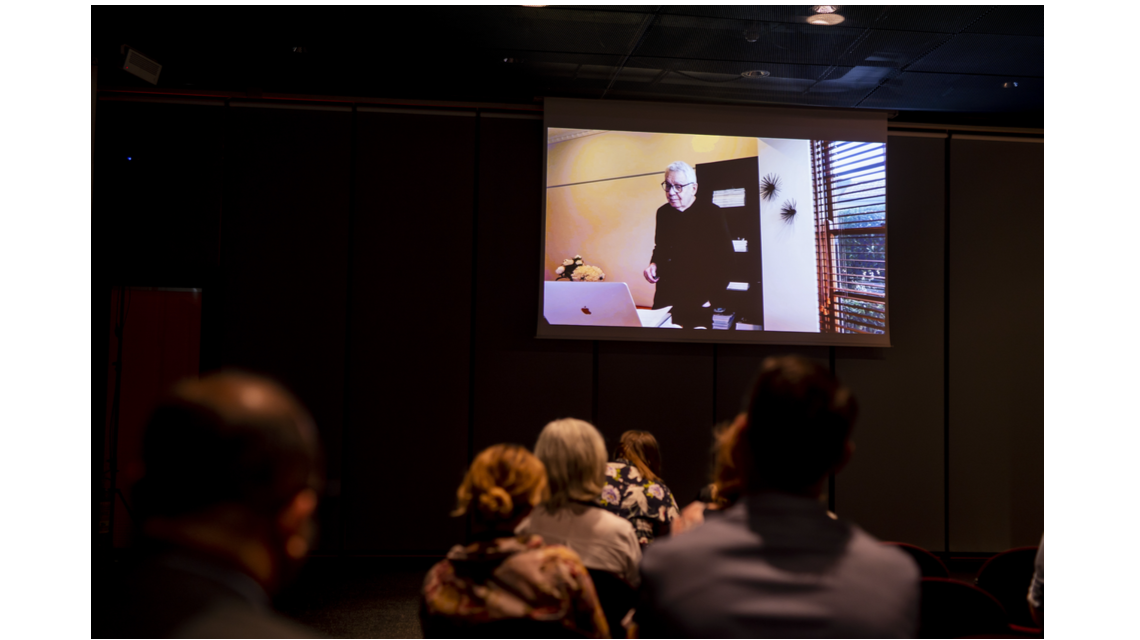 Michael Edwards joins by live streaming
Workshops also brought together incredible talent and fragrance scholars. Giuseppe Squillace, Associate Professor of Ancient History, University of Calabria, delved into the subject of men's and womens perfumes in antiquity. Annick Le Guérer, Anthropologist, Philosopher and Writer and Mariateresa Z. Marsi, Psychologist and Psychotherapist discussed the topic of why we wear fragrance, approaching it from an historical, philosophical and psychological angle. France's Osmothèque, the only institution in the world dedicated to the preservation of the olfactory patrimony of perfumery, made an interesting presentation in which president Thomas Fontaine spoke about 30 fragrance "treasures" which are found in the Osmothèque's archive. Highlights included Coty's L'Origan, Lanvin's Aprège, and Jean Patou's Joy which audience members were invited to smell at the Osmothèque booth.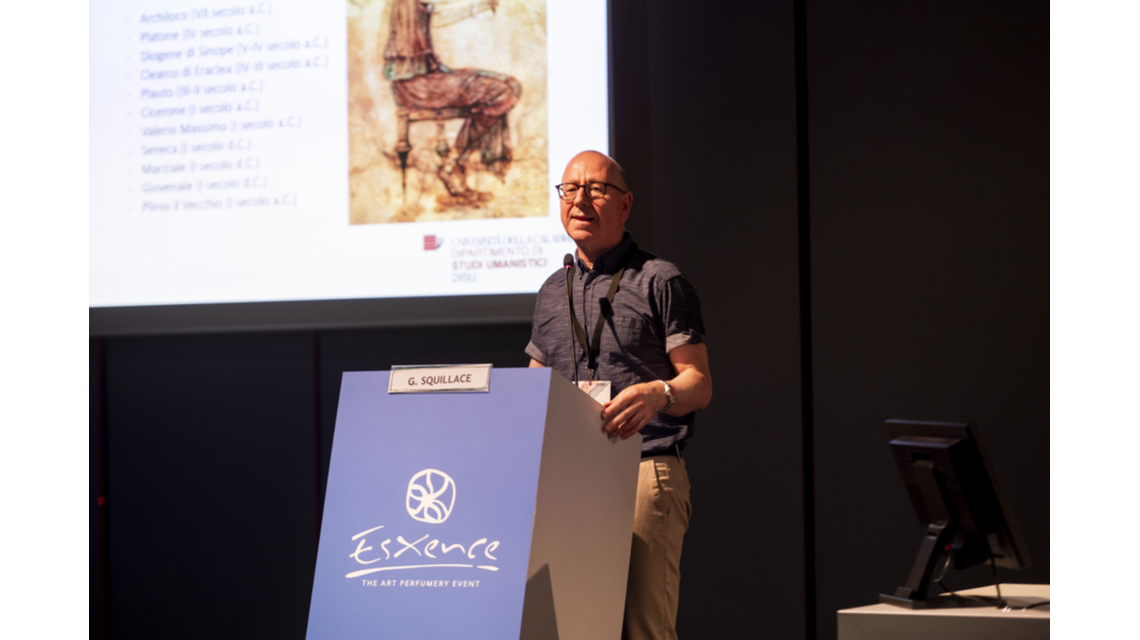 Giovanni Squillace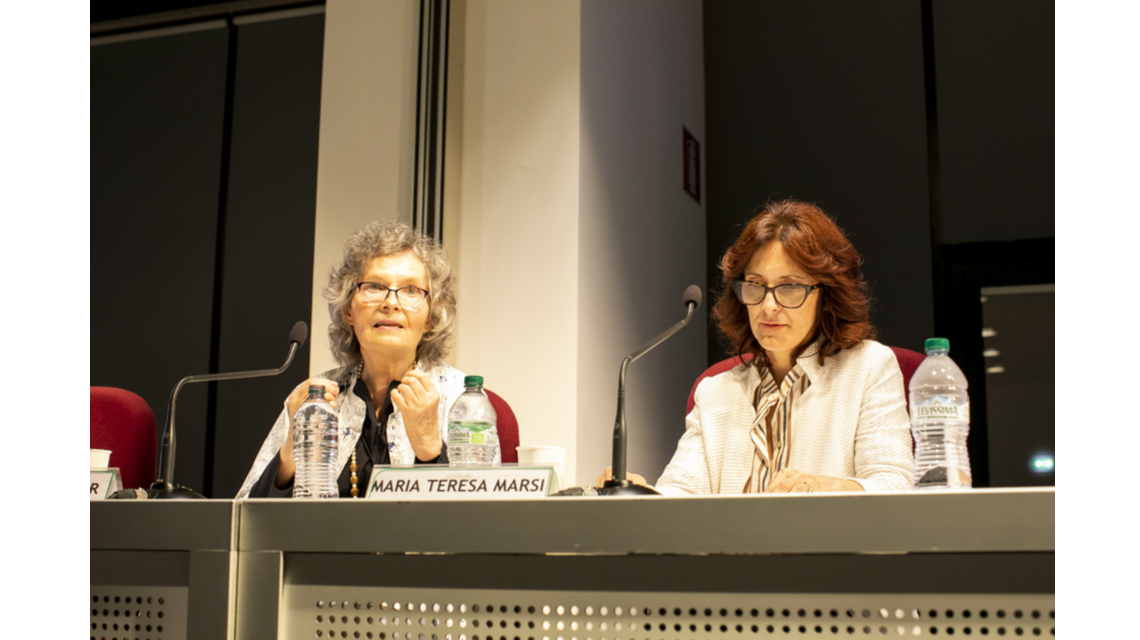 Annick Le Guerier and Mariateresa Z. Marsi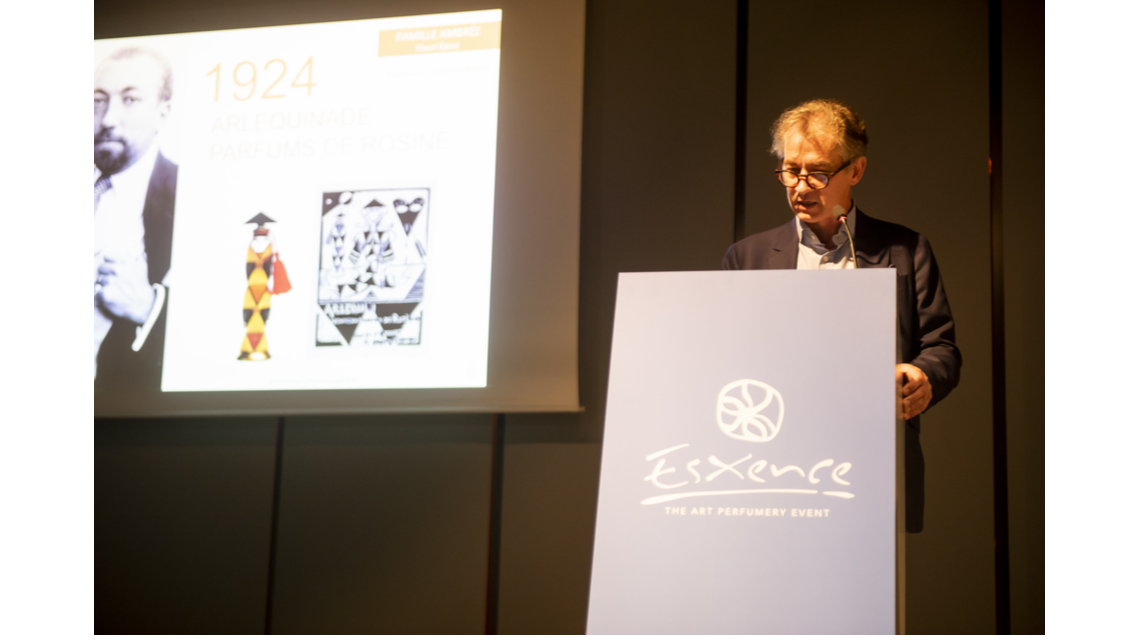 Thomas Fontaine of the Osmotheque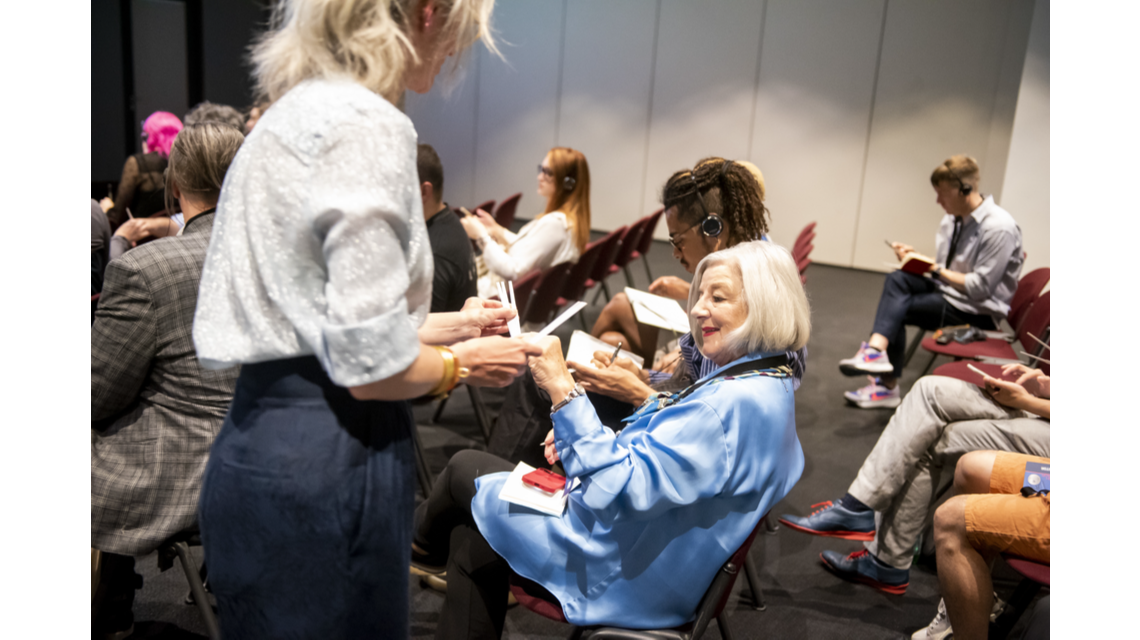 The audience smells fragrances from the Osmothèque's archive
Essencional contributor Laurence Arrigo Klove moderated a panel discussion on the current challenges of creating perfumes with four prestigious perfumers. Since each of the perfumers has had substantial experience in the US, they were asked to explain the country's unique advantage. Their answers reflected the American dream, the land of opportunity, of freedom to create, where talent is rewarded and diversity rules. Collectively the panel agreed that sustainability and choosing eco-conscious ingredients is top of mind. They all commented on their desire to create fragrances with the best ingredients available, be they natural or synthetic. Each perfumer explained his own creative approach and setting. When asked about what's in store for the next generation of perfumers, they all saw new career paths in untapped fields, where scents become integrated into the arts, music, film and design. Their common passion is definitely communicative and buoyant.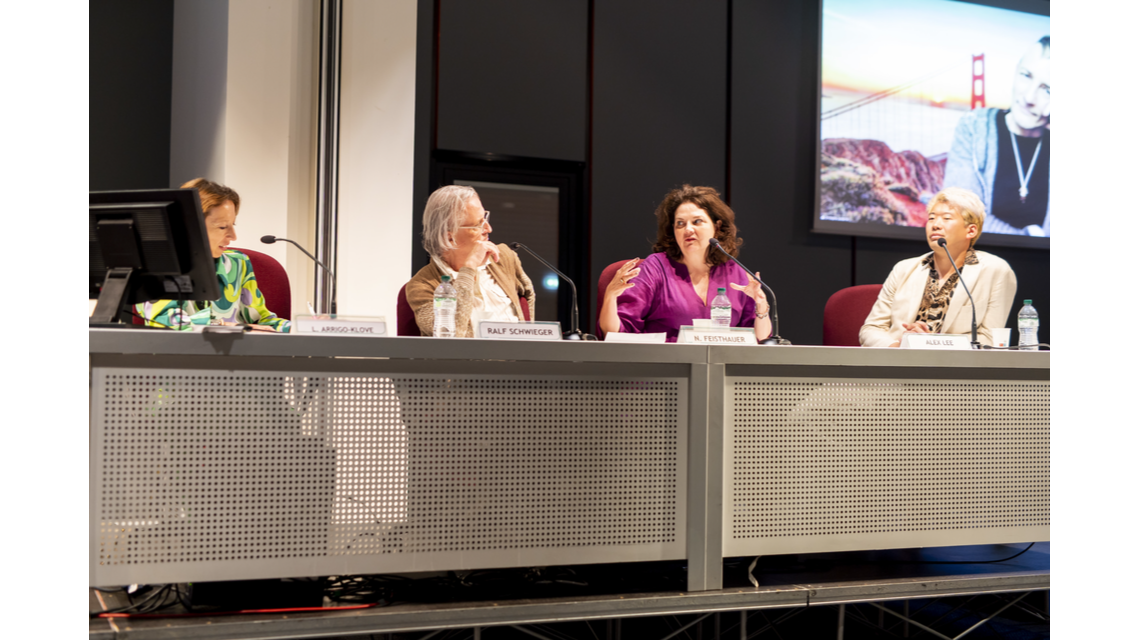 Laurence Klove's panel of perfumers
Even technical and innovative topics, such as NFT's and how blockchain works to ensure authenticity found their way onto the workshop agenda. In smell specialist Marta Siembab's Sense Hacking - Innovations and Technologies Around the Sense of Smell workshop, the audience learned about ways our sense of smell can be used to detect changes in our health, how Artificial Intelligence can facilitate fragrance creation and how functional fragrances can enhance our lives. Of course sustainability is a perennial hot topic which Dr. Bodo Kubartz tackled in his workshop, Sustainability Unraveled: on the "Hows" and "Whats" to Make Fragrances Sustainable. He prompted his panelists to answer the questions of what does it mean, how is it measured and how is it monitored. It's crucial to understand that the focus on this concept is rather recent, and that the steps being taken to create a strategy and to make real change show that the industry is serious in their efforts.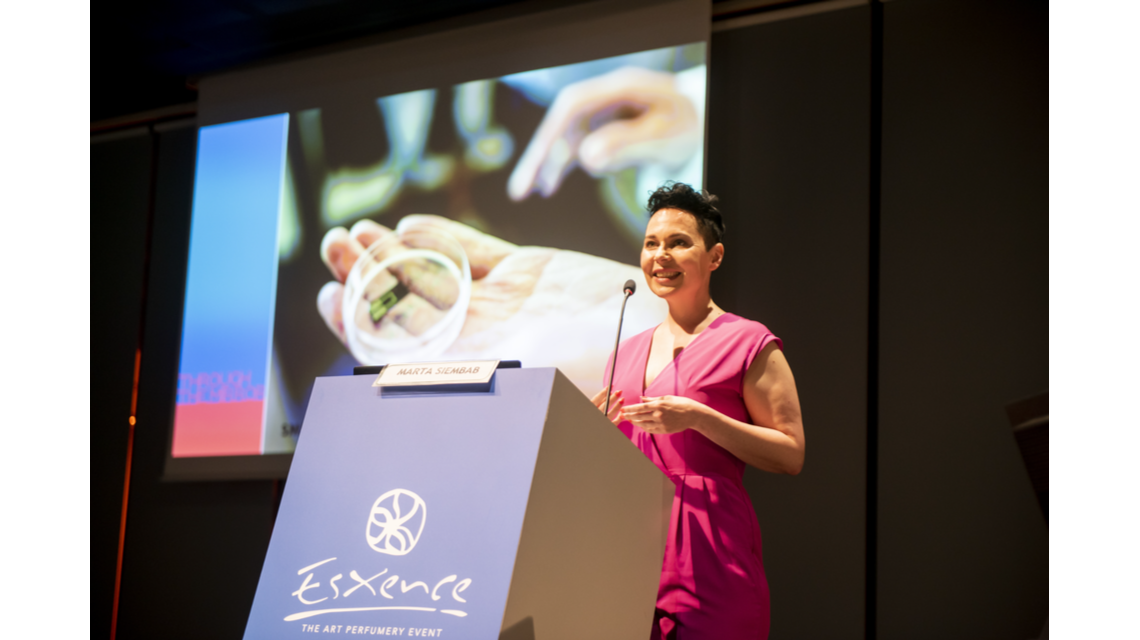 Marta Siembab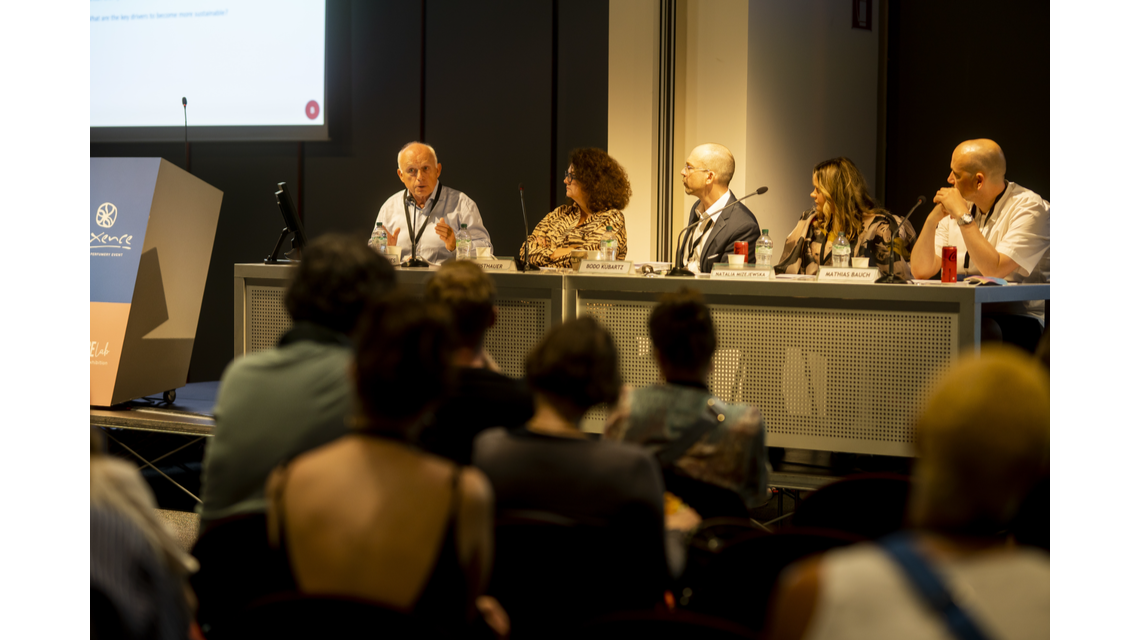 The full panel for Sustainability unraveled on the hows and whats to make fragrances sustainable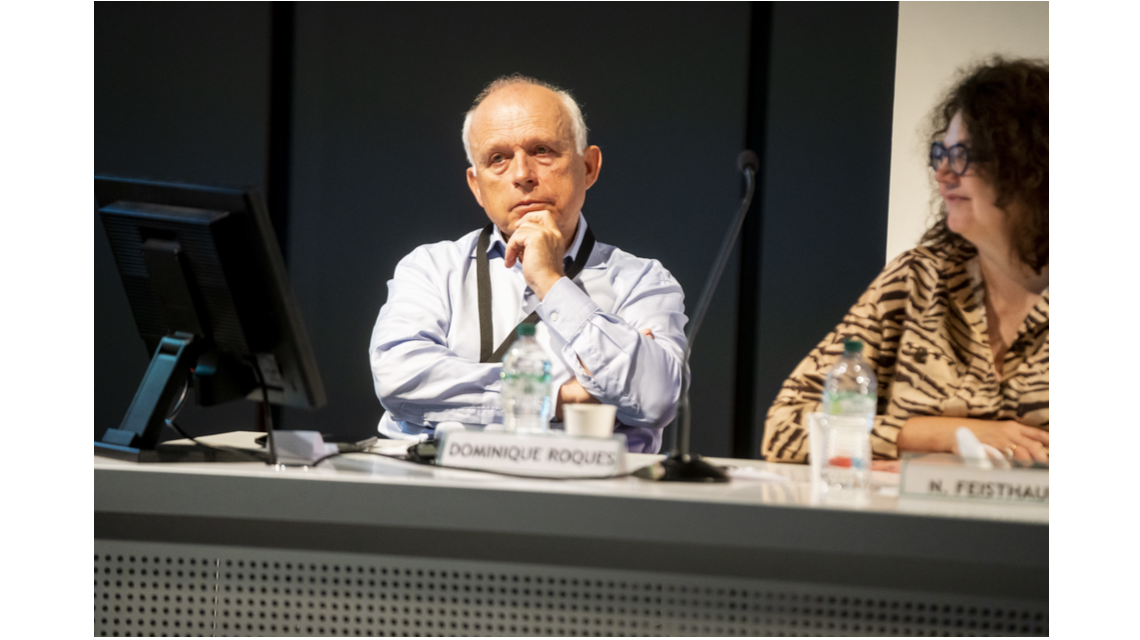 Dominique Roques contemplates sustainability
The last two workshops were entertaining while also being educational. Anne-Laure Hennequin of Master Parfums hosted a live fragrance quiz and contest that challenged the audience to draw on their fragrance knowledge. Meanwhile, Ernesto Collado, founder of Spanish brand BRAVANARIZ, led a group on an olfactory walk through the neighborhood adjacent to the MiCo Center. Sensitive to the 35°c temperature, he plotted out a path that kept us in the shade most of the time. A trained botanist and perfumer, Ernesto recreates the smell of a landscape by ethically sourcing the ingredients that grow in that space. A former actor, he spoke to the group about how smart plants are - how they evolve to protect themselves from environmental aggressors – including animals, insects, climate and humans – as well as how they form a community. Plants grow together – the only time you see a plant or a tree in an isolated space, it's because man put it there. Unfortunately these two sessions were not recorded for video transmission, but here is a short excerpt of Ernesto in action.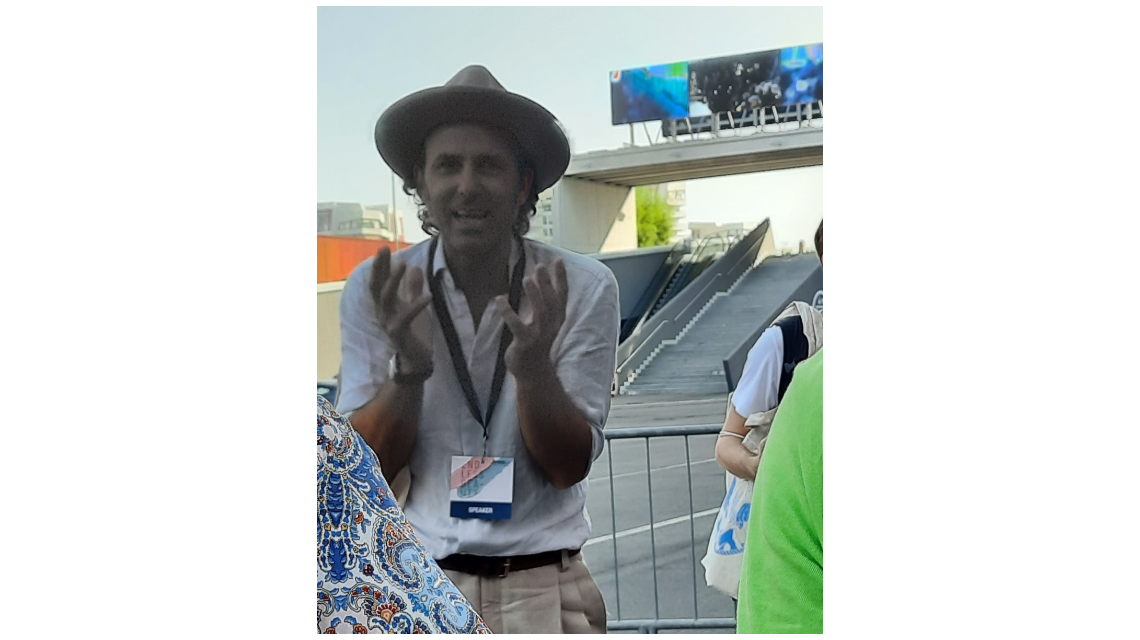 Talking plants with Ernesto Collado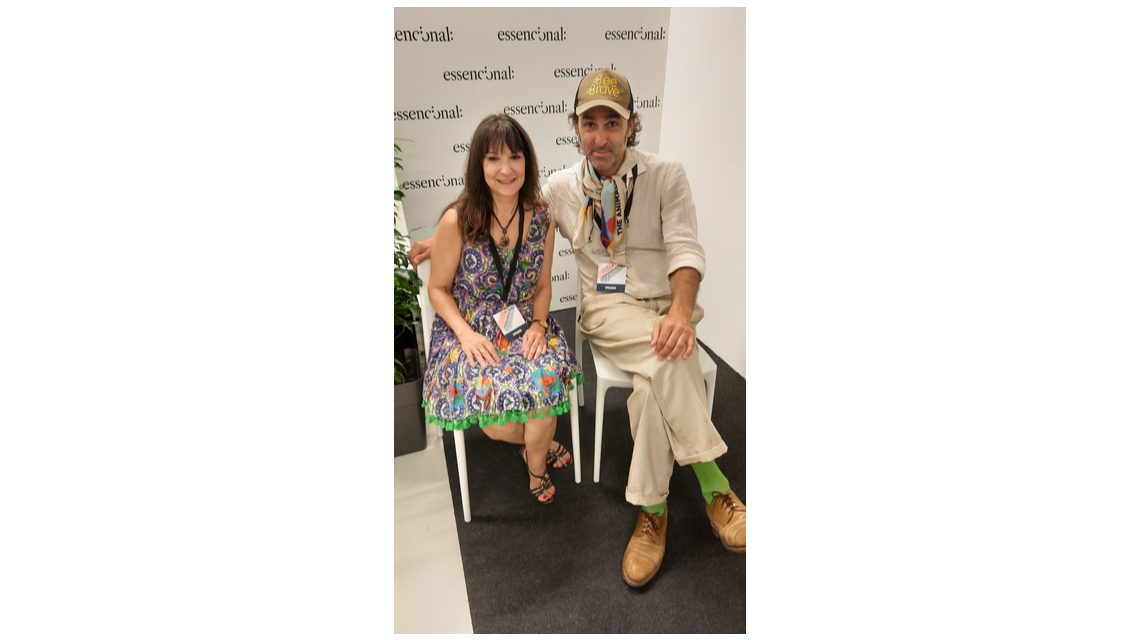 The author with Ernesto Collado
Ernesto Collado talks about nature
On behalf of Essencional, I wish to thank all of the panelists and fellow moderators for their time, dedication and insights which were priceless contributions to the 12th edition of Esxence.
---
And now we have the exciting task of creating the workshop agenda for the 13th Edition of Esxence, slated to occur in Spring 2023. If you have an idea of a topic you would like us to present, feel free to email me at km@essencional.com. Please enjoy the videos and be sure to like and add a comment. We all look forward to seeing you next time!
Thanks to Gabriele Basilico for the images