Enjoy the ride. Open your eyes. Ella K takes you to a fascinating world full of adventures
2020 . 12 . 22 | written by Laurence Arrigo Klove
Ella K is difficult to define, to restrain, to put in one box or in one space. It is much more than a simple perfume brand. It is an attitude to life. A life that relies on adventures, on travels across the globe, on excess curiosity, on pure energy. The hunt is not about finding gold or diamonds or even the illusion of an Eldorado. The hunt is to find one's core inner self. Ella K is raw passion. For Perfumes. For Freedom. A woman world, dedicated to strong determined women. However, men can be accepted provided they share a common attitude. Impetuous, impulsive, Ella K has no reins, no saddle, no ties… Galloping full speed, she can decide to come to a halt, to rest and enjoy a peaceful moment. Let's venture into her happy vision of life.
Question: Sonia Constant, you are a master perfumer with a very successful career at Givaudan, so why did you have the need to create your own brand, Ella K?
Sonia gives me a beautiful blue resolute glance and starts answering without hesitation.
The creation of my brand coincided with my turning 40. I have won many prices* working for worldwide sought-after brands such as Jean-Paul Gaultier, Narciso Rodriguez, Calvin Klein, Thierry Mugler, Jimmy Choo, Nina Ricci, Viktor & Rolf, Boucheron... I do thoroughly enjoy answering specifically each brand request, making sure my perfumes reach the widest appeal or satisfaction required. Yet, now that I am 42 years old, I asked myself the question of what more I wanted to achieve in life. I found out that I needed to find the time to break free. To please only myself. To undergo zero tests. Only my full satisfaction and the one of Ella K team. I want to express my inner world, with no adaptations, entirely authentic. I am taking the risk that my expression can be rejected or not liked.
*Sonia did not mention that she has just won a Cosmetique Mag award for La Belle of Thierry Mugler and also a fragrance foundation award for Le Beau.
Question: Your brand statement is 'Ella K, an imaginary heroine, Adventure is her religion, Liberty is her extravagance'. Do those words apply to you? Are they like a shield, protecting your privacy but not really imaginary?
May be. My brand has possibly an autobiographic piece in it. I guess it is like that for most artists, a writer in one's fiction puts probably a piece of oneself. My heroine certainly goes further than myself. I studied theater and played a lot in the past. Here, I give to Sylvain Dreycourt the brief to write a love poem using a feminine cast to dare, to explore, to push back the boundaries. With Ella K, I fulfill my own dreams with total freedom. In this instance, I cannot be restrained. Or placed in a box. I am like a chameleon. Every day is different, and I am too. At the end of her life, Ella Maillart* understood that throughout all her adventures and journeys, she was actually searching to discover who she really was. This is what I undertake to do with Ella K, Ella referring to this amazing woman. It is a spiritual quest, through perfume, through art, through meditation, through travelling experiences.
*Wikipedia summary of Ella Maillart (1903-1997): a Swiss adventurer, travel writer and photographer, as well as a sportswoman.
Question: Your brand is really about Art – music - photography – poetry – drawing, you draw on each one of them. Which one is the most important to you?
I really cannot pick one out. I have no favorites. Like a mother loves all her children equally. I love them all. I use all the arts and all the senses to create a scent in the end. In one way, I am afflicted by perfume synesthesia. I cannot stop my unsatiable appetite to immediate translate what I sense into the creation of a perfume. Every day at Givaudan, I handle between 4 and 10 projects at a time. I switch from one to the other, totally focused, with no need to rest, with no stress. With Ella K, my search for beauty is through poetry and authenticity. My inspiration stems from multiple beloved artists. Palani Mohan for his photography, Wong Kai-Wai for his movie 'In the Mood for Love', Anouar Brahem for his music 'le pas du chat noir', Stephan Zweig* and Albert Camus for their novels, Laura de Coninck for her paintings… I highly respect artists who in turn respect the woman. I am happy to have met Narciso Rodriguez and is one of them. He loves the woman, he does not transform her, he works to sublimate her.
*I did not ask but her favourite must be '24 hours in the life of a woman'
Question: What is the travelling experience bringing to your creativity? Beyond the sense of smell, which other one is the most important to you?
My travels fill my soul with immense emotions. Colors, atmospheres, landscapes, smells, all come together and allow me to create. I capture my travels with my Leica camera, my Moleskine notepad and my headspace scent trek. During my trips, I write a personal diary, it is absolutely vital to capture words, poetry, ideas. It is an intense sense of rush, like encapsulating smoke before it is gone, an urge to write one's creative inspiration. All my holidays are used to create this experience, what I call my freedom moments.
Question: Without travelling how can you stay alive and keep your creative mind? Are you bored by the way in Paris, getting impatient or restless?
Staying put in Paris is indeed a different experience. At times, it is like pressing the rewind button as I tend to live past-travelling experiences in my mind. But standing still, also creates a moment of void, of peace, which highly triggers my inspiration. I am not bored. I have never been. I don't even understand the concept of it. My imagination is inspired by everyday simple things of life, such as a piece of music, a cocktail drink, or a new pastry, anything really …
Question: Most of your perfumes are inspired by Asia, why is it so special to you? Is it the Buddhism religion?
Asia is definitely very special to me. Its culture, its approach to life has completely changed me. Through my readings, my travels and above all my practicing yoga, I have gone into the search of my inner-self. I have been practicing yoga 3-4 times a week for many years. It provides me with a unique moment of relaxation, of meditation, of deep breathing, like a hypnosis. It helps immensely my concentration in my state of creation. Once, just outside my office, there were very noisy upgrading works, all my surrounding colleagues were complaining about it, I hadn't even noticed them! Yoga has given me strength, balance, a feeling of inner harmony and of letting go. I don't fight against anything or anybody. I don't compete. I don't use my physical strength. Yet I am very powerful. I am effortlessly strong. There is no ego. If I don't manage a posture today, it will happen another time. Tomorrow. I don't give myself a precise objective. No full split. All fine. And in the end, without being results driven, I achieve a lot. This is how I live. At work, I receive a lot of feedback, every day, I need to take into account comments to amend my creations; it is very easy for me to listen openly and with a positive spirit correct accordingly.
With Ella K, my perfume 'Mémoire de Daisen In' is the one most inspired by the Asian concept of harmony. The Daisen in garden is located in Kyoto, Japan. It tells the story of life broken down in 4 chapters, therefore 4 gardens. All elements, gravel, greens, water change from one garden to the next according to which emotion one goes through. Of course, in the last one, serenity is reached, all is found and converge.
Question: From the Ella K perfumes travelling experiences, which is the most powerful & the one that has left you with a 'scar', a memorable impactful trace?
Without any doubt, the most impactful destination has been Florence. It is the beginning of my love story with Olivier. It is also the first perfume of the Ella K collection. Baiser de Florence. Olivier had covered up my eyes and had taken me to the Boboli Iris garden. When I could open my eyes again, I saw iris petals dancing in the sun. Then we strolled in the beautiful streets of the city, ate pastry that left a trace on my mouth. Entered churches full of incense and finally the Uffizi Gallery decorated with carved wood, marble, beautiful paintings and sculptures. Our first kiss happened inside the museum, a forbidden kiss. All our magical story is inside the perfume, ambroxan, iris, cyst, myrrh, musc, heliotrope, vanilla. Ella K parfums was born together with our couple. We have 2 beautiful boys and Ella K is our third child. A girl.
Question: We all like the concept of adventures but in reality most of us don't practice it. We call 'adventures' trips very well planned ahead, full of ground support, of comfort, not too different from home. Tell us about your concept of adventure?
We like to keep our travels simple. Authentic. Now and then, we do stay at tourists lodges but mainly we like to stay out of the beaten tracks. In Africa, we have our sleeping bags, tents and improvise a night camp. Sometimes, we had to sleep on the roof of our jeep as lions were circling all around us. Our rooftop was a bit scary first but then one forgets it all. The taste of adventure. Beauty. Magic. They take over. The rest falls into oblivion. We also decided to go and see the Aurora Borealis in the North of Norway in late December. There is no daylight at that time of the year so it is ideal to see the magical borealis lights. The temperature outside was minus 20 and there was a wind storm to make it even chillier. Our outings were with sleigh dogs. What a memorable experience it was.
Question: In one of those adventures, did something ever went awry?
I guess we have been lucky. Danger was in the vicinity. It didn't impact us. In one instance we went across the Okavango delta on a very light boat called morroco. We knew that the delta was full of crocodiles and hippos. Stories abound with boats having capsized and people died. My heart started racing feeling danger, and yet once again, it disappeared in front of the beauty of the reflection of acacias trees in the water, the dragonflies, the papyrus smell… In another instance, it was elephant mothers with their babies who could have turned aggressive to protect them… we were blessed and danger passed away.
Question: Could you travel by yourself or your creative duo is a must?
I have travelled by myself in the past but I most definitely prefer not to. Sharing an experience with the person I care most for is my favorite travelling experience. My travelling treasures are things that cannot be bought or taken home, they can only be shared. This is what adventure is all about, to live in the moment, in the present, to see things. I think in life there are 3 categories of people based on 3 motivations: 1. Money 2. Power 3. Freedom. We belong to the third one. We live freely and sometimes we disrupt others.
Question: Can you tell us how you complement each other with Olivier – Olivier Gagliardi is Sonia's partner – in the creative process of Ella K?
First of all, Olivier was the one who had the unique opportunity to meet Ella Maillart in her house in Chandolin - Valais, Switzerland. This encounter was very special. A special bonding happened between the two of them, Olivier could hold her hand and he felt his whole life was being overwhelmed. This event contributed to the creation of Ella K. Olivier is also a very talented creative person, he was the one to teach me how to use a Leica. With Ella K, he is like a creative director, he orchestrates the work of other artists he is tapping into. He knows which poem writer we should work with, which designer to draw the dragonfly, which bottle design we should have … I concentrate on the creative process of making perfumes.
Question: Have there been disagreements, conceptual fights between the two of you as passionate, determined people? Aren't you both?
Of yes we are! Both of us are determined and impulsive. We do disagree intensely on an aesthetic approach for example. But we listen to each other, we find an equilibrium, a balance in the end.
Question: Which is the Ella K perfume that is most important to you? In general what kind of perfumes do you like wearing?
I typically say that my favorites are the last one I created and the one I am working on. So for Ella K it is Rose de Pushkar for the last one. The one I am working on is a very intimate perfume, like a no make-up approach. Lacan coined the term 'extimacy', to psychologically link the outside with the inside. With my new perfume, I am aiming at adding a soul supplement, an additional touch of intimacy. By the way, at Givaudan, when my perfumes have too good test results, I usually take them out. I stick to more imperfect ones. Authenticity cannot please all. I like wearing those imperfect intimate style of perfumes. By Ella K, my perfume would probably be Brumes de Khao-Sok, an ephemeral aquarelle.
Final Word:
As you may have noticed, Sonia is not a woman of an 8 hour day. She has buckets of energy to dispose of. Thanks to her, I discovered a new way of being engaged not politically but to strong values. Through perfumes, Ella K engages into Freedom. Authenticity. Inner harmony. No ego. No competition. No fights. Peace. Passion. Strength. Determined Women. Being Ella K is above all being happy with oneself. No one to dictate her life. Well, she has definitely recruited me as a soldier ready to fight her cause. Peacefully that is. One of the U.S. presidential campaign slogans is 'Not left not right. Forward'. You bet. This is Ella K.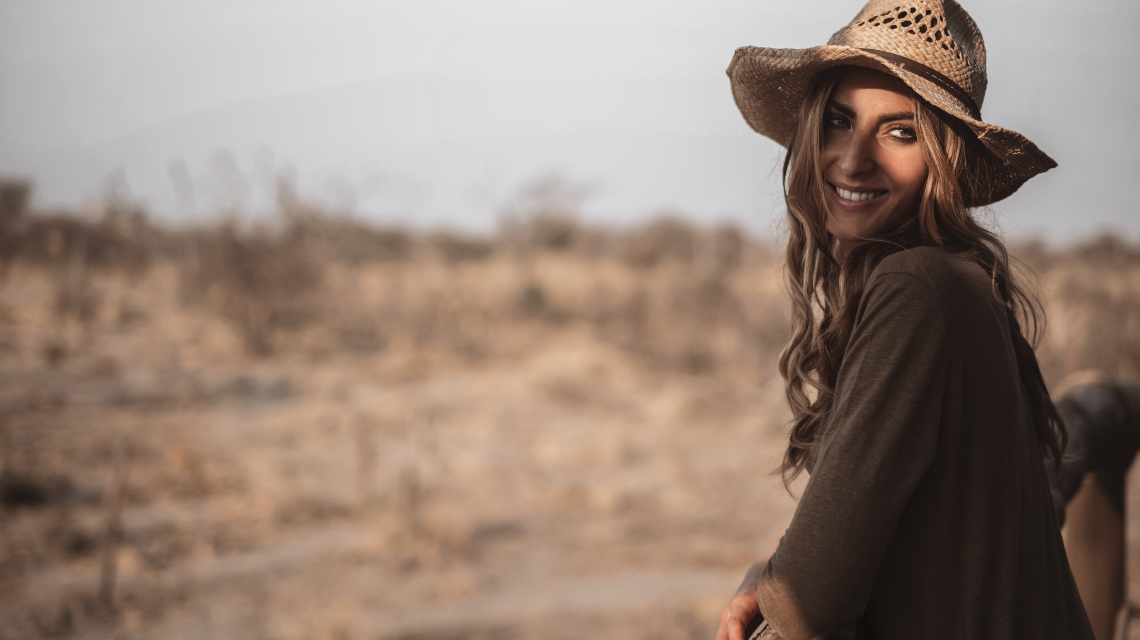 Sonia travelling in Africa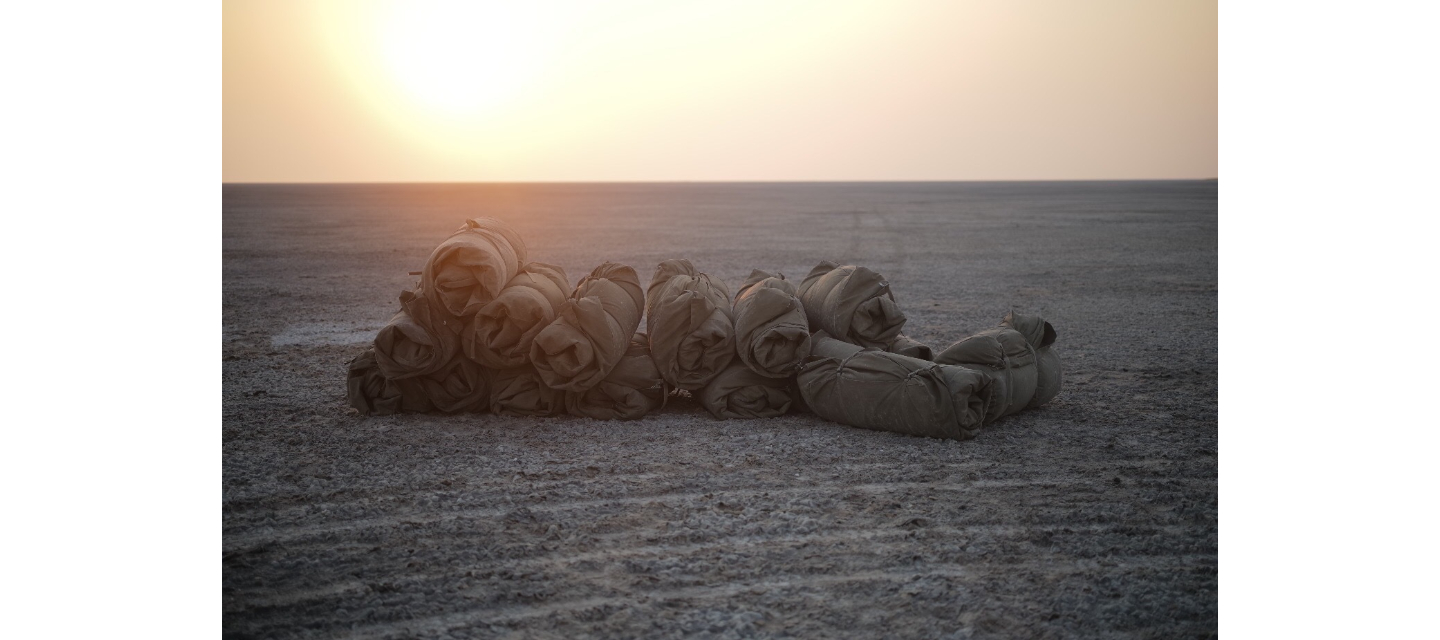 Under the Okavango sky - Sleeping camp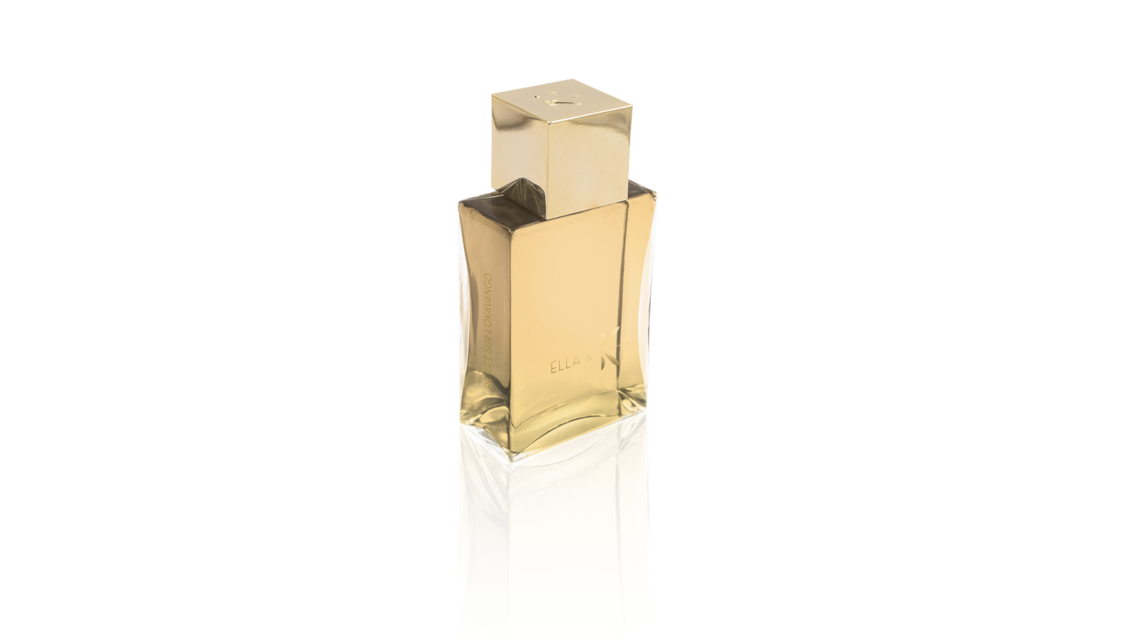 Reflet sur l'Okavango perfume