DIVE into the BIG BLUE or 'le Grand Bleu' with Ex Nihilo
2020 . 10 . 13 | written by Laurence Arrigo Klove
The world seen by a young creative trio. Many brands are from Paris, elegance, luxury, quality of ingredients, you have it, but this brand brings something else to the table, innovation for sure, out of the box cooperation's, creative talent... and above all a friends story with a dog. Yes a dog.
LAK (Laurence Arrigo Klove): In life big things sometimes happen by a mere factor of chance, of pure coincidence. How did you all three meet? How did it all start?
BV: I met Olivier in Paris while we were studying at 'Sciences Po' (LAK: this is a prestigious political science school in France). We became very good friends and we still are. Then Olivier started his career in Finance, and I went into the creative marketing agency world. We met Sylvie in 2011 through common friends. Sylvie was working at that time at Givaudan and therefore had a solid perfume industry knowledge. We met at the right time: we were in our mid-thirties and we wanted to become entrepreneurs; we had a common passion for perfumes and above all a strong will to start a new business. We quickly found out that our experiences were complementing each other very well. Our trio kicked off very well and fast, we worked night and day and in December 2013 … our perfume boutique opened. Our offices are inside a Haussmann building, not far off our shop rue Saint-Honoré. When one opens the door to our office, one realises that one has stepped into an apartment. Elegance, style, open spaces, living room, even a kitchen, all is there, we work in a living space, where ideas fuse naturally and a dog is there for a hug and some fun!
LAK: Who came up with the name of the Brand Ex Nihilo? What does it mean by the way?
BV: 'Ex Nihilo' means in Latin 'out of nothing'. I came up with the name and the team felt that it was right. Practically, it is true, we did create a perfume house from nowhere; we did not take an old brand to relaunch it for example. We did not use any perfume codes from the past. We started afresh. We decided to focus on a very high level of raw materials quality and on innovation. If we use the car manufacturing as a reference, we would be a 'Tesla', a disruptive, modern, iconic brand, belonging to the avant-garde players.
LAK: Why the colour blue and which blue?
BV: Our blue is pantone number 293. We wanted to have a colour that clearly identified us as a brand, inside our shops, on our packaging, on our products. That colour also needed to identify us as a French brand while avoiding the French national flag. We took inspiration from Pierre Paulin, a famous architect from the sixties & seventies; he was appointed as interior designer for the Palais de l'Elysée (the presidential palace in Paris). Beyond this creative architect, we particularly love this period called 'The Glorious Thirty' for its major technological advances. Growth stemmed innovation in all areas, new models for cars such as the Citroën SM was created, and a new plane, le Concorde… I so utterly wished I could have flown with it!
LAK: What innovation does the brand bring and that is so special?
BV: We have the concept of personalisation of a perfume that is quite unique. Each perfume has three options in terms of personalisation. We use six 'absolue' of ingredients of very high quality: vanille bourbon, iris pallida, santal wood from Australia, jasmin grandiflorum, rose de mai, fleur d'oranger from Morocco. When we started the brand, we had 9 perfumes multiplied by three you end up with twenty seven different perfumes. Now of course, it is so much more. In order to mix the ingredients, we have produced a machine which is made in Switzerland and which is called Osmologue. It is extremely precise in the mix of the ingredients and in the quality of the result. We also have created what we call 'vase à senteurs' in order not to saturate the nose, and spray perfume on a paper, one smells the perfume in the air in a dry mode. Ultimately we recommend to experience the perfume on the skin but it is a good way to identify and narrow down what the client is looking for.
LAK: A promise of happiness. Please elaborate on that.
BV: Perfume is all about emotions. About pleasure. Today more than ever, we need that moment of the day to feel happy with oneself. Also, I have to talk about my dog once again: at Ex Nihilo the dog cools the atmosphere, makes it fun, enjoyable. Joy is definitely in the air. Thanks god, my dog is not allergic to perfume. His nose does not seem to bother this saturation of air every day. I still have not found out what he likes though, it remains a mystery…
LAK: Your base camp, 352 Saint Honoré. Explain how and when you opened your first retail location.
BV: First, I have to mention the French designer of our boutique, the well-known, Christophe Pillet. We needed to convince him to work for us. We are so proud of what he accomplished and it has been a wonderful collaboration. We opened in December 2013 but we constantly improve our 'base camp', furniture evolves, and we use more and more our VIP salon on the first floor for special events. We collaborate with art galleries, flower shops, shoes makers… and invite our clients to live an experience within our boutique even if it is not perfume related. What is then common is art. We also hold 'Friends events' for some of our clients and the boutique is then privatized for them.
Our boutique also has an exclusive perfume that we called 'Honoré Delight', the name recalls the Parisian excellence in pastries, it is a gourmand perfume but not overly sweet, with an exquisite orange flower and much more. I just want to start your appetite!
LAK: Why is London so special to you?
BV: For that question, I have to first, explain that our clients visiting our boutique in Paris were already travelling to London often and were asking us if we were also going to open there. Then we had a 'happy' moment when a delegation from the purchasing department of Harrods showed up 'out of the blue' (notice my 'blue' word usage, I do love 'blue' indeed) in our recently opened boutique rue Saint-Honoré. They loved our brand and invited us to open a boutique on their six floor, in their new Salon de Parfums space. For that luxurious location, we created tailor made furniture, ordered marble from Italy, etc… expectations were high and we had to deliver. We also introduced personalized perfume services as we do in our boutique in Paris. So I can say that to this day, London is really special and important to us.
LAK: How many perfumes does your house currently produce? What is the reason behind the different collections?
BV: We produce more than forty perfumes, all gender-less - that is a lot - and we take particularly pride in never taking any perfumes out of production. We have very loyal clients who you be distraught in case we stop producing their beloved fragrance. Who knows there could even be a French revolution again? Albeit a small one and only in front of our shop, so no panic ! We have five collections of fragrances today; 'Initiale' was the first one and we started with an ambitious number, nine fragrances and their personalised options. To this day, Initiale is our main pillar with our two iconic fragrances, Fleur Narcotique and Venenum Kiss. We then added a more oriental collection called 'Babylone'. Then followed 'Iconoclaste', 'Interdite' for more daring scents and finally 'Visionnaire' for collaborations projects. We produce perfumes mainly but we also decided to venture quite happily into candles, hair mists, perfume oils and, last but not least, body line products. In terms of calendar, our perfume launches follow the fashion calendar so that we have a major perfume release in September and another one in February-March.
LAK: Why have you chosen Givaudan to produce your perfumes?
BV: Contrary to what you think that was not a done deal. Sure Sylvie had worked with them and knew them well but this time around we had to convince 'maîtres parfumeurs' to work for us. One day, Sylvie showcased the brand vision during a presentation to those senior perfumers and she was so relieved to see that they loved it and even applauded at the end. So every time we prepare a perfume brief, we work with a specific perfumer from Givaudan, we know with whom we want to work with for that specific project and we leave him or her total freedom in terms of costs of raw materials. They enjoy this creative freedom.
LAK: From all the collections of fragrances, which creations are you particularly proud of?
BV: For sure, it is Fleur Narcotique. To this day, it is our best seller, the one people can queue for outside our shop in Paris in case they are too many people inside. It is also because we collaborated at that time with a young promising perfumer yet unknown. He is now a superstar and his name is Quentin Bisch. This perfume creates an immediate reaction, usually of addiction, it is a floral sparkling with something special.
LAK: At the start of a new perfume what do you have? An ingredient, a name, a mood board, or client data...
BV: We have a code name for the perfumer who is going to work with it. For sure, there is a name, but there is also a script, a story and loads of visuals. We call them 'mood boards'. Our perfumer takes that and then comes back with a scent, possibly different versions. In addition to the script, we might add a specific ingredient as well as the sustainable component of it. For example, we want to use a green Santal from the palette available at Givaudan.
LAK : What can you tell us of your clients? How do they differ from one side of the world to the other?
BV: Our clients are difficult to define and put in one pot as they are come from all over the world but they do have one thing in common: they like modern art, design, they travel a lot, they are looking for something different, special, they are interested in authentic experiences. Some of them are quite young and they become fragrance lovers thanks to Ex Nihilo. For others, they were already passionate about perfumes but want something original.
LAK: What new projects are you working upon?
BV: We are working on new ingredients, some of them are synthetic and of incredible high quality, at times higher than natural materials. One of them is a new 'captive' Oud. We are also working on sustainability what I call 'eco conception' and always on staying best in class in the tech luxury world, fuelling innovation. We also want to produce as much as possible in France.
LAK: How do you see the world of perfume moving forward?
BV: I see two major trends that are already here but will become ever more critical. It is personalisation and sustainability. The first one is about continuing to tailor made perfumes specifically to one client and the second one is about producing in a sustainable way from the raw ingredient all the way to the packaging. In fact, I believe that without those two components, in the future, clients will be very reluctant to buy, if at all, a perfume.
LAK: Last but not least, tell us something personal, your favourite scent or ingredient, your big blue dive, your kick of the day...
BV: I have created a ritual for myself, which is as follows: I wear no perfume at all during the three weeks preceding the meeting with the perfumer and the new creation we commissioned. That way my nose becomes so much more alert, it is as if any smell is amplified by the time I am ready for the meeting. In terms of ingredient, I am very fond of Santal Wood from Australia, of roasted Tonka bean and of Vetiver. Vetiver Moloko is definitely a perfume I enjoy immensely.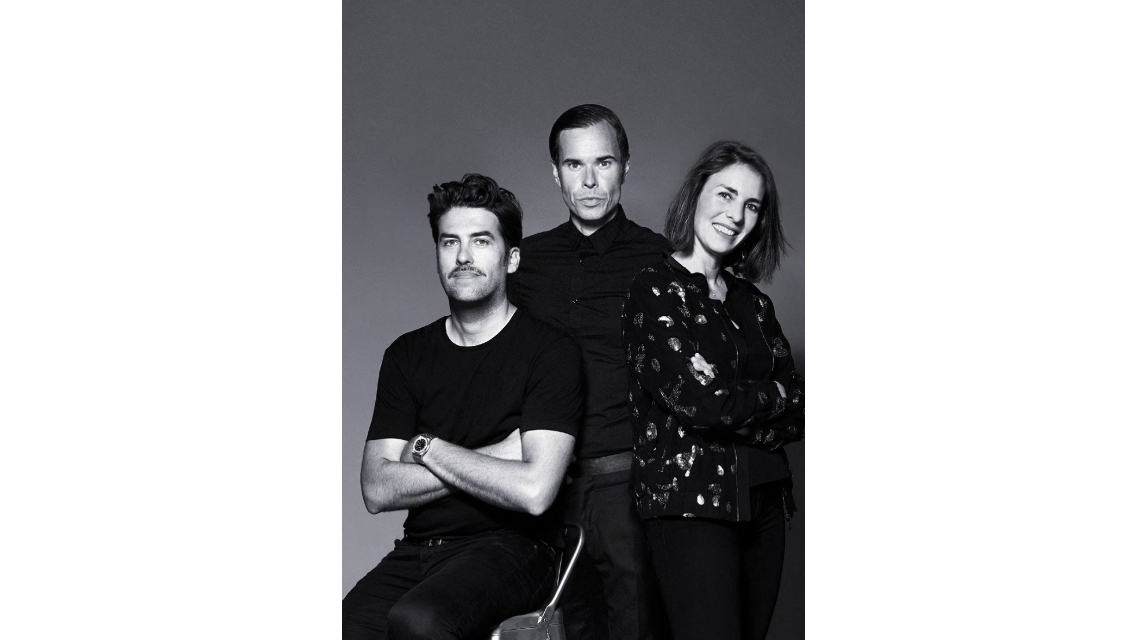 The 3 creators of Ex Nihilo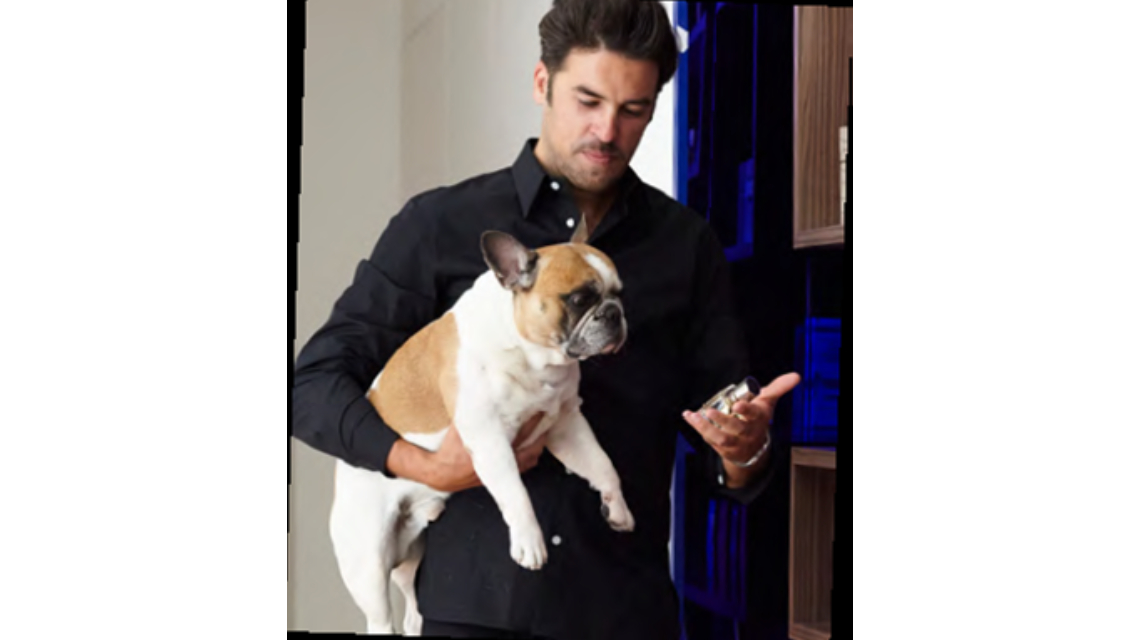 ...and of course the dog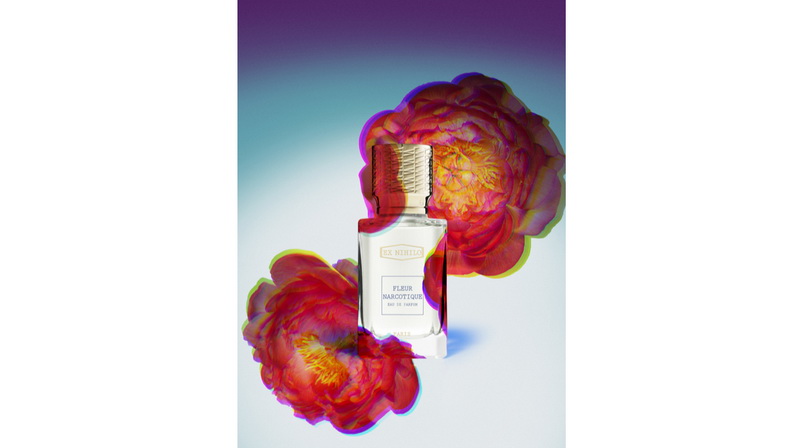 Fleur Narcotique Eau de Parfum