CREATING « FEEL GOOD » FRAGRANCES AT GIVAUDAN
2021 . 10 . 15 | written by Karen Marin
Think for a moment about how fragranced products can enhance your daily routine: you start with an invigorating shower gel, you spritz on a perfume that makes you happy, you light a calming candle as the day ends and retire to bed using a relaxing pillow spray to induce sleep. More than ever people around the world are looking to fragrance to enhance their well-being and create a cozy ambiance at home. Since 1995 global fragrance and flavor house Givaudan has been a pioneer in researching ways to create feel-good fragrances and has now launched their patented MoodScentz® program. To dive deeper into this subject I interviewed MaryPierre Julien, Naturals Innovation Perfumer at Givaudan, who shares personal anecdotes that bring special meaning to her mission.

Tell us how you got into the fragrance industry.
I grew up in the South of France near Aix-en-Provence, and as a child I was always passionate about flowers. I asked my parents to get a greenhouse, and from then on I was cultivating flowers. I became interested in their beauty and also what they smelled like; I even wanted to be a florist! I went on to study chemistry with the goal of becoming an agro-engineer but a chance meeting with a perfumer at Gallimard in Grasse changed everything. When I asked him to explain what he does, I realized this is what I want to do. I applied and was accepted at ISIPCA and then my journey began. After graduating I joined Quest which then became part of Givaudan. At the beginning I worked in personal care, and I travelled the world in my job so I would learn about different cultures and their fragrance preferences. It was a fantastic period. Then I moved to Fine Fragrance and ended up in New York where I lived for 12 years and now have been back in France for 5 years.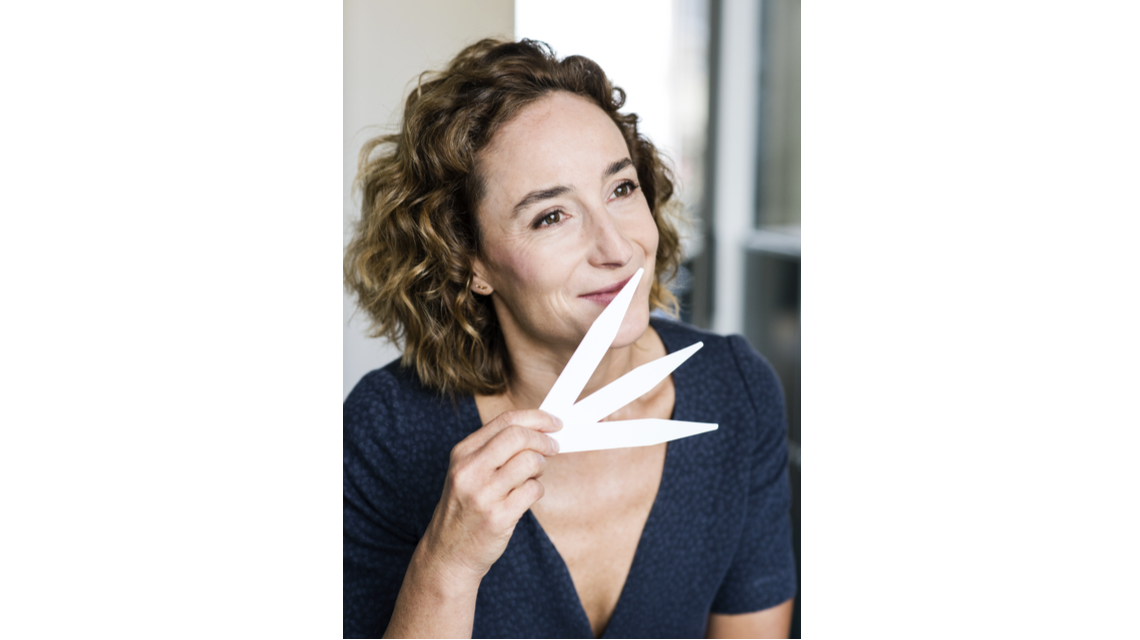 What are the most memorable smells from your childhood?
While growing up, both of my parents worked in shops and there was a perfumery next to the one where my mother worked. After school, when I waited for her to end her day, I used to go to the perfumery to visit Michelle, the owner, and to discover fragrances. My first was Eau de Rochas which was very fresh, very green, and smelled like nature. After that I had Anais Anais that reminds me of romanticism, especially because of the bottle and the images that were used. My mother's fragrance was Femme de Rochas, a fruity chypre that had a beautiful sillage.
Aside from that, I remember the smell of cut wood because we always had it in our house, and of course lavender brings back memories because my grandmother used to put sachets in the beds.

Let's talk about MoodScentz®, what is it, how did it come about?
Givaudan has been working on this since the 1990's, but first, can we agree that fragrance evokes memory and mood? And why? As humans we continuously smell things even if we aren't aware of it, and the brain is functioning all the time. We are making connections even if we don't realize it. The olfactory cortex of the brain – often called the reptilian part - is very close to the area where we process memory. This proximity explains why smells are linked to memories. This close relationship between the two functions also helps in creating moods because when you smell something, it will remind you of moments that can trigger emotions.
For the MoodScentz® program there are three mood area that have been studied – happy, invigorating, relaxing. In house at Givaudan we have done tests with Electroencephalography (EEG) which monitor patterns in the brain when it is exposed to certain stimuli. We also use Mood Portraits® where volunteers will look through pictures to select one that closely matches the feelings they have when smelling a particular scent. The results are then analyzed by a neuroscientist to establish why certain ingredients combined together have certain emotional effects on people – to make them happy or to feel relaxed for example. We have used this information to create algorithms that are the basis of the MoodScentz® program which helps perfumers to create fragrances that will have a certain effect on the person who smells or uses it. So it's not only the individual ingredients but it is the combination of the ingredients and in different quantities that will have a certain effect on us. So it's not just putting lavender in a formula to make something relaxing!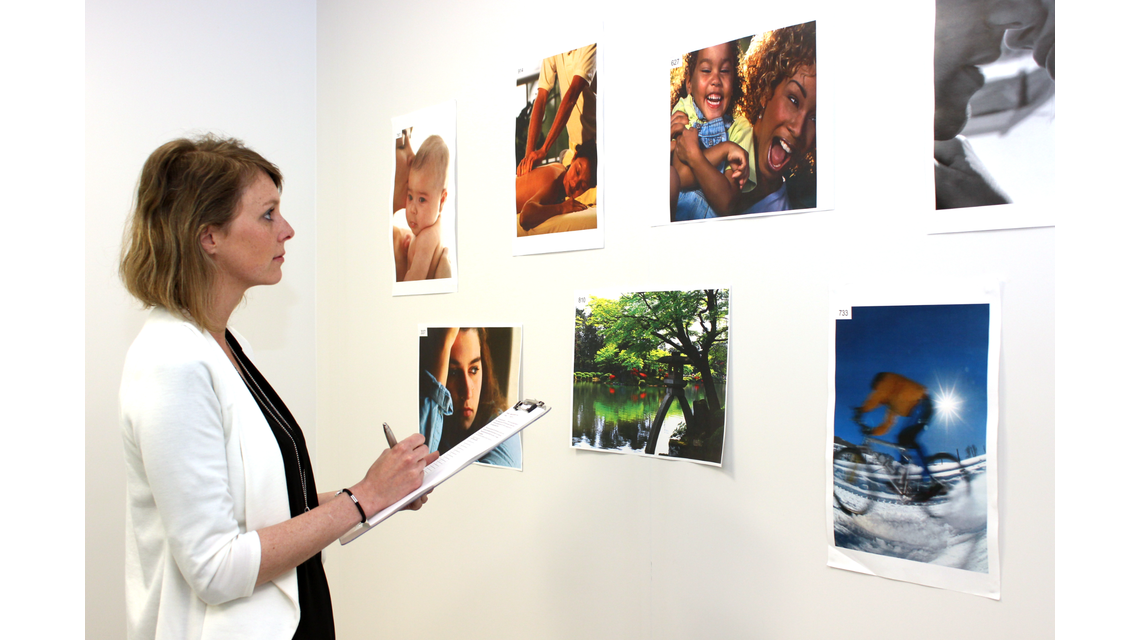 Sensory Neuroscience- Mood Portraits
Tell me about your role.
Since July I moved from Fine Fragrance to be a Naturals Innovation Perfumer, specialized in naturals, meaning I'm back to my first passion! I wanted to be closer to the raw materials and the people who are cultivating them. I wanted to go into the research path, to work on how fragrances will be in the future, how we can make better naturals to fit the environment and the context in general. In my new role I will look deeper into the naturals to determine what added benefits we can get from raw materials, what other properties - or secondary benefits -they can have, and not just from an olfactory point of view. We are just beginning to understand the benefits!
I also create fragrances that can be tested by the MoodScentz® program to determine how certain algorithms should evolve. I hope with my new function I can be creative and innovative, to bring out fragrances that are more ethically made in line with our sustainability program.

Do people experience fragrance differently depending on the user's country of origin or his culture? Or are their scents that have universal effects?
There are more differences than similarities! Lavender is engraved in the Western European culture with a very positive memory. But in China it doesn't create the same response because it isn't known. And on the other hand, the smell of something from Chinese medicine, like Tiger Balm has a curative effect in China but not in Europe.
Suntan lotion tends to be universal. Typically you use it once or twice a year, you associate it with vacation, with happiness. You want it to smell the same next year because of the happy memories. The smells of rain and cut grass tend to evoke a universal reaction, a positive vibe associated with nature and something fresh.

Does creating a specific mood now become part of a creative brief from a brand?
Yes, we have had briefs where the customer wanted to have the happy element. We are using the patented MoodScentz® technology in fine fragrance, shower gels, body products, skincare and even detergents. Right now claims are not used in marketing but this will probably change since with the pandemic people are more interested in well-being. We can tell you that O Boticario worked with us on Felicidade using neuroscience techniques*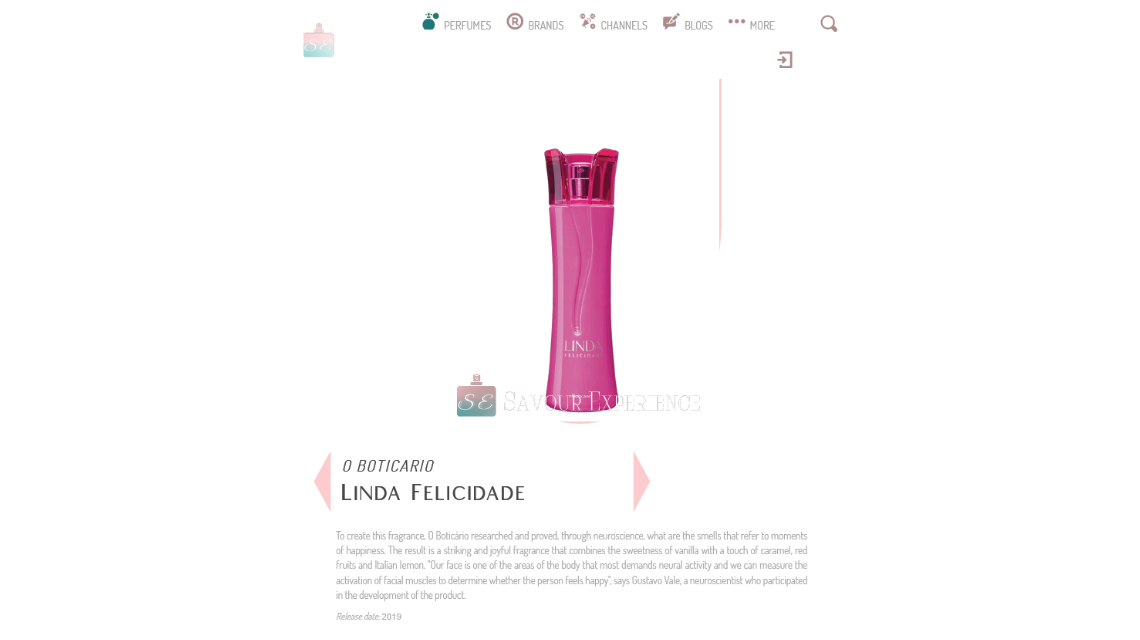 Linda Felicidade by O Boticario
What do you see for the future?
The vision of fragrance is changing thanks to technology, and the way fragrance is developed and the effects it has on us. The perfumer's palette is going to be very different for the perfumery of tomorrow. People who may not have identified with the old style of fragrance will see a change, which we hope will resonate with them. I'm very optimistic. It's an exciting time for fragrance.

AUTHOR'S NOTE
Where does this fit in with artistic perfumery? Essencional is committed to keeping our community informed on innovation and new technology. Certainly there are existing fragrances that affect mood without being targeted to produce such a result. We may even have selected fragrances we wear that we love because of how they make us feel. Artistic perfumery may continue to be an artisanal craft, yet it is wise to be aware of R&D and new developments. Faced with a slab of marble, would not Michelangelo have put aside the hammer and chisel to pick up a power tool? Or would he have used all of them?
*Happy MoodScentz, Mood Portraits™ as well as testing with the local agency Forebrain