Believe in yourself with Coreterno's powerful artistic expression
2022 . 10 . 27 | written by Laurence Arrigo Klove
A positive kick of self-confidence, full of creative edginess. The brand aims to become the vintage of tomorrow. Coreterno creativity hangover is not going down.



Born in the hip East-Village and seen in Brooklyn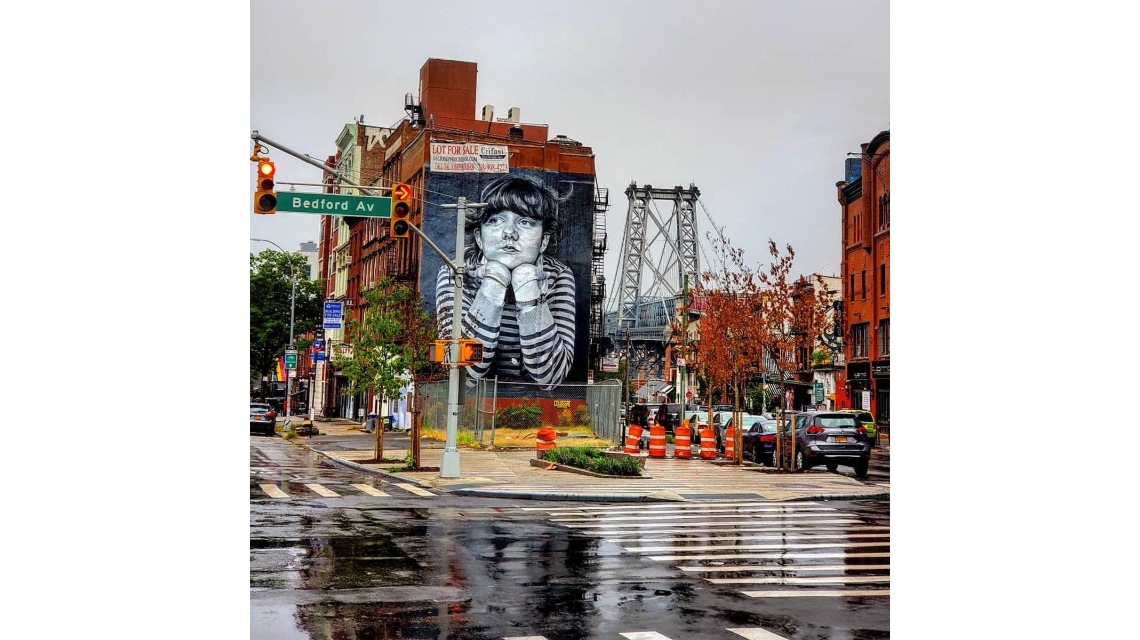 Bedford Avenue, Williamsburg, NYC, where Michelangelo and Francilla were living
Where are we? Let us start with the roots of Coreterno:
Coreterno ('eternal heart') was born in 2015 in the East Village, New York out of the creative minds of Michelangelo Brancato and Francilla Ronchi. The couple initially created a collection 'Victorian Rocks' composed of pillar candles and T-shirts, homemade in their studio apartment (where there was eventually no more space for a bed but only candles). One weekend invitation by Artists & Fleas* in Williamsburg, Brooklyn, to showcase the brand gave it a major visibility opportunity. Guess what**, they were noticed by no less than the New York Post who then wrote a half-page article on Coreterno, squeezed between Obama and the New York Giants. You bet**!

* An international exhibition market for buyers, trend-spotters and creative entrepreneurs in fashion, vintage, art, design to see and be seen **American slang, Laurence words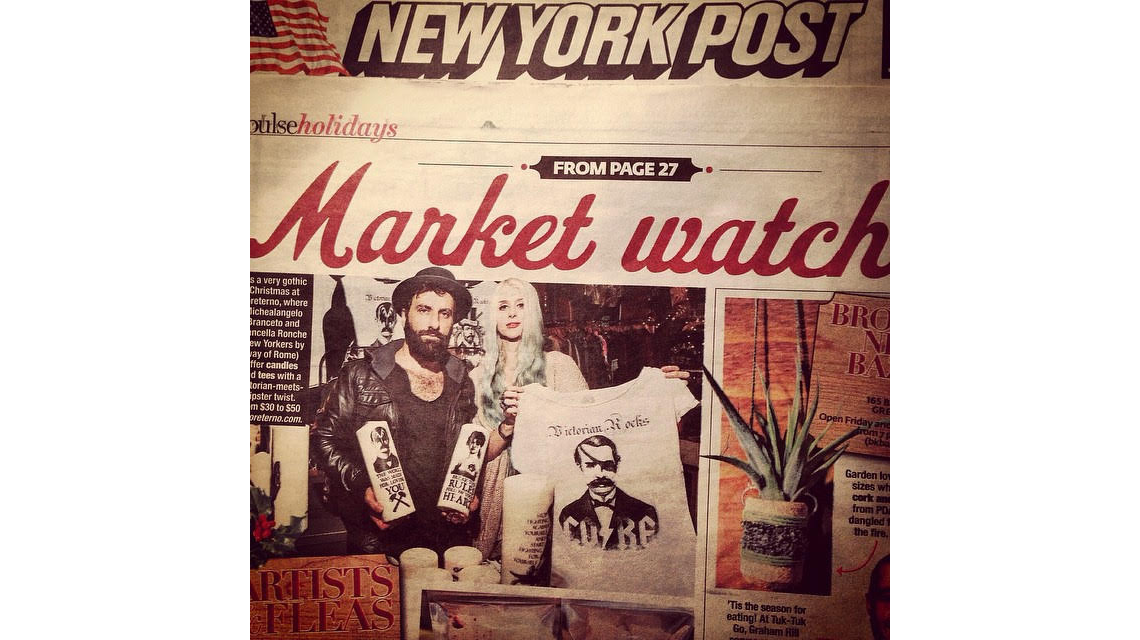 An impressive start for the lifestyle brand. A clear inspiration from the seventies.
The inspiration comes Michelangelo's love of the seventies for their huge irreverent creative energy. The brand is infused with that very same energy that results into the creation of candles, T-shirts, scarves, perfumes, and jewelry. The seventies saw major transformations backed by ideals of freedom, sensuality, and transgression. This is the powerful spirit dear to Michelangelo, and his favorite statement is "believe in your infinite potential." Coreterno's disruptive approach is coherent with its commitment to promote minor artists, to give them visibility and belief in themselves.



A strong inspiration from the 70's creative energy
The founders of Coreterno deeply share a common spirit
The couple first met when Francilla came to interview Michelangelo for her TV program at the time when he had opened a visionary art gallery in Rome. After several encounters, they decided to marry as their union is based on their common love for diversity, the beautiful, the nonconformity, the kindness of the soul and the loyalty to others.



An intense and intertwined passion for New York and Rome
For Michelangelo and Francilla, New York is where time slips through one's fingers, it is a journey at a thousand miles per hour towards the future, with an endless hangover of creativity. Rome is his visionary crib, a place of exaggerated beauty, of suspension between the present and the past. It is full of laziness, of impudence and self-confidence. Rome is where Coreterno's founders have decided to live and where the brand headquarter is located.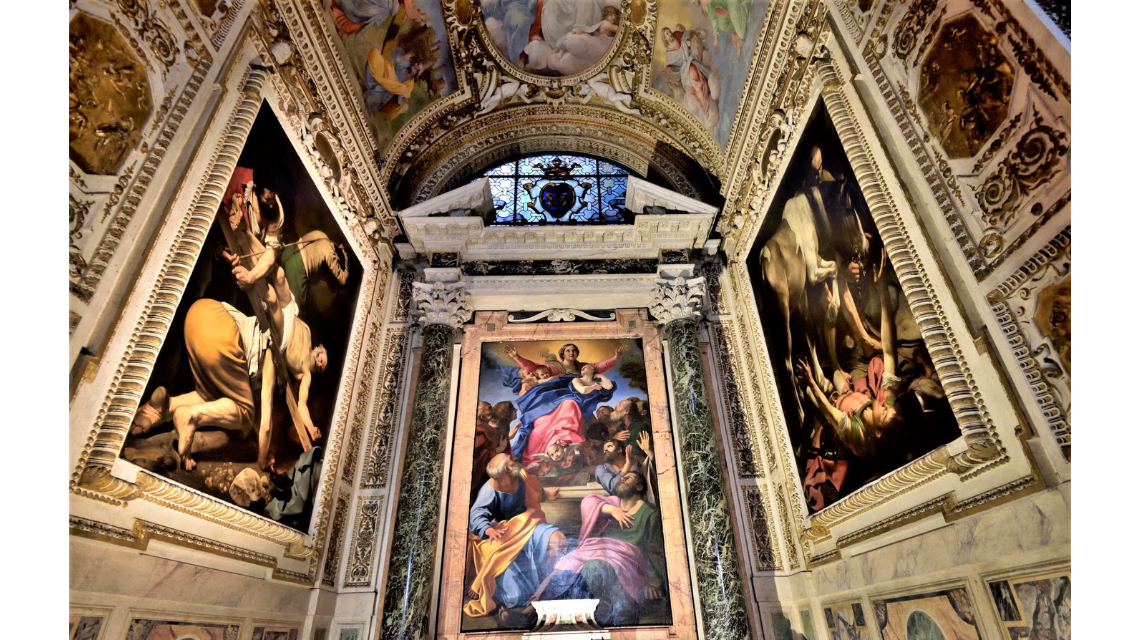 The beautiful church of Santa Maria del Popolo, piazza del popolo and its Caravaggio
Coreterno is completely and beautifully Italian.
The father of Michelangelo was very fond of art and took him to church on Sundays to admire Michelangelo (ah ah, the name of his fourth son is no longer a surprise), Caravaggio and Bernini paintings and sculptures. Coreterno is about blending the classical beauty of Rome with the overwhelming and contemporary energy of New York. He also added to the brand his authentic passion for philosophy and positive thinking. Lastly, he took soundtracks of rock 'roll music from the seventies.



It has the captivating energy of a rock star.
Coreterno is fuelled by the energy of a diversity of bands and rockstars such as the Rolling Stones, Beastie Boys, The Ramones, Led Zeppelin. If the brand were to pick one concert, it would be The Clash at the Berkley University Theatre in 1975. It is quite natural that if the brand were a piece of garment, it would be a rock'n'roll T-shirt. If the brand were a book, it would be Zen and the art of motorcycle maintenance by Robert M. Pirsig. The Vatican would be the museum (Rome is eternal after all).



The challenge of developing mystique perfumes
To undertake such a challenge, the brand was fortunate to have the expertise of two well-known international and Italian perfumers, Luca Maffei and Arturetto Landi. It is important to point out that the whole Coreterno production takes place in Italy and that every supplier has been carefully picked for its artisan (Italian) know-how. The perfume collection is an invitation to a journey in search of oneself. A visionary route 66 where every leg of the journey opens a new chapter of one's personality. The stop at Punk Motel is made of smooth creative insomnia, when Mystic Sugar takes us to a transcendent, and sensual state, HardKor triggers extreme sensual madness… Punk Motel is the iconic perfume of the brand, its home base, it is Coreterno's home where one feels cozy and full of creative energy, revolutionary but not destructive.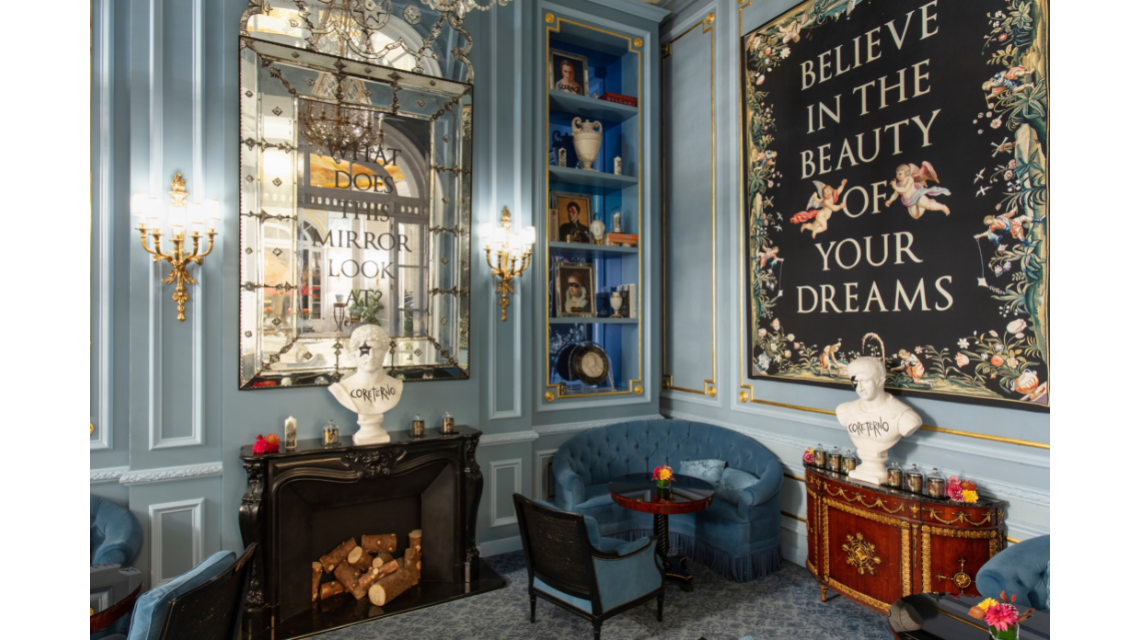 The brand popup space at the St Regis hotel in Rome



Coreterno is experimenting immersive popup spaces
The brand found a common spirit with the prestigious St Regis Hotel in Rome that led to the creation of an immersive popup experience. The Blue Library of the hotel was picked and renamed 'The Chambre des Merveilles' by Coreterno. A marvel to discover from September 2022 to March 2023.


The brand vision is to become the vintage of tomorrow
---
A powerful subculture movement that does not slow down
Coreterno offers a positive kick of self-confidence, of energy, of life, of unknown. It takes us to an artistic transcendent state without any headaches, or artificial means. Coreterno is not another marketing project; it is authentic, powerful, edgy, and eternal. No need to ask them to go faster or harder. They are already doing it.
https://www.artistsandfleas.com/williamsburg/
Mystic Sugar by DUFTBUNKER https://www.youtube.com/watch?v=t3IvbsHr95U
https://www.marriott.com/en-us/hotels/romxr-the-st-regis-rome/experiences/