Axel Michau de Nicolaï 'Junior' elegantly leads the family troops forward.
2021 . 04 . 20 | written by Laurence Arrigo Klove
Parfums de Nicolaï is a family company with a glorious past. Axel leads it quietly yet resolutely with success towards the future. Beware of his smile, his aim is domination. Yet a peaceful one. He is like a general leading his united family troops forward with prestige. Each perfume 'parcel' is hand-sealed with black wax…
Question: As I know you quite well, I can be sassy, so Axel, how old are you and how can you possibly already lead the family company? where did you get your expertise?
I will forgive your bluntness as you are 'nice as pie' (laugh). I am 36 years old. I knew at an early age that I wanted to join my father Jean-Louis Michau and my mother Patricia de Nicolaï and run the family business. As a kid, I remember doing my homework after school in my mum's lab. When I turned 18, I deliberately chose to do a business school to give me the skills needed by the company. My late dad was an amazing entrepreneur, full of innovative ideas but the commercial side of the business was not his favourite. After graduating from my school, I worked 7 years before joining the company. My experience was the real one, the 'tough' one where for example at 4 am, I found myself replenishing shelves of l'Oréal shampoos in a major supermarket chain. I was a salesman and learnt how human relationships are key. I also learnt visibility from a merchandising perspective. I then joined the perfume division of LVMH and was in charge of a portfolio of brands such as Givenchy, Kenzo, Fendi for the Alsace region. I got to know all the points of sales, Sephora shops as well as independent stores. Finally, I worked for Création AMP, the Interparfums Middle East regional distributor based in Dubai. I covered 10 brands, 9 countries, and more than 20 distributors. That was a fantastic experience, I had the appetite to learn everything, to see it all, and ultimately be seen as the expert, able to give all the input needed by the Interparfums team. I also learnt immensely by working for an amazing person, Serge Kotovsky, the owner of Création AMP. All of a sudden, my dad urged me to come back to Paris as he needed a hand to develop the business. So, I did. I only took a holiday and went to South Korea to meet a potential business partner for Parfums de Nicolaï. Jumped on plane back to Paris. I was in.
Question: When the past is so rich, one can feel the burden of it, so Axel are you a free man or do you feel tied to the heritage, to the Guerlain genealogical tree?
I feel empowered and free. Thanks to such a rich past, all I need to do is to nurture it. I simply must exploit the resources and assets that we have.
If I may so this is confidence and modesty together. Axel knows how lucky he is to have such a jewel in his hands.
Question: What are your personal milestones in the chronology of your company who celebrated its 30-year anniversary in 2019?
I will pick 4 important clicks. The first one is easy, 2014, the year I joined the company and when we kicked off our international presence with the opening of the Middle East markets. The second, 2015, the opening of South Korea – my holiday was in the end very fruitful. Third, 2018, our first boutique in Dubai opens. Fourth, in 2019, we sign a partnership with Scentpage in China and open our first shop there. 2019 is sadly the year when my dad died. He had been so talented in creating business opportunities which gave substantial financial returns to the business that in turn allowed us to invest and grow. I was left by myself. Fully in charge.
Question: A core element of the Parfums de Nicolaï strategy is running many boutiques in Paris. Why has this deemed necessary before tapping into the export business?
My father wanted to make sure we had a sound linear growth, so we opened shops in Paris, step by step. By now we have 8 of them, the last one opened in late 2020 in rue Marbeuf. By running our own shops, we could have the direct contact with clients and learn greatly from it. It also gave us credibility when we started expanding into international markets. We have 2 shops in London, 1 in Dubai, 1 in Moscow and 1 in Shanghai. In 2021, there will be 2 additional openings in Shanghai. The Parfums de Nicolaï boutiques showcase our core brand identity and at the same adapt to local cultures differences.
Question: How do you work with your mother daily, is it business only? Very formal or rather the opposite?
First, I grew up with no clear distinction between work and leisure life. I do the same nowadays. We can talk in the office or during the weekend. Anytime really. I took one important decision when I joined the company, to regroup all offices under one roof, so the lab is now located rue de Richelieu as well. Patricia oversees the creations and the ingredients purchasing. We are beefing up her support team on the lab side to grant her more artistic time. I work a lot with her on the new perfume inspirations.
Question: A family business is special and wonderful, but it can be full of conflicts. Parfums de Nicolaï managed peace and harmony. How did you make that happen?
We have a family board committee comprising my mother, my brothers, and sisters. We have a very fruitful process in place as I must convince them of my decisions, or new ideas I may have, and they also bring their own ideas. We listen to each other. This has been the basis of our education. To get on well together. There are no conflicts. We ultimately all agree on the path taken.
Question: How big is the family business today, how many people work for the company?
35 people are working in total for Parfums de Nicolaï. Out of which 14 are working in the factory. The factory is really growing as illustrated by the fact that they were only 3 people back in 2017. Such growth can be explained in two ways: first the international markets expansion and second our shop online sales. I just happened to finish the relocation of all our stocks and shop online operations inside the factory. Every other week, I visit the team there. There is always something new to deal with and to discuss. I really enjoy human interactions. Some employees have seen me grow up and they call me by my first name. We have even celebrated two employees for their 25 years with the company and their retirement. It is important to point out that my family has a property close to the factory. My father is buried in the local cemetery. We have deep roots in that area.
Question: As Parfums de Nicolaï has its own factory, how important is the 'made in France' for you? Is it 'made in Sologne' by the way the most important thing?
Having our own factory is certainly one key pilar of our strategy. By being totally in control, we benefit from high levels of flexibility, quality, and efficiency. Our business model has excellent production costs to allow for expensive sourcing of high-quality ingredients. Our factory is in what is called in France the 'cosmetic valley'. Major companies such as Shiseido and Dior have their factories in the vicinity. It is like a cradle of expertise, of resources one can tap into. From my point of view it is therefore key to contribute to the local economy and participate to its development. I have decided to support the local mayor in her endeavours to boost local jobs.
Question: How did you come about producing not only home scents, personal fragrances but also body care? What is the most important one?
Personal fragrances are the backbone of our company and its origin. The company started with Patricia launching her first fragrances. However, my parents quickly realised that we needed to have a larger range of products available in our stand-alone boutique in Paris. They then rapidly introduced home scents, precisely candles and perfume lamps. The last segment introduced was the body care line. By now, we have 350 references. The most important one today is the perfume collection. The distribution strategy we have in place is to open new doors first and foremost referencing the personal fragrances. We allow perfumes and home scents to be referenced together naturally, but never candles only. However, tomorrow will be different. Following from the success of our patchouli hair mist, we are amid a new launch, the body lotion, and the hand cream for Fig Tea. I believe body care is the future in terms of growth.
Question: You are a man who travels a lot to keep a close contact on the clients, what is the country you enjoy visiting most?
I have to say that I like all the countries alike. I am a curious person in essence. I enjoy experiencing different cultures. I consider myself incredibly lucky having a very Parisian family base who pushed me 'overseas'; I studied 7 years in England and then of course I worked in Dubai. Undoubtedly, Dubai has a special place in my heart. Not only did I live in Dubai, but I continued to visit every 6 weeks, even when I had started working in Paris for the company. You see, my girlfriend - now my wife - was living there. A real incentive. Fantastic memories. Great moments.
Question: You are an elegant man always with a sleek suit and tie, is it part of the Parfums de Nicolaï touch?
Absolutely. I know we do stand apart with our look. It is not that I want to be different. Not at all. Only, I cannot imagine dressing differently. Being classically elegant oneself gives you this sense of luxury we want to convey with the Parfums de Nicolaï brand.

Question: What words best define your brand DNA?
Creator of perfumes. Independent. History. Family. Classic.
Question: Would you compare your perfume family business with a French fine winemaker?
Yes, quite right. This is not a candid question of yours. Sneaky you! You must have picked the fact that on my mum side, the family owns a wine estate in the renowned Beaune area called 'Chandon de Briailles'. My uncle and aunt are wine producers. Excellent wines I must say. Seriously, they are very advanced in the way they produce wine in a sustainable way. They stopped using pesticides in 1990. They do not use tractors. They use horses to work the land. They won an official price last year. Well deserved.
Question: How about sustainability, is it a matter Parfums de Nicolaï is involved in?
I can say that sustainability was right from the start a key commitment of my parents. We remain to this day 200% committed to it. Back in time, Patricia took a key decision to use neither colorants nor preservatives in the perfume ingredients. Another important element was to use French beetroot alcohol, 100% natural. We also use mostly glass that can be recycled and paper which is traceable and certified. In 2021, transparency is key and rightly so, as a consequence we absolutely have to communicate on our sustainable model which is already in place. I can give you a practical detail, given the lack of preservatives, our perfume is best kept in its original box. Now you know!
Question: What is your favourite perfume from Parfums de Nicolaï?
I cannot pick one. As a perfume lover, I do not always wear the same one. I will say Baïkal Leather as I have been very much involved in its making prior to its release in 2019. It is a perfume based on duality, strong and soft at the same time. Strong with leather and woods, yet not overpowering, sensual with iris and violette. It represents I believe quite well what Parfums de Nicolaï stands for. I am also very fond of Eau de Yuzu launched last year. It is fresh, invigorating, exotic. Sorry, a last one, Ambre Cashmere, the first perfume I participated to back in 2016. A voluptuous amber, cosy and warm…
Question: What is the BIG thing that motivates you every day?
Every day is a NEW day. I love it. I enjoy thoroughly doing extremely diverse things such as fixing a door at the factory one day and the next day having an interview with you! Deep down, I love dealing with people. Engaging them. Understanding their work is the basis of what I do.
My Portrait of Axel Michau de Nicolaï
Modest. Human. Authentic. Passionate. Curious. He knows where he comes from and he knows where he is going. He has resilience and confidence. A man with a vision. A man who can lead his men and women – his battalion - to confidently fight against a fierce enemy. A man who comes back home victorious. Tired and Happy. Having experienced a lot. Enjoyed the First line.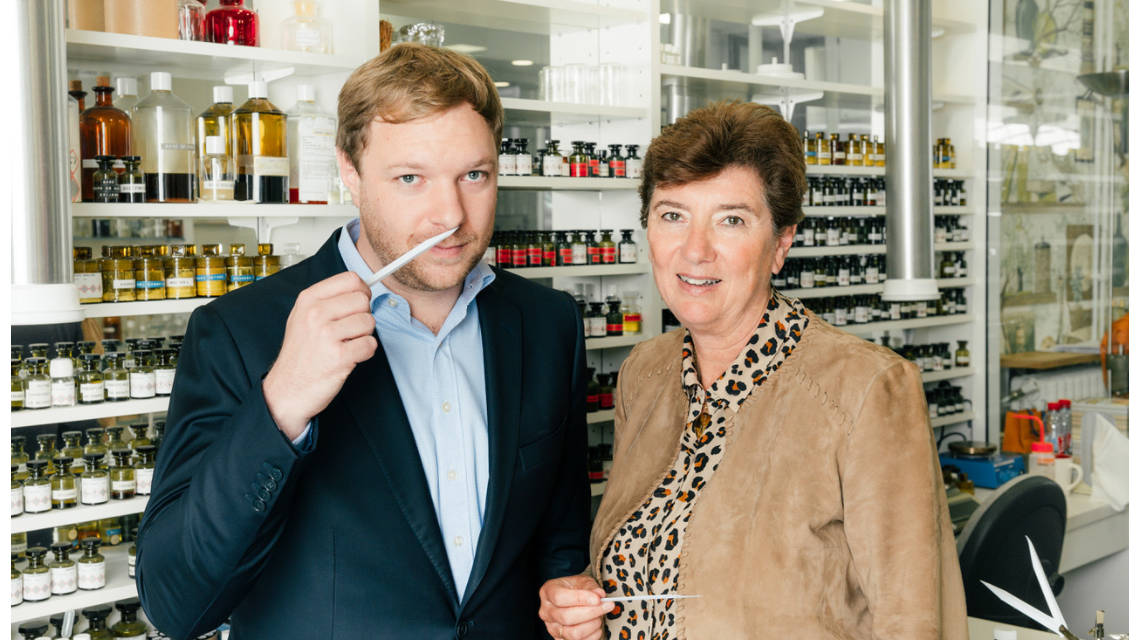 Mother and Son working together, Patricia and Axel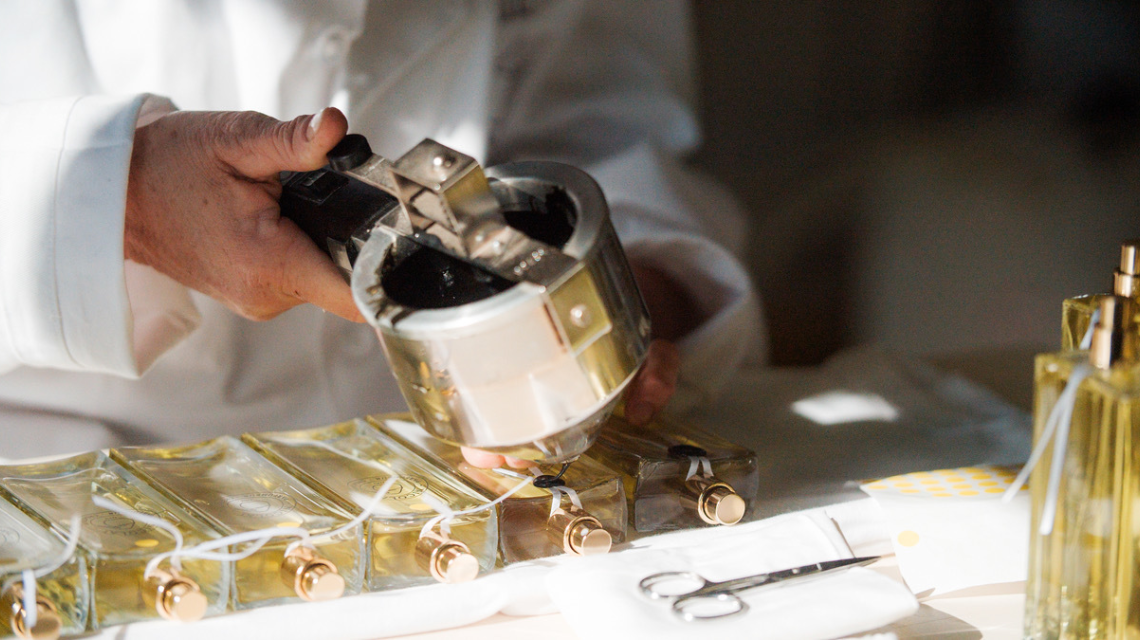 Inside the Parfums de Nicolaï factory, perfume bottle wax seal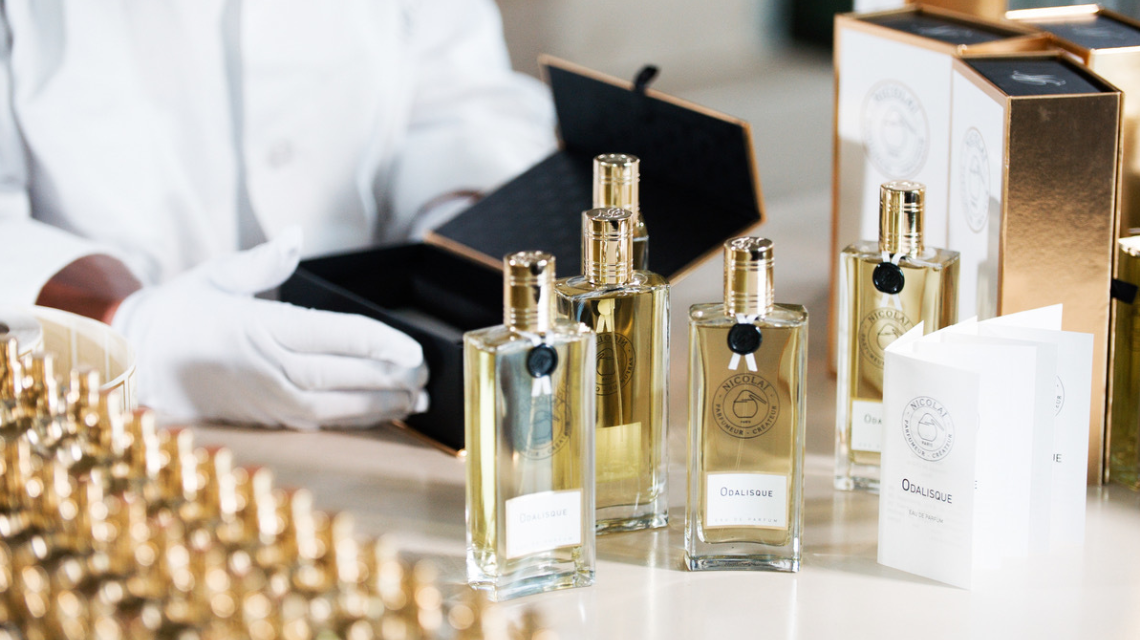 Inside the Parfums de Nicolaï factory, placing bottles in their perfume box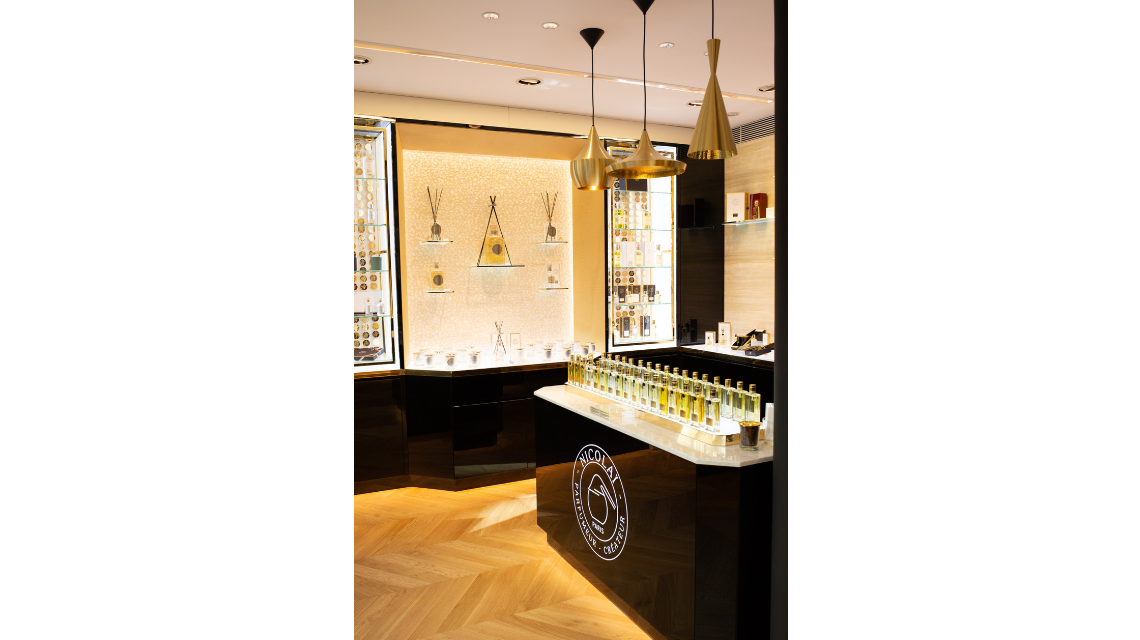 The newly opened Parfums de Nicolaï boutique in Paris, rue marbeuf