At London's Roullier White, Michael Donovan brings joy and learning to the Perfumery
2022 . 06 . 02 | written by Karen Marin
The luckiest, and probably the happiest, people in the world are the ones who work doing something they truly love. Michael Donovan, Managing Director at Roullier White, a London-based independent perfumery, is clearly one of these people. He exudes enthusiasm and passion for fragrance, and his tongue-in-cheek humor is decidedly British. In this exclusive interview we touched on the evolution of retailing, the art of selling and the responsibility of the independent shop, along with a mixed bag of other subjects including career pivoting and the golden age of PR.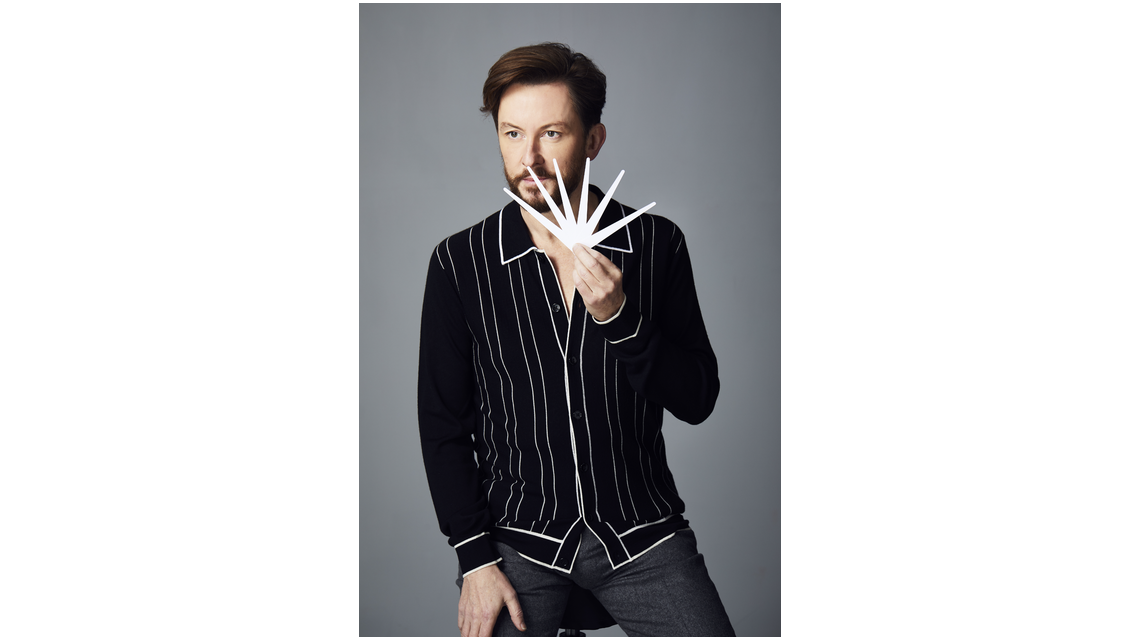 ON TRANSITIONING FROM PR TO RETAIL
I worked in PR in London for many years. I ended up specializing in luxury fragrance after working in film, publishing and then fashion – because it looked like everyone in it was having a better social life than me (laughs) – then interiors and food and drink. So I moved around a lot but I think it's a strength. I have an overview and I think of the consumer first. When you stay in one medium you can have tunnel-vision– you think you're curing cancer, - but you are just a part of something much bigger. I launched Byredo in the UK, I worked with Creed for 10 years, with Frederic Malle for 14 years. It was at a point when no one knew what luxury fragrance was. I was in the right place at the right time because no one else was doing what I did.
I think I worked during the golden age of PR, but then print media began to shrink and the great beauty journalists (from whom I learned so much) were slowly disappearing too and so I thought that perhaps it was time to make a change and focus on retail instead.


ON BUILDING THE STORE ASSORTMENT
At Roullier White there are about 100 brands in the offer now, which waxes and wanes depending on the market and what the customer wants. I had already worked with most of the brands that I sell when I was in the PR sector but we still have to review to see what is and isn't performing. We also like change, we like to bring in something completely new. I enjoy talent and love being able to give shelf space to young, creative people – that's a real joy.
In fragrance terminology, I don't like the word 'niche' because it implies that these are brands that will only appeal to a small, specialised section of the population! I do not select for our perfumery intending to be 'niche', I want everyone on the planet to experience the joy of them! Instead, I use the word 'luxury' to define scents that are innovative, of great quality and the best in their category, and to convey the idea that they have been pre-selected because they shine and stand out from the crowd in the creative sense.
A collection has to have something unique to say because if it doesn't, there is no point in it. The hardest thing is finding a collection where the majority of fragrances sell through – they don't just sit on the shelf. Certain brands have one fragrance that carries the sales of the whole collection while the rest sit there and gather dust. For a retailer that's not ideal, you can't tie-up your capital in stock like that. You want to find a collection that is going somewhere with enough diversity to appeal to many different people.


ON PRICE POINT
We try to be democratic financially, because 'expensive' doesn't always mean 'best'. I don't want people to be excluded because of price and I'm not snobbish about scent. I want a collection that brings together the best of its kind. It can be simple like a soliflore, but I don't carry pale imitations of great art. I want something innovative that will be around for a long time.
I really look at price points and I try to stay below the £200 mark unless it's something absolutely exceptional. Now there's a big move towards 30ml sizes which cost less and mean that customers can assemble a 'fragrance wardrobe', which is a big development in perfume retailing.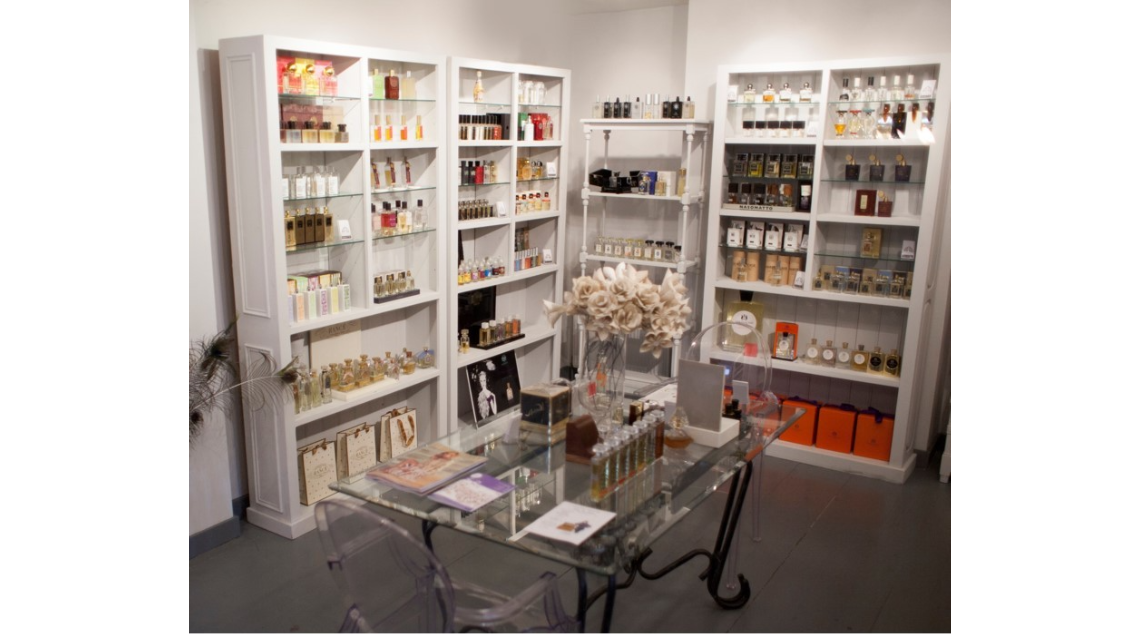 Roullier White merchandising
ON BRAND CREATIVITY
As a 21st century perfumer you have to be open to everything. What I love about self-taught noses is that they don't know the standard rules of perfumery so they break them. I'm inspired by brands that create something for the pleasure of it and not just as a sales driver. The House of Kerosene is the work of a motorcycle mechanic turned perfumer. His fragrance 'Black Vines' uses liquorice, which can be divisive but sometimes when people don't realise that an ingredient is in a fragrance they test it and end up liking it!
We stock a brand called Gravel, which includes the very first American Cologne created in 1957 and called cologne because American men wouldn't wear perfume. Inside the bottles are tiny stones – gravel - from the bed of the Hudson River, so they created something really masculine. A German father and son recently acquired the brand and have restored it beautifully.
With David from D.S. & Durga it was love at first sniff; his passion, his enthusiasm, he eats, breathes and sleeps fragrance, never stops creating and it's not for the money but for the joy.
Too often you see people chasing after a trend and not making something that is good. Or they put so much time and effort into copying someone else….why don't you put that effort into making something original?


ON WOOING THE CUSTOMER
I think in stories – and when people come to the boutique, I think they want to be wooed; it's the romance the wining and dining which particularly suits fragrance. Retailers are so panicky about providing 'an experience' that with fragrance, they'll actually do something that gets in the way of the sale. Too many visual cues can actually distract, and when people get confused they don't purchase. Selling Fragrance is about the scent itself, and you can't smell too many things because once the customer says their nose is gone, it's dead, and then it's sample time. The objective is not to get as many fragrances on that person's arm as possible, it's trying to get one that works for them. It is best to aim for two or three choices for the customer, and relatively quickly. We ask, what does the fragrance need to do? Is it for the evening, does it need to be sensual, for every day in the office, does it need to be comforting, enveloping, what do you want it to do for you? That's the most important question that you have to ask in the beginning. And you have to explain it to people because they often don't know what their own expectations are. Is it a workhorse fragrance for every day? Will it take you from day to evening without frightening someone in a lift? Is it something that needs to be bigger, what do you want it to say? When you start talking like this you get a really good idea of who this person is and what they want. Once they start talking in those terms, it's easier to find the perfect match.


ON FRAGRANCE AND EMOTION
Fragrance is not a shopping list. I'm used to having 20-40 minutes to spend with a customer to talk about scent where we have a real conversation. I prefer to talk about how a fragrance makes you feel and why it makes you feel that way. Of course people want to know the ingredients but If you start talking ingredients too much you're dead in the water. It's about the emotion and the journey – not about what's in it. People need to go with their gut reaction. 9 times out of 10 it's the first thing they smell, the Ah-Ha moment where there is a connection. We have an emotional response to fragrance.


ON LISTENING AND SELLING
You have to listen to what people say. You can't judge a person and think they will choose a fragrance that is in line with their outward appearance. A petite, elfin blonde came in and I thought to show her green, fresh scents but she chose a dark, leather based fragrance! You can't put an olfactory profile on someone based on how they look. You have to listen to what they say which will tell you who they are on the inside.
It's an artform in itself to sell well and I think you have to bring personal experience to selling scent. When the customer feels they are in safe hands, that you know what you're talking about, they will relax, they will trust you, and they'll be a lot more open with you. It's reassuring that my staff and I wear the fragrances, we know how they dry down, how they develop, the longevity, all of those things that people want to know.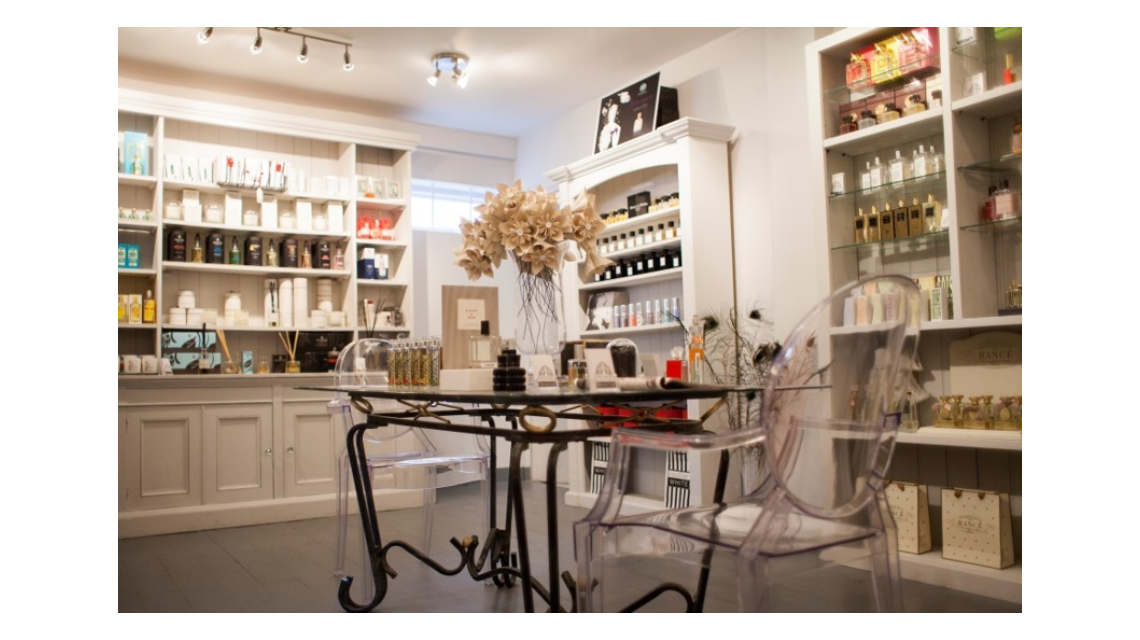 Roullier White shop floor
ON CREATING A FRAGRANCE WARDROBE
What we are establishing now is that you need a proper fragrance wardrobe you can wear across all seasons. You can't really wear heavy scents in the summer, you need something green or citrus, which in turn don't work well in a freezing, damp, British winter. One(hopefully!) won't wear the same fragrance to a barn dance and a wedding.
I had a model tell me "I've worn L'Eau d'Hadrien since I was 16", and I thought, how sad – it's like wearing the same dress for years! You have denied yourself so much pleasure !
Customers may say, "I wear this" but we ask, why would you want something else that's like that? Continue to wear that and buy something different. There's no point in wearing multiple versions of the same scent. And people are often a lot more adventurous than they think they are, which is wonderful!


ON FRAGRANCE AND MUSIC
Fragrance is joyful like music; it can transport you in time and place. We all have songs that we would never admit to liking, but if they come on the car radio, we sing along. They're dirty little secrets. People have that with fragrance too, perhaps a brand they wouldn't be proud to name. But if the fragrance brings you joy, wear it and enjoy it. Don't intellectualize it. Your nose will develop and your tastes will change, but we all have to start somewhere….you're not drinking the same wine you did when you were in your twenties, right?


ON CUSTOMER SERVICE
At Roullier White it's a very personal and luxurious experience, it's a time to discover, and it's never a hard sell. Mothers bring their 13 year old sons in to buy their first fragrance. Brides come in to find their wedding perfume. And we have people come in looking for something that's no longer produced. Sometimes you have to hand-hold, but what's important is helping the customer find the fragrance that suits them. The 13 year old boy will always remember the experience and the bride will remember her wedding fragrance forever. We have mostly returning customers who trust us, and we want them to return.


FOR THE UNDECIDED
We tell the customer "If you're not sure, think about it." I may send them away with a spritz on each wrist and I tell them to come back after lunch, and we'll see how the dry down has developed on them.
We also have a sample service so if they're unsure we can decant a 2ml sample which the customer can buy, take it away and then come back. I say, "If you love it and it loves you back, then it's a win". As a customer, you don't want to make a mistake when it's a £120 investment. If we think they're unsure, we'll suggest this service which is what retail must be about. If you are purchasing a gift you get a vial automatically so that the recipient can try the sample first. Then if they want to exchange the unopened fragrance I can take it back.


ON THE EVOLUTION OF FRAGRANCE RETAILING
Covid marked a turning point for the department store – not because they are always badly done, it's just that it's so expensive to do it on the High Street when you think of the cost per square meter. Plus, the shopping experience and expectations have changed over the past ten years. People want expert knowledge and service which is very hard to maintain in the department store environment. This is especially the case in central London because the turnover of staff is high and often manned by very young people who obviously don't have years of knowledge so can't reassure the customer in quite the same way. In the UK, fragrance has, historically, been bought from department stores so this change provides a good chance for the independents, for fragrance and for the industry. Department stores are great for convenience and the second purchase once you have found the scent you love, but it's difficult to buy your first fragrance there. I think that they will move out of city centres into retails parks to capitalize on lower rents and better parking.


ON THE RESPONSIBILITY OF THE INDEPENDENT PERFUMERIES
As an independent perfumery we are there for choice, for giving a chance to small brands, and we are there for information and education. We know our stock, we know how it behaves and how it performs. So when the consumer leaves our store, even if it isn't with a fragrance, it's with a little more knowledge than they had when they arrived.
I enjoy talking to people who are very passionate and knowledgeable but also with the 13 year old boy, who will always remember that moment when he chose his first scent or helping the bride find 'the one'. We become part of someone's fragrance history because they will always have that scent memory.


ON eCOMMERCE & SOCIAL MEDIA
Online was difficult before Brexit but now we can't ship to America and shipping to Europe is a nightmare. You can sell fragrance on a plane but you can't transport it in a plane because it's hazardous! I could spend my time being angry about these things but one must be pragmatic and find alternate avenues.
I am rather ashamed to say that I do not really enjoy social media and it can be a double-edged sword in the promotional sense. If anyone reaches out, I always respond but this is not something that I actively pursue. I write about fragrance periodically in my Newsletter which goes out to 15,000 people per week and this gets a very good response.


ON WORKING FOR JOY
I get to indulge myself in the Perfumery, to support talented people and to help customer's find the perfect scent (or scents) for them! You find people in this sector who don't work for the bottom line but for the love of the process. At the end of the day it is a business, but this is not my raison d'être - I want the staff and customers to find joy in the store and to learn something. A little fun and a little education – that's my kind of world!

At the end of our conversation I felt Michael Donovan had given me a lot of food for thought. Fragrance terminology has been debated ever since the term "niche" became prevalent, and here we see how the term "luxury" can mean so much more than price. I was particularly impressed with his viewpoint on the responsibility of the independent perfumery which made me reflect on the fact that as a shopper myself, I am less and less drawn to department stores which tend to be impersonal. It's where I go when I only want to look or make a fast purchase, but if I need guidance, I definitely seek out the smaller shops where I get service and knowledge. The very idea of having someone take 20 to 40 minutes to get to know me and to consult with me on what I want my fragrance to do is the epitome of luxury service. Bravo to Michael and his team!
Visit Roullier White online at www.roullierwhite.com