Ain't No Mountain High Enough. Join the NOUT scented movement to do good.
2021 . 07 . 06 | written by Laurence Arrigo Klove
Question: You were successfully leading a communication agency, what on earth made you, Laurence Lecocq, drop it and venture into the risky creation of a perfume brand?
Well, at the outset, I simply decided to leave my agency to explore nature. I did not know yet I was going to start a perfume brand. The 'quit' decision was matured over time as I felt my love for nature was not fulfilled. I then embarked on a journey to discover nature in one specific area of France in the South-East, la Drôme. This area is one the least populated in the country, with plenty of wild hills and above all, at the forefront of organic farming. My nomadic itinerary reinforced my beliefs in the organic future of our planet. Having grown up in the north of France with plenty of flowers around, I had initially envisioned to venture into organic flowers production. I changed my mind and went for putting flowers into perfumes instead! In my mind, perfumes should not be synthetic, they should be true by sticking to the essence of nature.
Risky absolutely. I had to learn everything. I went to Grasse to learn from Claire Lonvaud, an expert perfumer. Every step of my journey (hill) was full of hardships: I had to convince business partners that organic perfumes was an interesting project to work on. My logistical supplier warehouse caught fire. Covid crisis hit…. The path was longer than expected but I reached my destination. The launch of a perfume brand combining luxury and organic products.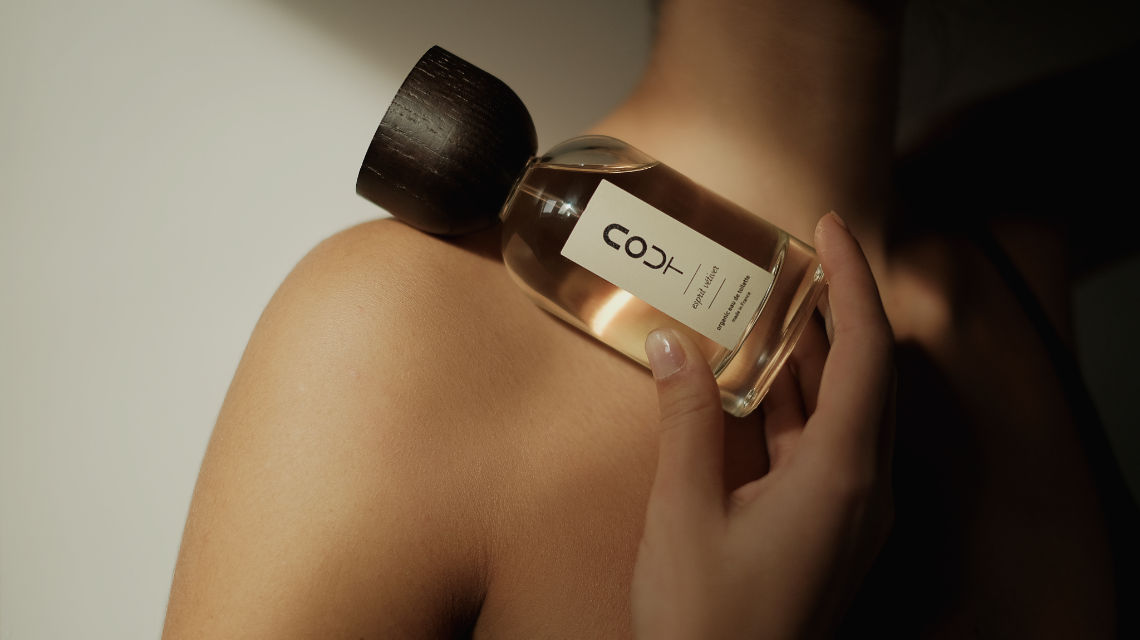 Nout perfume bottle and its wooden cap
Question: As you are a communication expert, why did you choose the Egyptian goddess Nut - Nout in French*, as your brand name?
Once my mind was clear on the perfume concept, I found in my house a papyrus from my travel to Egypt, one of the most mesmerizing trips I ever did. The blue papyrus represented the Nut goddess, with both her feet and hands on the ground, she is ruling the cosmos and protecting it at the same time. NOUT was magically explaining my brand DNA: N for Natural, O for Organic, U Universal and T for Treasure. I chose to write 'Nout' from top to bottom as a hieroglyph and the letters N and U are complementing each other, like the sky and the cradle. The perfume bottle also represents the goddess as it can stand both ways. Its cap is made in wood taken from French forests and is PEFC/FSC certified. To me, the bottle is like an African statuette. I am very much inspired by authentic art, by ethnic art and totems. I wanted the bottle to be as beautiful as nature.
* pronounced "newt" with the 't.'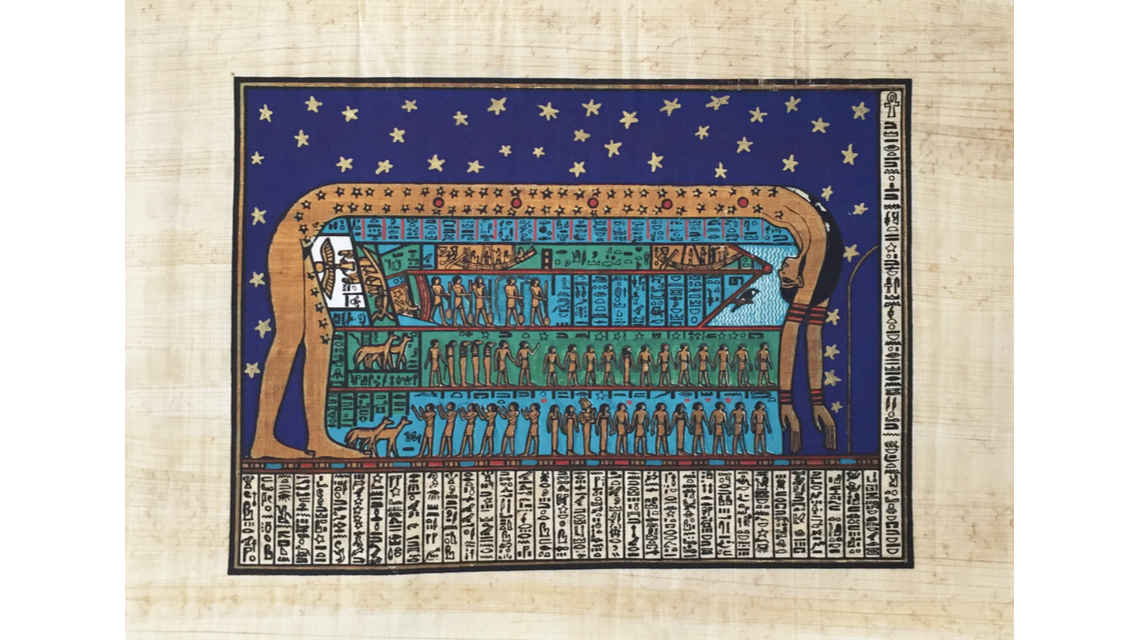 Question: if your brand was a place other than ancient Egypt, where will it be today?
Good question. Today, I would love to be in a vast open landscape. Jordan. The desert at sunset. A reed flute playing in the background, or an African Kora. This special atmosphere will induce my mind to meditate. Peacefully. All around me, I will see nature respected. Man, and nature together.
Question: can you explain to us your vegan and organic certification?
Nout perfumes are 100% of natural origin and organically certified. We decided to aim for the highest level of certification in the French market, 'Cosmécert', and we got it. The ingredients'* source is traceable, sustainable, and vegan. We do not produce waste with unnecessary packaging. Each Nout fragrance is packaged in a reusable and ethically manufactured organic cotton pouch (GOTS / WFTO certified). The perfume caps are made of wood (PEFC/FSC certified). For online purchases, labels, envelopes, and parcel boxes are all made of 100% biodegradable and recyclable paper.
*The list of what we do not have in our ingredients is quite long, check it out on our web site.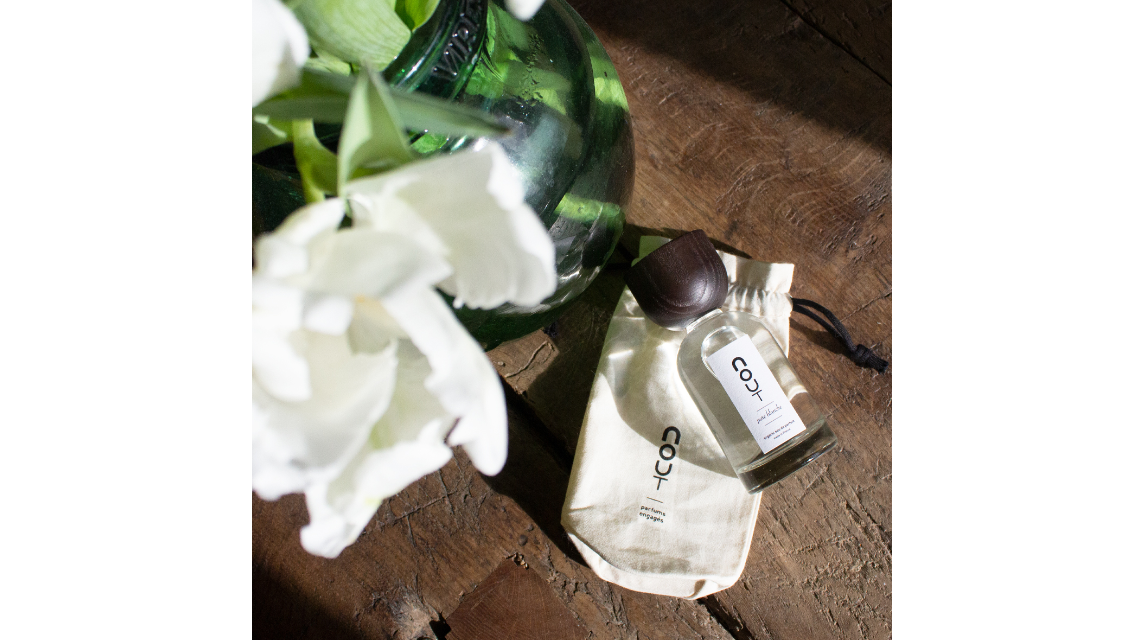 Nout perfume and its organic cotton pouch
Question: What is THE biggest challenge for your way of creating perfumes? Is the most difficult thing the smaller choice of ingredients?
For sure, by removing synthetic ingredients, we can play with a maximum of 500-600 ingredients instead of 5'000. This constraint urges one to be even more creative. Once you have a talented perfumer backed by Robertet know-how, one can do wonders. The challenge is therefore not so much in the ingredients but very much in the specific production process. Not only it is quite different from the usual perfume process, but it also needs to be totally separated and dedicated to such organic production procedures. As an example, musk is usually a synthetic molecule, in Davana Sauvage, we managed to create a natural one, derived from the seed of Ambrette Hibiscus. To give one note, we need to compose with a palette of several ingredients. Fascinating isn't' it?
Question: so why did you choose the fragrance house Robertet and Laure Jacquet as your perfumer?
First and foremost, I think Robertet chose me, much more than I chose them. For me, it is an honour to have been able to work with such experts in sustainable sourcing with a longstanding commitment to natural ingredients. I know we are doing the right thing in terms of production. I chose Laure as she has a special ambivalent talent. She not only has a demonstrable high level of technical skills, but she also has a 'magical' talent – like my Nout goddess. She can use the power of the energies as they practice it in India. I cannot explain it. I just let Laure totally free. Like nature. She can be wild. All I told her was that I wanted to have a perfume collection with 5 olfactory families, amber, woody, fern, flower, chypre and oriental. We ended up with 6 perfumes, 3 eaux de toilettes and 3 eaux de parfum. She presented to me the perfumes and their names 'naturally' (hi, of course) popped in my mind based on their inspirations derived from nature: Esprit Vétiver (woody, spicy and fresh), Davana Sauvage (modern chypre and fruity), Terre Aromatique (spicy and green), Sel de Mer (marine-inspired and sweet), Ambre Chic (intense and sensuously oriental), Pure Blanche (exotic and deliciously floral). For each perfume we decided to create an innovative angle; for example, in Pure Blanche, the first impression is ozonic and oceanic but from there on, the perfume takes you to frangipani, ylang ylang and tiaré flower sweet notes.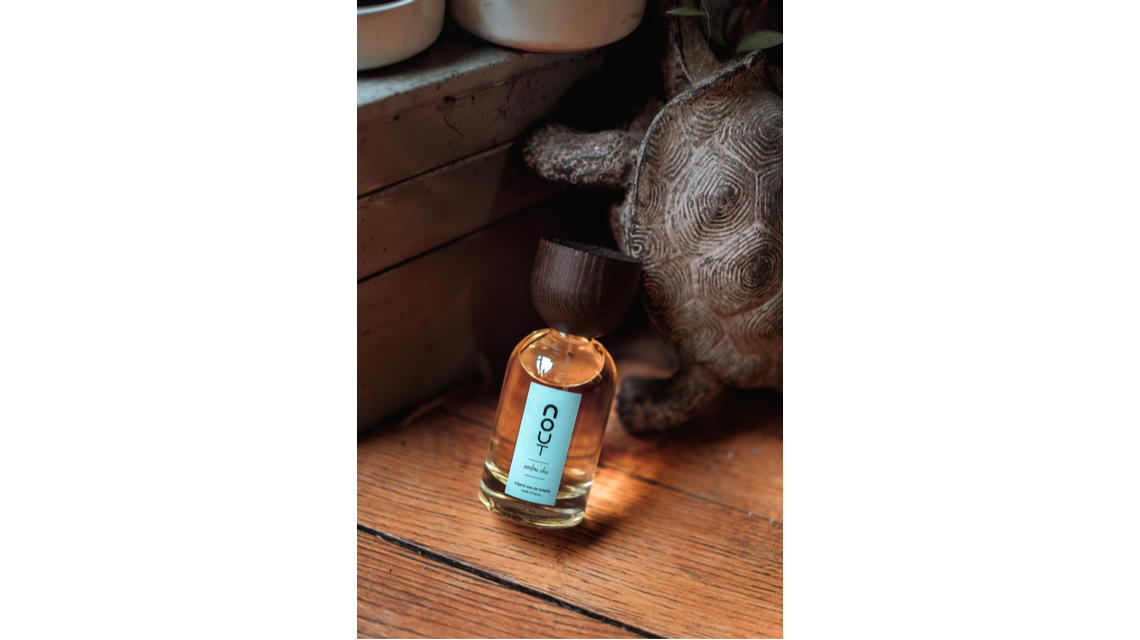 Nout perfume bottle natural environment
Question: in your opinion, what distinguishes an excellent perfume from a good perfume?
An excellent perfume reveals the personality of the person wearing it. A unique story is created with the encounter of a human skin and the natural ingredients used by Nout. Contrary to synthetic perfumes which remain more monolithic, ours will evolve over time. They are also more subtle; they do not impose themselves by being too much 'in your face'.
Question: instead of using the top-heart-base notes terms, you chose first encounter-present moment-faithful memory seduction words for your perfumes. Tell us why.
More than seduction, I would say I used love, a love declaration as a statement. A perfume is all about love, love to the person one is offering the perfume to. A love declaration to oneself and the world. It is all about feeling good with oneself and what is around.
Question: Nout scents are positioned as luxury fragrances, what does luxury mean for you?
Luxury for me is sticking to the essential. To reach transparency. A perfumer who marvellously exemplifies this is Jean-Claude Ellena. Thanks to a beautiful story, luxury also allows us to evade, to travel to another world, in space and time. Finally, a high level of quality is a major component of luxury.
Question: How do you keep on innovating and staying ahead of the 'green' game?
I am full ideas for the next phase of Nout development. I want to continue being agile and flexible. Quick to learn and adapt. I am also incredibly happy to see the movement of reconnection with nature gaining traction and there are more actors playing together with me in this field. The wellbeing of both human beings and nature is possible and happening. Yes, we can! I heard so many times the opposite line 'no we can't' that I can shout it loud.
Question: Which visionary people are inspiring you?
I am not going to surprise you by saying David Attenborough, Nicolas Hulot*, or the photograph Yann Arthus-Bertrand with its 'Legacy' film. I am also full of admiration for the impactful activism of Greenpeace. They never give up the fight. They never lose their battling spirit.
*a French environmental activist, founder, and honorary president of the Nicolas Hulot Foundation
Question: by the way are you vegan? What is your daily life contribution to a clean planet?
Most of all, I consume less rather than more. I diminish as much as possible the waste I produce. I sort it out very carefully. I buy organic food, preferably grown in the surrounding vicinity. I stay away from plastic. I eat meat very seldom, so in the main I am vegan. I also do I try and avoid travelling by plane… There is so much one can do.
Question: What is the BIG thing that motivates you every day?
I am so happy to be able to modestly contribute to the protection of our planet earth. Small contribution it may be, but positive it feels. I am deeply animated by the mission to have people discover nature in perfumes. A search for truth and for respect for nature. The more people will join, the better.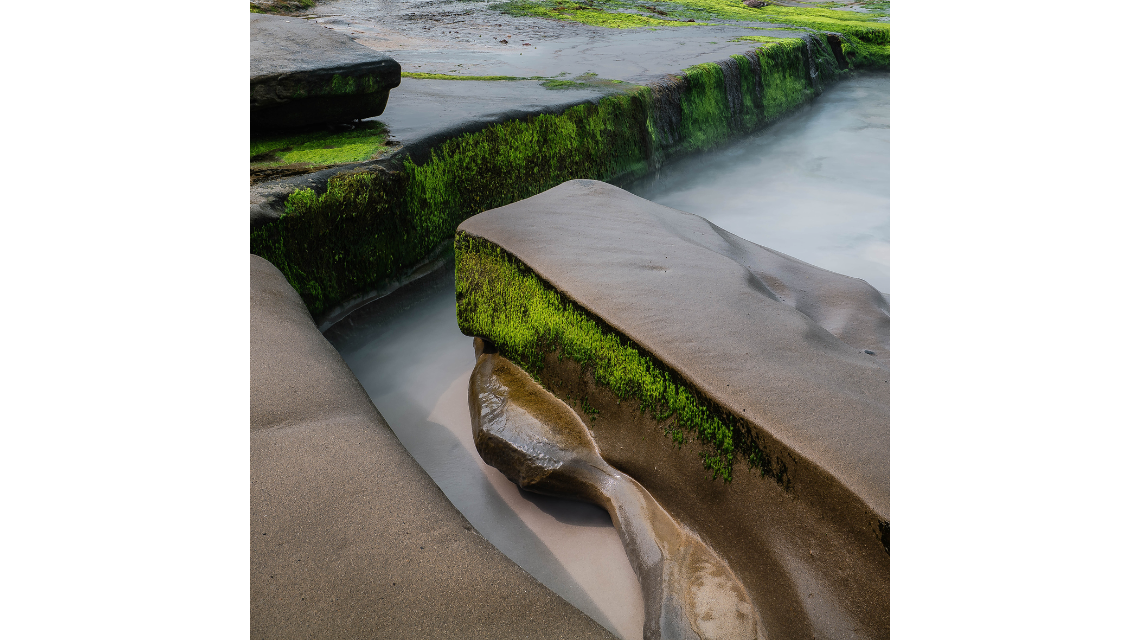 Beautiful nature flowing peacefully
Nout Planet. Our Planet.
Preserving our planet earth is the noble guiding principle followed by Nout perfumes. Laurence does not want to be considered a green hero, not even for one day. She wants no limelight. Her perfumes are her treasures. Perfumes for good. Perfumes who reconnect us with nature. Her scented movement is peaceful. The more, the merrier. Her blue eyes are smiling peacefully at us.